Budget Kitchen Redo
When people walk into your home, you hope the first rooms they see make a good impression. For homeowners Samantha and Bryan Langdeau, that meant working nights and weekends putting together a better, more efficient kitchen. New upper cabinets mean the Langdeau's no longer have to walk across the house for Tupperware and pots they used to store in a guest bedroom closet. Plus, they dressed up the dated room with new hardware, fixtures, and trim. "Now we find ourselves in the kitchen more often than the living room," says Samantha. "It's one of our favorite spaces." Learn more about how they transformed their kitchen on a budget, and steal ideas for your own remodel.
Shown: Brushed nickel hardware on new cabinets and refaced old ones, pendulum light fixtures, and bright finishing touches update the space.
Before: Out-of-Date Dining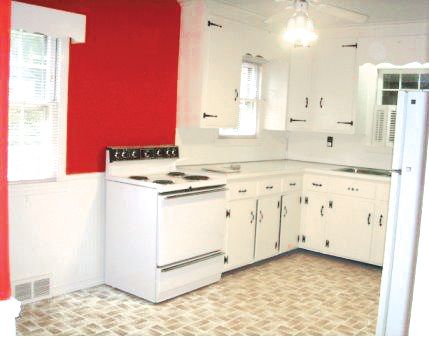 Before the Langdeau's got to work, the kitchen's jarring red walls, dingy off-white cabinets, and rusted hardware were just not a proper welcoming committee for their 1948 Cape. Plus, the ceiling fan was too low for them and the laminate counter's peeling edge snagged their clothes. So last year, after one snag too many, Bryan impulsively began tearing apart cabinets to start the room's long-planned remodel.
Shown: The dated kitchen lacked storage space, lighting, and style.
Smart Storage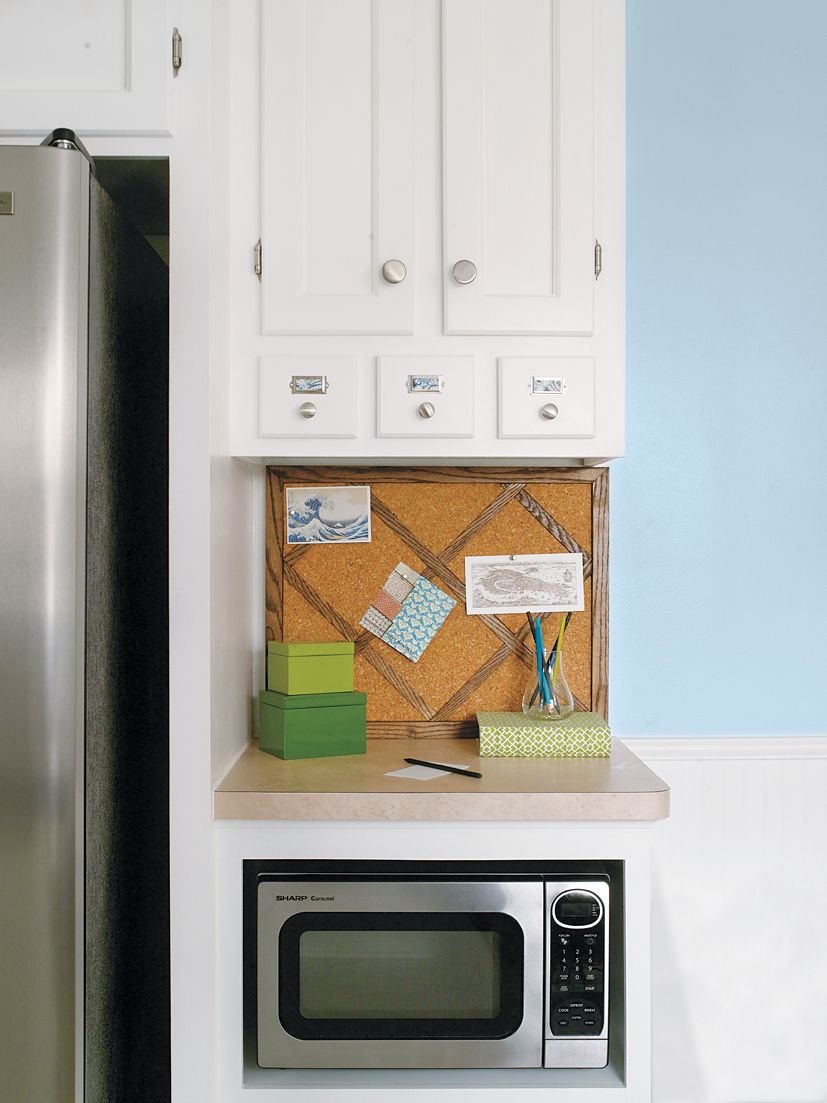 After having a friend help upgrade the electrical outlets, Bryan made new cabinet doors and drawers from scratch in the garage, and Samantha sanded and painted them. MDF doors require less maintenance than wood ones since they won't warp or swell in the humidity of the kitchen.
Shown: Apothecary drawers built-in to the cabinetry organize pens, paper, batteries, and spare keys in this nook.
Crown Molding Glory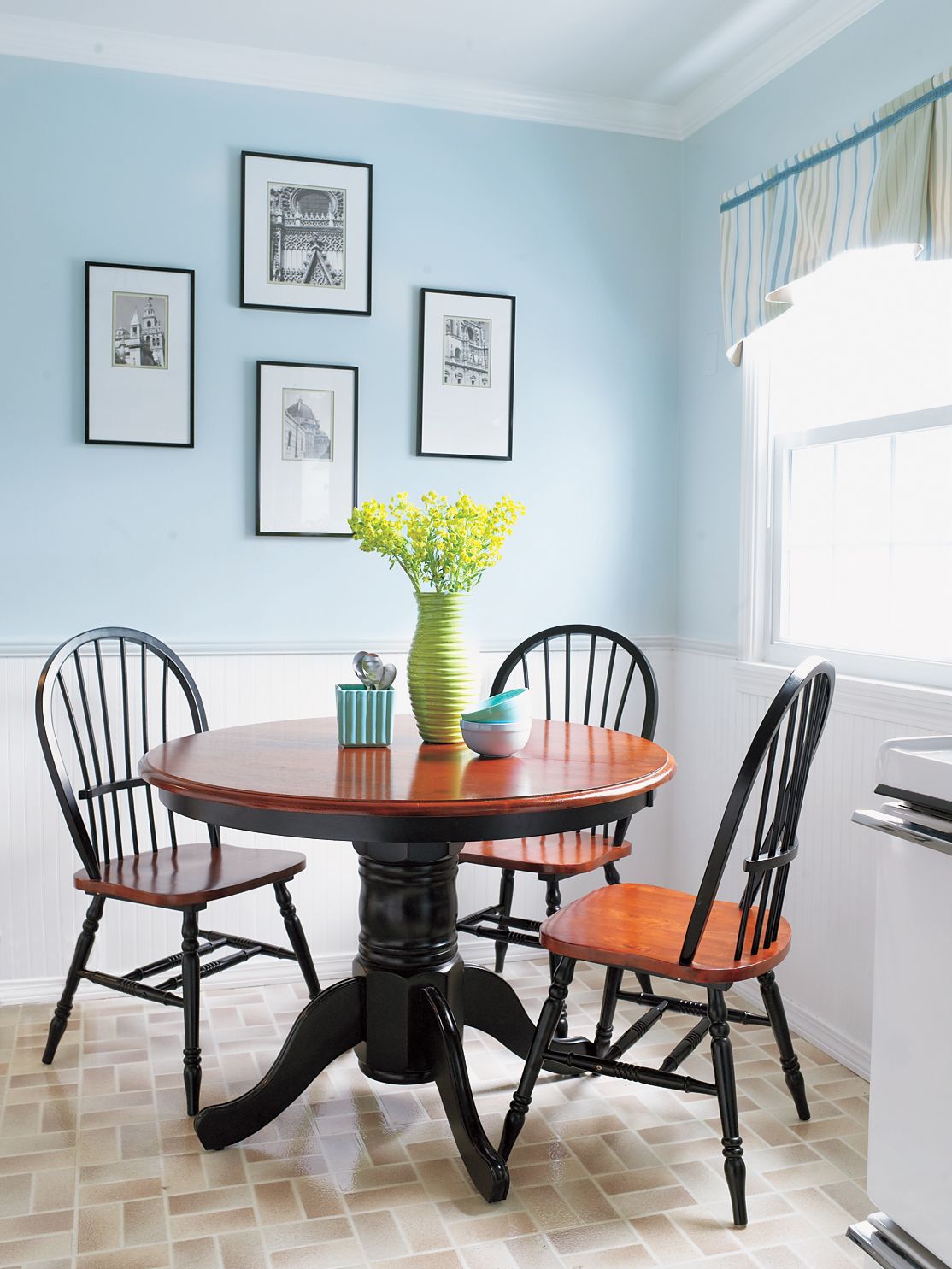 The eating area now has calming light-blue walls, glossy white wainscoting, and new crown molding, which complement the color palette of the kitchen's original vinyl flooring and new tile backsplash.
Trash-to-Treasure Tiles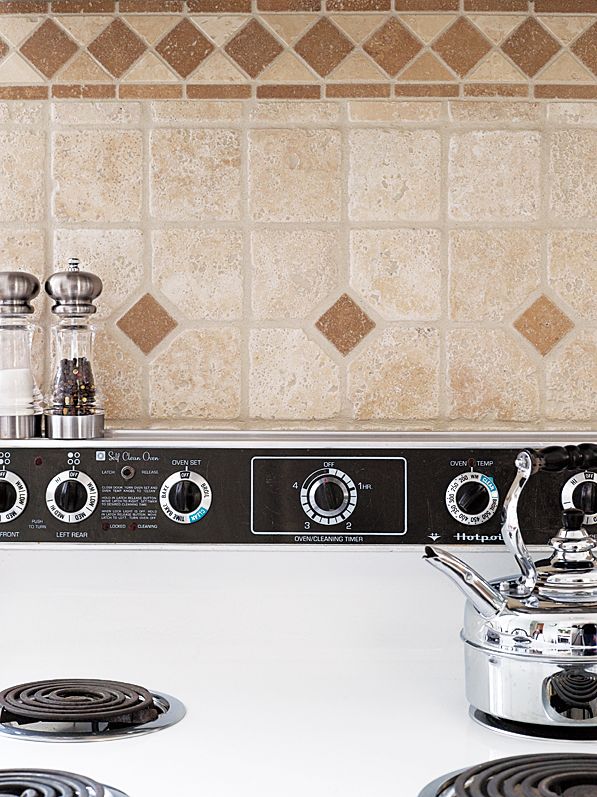 Tumbled tiles, leftovers donated by a family member, replaced the dingy white laminate backsplash.
Project Tip and Tally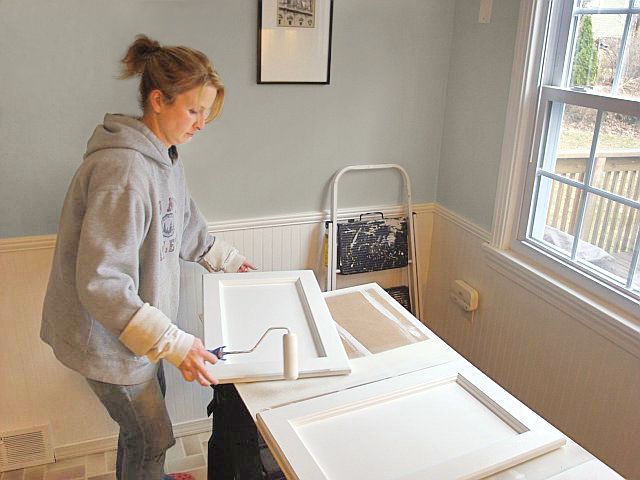 Homeowner Tip: "Using leftover cabinet paint on the kitchen's trim and bead-board tied the room together and saved us money." —Samantha Langdeau, Waterbury, CT
Here's how the cost broke down for this project:
Tore out the old cabinets, salvaging the bases. $0
Called in a favor for help upgrading electrical outlets. $0
Replaced the ceiling fan and added task lighting. $300
Patched the walls and ceiling with new drywall. $207
Built six pine cabinet boxes; added medium-density fiberboard doors and drawers to all the cabinets. $200
Resurfaced the laminate counter. $150
Used donated tiles for a new backsplash. $0
Upgraded to new brushed nickel hardware. $170
Built custom window arches and added crown molding. $100
Added a range hood. $140
Replaced the faucet. $110
Brightened the space with 2 gallons of primer and 4 gallons of paint. $150
Total: $1,527