Dare to DIY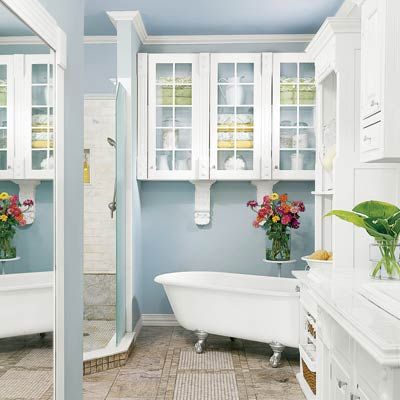 If the bath of your dreams seems out of reach, you've typically got two choices: Cut corners or compromise. Or, you could follow Susan and Mark Nitchman's lead and get creative—and a little dirty. For this couple, affording a spa-like retreat for their 1876 Queen Anne in St. Charles, Missouri, started with bidding their contractor farewell once the drywall and subfloor were in.
Susan and Mark resolved to do the finish work themselves to stay under the $6,000 cap they'd set for completing their master bath addition filled with high-end fixtures and finishes, such as a claw-foot tub, marble tile floors, a generous glassed-in shower, and a furniture-style vanity. And because there were no existing materials to preserve, they also knew they'd have to be resourceful—shopping garage sales, building all the cabinetry, even making their own trim. Keep reading to see more of their tips and the products they used.
Happy Homeowners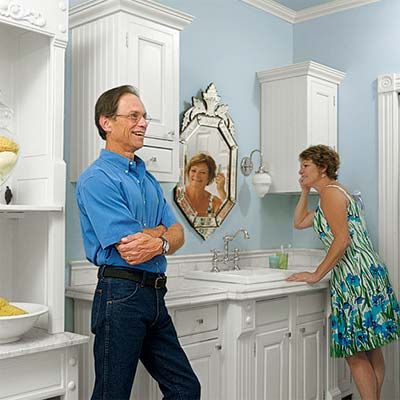 To get the job done in six months, from blueprints to celebratory candlelit soak, the couple divvied up the labor, with Susan doing the design and tile and Mark sequestering himself in the garage-turned-workshop. Read on for the backstory on each of the charming details that make this space shine—and see how imagination, elbow grease, and old-fashioned teamwork helped the Nitchmans get the bath they'd fantasized about.
Glass-Front Cabinets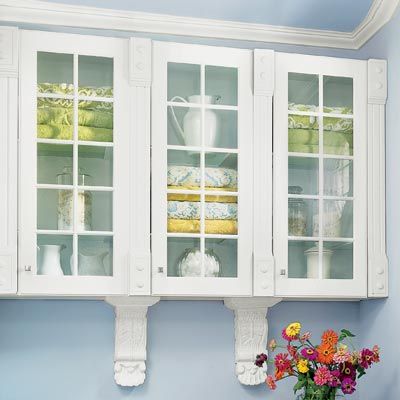 The divided-light doors came from a dismantled display at a kitchen and bath showroom. "If we didn't take them, they were going to be trashed," says Mark, who built plywood cabinet carcasses to match the doors' dimensions. White 100-percent-acrylic semigloss enamel unifies the parts. While not free, cast-off doors go for as little as $10 each at Habitat for Humanity ReStore outlets.
Classic Claw-Foot Tub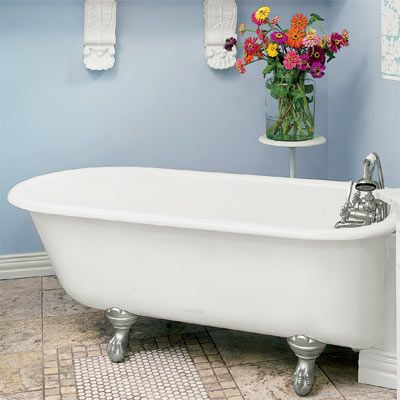 By saving with a salvaged tub—all it needed was new paint—that a friend and fellow old-house lover gave them as a gift, the couple could splurge on a new $385 chrome tub faucet. Mark used white oil-based enamel on the tub sides, and silver on the feet. Find your own salvaged soaker for as little as $350; The Old House Parts Company
Accent Window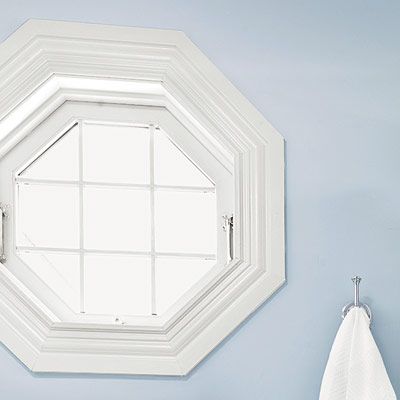 Susan's design originally called for a rectangular window. But this awning-style octagon, which opens out from the bottom, echoed the shape of the marble mosaic floor tiles. Century Specialty Windows 26-by-26-inch dual-pane insulated-glass awning window in unfinished wood, $167; Lowe's
Freestanding Storage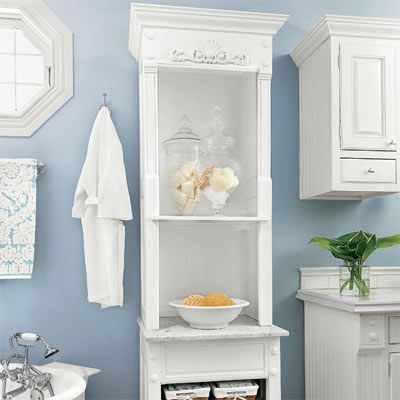 Mark crafted this freestanding storage unit almost entirely out of scavenged components. The marble slab, which once topped an antique table, was a $1 garage sale score. And the pilasters with the button motif on the upper shelves were just $2.50 each. The trim matches carved detailing on the lower portion of the etagere—a piece the couple once used to organize kitchen gear.
Tub Shelf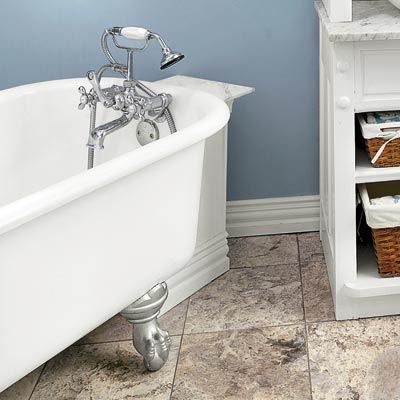 Using scrap wood, Mark built a pedestal to hide the tub's water and waste lines. Its marble-tile top doubles as a shelf to set candles on. Mark can remove the housing to access the plumbing.
Marble-Topped Vanity
Susan used marble floor tiles, instead of a pricey slab, to create this counter. Curvy border tiles mimic an ogee edge. Lansdale Carrara 12-inch tiles, $9 per square foot; and Lansdale Carrara Barnes borders, $17 each; The Tile Shop
Shapely Sink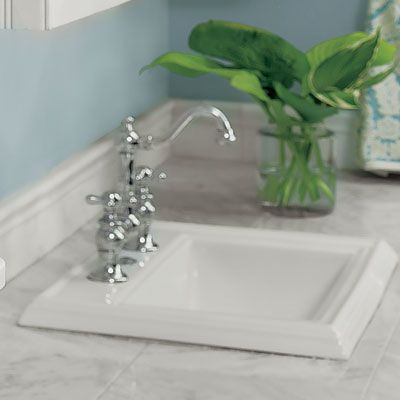 By saving with a $100 faucet (an open-box return), Susan could spring for the sink she coveted, Kohler's Memoirs Self-Rimming Lavatory, $198; eFaucets
Mosaic Runner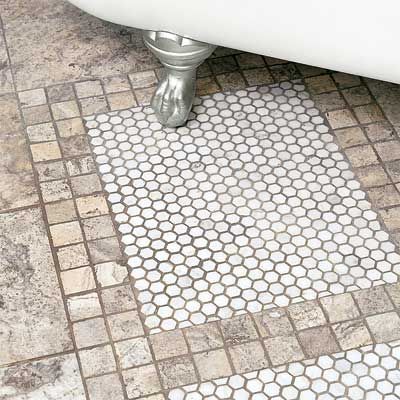 For a twist on the plush bath mat, Susan created a tile "rug." To perfect her pattern, she first dry-laid the tiles. "I was just too chicken to start without a trial run," she says. Lansdale Carrara 1-inch Hex (center); $14 per square foot; Claros Silver Tumbled 2-inch (border), $13 per square foot; and Claros Silver Honed 12-inch (field), $10 per square foot; The Tile Shop
Custom Casework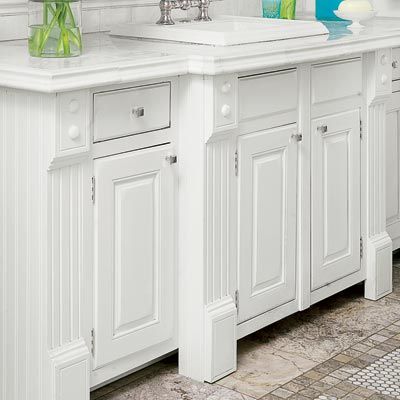 Mark built the cabinetry, using beadboard plywood for the sides and MDF for the crown molding on the uppers and the decorative pilasters on the vanity. The cabinet face frames, including hinged doors and drawer fronts, were discarded samples from a kitchen and bath showroom. "The profiles matched, but I had to sand the doors down and repaint them because they were all different colors and finishes," says Mark. ⅜-inch beadboard plywood, $21.47 per 4-by-8-foot sheet; and ¾-inch MDF, $5 per 4-by-12-foot sheet; Lowe's
Vanity Mirror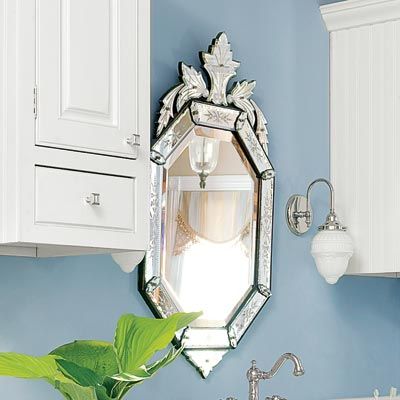 An upgrade over the wood-framed mirror originally planned for above the sink, Mark and Susan found this Venetian-style etched-glass one at a garage sale for just $35. It was such a steal, Mark admits to buyer's guilt for not offering the seller more. Similar to shown: Large Olivia Venetian Mirror, $900; Simply Mirrors
Mix-and-Match Sconces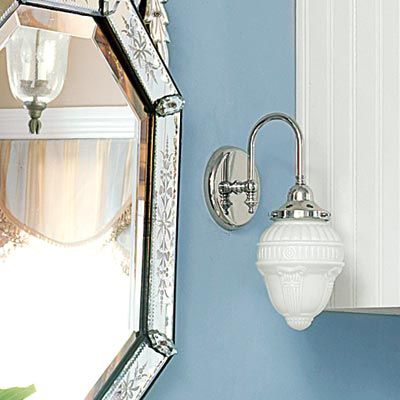 When Susan couldn't find the perfect lights to flank the vanity mirror, she assembled her own using parts from two different sets bought at a home center and online for a total of $120. To create your own unique sconces, try school House's Construction & Electric, Inc. or Rejuvenation which allow customers to choose among various finish and shade options.
Full-Length Mirror & Glass Shower Panel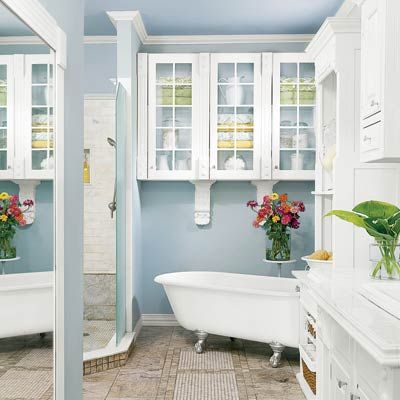 A tall wall-mounted mirror gives the impression of a doorway into another room, making the narrow corridor in front of the vanity seem larger. Mark adhered the mirror, bought at a local glass shop for $185, to the wall and framed it with fluted casing and corner blocks that he made out of MDF.
Susan designed a fixed frosted-glass partition to let natural light from the room's only window into the tiled shower stall. An open entry saved the cost of a matching door. While Susan laid the shower pan and did the tiling herself, she entrusted the glass installation to a local pro, who charged $350 for materials and labor.
Decorative Brackets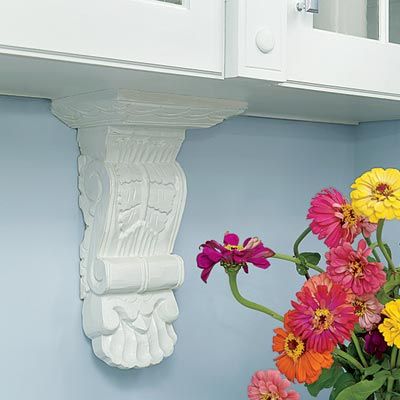 The carved corbels beneath the glass-front wall cabinets were sold as pedestal-style wall shelves. "All I did was paint them and put them up," says Mark. "Sue and I will repurpose just about anything." Similar to shown: 10-inch Acanthus & Flower Corbel in unfinished aspen, $30; Van Dyke's Restorers
Budget Bath Floorplan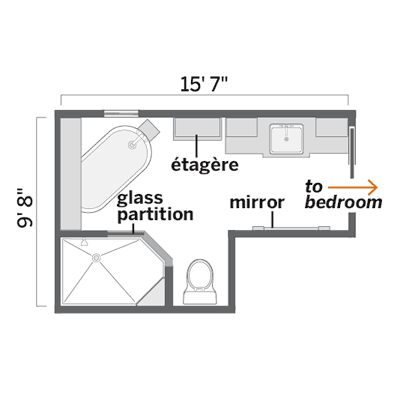 By angling the tub and shower entry in the two far corners, Susan made room for both fixtures on one end of the room. She tucked the toilet out of sight in a niche created by a bumpout for the master bedroom's walk-in closet. And to leave ample counter space for toiletries, she designed a double-wide vanity for just a single sink.