One-Man Redo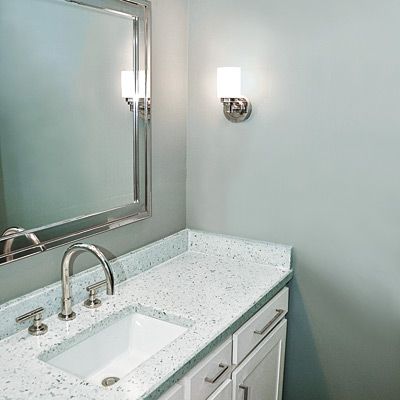 Some redos take an army, while others are best left in the hands of one enterprising DIYer. Justin Moret, 27, and the reno of the windowless half bath in his parents' 1960s lake house outside Fort Worth, Texas, fall into the latter category. A tight budget meant he wouldn't be gutting the space, but the dated sink and vanity had to go.
Shown: Cool tones and sleek fixtures add up to a stylish new space.
How-To Help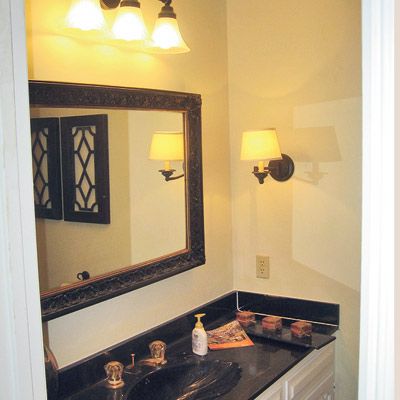 So after prying off the sink top and backsplash, Justin followed online tutorials to create concrete-and-recycled-glass replacements. He measured the vanity top, then built molds from melamine shelving, with cutouts for an undermount sink and gooseneck faucet he had already nabbed at bargain prices. He whipped up his own custom mixture of cement, sand, pebbles, and recycled glass, then poured four pieces for the counter and backsplash. While the vanity top cured, he crafted flat-panel doors and drawer fronts for the existing box.
Shown: Blah walls and a black seashell sink made the original bath feel "hokey," says Justin.
Fresh Details
To add an extra hit of shine, he refreshed the existing mirror by welding a steel frame and having it nickel-plated, then hunted down sconces to match. His handiwork, including painting the walls a cool gray-blue, took about four months, but the bath is now a soothing showpiece. "My parents are really proud," Justin says. "When company comes over, it's the first place they take guests to see."
Shown: The countertop pieces were poured into molds, where they sat for a month to cure.
The Project Tally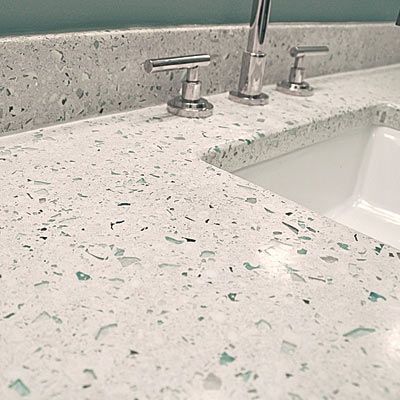 • Poured pieces for the counter and backsplash by building molds and mixing cement, sand, pebbles, and recycled glass. $135
• Saved big on a new sink, a faucet, and nickel-finished light fixtures by monitoring online auctions. $390
• Updated the vanity with poplar doors and drawer fronts he built himself, glossy paint, and chrome pulls. $75
• Gussied up the old mirror by welding a new frame and having it nickel-plated. $85
• Covered the ceiling with beadboard left over from a kitchen reno. $0
• Used one can of gray-blue paint to coat the walls. $20
Total: $705
Shown: Installed, the new concrete-and-glass top helps give the old vanity a fresh, updated look.