Tranquil Retreat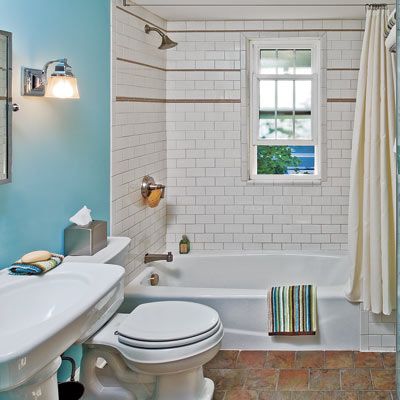 Sometimes it takes an addition to the family to kick a remodel into high gear. Such was the case for Lisa and Jim Steele of Syracuse, New York. The couple was "skeeved out" by the grim lone full bath left behind by previous owners, and they dealt with the eyesore by taking quick showers—never baths.
Before: Dark and Dingy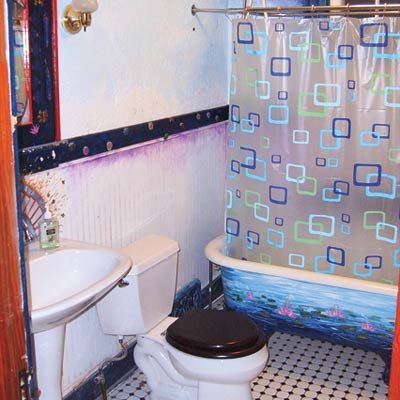 But with son Coby, now 3, on the way, they envisioned tub times full of toys for their little one. So, shopping sales and eBay for discounted fixtures, they began to create an inviting bath in their 1925 cottage, piece by piece.
Crisp and Clean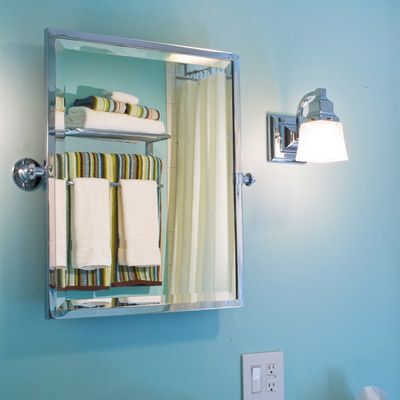 After gutting the place, Jim changed all the plumbing to Pex, installed the cast-iron tub Lisa wanted, and laid glazed porcelain tiles on the floor instead of pricey slate. To free themselves up to finish the kitchen and nursery first, they hired a contractor to tile the shower surround, put up the drywall, and paint the room.
Before: Far Out Fixtures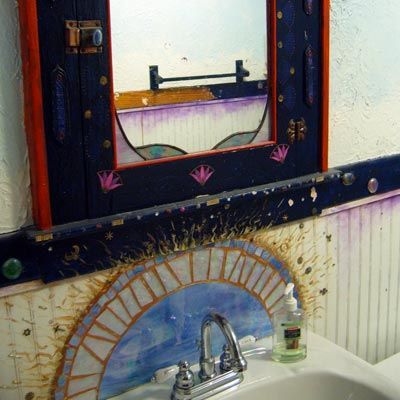 The Steeles were skeeved out by the bathroom's "psychedelic swamp" theme and couldn't imagine their son using the space. The medicine cabinet had layers of dark paint and iridescent accents on its glass inset. Says Lisa, "I was too scared to open it, let alone actually put something in there."
Smart Storage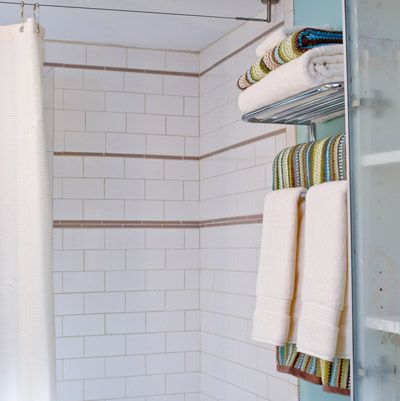 The finishing touches, including a new sink, toilet, and sconces, were put in right before guests came to see the baby. Now the whole family can't get enough of the space. Says Lisa, "Coby asks for a bath every day."
Before: Erratic Accents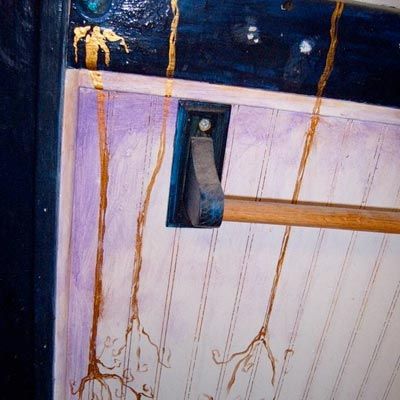 A trio of metallic-gold, curved organic forms, stretching from the painted wall above the chair rail to the beadboard panels below, was like an Art Nouveau painting gone bad.
The Project Tally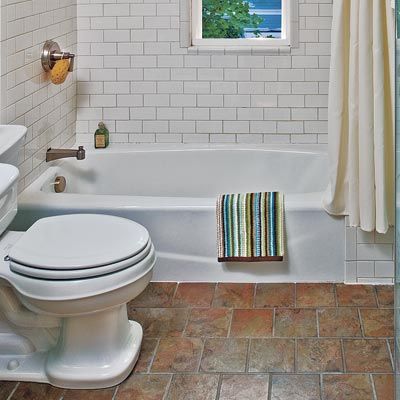 • Gutted the bath, offsetting the cost of dumping debris by selling the original copper pipes and the claw-foot tub, $0
• Scored a cast-iron tub on sale, $350
• Laid ceramic tiles rather than real slate squares for easy-care flooring on the cheap, $85
• Added designer look-alike tiles from a big-box store for a vintage-inspired shower, $150
• Hired a contractor to tile the shower surround, install drywall, and paint the walls, $525
• Installed a new toilet, a pedestal sink, and a faucet, $604
• Mounted two sconces flanking a beveled mirror, and a ceiling fan light, $332
• Put in a new window, a towel bar, shower hardware, and a wire shower-curtain track, $192
TOTAL: $2,238