Even in long-haul remodels, some spaces cry out for prompt design attention. For Roeshel Summerville of Butler, Pennsylvania, that space was the first-floor bath. Located between a home office and the family room, it's the most trafficked of the 1927 farmhouse's three baths and two powder rooms.
But when Roeshel, her husband, and their two daughters moved in, it sported bare drywall and grungy carpeting.
Before: Old Bathroom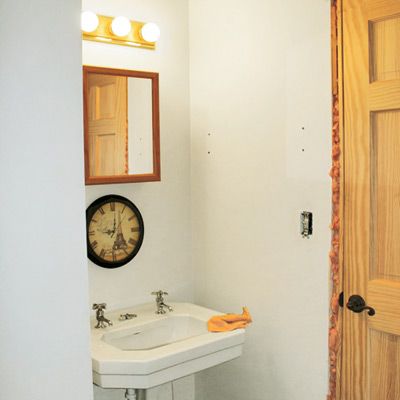 Two years in, with a full redo out of the question, Roeshel decided to make the space "less embarrassing." Refinishing everything from the plywood subfloor to the original sink fixtures with paint, she updated the bath over four weekends with a gray-and-brown palette and low-cost touches, such as a three-light vanity fixture. "It was supposed to be a temporary fix, but I love it. And now we can focus our money on bigger projects," says Roeshel.
After: Remodeled Bathroom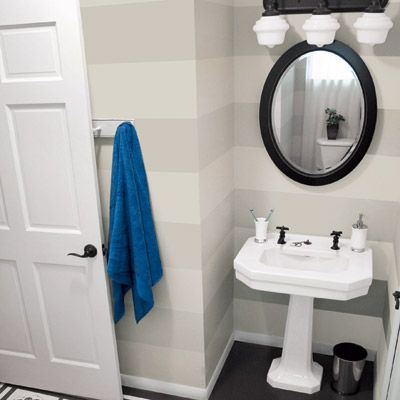 Wall paint: Benjamin Moore's Light Pewter and Nimbus
Here are some photos that show Roeshel's inexpensive bathroom remodel, step by step.
Bathroom Remodel Before and After Photos
Before: Floor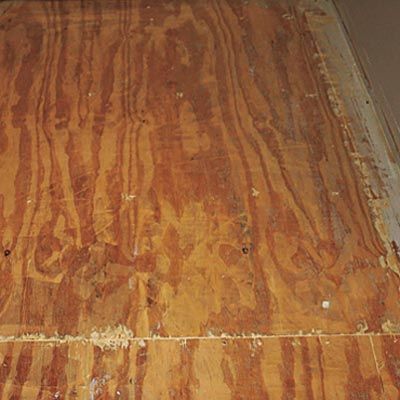 After sanding and patching the plywood subfloor, the owners used porch paint and stencils to create the design. Three coats of polyurethane ensure it holds in a humid bath.
Floor: After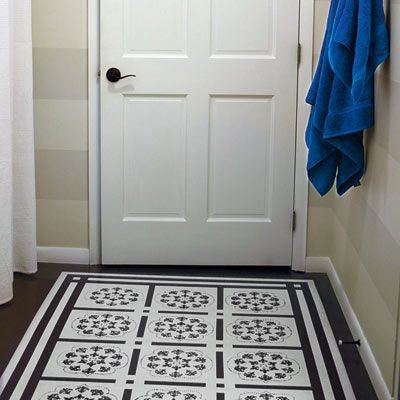 The painted floor delivers the look of tile at a fraction of the cost.
Paint: Valspar's Journey and Benjamin Moore's Smoke Embers
Before: Faucet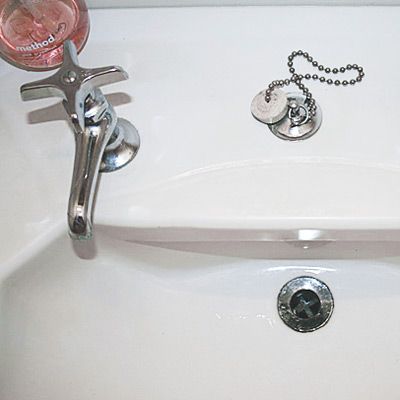 Using spray paint to refinish, the homeowners avoided the need to replace the sink or shell out for costly single-tap reproductions.
After: Faucet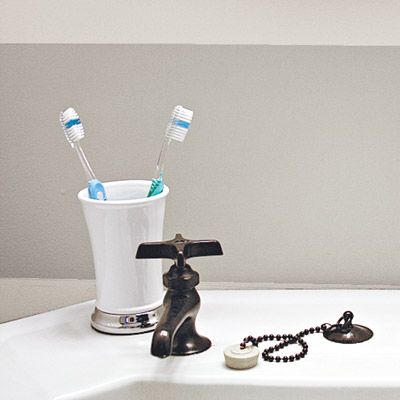 Spray paint and lacquer updated the original 1920s faucets for $25.
Faucet paint: Rust-Oleum
Before: Shower Stall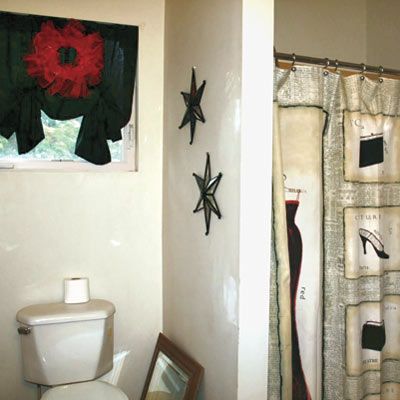 Extending the stripes over the shower walls adds a customized feel to the previously lackluster stall.
After: Shower Stall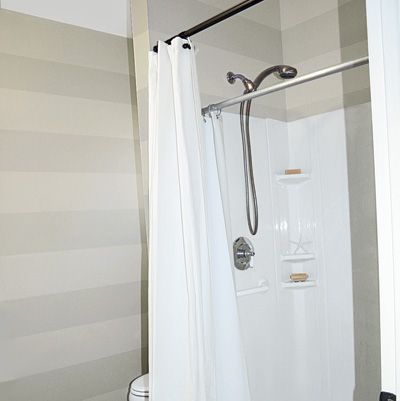 A simple white waffle-weave shower curtain lets the striped wall design take center stage.
Bathroom Remodel Costs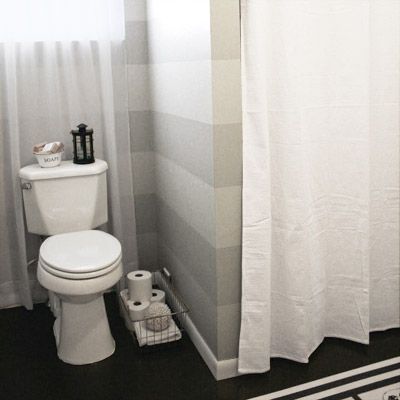 Removed the carpet, $0
Primed and painted the ceiling, door, and trim with cans left over from previous projects, $0
Mounted a three-light fixture over the sink and a flush-mount schoolhouse light on the ceiling, $221
Painted the floor with an area-rug design using two stencils, 1 gallon of new porch paint, and leftover gray paint, $40
Sealed the floor with three coats of polyurethane, $16
Created a striped wallpaper look with 2 gallons of paint, $62
Hung an oval vanity mirror, $75
Primed, painted, and lacquered the existing faucets to look like oil-rubbed bronze, $25
TOTAL: $439