Looks Like a Million Bucks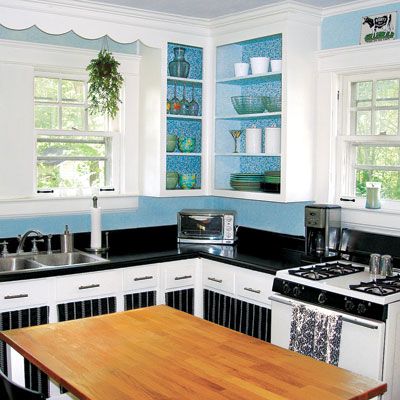 In some spaces, surface changes can make a huge impact. When Michelle Marburger bought her 1935 bungalow in Durham, North Carolina, she loved the size of the kitchen. "But otherwise," she says, "it was just dirty, disgusting, and dated."
With no budget for a complete redo, the interior designer decided to use simple, low-cost touches to give the room a new look and highlight original details, such as hardwood floors and the scalloped wood valance above the sink window.
"I felt like I needed to maintain the integrity of the house," she says. Keep reading to see how she did just that—for less.
Shown: While all the cabinets and appliances are the same, new paint, fabric panels, and nickel-finished hardware give the room a colorful new look.
Before the Transformation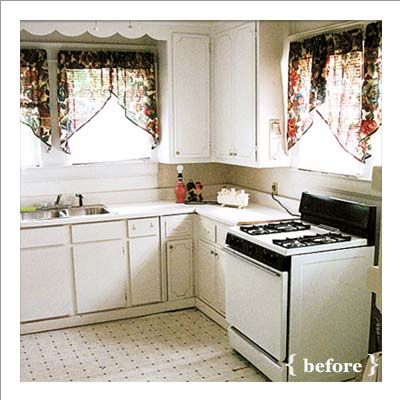 Most of the three-month-long, weekends-only project, though, was spent scraping up layers of vinyl and tar paper to refinish the hardwood floors underneath.
Shown: Years of dirt and grime stood out in the dated, all-white kitchen.
Butcher-Block for a Baker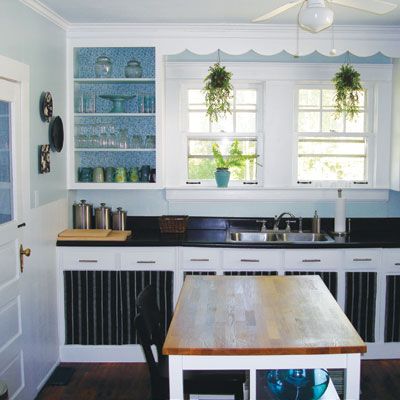 A new butcher-block-top island completed the revamp. "I bake a lot, so I really enjoy being in such a bright, happy space," Michelle says.
Paint, wall color: Gentle Tide, Glidden
Paint, cabinet and wall trim: Powdered Snow, Behr
Island: Stenstorp kitchen island, IKEA
Dull, Drab Kitchen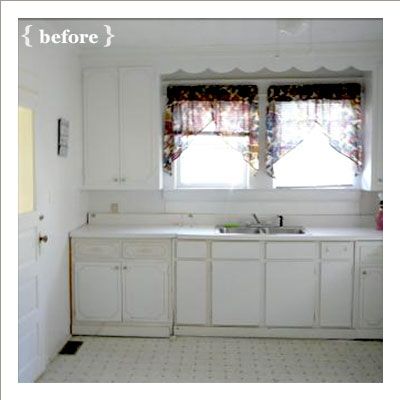 Michelle also sanded the scratched white laminate counters and brushed on oil-based primer and black oil paint, then used bright blue paint on the walls to add interest to an all-white kitchen.
The Project Tally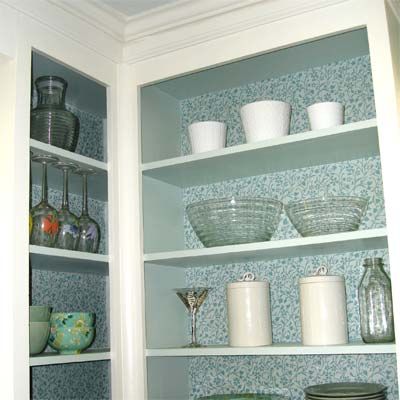 • Removed cabinet doors: $0
• Repainted the cabinet boxes a crisp white that pops against now sky-blue walls and black-painted laminate counters $125
• Added decorative adhesive-backed paper to the backs of the upper cabinets: $50
• Sewed fabric panels for the lower cabinets: $50
• Put new satin-nickel pulls on the cabinet drawers: $25
• Installed a new nickel-finished faucet: $75
• Removed the vinyl floor; rented a wallpaper steamer to take up the tar paper underneath: $35
• Sanded and polyurethaned the original hardwood floor: $450
• Butcher-block-top island and cart for extra prep and storage space New window lifts, heat register, base molding: $50
Total: $935
Shown: Removing the plain slab doors from all the cabinets allowed upper boxes to serve as open shelving for dishes.