Budget Dining Room Redo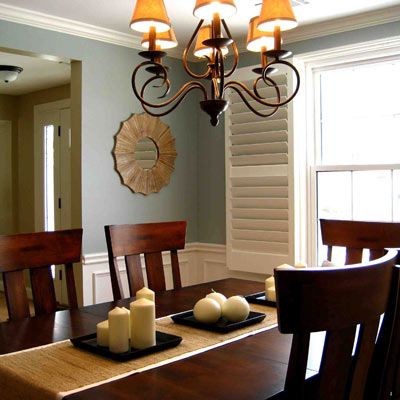 When a whole house needs work, often there's no better place to tackle than a high-traffic area. For J.K. Pfannmuller and her husband, the dining room in their 1985 Colonial Revival fit that bill. With a kitchen short on eating space, they needed a dining spot for regular meals as well as entertaining, so they wanted to give it a "formal air but casual feel." The laminate floor and baseboards were in good shape, so the couple turned to the walls, rolling a gray-blue above the chair rail before adding crown molding. Wall frames made of panel molding glued in place created a low-cost wainscoting. All of the trim and the lower portion of the walls were coated with a white semigloss to complement newly installed shutters, and wood furniture warmed up the room's cool tones. A new chandelier and a pair of lamps, tied together by their natural-fabric shades, add a soft glow to complete the transformation. Traditional without being cold or stuffy, the space now gets a lot of use. Says J.K., "We feel comfortable in the room, and it's perfect for our dinner guests."
Shown: New crown and panel molding added old-house charm to the existing stock trim.
Before: Simple Features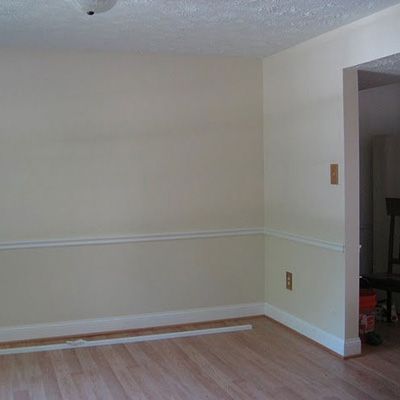 The room had a bland paint job and few architectural features.
DIY Artwork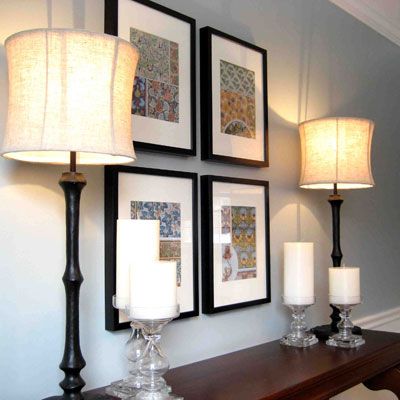 Instead of buying pricey prints, the couple found images from an old botanical catalog on the New York Public Library's website. They resized the artwork to fit in IKEA frames and hung a set of four over the sideboard.
Added Comfort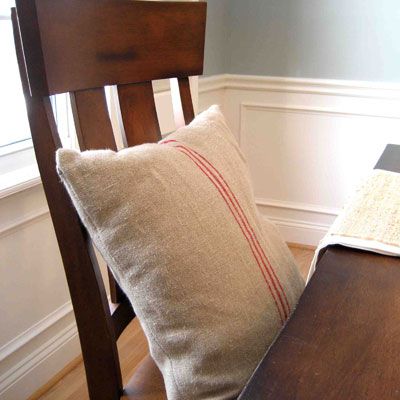 Pillows normally kept in the living room add extra cushioning to the curved-back dining chairs. The six chairs cost the Pfannmullers only $125 on Craigslist, about $655 less than retail.
Dine in Style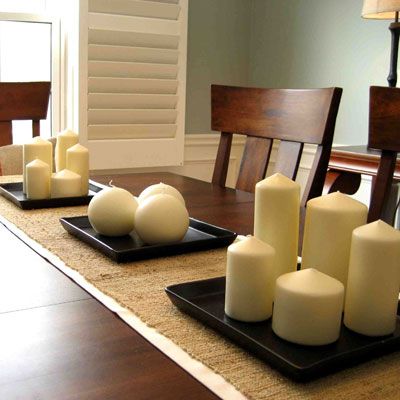 A table runner, topped with decorative accessories, adds another layer of warmth with its natural fiber-look weave.
The Project Tally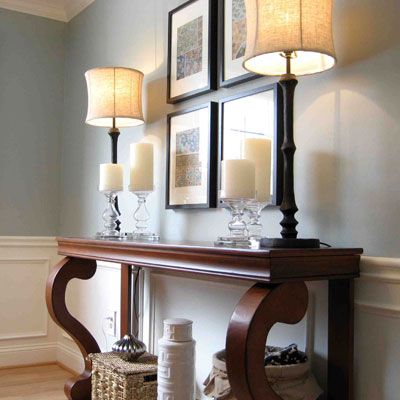 • Hired a company to mount wood shutters in the room's large window, $300
• Hung crown, added panel molding below an existing chair rail to create a wood-wainscoting effect, $100
• Unified trim with white paint, and set a traditional tone with gray-blue walls, $40
• Tracked down a complete dining set for six from two separate Craigslist sellers, $425
• Purchased a sideboard on sale, $300
• Downloaded four free botanical prints and set them off with IKEA frames, $60
• Added a chandelier and linen shades to match a set of lamps on the sideboard, $249
Total: $1,474