After: Lightened in The Same Layout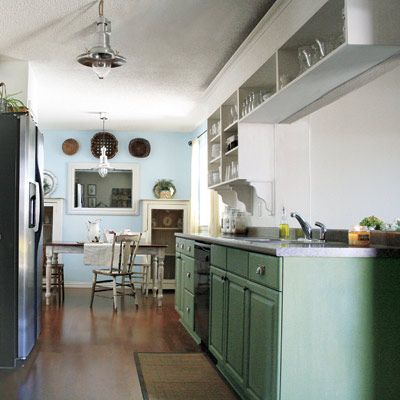 Opening up a room doesn't always require knocking down walls. Jillian Woods, owner of a 1970s ranch house in Crowley, Texas, figured that out when faced with her kitchen's dark rust walls and builder-grade cabinets. The appliances and counters were in good shape, and a layout change was beyond the budget, so she focused on simple cosmetic tweaks that would add up to the illusion of a light, airy space. Two weeks after moving in, she brightened the walls with sky-blue paint and a backsplash covered in white beadboard-patterned wallpaper.
Shown: Bright and cheery, the kitchen now has light-reflecting finishes and open shelving.
Before: Dark and Bland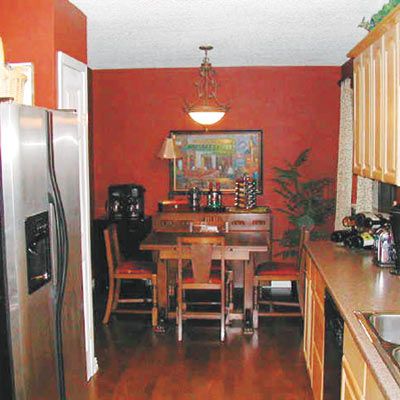 Then Jillian turned her attention to the cabinets. After removing doors from some of the upper boxes to lighten their look, she and her husband, Derek, installed a header capped with molding to add more height. A two-tone paint job—white on the uppers and gray-green on the base units—gave the cabinets a style boost. To put the finishing "old house" touches on the space, she lightly distressed the cabinets' edges and whitewashed her dinner table's legs. Now the room has a relaxing, more spacious feel. Says Jillian, "The new kitchen even makes cooking less of a chore."
Shown: Rust-colored walls and bland wood cabinetry weighed down the small room.
Same Appliances, Same Places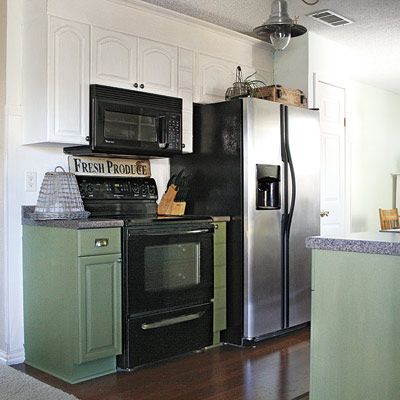 The appliances stayed in the same configuration, and all the cabinets were freshened up with paint.
Shown: Gray-green lower cabinets add interest to an otherwise white kitchen.
Old Table, New Old Look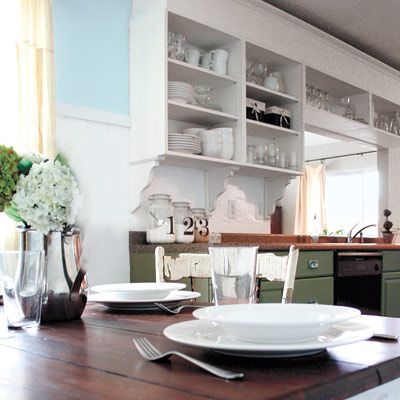 The table, brought from their last home, got a farmhouse makeover. Jillian stripped off its black paint and refinished it after Derek scored the top with a saw to make it look like vintage barn board.
Like It's Been There for Years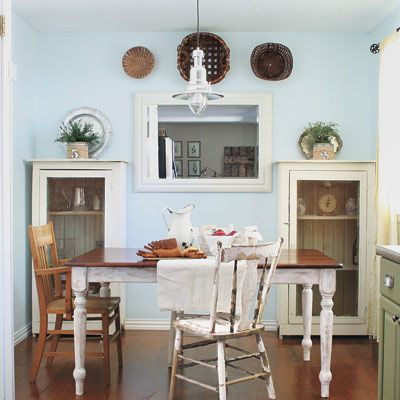 The dining area, framed by flea market cupboards stocked with servingware, has a casual, lived-in look. A large white mirror reflects light from a fisherman's-style pendant.
The Project Tally
• Took the doors off the upper cabinets, giving them less visual weight. $0
• Painted the cabinets, table, and walls. $205
• Faked custom-look cabinetry with a header made of stock parts. $20
• Dressed up the cabinetry with brushed-nickel hard-ware and three brackets. $79
• Used beadboard wallpaper as a low-cost backsplash. $20
• Furnished an eating nook with a pair of vintage cupboards and a mirror. $180
• Replaced stodgy lights with shiny silver pendants. $60
Total $564