Saving by Keeping Retro Charm
Who: Nick Macke and Ted Moss
Where: Milton, Mass.
What: Gave their old cabinets a stylish yet frugal makeover.
"We wanted to keep some of the original retro details such as the stainless-steel sink and metal cabinets," says homeowner Nick Macke. That's the initial reason why he and his partner, Ted Moss, decided to go with mostly surface updates to their kitchen. Then they realized that doing so would save a huge chunk of cash as well as the kitchen's vintage charm.
Sink Area: Before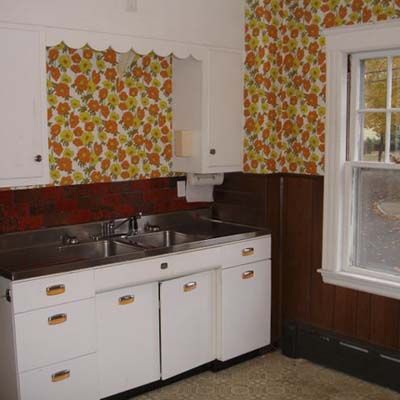 A scalloped soffit, '70s-era wallpaper, wood paneling, and peeling linoleum dated the space. An open shelf above a new mosaic backsplash, a fresh coat of paint for the cabinets and walls and for the paneling, and a new floor bring it into this century.
Working in the Same Footprint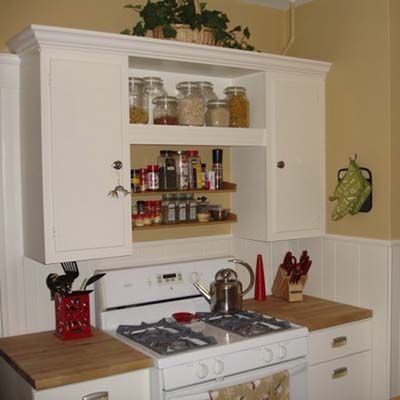 No walls or appliances were moved in the 10-by-12-foot workspace. Painting twin sets of the original metal cabinetry (one in the sink area and one above the stove), in addition to the walls and paneling, and laying a new floor directly over the old one took three months.
Stove Area: Before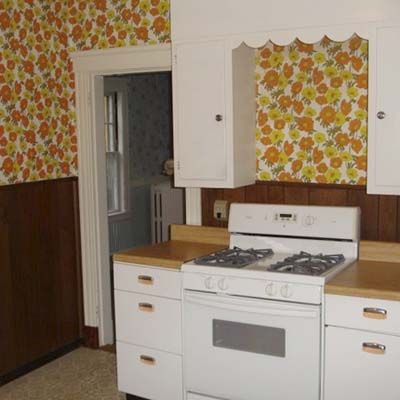 The homeowners kept a perfectly serviceable stove but brightened up the rest of the cooking area.
The Project Tally: Items $0-$10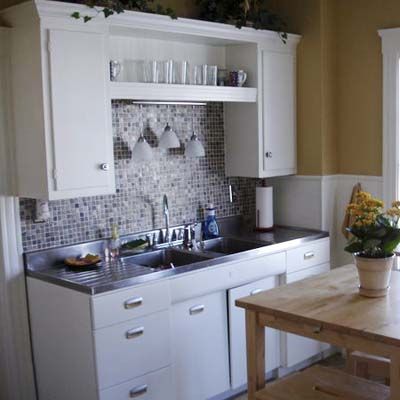 Stripped wallpaper: $0
Ripped out valance-style trimwork and 5-foot-long soffit on upper cabinets: $0
Replaced plastic outlet plates and switch plates with stainless steel: $10
The Project Tally: Items $25-$70
Topped cabinets with preprimed crown molding from the home center: $25
Sanded and painted cabinets, including the plastic pulls (a family friend at the paint manufacturer provided a 50 percent contractor discount): $40
Swapped out a fluorescent sink light for one with pendants: $60
Painted walls and paneling: $70
The Project Tally: Items $150-$200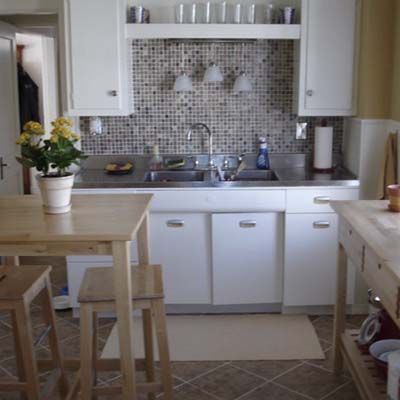 Kept the sink but replaced the faucet: $90
Added a backsplash of slate tile: $150
Covered old linoleum floor with peel-and-stick resilient tiles laid directly over it: $200
Project Total: $645