Sleep in Style, Get Max Function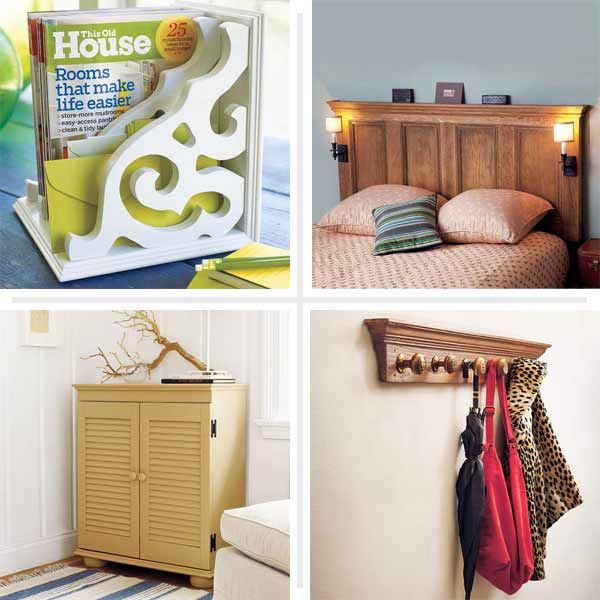 Whether your bedroom is a large suite, or a cozy retreat, you need all the basics—a comfortable bed, storage space, and a proper bedside table—but it is also nice to add in a few extras for a little charm and style, if space allows. We've put together a collection of our favorite step-by-step DIY bedroom furniture projects to outfit your boudoir.
Upholstered Headboard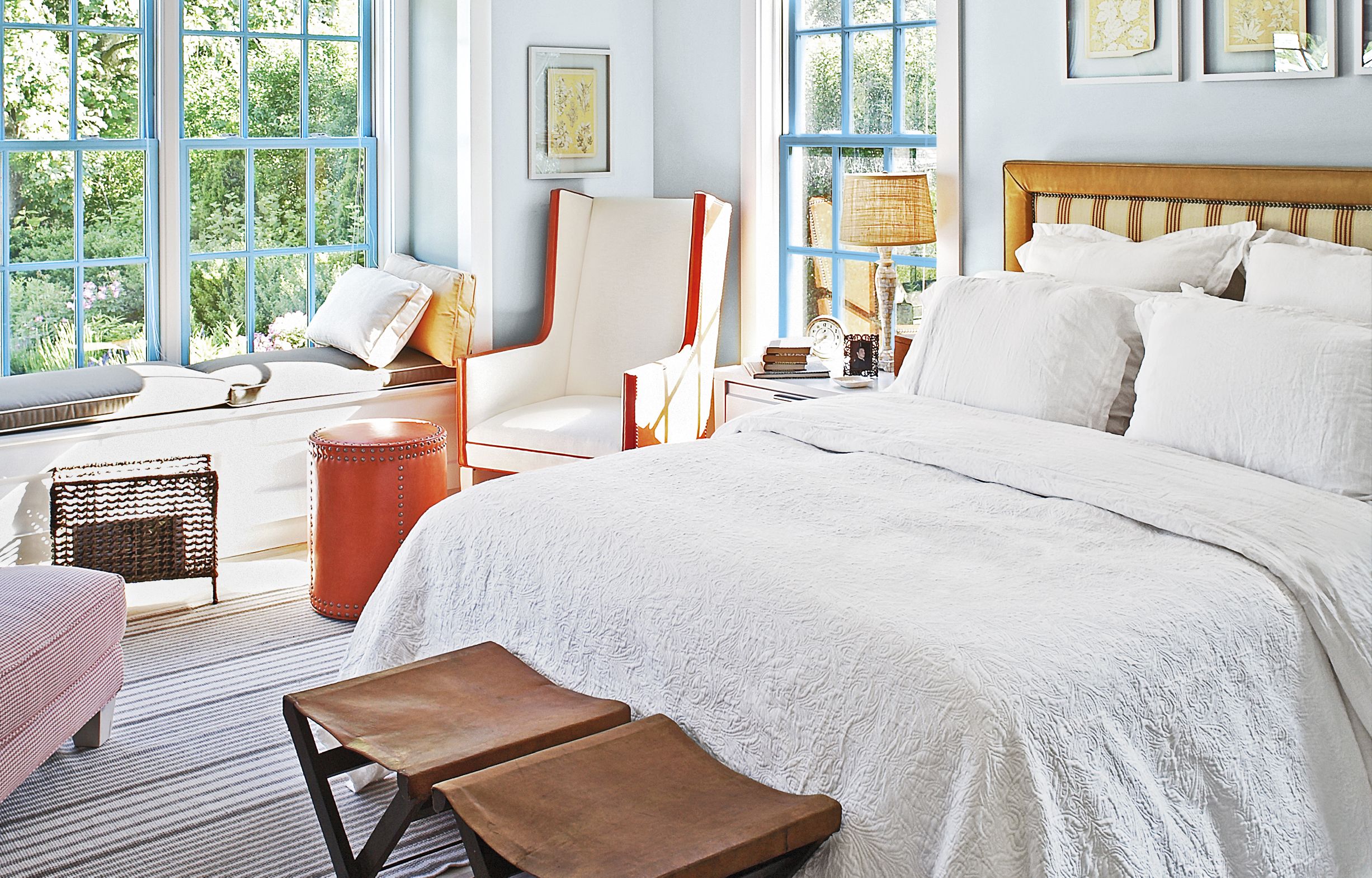 To up the coziness factor of your bed, make an upholstered headboard. You can customize the fabric pattern and color to match your decor. All you need is a piece of plywood cut to size, plus 1-inch foam, batting, fabric, and nailhead trim. No more leaning up against that hard wall.
Add a comfortable and elegant back to your bed: How to Make an Upholstered Headboard
Storage Bed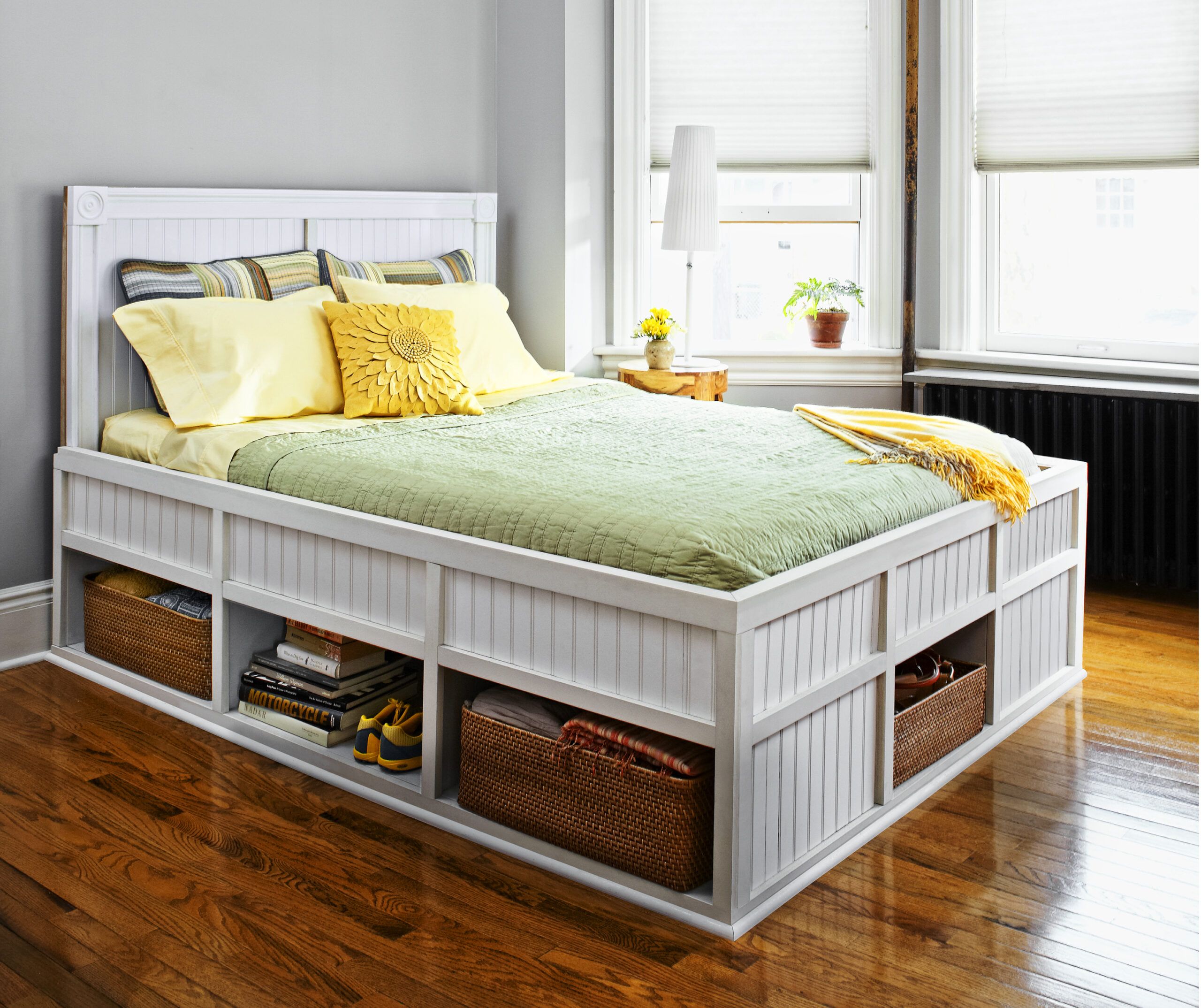 Build a bed every bit as practical as it is handsome. We asked This Old House contributor and furniture maker Christopher Beidel, owner of Pernt, in Brooklyn, New York, to re-create this bed from a photo featured in the magazine using DIY-friendly construction techniques.
Add more stylish storage under your bed: How to Build a Storage Bed
Wood Hamper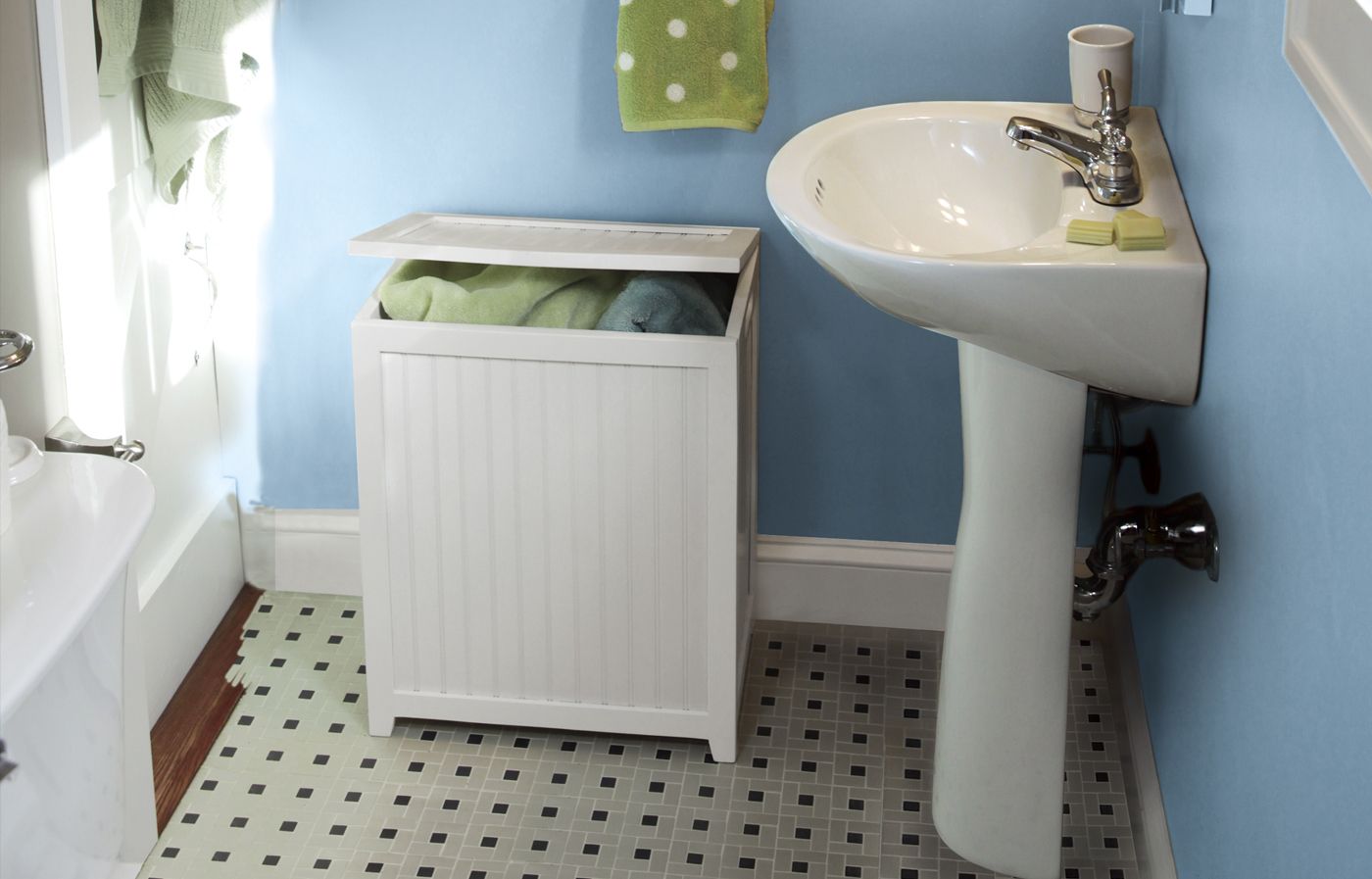 A clothes hamper is not the sexiest piece of furniture you'll ever own. But that's no excuse for using a tired old canvas bag or an open-top basket to stash your dirty duds. Construct your own hamper with furniture-like details, like the one shown here. The straightforward design is very flexible, and you can customize it according to your bedroom's style.
Throw worn items in until laundry day: How to Build a Wood Hamper
Shutter-Door Cabinet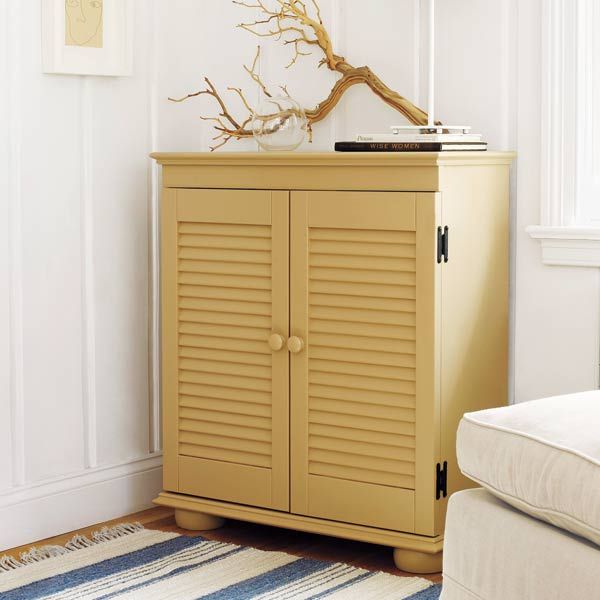 It is difficult to find a handy, compact cabinet for stowing essentials on a limited budget. We turned to TOH general contractor Tom Silva for some DIY advice. He demonstrated how to attach off-the-shelf fixed-louver shutters to an inexpensive, ready-to-assemble bookcase to make a charming cabinet that's easy on the wallet. With a few finishing touches, like trim and bun feet, this piece will spiff up your bedroom.
Stash small necessities neatly behind shuttered doors: How to Build a Cabinet from a Bookshelf and Shutters
Hairpin-Leg Coffee Table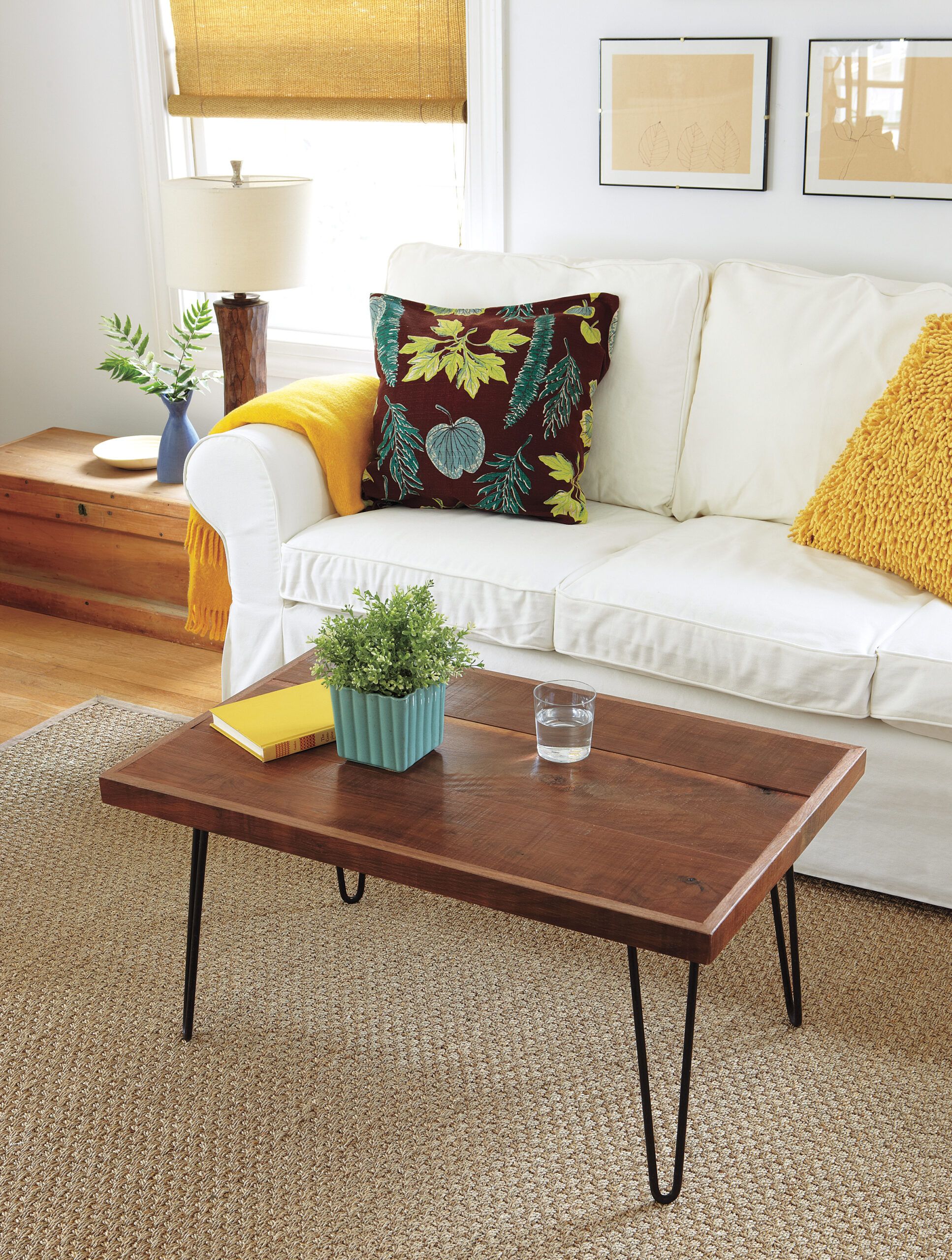 Blending rustic wood with industrial metal, this coffee table has a high-end look—but cost less than $70 to make. The secret: vintage hairpin legs, often found on mid-century furniture, now easily available and affordable from online auction sites and marketplaces.
Amp up your master suite's sitting area: How to Build a Hairpin-Leg Coffee Table
Storage Chest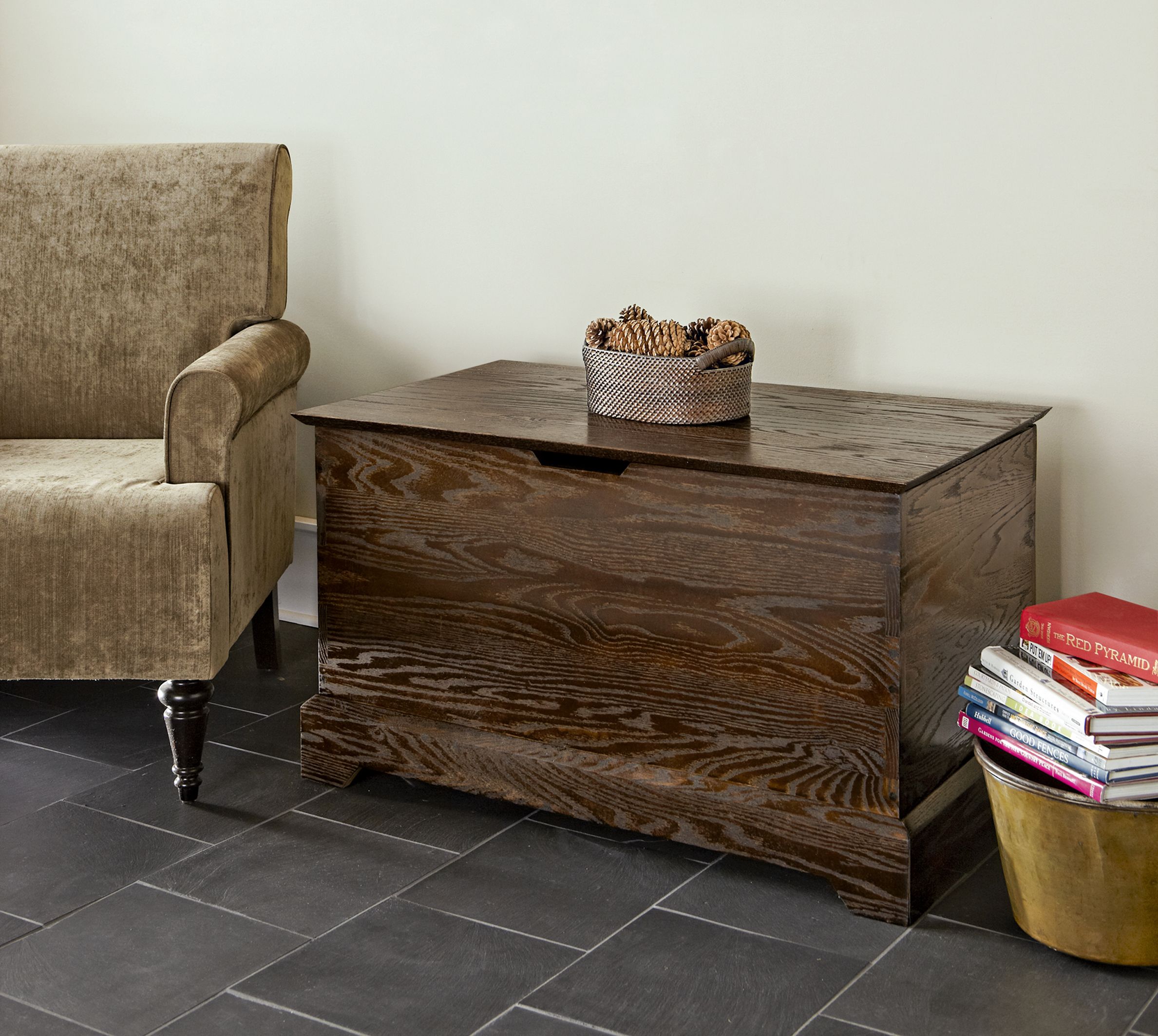 This DIY chest is an attractive, mature piece of furniture with plenty of storage and sufficient style to replace any unsightly plastic bins still peeking out from under your bed. It eschews the cheap look of sheet goods in favor of box-joint construction with alternating lengths of boards. The boards make up sides that fit together like puzzle pieces.
Build your own to tuck away extra blankets or out-of-season clothes: How to Build a Storage Chest
Trimmed-Out Bedside Table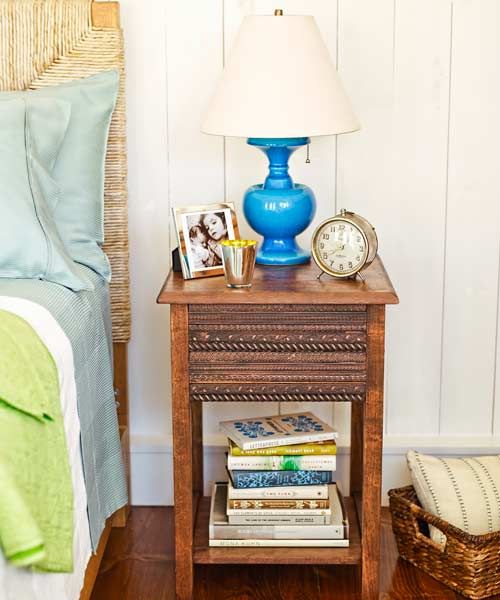 Once a nondescript catchall for books, photos, and knickknacks, this bedside perch now boasts one-of-a-kind style, thanks to strips of decorative molding. Lengths of stock molding are available at home centers for $5 to $8 for a 6-foot piece. Cut pieces to size, and use wood glue to adhere them to your table.
Turn a boring nightstand into a charmer: How to Trim Out a Plain Table
Bifold-Door Headboard and Footboard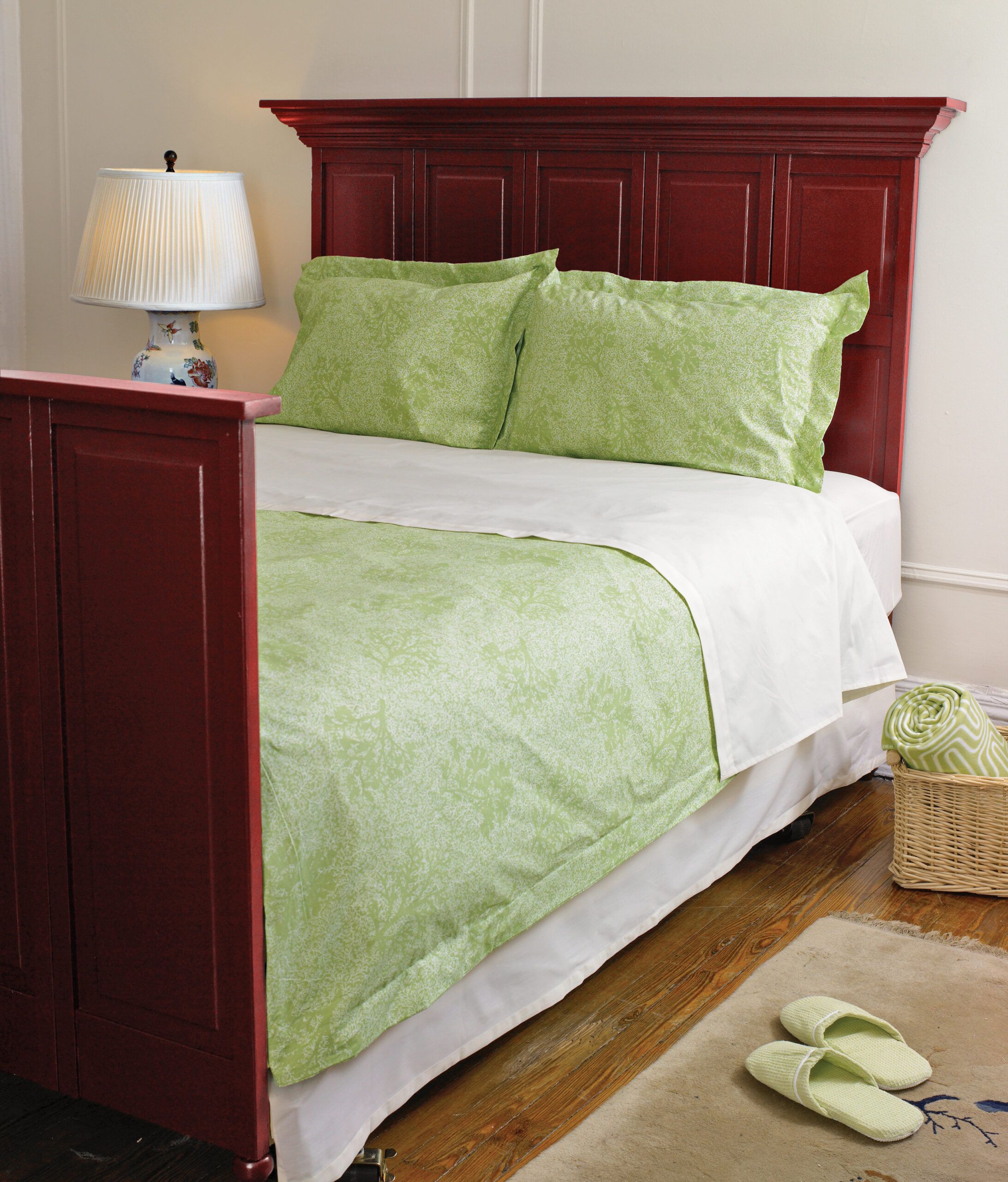 With a trip to the home center for some ready-made parts, plus a few basic tools of your own, you can give your bed a proper framework. This Old House general contractor Tom Silva assembled the handsome head- and footboard shown here in just a day, using paneled bifold doors and stock molding. "Using off-the-shelf products makes this project easy," says Tom. "The basic woodworking is done for you."
Customize your bed frame: How to Build a Headboard and Footboard from Bifold Doors
Side Table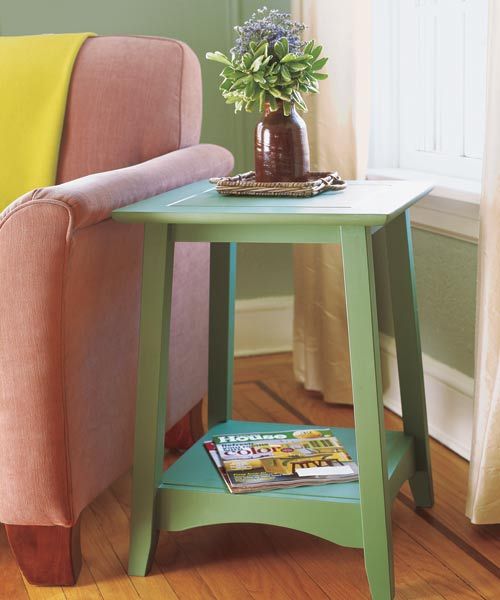 A table like the shown here, which cloaks Arts and Crafts bones in an unexpected color, bucks tradition in favor of a fresh look that fits right in with any setting. For under $100, you can easily cut and assemble one of your own.
Partner this piece with your reading chair or bedside: How to Build a Side Table
Dog Murphy Bed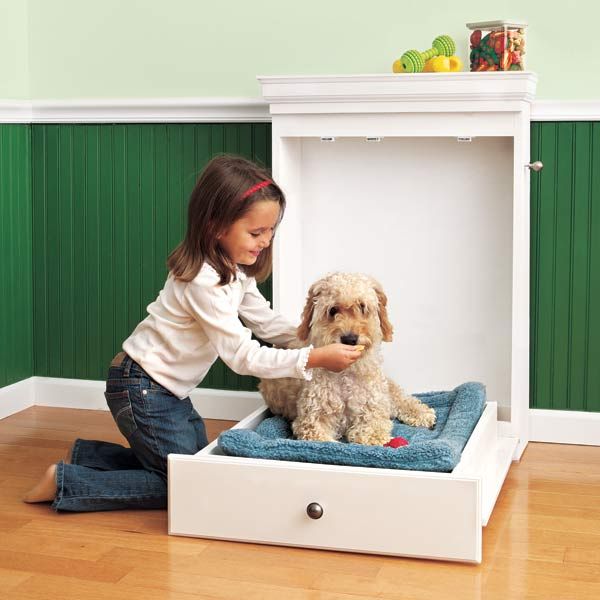 Your dog may be as cute as a button, but the typical dog bed—bulky, obtrusive, matted with fur—not so much. Instead of banishing his sleeping spot to the basement, build a pint-size Murphy bed that stows a sleeping pad inside a handsome built-in cabinet. Whether he sleeps on a mattress or a favorite old blankie, your dog will be glad to have a bed of his own—one that's tidy enough to keep in your own bedroom.
Finally, a dog-bed that you can hide when Fido's awake: How to Build a Murphy Bed for Your Dog
Ladder Bookshelf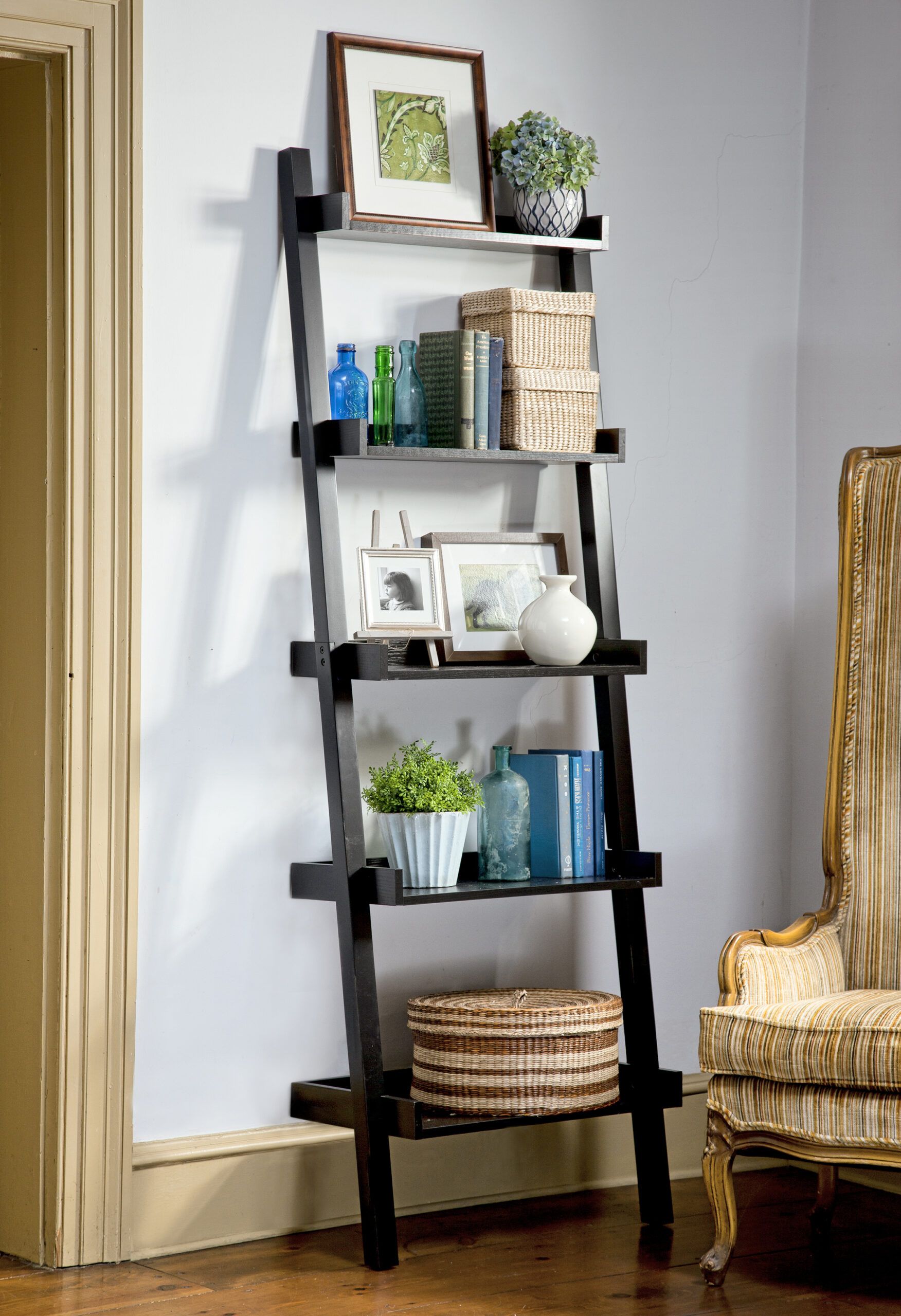 Unlike closed bookcases, the open, airy design of this shelf will help your bedroom feel more spacious—all for not much more than the cost of a few feet of floor space. Delicate as it may appear, the notched hardwood frame is plenty sturdy, and with its balanced design, it won't topple. Follow our plans and knock one out in an afternoon, and you're sure to appreciate the unobtrusive new shelf space.
Stand up this sturdy, modern piece: How to Build a Ladder Bookshelf
Small Bookcase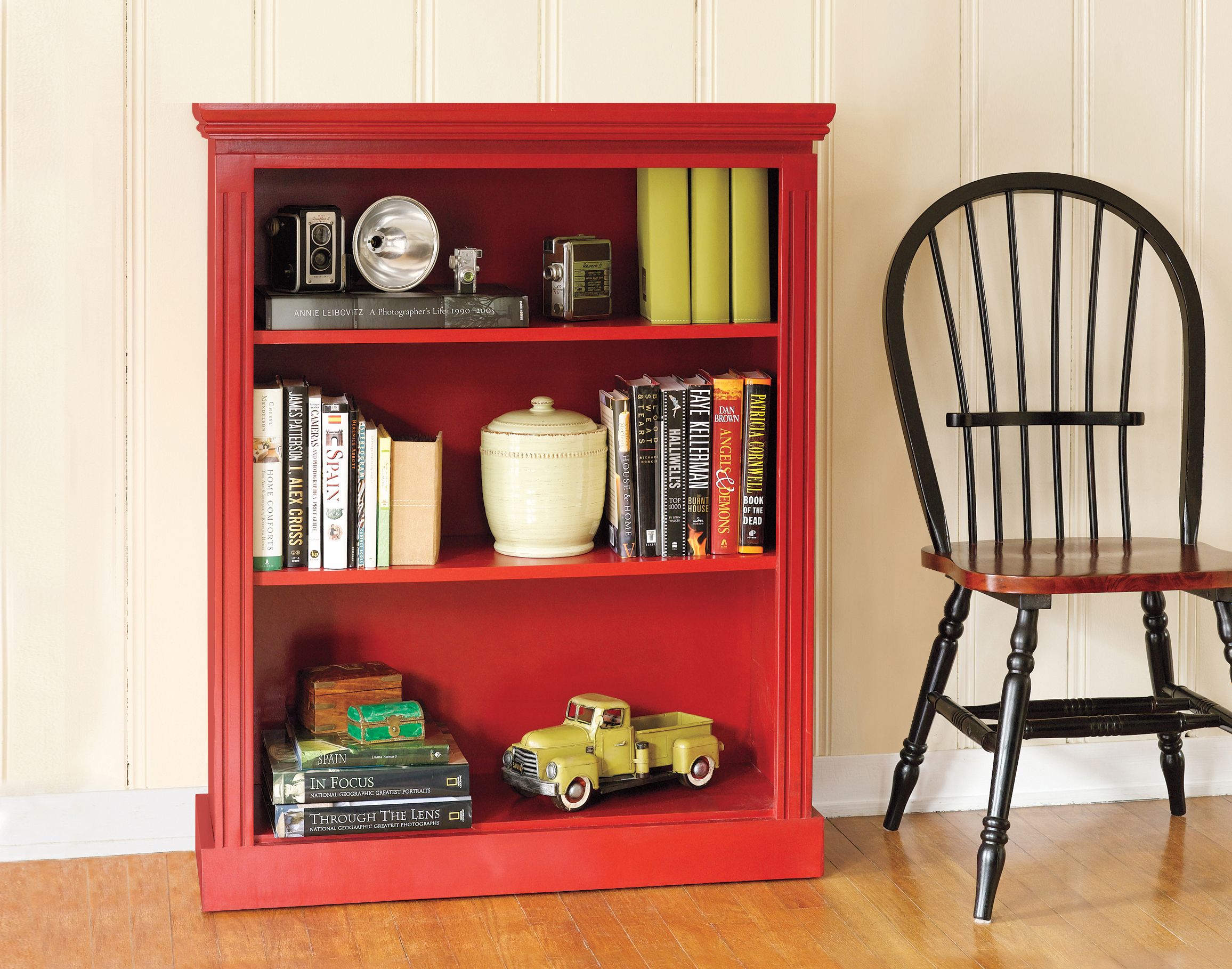 It's a shame to closet your collectibles when open shelving puts those prized possessions on proud display. And it doesn't take much to build yourself a custom bookcase: A few sheets of veneer plywood and some inexpensive molding, and you're well on your way to creating a proper showcase for your hardback favorites and treasured curios.
Add a small unit to shelve your favorite books: How to Build a Small Bookcase
Interior-Door Headboard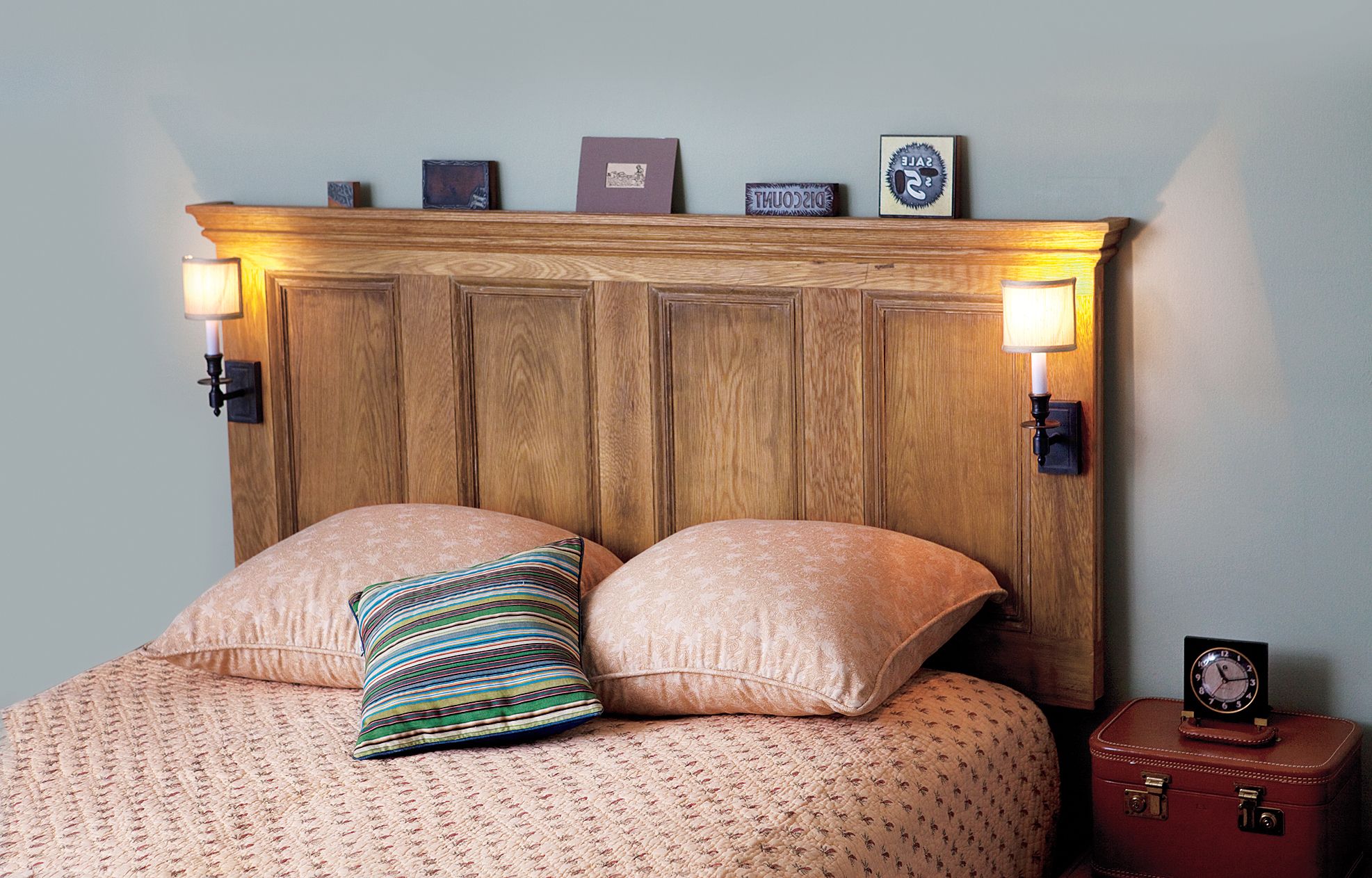 Doors in homes built before 1950 are typically made of solid wood, whether oak, maple, chestnut, or mahogany. At most salvage yards you'll find row upon row of these paneled doors, many made from old-growth timber, typically starting at about $60 each. For a door "upcyling" project, TOH features editor Amy Hughes made a stylish wall-hung headboard with built-in sconces that serve as reading lamps.
Add vintage flair to your bed: How to Turn an Interior Door into a Headboard
New Mirror with Old Trim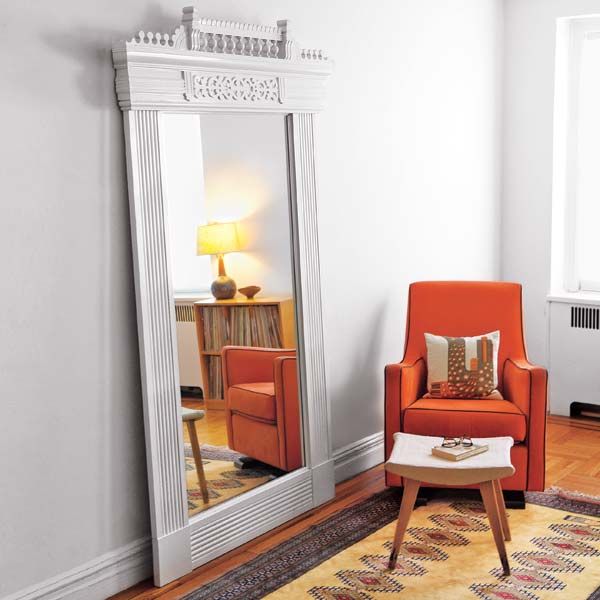 A tall mirror will not only brighten your bedroom with reflected light, but it will give you a good view of your whole outfit. Make yours charming and decorative with salvaged door trim, like the DIY pier mirror shown here. The entablature of an old door casing was used for the top, and preprimed pilasters from a lumberyard were used for the sides and bottom. White paint unifies the old wood with the new.
Look at your reflection in a whole new view: How to Make a New Mirror with Old Door Trim
Mirror-Topped Accent Table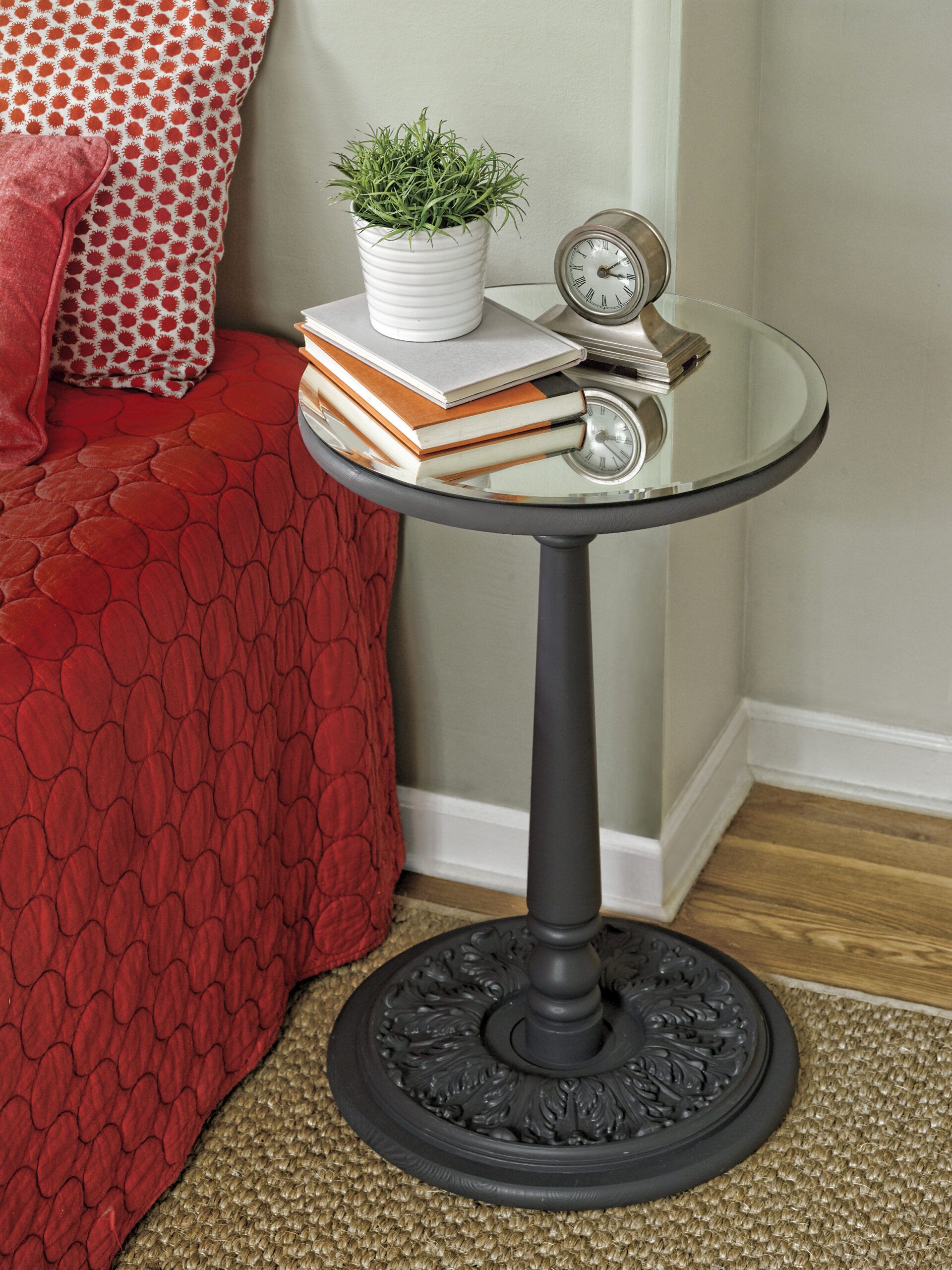 A compact pedestal table is one of the handiest pieces you'll ever own, especially for holding bedside reading. With a bit of DIY knowhow and some simple materials, you can make this mirror-topped version for a lot less than the cost of a new lookalike.
Make a unique piece to stand bedside: How to Build a Mirror-Topped Accent Table
Bifold Doors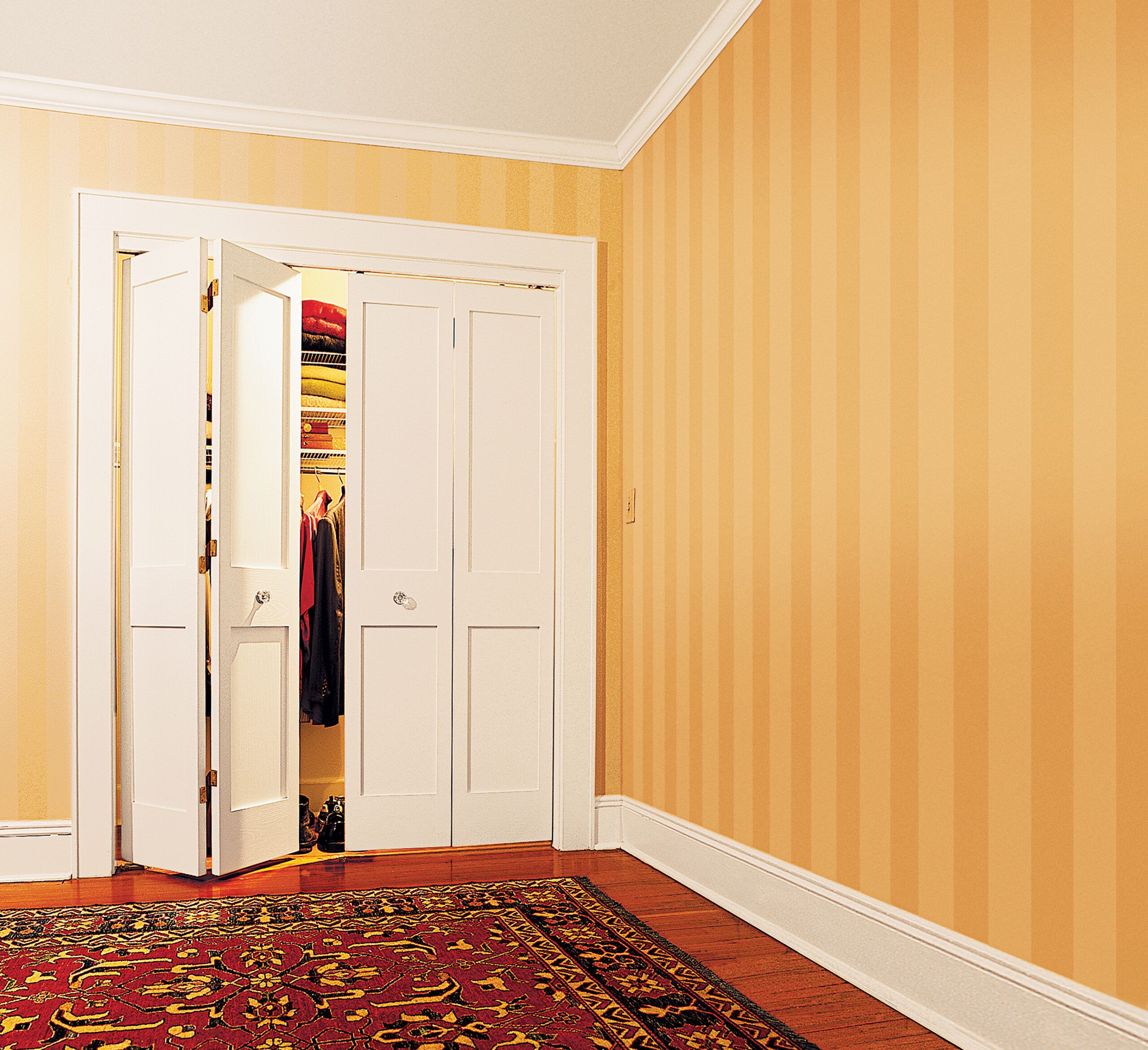 Sliding closet doors are space-saving, but not the best-looking—and they make seeing (or reaching) the goods in the middle of the closet really difficult. Heavy bifold doors with a sturdy track, on the other hand, move effortlessly away from the center of the closet to give you a full picture of the contents inside. Replacing those sliders with a pair of weighty solid folders isn't a huge deal; the whole assembly and installation will take you a mere Saturday afternoon.
Turn sliders into a pair of folders: How to Install Bifold Doors
Wall Cubbies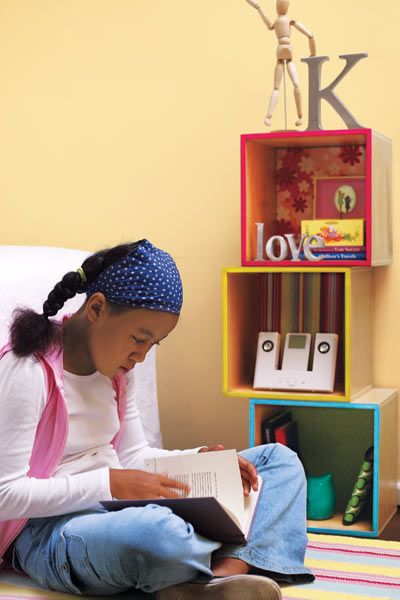 Modular wall cubbies can be customized to suit your (or your kids') changing tastes and storage needs. You can make just one cube or stack several. The cubbies shown here are 12-inch cubes, but you can make them any size you like. Even if you make them wider or taller, the construction is the same. The fabric-covered panels inside are removable, so you can change the look as often as you want.
Stack up cubes to stuff any extra "stuff": How to Build Wall Cubbies
Magazine Rack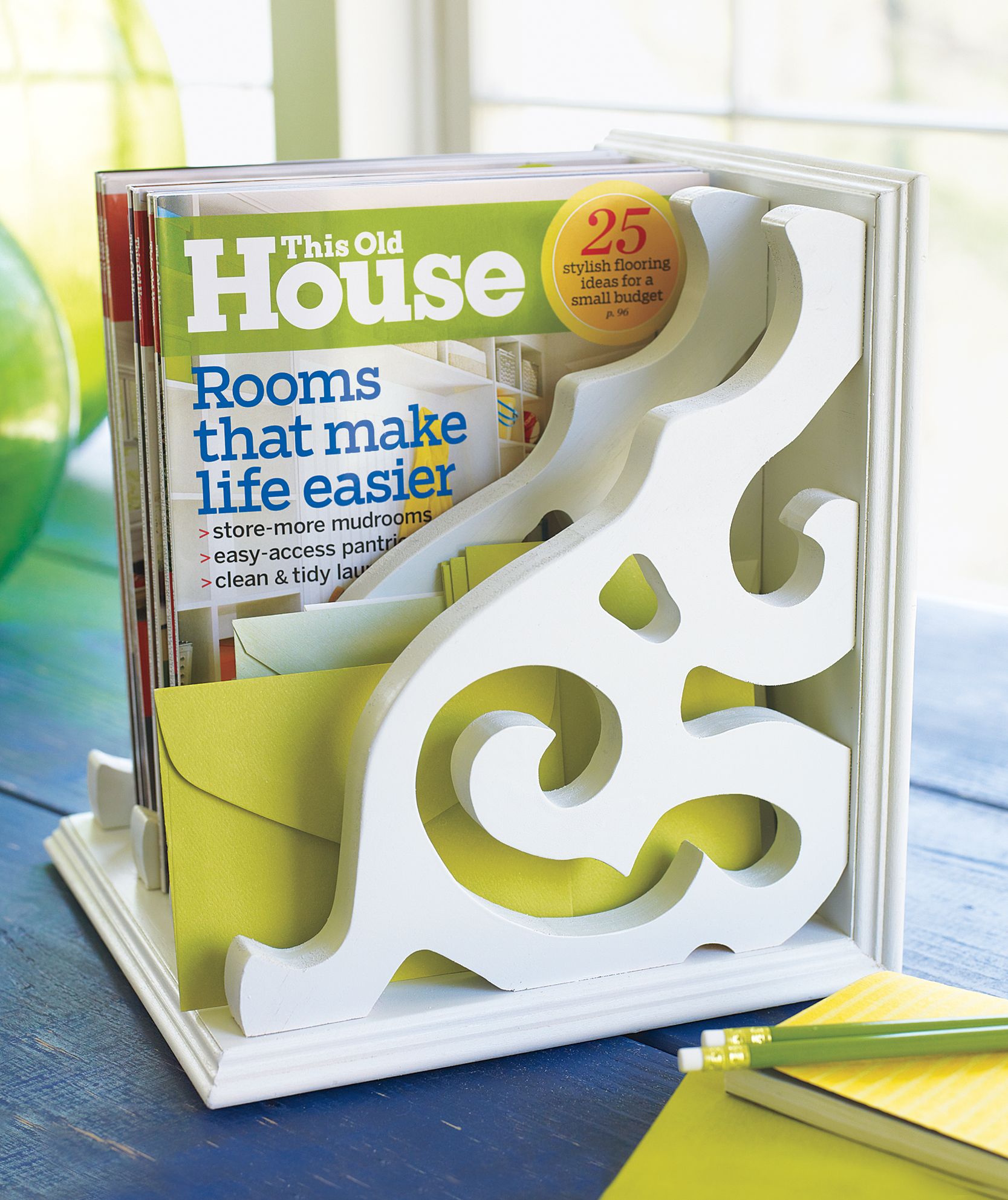 Don't let bedside reading pile up into a mess. Instead, keep your fave issues of TOH tidy in a container built in the spirit of the magazines it's meant to hold. TOH general contractor Tom Silva attached brackets typically used for porch trim to a simple wood frame to create a freestanding file with decorative scrollwork dividers.
Create a spot to neatly stash magazines bedside: How to Build a Magazine Rack
Cedar-Lined Closet
The natural aroma of cedar has kept garments moth-hole-free and smelling fresh for centuries. And not only does it repel pests like moths and roaches, it also resists mildew that can ruin fabrics. To use cedar to its fullest, you should line a whole closet with it. The installation is simple when it's done with tongue-and-groove boards, and the result is both practical and handsome.
Install a moth- and mildew-resistant custom closet: How to Line a Cedar Closet
Doorknob Coatrack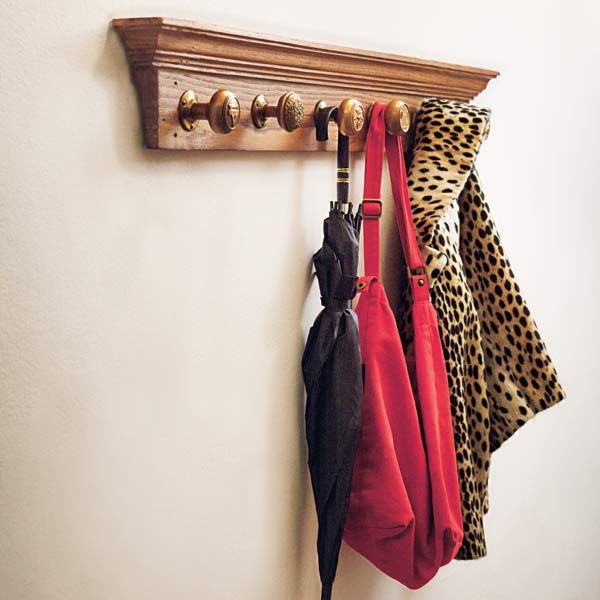 It is convenient to have a wall-mounted rack to hang up garments that would otherwise end up piled onto a chair, the bed, or worse, the floor. Using vintage metal doorknobs, TOH features editor Amy Hughes made a toss-and-go coatrack for when dealing with hangers is too much of a bother. She used six knobs and their matching rosette backplates, an old board to mount them on, plus some chestnut trim salvaged from a recent renovation.
Stop throwing coats and clothes in a pile: How to Make a Doorknob Coatrack
Window-Sash Picture Frame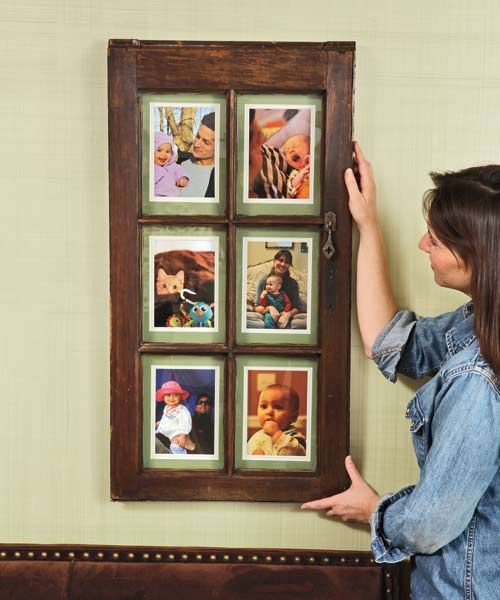 Display your favorite family photos or vintage snapshots in a charming reworked a double-hung window to hang on your bedroom wall. This window-turned-picture-frame was made by a TOH reader who had the idea when her contractor husband lugged a window home from a job site. She mounted photos behind the wavy-glass divided lights and hung the sashes side by side on the wall.
Create a photo display of your own: How to Make a Window-Sash Picture Frame
Barn-Pulley Wall-Mounted Light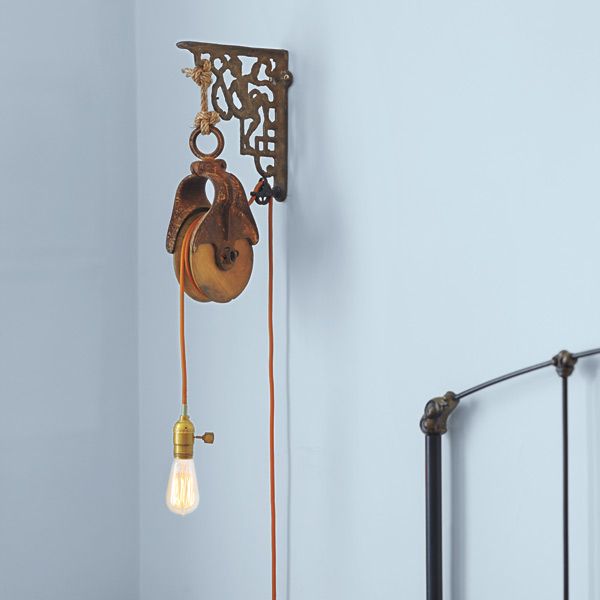 Pulley-light fixtures make attractive, industrial-chic accessories but they can be quite pricey. It is easier than you think to make your own and save your cash. A savvy DIYer can find pulleys at flea markets, salvage yards, or auctions. If you score one, put it back to work as the basis for an adjustable bedside sconce like the one shown here.
Properly light your nighttime reading: How to Use a Barn Pulley to Make a Wall-Mount Light Fixture
Vintage-Door Dressing Vanity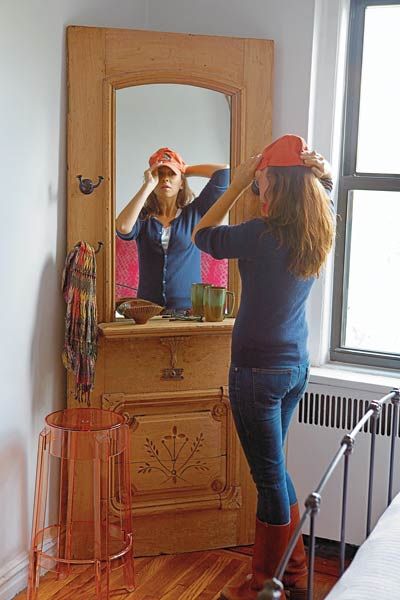 TOH features editor Amy Hughes transformed a beautiful old cottage door into a mirrored dressing vanity with hooks for hanging clothes. She widened the decorative stool at the bottom to create a sturdy shelf and filled the empty space above the shelf (previously holding glass) with a mirror.
Create a personalized spot to start your morning routine: How to Make a Dressing Vanity from a Vintage Door
Folding Screen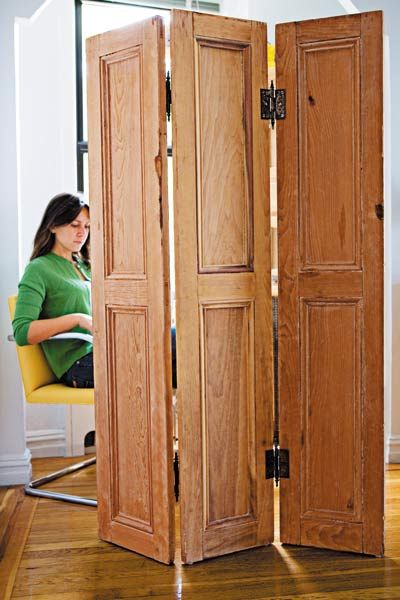 Use a screen, like the one shown here, to section off or divide up a larger bedroom. TOH features editor Amy Hughes created this screen by linking together three vintage wooden shutters with four old steel hinges she found at a salvage shop.
See her instructions to customize your own: How to Make a Folding Screen Using Old Hinges and Shutters
Interior Shutters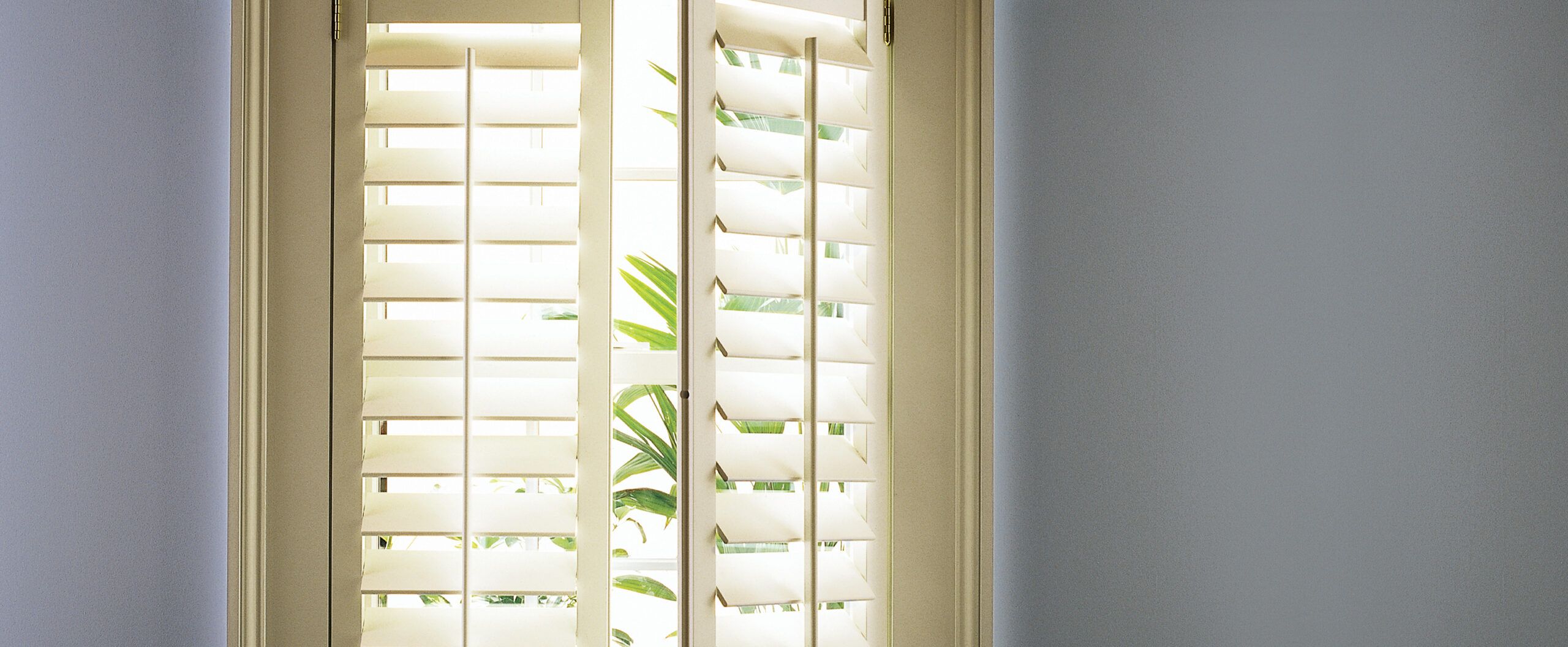 Keep morning sunlight from streaming in too early and your privacy intact with interior shutters. These original "window treatments," were commonly used in Southern and urban houses, and they're still a great way to add architectural and historical detail. They also help keep out winter's chilly winds or summer's oppressive heat. They are easily installed on any window.
Shut out the world for a bit more shut-eye: How to Hang Interior Shutters
Faux Paneled Accent Wall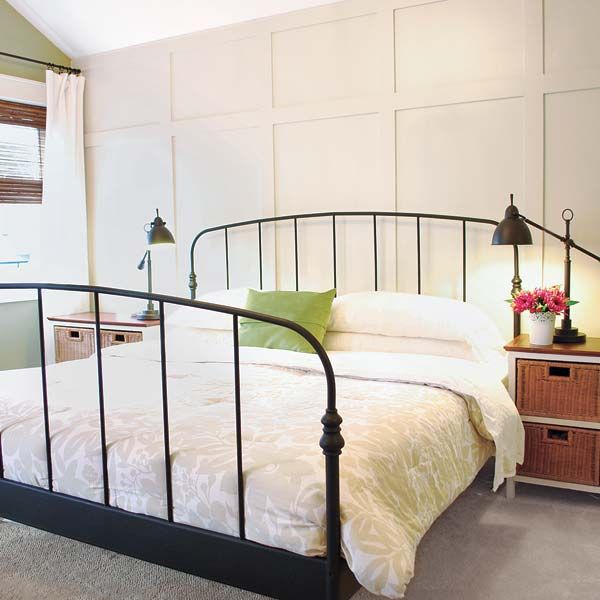 Your bedroom may rarely gets seen by guests. But that doesn't mean that it can't benefit from a little extra architectural charm. This Craftsman-style faux paneling project, created by a couple of This Old House readers is a budget-friendly, easy way to liven up boring drywall, as an accent wall or to cover the entire room. You'll need stock trim, adhesive, and a weekend to DIY.
Add affordable Craftsman style: How to Create a Faux Paneled Accent Wall
Open Shelving Unit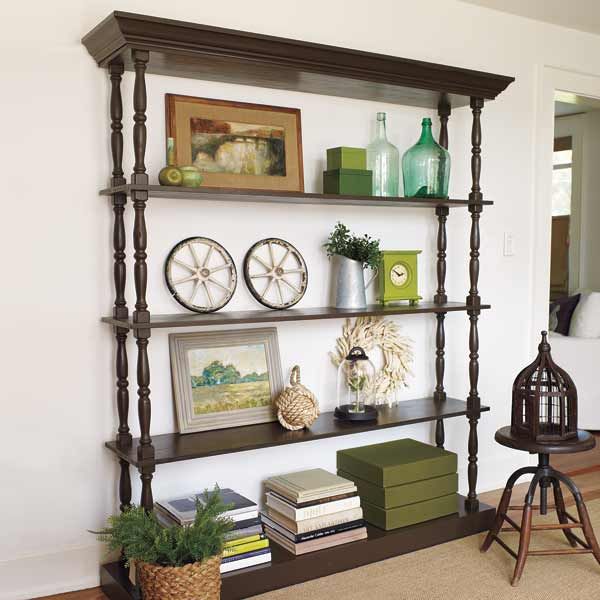 Open-shelving kits are common at home stores, but their boxy designs can leave you with a case of the blahs. This Old House general contractor Tom Silva amped up the style of this piece by making it from shelving planks sold in 8-foot lengths and turned spindles cut to size. Trimmed with crown molding, this piece will prove the perfect spot to show off your treasures.
Display collectibles on a one-of-a-kind shelf: How to Make an Open Shelving Unit