Project details
Skill
3

out of

5
Moderate
Mitering the corners for the crown molding is the hardest part
Doors in homes built before 1950 are typically made of solid wood, whether oak, maple, chestnut, or mahogany. They've got heft, and they make a satisfying thump when you knock. They also have sturdy stiles and rails that frame handsome panels in a variety of configurations, depending on the home's architectural style.
At most salvage yards you'll find row upon row of these paneled doors, many made from old-growth timber, typically starting at about $60 each. Among my favorite creative reuse projects is to tip a series of these doors on their sides to serve as wainscoting along interior walls, a trick I learned from Brad Kittel of Discovery Architectural Antiques in Gonzales, Texas.
Or a single door can be used as a platform for a hanging daybed suspended by chains, a fun idea that This Old House reader Kodie Ketchbaw put into action as a way to create extra seating on the porch of her home in Old Hickory, Tennessee. A door can also double as a bulletin board in a home office. Simply glue cork sheets to the recessed panels for tacking notes. Or, brush the panels with blackboard paint for kids to doodle on.
For my own door "upcyling" project, I made a stylish wall-hung headboard with built-in sconces that serve as reading lamps. Follow along for the how-to.
Step 1
Wood Interior Doors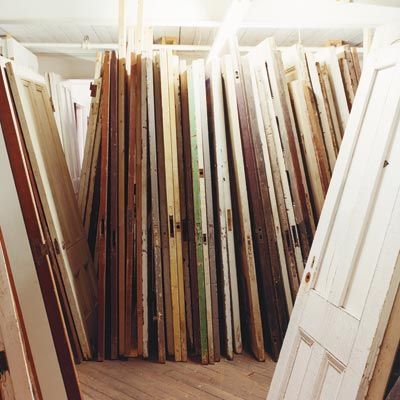 Panel configuration is the first factor to consider when shopping for a door to convert. Be sure to pick one with evenly spaced squares or rectangles that are the same size and shape. That way, when you turn the door on its side, the design will be symmetrical. Craftsman-style five-panel doors with rectangles stacked one on top of the other like ladder rungs are ideal, as are Art Deco–style doors with a single recessed panel in the center. I chose a ladder-type door in oak from The Demolition Depot in New York City.
Door height is also key; most are between 70 and 96 inches. While you might be lucky enough to find a match for a standard 76-inch-wide king-size bed, for anything smaller, you'll have to cut one down. For my 60-inch queen bed, I trimmed from the top and bottom to maintain the door's proportions.
Step 2
Measure the Door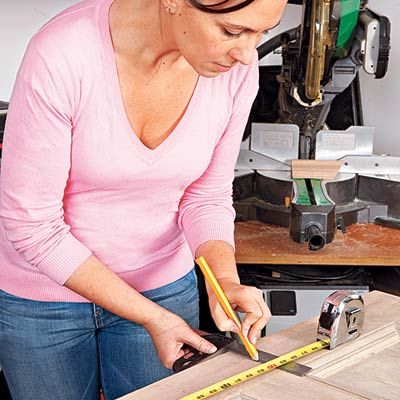 This will determine how much you'll need to trim off. Use a combination square to trace the cutlines.
Step 3
Slice Off the Overage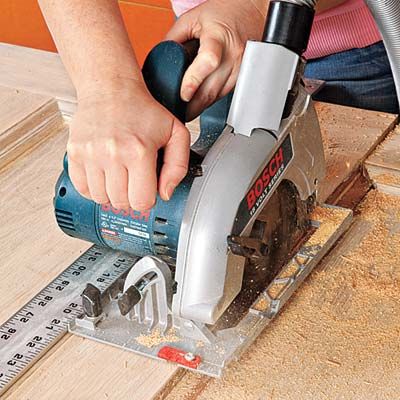 Use a circular saw to cut the door to size. To create a guide fence for the saw, place a straightedge alongside your cutlines and clamp it to the door.
Step 4
Patch Holes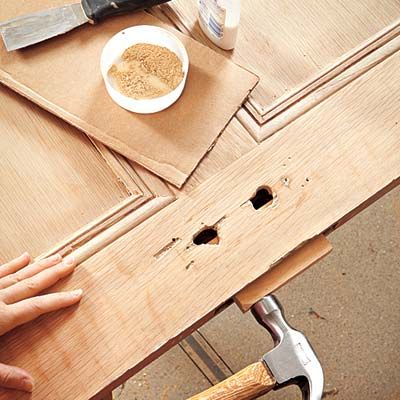 To fill the void in the edge of the door where the lock used to be, tap in a wood scrap. For the surface holes, make a matching putty out of glue mixed with sawdust left over from your offcuts. Spread with a putty knife.
Step 5
Sand the Surface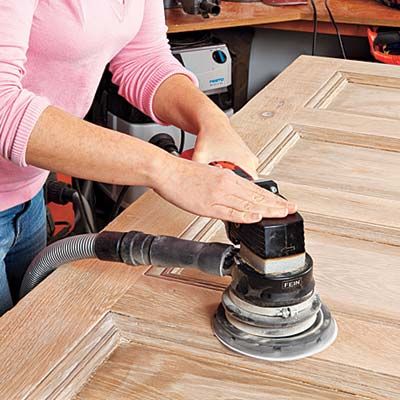 For stripped doors like mine, remove splinters and round rough edges with a random-orbit sander. For painted ones, first remove the old finish with a liquid stripper; dry stripping can release toxic lead dust into the air.
Step 6
Cut Crown for the Top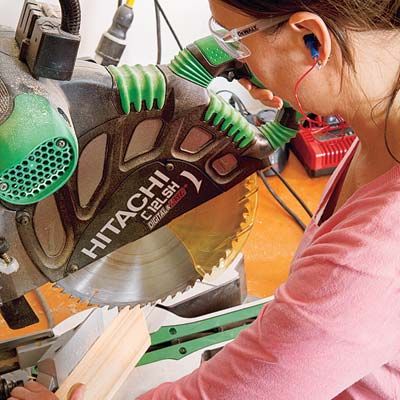 Mark the length of the door's face on a strip of solid crown molding. Cut to size, mitering the ends at 45-degree angles. Use the offcuts to create decorative returns for the door's outside edges.
Step 7
Secure the Crown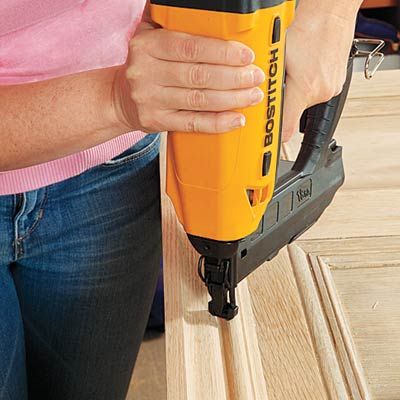 Squeeze a bead of glue on the crown's back side and press into place. Reinforce the bond by tapping in finishing nails about every 6 inches. I used a brad nailer to speed the process.
Step 8
Seal the Wood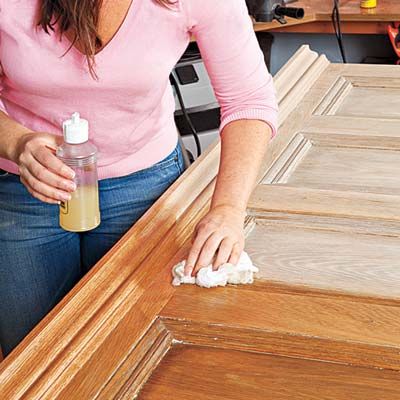 To restore the door's lustre and highlight the grain pattern, apply a natural furniture polish like Old Craftsmen's Lemon Oil with Bees Wax.
About $7; Amazon
Step 9
Install the Sconces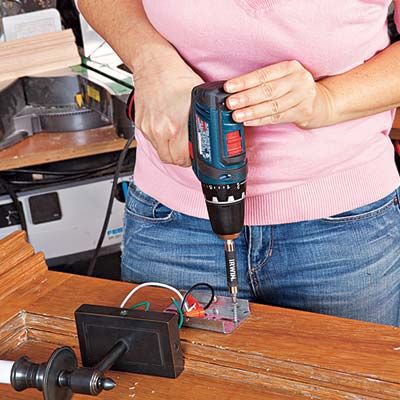 Mark where you want the fixtures to be. Fit a drill/driver with a paddle bit, and bore holes through which to fish wires. Secure the sconces' back plates to the door using the screws provided, and hook up the lights. Now hang your new headboard.
Learn how to hang your headboard using a French cleat.
Sconces: Studio Single French Library Sconce in bronze finish by Visual Comfort
About $126 each; Neena's Lighting