Looking to find the best Black Friday and Cyber Monday mattress sales? The start of the holiday shopping season can be a smart time to buy. You can expect big Black Friday savings from popular mattress companies. Many companies also sweeten the deal with freebies and accessories, throwing in mattress protectors, sheet sets, pillows, and more. Some even offer serious markdowns on bedroom furniture, from bed frames to adjustable bases.
While browsing for the best Black Friday mattress deals, it's important to consider more than just value. You'll also need to think about your sleeping position, body type, comfort preferences, and even mattress size to ensure that whatever purchase you make will ultimately help you get a better night's sleep. Check out This Old House Reviews Team's top mattress sales of the 2022 season.
Affiliate Disclosure:This Old House's Reviews Team is committed to delivering honest, objective, and independent reviews on home products and services. To support this business model, This Old House may be compensated if you purchase through links on our website.
The Best Black Friday Mattress Sales – Our Picks
Each product we feature has been independently selected and reviewed by our editorial team. If you make a purchase using the links included, we may earn a commission.
Saatva Classic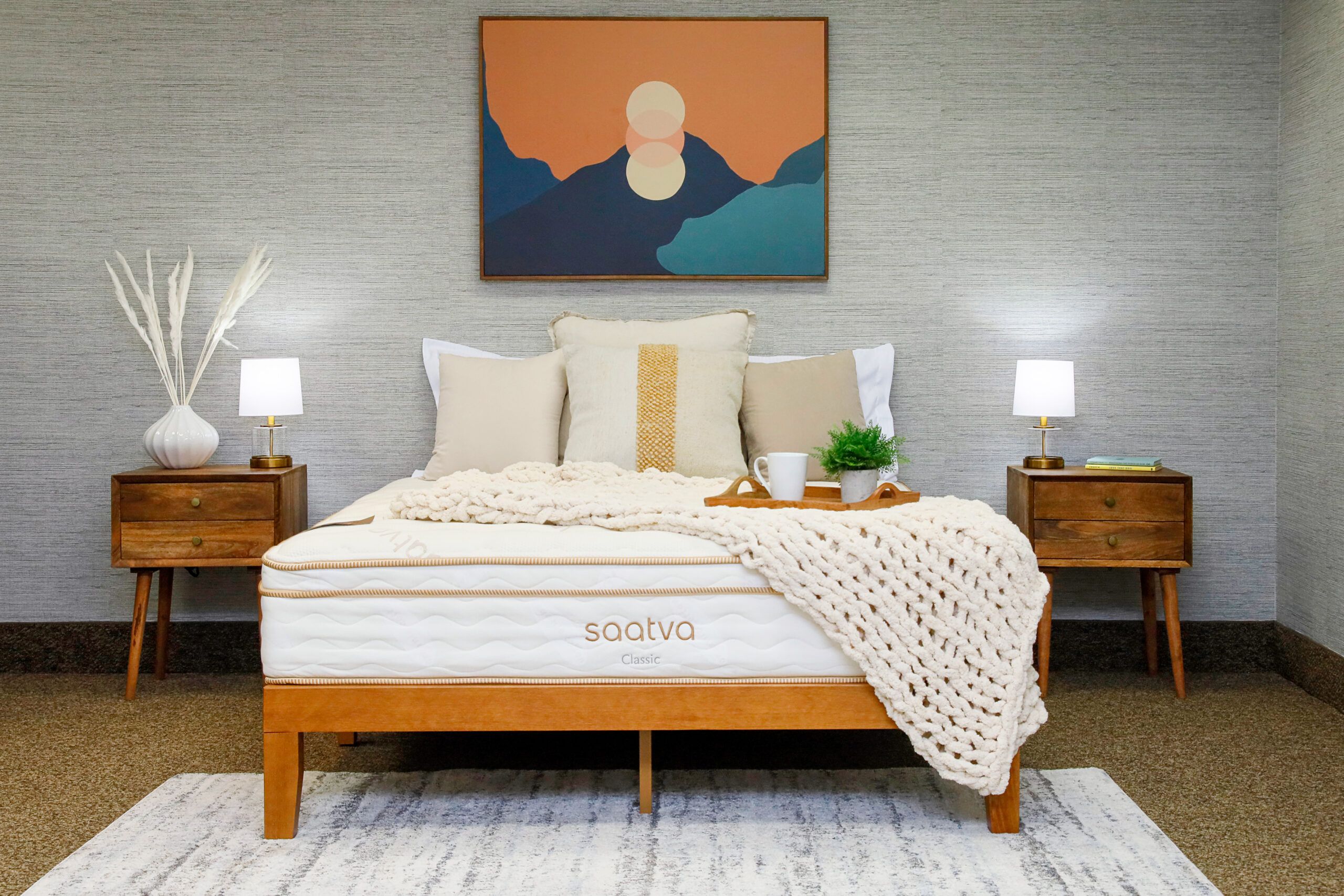 Mattress Type: Hybrid
Customer Rating: 4.9 out of 5
Firmness: Plush-Soft, Luxury-Firm, Firm
Trial: 365 Nights
Warranty: Lifetime
Some shoppers want a mattress that will give them five-star hotel levels of quality but shy away at the thought of paying top-dollar for one. The Saatva Classic mattress solves this, offering affordable luxury mattresses. Black Friday deals make these high-end beds even more accessible to those who have held off throughout the year. With high test scores and materials like organic cotton, recycled innerspring coils, and gel memory foam, the popular Saatva Classic is a deal you do not want to pass up.
It also has a lavish pillow top layer, and you can pick between three firmness options to customize your comfort level. Zoned pressure relief and a lumbar support layer makes the Saatva a great pick for people who suffer from back or joint pain; meanwhile, the free in-home setup makes it a convenient option for anyone. For this Black Friday, Saatva is offering $225 off mattresses between $900 and $2,199, $250 off mattresses between $2,200 and $2,999, $300 off mattresses between $3,000 and $3,499, $400 off mattresses between $4,000 and $4,499 and finally $525 off all mattresses over $4,500.
Nectar Original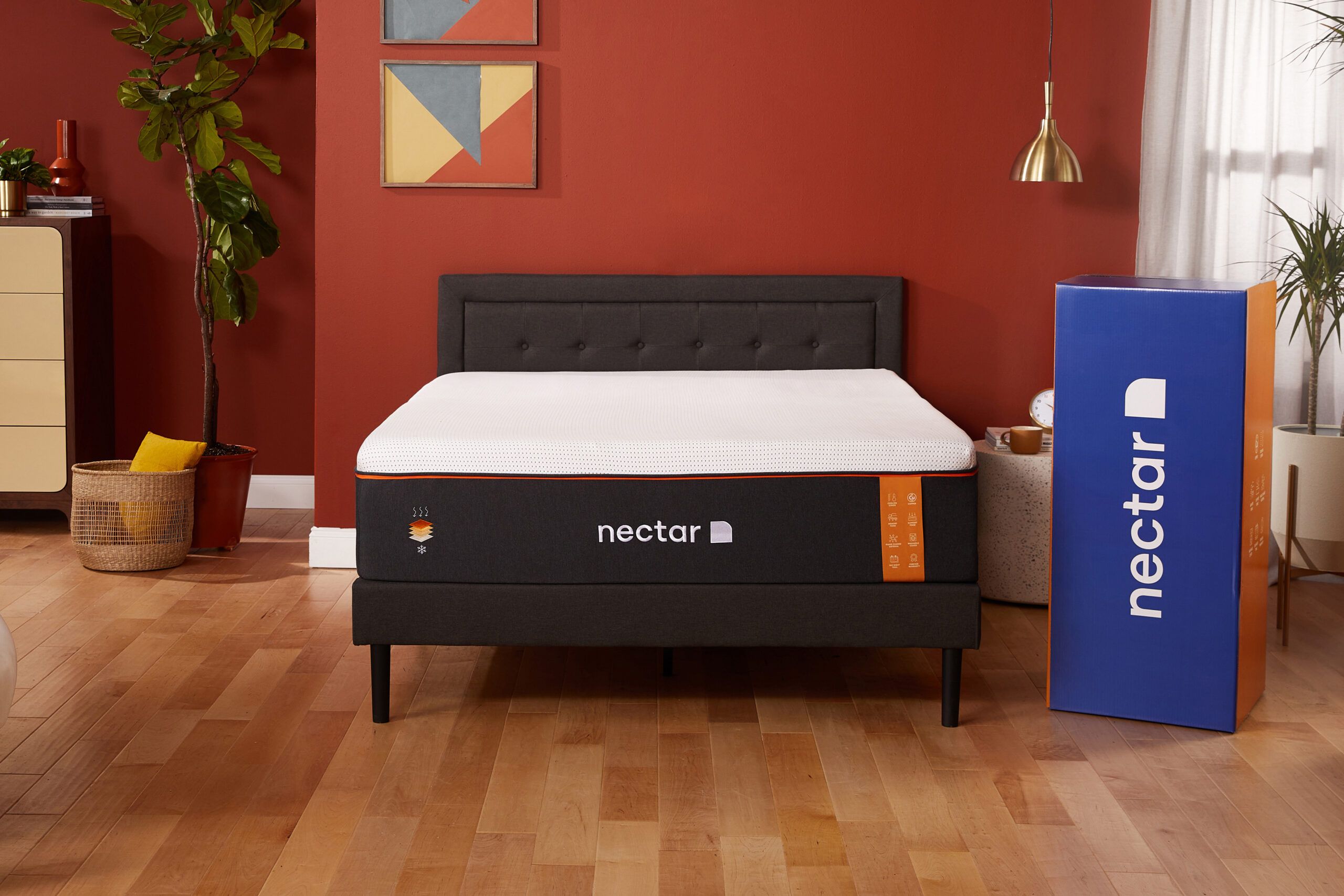 Mattress Type: Gel-memory foam
Customer Rating: 4.8 out of 5
Firmness: Medium-firm
Trial: 365 Nights
Warranty: Lifetime
Nectar makes one of the best memory foam mattresses online. Its multiple layers of high-quality foam help with pressure point relief and motion isolation–great for side sleepers and couples. But one of the main reasons to keep Nectar on your radar is its value proposition, offering a low price point, everlong warranty, and a year-long sleep trial. No matter if you need a twin XL size mattress for your child's new bunk bed or a queen-size for your guest room, Nectar offers one of the best opportunities to maximize your mattress dollar. Black Friday sales only sweeten the deal, with 33% off mattresses and everything else on their site.
Helix Midnight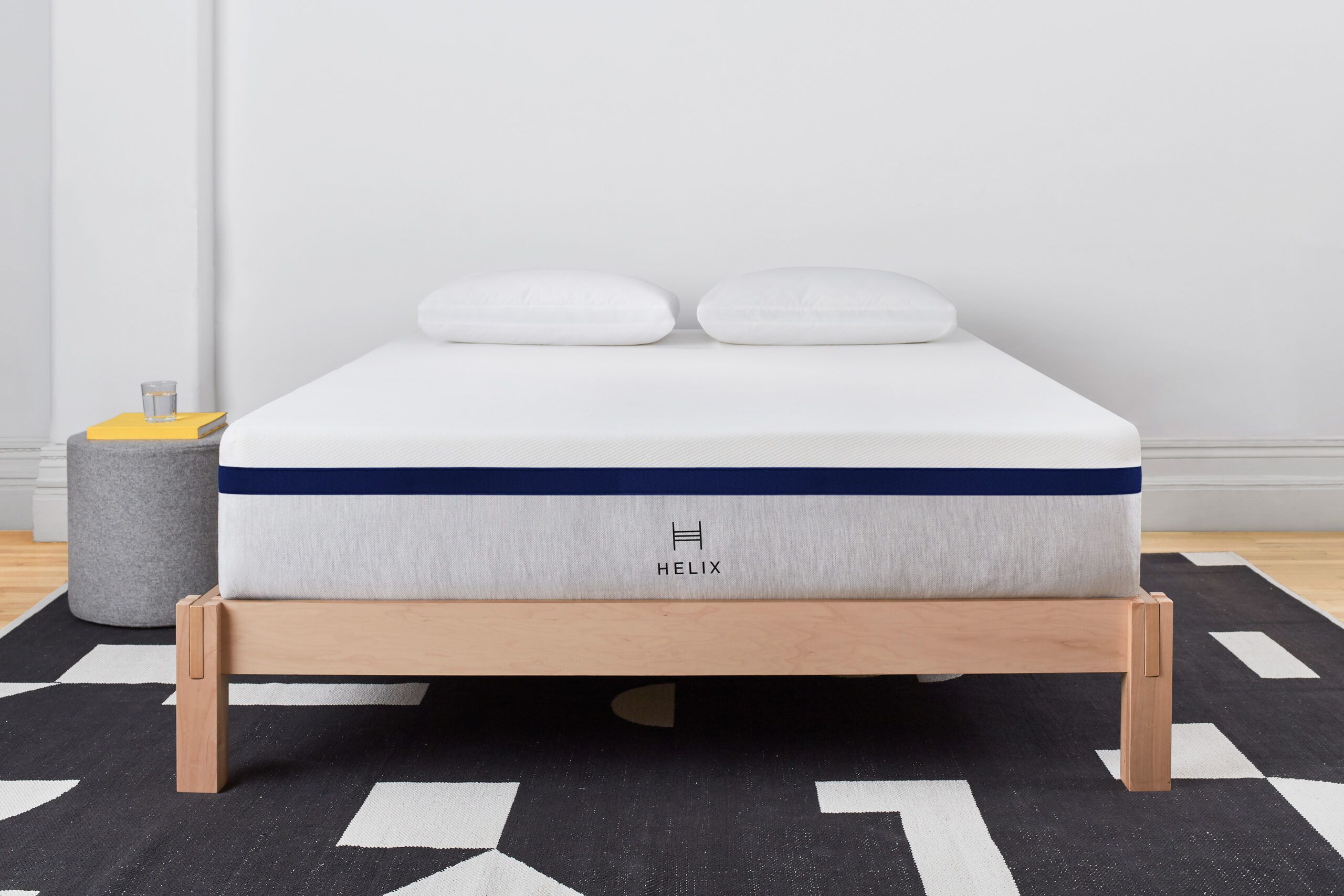 Mattress Type: Hybrid
Customer Rating: 4.6 out of 5
Firmness: Firm
Trial: 100 Nights
Warranty: 10-year limited
Keeping your eye on the best mattress for couples during your Cyber 5 shopping? Add the Helix Midnight to your list of sales to watch. One of the most critical mattress performance factors for couples is motion isolation. This is the property that allows a mattress to minimize one sleeper's movements or adjustments in the night, keeping the other partner from being rudely awakened.
The Helix Midnight stifles the feeling of movement from shaking the bed, with top test scores to prove it. And if a cooling mattress is a non-negotiable purchase for you and your hot-natured partner, this hybrid contains a cool-to-the-touch top layer and innerspring mattress technology to stay breathable. For Cyber Monday, Helix is offering $250 off its Midnight mattress plus two free Dream pillows with your purchase! Use the code CYBERMON250 at checkout.
DreamCloud Premier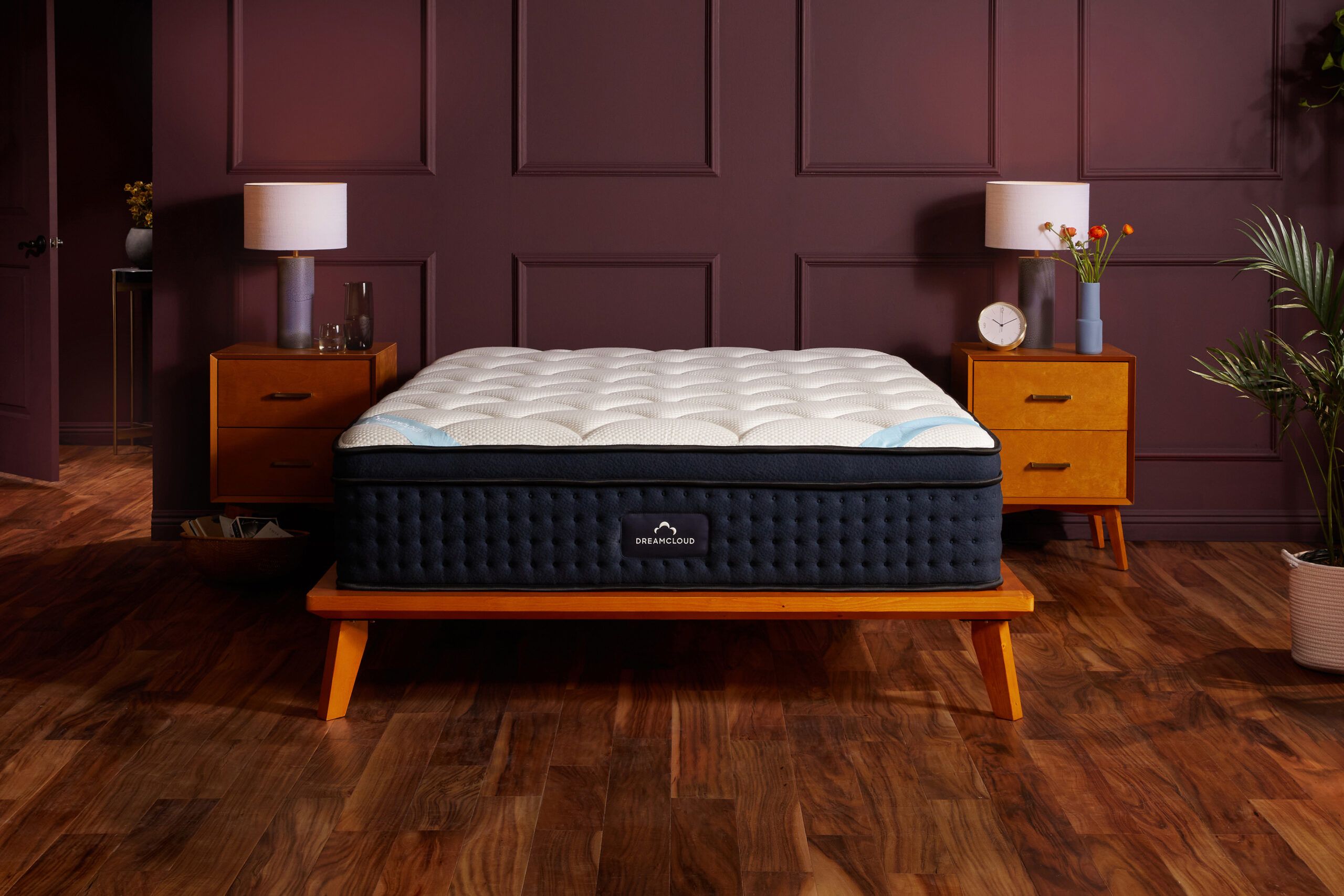 Mattress Type: Hybrid
Customer Rating: 4.8 out of 5
Firmness: Medium-firm
Trial: 365 Nights
Warranty: Lifetime
Perhaps you're in the midst of a bedroom redo, or are just looking for an opportunity to ditch your old mattress for a more luxurious one. The DreamCloud Premier's hybrid materials give you needed support while adding in the bit of luxury you deserve with a cashmere Euro pillow top, soft foams, and strong coils. This mattress passed each testing category with flying colors excelling with overall responsiveness, pressure relief, motion transfer, and durability. Only adding to its appeal is the year-long sleep trial and lifetime warranty, DreamCloud is offering 25% off their entire site and adding a mattress protector, sheets, and cooling pillow to your order this Black Friday.
The Winkbed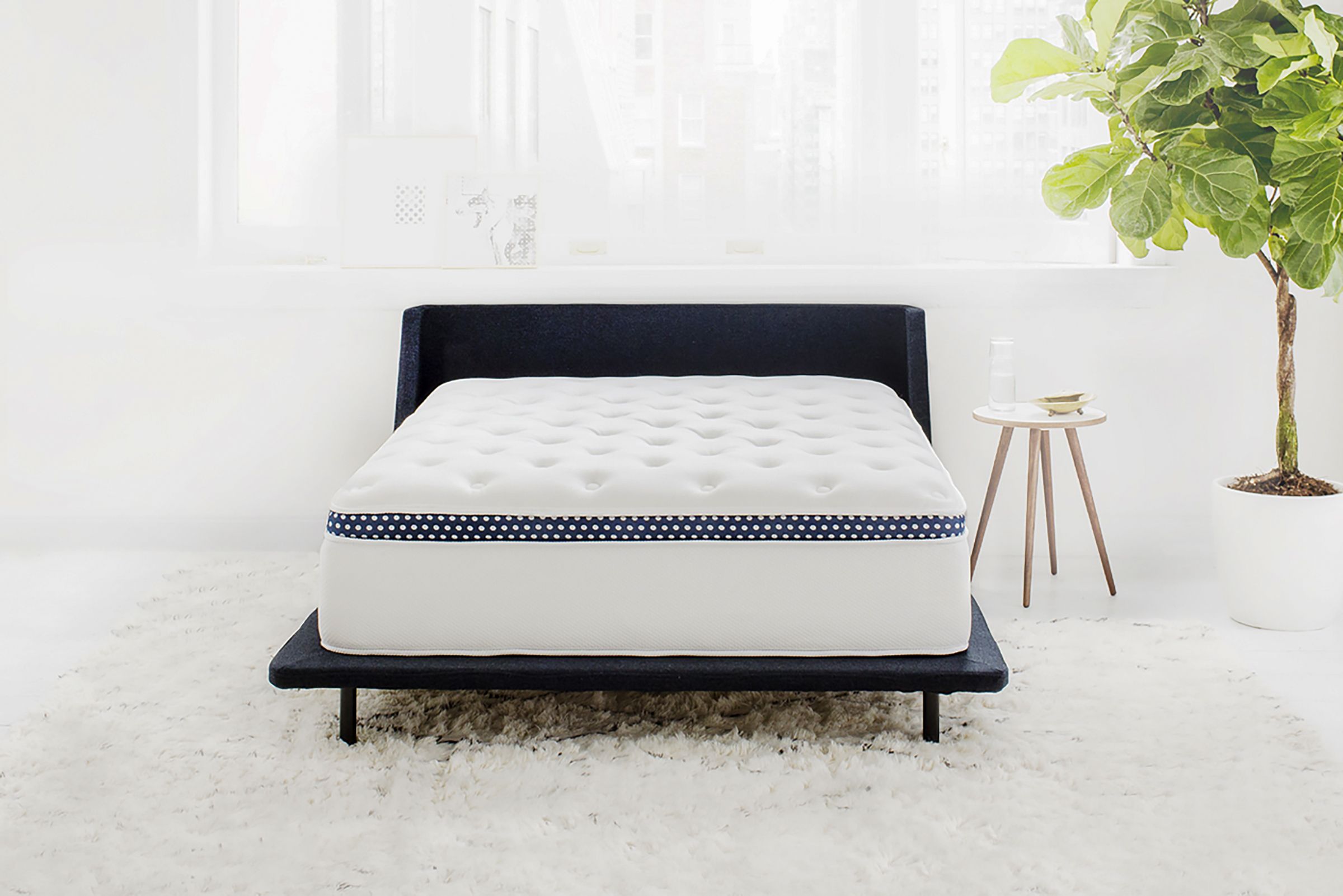 Mattress Type: Hybrid
Customer Rating: 4.5 out of 5
Firmness: Plush-Soft, Luxury-Firm, Firmer, Extra-Firm
Trial: 120 Nights
Warranty: Lifetime
Can't decide on what mattress type you need? Hybrids fuse various materials together to make one unique bed. The WinkBed hybrid uses two layers of coils and three layers of foam, all of which help with cooling, responsiveness, and durability. If you deal with back pain, there's even a layer dedicated to supporting your lower back. WinkBed includes top-of-the-line features like a Euro pillow top, four customizable firmness options, and a lifetime warranty. This Black Friday, don't miss out on this handmade mattress—WinkBeds is taking $300 off all their mattresses sitewide!
Brooklyn Bedding Titan Plus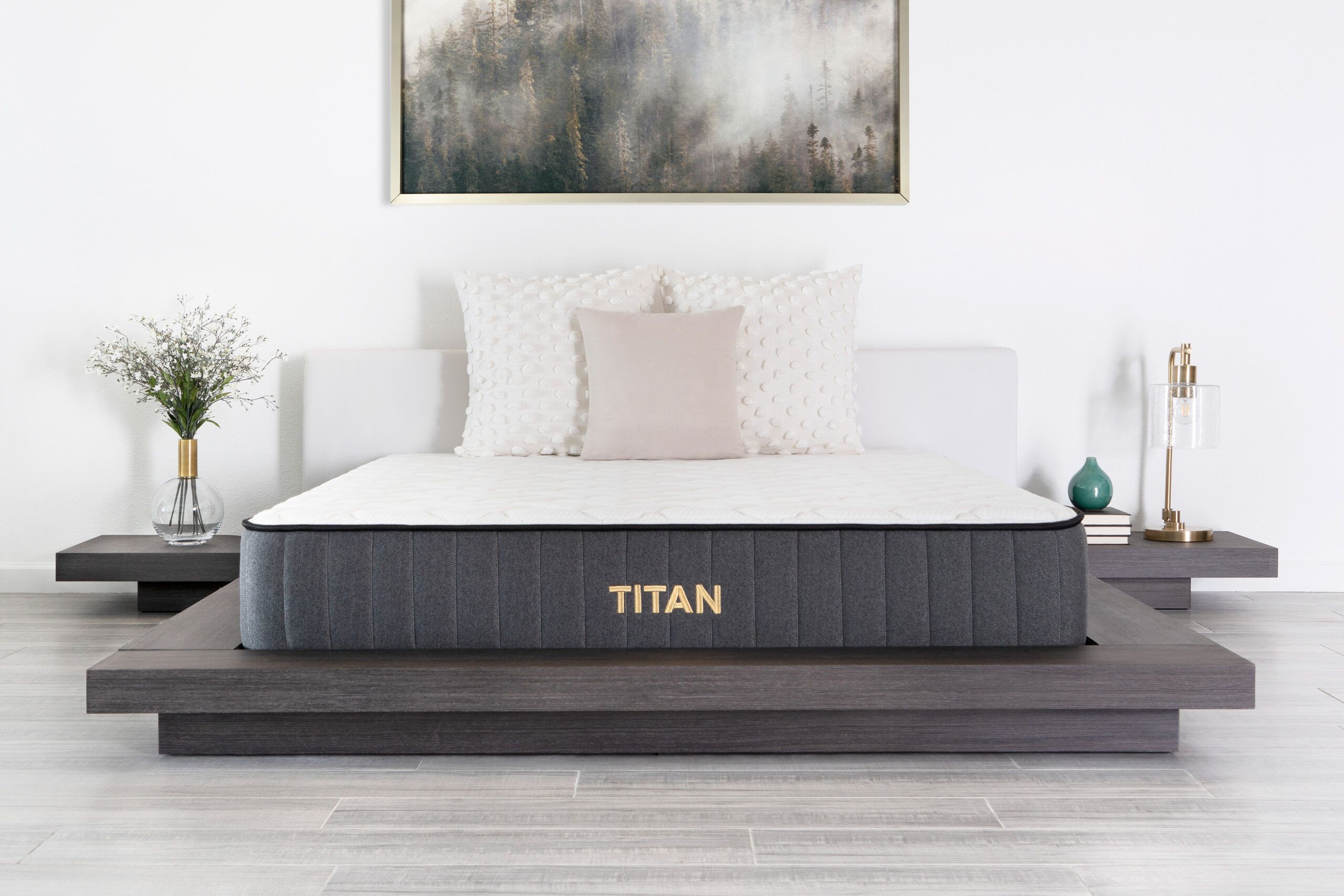 Mattress Type: Hybrid
Customer Rating: 4.7 out of 5
Firmness: Firm
Trial: 120 Nights
Warranty: 10-year limited
If you have a taller and fuller figure, looking for a reliable new mattress can be a bit daunting. Foam mattresses may feel too soft, and innerspring beds too rigid. You need a firm mattress that's highly durable, handling extra weight with ease. Brooklyn Bedding produces the Titan Plus, a hybrid mattress with reactive gel foams and coils. It has undergone meticulous durability testing, and our team agrees that while it's undoubtedly durable, comfort isn't sacrificed—it checks all the boxes for great spine alignment, cooling, and responsiveness. The cooling mattress topper does come with an extra fee, but it's worth the splurge when you can take 30% off this Black Friday using promo code CYBER30 upon checkout.
Nolah Signature
Mattress Type: AirFoam
Customer Rating: 4.8 out of 5
Firmness: Medium-soft
Trial: 120 nights
Warranty: Limited lifetime
If you struggle with back pain or sleep on your side, you want a mattress that delivers quality pressure relief and responsiveness throughout the night. The Nolah Signature is a luxury-grade mattress with a unique air-foam build that makes it far cooler than traditional memory foam beds.
Testers and sleep specialists found the Signature to drastically relieve pressure and inflammation due to the soft-yet-supportive cradle of the bed's construction. Sleepers can expect relief, cushioning, and support across the entire surface of the bed. The Nolah Signature is a top-of-the-line mattress, which may be intimidating to shoppers on a budget. Fortunately, for this holiday season, Nolah is offering a massive Black Friday sales promotion of $700 off all its mattresses plus two free pillows valued at $198!
Leesa Legend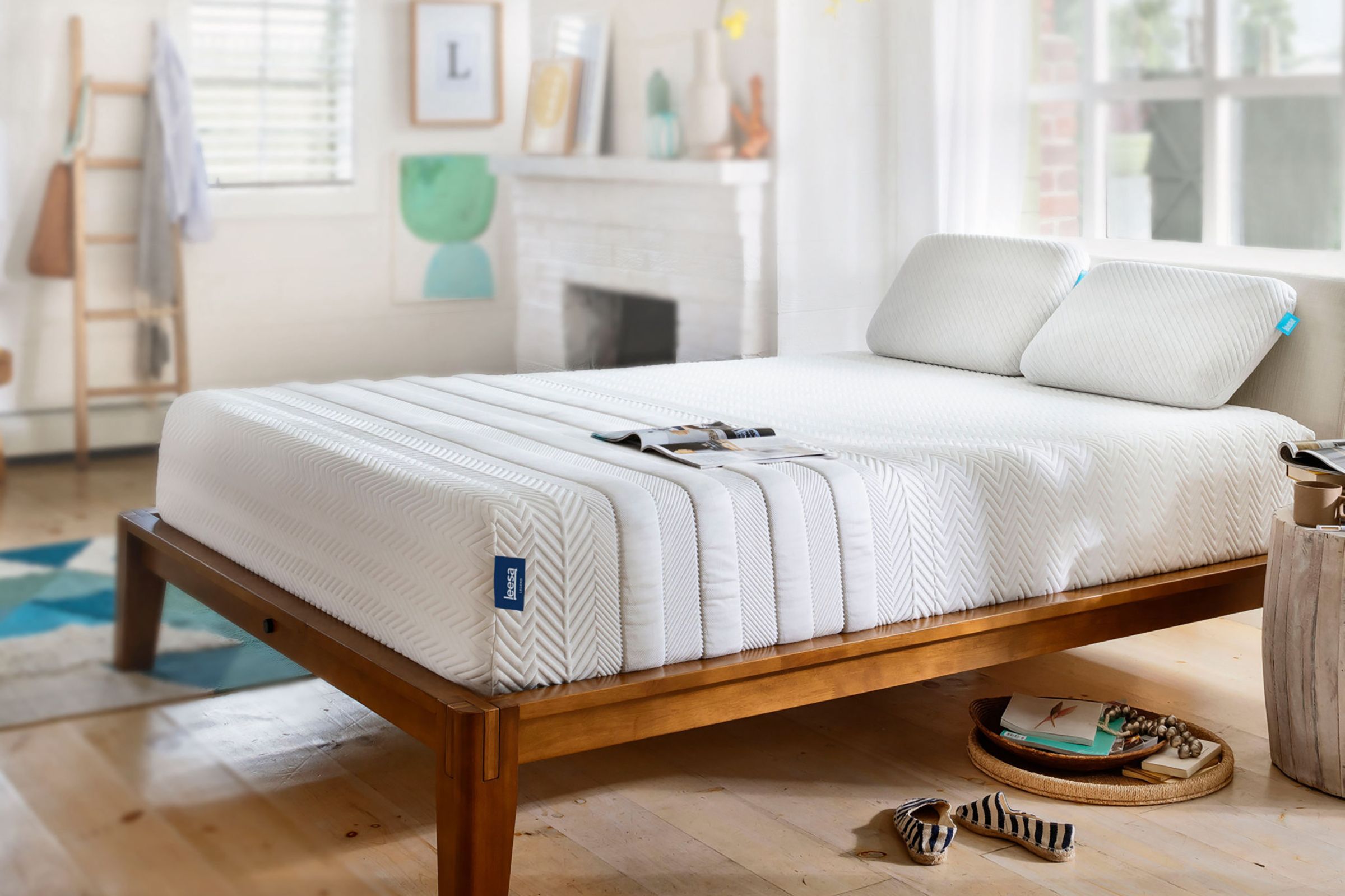 Mattress Type: Hybrid
Customer Rating: 4.6 out of 5
Firmness: Medium-firm
Trial: 100 nights
Warranty: 10-year limited
Hybrid mattresses are designed to blend the best qualities of foam and innerspring mattresses to help deliver versatile and supportive beds. The Leesa Legend is a hybrid mattress that delivers quality support, cooling, and comfort regardless of how you sleep. The Legend is truly multi-faceted, offering exceptional spinal support for those struggling with back pain while maintaining a breathable and cool sleeping experience for those who tend to sleep hot. The bed's great edge support and motion isolation make it an excellent choice for couples, especially those with different sleeping patterns.
Beyond the variety of benefits of the Legend's hybrid design, Leesa is a go-to brand for conscientious consumers, with Leesa matching every mattress purchased with a donation to a child in need. If the Legend seemed out of your budget's reach before, reconsider as this Black Friday approaches, with Leesa offering a whopping $700 off on the Legend mattress, plus two free pillows with a value of $120!
Awara Natural Hybrid
Mattress Type: Hybrid: latex and coils
Customer Rating: 4.8 out of 5
Firmness: Medium-firm
Trial: 365 Nights
Warranty: Lifetime
For Black Friday shoppers that want a mattress made from all-natural materials, the Awara Natural Hybrid is one of the best beds of its kind. Made with sustainably sourced innerspring coils and organic latex, the Awara mattress offers everything you could want from an eco-friendly option: It's clean, hypoallergenic, and virtually free of off-gassing. Latex has benefits beyond its eco-friendliness: It provides a highly breathable surface for hot sleepers to be comfortable. It gives just the right amount of bounce to accommodate combination sleepers. As Black Friday approaches, Awara is offering $300 off this awesome hybrid mattress plus $499 of sleep accessories with your purchase!
Birch Original
Mattress Type: Latex hybrid
Customer Rating: 4.6 out of 5
Firmness: Medium-firm
Trial: 100 Nights
Warranty: 25-year limited
If you're seeking a high-quality natural mattress that is truly eco-friendly, we suggest the Birch Original mattress. The Birch stands out as a sustainably built luxury mattress, using organic wool, organic cotton and all-natural Talalay latex in its construction; it's also received a variety of certifications from GOTS (Global Organic Textile Standard), OEKO-TEX, eco-INSTITUT and the Rainforest Alliance.
Beyond its six-layer, eco-friendly construction, the bed's conscientious build doesn't compromise its support and comfort. The Birch is accessible to all sleeper types and offers outstanding spinal alignment and responsiveness. Thanks to the natural latex in the construction, the Birch provides great temperature regulation for hot sleepers and unbeatable durability and edge support. So whether you seek an eco-friendly bed, an excellent mattress, or both, the Birch Natural original mattress is a go-to. Grab yours this holiday season, as Birch is offering $400 off this mattress plus two free Eco-Rest pillows with code CYBERSALE400.
Tuft & Needle Original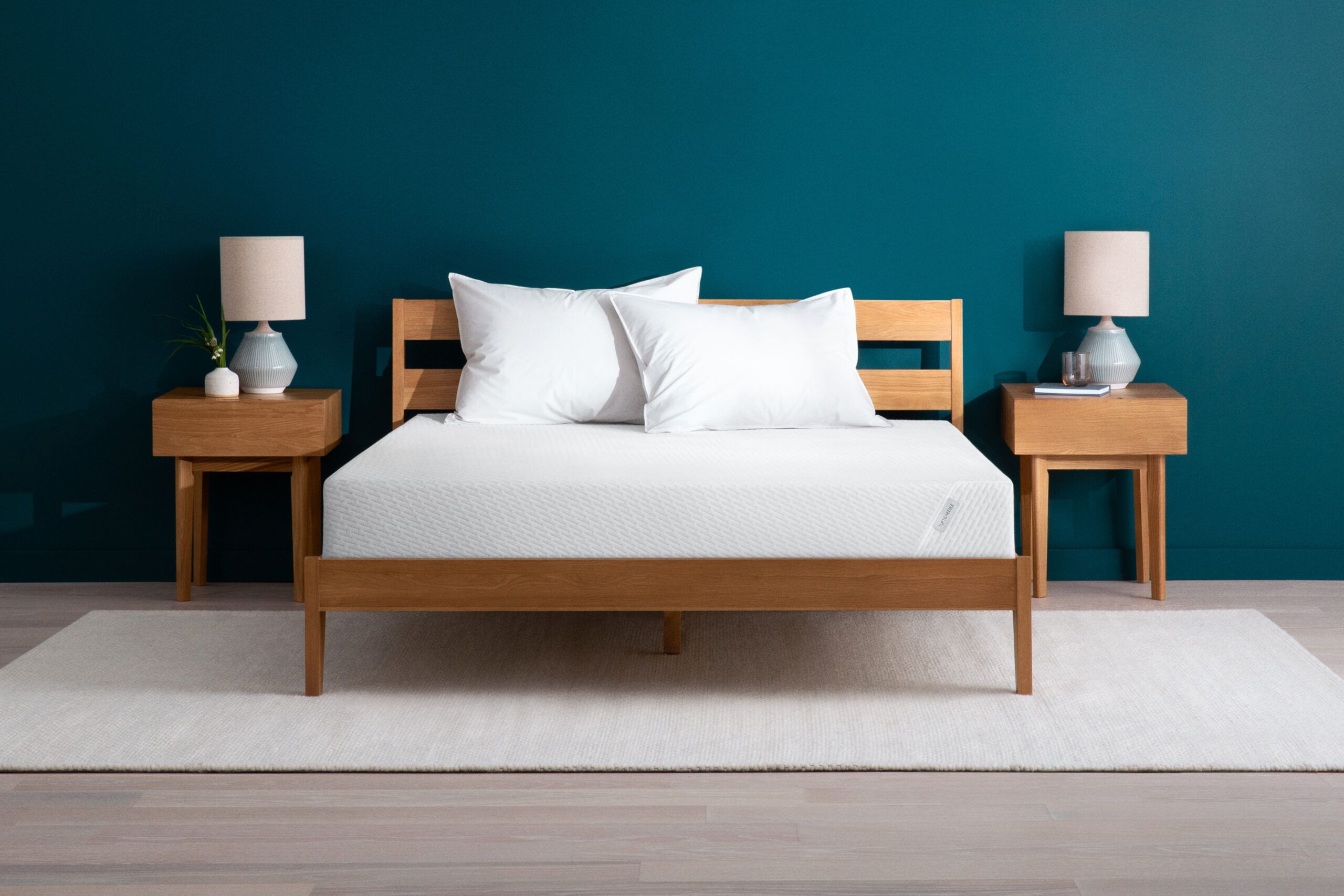 Mattress Type: Foam blend
Customer Rating: 4.6 out of 5
Firmness: Medium-firm
Trial: 100 Nights
Warranty: 10-year limited
Finding an affordable bed suitable for all sleeper types might seem like a tall order, but the Tuft and Needle Original mattress checks both boxes. The simple yet effective three-layer construction combines proprietary and memory foam to create a supportive, soft, and breathable sleeping experience. In addition, the mattress offers consistent comfort throughout the bed's surface while delivering great spine support without unhealthy sinkage despite being an all-foam bed.
This mattress is compatible with almost all bed frames, so you have a bit of flexibility when it comes to choosing a frame. Tuft and Needle offers free shipping and returns, plus a generous sleep trial period and warranty that reflects the company's broader confidence in this quality mattress. This Black Friday is a great chance to try the Tuft and Needle out for yourself: Tuft and Needle is offering 20% off on its Original mattress, plus 25% off on all its sleep accessories sitewide.
Is Black Friday the Best Time to Buy a Mattress?
Alongside Memorial Day, Amazon Prime Day, and Cyber Monday, Black Friday is one of the best days to grab a new mattress. Companies across the board offer steep discounts and compete to one-up each other for consumers' attention. While Black Friday is in no way an official holiday, the day follows Thanksgiving, with most of us having the day off. Due to this, as well as the short time before the gift-giving Holidays are upon us, top mattress retailers target those seeking to get their shopping done in advance and for the best price possible.
While Black Friday may not be your only chance to level up your mattress at a great price, it is one of the best times of the year to consider going on the hunt for one. As noted, most of us have off, but this does not include retail employees due to the excess demands of shoppers looking to beat others to huge in-store flash sales events and limited merchandise. Considering this, we suggest checking on mattress websites directly for great deals before entering the stressful lines at retail stores. It's more relaxing shopping from the comfort of your home rather than amidst the chaos associated with Black Friday. Plus, you'll be able to test out your new mattress in the comfort of your home thanks to these brands' sleep trials.
FAQs
Are Black Friday sales better than Labor Day?
Both days are great opportunities for discovering huge discounts on various mattresses. Honestly, there isn't an objective answer to this question, as the sales offered are always surprises based on the company's stock and circumstances.
Beyond better or worse, what is certain is that whether it is Labor Day or Black Friday, you are almost sure to find a special sales event for a mattress you once thought was out of your financial reach!
How long will Black Friday deals last?
Black Friday sales have already begun, with many mattress brands offering early access deals similar or better to what they offered last year!
Technically, Black Friday could be considered over on the 26th of November. However, many companies continue to offer huge savings and deals on Saturday and Sunday following Black Friday. Furthermore, as some of the best mattress sales are offered online, deals will likely be extended or even escalated, with Cyber Monday happening on November 28th. So, while discounts have already begun, keep an eye out for even more surprises as Cyber Monday promptly follows Black Friday.
What makes a mattress expensive?
An individual's budget determines an expensive mattress. What may be expensive to some may not be to others. What can be defined, though, is an overpriced mattress. A mattress's price should reflect the quality of its construction, the materials used, and its ability to offer relief, comfort, and healthy support so you can get the best beauty rest. If a mattress's price reflects its brand or logo rather than its quality features and construction, this is an overpriced mattress and may be worth reconsidering. Regardless of your wallet's status, it's always best to establish your budget and your personal sleeping needs and make the best decision based on a healthy balance of these two factors.
Summary of the Best Black Friday Mattress Sales