Picking the Best of the Best Wasn't Easy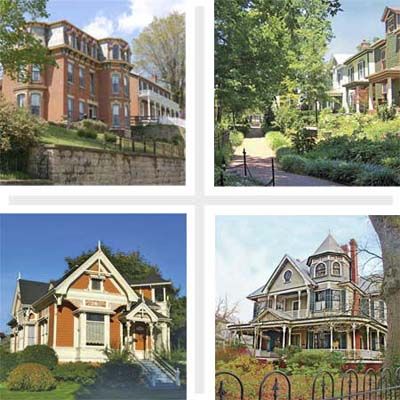 For 13 years we've been the guilty enablers of your old-house addictions. We know that you're forever on the hunt for your next fix, and that's why we, with some assistance from the historic-housing experts at PreservationDirectory.com, set off looking for the best old-house neighborhoods in America.
Our top criteria for choosing a winner included architectural diversity, the craftsmanship of the homes, and the preservation momentum in the area. But we were also interested in neighborhood amenities: walkability, services, and community. What we found is that people who live in historic places aren't just lovers of golden-age architecture, but of old-fashioned neighborhood values as well. Happy old-house hunting!
Centre Park Historic District, Reading, Pennsylvania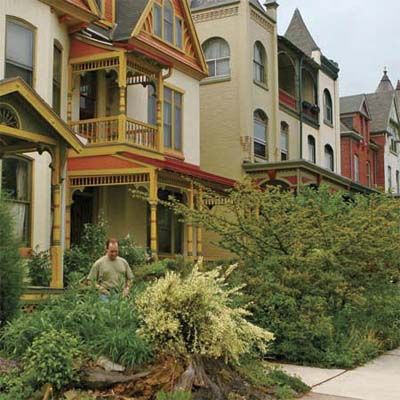 The Neighborhood
You won't be alone if you choose to restore a Victorian-era home in Centre Park, named for the green space at its core. "It's a tight community," resident Michael Lauter says, adding that he can hardly walk his neighborhood's original brick sidewalks without stopping to chat with neighbors. Reading is home to top-notch schools, four universities, and corporations including Carpenter Technology, a stainless steel manufacturer. It's also just a half-hour commute to Philadelphia.
The Houses
Reading's wealthy arrived here in the 1870s, building country mansions mimicking Italian villas and British manors. Between 1900 and 1915, tradesmen and industrial workers followed, erecting Queen Annes and unique brick "Reading German" houses, which are 2½ stories high with mansard roofs and large single dormers.
The Prices
You can snatch up a five-bedroom townhouse here for about $60,000, a large Queen Anne for $135,000, and a full-fledged mansion for less than $600,000.
Why Buy Now?
It's one of the Mid-Atlantic's most perfectly preserved historic neighborhoods—selling at thrift-store prices. Plus, the city provides 50-50 matching grants of up to $5,000 for facade improvements.
Among the best for:
Families with Kids, Bargains, Fixer-Uppers, Queen Annes, The Northeast
Hampton Heights Historic District, Spartanburg, South Carolina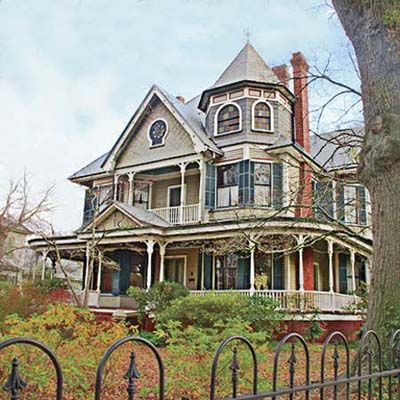 The Neighborhood
Families flock to this enclave within the revitalized Spartanburg city limits for its small-town sensibility: "This is a tight community," says Kristi Webb, a Hampton Heights resident with a 6-year-old kid. "Everyone knows our daughter, where she lives, and where she should be." The district is home to an award-winning public high school, making it a draw for parents, many of whom work in the area's thriving healthcare industry. Downtown Spartanburg—a 10-minute walk from Hampton Heights—is buzzing with restaurants and shops, and the city has increased its focus on family events, like summer concerts.
The Houses
Arts and Crafts and Queen Anne styles predominate, along with Dutch Colonials, Colonial Revivals, and Greek Revivals. Hampton Heights is part of a local historic district, and one-third of the 350 properties here are on the National Register.
The Prices
Homes range from $50,000 for a 1930s Arts and Crafts fixer-upper to $250,000 for a restored Queen Anne.
Why Buy Now?
The preservation Trust of Spartanburg offers down payment and closing cost assistance. Renovations are aided by the organization's salvage warehouse, a source for affordable materials and period details.
Among the best for:
Families with Kids, Bargains, Fixer-Uppers, Queen Annes, The South
Galena, Illinois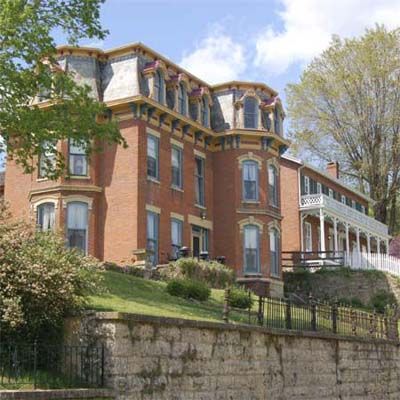 The Neighborhood
Once the busiest port between St. Louis and St. Paul, Galena features hundreds of eye-popping homes built in the early to mid-1800s by shipping magnates and heavy-hitters in the area's lead mines. Today, 85 percent of the town is a National Historic District, with many homes overlooking the Galena River. The town boasts what the Chicago Tribune dubbed "The Best Main Street in the Midwest," thanks to its well-preserved commercial buildings. With one of Illinois's top-performing public school systems, Galena is a great place to raise a family. The 15-minute commute to Dubuque, Iowa's five colleges and universities makes Galena a draw for academics as well.
The Houses
Styles include Neo Classical, Federal, Greek Revival, Second Empire, Gothic Revival, Queen Anne, and Italianate, the most famous of which is the former home of Ulysses S. Grant.
The Prices
A sturdy Greek Revival or Second Empire home can be had for as little as $130,000.
Why Buy Now?
Galena is perfectly positioned as a bedroom community to Dubuque, which has one of the fastest-growing economies in the Midwest. The homes here are in demand and unlikely to drop in value.
Among the best for:
Families with Kids, Bargains, The Midwest
Kempton's Corners, New Bedford, Massachusetts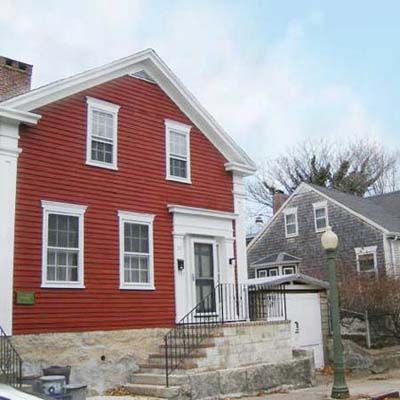 The Neighborhood
The seaside town where Herman Melville set Moby-Dick, New Bedford, is also known for its historic architecture. Its restored mansions are highly coveted, but the more modest neighborhood of Kempton's Corners and the adjacent Acushnet Heights Historic District offer affordable options, and they're just a short walk from downtown shops, galleries, and seafood restaurants. The local job market includes work in the civic sector, the textile industry, and the age-old fishing trade. A new commuter rail system to Boston is expected to begin service in the next few years.
The Houses
Kempton's Corners and Acushnet Heights are best known for single-family and multifamily dwellings in Federal and Greek Revival styles, though New Bedford's most sought-after neighborhood, the West End, is a cache of large Victorian-era mansions.
The Prices
Though a Victorian can run as much as $800,000, prices in the more accessible Kempton's Corners and Acushnet Heights start at $180,000 and top off at $300,000.
Why Buy Now?
Kempton's Corner is one of the final frontiers in New Bedford, and the recent mortgage crisis has left many properties on the market—and priced to sell.
Among the best for:
Art Lovers, Luxury Homes, The Northeast
Old Louisville, Kentucky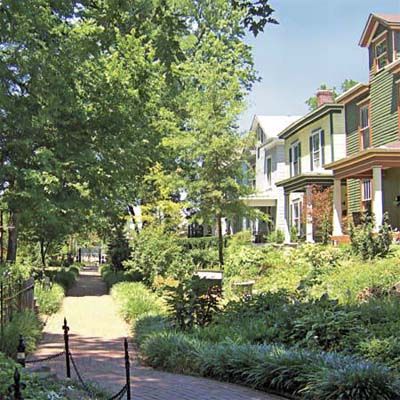 The Neighborhood
Stately homes face one another across lush, gaslit "walking courts," and yards overflow with geraniums and magnolia trees here. Residents treat gardening like a competitive sport, their efforts celebrated by seasonal garden tours. Central Park, a 17-acre municipal green space designed by famed architect Frederick Law Olmsted, sits adjacent to the neighborhood, which was developed in the 1870s. Old Louisville is just a stone's throw from the University of Louisville, and the city's top employers include health insurance provider Humana, bourbon producer Brown Forman Corp., and Republic BankCorp., a financial holding company.
The Houses
Old Louisville has 48 blocks' worth of Queen Annes, Second Empires, and Stick Victorians. Other styles include Italianate, Tudor, and Georgian Revival, and while many have been restored, others are clamoring for work.
The Prices
A rehabbed manse might run you about $275,000, and prices top out at $800,000.
Why Buy Now?
People gobbling up homes in this neighborhood feel it might one day have the cachet of Boston's Beacon Hill and other comparable treasure troves. But for now, the prices are far cheaper.
Among the best for:
Queen Annes, City Slickers, The South
Pleasant Ridge, Michigan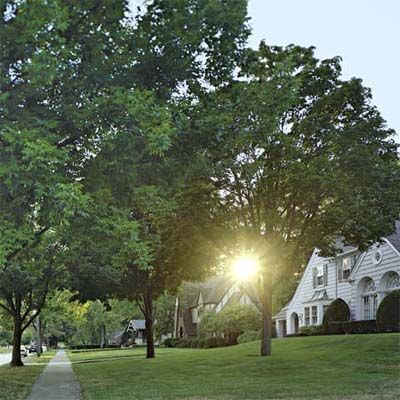 The Neighborhood
Just a 30-minute drive from downtown Detroit, Pleasant Ridge isn't exactly a suburb—it's one of Michigan's smallest incorporated cities, with 2,594 residents. Resident Kate Redmond calls it "a time capsule from the 1920s," when upper-middle-class automobile tycoons built homes and raised families here. It's long been a draw for folks on the family track; it's not uncommon for newlyweds to buy a starter home here, trade up to a larger one when the kids arrive, then downsize as the nest empties, but never leave Pleasant Ridge. Public schools spend almost $2,000 more per student than the national average, and class sizes average just 18 students per teacher.
The Houses
Arts & Crafts homes, English Tudors, Prairie Schools, Georgian Revivals, and Dutch Colonials are all here.
Prices
Prices range from the low $100,000s for a modest bungalow to over a million for a big Colonial Revival or Tudor.
Why Buy Now?
Pleasant Ridge is already home to two national historic districts, and plans are under way to list the city, established in the 1830s, on the National Register. This small city stands to retain its historic fabric long into the future.
Among the best for:
Families with Kids, Retirees, First-Time Buyers, The Midwest
Victorian Flatbush, Brooklyn, New York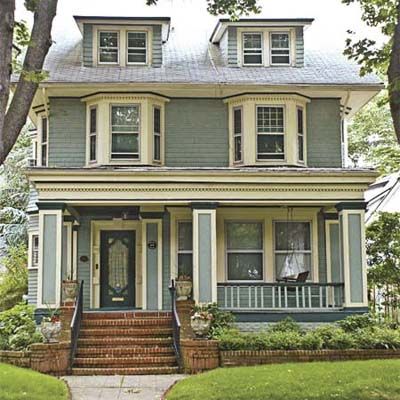 The Neighborhood
Victorian Flatbush, in one of Brooklyn's six original villages, can catch those who wander into it by surprise—even New Yorkers, many of whom have never heard of this architectural anomaly. Indeed, the 'hood's outstanding lineup of freestanding Queen Anne and English Tudor homes set along broad, tree-lined streets renders it much more Charles Dickens than "Welcome Back, Kotter." Just a subway ride away from Manhattan, Flatbush is also a short walk from 585-acre Prospect Park.
The Houses
Hundreds of Queen Annes, Tudors, and other Victorian-era homes line the streets, though house hunters looking for single-family properties may have to undo old multifamily conversions.
The Prices
Fixer-uppers are available for $600,000 to $900,000 (cheap by Big Apple standards); a restored home will run you a cool million or more.
Why Buy Now?
Brooklyn real estate, on fire since the 1990s, remains largely unscathed by the national housing crisis. A constant influx of people means the chances of declining property values are slim to none.
Among the best for:
City Slickers, Luxury Homes, Queen Annes, The Northeast
Albany, Oregon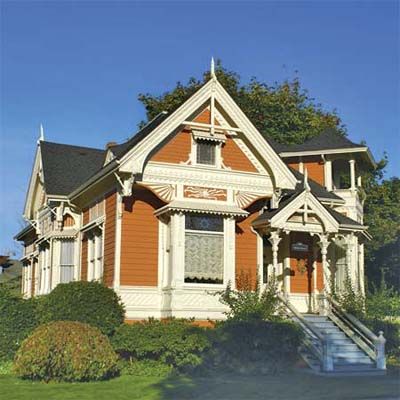 The Neighborhood
Albany boasts 100 blocks and four distinct national historic districts' worth of great historic architecture. "No two homes are identical," resident Heidi Overman says of the Victorian-era structures lining streets here. Locals see the Willamette River town as a smaller alternative to nearby Portland and Seattle, and its citizens take pride in its big-city attractions, including museums, theaters, and watering holes. Albany is just 12 miles from Oregon State University, and Hewlett-Packard is also a major employer in the area.
The Houses
When architect George McMath visited in 1977 to inventory historic homes, he found just about every housing style built between 1840 and 1920, including Federal, Gothic Revival, American Farmhouse, Second Empire, Eastlake, Italianate, and Colonial Revival.
The Prices
Home prices in Albany's national historic districts range from $90,000 for a run-down Italianate to $400,000 for a fully restored one.
Why Buy Now?
Get your hands on that $90,000 fixer-upper before it's too late. Despite slumping markets across the country, property values continue to rise here as people put off by growth in Portland and Seattle discover the place's charms.
Among the best for:
Bargains, Outdoor Enthusiasts, The Northwest
Georgetown, Texas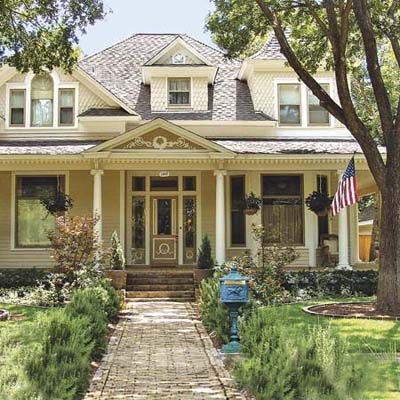 The Neighborhood
Georgetown once served as a staging area for cattle drives along the Chisholm Trail. These days, the town's historic center bustles with boutiques, art galleries, and restaurants, but it still looks like a scene from a John Wayne Western. Georgetown is located on the edge of the Texas Hill Country, and is home to Southwestern University, recently named one of "America's Best Value Colleges" by the Princeton Review. Plus, it's only 30 miles away from hip-and-happening Austin.
The Houses
Late-19th-century Queen Annes and Greek Revivals as well as beautiful 1930s Arts and Crafts and Stick Victorian homes are scattered throughout the area.
The Prices
Price tags on fixer-upper bungalows sometimes read as little as $90,000, though grander homes here can run in the millions.
Why Buy Now?
Old homes with Western flair are dang hard to come by, and these are close to Austin, the best little hot spot in Texas, with music, food, and culture that gets better by the minute.
Among the best:
Art Lovers, City Slickers, Luxury Homes, Craftsman Houses, The Southwest
Centralia, Washington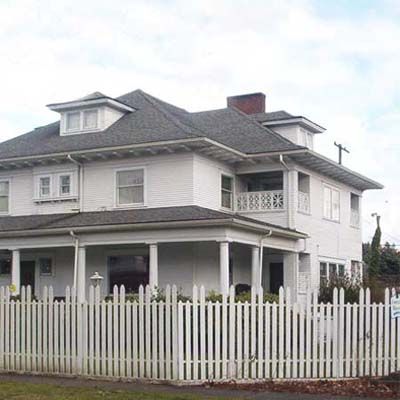 The Neighborhood
A former lumber town founded by the son of an African-American slave, Centralia has become a haven for West Coasters looking for a Mayberry, USA, way of life. "We have the small-town atmosphere that people love, with corner grocery stores and tree-lined streets," says resident Thomas Jones. Centralia is located halfway between Portland and Seattle (both are about 90 minutes away) and is close to both Olympia and Tacoma. For those who live in Centralia's Edison District—adjacent to the revitalized historic downtown—movie theaters, antique shops, and the Olympic Club, a brick 1915 tavern, are a block away.
The Houses
Most homes date back to the Victorian era, including sturdy Queen Annes and Stick Victorians. Craftsmans, many with full-length columned front porches, are also easy to find.
The Prices
Homes in the Edison District range from $250,000 for an 1,800-square-foot Craftsman to $600,000 for a massive Queen Anne.
Why Buy Now?
Other towns may be watching the foreclosure clouds roll in, but Centralia is undergoing a restoration boom, as 19th-century downtown commercial buildings are transformed into vibrant businesses. Preservation junkies get a warm welcome around here.
Among the best for:
Craftsman Houses, The Northwest
New Castle, Delaware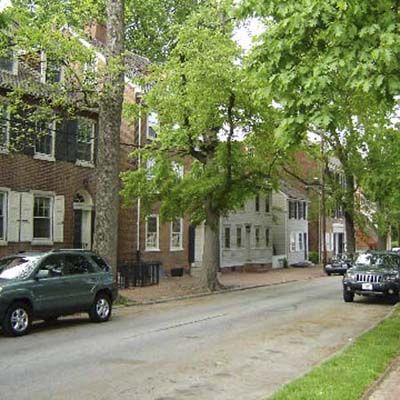 The Neighborhood
Set on the Delaware River, New Castle was once a stop for people traveling by coach between New York and Washington. But when railroads arrived in the mid-19th century, the tracks bypassed New Castle in favor of nearby Wilmington. For more than 100 years this National Historic Landmark District has remained frozen in time. Brick sidewalks, lush gardens, and timeworn historic buildings make it feel more like a European village than an American city. Staple businesses, including the drug store and post office, are within walking distance of downtown. Many New Castlers work in Wilmington, where Bank of America, ING Direct, and DuPont are located.
The Houses
Federal-style brick houses predominate, although there are also fine examples of Italianate and other Victorian-era architecture.
The Prices
A brick Federal in good shape will run you $385,000. Large historic homes, especially those with river views, cost close to a million.
Why Buy Now?
There are large numbers of historic properties on the market now, and the State of Delaware is offering tax credits to those who buy and restore them.
Among the best for:
Washington, Georgia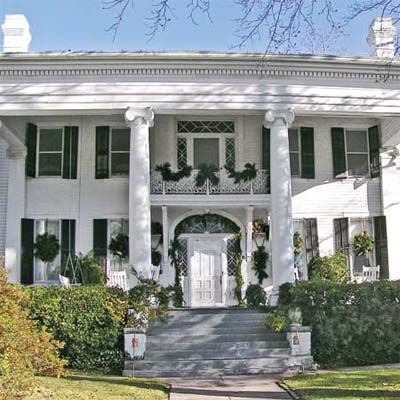 The Neighborhood
It's been said before, but, yes, when you walk through Washington, Georgia, you feel like you've stepped into Scarlett O'Hara's celluloid Civil War world. Washington is one of the most sultry, scenic, and seemingly overlooked destinations in the South, yet it's less than an hour's drive from both Athens and Augusta. Most of the town's homes are located on quiet streets that extend out from its historic public square, bordered by 19th-century commercial buildings filled with restaurants and shops.
The Houses
Washington has more antebellum mansions—sprawling plantation houses, the most coveted of which have massive, fluted columns on four sides—than any other town in Georgia.
The Prices
Antebellum mansions run as low as $350,000, while a 2,000-square-foot Victorian cottage might go for $130,000.
Why Buy Now?
In the past five years, quite a few Washington homes that had been in the same families since the 1800s have popped up in the real estate ads. With generations-long family strongholds here gradually fading out, the town has started to attract preservation-minded DIYers looking to tackle some of the South's most impressive and hard-to-find architecture.
Among the best for: