Beyond Painting 101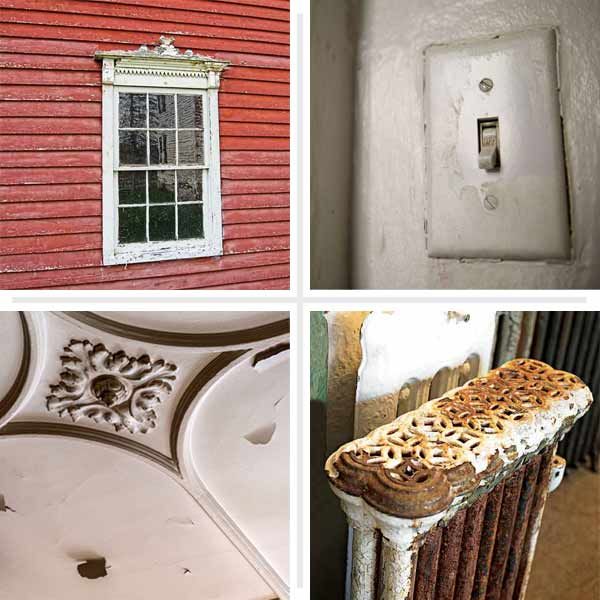 We've assembled all your toughest painting questions and a TOH pro's answer to each one. Here, we cover quirky paint scenarios for interiors, exteriors, removal, and more.
Stripping Tin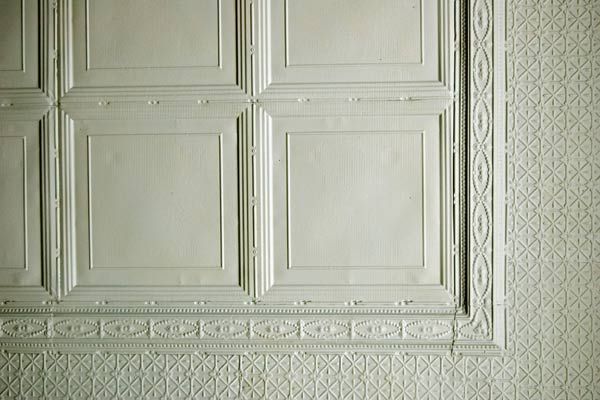 Q: My brother's kitchen has a pressed tin ceiling that has several layers of paint on it. What would you recommend for stripping the tin ceiling?
—Danny, Federalsburg, Maryland
A: Tom Silva replies: You've got your work cut out for you. There are products you lather on with a plastic putty knife, cover with a special paper, wait, and then peel away. But that's the easy part. Getting all the paint out of the ceiling's nook's crannies—the fine work—is the killer. Patience is the key here. An easy-sounding solution such as sandblasting will only destroy what you're trying to restore.
Don't forget that old tin ceilings are often covered with several coats of lead paint. For more information on lead paint, call the EPA hotline at 800-424-LEAD.
To learn more about tin ceilings, check out All About Tin Ceilings and How to Hang a Tin Ceiling
Paint Before Nailing
Q: I've noticed in most This Old House projects that the trim and millwork are installed primed but unpainted. Wouldn't it be easier to paint the trim first, install it, then touch it up if necessary after installation?
—Benny, Knoxville, TN
A: Tom Silva replies: Touchups always show, so that's not really the best approach to take. To save time, sometimes we'll install trim that's been primed and painted with one coat, then fill holes and sand lightly before putting on a finish coat with the trim in place. This works nicely for both interior and exterior work.
But if painting isn't practical, we'll make sure to at least prime exterior trim on all sides before installing it. Back-priming, as it's called, helps keep the wood from taking on water, which minimizes expansion and contraction and prevents moisture from migrating through the wood. Both will cause paint to peel. Back-priming takes a little more time at the start of a job but saves a lot of work in the long run.
See Secrets of Smooth Brushwork and All About Interior Paint for more tips
Cabinet Paint Cracks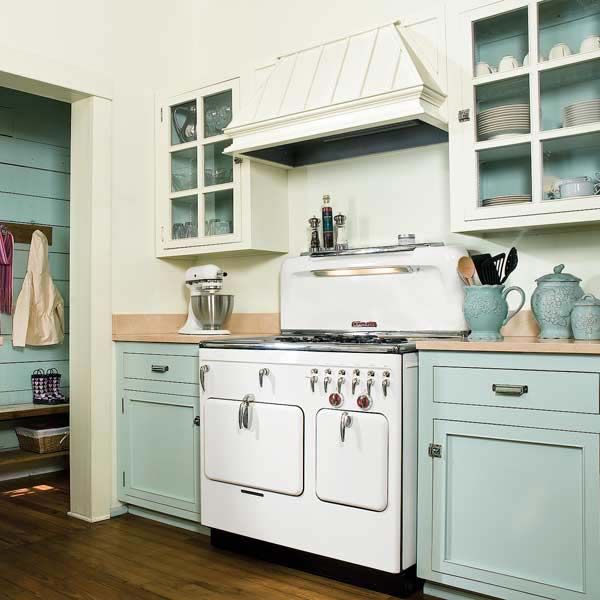 Q: I redid my kitchen with top-of-the-line painted maple cabinets, but there are cracks between the stiles and rails of the new cabinet doors. The kitchen company that sold them to me said that the cracks were normal, as they were smaller than the thickness of a piece of paper. But I think the cracks are unsightly and don't believe this is normal. What do you think?
—Susan, Hingham, MA
A: Norm Abram replies: Hairline cracks are unavoidable in wood cabinets, top-of-the-line or not. They occur wherever there's a joint between pieces of wood with grain running in different directions: for example, the joints between stiles and rails on the doors or the face frames that surround openings. The pieces expand and contract at different rates with changes in humidity, since wood movement is much more pronounced across the grain than with it. A painted finish, no matter how good or how carefully applied, just can't keep up.
Every species and grade of solid wood behaves this way, although cracks are more noticeable on light-colored cabinets than on dark ones. Some cabinet suppliers warn clients about this in advance, and even require them to sign a waiver saying that some cracking in the finish is likely. Still, maple is about the best wood you could have chosen for painted cabinets because of its stability.
The cracks will probably be more noticeable in winter than in summer because heat dries everything out. Check with the cabinet manufacturer to see if they recommend a particular humidity level for your house, which you can keep relatively constant with a humidifier.
See All About Kitchen Cabinets for additional advice
Painting Radiators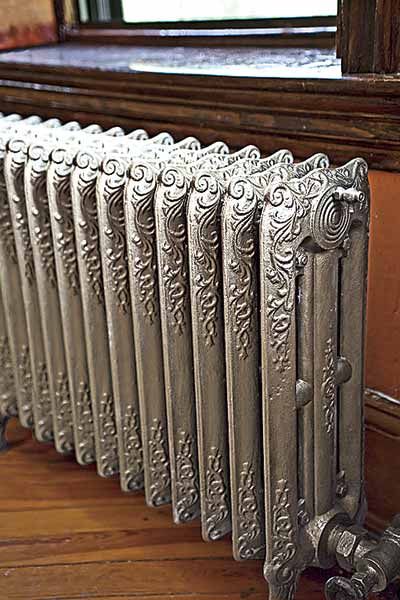 Q: We have a Victorian house with a very efficient steam heat system that is relatively inexpensive for the size of the house. The problem: We are unable to find paint for the radiators and pipes that will withstand high temperatures. We have stripped the radiators several times and tried various paints; the last try was spray paint but to do one small radiator it took more than eight cans. Some of the radiators are very large, and the finish is already chipping. I am getting ready to refinish three more rooms and am in dire need of assistance. What can I do?
—Bronwyn, New Market, Maryland
A: If there is any residual rust on the radiator, you can spot prime with red-metal primer, then top coat with brush-on high-heat enamel. If there is no rust, then brush or spray on high-heat enamel directly to the bare metal.
High-heat enamel is available in white, which can be tinted to match many light colors, and black. It is available in individual spray cans, too, but it's more expensive to purchase this way. If you have a lot of radiators to paint, consider renting an HVLP sprayer and do them all at once. HVLP stands for high-volume, low-pressure and delivers a very controlled spray pattern. With a little—or a lot—of practice, you'll be apply coatings like a pro.
Watch This Old House plumbing and heating contractor Richard Trethewey revive an old painted radiator: How to Paint a Cast-Iron Radiator
Repainting Metal Railings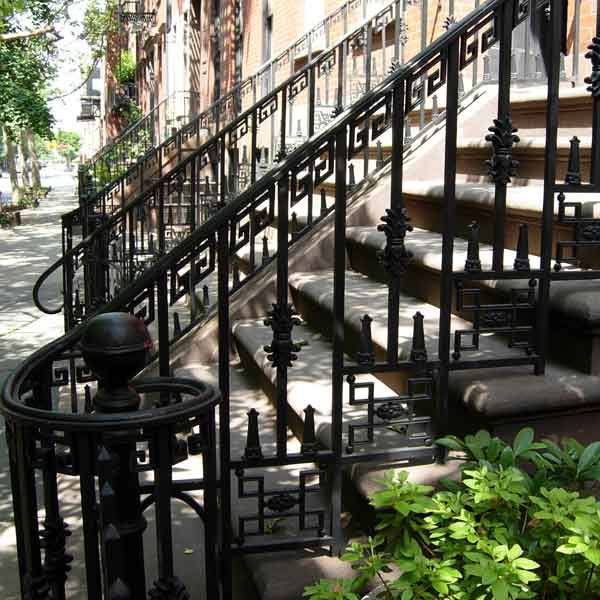 Q: I'd like to repaint the black metal railings on my front stoop. What's the best way to go about this?
—James, Natural Bridge, VA
A: John Dee replies: With metal railings, the first thing to get rid of is the rust. A modest scrubbing with a wire brush is usually all it takes. Follow that with a scuff-sanding over all surfaces to ensure good adhesion. I find a medium-grit flexible sanding sponge comes in handy for this step. Then dust off and wipe down the surfaces with a tack rag. Coat the areas that rusted, and any bare metal, with a rust-inhibitive primer. For the finish coat, use an exterior rust-inhibitive enamel that's compatible with your primer. Whenever possible, I use spray cans to apply both the primer and finish coats. (In the rough spots where the rust was worst, I brush on the primer.) Spraying leaves a smoother, more drip-free surface than a brush, as long as you keep the can moving and don't hold it too close to the railing surface. Spraying is a lot faster, too. Just be sure to mask off or cover anything that you don't want painted, including steps, plants, and windows. If this isn't possible, you can apply the paint with a mini roller, followed by a light pass with a dry brush. Don't bother with a paint-mitt. All you'll get is an uneven paint job and a sloppy mess.
John Dee, a painting and decorating contractor in Concord, Massachusetts, has restored finishes on many This Old House projects.
See a trick for removing rust and 10 Ways to Update and Upgrade with Spray Paint
Painted Screw Heads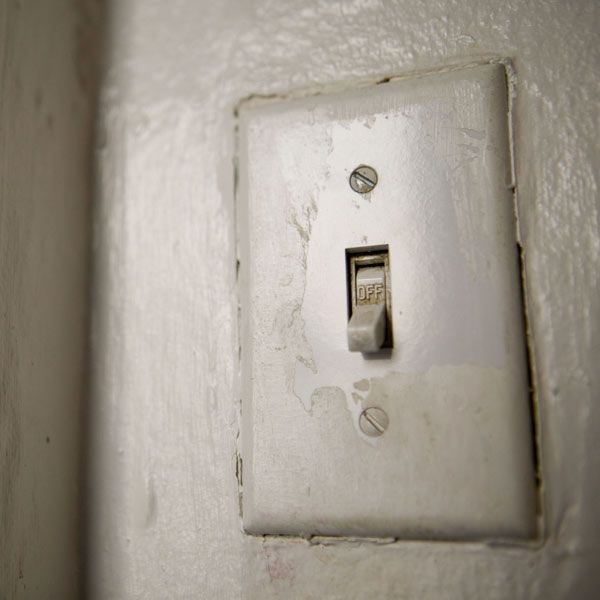 Q: Do you know of an easy way to remove screws—especially small ones—whose heads are covered with many layers of paint?
—Kathy, New Brunswick, Canada
A: Getting at screw heads covered by many layers of paint is always a pain in the neck. With a small screwdriver or narrow putty knife, scrape enough of the paint from the hinge to reveal the slots in the screw heads. Then rake the built-up paint from the slot enough to let you get a firm purchase with your screwdriver.
Check out these clever screwdrivers and watch How to Set a Screw Properly
Making Flat Paint Shiny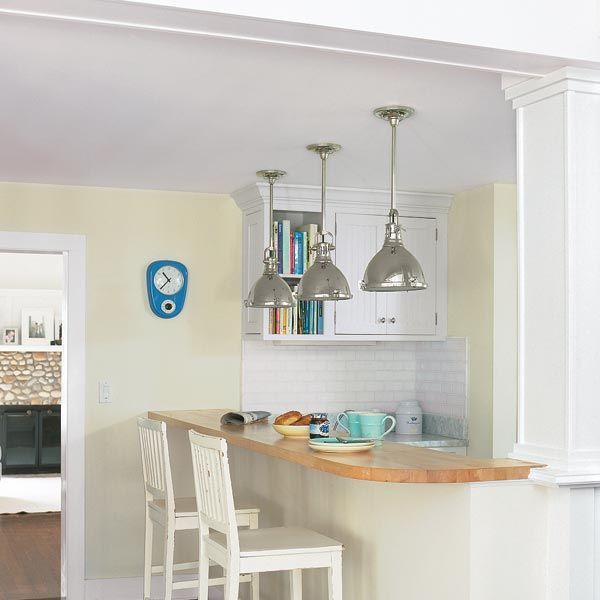 Q: Can I varnish over the hard-to-find-color of flat paint in the kitchen to make the walls shiny and more cleanable?
—Cat, Tulsa, Oklahoma
A: You could apply a urethane, but check with your paint store about compatibility over the existing paint.
But why not get the color matched, and repaint the walls with an eggshell or satin enamel? Most paint stores have sophisticated color matching systems that can figure out the formula for just about any sample you bring in.
Browse our favorite Spiced-Up Kitchen Color Combos for more ideas
Stripping Roof Paint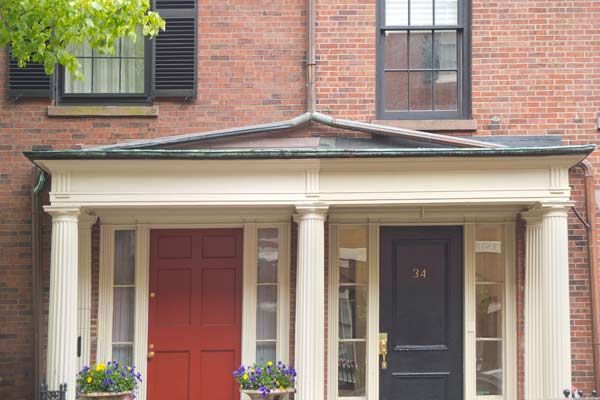 Q: Is removing latex paint from a copper roof something I might be able to do myself?
—David, New Harmony, Indiana
A: This is a big job requiring a lot of material and a lot of hard work. Although if the copper roof is in good shape and you want to expose it, it could well be worth it. However, it's just not something that is necessarily worth trying to tackle yourself. An alternate option: get a price from a professional paint stripper on doing the job professionally. It's important to be sure you're dealing just with latex paint and that there is no lead paint to remove. Also, as always, use extreme caution when doing any work on your roof, especially if your experience is limited.
For more on exterior paint see: All About Exterior Paint
Fireplace Face-Lift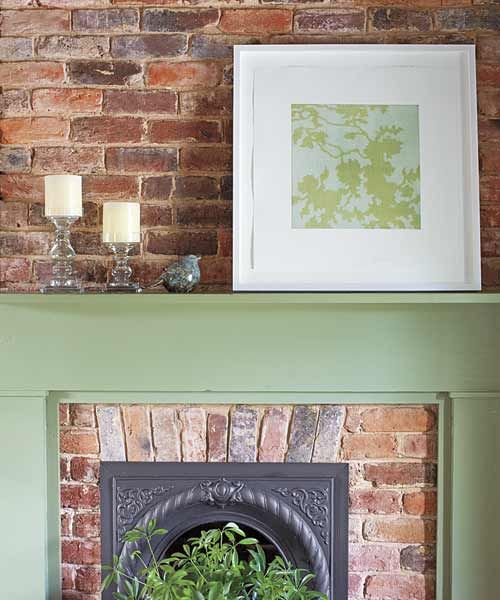 Q: Is there a process to color and texturize the bricks on our fireplace? We don't care for the standard red brick look.
—Lance, Carlsbad, California
A: Painting the brick is the easiest strategy. First prime the bricks with a stain-killing primer, then top coat with oil or latex. Alternatively, you can get a mason to parge the bricks, a process similar to plastering that smoothes the bricks and makes them look like stucco.
For other brick fireplace ideas, see Whitewashing Red Brick and A Fireplace Face-Lift for Just $87
What Comes First: Wall Painting or Floor Refinishing?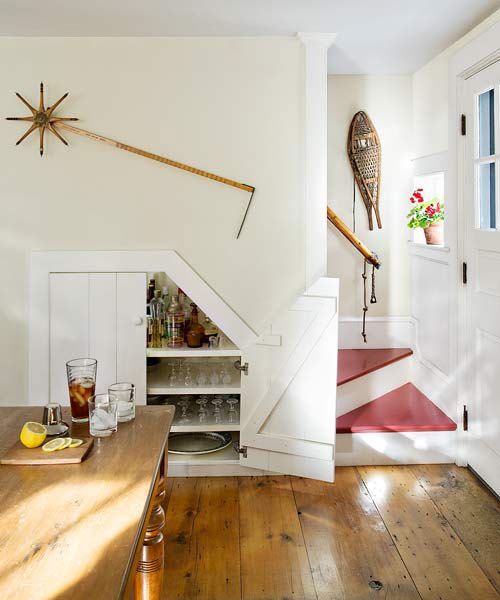 Q: I'm planning to have the interior of my home painted and the existing hardwood floors refinished. Should we paint first and then finish the floors, or the other way around? Every contractor I've talked to has a different opinion.
—Joseph Bobitz, Hollywood, California
A: Tom Silva replies: You can do it either way. My painting contractor, Jim Clark, wants to be last so doesn't have to repaint baseboards that have been splotched with stain or ployurethane, or nicked by a sander. Besides, even the most careful flooring contractors inevitably leave a film of dust everywhere, he says.
My flooring contractor, Pat Hunt, sees things a little differently. He prefers to be last because floor finishes take a while to fully cure, so he doesn't want anyone walking on them even when they're covered with protective tarps. He also says it's pretty common for other contractors to damage or spill stuff on a finished floor. The way he figures it, it's much easier to touch up paint than a floor finish.
As the general contractor, I sometimes have the flooring finisher go first, and sometimes I let him go last. It all depends on what's best for the project schedule. I have that kind of flexibility because I know Clark and Hunt will put a lot of effort into protecting the other guy's work.
Get how-to help with How to Paint a Room and How to Refinish Wood Floors
Insulating Paint?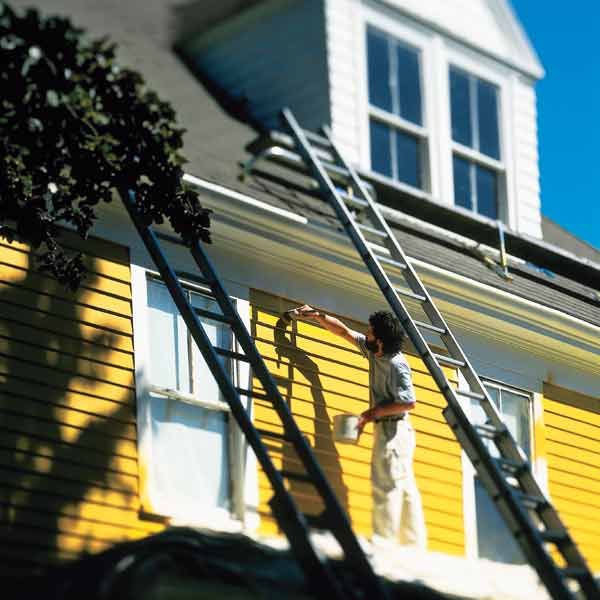 Q: I have seen a paint advertised as an insulation. Is this for real?
—S.H. Bryson, via e-mail
A: Kevin O'Connor replies: Sounds like what you're referring to is a type of paint that blocks the transfer of heat through walls. From what I've learned, it wouldn't hurt your house to paint it with this stuff, but it's not likely to reduce your energy bills.
According to Danny Parker, a research scientist at the Florida Solar Energy Center, the R-value of any paint film would be negligible, so using the term "insulation" is a stretch. True, paint can reduce summer heat gain by acting as a radiant barrier and reflecting the sun's rays. But unless there's independent test data about how well it performs, there's no way to compare the benefit of this product to other options, such as insulating walls or installing radiant-barrier foil in the attic.
Even if the paint were a good radiant barrier, its effectiveness would depend on its location: A radiant barrier applied to a shaded wall, for example, won't be much help.
For more advice, watch the Ask TOH crew discuss solutions for Home Energy Savings and see 22 Little Ways to Go Green
Historically Accurate, or Just Ugly?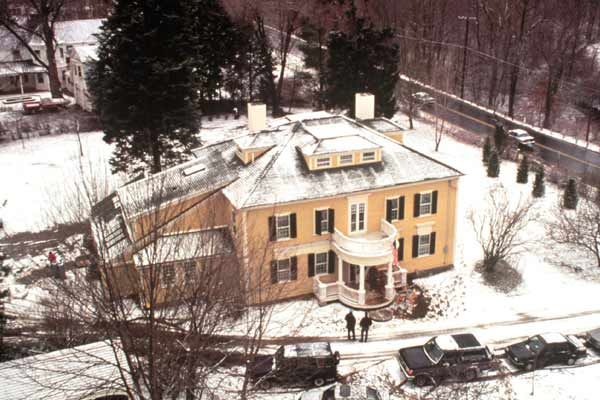 Q: I'm always amazed that such care is taken to return old homes to their original colors, as determined by painstaking investigation, with apparently no consideration that the original owner might have been a tasteless idiot. Have you ever discovered original colors that were so hideous that you didn't use them even though they were "historically correct"?
—Chuck, Black Mountain, NC
A: No, but close. In 1991, at our Kirkside project in Wayland, Massachusetts, we were firsthand witnesses to a collision between modern taste and historical accuracy. After exactly the kind of investigation you describe, we found that the outside of the 1815 house, which had been painted white for many years, had originally been ochre with green shutters. Not everyone wanted us to put those colors back on the house, including the members of the Wayland Historical Commission. But after a lot of discussion, history won out and the commission okayed the original hues. Many people loved them, but surely there are some folks still grumbling every time they pass by. There's just no pleasing everyone when it comes to house colors.
Here in New England, white was the rage during the Greek Revival period in the early to middle 1800s. But before and after that, colors were widely used. We tend to think of them as being muted, but that's partly because what we see has been dulled by time. Some of the original colors were actually quite vivid. That goes for interiors, too. Remember that colonial rooms generally had small windows and were lit by candles, not 60-watt bulbs. Paints that would seem garish now would have been much easier to tolerate under the less intense lighting conditions of the day.
To get more tips on selecting paint colors for your home, see Choosing Exterior Colors
Paint Peeling Off Plaster Ceiling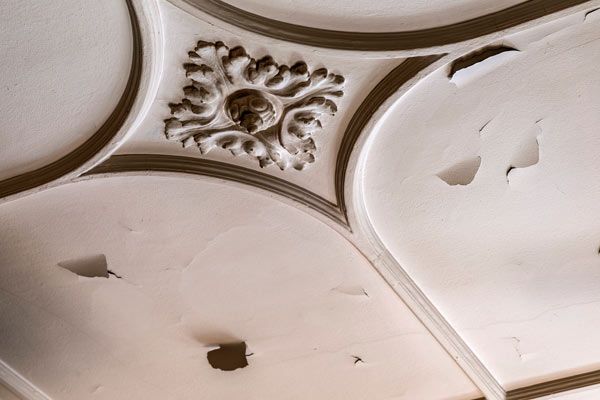 Q: I recently moved from a beautiful modern condo in Seattle to a very "challenging" 1930s-era apartment in Manhattan. I don't know how to get started on the ceiling that has two or three coats of paint peeling off the plaster. The plaster underneath appears to be in pretty good shape, but where and how do I start to fix it? Should I attempt to scrape off the old paint? Instead of trying to remove this stuff, I've thought about maybe papering over it or better yet, find some product that can be mechanically attached, like those metal ceilings you find in old buildings.
—Tony, New York, NY
A: Tom Silva replies: Whatever you decide to do, you'll have to get rid of that old peeling paint or your fix won't stick. Paint and paper need a clean surface to adhere to or you'll be back up on a ladder doing repairs sooner than you'd like. Even a metal or drop ceiling needs something good and solid to screw into, so there's really no way around scraping it. You should be able to get most of it off with a putty knife. (If you suspect the paint has lead in it call the EPA hotline at 1-800-424-LEAD for more information on lead paint.) Then fill in any irregularities with joint compound and you are ready for paint, paper, or whatever finish you decide on. The bottom line: Getting things looking good takes some elbow grease.
Watch How to Repair a Plaster Ceiling, then check out All About Tin Ceilings for more advice
Fireplace Paint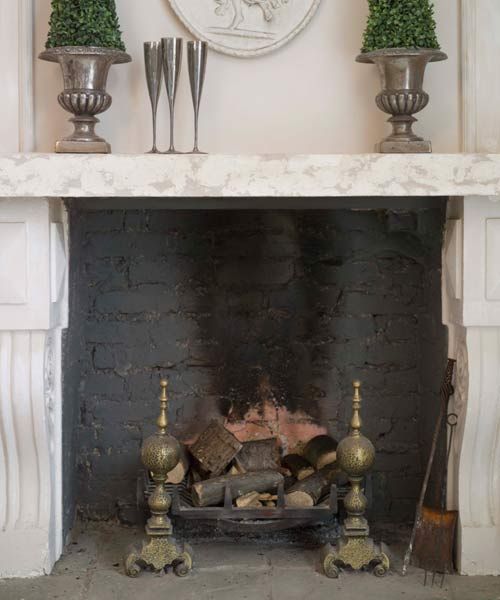 Q: My fireplace's brick firebox is painted black and in need of some retouching. My local home improvement center recommended a spray paint intended for barbecues, and a specialty paint store recommended an acrylic product that didn't say anything about flame resistance. What kind of paint should I use?
—Martyn, Boston, MA
A: It's tough to get paint—even a high-temperature enamel—to withstand direct flame on the back of a firebox. Here's one solution to try: lightly wire brush the firebox, remove any soot and ash, and spray with high-temperature paint intended for barbecues. The paint may well scorch off where the flames touch it but the back of the firebox will look neater and cleaner than before.
See 14 Fireplace Upgrades for more fireplace spruce up ideas
Storm-Window Damage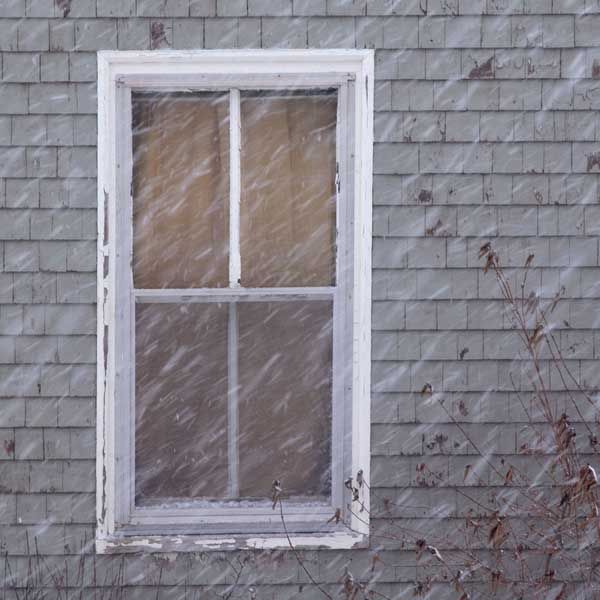 Q: Our brick home did not have storm windows, so we made our own sash out of pine. We saved a lot of money, but on the bottom inch of each frame the paint is constantly peeling, despite frequent maintenance. How can we prevent this?
—Tom and Karla Jennison, Salt Lake City, Utah
A: Norm Abram replies: All wooden storms require regular maintenance, just as wood windows do. Perhaps you're having extra problems because the wood is absorbing moisture from masonry windowsills. Paint alone is not enough of a barrier to keep the water out.
At this point, you'll have to remove all the paint in the weathered area and brush on a paintable, water-repellent preservative like Wolman's Woodlife Classic. After you repaint the area, attach a scrap of self-adhesive waterproofing membrane to the bottom edge of the storm to create an additional barrier against moisture.
Another part of the problem could be that water vapor trapped between the storm window and the window itself is condensing and soaking into the wood. A couple of small weep holes cut in the bottom edge of the sash will give the water a way out. Aluminum storm windows have weep holes for that same reason. Make the holes about ⅛ inch deep and ¼ inch wide, and place them a few inches from each end. Just be sure that the waterproofing membrane doesn't block them.
Watch This Old House general contractor Tom Silva show How to Install a Storm Window
Changing the Color of Tile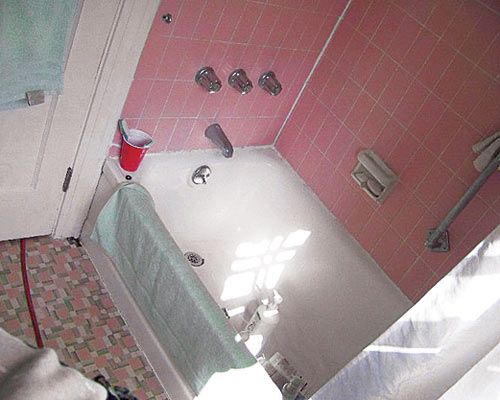 Q: I want to change the color of the pink tiles in my bathroom. Can I have them reglazed?
—John Sawyer, via e-mail
A: Kevin O'Connor replies: The only way to reglaze your tiles would be to crank up the heat in your bathroom to 2,300 degrees for several hours. But there's an easier way to get rid of the pink: with paint.
One do-it-yourself option is to paint the tile using a special primer, such as XIM 400, that is formulated to bond with ceramic tile. XIM Products's technical rep Dan Ryan says you first have to roughen up the tile surface with 220-grit carbide sandpaper or XIM's muriatic-acid-based deglosser. Then, to get the smoothest results, he recommends spraying on the primer—and the paint—rather than brushing it on. In tub or shower areas that get soaking wet, a two-part epoxy-based paint is required. Its colors are limited.
Another approach is to turn the job over to a company that specializes in refinishing tubs as well as tile. The process, as explained by Pam Johnson of Miracle Method, involves spraying on a proprietary primer and several coats of a pigmented, catalyzed acrylic urethane, which is then buffed to a glazelike sheen. The surface carries a five-year warranty. Says Johnson, "It's quite durable, but it's not bulletproof."
With either method, the grout and tile have to be in perfect shape because the coatings will magnify any imperfections. Also, all the grout lines will end up being the same color as the tile. So if you want the grout to be a contrasting color, you'll have to install new tile.
Painting Over Paneling
Q: My living room walls are now covered with dark, grooved wood paneling. Is it possible to fill in the grooves so I can paint or wallpaper over it?
—Dorothy Dister, Morenci, Michigan
A: Tom Silva replies: Yes, it is possible, as long as the paneling isn't solid wood, which shrinks and swells too much for any filler to work. But if your paneling is made of plywood or some other product, and it's securely fastened to the wall, treat it like drywall: Fill each groove with joint compound and cover each joint between the panels with compound and fiberglass tape. When the compound is dry, sand it and the rest of the wall, apply a coat of primer, and it'll be ready for paint or paper.
For instructions see How to Patch Holes in Drywall and How to Finish Drywall
Repainting an Old Steel Cabinet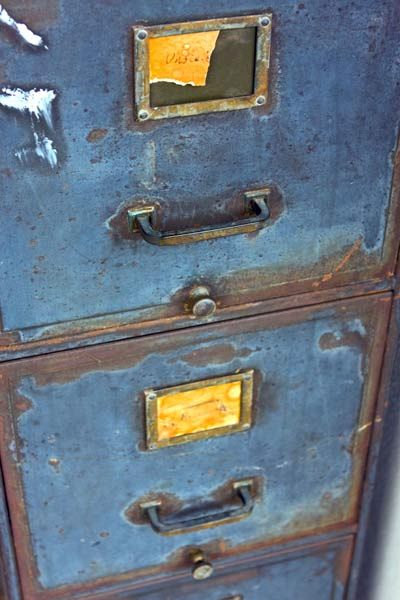 Q: How do you recommend safely stripping oil and latex paint off an old steel cabinet and then refinishing the steel surface?
—Herbert, Hilo, Hawaii
A: Tom Silva replies: You can try a stripper to remove persistent paint, but it will most likely come down to sanding. You also have to make sure that the paint doesn't contain lead, which it may well considering its age. But you can also paint over oil-based paint, if you do the right prep work. You don't need a primer, because you only need a primer where there's raw wood. Clean the surface well, removing any mildew, then sand it lightly. A light sanding should also help break that top coat of paint. Then use a latex paint over it.
Check out Stripping Painted Furniture and How to Faux-Age Painted Wood Furniture for helpful how-to ideas
Painting Stucco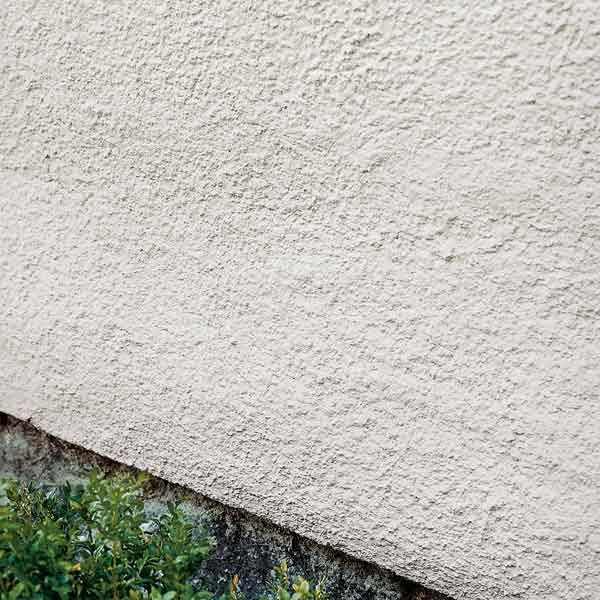 Q: When painting stucco, is it better to spray and back-roll, or roll on?
—Ray, San Jose, California
A: Really it's just a judgment call. You can try to spray and back-roll. If it was a small job, you could just roll on the paint. Rolling on stucco goes very quickly. Use a thick roller that will hold a lot of paint, better enabling the paint to work its way into the uneven texture of the stucco.
See Using a Paint Roller Like a Pro and How to Roll Paint Onto a Wall for more tips
Painting Concrete Block Foundation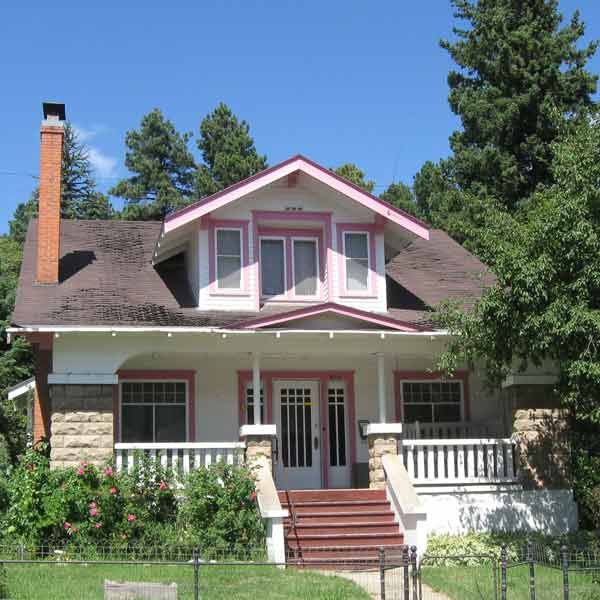 Q: Our concrete block foundation has been painted in the past, both inside and outside. Now it's flaking. What should I repaint it with?
—Bonita, Minneapolis, MN
A: On exterior masonry walls, vinyl enamel most often used on swimming pools, works with great success. On previously painted surfaces, ideally you should sandblast to remove all paint. Where this is not practical, power wash to remove any flaking paint, wash with trisodium phospate, rinse, allow to dry, then paint with vinyl enamel. On interior masonry surfaces, use a sodium silicate based concrete sealer that locks out moisture, which is usually the cause of flaking.
Read From the Ground Up: Foundations, to learn more about building proper foundations
Painting in Salem
Q: I own a circa 1780 home on Salem Harbor. We're collecting estimates for an exterior paint job (including the replacement of many rotten clapboards). One painting company recommended that we prime the house this fall and at the same time install a "weeping" system (akin to shimming the clapboards) that will allow the house to "drain" over the winter. The painters will then make necessary caulking and priming repairs, and give the house two coats of paint. This sounds reasonable to me, given the proximity of the house to the ocean, but the cost difference between this and a regular paint job is pretty significant. Is this weeping a worthwhile endeavor?
—Keira, Salem, Massachusetts
A: It sounds like this company thinks the house has a moisture problem that's causing water to collect behind the clapboards and rot them out. If this really is the case, no paint will stick until you address this underlying problem.
For more information, see our Top 10 Repair Questions and How to Hang Clapboard Siding
Painting Over Wallpaper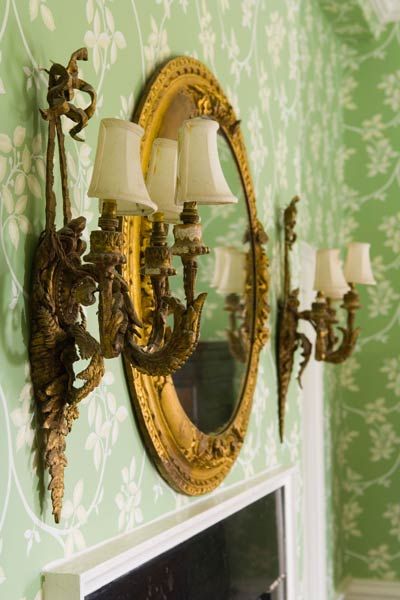 Q: Is it possible to paint over existing wallpaper?
—Asheesh, Fremont, California
A: It's possible, but it's bad practice and we don't recommend it. First of all, the job can never be made to look good. Second, it's a sign of lazy workmanship. Third, painted wallpaper is a real bear to remove, so you'll make the job even tougher for yourself or someone else down the road. If the paper is unpainted now, a wallpaper steamer will make fairly short work of removal, then you can clean the wall with a solution of vinegar and water, then prep, prime, and paint as if it were a raw plaster wall.
Watch a pro painting contractor remove old, painted wallpaper: How to Strip Wallpaper.
Removing Wallpaper From Plaster Walls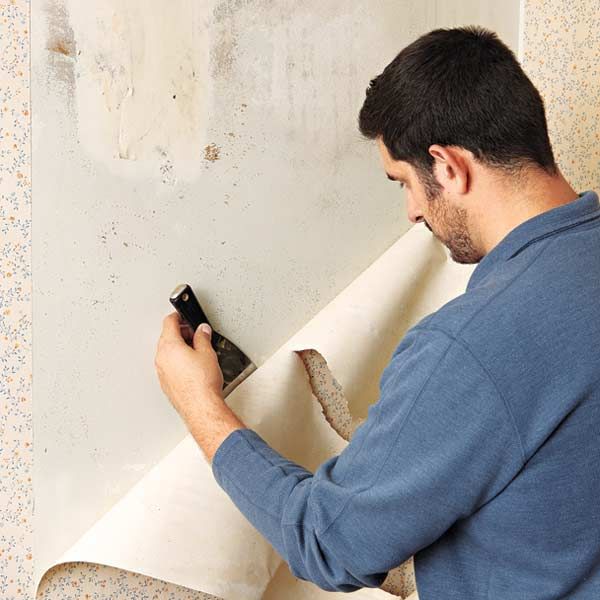 Q: What's the best way to remove wallpaper from plaster walls in a 1930s house? Once you get the paper off, how do you prepare the walls for painting?
—Jane, Westfield, New Jersey
A: First try the strategy favored by painting contractor John Dee, which is to fill a pump sprayer with five ounces of wallpaper stripper diluted with a gallon of water. Wet down the wall and scrape off the paper with a three- or four-inch scraper blade. If this method is not producing quick results try renting a propane powered wallpaper steamer at your local home improvement center. Electric steamers are available but are not as fast as the gas powered models. When the paper is gone, spray the walls again and scrape off all paste residue with a broad knife. Rinse with clean water and wipe down with a wet sponge until no paste remains. Give the walls 24 to 48 hours to dry before painting. Roll on an oil-based stain killing primer and finish with a latex top coat. Latex is available in five sheens flat, eggshell, satin, semi-gloss and gloss. The TOH crew favors eggshell or satin for all but the most formal of rooms because you can wipe smudges and fingerprints off the wall.
For step-by-step help with this project, see How to Strip Wallpaper
Stripping Painted Floors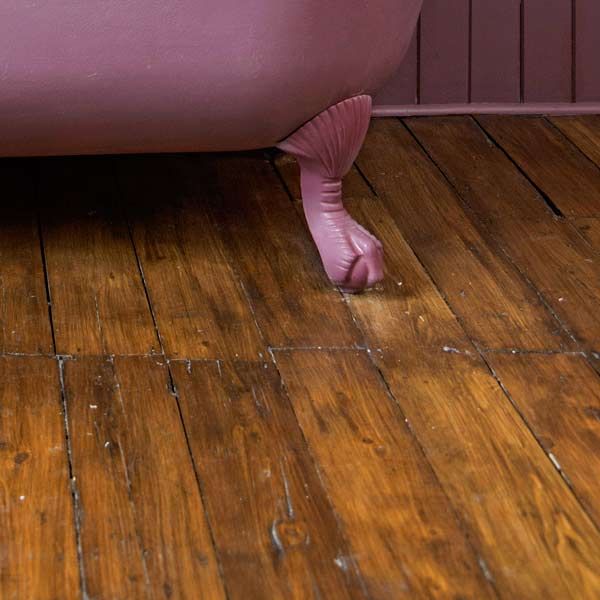 Q: I have a circa-1750 Colonial in which all of the first level floorboards have been painted. They are quite uneven and we aren't sure if sanding would do more harm than good. How do we remove the paint to restore the original boards to their natural state?
—Ted, Winsted, Connecticut
A: Stripping the floor while keeping the patina is not going to be an easy task. Sanding will, indeed, even the boards out but it will also destroy any character they have. But chances are that if the house is that old, the floors have been painted and repainted over the course of the years and some sanding will be required. Even if you do get all the paint off, you're going to still have paint in the grain, and getting down to bare wood is going to be almost impossible.
If you're intent on stripping them, get a chemical stripper and do a test piece in a closet or someplace out of view to decide whether it's worth the trouble. The other approach is to bite the bullet and call in a floor sander and have him sand the whole thing down to bare wood and refinish it. It was not uncommon to have those old floors painted, and you might want to just choose a nice, more pleasant color and repaint them again and keep the old patina. Trying to get the paint off will, one way or another, ruin that aged look of old floors.
Find more information about wood floors here: All About Hardwood Floors
Sealing and Painting Concrete Flooring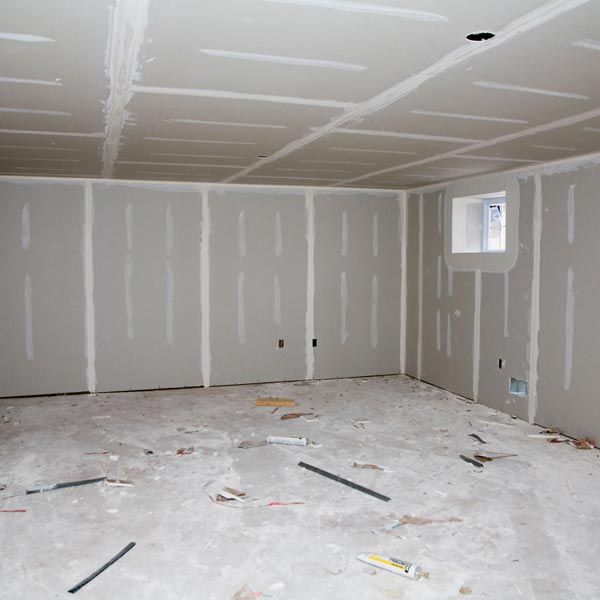 Q: What kind of paint and sealer should I use on concrete flooring?
—Reyna, Port Arthur, Texas
A: You can use an acrylic-based concrete sealer to treat the slab in the basement, then top-coat it with a commercial grade acrylic paint specially formulated for floors. Check with your local paint store and tell them you want the best product for the job. Skimp on price and you'll only wind up making more work for yourself in the future.
For a helpful guide, see How to Epoxy-Coat a Garage Floor
Painting Hardwood Floors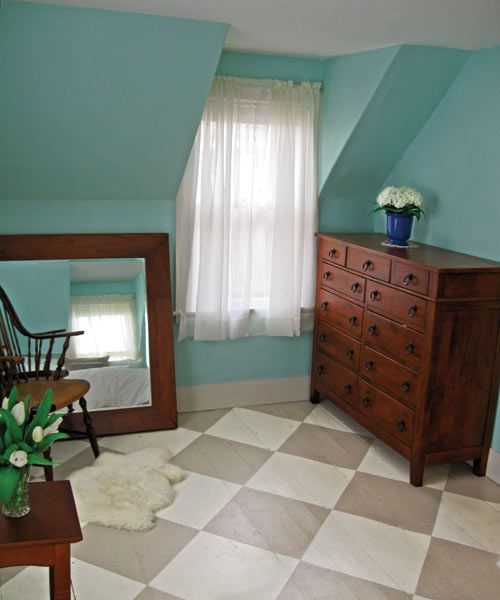 Q: I recently removed carpeting and am thinking of using deck paint on the hardwood as a temporary solution. What preparation should I do to minimize flaws?
—Marisa, Phoenix, Arizona
A: Tom Silva replies: Well basically, if you remove the carpeting, you're first going to have to sand the floor. After giving it a light sanding, patch the floor with a hardwood filler. For this, people use different products, a lot of which are water-based. After the filler dries, sand it off flush with the floor again. Then prep the floor following your paint manufacturer's recommendation. In some cases, deck paints don't need primers and in some cases they do. But if the floor is still rough to the touch before you paint, it'll still be rough to the touch after you paint it. So remember that the finish you end up with is only going to be as good as the amount of effort you put into sanding and prepping the floor. Paint won't fix it on its own.
Follow these step-by-step instructions for a flawless floor: How to Paint a Floor
Protecting Polyurethane Finished Floor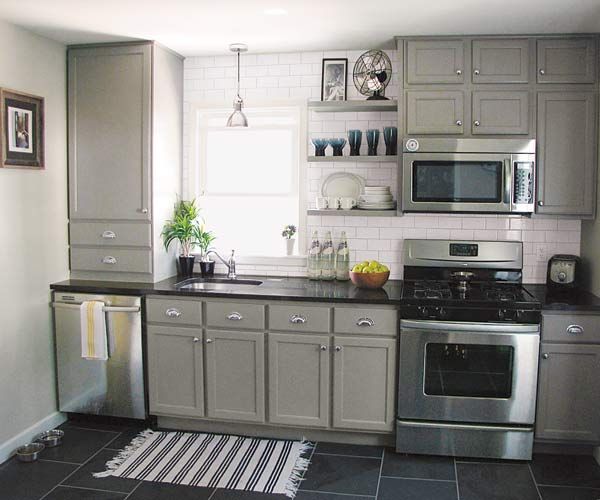 Q: I have a slate tile floor with a polyurethane finish. It's very attractive, but it scratches easily. How do I keep the look while protecting my floor?
—Jane, Lexington, Kentucky
A: Tom Silva replies: Unfortunately, there is no real foolproof method. Probably the only way you're going to keep from scratching it is to wear socks when you walk on it. You can't drag your furniture over it—you have to treat it as if it were a hardwood floor.
Urethane is going to scratch on that type of floor, and even applying more coats of it won't do the trick. In my estimation, most slate floors are better left without a finish on them. However, once slate tiles have been treated with polyurethane, the finish penetrates the pores of the slate and cannot be removed. In your case, I'm afraid you may just have to learn to love the scratches.
Removing Lead Paint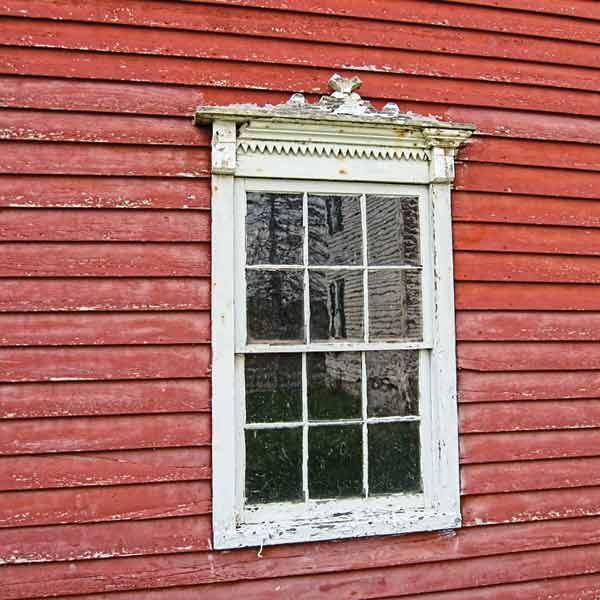 Q: My husband and I recently purchased a beautiful old home built in 1913. There is old peeling paint on the exterior side of all the window casings. I am sure that it is lead paint and am concerned for the safety of our 22-month-old daughter. Without hiring a professional, what are some methods we can use ourselves to safely remove the lead paint?"
—Kris, Minneapolis, Minnesota
A: If your daughter ingests even a small amount of lead it can lead to serious medical problems. In the course of our Jamaica Plain project, we consulted Dr. Michael Shannon, a pediatrician and toxicologist at Children's Hospital in Boston, who reported that exposure to lead paint can have a significant impact on the cognitive development of children under six. Adults have a greater tolerance for lead, but can still develop poisoning and experience symptoms such as headaches and abdominal pain.
For these reasons, We don't recommend that homeowners tackle lead abatement on their own. It's a job for professionals.
Read Cleaning Up Lead, Asbestos, and Other Hazards for more information
Taking Paint Off Radiators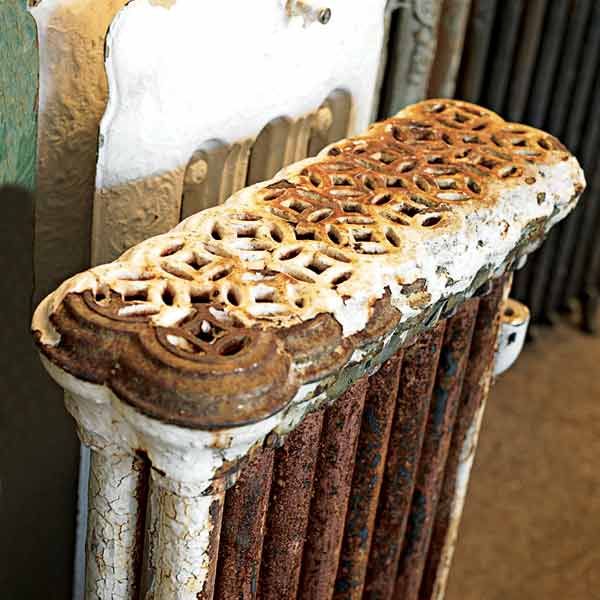 Q: What's the easiest way to get flaking old paint off radiators? What paint should I use when I repaint them?
—Margie, Richmond, Virginia
A: Old-style radiators are in your face, so homeowners often paint them to match the decor—with the same paint they used on the walls. Wall paint is not only incompatible with the radiator's metal but also unable to withstand its high heat, leading to the problem you describe.
Unfortunately, there is no easy way to scrape off the old paint. Here are the options: You can do some superficial scraping and re-paint with wall paint, just like the previous owners did. Or you can remove the radiator and have it stripped or sandblasted, then prime and paint with high-temperature enamel. Or you can invest in some metal or wood radiator covers that will hide the beasts and that can be painted to match your current decor.
Check out Take a Good Look at Vintage Radiators and How to Build a Radiator Cover for more
Removing Paint from Doors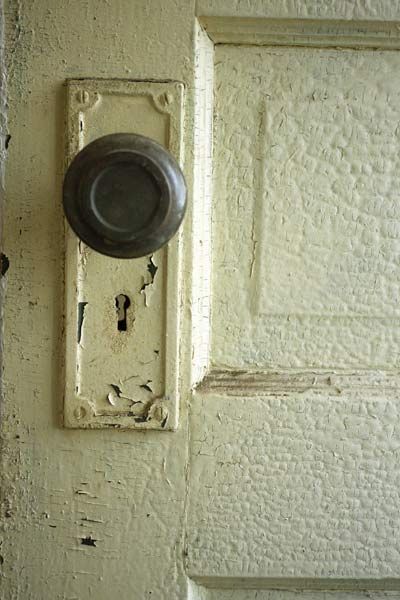 Q: How do I remove layers of old, resistant paint from my doors?
—Dave, Lake Villa, Illinois
A: Tom Silva replies: There are lots of different paint strippers out there. Some products do say they will attack many layers of paint at once, but most strippers will do only one layer at a time. At any rate, getting the majority of the paint off is easy. The worst part is trying to get the final bits out of all the little nooks and crannies. That usually takes longer in itself than taking off the majority of the paint. The other option is the heat machines. With these you must be sure there's no lead in the paint you're trying to remove. No matter what, you should find out about the lead content of paint on your doors. But certainly, if yours are 19th-century doors or older, you can bet they've got lead paint on them somewhere, and in that case you don't want to use heat. You also should avoid sanding a door with lead paint. The sand particles will get in the air and you'll breathe the lead. The unfortunate bottom line is that getting layers of paint off of doors is never easy. Whatever your approach, you've got your work cut out for you. Just be sure you cover the ground really well, protect yourself and be careful.
For a pro secret for rejuvenating an old door, see How to Prep a Wood Door for Refinishing and How to Refinish a Door
Stripping Paint From Fiberglass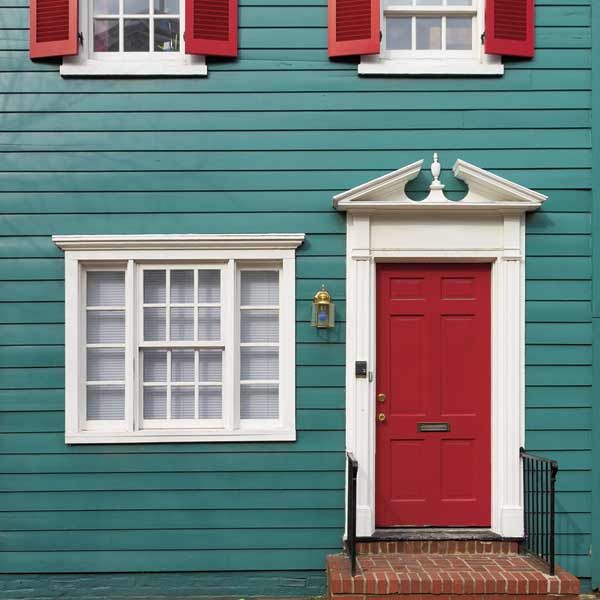 Q: Last year I purchased a wonderful fiberglass door, but my husband painted it with old paint and the result is blotchy and looks terrible. How can we remove the paint and then repaint the door so it looks the way it should?
—Ruth Ficker, Jerseyville, IlL.
A: John Dee replies: It might be the paint, or it might be the painter's technique. Here's the test: Sand a section with 120-grit sandpaper. If the paint powders, there's nothing wrong with it. The blotchiness is probably from lap marks where one area of the door has more paint on it than another. The remedy is to sand the rest of the door lightly and repaint it. But this time, paint each individual panel first, taking care to wipe the excess off the rails and stiles. Then paint each rail, followed by each stile. This method will enable you to keep a wet edge and avoid lap marks.
If the paint rolls up when you sand it or seems gummy, then the paint is at fault and you'll have to remove it entirely with a chemical stripper. Because stripper will eat into the surface of the fiberglass if it sits for too long, you want to leave it on just long enough to loosen the paint, then immediately scrape it off with a putty knife. Repeat if necessary. On doors with a textured finish, a small nylon brush or a Scotch-Brite pad will get at the paint in the tiny recesses. Neutralize any remaining stripper residue by rubbing the door with a Scotch-Brite pad dipped in denatured alcohol, then wipe with a rag (and more alcohol if necessary) until the rag comes away clean. Allow at least two hours for the door to dry, sand it lightly, and paint it, this time with fresh paint.
For more information on stripping paint from a home's exterior, see How to Strip Years of Paint Off a House