A house foundation is forever, so it makes sense to pay attention to the details that ensure it will remain dry and crack-free for as long as it has a house to hold up.
What is the Main Purpose of a Foundation?
A proper foundation does more than just hold a house above ground. Building foundations also keep out moisture, insulates against the cold, and resists movement of the earth around it. Oh, and one more thing: It should last forever. No wonder builders like This Old House general contractor Tom Silva take foundations seriously. "Without a good one," he says, "you're sunk."
What Makes a Good Building Foundation?
For Tom, "good" means steel-reinforced foundation walls and footings made of poured concrete. By comparison, all the laboriously assembled foundations of stone, brick, and mortar that have supported buildings for centuries—even the walls of concrete block that most builders were using when This Old House was launched 25 years ago—are just crack- and leak-prone dinosaurs.
How Are Building Foundations Made?
Building a good foundation requires a lot more than digging a hole and pouring some concrete into forms. It must be tailored to its site like a custom suit, taking into account soil conditions, water tables, even the quality of the backfill.
And as with a custom suit, every detail must be perfect: the base properly compacted, the formwork set up right, the concrete free of voids. Neglect even one of these, and the most carefully poured foundation can fail.
Until a better method comes along, here's how Tom builds a foundation that lasts.
Foundation Facts
The weight of an average house: 50 tons
The weight of an average foundation: 7 ½ tons
Percentage of total project cost: 8-15%
Foundations by material: 81% poured, 16% block, 3% other
Foundations by region: Northeast 89% full basement; Midwest 75% full basement; South 66% slab; West 63% slab
Plumb and Level Foundation Walls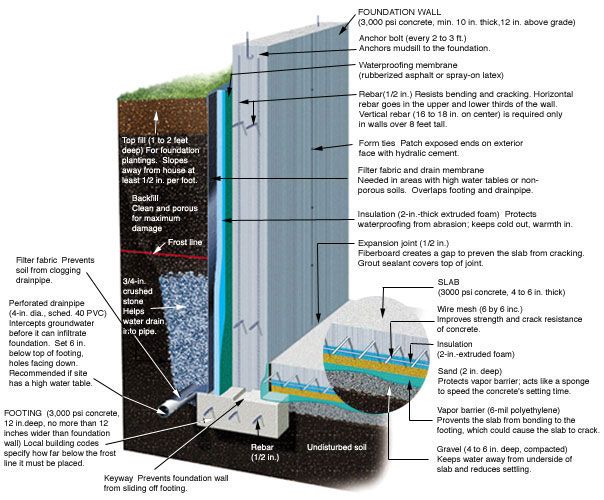 When Tom Silva is building a house, he wants foundation walls that are plumb and level and free of the discolorations that are the signs of weak concrete. The illustration shows how he wants a foundation to look before he starts framing.
Slab Foundation Requirements
The requirements for a slab foundation are similar: a sturdy footing and a vapor-proofed, reinforced-concrete pad sitting on a bed of compacted crushed stone. The major difference between these house foundation types is in the way the slab is insulated to protect against frost heav
Why House Foundations Fail
Nonporous backfill. Soils loaded with clay or organic matter hold water like a sponge, increasing the risk of foundation cracks when the soil freezes and expands.
Rushing the cure. Concrete must cure slowly to reach proper strength (usually 3,000 psi). Keep it damp for at least three days by wrapping it in plastic, misting with water, and other techniques.
Insufficient compacting. If the slab is poured over crushed stone that hasn't been firmly tamped, it will likely settle or crack.
Interrupting the pour. A concrete form should be filled in one go. If you stop and come back the next day to finish the work, there will be a "cold joint" between the fresh concrete and yesterday's work, which is likely to crack and leak.
As Seen on TV
PreCast Foundation
At the Acton, Mass., project, Tom Silva shaved days off his tight schedule by using precast foundation panels for the addition. When they arrived at the job site, a crane simply lowered them onto compacted stone, where they were glued together with a polyurethane adhesive.
There were no footings, forms, or form ties to deal with, and no damp-proofing to apply; the panels' 5,000-psi concrete and integral foam board insulation stop moisture migration. Installed, panels generally cost about 10 percent more than a poured foundation. "We liked them a lot," Tom says. "I'm sure we'll be using them again."
Slab Heat
Say "basement slab" and most people think "cold and damp." Not so at the Billerica, Mass., project, where Richard Trethewey, TOH plumbing and heating expert, had a few hundred feet of PEX tubing (the same stuff used to heat radiant floors) looped on top of 1-inch foamboard and buried it in 6 inches of concrete.
Once the tubing was hooked up to the boiler, the basement floor warmed up to a comfortable 68 degrees. At left, plumbing contractor Brian Bilo uses the same system to heat a walkway.
One-Step Piers
While decks and small outbuildings may not need full foundations, they still require solid support from piers resting on well-buried footings. Typically, piers and footings are poured on separate days to allow time for the concrete to cure. Now Tom does it in one shot using funnel-shaped plastic footing forms fitted with cylindrical pier forms. "As far as I'm concerned, there's no better way to make a concrete pier," he says.
New Technologies For the Foundations of the Future
Self-Leveling Concrete
A new chemical called a "super-super" plasticizer makes it possible to pour a mix that flows almost like water but retains structural integrity. (Normally, a too-thin mix allows the aggregate to settle to the bottom before the concrete cures, resulting in a weaker wall.)
"You can back a truck up to one corner and pour the whole foundation," says Ed Sauter, executive director of the Concrete Foundations Association. "It just spreads everywhere." That beats having to pump or shovel the concrete where it's needed. And like water on the surface of a lake, the top of "super-super" plasticized concrete automatically sets level, a good start for framing.
Fabric-Formed Footings
Rather than laboriously building footing forms out of boards, some foundation contractors are using lightweight forms made of high-density polyethylene fabric. These flexible fabric systems conform easily to sloping and uneven sites, which simplifies excavation, and the fabric stays in place as a built-in damp-proofing membrane. The bulging sides of the finished footings also help to divert water away from the foundation.
Where to Find It
Precast foundation:
Superior Walls of America Ltd.
Ephrata, PA
800-452-9255
Fabric footing:
Fastfoot by Fab-Form Industries Ltd.
Surrey, British Columbia, Canada
888-303-3278
Plastic footing forms:
Bigfoot Systems
F&S Manufacturing Inc.
800-934-0393
www.bigfootsystems.com
Our Thanks to:
Concrete Foundations Association
Mount Vernon, IA
866-232-9255
www.cfawalls.org