Whether you're laying a wood floor in a new house or replacing one that's damaged beyond repair, there are dozens of species to pick from, including trusty domestics, such as oak and maple, and intriguing exotics, such as tamarind and acacia. You also have a choice of widths—be it rustic wide planks or traditional narrow strips—and stain colors, which allows you to tailor your floors to your house's style and decor.
And thanks to modern adhesives, a wide variety of species are available as "engineered" boards. Made from a stable sandwich of veneers, rather than solid stock, engineered floors can go places where it wasn't practical to install wood before: over radiant-floor heating systems and concrete and in basements.
Here's a complete guide in helping you discover the hardwood floor of your dreams.
Hardwood Flooring Facts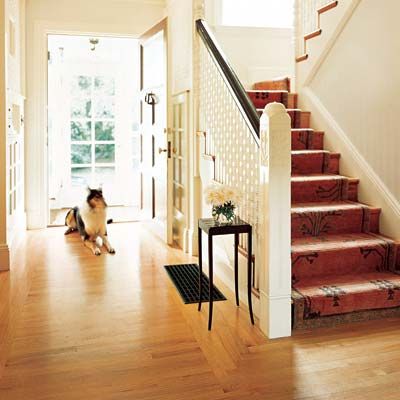 How much do hardwood floors cost?
Costs are between $1.50 to $8 per square foot depending on wood thickness, species, and grade. Some prefinished solid-wood and engineered wood floors are DIY-friendly, but if you plan to hire a pro installer, tack on $2 per square foot, minimum.
How many years do they last?
Some prefinished solid-wood boards come with a 50-year warranty. With regular care, though, any solid-wood floor can easily last twice that long. Warranties on the finish for engineered wood range from 10 to 30 years.
How do you maintain them?
Fight a finish's biggest enemy—abrasive dirt—by vacuuming regularly and laying runners and doormats near entries.
Where do you install hardwood floors?
You can install hardwood flooring just about anywhere, except in areas prone to extreme humidity and standing water.
Hardwood Floor Buying Tips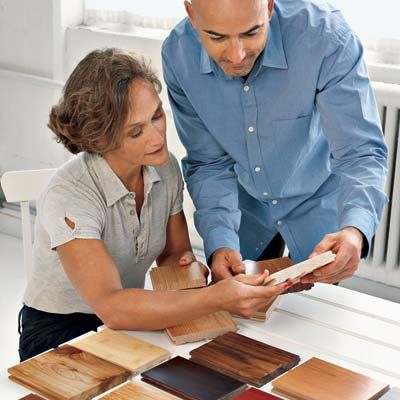 Ask yourself these questions to narrow your search for the right wood floor:
Where do you plan to use it?
Kitchen and entryway Choose a hard wood, such as oak or hickory, which can handle heavy foot traffic better than a soft pine.
Bedroom and home office Rooms off the beaten path are good locations for softer woods, such as black cherry or black walnut.
Basement Avoid using solid-wood flooring below grade, where high humidity prevails. An engineered wood floor is a better option here because it's more stable.
Bathroom Water can warp wood, making it a poor choice for baths with tubs and showers.
What's your hardwood floor going over?
Plywood subfloor As long as it's solid and flat, you can install any type of nail- or glue-down hardwood, as well as click-together engineered strip or cork plank floating floors.
Existing wood floor Thinner boards with long-wearing factory-applied finishes are better here to ensure safe, no-trip transitions to adjacent rooms, hallways, and stairways.
Concrete slab or tile Nails aren't an option. Consider a click-together floating floor or one that can be glued down.
Radiant floor Engineered flooring is ideal because it's thinner and more stable than most solid wood.
Hardwood Flooring Costs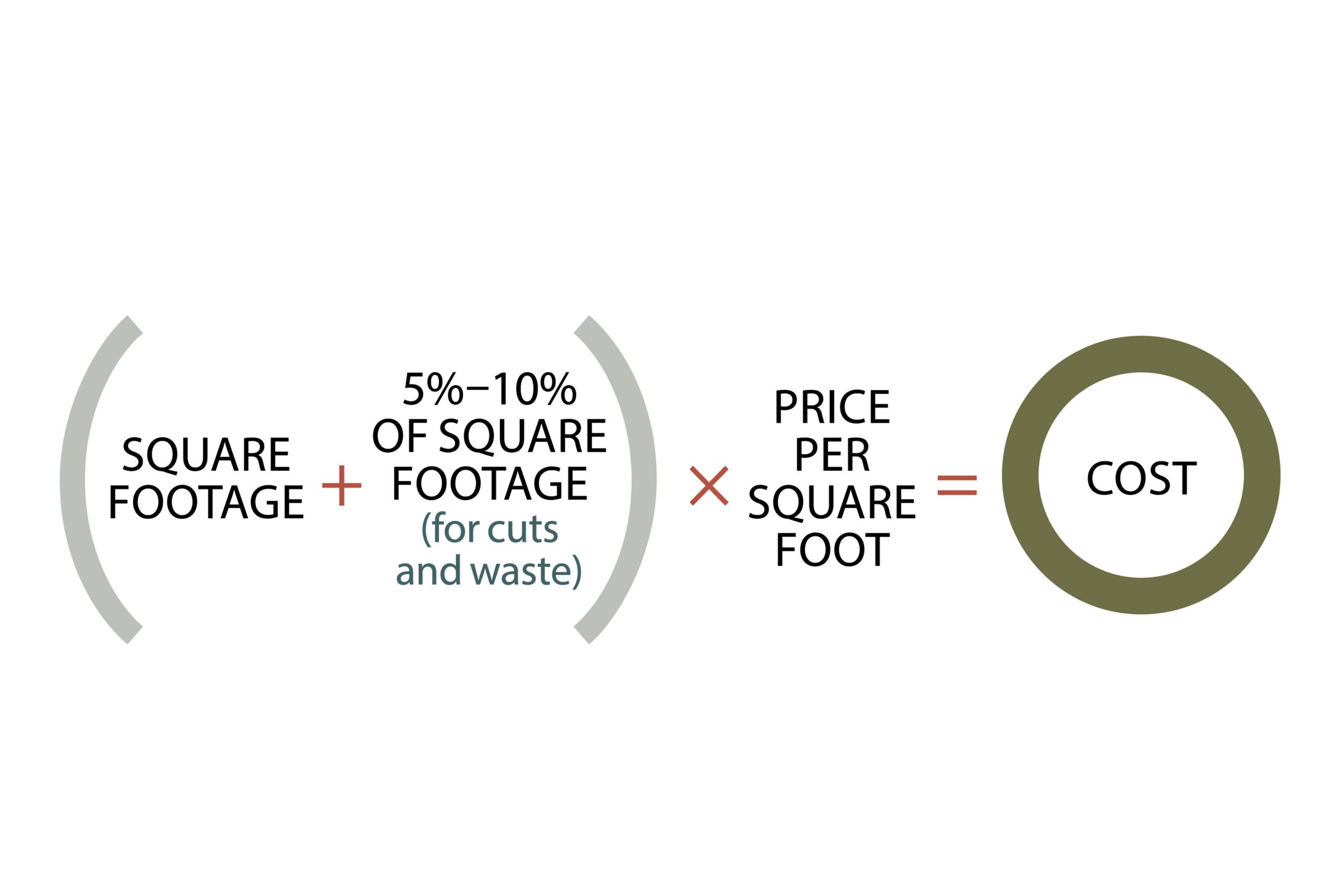 To figure out how much your floor will cost, calculate the room's square footage, then add 5 to 10 percent for cuts and waste. Multiply this figure by the board's square-foot price to get your cost. Don't forget to add on a few extra bucks for door thresholds, shoe moldings, and any nails or staples you might need.
Hardwood Basics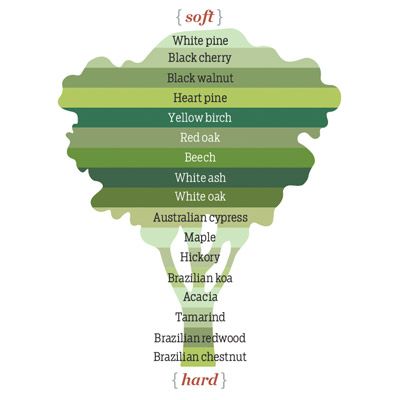 Thickness Solid ¾-inch boards can be refinished up to 10 times. Thinner ones can't be sanded as much, but when topped with durable factory-applied coatings, they shouldn't require frequent refinishing.
Length Longer strips mean fewer distracting end joints. To make a small room appear bigger, use shorter strips.
Width Six-inch planks have a rustic appeal, but the joints open wide during dry spells; 2¼-inch strips look busier but stay tighter. Mix widths for the best of both.
Hardness The harder the wood, the less prone it is to dents and gouges. The table shown shows how various species stack up.
Hardwood Cuts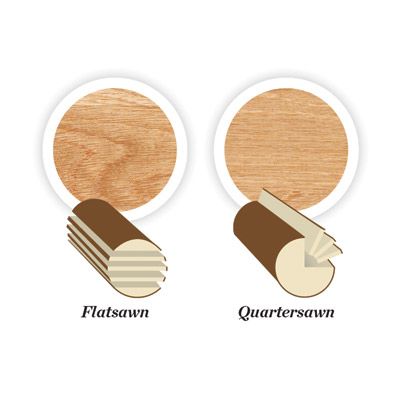 Flatsawn boards are cut so that the growth rings are roughly parallel with the face, leaving a distinctive flamelike grain pattern.
Quartersawn boards, which are more expensive, have a straight grain and growth rings perpendicular to the face.
Hardwood Grading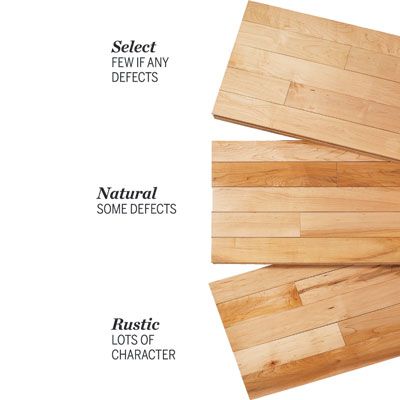 Mills sort each piece of flooring into different grades depending on the number of defects, such as knots and color variations. The fewer the defects, the more costly the wood. Just remember that the definition of defect changes from species to species. For example, knots are nonexistent in the best grade of maple and plentiful in the same grade of Australian cypress.
Prefinished Vs. Site-Finished
Finishes packed with aluminum oxides and cured under UV lights in a factory are tougher than ones applied on-site. And you can walk on the floor the day it's installed, since there's no sanding or waiting for coats to dry. But every edge has a slight bevel at the joint, something you won't see on a site-finished floor.
What Are the Types of Hardwood Floors?
Classic Wood
Domestic woods come in a variety of colors, grain patterns, and hardnesses.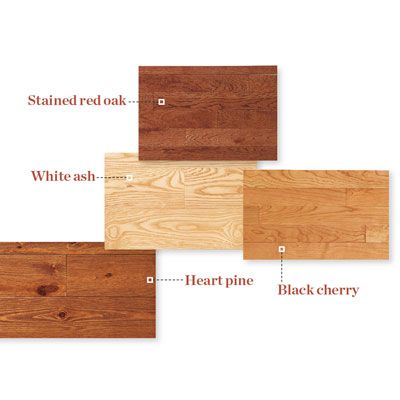 Price: about $3.30 per sq. ft.
Highlight: It's the most common wood-strip flooring in American homes.
Price: about $5.60 per sq. ft.
Highlight: This blond wood has a prominent grain pattern.
Price: about $4.90 per sq. ft.
Highlight: Under a clear finish, its natural cinnamon tint darkens with age.
Price: about $4 per sq. ft.
Highlight: Rusty-hued and knotty, it's been in Southern homes since colonial times.
Exotic Wood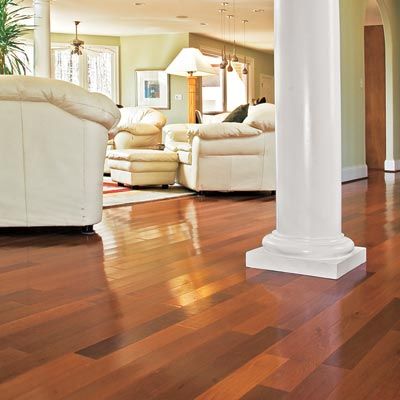 Woods from the tropics are renowned for their rich colors and extreme hardness.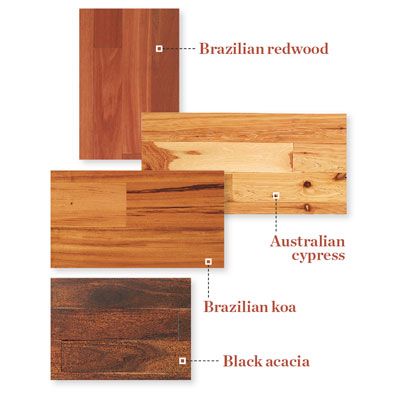 Price: about $5.70 per sq. ft.
Highlight: The deep russet color and subtle grain won't distract from a room's decor.
Price: about $5 per sq. ft.
Highlight: Its distinct grain and profusion of knots give any room a rustic look.
Price: about $4.40 per sq. ft.
Highlight: This stained hardwood has a golden tone when topped just with a clear finish.
Price: about $5.80 per sq. ft.
Highlight: Dark chocolate and blond stripes alternate in an eye-catching combination.
Distressed Wood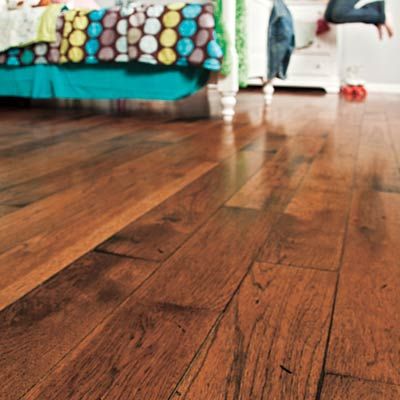 Flooring with an aged look, from day one.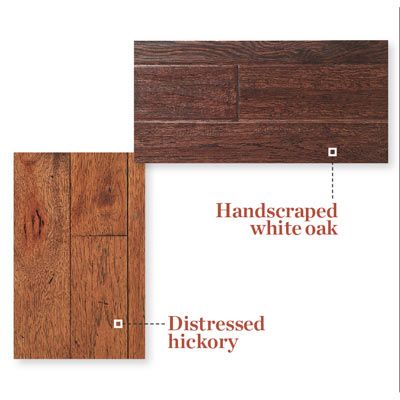 Price: about $6.40 per sq. ft.
Highlight: Dented with chains, then stained to a rich hue.
Price: about $4.60 per sq. ft.
Highlight: Random ripples are carved along the length of each strip.
Engineered Wood (DIY Floors)
The base is plywood, its top is a prefinished wood veneer. Strips can be fastened or glued down, or left to float.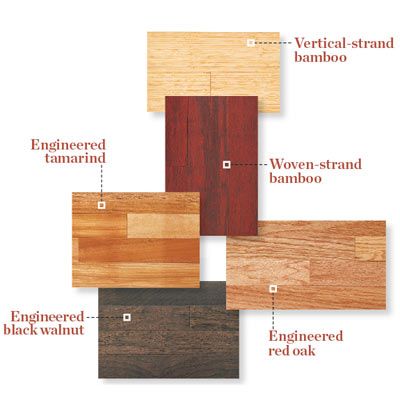 Price: about $3.90 per sq. ft.
Highlight: This grass, which reaches maturity in about six years, is an eco-friendly alternative to slow-growing trees.
Price: about $4 per sq. ft.
Highlight: Weaving the strips together creates a flooring as hard as hickory.
Price: about $4.10 per sq. ft.
Highlight: Get the look of teak for about the same price as bamboo.
Price: about $4.70 per sq. ft.
Highlight: This naturally dark wood has been popular since Victorian times.
Price: about $3.20 per sq. ft.
Highlight: A classic, tough hardwood, just 3⁄8 inch thick.
Cork (DIY Floors)
Made from the bark of cork oak trees in Spain and Portugal, this click-together or glue-down flooring is soft underfoot, a natural insulator, and an excellent sound absorber.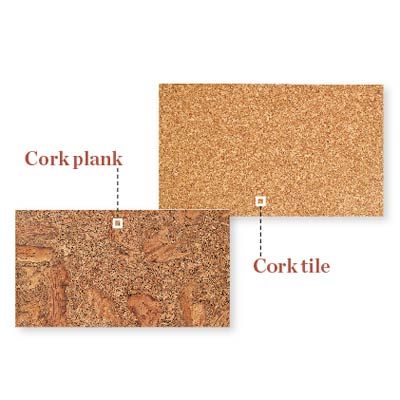 Price: about $3.80 per sq. ft.
Highlight: These 11-mm-thick planks snap together and float over the subfloor.
Price: about $1.50 per sq. ft.
Highlight: Only 5/32 inch thick, this cork-crumb amalgam is glued directly to the subfloor.
Laminate (DIY Floors)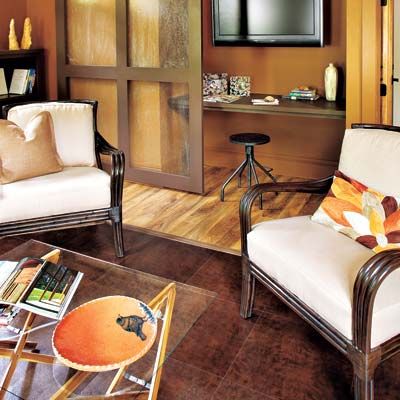 It's a photo of wood, glued to a fiberboard substrate. These wide planks are a snap
to install—literally—but once they're worn, they can't be refinished.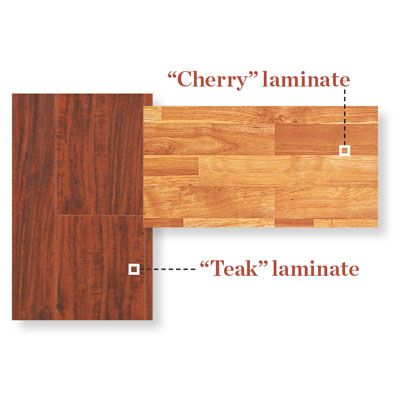 Price: about $1 per sq. ft.
Highlight: These ¼-inch-thick pieces click together.
Price: about $2.80 per sq. ft.
Highlight: Its undulating surface resembles a handscraped wood floor.
Floor Styles
Bamboo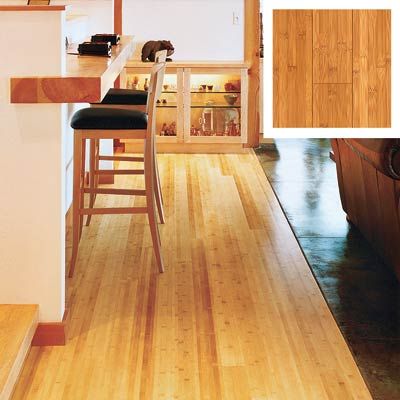 This green flooring from Southeast Asia has a bright contemporary feel. 3¾-inch carbonized horizontal planks, similar to shown, about $3 per sq. ft.
White Pine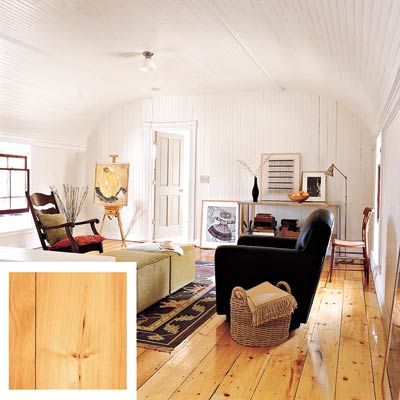 Wide, knotty planks complement the rustic beadboard wall and ceiling paneling. 8⅞-inch unfinished planks, similar to shown, about $1.70 per sq. ft.
Distressed Heart Pine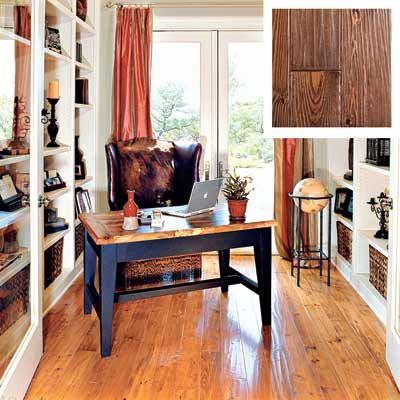 Handscraped flooring adds character and patina to any room. 5-inch strips, similar to shown, about $5 per sq. ft.
Cork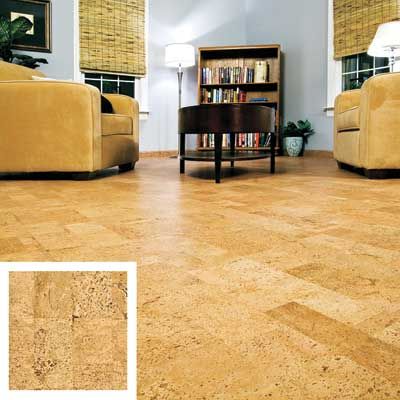 In a family room or den, this floating floor reduces noise and cushions footfalls. 12-inch-wide click-together planks, similar to shown, about $4 per sq. ft.
Engineered Beech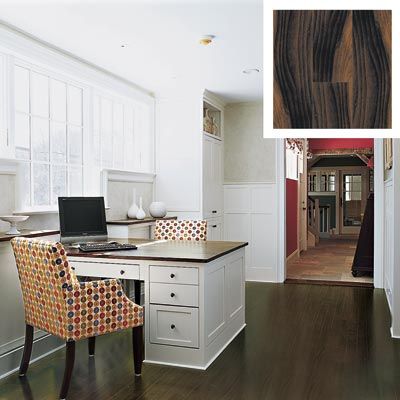 Dark-stained wood makes this small home office feel larger. 4¼-inch strips, similar to shown, about $4 per sq. ft.
Brazilian Chestnut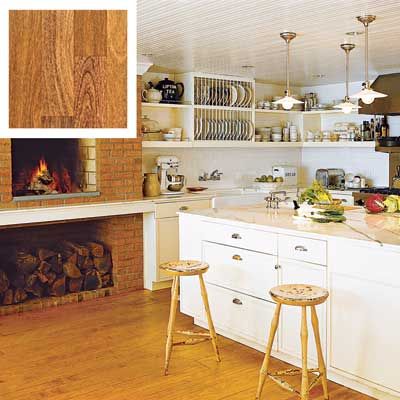 This dense exotic stands up nicely to traffic in busy kitchens. About $5.70 per sq. ft.
Finishing Options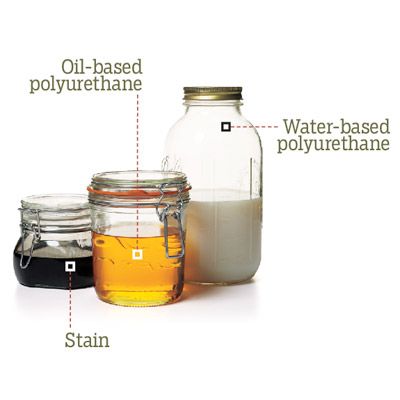 Prefinished boards are good to go right out of the box. Bare wood has to be sanded, stained (if you choose to), and covered with top coats before you can move the furniture in. Here's what you need to know about finishes:
Oil-based polyurethane Long the gold standard for durability, it imparts an amber hue to wood. Wait 24 hours between coats and allow three days to cure.
Water-based polyurethane Goes on milky but quickly dries to form a crystal-clear finish. Two coats can be applied in one day. Virtually no odor. Give it three days to cure.
Stain Uses penetrating pigments to darken wood color and enhance its grain. Apply before the protective finish coats.