All About Kitchen Cabinets
All kitchen cabinets need replacing, eventually. Whether they're falling apart after years of hard use or standing in the way of that work-triangle overhaul you've been planning, a coat of paint or new wood veneers simply won't save them.
With so many door styles, finishes, and bells and whistles, such as built-in spice racks and pull-out pantries, to choose from, investing in new cabinets can be exciting. But with a lot of money at stake—cabinets account for about half the cost of a typical kitchen renovation—it can also be nerve-wracking. To get the most bang for the buck, it's important to focus not just on good looks but also on the quality of materials, the type of hinges and other hardware, and the joinery that holds the cabinets together. Those factors determine whether your cabinets will hold your affections for the long haul or soon force you to start shopping again.
New, custom-built cherry cabinets echo the expertly fitted and handmade look of millwork in the rest of this 1904 Craftsman-style home. Flat-panel door with beaded detailing in varnished cherry; available from Frost Cabinets
Anatomy of a Cabinet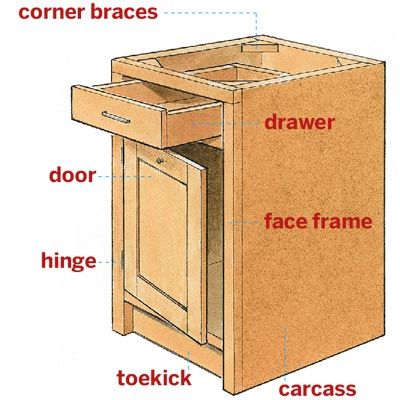 With the exception of drawers and a toekick, an upper and lower cabinet share the same basic elements.
Carcass. Cabinet box; supports weight of countertop and items on its shelves.
Corner Braces. Keep carcass square during transport and installation.
Door. Four types: flat panel (shown), raised panel, slab, and glass front.
Drawer. Moves on metal glides fitted to the sides or bottom.
Face Frame. Stiles and rails that stiffen the carcass and provide a mount for hinges. (Not present with full overlay doors.)
Hinge. Can be visible or hidden, depending on door type.
Toekick. Closes gap at cabinet base and provides a recess for feet.
Vitals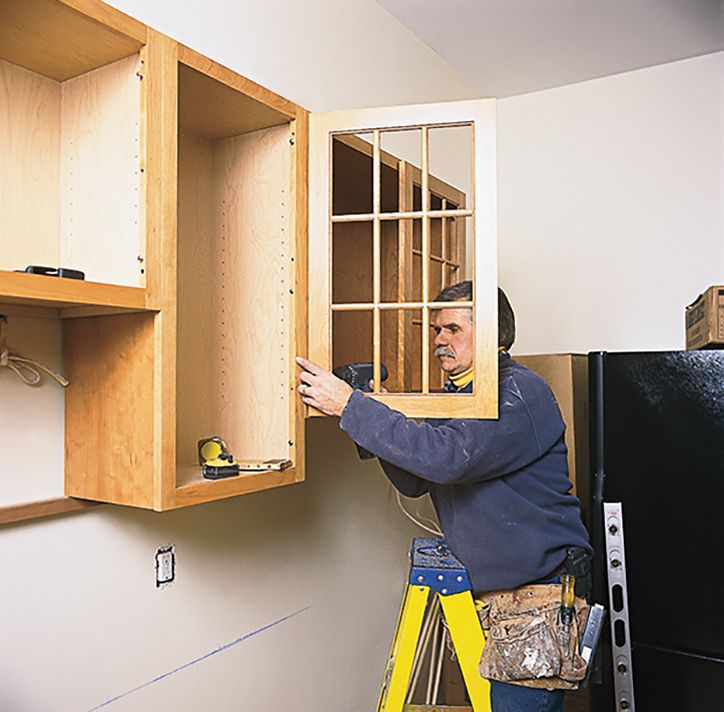 What do They Cost?
Stock cabinets start at $35 per linear foot, the length of the horizontal run that they cover. Semi-custom cabinets start at $90; custom ones start about $150 and go way up from there.
Can You Install Them Yourself?
A skilled DIYer with a helper or two can put in stock or semi-custom cabinets. Custom ones should always be left to the pros, in part to protect the warranty.
How Long Will They Last?
Properly installed and cared for, cabinets can last until you're tired of them. Warranties on craftsmanship and materials (not finishes) range from two years to "as long as you own them."
How Much Care?
Wipe drips promptly with a damp cloth. Never use abrasive sponges or scrubs, and avoid cleaners containing bleach or ammonia. Tighten or adjust loose hinges as needed.
Cabinetry Rules of Thumb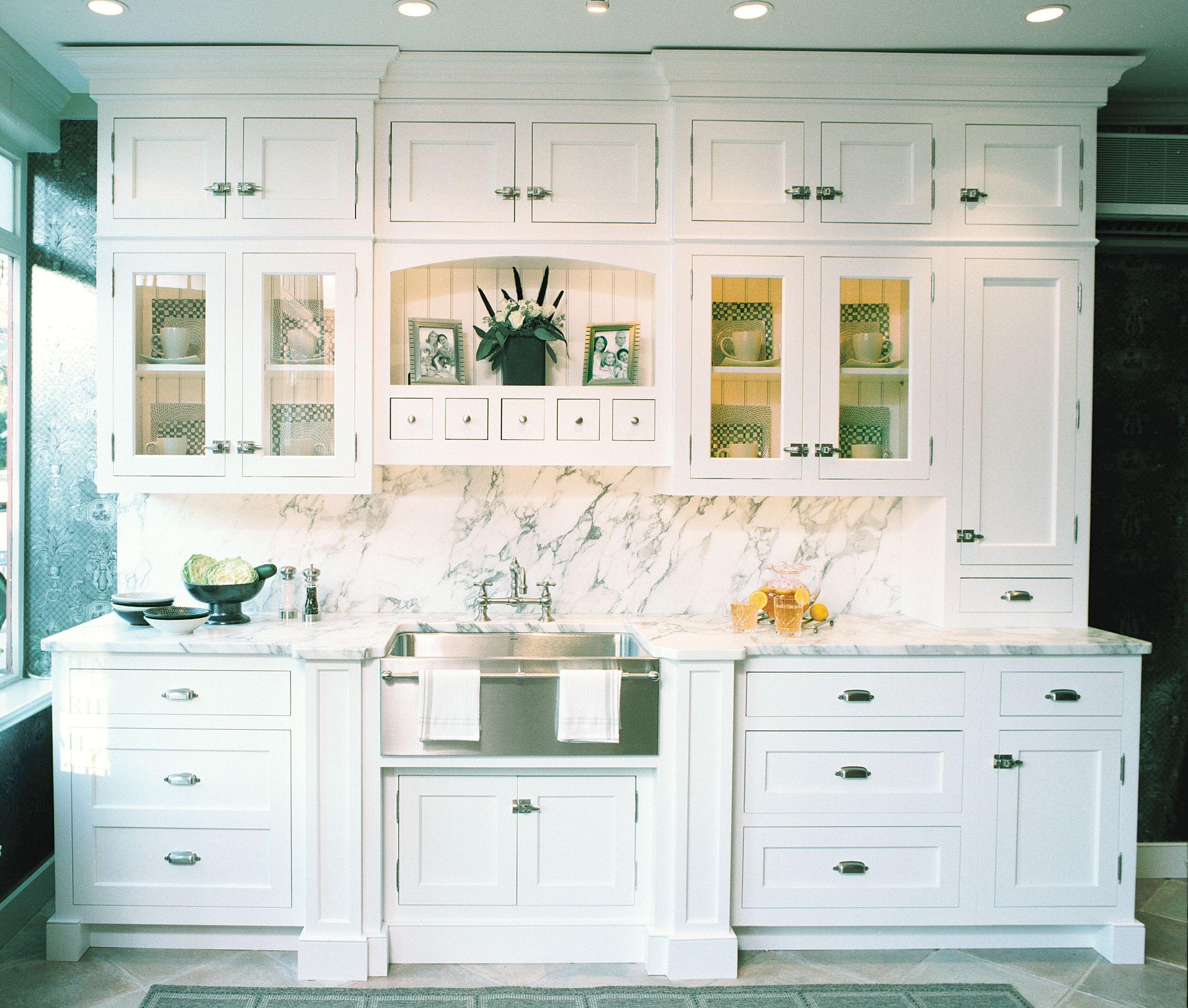 While cabinets can be configured in myriad ways, they're typically built and installed using well-established dimensions. Follow these guidelines during the planning stages to imagine how your kitchen will look and function.
Standard Measurements
1. Distance between countertop and upper cabinets: 18 inches
2. Upper cabinet depth: 12 inches
3. Lower cabinet depth: 24 inches
4. Countertop overhang: ¾ to 1 inch
5. Countertop height: 36 inches
6. Kickspace: 4 inches high, 3 inches deep
Shown: Custom Colonial door in white-painted plywood; available from Signature Custom Cabinetry
Buying Guide: Stock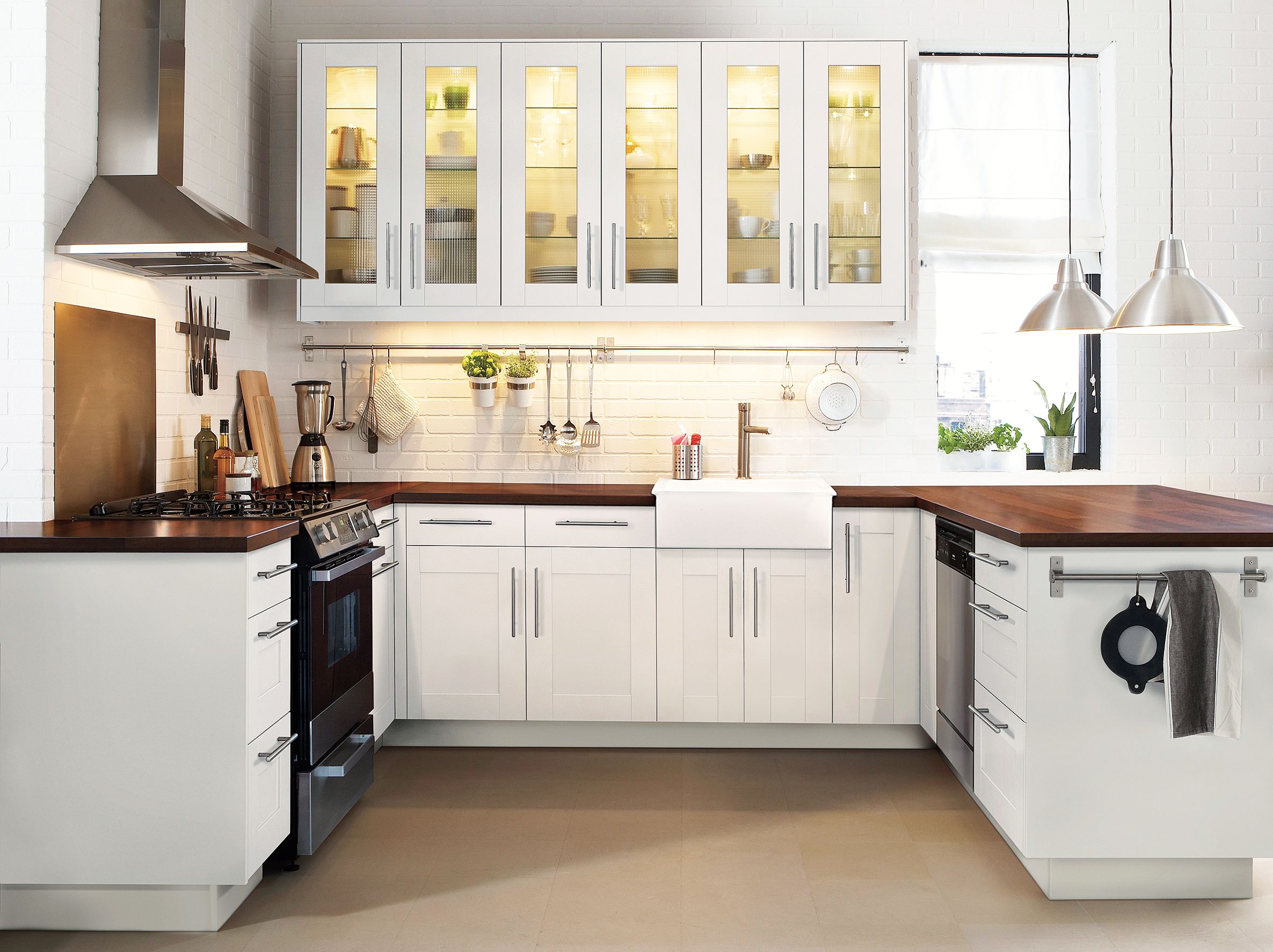 Good for: Tight budgets and fast turnarounds; some require assembly. Limited selection of styles, configurations, and finishes.
Sizes: Widths for uppers and lowers change in 3-inch increments. Heights vary in 6-inch increments on uppers; lowers are fixed.
Materials, hardware: Carcasses are typically ½-inch MDF (medium-density fiberboard) or particleboard sheathed in melamine; doors are usually MDF covered in thermofoil or wood veneer. Drawer glides tend to be lightweight metal and don't allow the drawer to fully extend.
Buy them from: Home centers and home outfitters, such as IKEA. Allow one to five weeks for delivery.
Cost: Starts at $35 per linear foot.
Shown: Adel door in white thermofoil over MDF; available from IKEA
Buying Guide: Semi-custom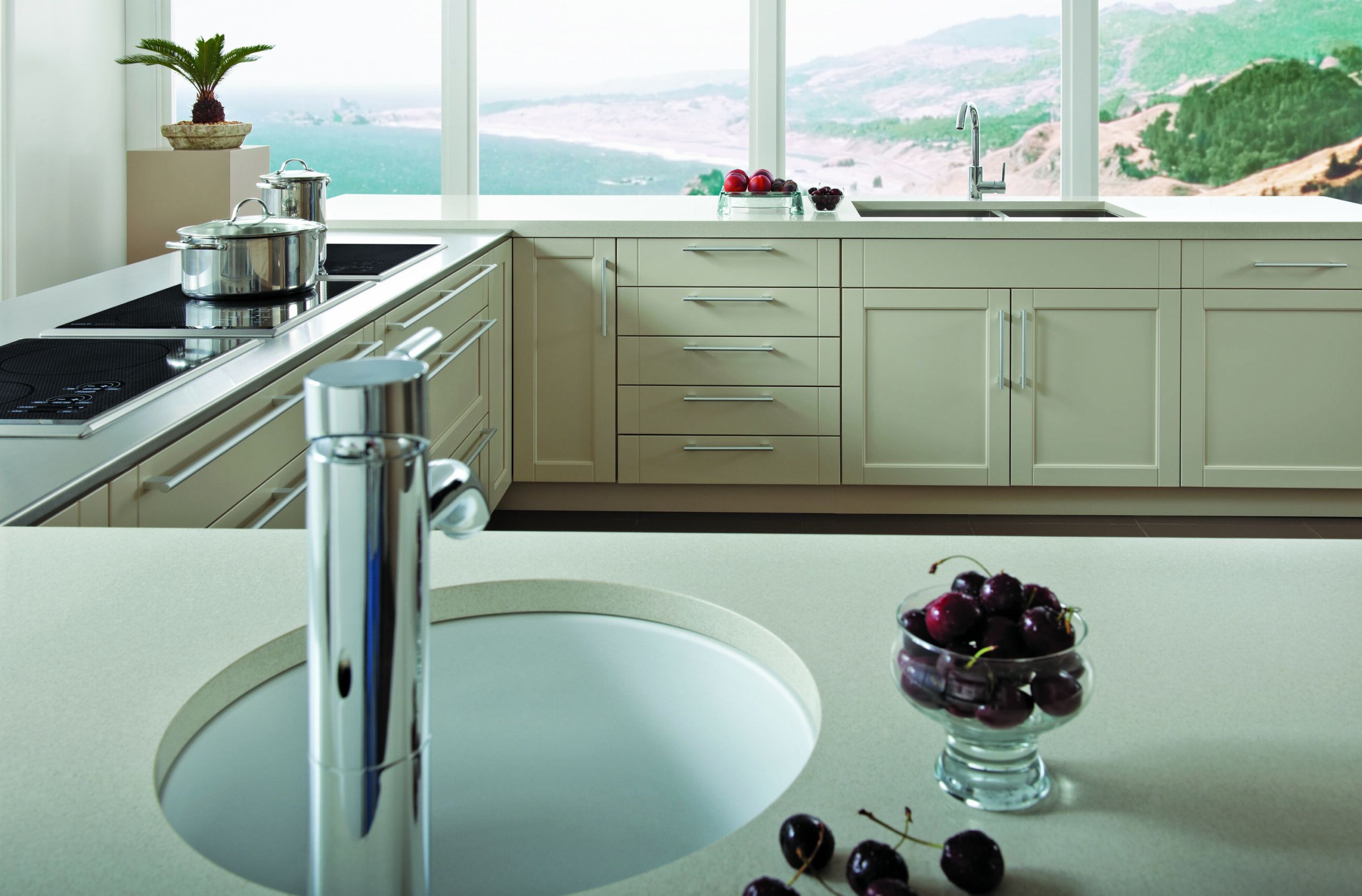 Good for: More discriminating tastes and deeper pockets. Get any style, configuration, or finish, as long as it's in the manufacturer's catalog.
Sizes: Widths for uppers and lowers usually change in 1-inch increments. Heights vary in 6-inch increments on uppers; lowers are fixed.
Materials, hardware: Carcasses are typically ½-inch MDF but can often be upgraded to plywood. Doors can be solid wood or MDF with thermofoil or wood veneer. Full-extension drawer glides are side-mounted.
Buy them from: Home centers or kitchen showrooms. Allow five to six weeks for delivery.
Cost: Starts at about $90 per linear foot.
Shown: Andover door in white-stained maple (Brookhaven I collection); available from Wood-Mode
Buying Guide: Custom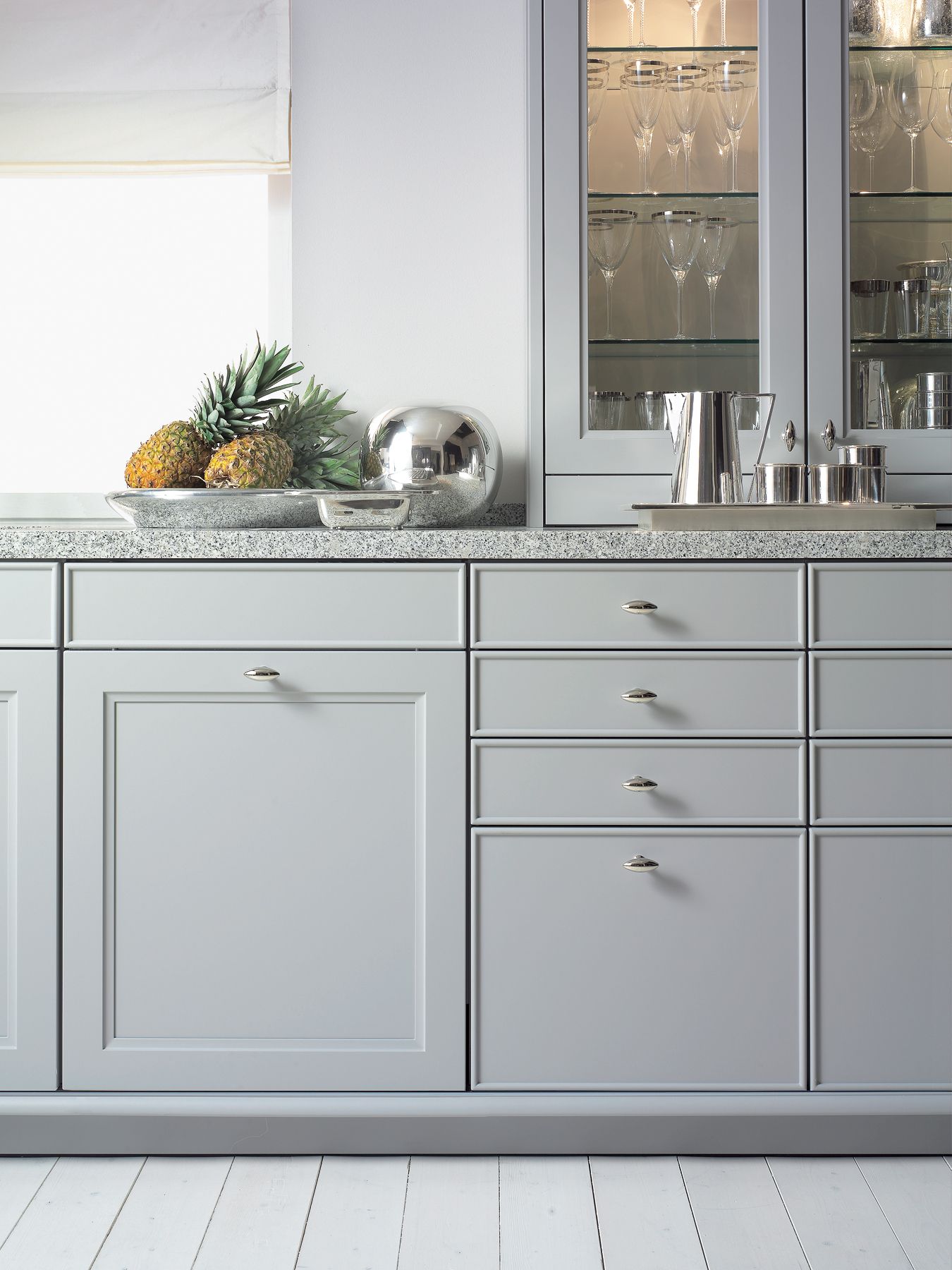 Good for: Kitchens where a precise fit, more configuration options, and fine detailing matter more than the price tag.
Sizes: Built to any width or height you want and with any finish, hardware, or wood species that catches your fancy.
Materials, hardware: Typically ¾-inch furniture-grade plywood for the carcasses; door and drawer fronts are usually solid wood. Full-extension glides can be undermounted and have a soft-close feature.
Buy them from: Kitchen showrooms or local cabinetmakers. Allow eight to 10 weeks for domestic cabinet delivery, 14 to 16 weeks for imports, and eight weeks to six months for a cabinetmaker.
Cost: Starts at about $150 per linear foot.
Shown: BeauxArts door in lacquered plywood in Flannel Grey; available from SieMatic
Buying Guide: Used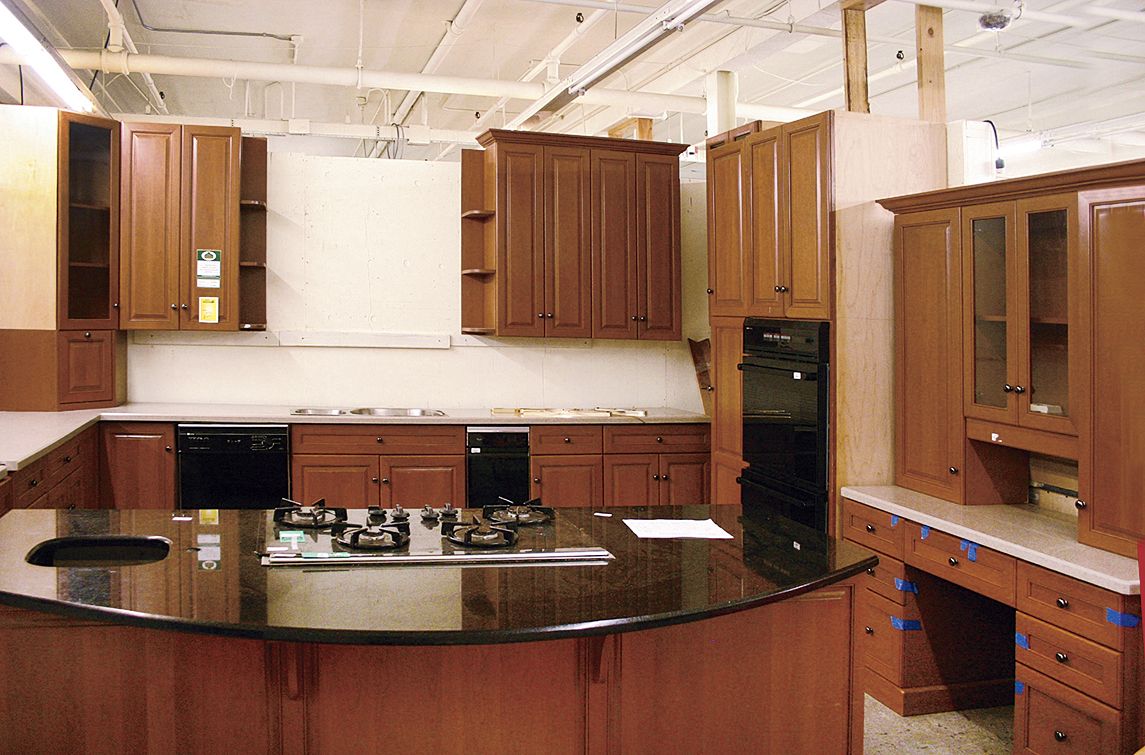 If you're patient (or lucky) and willing to compromise on the fit, finish, or style, you can score a set of custom or semi-custom cabinets for less than the price of stock. Watch Craigslist, or visit stores that specialize in reclaimed home goods, such as one of Green Demolitions' three East Coast showrooms or Habitat for Humanity's national ReStore network. Give them a thorough inspection and keep your cash if you discover any of these problems: out-of-square carcasses, delaminating veneers, cracked door panels, and, unless you're willing to paint everything, major flaws in the finish. Missing or damaged hinges and drawer hardware are fairly easy to replace.
This like-new suite of semi-custom cabinets on display at Green Demolitions recently sold for just $6,000, including the stone countertops and all appliances; available from Green Demolitions
Door Style: Flat Panel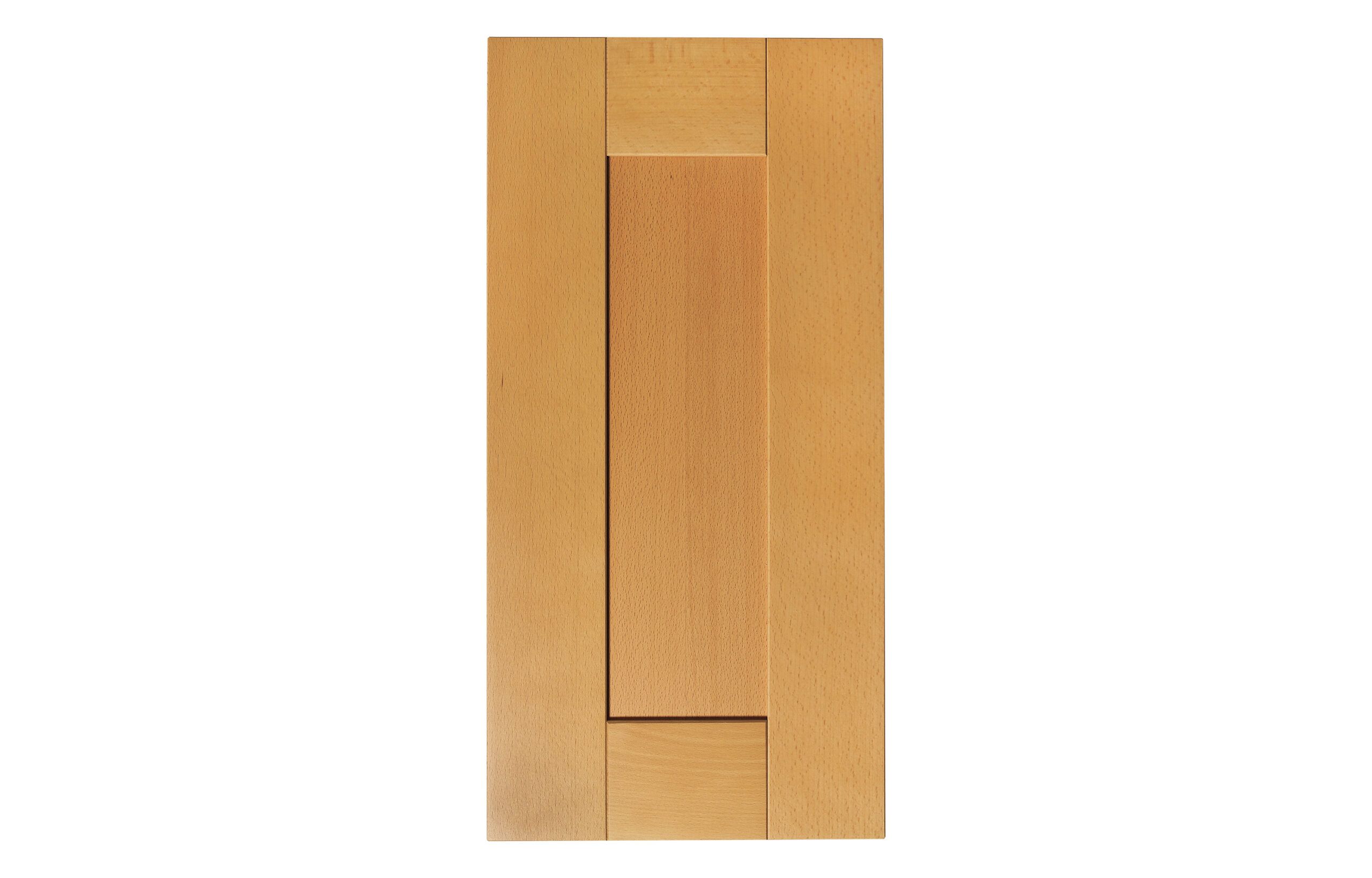 Stiles and rails frame a recessed center panel. This type works well with Shaker- and Craftsman-style kitchens.
Shown: Stock Adel door in beech veneer over MDF, about $85 including 12-by-30-inch cabinet; available from IKEA
Door Style: Raised Panel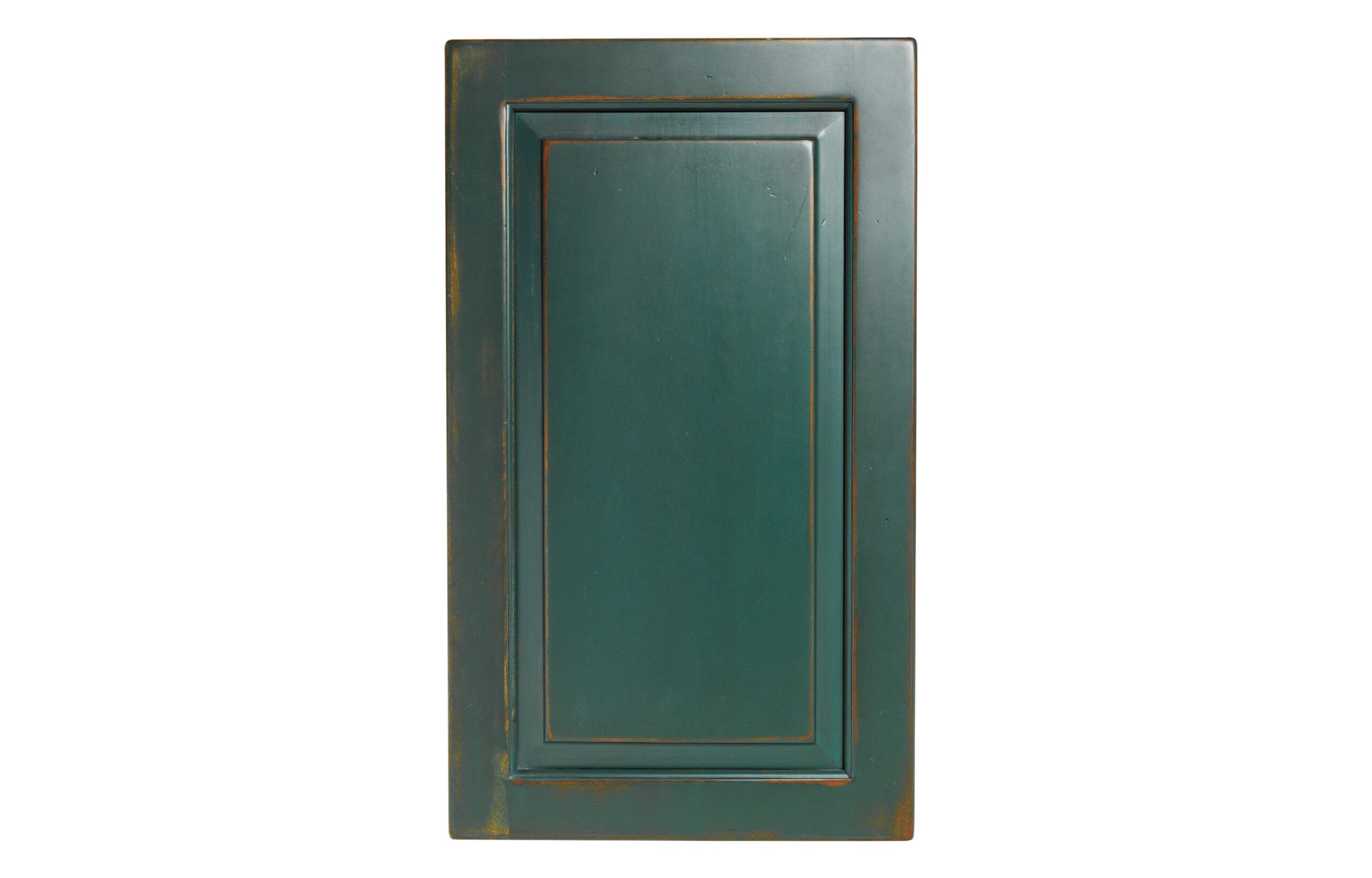 A frame surrounds a panel with sloped edges and a raised center. The elegant look evokes 18th-century Georgian-style woodwork.
Shown: Custom Vintage door in cherry with distressed paint, about $150; available from Plain & Fancy Custom Cabinetry
Door Style: Slab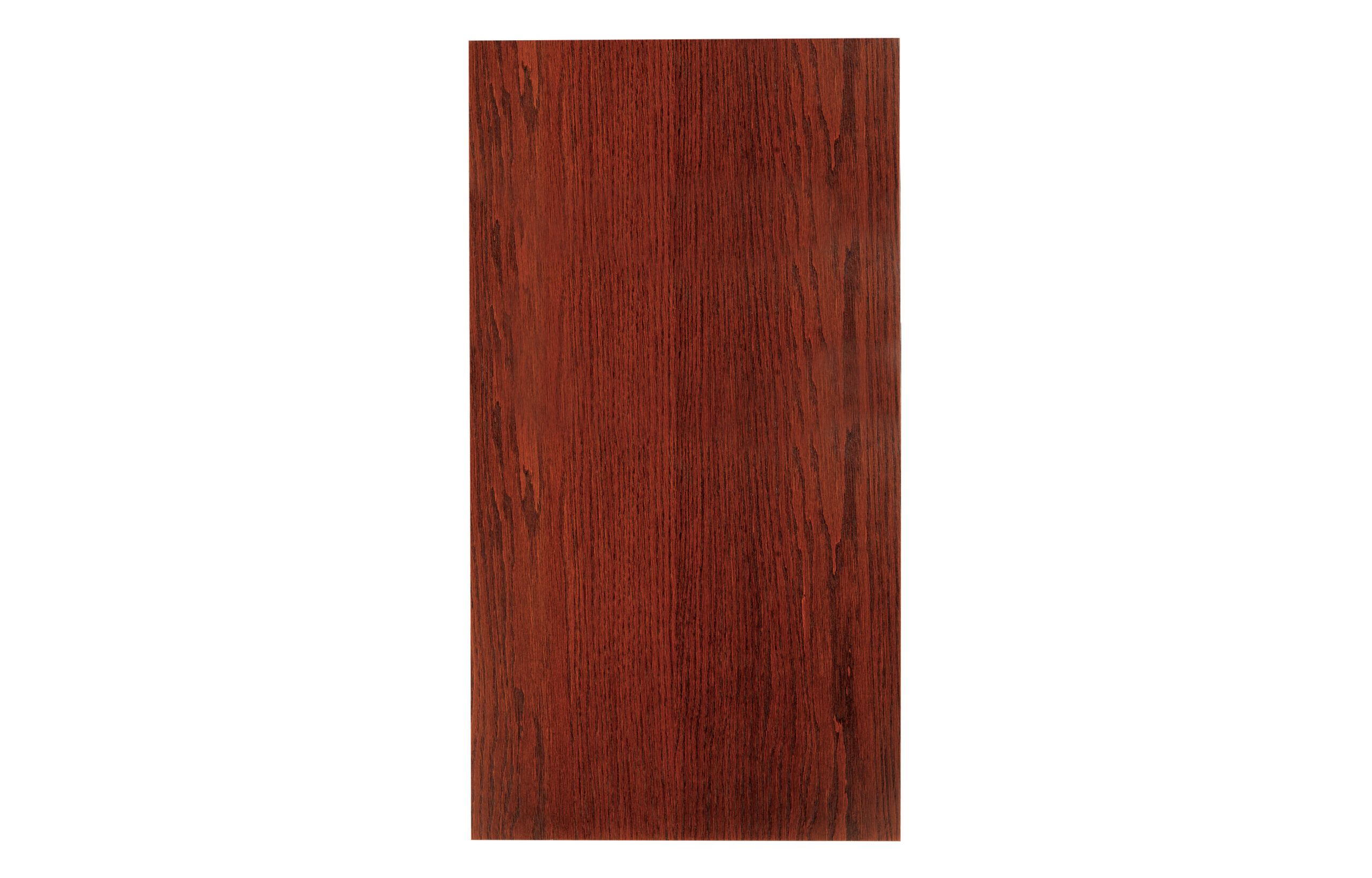 Made from a single piece of MDF or plywood, this door type can be painted, or covered with a plastic or wood veneer. The look is streamlined and cleaning is a breeze.
Shown: Semi-custom Vista door in cherry veneer over plywood (Brookhaven II collection), about $225 including 15-by-30-inch cabinet; available from Wood-Mode
Door Style: Beadboard Panel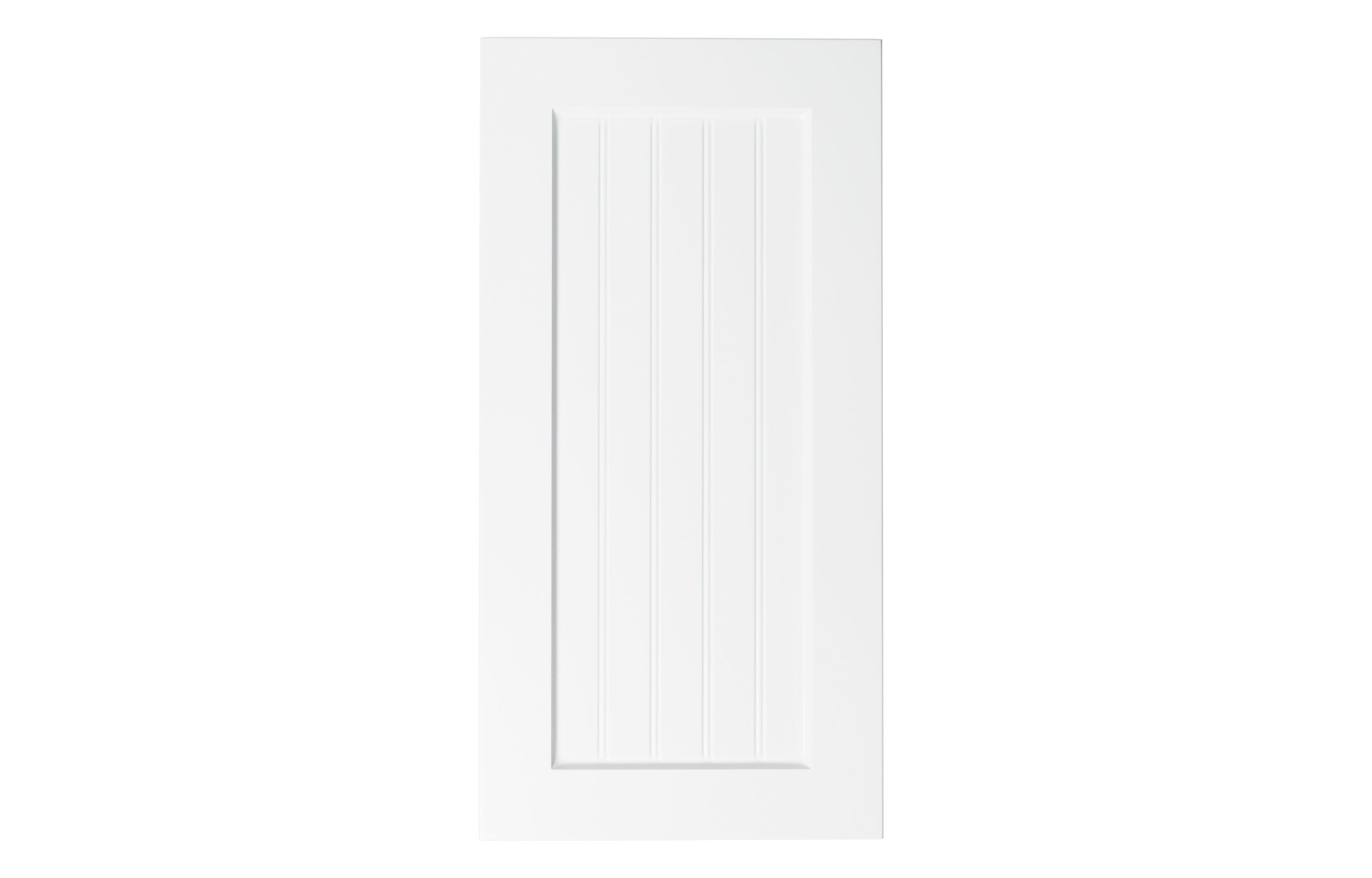 A stile-and-rail frame surrounds a center beadboard panel. Less formal than raised or flat panel, it has a cottage look.
Shown: Semi-custom Polarcrest door in white thermofoil over MDF, about $150 including 12-by-24-inch cabinet; available from KraftMaid
Door Style: Glass Front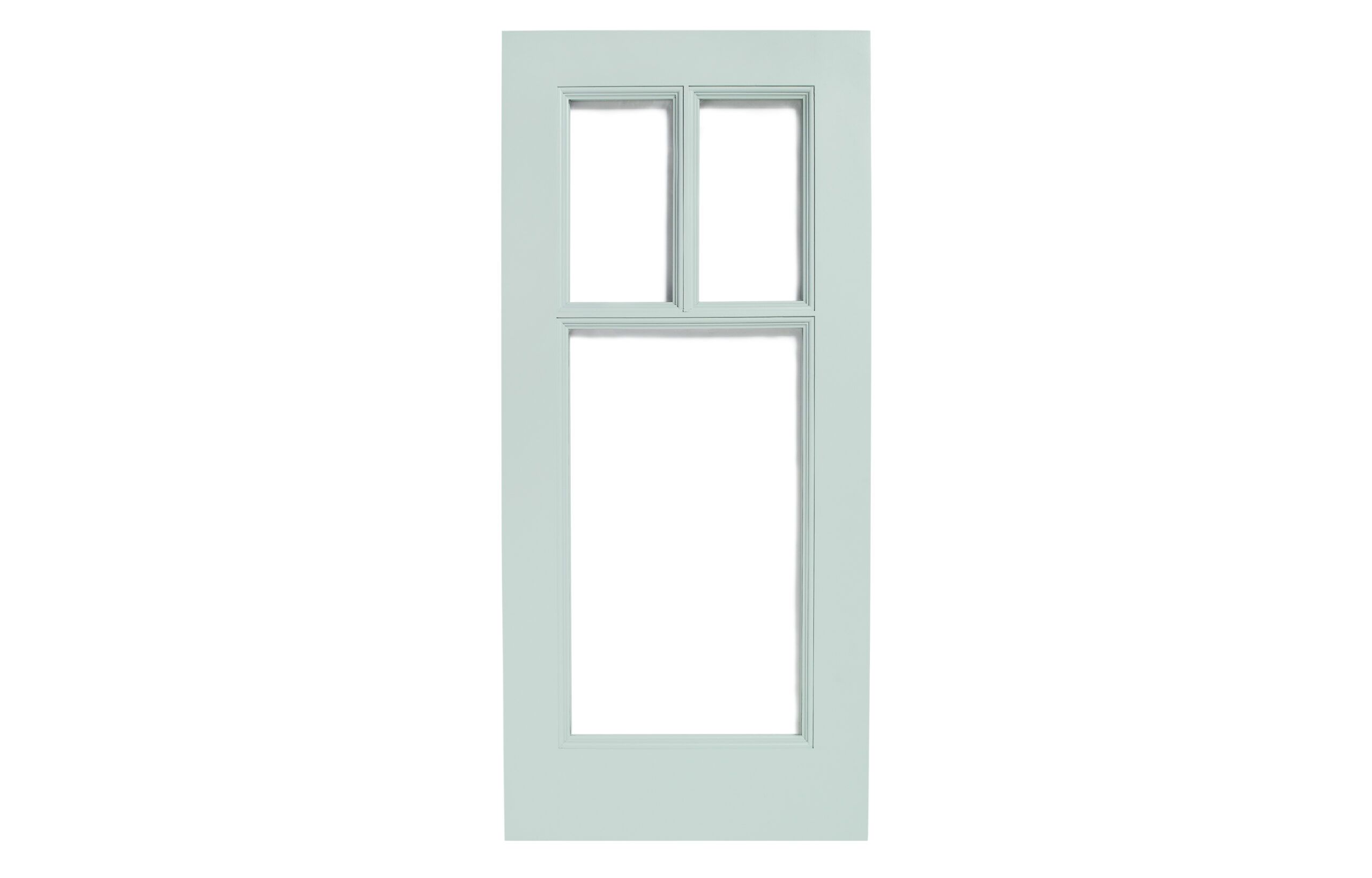 Panes of glass take the place of solid panels. Divided lights with wavy or clear glass (shown) have a traditional look; frosted glass minus any grillwork gives a more modern spin.
Shown: Custom Chesapeake door in painted maple, about $975 including 15-by-33-inch cabinet; available from Crown Point Cabinetry
Door (and drawer) Mounting Options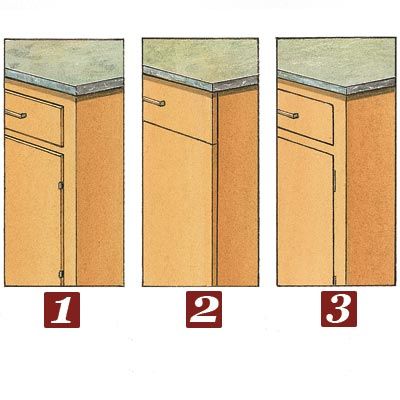 1. Partial Inset. Doors have a rabbet, or notch, cut into the outside edge so that only a thin lip overlies the face frame. Often fitted with knife hinges (shown), but can also use cup or surface hinges. Unnotched doors that cover a portion of the face frame are called partial overlay.
2. Full Overlay. Doors completely cover the front of the cabinet, no face frame required. Uses cup hinges, which are hidden when a door is shut.
3. Inset. Doors fit perfectly flush with the face frame. Typically used with butt hinges (shown), but also works with cup, knife, and surface hinges.
Hardware: Bar Pull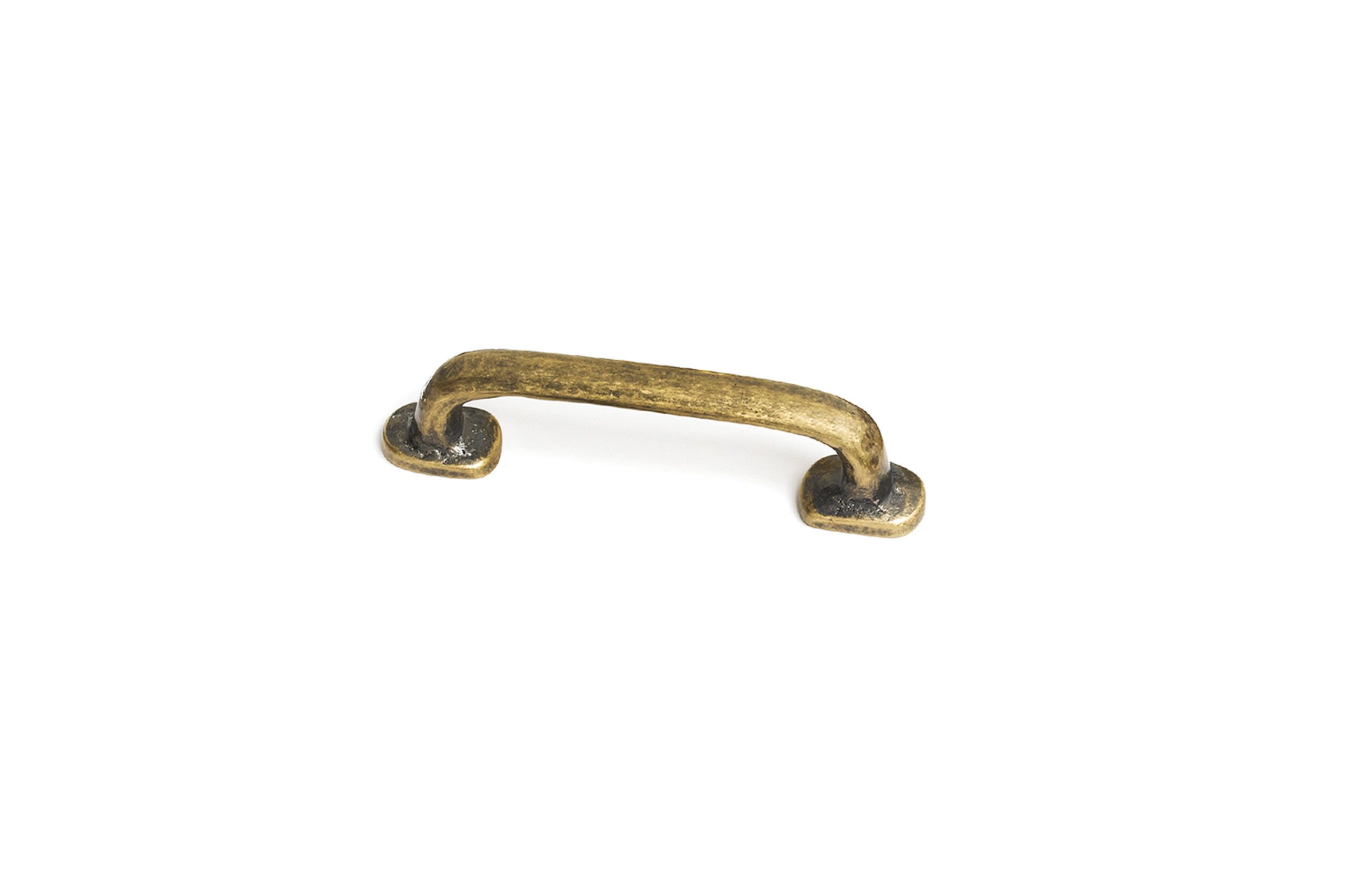 The antiqued lacquer finish on this solid-brass pull appears as if it's been darkened with age and use.
Legacy distressed pull, about $10; available from Atlas Homewares
Hardware: Bin Pull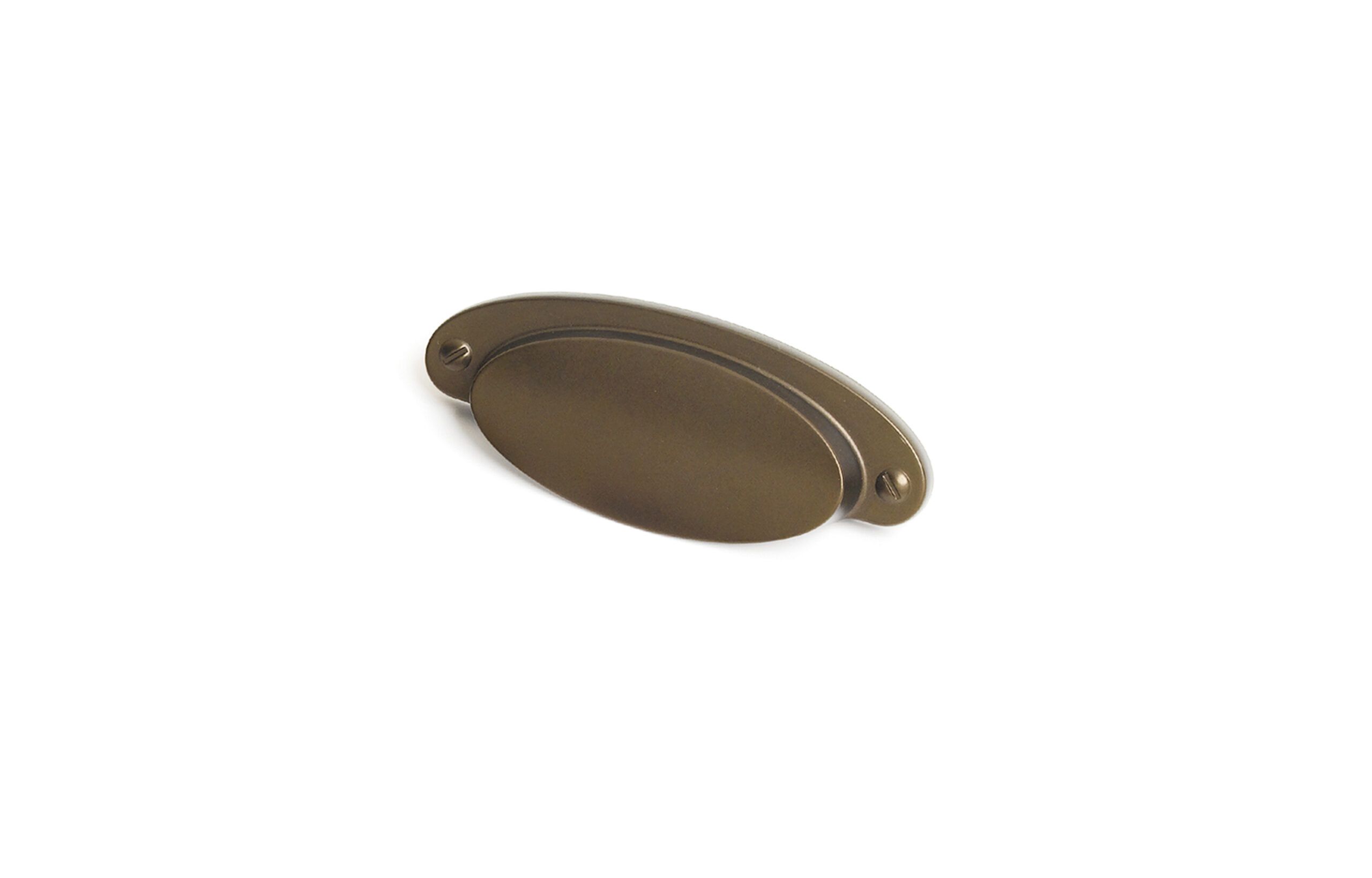 Oil-rubbed bronze finish and faux screwheads give this zinc-alloy pull a vintage look right out of the box.
Top Knobs Cup pull, about $6; available from Home Decor Hardware
Hardware: Steeple-tip Hinge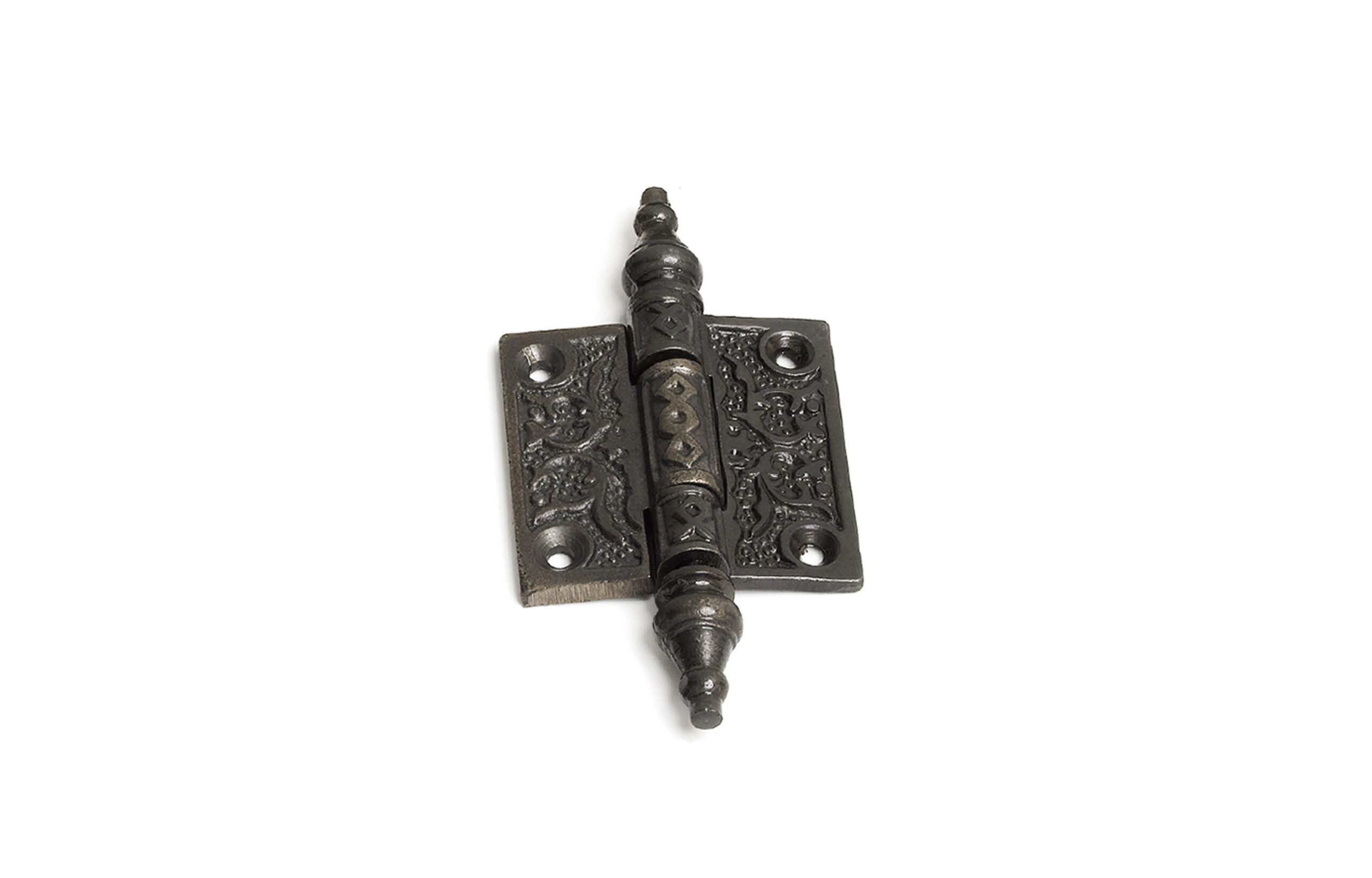 Made for inset doors, this repro Queen Anne–style cast-iron hinge has an ornate design on the leaves.
Victorian hinge, about $12 for two; available from House of Antique Hardware
Hardware: Strap Hinge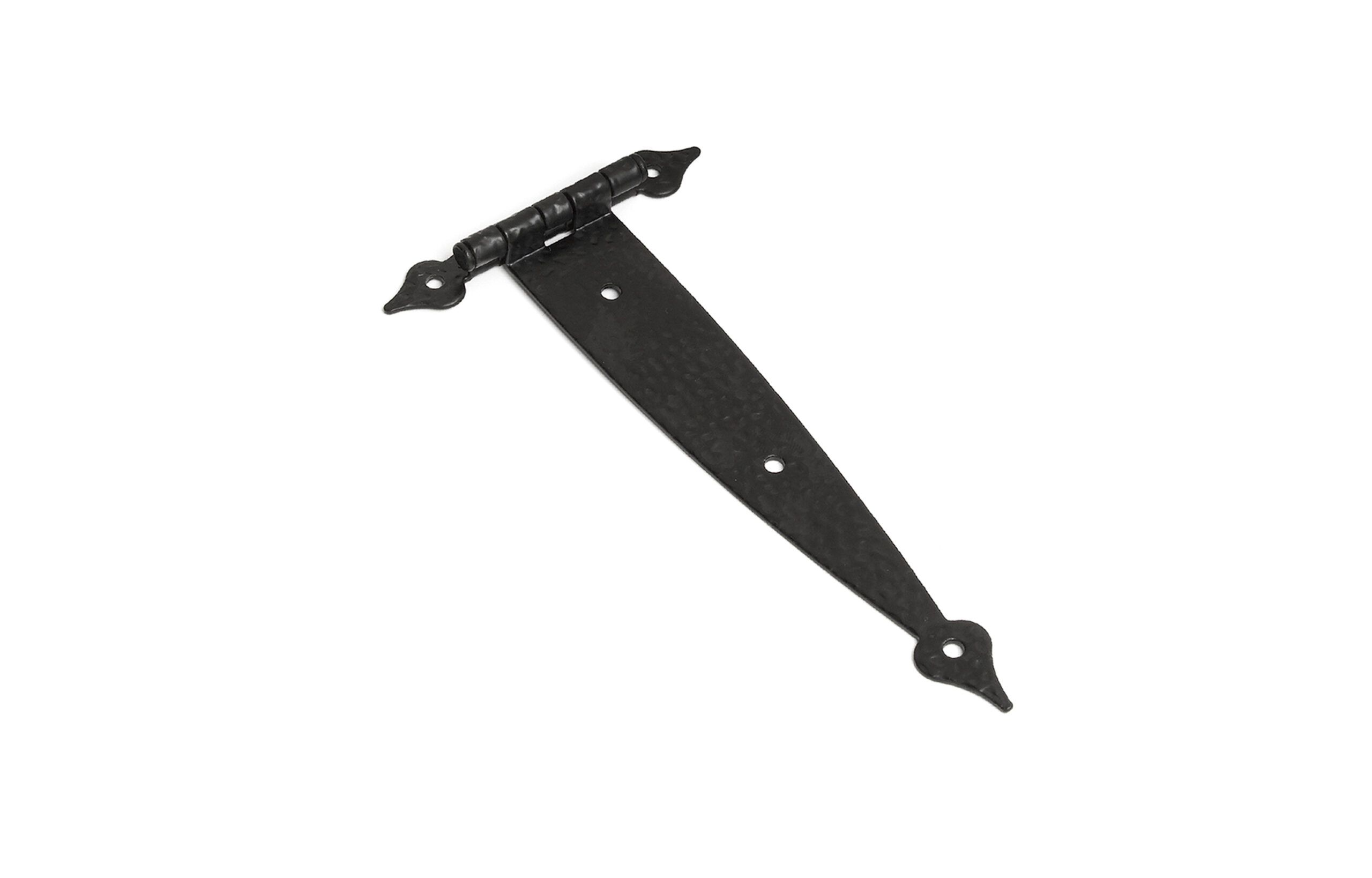 This 6-inch hinge, made of powder-coated steel, looks like it came from a blacksmith's forge. Works with inset doors.
Amerock's Colonial strap hinge, about $10; available from Baer Supply Company
Hardware: Knob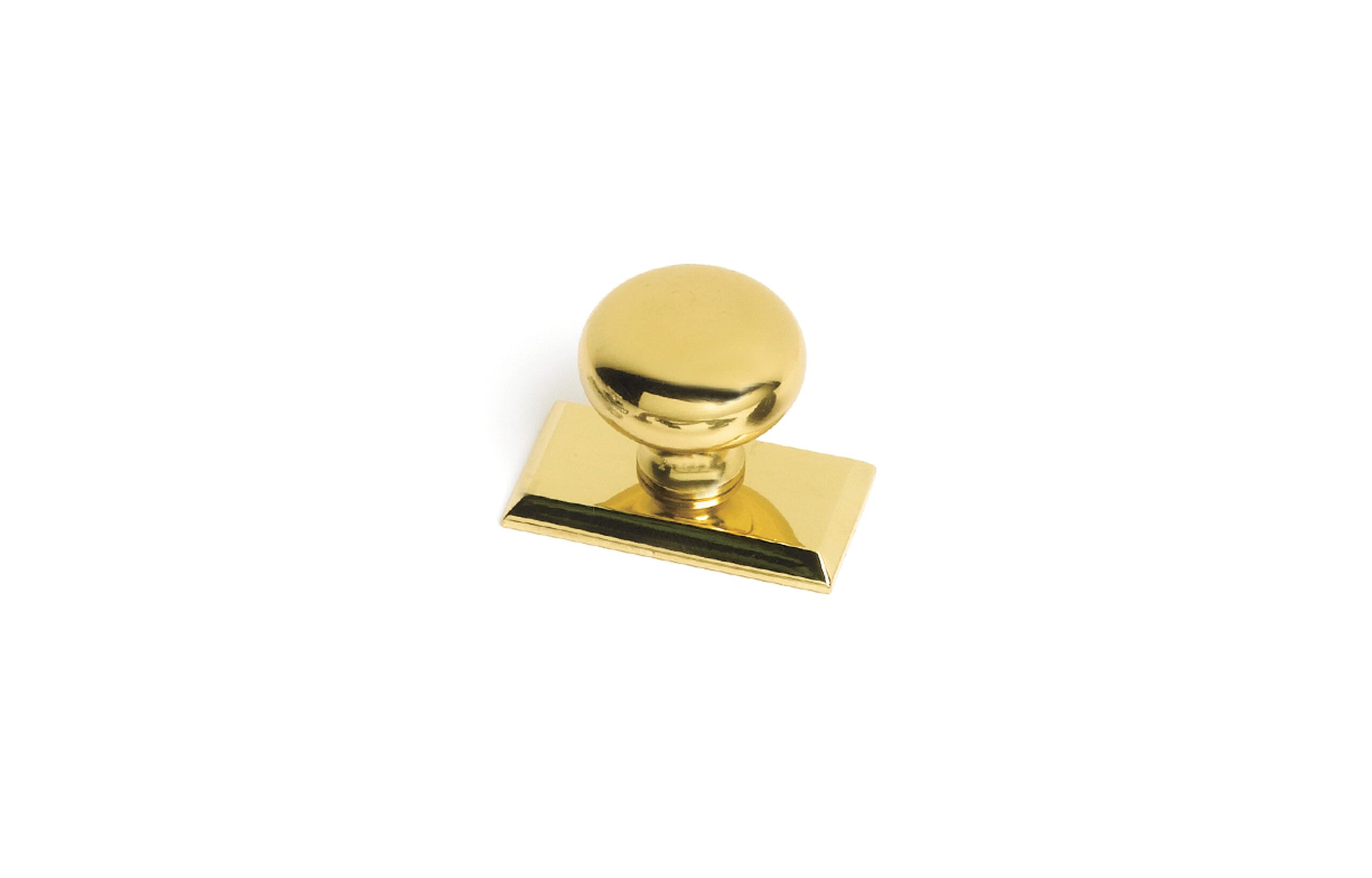 A hefty brass orb set on an escutcheon is a perfect match for Arts and Crafts–style cabinets.
1¼-inch knob with Craftsman backplate, about $16; available from Restoration.com
Hardware: Latch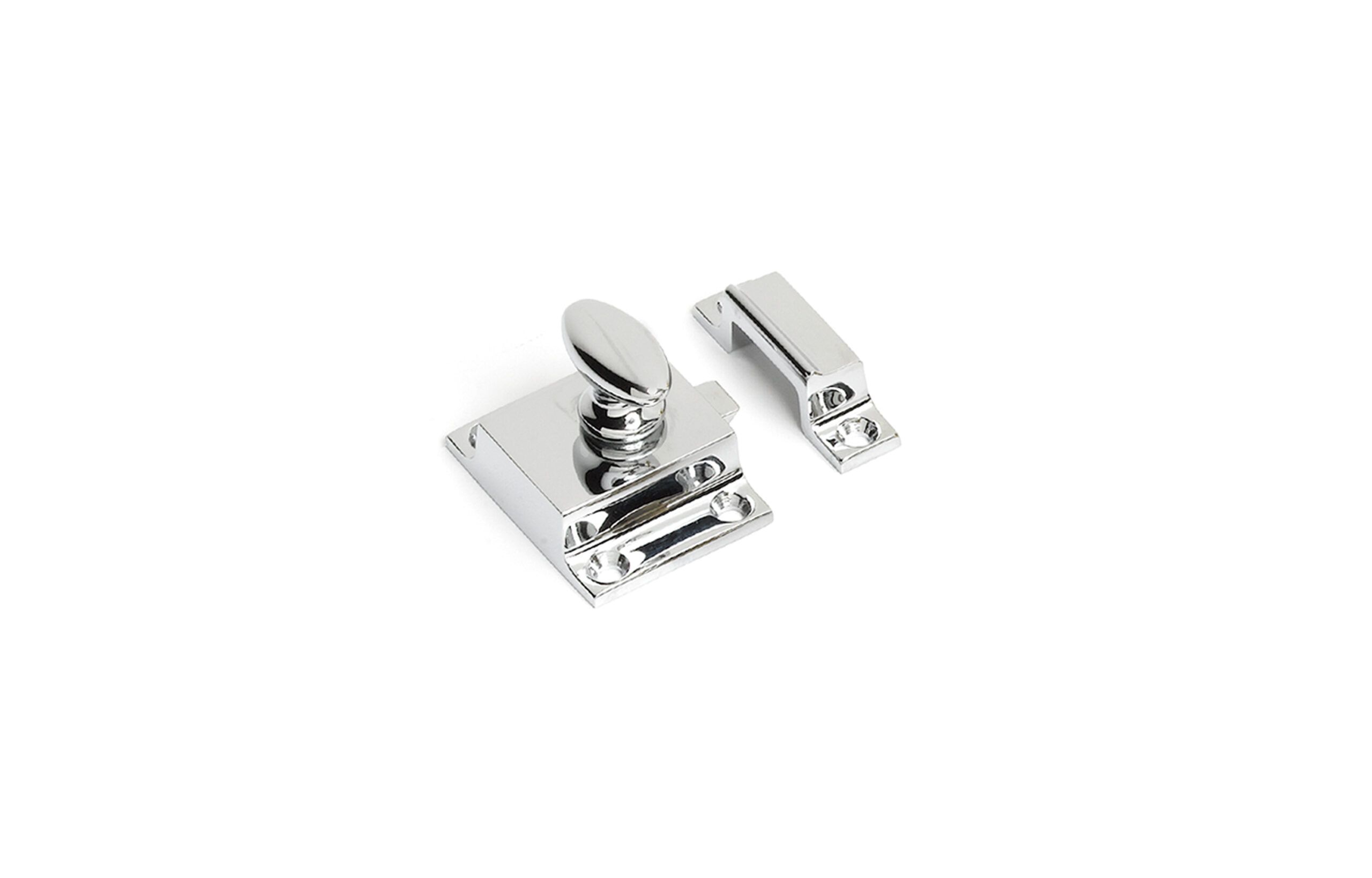 Knob-operated latches, like this solid-brass nickel-plated version, were surface-mounted on cabinet doors from the 1800s through the 1930s.
Cupboard turn oval, about $25; available from Rejuvenation
Design: Victorian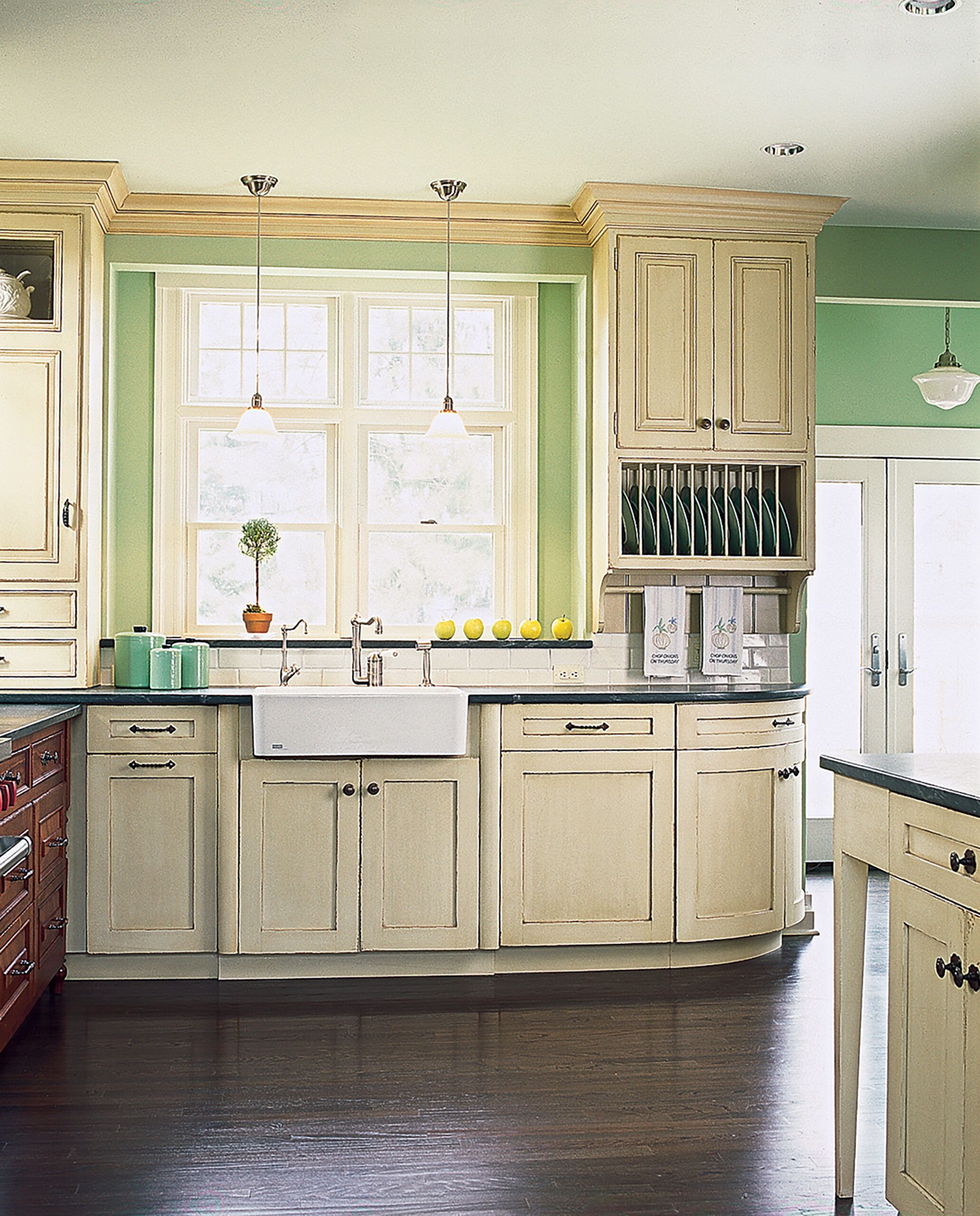 In the late 1800s, a wall-hung cupboard, such as this one with supporting brackets and a cornice on top, would have been paired with furniture-like worktables.
Similar to shown: Semi-custom Classic Portrait in painted maple; available from Merillat
Design: Colonial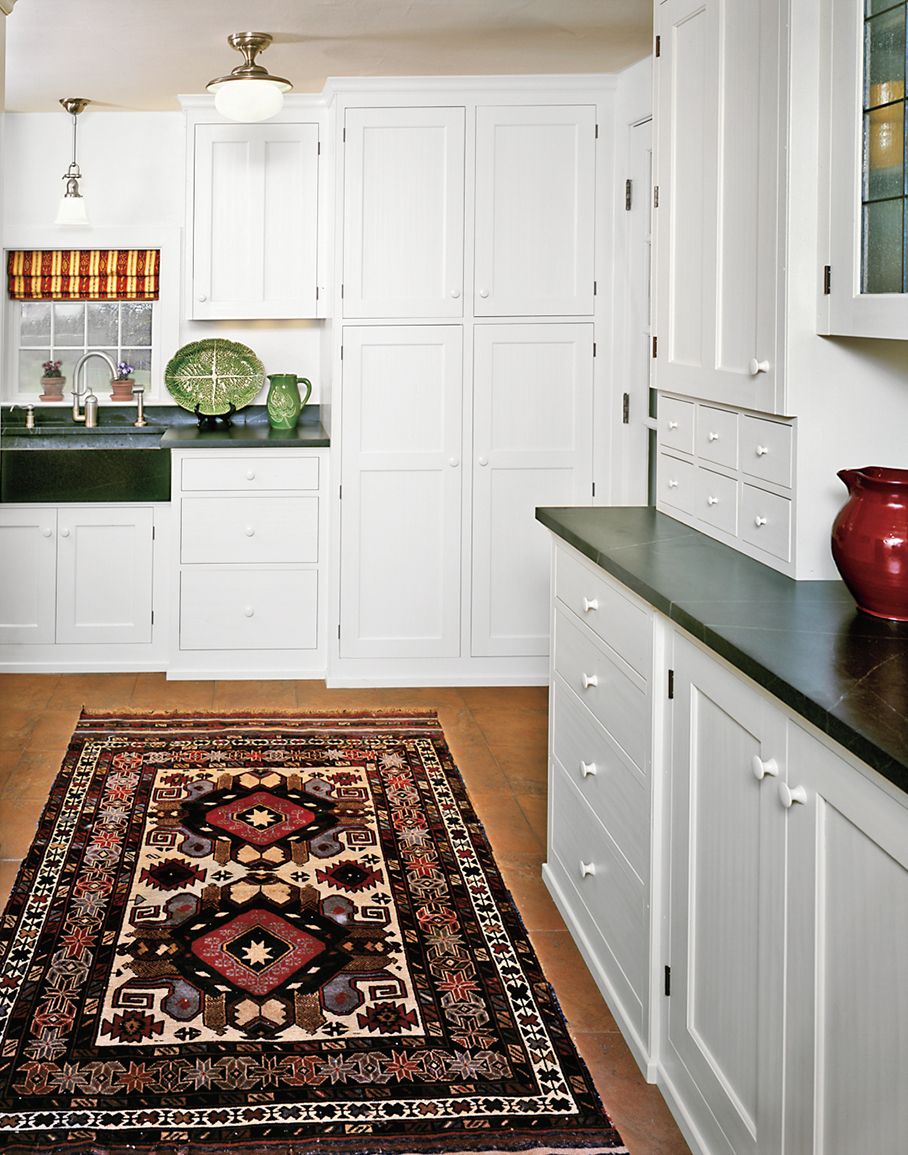 An understated simplicity belies the fine workmanship and classic proportions of this style. Paint offers the best protection and is easy to maintain.
Shown: Custom Shaker in painted white pine; available from The Kennebec Company
Design: Arts and Crafts
Popular in the early 20th century, this style dispensed with curvy Victorian-era millwork profiles in favor of rectilinear angles. Typically crafted of fine wood.
Shown: Custom Arts & Crafts Designer Series in quartersawn white oak; available from Crown Point Cabinetry
Design: Modern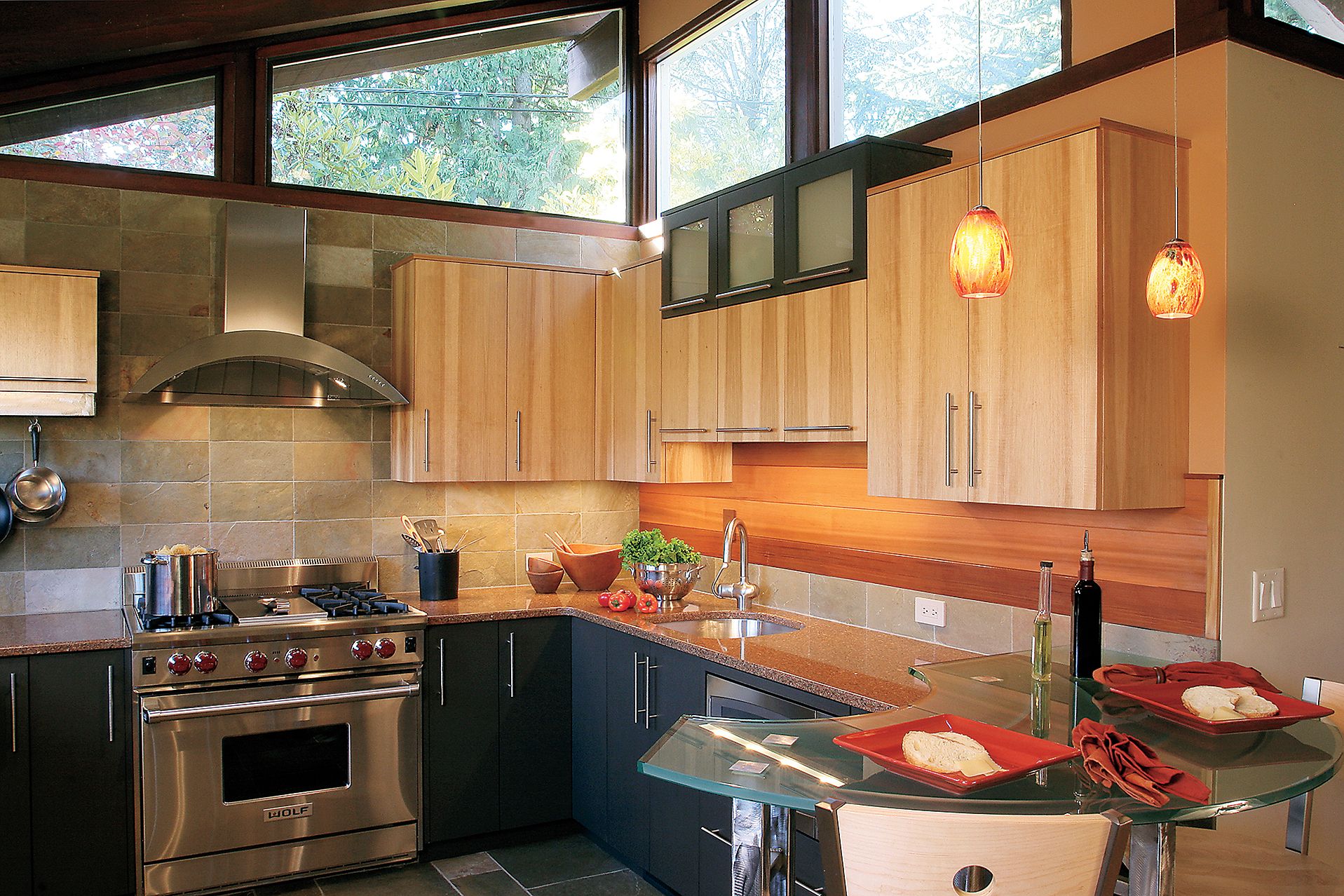 Full-overlay slab-type doors create a simple, uniform facade that is the very essence of contemporary cabinet design.
Shown: Custom Mid-Century Modern Collection with hickory veneer over no-formaldehyde MDF; available from Neil Kelly Cabinets
Do Your Own Design or Rely on an Expert?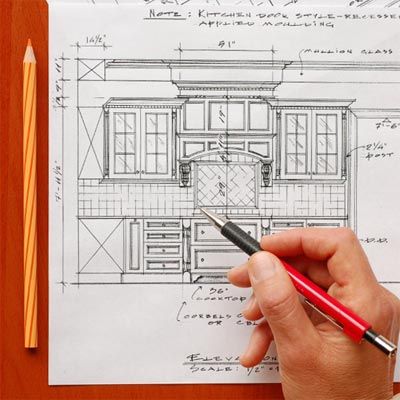 Choosing cabinets is time-consuming, but designing an entire kitchen is downright difficult. Even with layout programs, such as Google SketchUp, that let you draft your own blueprints, having such a plan doesn't mean it can be executed. Or that you can afford it.
The easier way is to find a line of cabinets that you like and can afford, and then work with the in-house designers at a retail store. These pros use cabinet companies' software with exact dimensions, model numbers, and prices. They also have the experience to foresee and resolve any fit or installation problems—before your cabinets are delivered.
Stores and manufacturers often provide their design services at no charge, but be sure to ask first. Likewise, ask whose measurements will be used; most cabinet companies insist on taking their own, on-site, before a design is finalized, but a home-center designer may rely entirely on your measurements and leave you responsible if there are any errors.
Custom Touches: Window Seat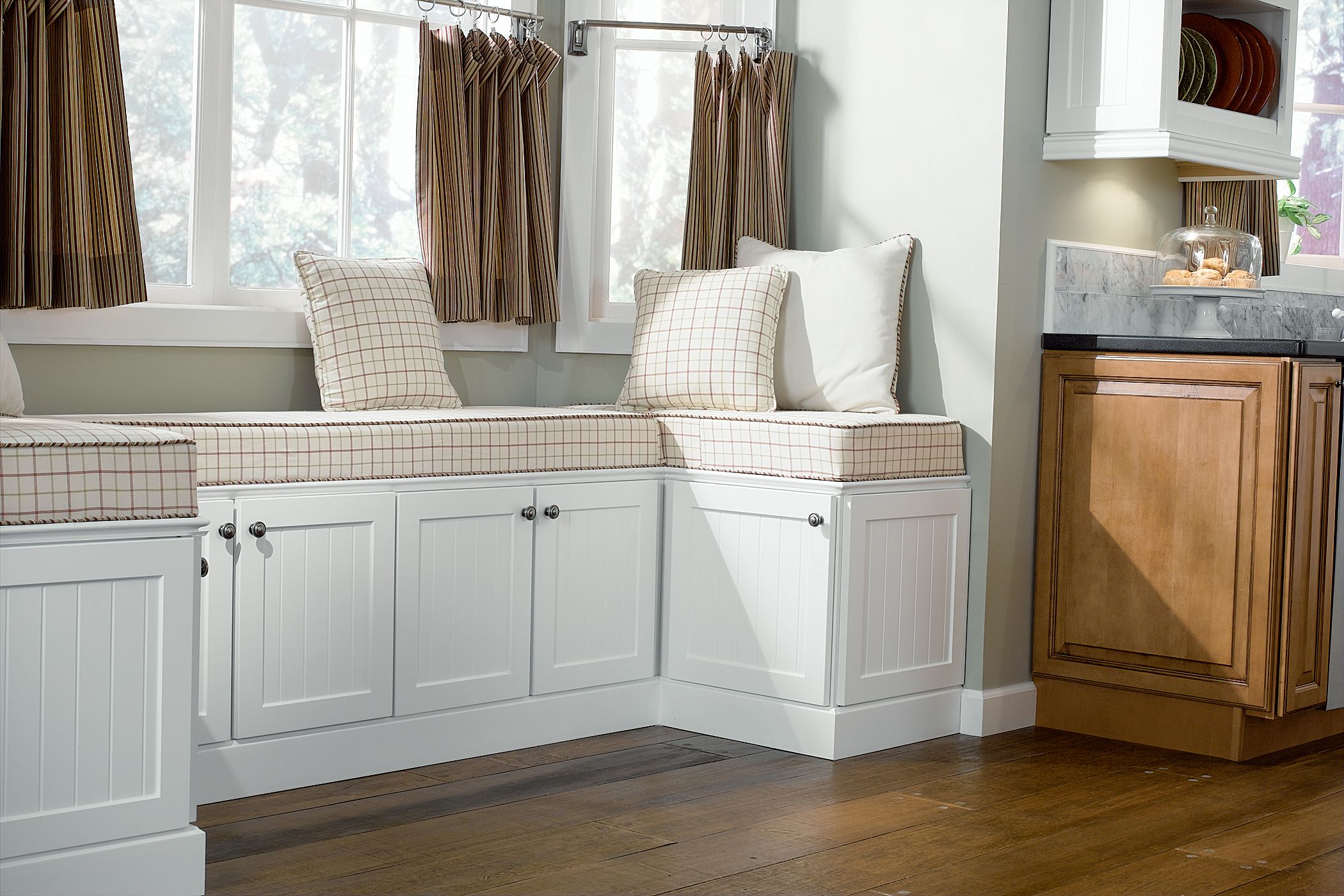 A suite of 18-inch-deep by 24-inch-high cabinets typically used above refrigerators are set atop a platform on the floor, offering a sweet spot from which to cheer on the cook.
Shown: Stock Annapolis door in white thermofoil over MDF, about $125 per linear foot; available from American Woodmark
Custom Touches: Basket Storage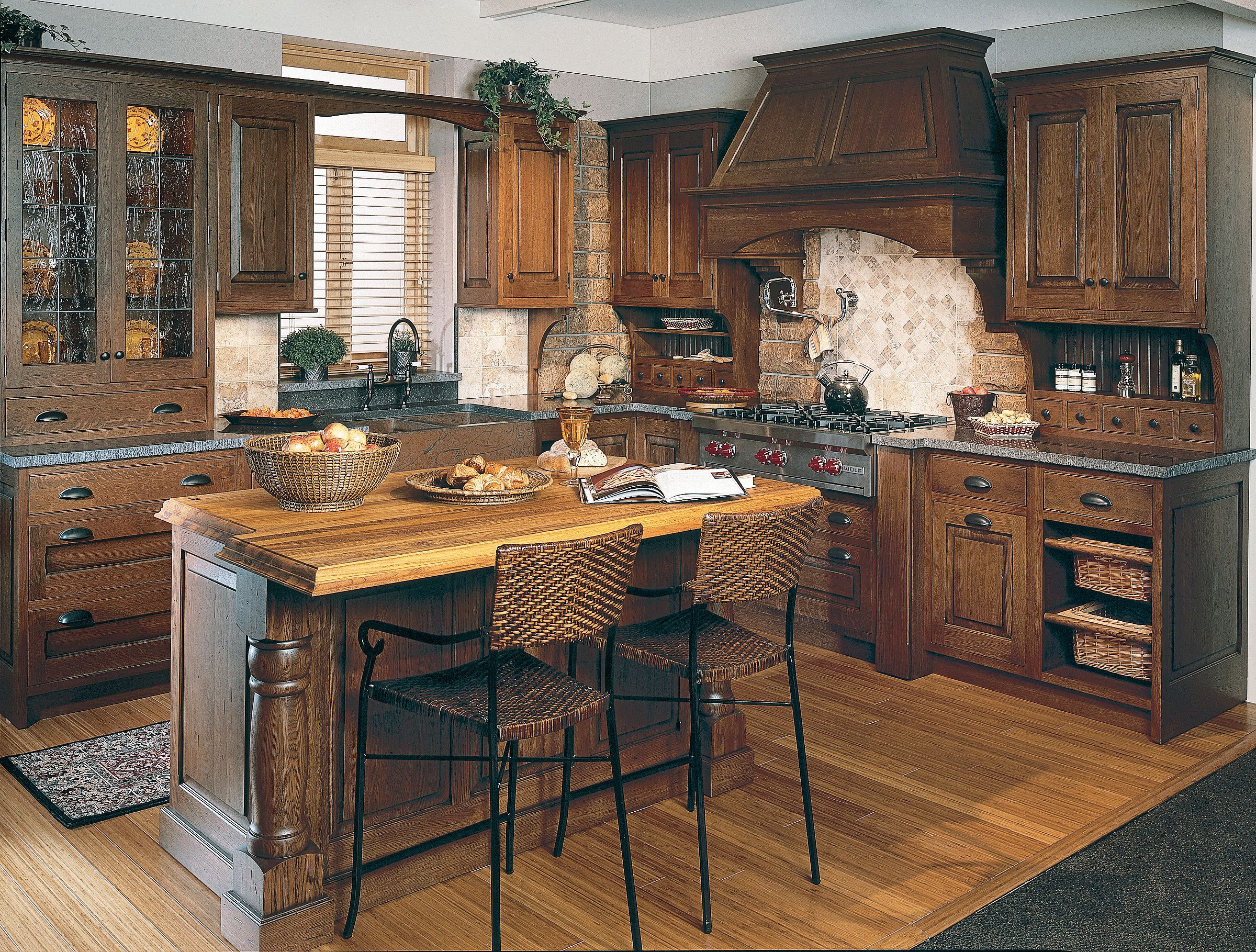 In keeping with a more rustic, country look, these pull-out wicker baskets are just the thing for storing fruit, bread, or vegetables.
Shown: Custom basket unit in Sierra base in stained quartersawn white oak, about $550; available from Plato Woodwork
Custom Touches: Slide-out Spices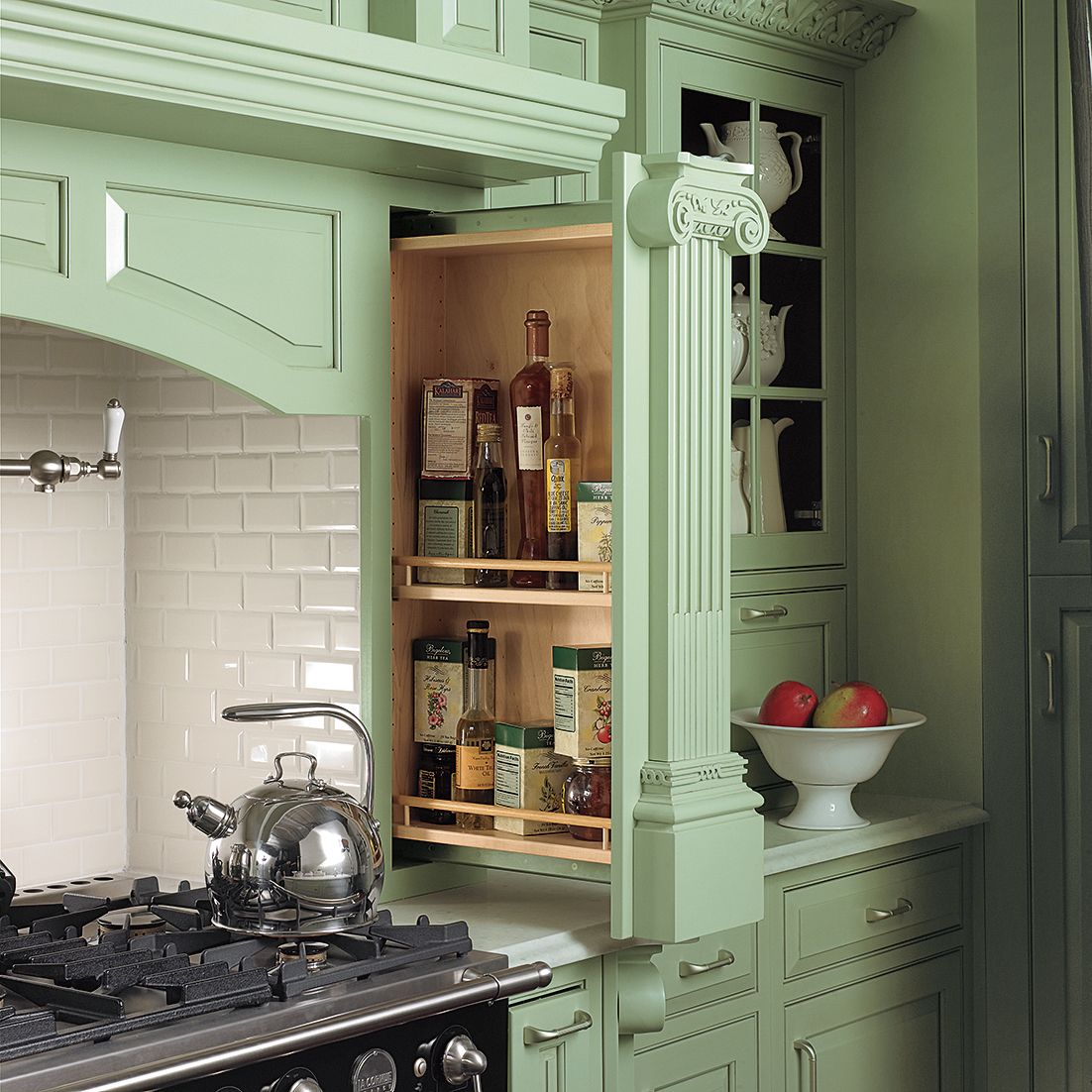 Hiding behind this painted pilaster is a two-tier pull-out shelf that keeps condiments within arm's reach of the range.
Shown: Custom pull-out spice rack with pilaster detail in painted maple, about $800; available from Plain & Fancy Custom Cabinetry
Custom Touches: Open Shelves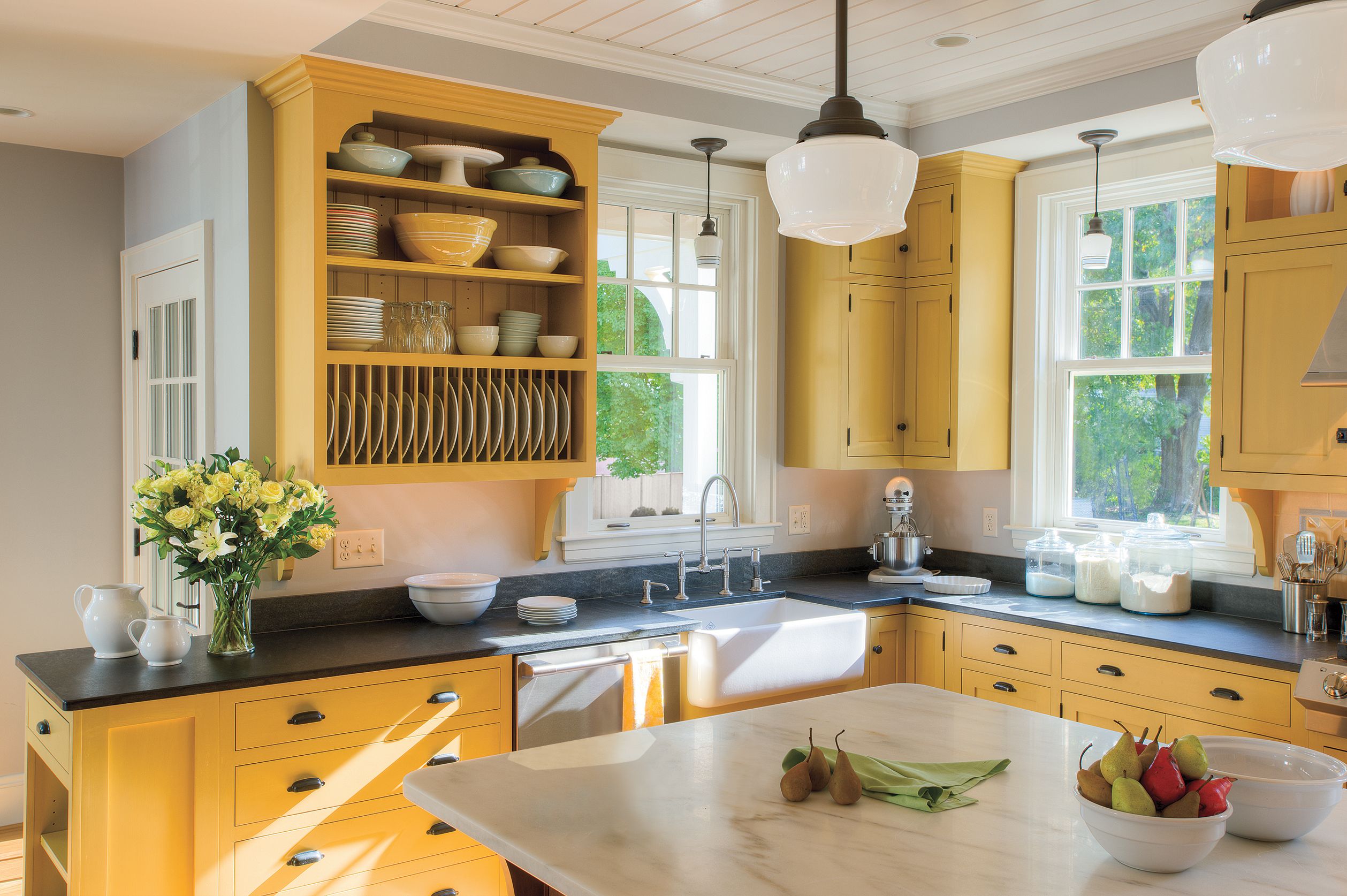 A cabinet without doors is a perfect way to display dishware and crockery. A plate rack on the bottom shelf offers a place for washed dishes to drip-dry.
Shown: Custom wall shelf in plywood and maple with milk-paint finish, about $3,300; available from Crown Point Cabinetry
Custom Touches: Work Station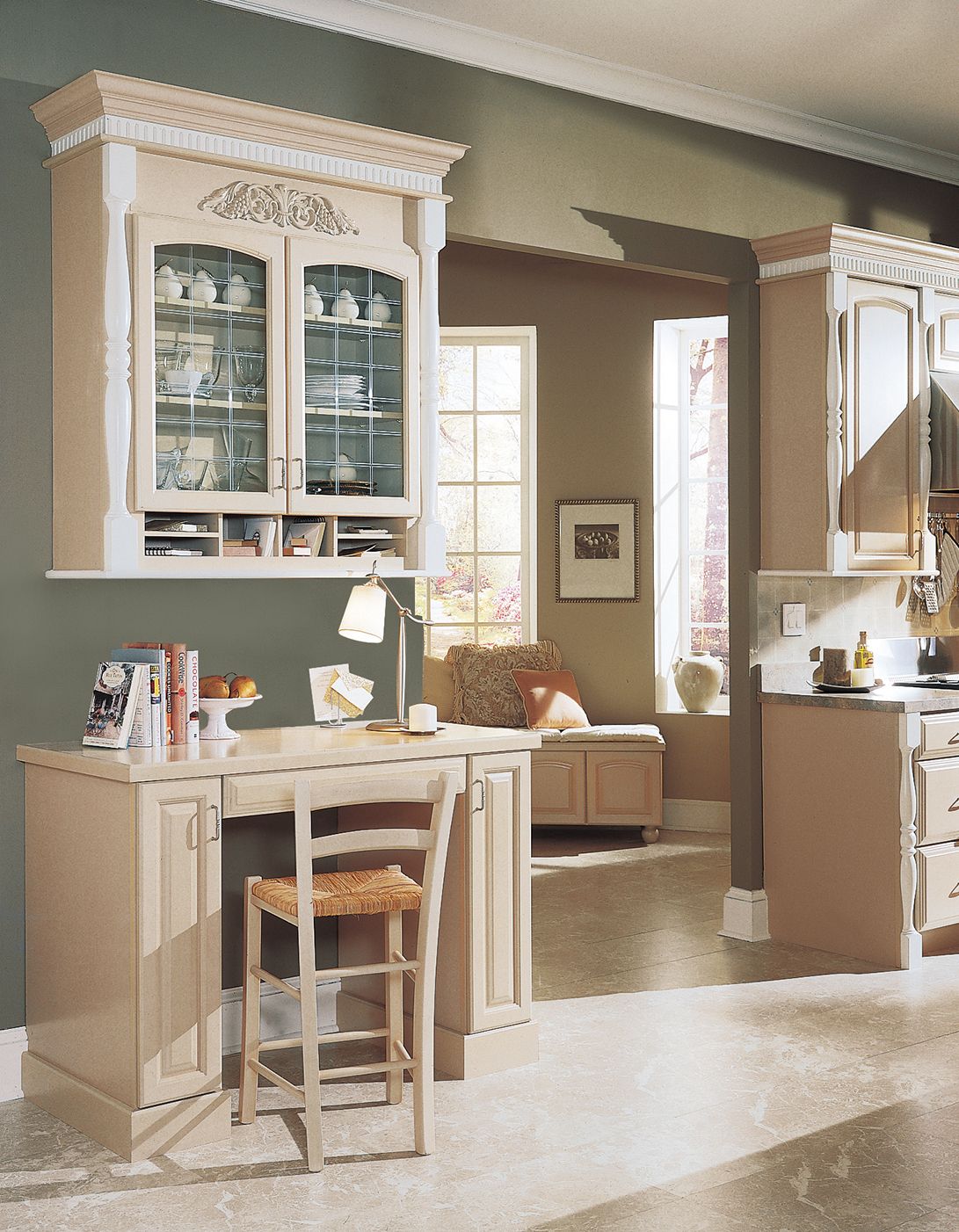 A kitchen desk provides a dedicated space to read recipes or pay bills. For comfortable sitting, the floor-to-countertop height should be 26 to 30 inches.
Shown: Semi-custom Marquette door and 30-inch drawer in maple with semitransparent stain, about $830 for desk only; available from KraftMaid
Custom Touches: Lighted Soffit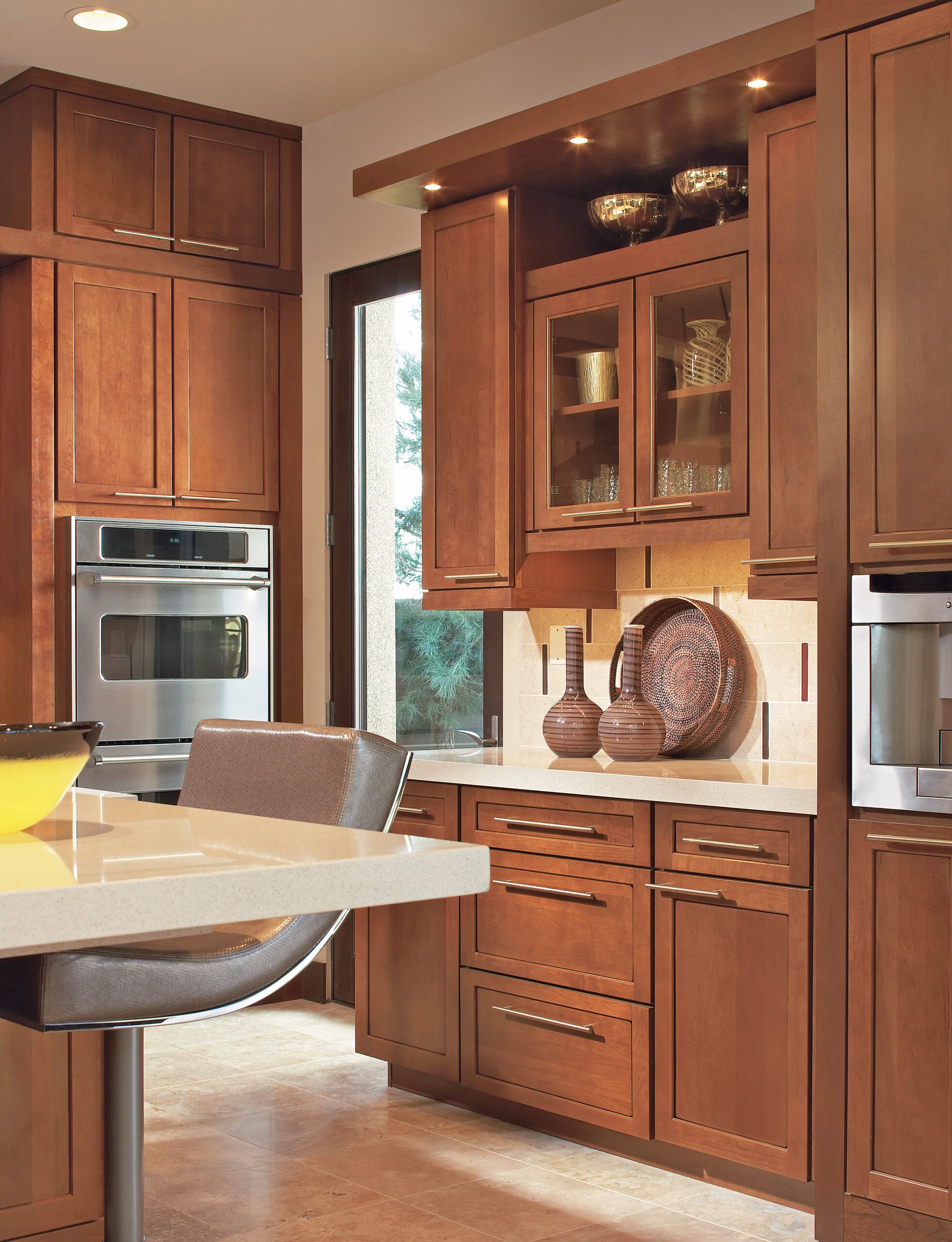 Make a soffit to match your cabinets using stock material. Here, a column filler panel is turned on its side like a tray and drilled with holes for puck lights.
Shown: 96-inch Tall Column Filler in cherry (to match Townsend door), about $450 without lights; available from American Woodmark
Custom Touches: Decorative Corner Post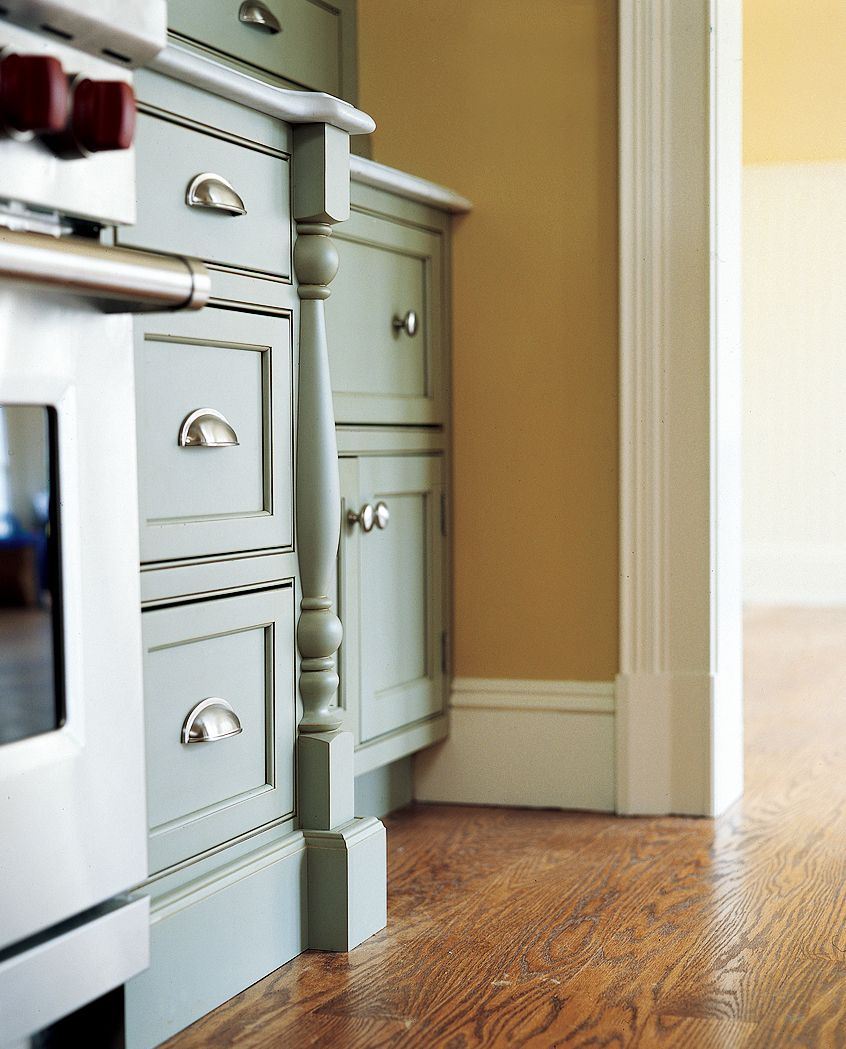 Cabinet corners don't have to be plain, straight edges. Here, a half post marks the transition between cabinets of different depths.
Shown: Colonial-style "split-leg" in painted maple, about $500; available from Front Row Kitchens
Custom Touches: Wine Storage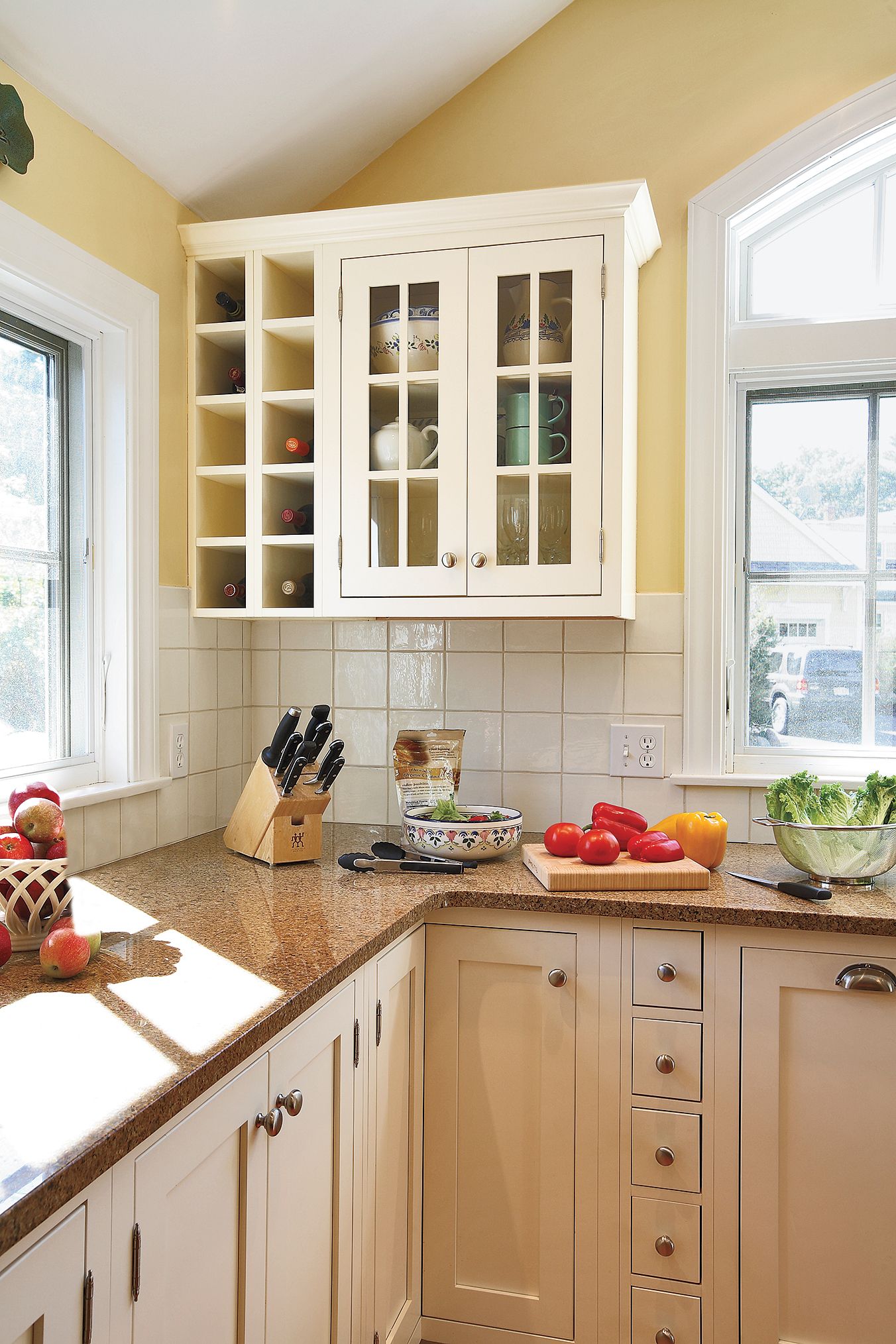 Open cubbies offer a convenient place to stow bottles. Just be sure to install the rack away from heat-producing appliances, which can literally cook your Cabs.
Similar to shown: Semi-custom wall wine rack in painted maple, about $280; available from KraftMaid