All About Interior Paint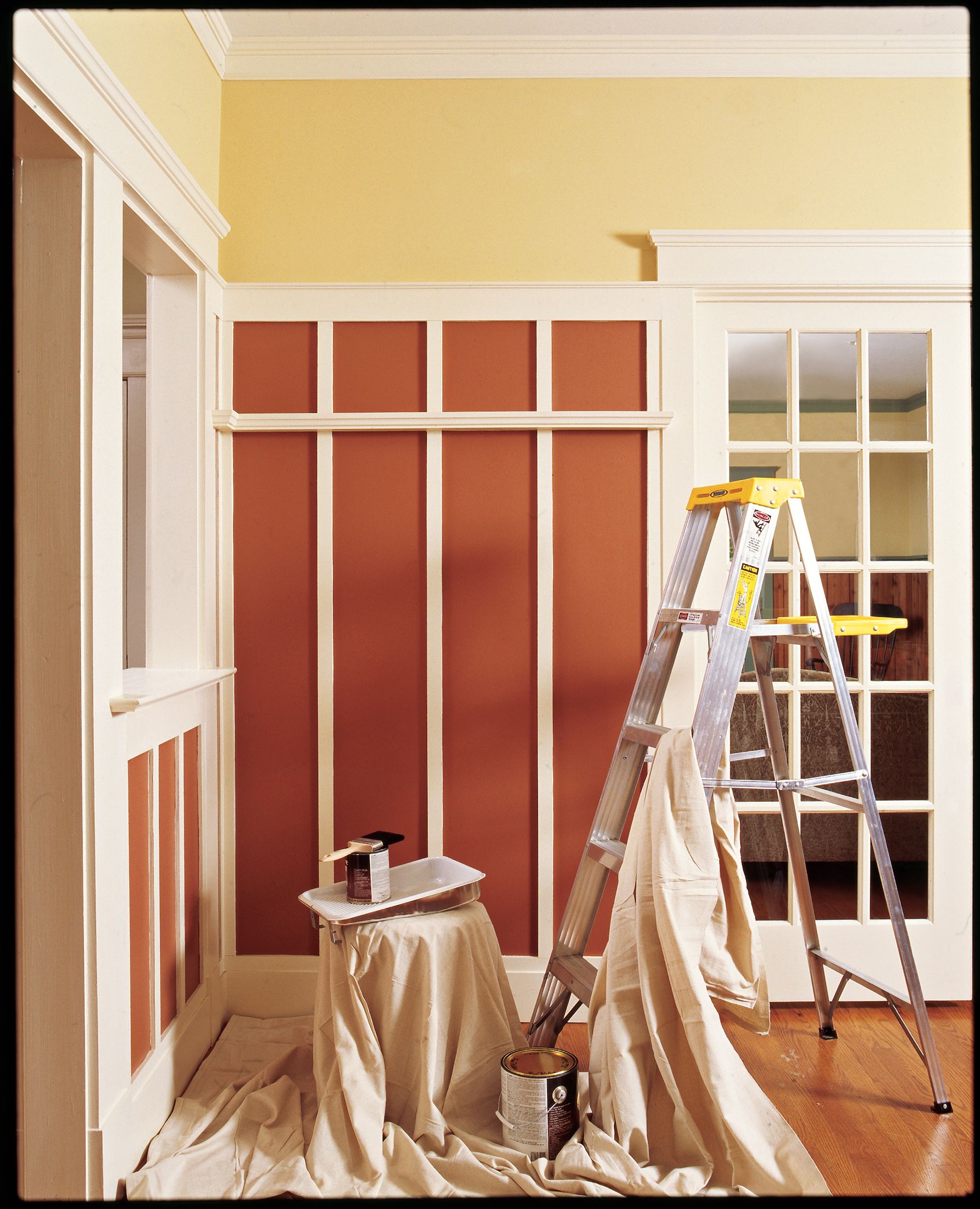 Interior paint has come a long way in the 32,000 years since we started slapping it up against the sides of cave walls. That primitive mix of crushed charcoal, clay, and animal marrow has evolved into a sophisticated cocktail of pigments and resins able to resist scrubbing, stains, and mildew. Today, paint ranks among the most DIY-friendly—and thrifty—home-improvement materials, easy to brush or roll on and quick to transform the look and feel of a room with just a couple of gallons.
Paint companies continue to update their formulas, making them "green" by stripping out chemicals that are unhealthy for our families and the environment, boosting colorants for more vivid hues, and adding high-tech ingredients to provide greater durability. The problem is, paint aisles are now crowded with so many choices that it's hard to decide what to buy. And unless you know what you need and where to find it, each can looks pretty much the same.
What's in Paint?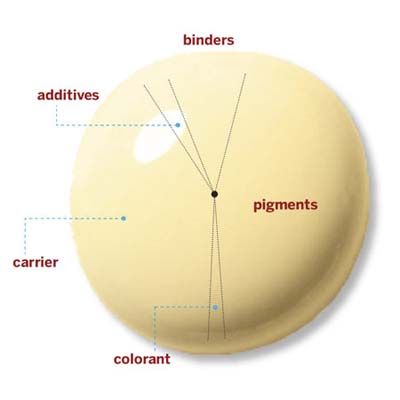 The amounts differ among brands, but they all share these ingredients.
Additives. Performance boosters such as antifoaming agents and mildewcides.
Binders. Resins that turn liquid paint into a solid on the wall.
Carrier. Solvents that keep paint liquid until it's on the wall. Water is the primary carrier for latex, mineral spirits for oil paint.
Colorant. Liquid tints that add color to paint.
Pigments. Powdered minerals that give paint its hiding ability.
The Vitals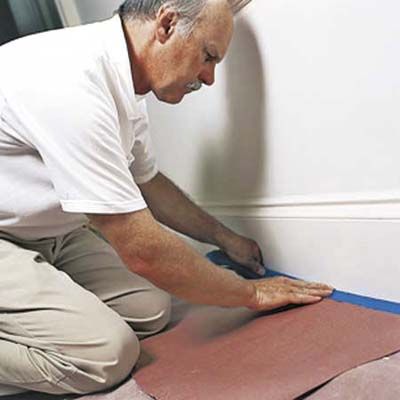 How much to buy?
One gallon covers about 400 square feet. To calculate how many to buy, divide the square footage of your walls and ceiling (minus doors and windows) by 400.
DIY or hire a pro?
If you have the time and energy to do the wall prep, which accounts for about 70 percent of the work, go for it. Putting color on the walls is easy.
How does it hold up?
With the right prep, a paint job should last 10 to 20 years. Some companies offer lifetime warranties
on their products.
What are VOCs?
Volatile organic compounds—found mostly in the solvents that keep paint liquid—are chemicals that off-gas into the air as paint dries. Short-term exposure to fumes can cause headaches and eye and lung irritation. Limit your risk by using paint certified as low- or zero-VOC.
What Makes One Paint Better Than Another?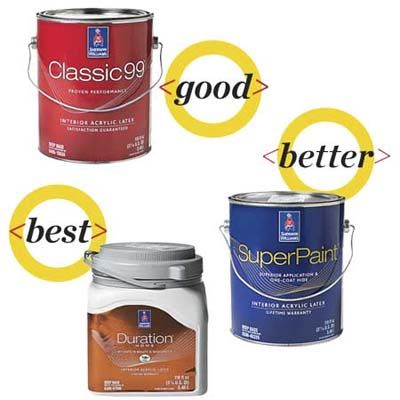 It depends on the amount and quality of the resins, pigments, and additives inside the can.
For one, check the paint company's material safety data sheets online to see how much titanium dioxide it adds to each can. The higher the percentage of this pigment, the better the coverage with fewer coats. Cheaper pigments, such as calcium carbonate, are less effective.
Here's how three grades of semigloss paint from one maker stack up.
Paint Quality Comparison: Good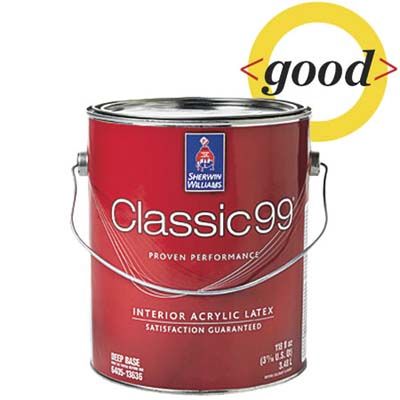 Classic 99
Resin: Vinyl acrylic
Pigment (by weight): 12 percent titanium dioxide, 5 percent calcium carbonate
Additives: Defoamers to ensure a bubble-free finish
What to expect: Stains should come off if you clean up within the hour. Susceptible to burnishing if scrubbed hard.
Price: About $30 per gallon, Sherwin-Williams
Paint Quality Comparison: Better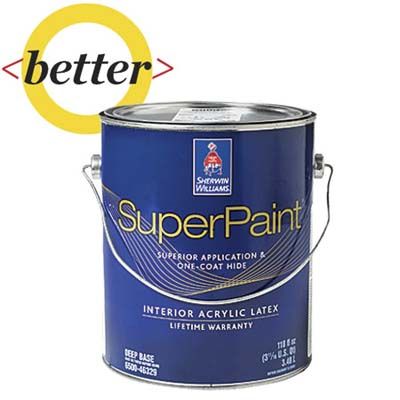 Superpaint
Resin: Vinyl acrylic
Pigment (by weight): 18 percent titanium dioxide, 7 percent calcium carbonate
Additives: Wetting agents to reduce lap marks
What to expect: More resistant to stains and burnishing. Hides previous colors better.
Price: About $37 per gallon, Sherwin-Williams
Paint Quality Comparison: Best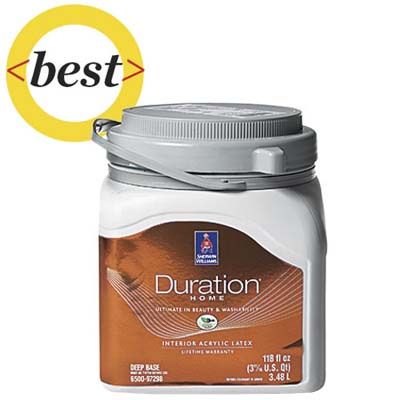 Duration Home
Resin: Styrene acrylic
Pigment (by weight): 23 percent titanium dioxide
Additives: Mildewcide to help prevent mold growth
What to expect: Needs no primer because of high level of titanium dioxide. Styrene-based acrylic resin makes it more durable and washable. Some companies use 100 percent acrylic resins in their top-of-the-line paints.
Price: About $45 per gallon, Sherwin-Williams
What's Up With That $100 Can of Paint?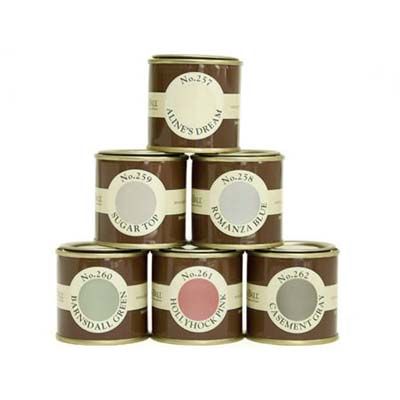 The chief difference between a $50 premium paint and a superpremium one that costs twice as much is the type and amount of pigments. These finely ground minerals comprise up to 70 percent of the paint's weight, compared with about 30 percent for an ordinary premium brand. Lift a can from Fine Paints of Europe or Farrow & Ball and you can feel the extra heft of the pigments. The pay­off: more vivid colors, fewer coats, and a longer-wearing finish.
Where to Use Which Paint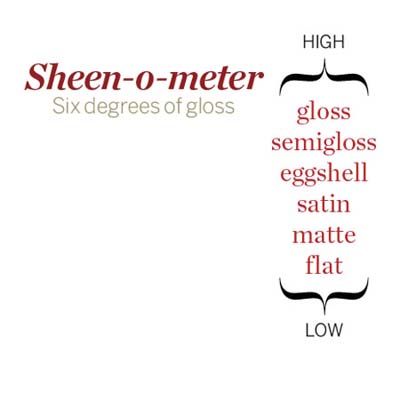 Choose based on what's important in the room, whether it be masking dings in foyer walls, highlighting living room trim, or easy cleaning in a bathroom. How a paint will perform has to do with its sheen, or gloss. Flatter, low-luster paints contain minerals that roughen the surface, creating an even coat that hides flaws. Glossier paints have fewer minerals and form a smoother, more durable finish, but they show imperfections.
What to Use On: Trim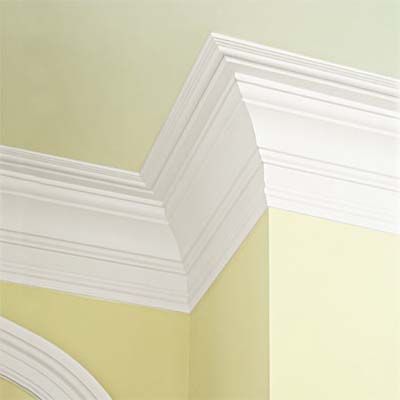 Gloss
This shiny paint, used on trim and built-ins, can take a beating that would ruin flat paint.
Oil-based gloss has a harder, more scrubbable finish than any water-based latex.
Mansion Farm White, about $110 per 2½ liters; Fine Paints of Europe
What to Use On: Bath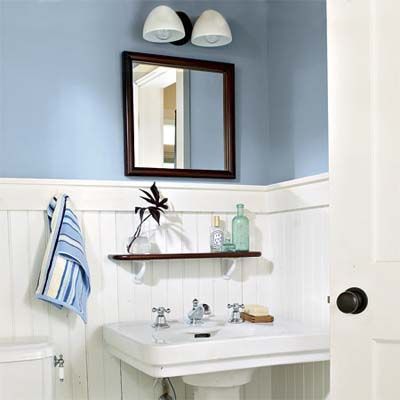 Semigloss
The traditional sheen for wet areas, the shiny surface is easy to clean. Choose one with mildewcide.
Lulworth Blue, about $79.50 per gallon; Farrow & Ball
What to Use On: Foyer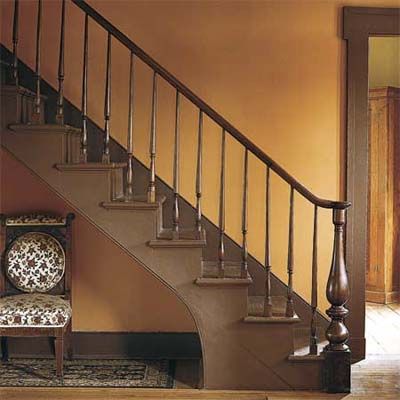 Eggshell
The most popular sheen for walls, it's washable without being too glossy. Great for high-traffic areas and fingerprint-prone stairways.
Chivalry Copper, about $21 per gallon; Behr
What to Use On: Bedroom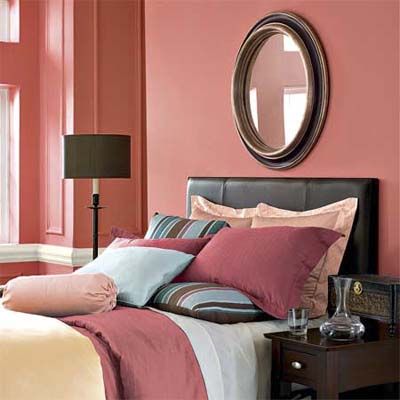 Satin, Matte
These finishes resist burnishing, the shiny spots that happen if a surface is repeatedly rubbed or scrubbed. Its low gloss gives off a warm glow.
Pink Clay Pot, about $20.50 per gallon; Olympic
What to Use On: Ceiling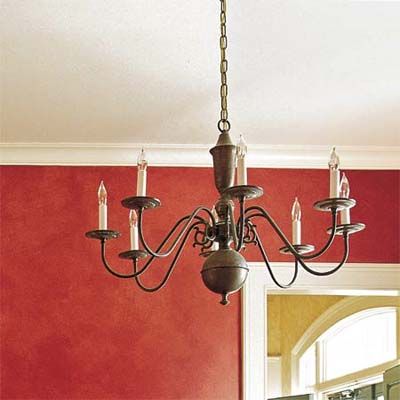 Flat
This paint hides imperfections and has an even tone that doesn't attract attention. The hard-to-clean sheen is perfect for ceilings, which aren't prone to stains. Paints sold specifically for ceilings are made extra flat to prevent distracting shiny spots.
Ultra White ceiling paint, about $23; Pratt & Lambert
Other Formulas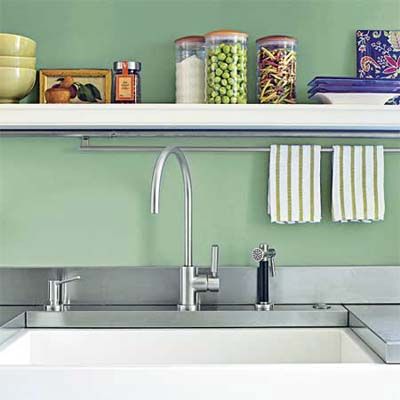 Ceramic
It's a matte that acts like an easy-to-clean glossy. The secret to its scrubbability is microscopic: ceramic beads that create a hard surface with a soft sheen, making it a great choice for kitchens.
Glaze
A translucent resin-rich liquid that you apply over colored wall paint to coax our a deeper, richer hue and add shine. Glazes can also be tooled with brushes and rollers to resemble textured fabrics or plaster. Because they dry slowly, you can blend and rework glaze patterns until you're happy with the results. So take your time and have some fun.
Green Bonnet ceramic paint, about $42.45 per gallon; California Paints
Does Green Mean Family-Safe?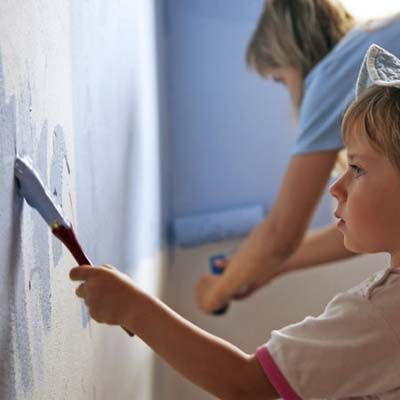 Yes, it does. Green paints are safer because their makers have reduced or eliminated the toxic VOCs that can harm us and the air we breathe. And they've done it without compromising quality or jacking up prices. Green paints are as good or better than the old-school variety, and most cost the same as a midrange or premium latex. The problem is, some green paints are more people- and eco-friendly than others. Here are the key questions to ask when shopping for green paint:
What's the VOC level?
A can of paint is generally labeled "low-VOC" if it has less than 100 grams of VOCs per liter for flat sheens and 150 grams for nonflat. Cans that meet standards set by Green Seal, an independent tester and certifier of paints, have even less—no more than 50 grams per liter for flat finishes and 100 grams for nonflat. A "zero-VOC" paint can't have more than 5 grams per liter, according to Environmental Protection Agency standards.
Does Green Mean Family-Safe?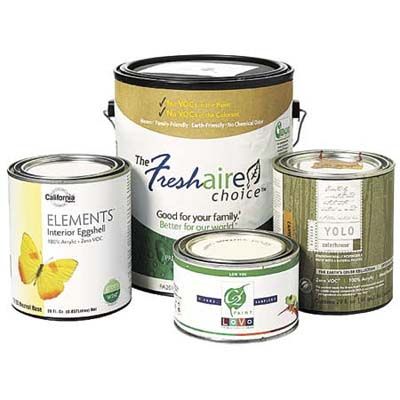 Does it contain other harmful ingredients?
Your best assurance that a paint is formulated without nasties is a logo from independent testers Green Seal, GreenGuard, or Scientific Certification Systems. They bar more than 1,000 unsafe compounds, including VOCs such as benzene, heavy metals such as cadmium, and plasticizers like phthalates. Green Wise, another tester, bars 26 such chemicals. Can't find logos on products at the paint store? Visit Green Seal, GREENGUARD, Scientific Certification Systems, or GREEN WISE for approved paints.
Do the colorants have VOCs?
You may think you're home safe with a low- or zero-VOC paint, but once it's tinted with the universal colorants used in most paint stores, it could be anything but. On average, these colorants add about 150 grams of VOCs to a gallon; darker shades have more. To get around this, either settle for colors that are factory-mixed or look for paints with no-VOC tinting systems, such as Mythic, Freshaire Choice, or Yolo Colorhouse.
Did you know?
Regular latex paint off-gasses formaldehyde and other VOCs for up to three years—the time it takes to fully cure after it's rolled onto your walls.
Useful Tools for Under $10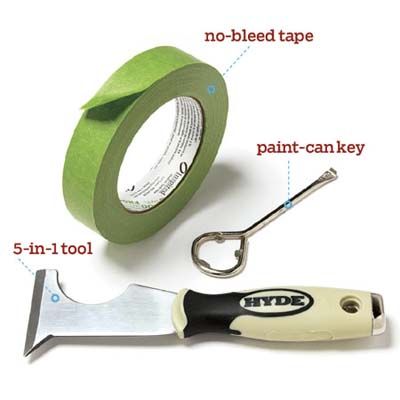 Use 'em once and you'll wonder how you ever got along without 'em.
5-in-1 tool
Scrapes paint off roller covers and old caulk out of joints. Doubles as a putty knife. About $10; Amazon
No-Bleed Tape
Grab green tape, rather than your blue standby, to stop paint from seeping underneath. About $24; Amazon
Paint-Can Key
Give your screwdriver a rest and open lids with the tool designed for the task. The key won't bend the lid's lip, so the can reseals easier. About $1; hardware stores
Faux Finishing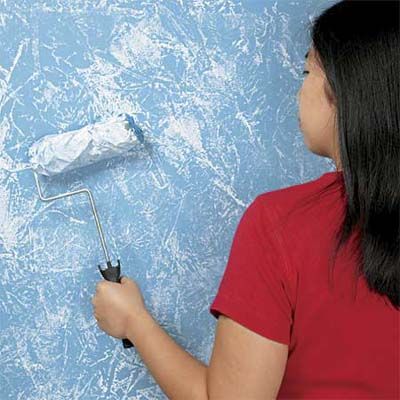 Decorative painting adds depth, texture, and a liveliness to walls, yet even the most daring look-alike effects—tanned hides, draped fabric—can be easily achieved without any fancy tools or brushwork. Just sheathe a roller frame with one of these specialty covers for a professional-looking finish that you can do yourself using just paint or a combination of paint and glaze:
1. Floppy roller
Soft scraps of chamois screwed to a fuzzy roller provide a fast, easy way to mimic the look of worn leather. About $10
2. Bag roller
For a washed-silk effect (shown left), use this instead of crumpling up a plastic bag and randomly blotting the wall. About $7
3. Rag roller
Get the look of crushed velvet or parchment paper, effects typically achieved by dabbing the wall with cotton cloths. About $7
All from Work Tools International Inc.