Project details
Skill
1

out of

5
Easy
Sanding and scraping takes special care and patience
Estimated Time
About 3 days (overnight drying needed)
The years and the elements hadn't been kind to the exterior of this 94-year-old, thick, cypress door. Flakes of varnish still clung to the wood in spots, while the rest of the surface was rough and dried out from the effects of water and sun.
Wood entry doors everywhere suffer from the same assaults, and many end up in the trash, replaced by low-maintenance, mass-produced metal and fiberglass surrogates. But homeowners Belinda Chase and Scott Oja were determined to save this door—they knew the value of the antique, with its oval light of rippled, mouth-blown glass and its sturdy, all-wood construction. So they hired painting contractor John Dee to bring it back to life.
Dee, who has worked on many This Old House television projects, attacked the splotchy surface with sandpaper and scrapers until the old pine door was as fresh and as fragrant as the day it was built. By mid-after­noon, the door was ready for its new finish: a high-performance, oil-based varnish to highlight the wood's rich color and grain. Three coats later, it gleamed like aged mahogany. "I can't believe it's the same door," said Chase. "It's just so beautiful."
How to Refinish a Wood Door
1. Remove door hardware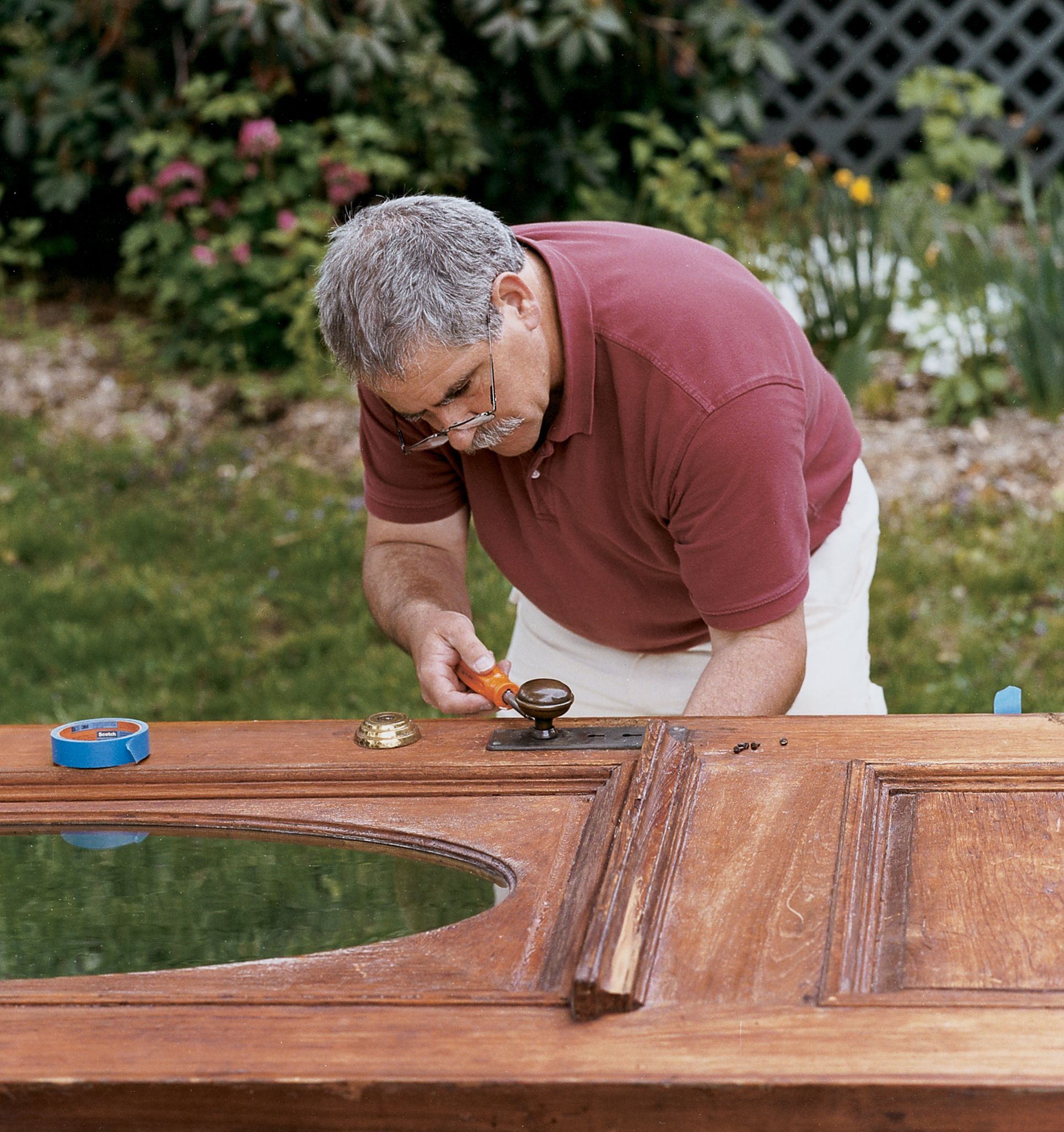 Before refinishing this scarred and flaking entry door, painting contractor John Dee sets it on padded sawhorses and takes off the hardware.
2. Sand the flats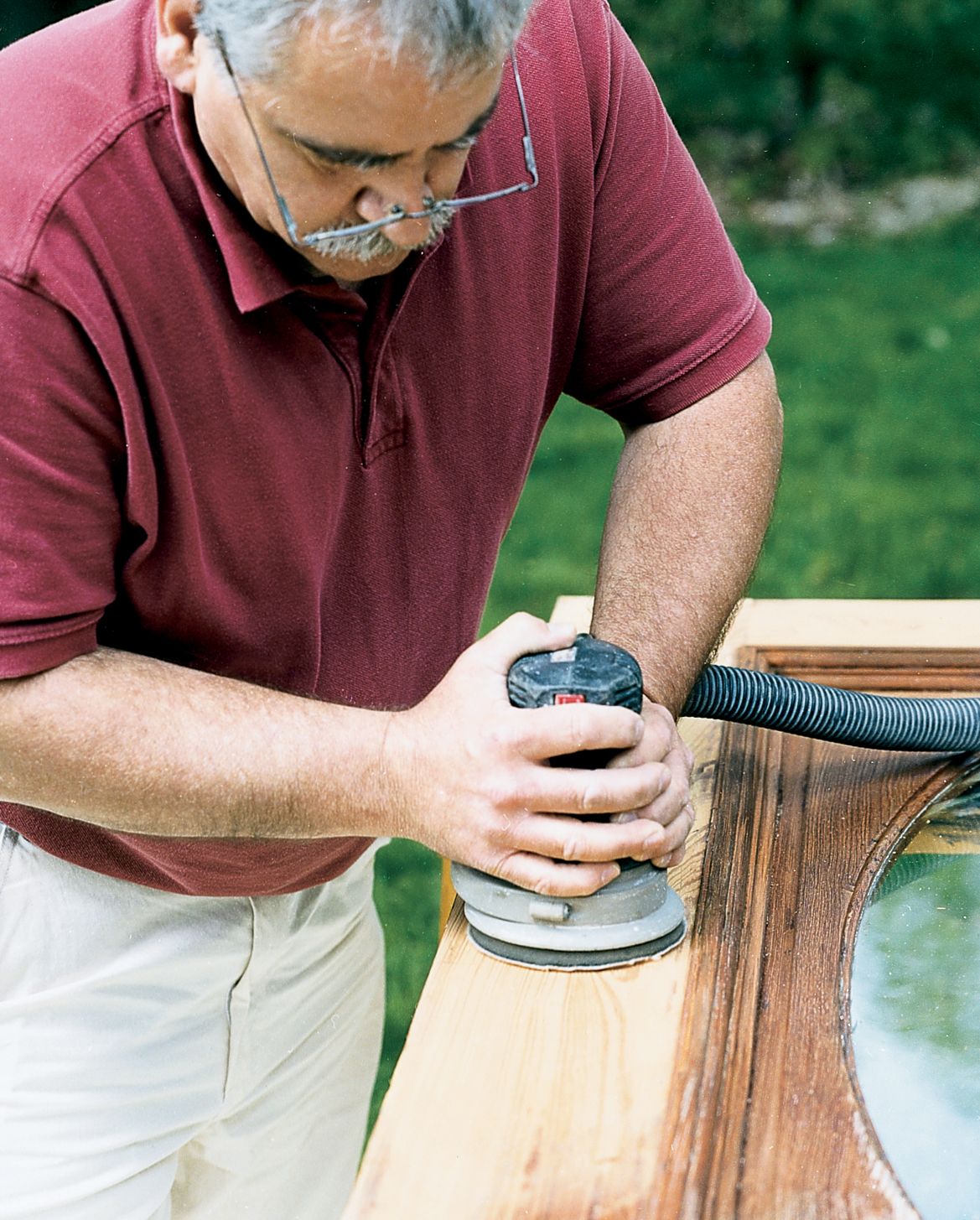 With the door resting on padded sawhorses, use a random-orbit sander with 80-grit paper to quickly remove what remains of the old varnish and sun-baked flakes of wood.
Sand the wood again with 100-grit paper, then 120-grit. "There's no sense in going any finer," Dee says. If you do, you'll begin to close off the pores in the wood, which will prevent the finish from adhering to the surface.
3. Scrape the moldings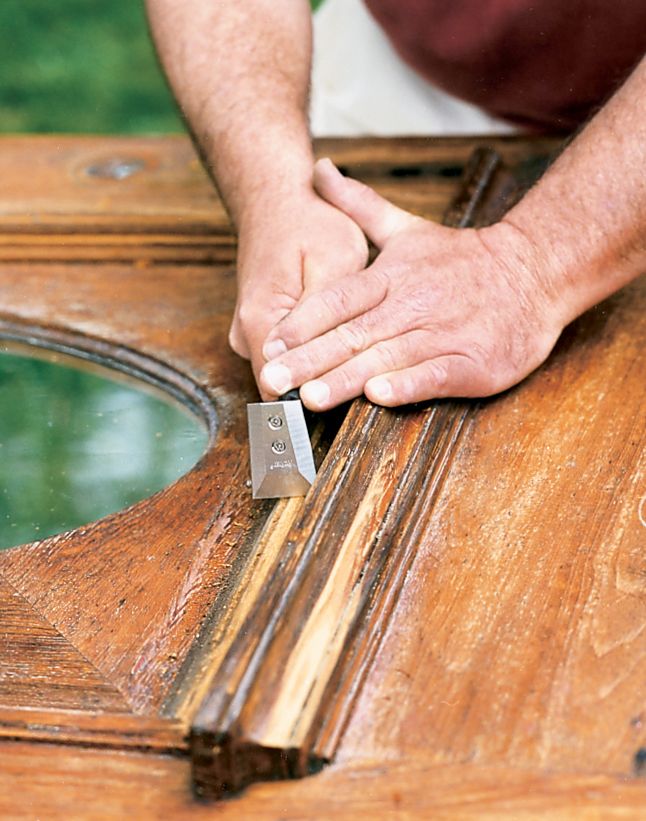 Small, razor-sharp scrapers reach into corners, across narrow profiles, and on the end grain of raised panels where no rotary sander can safely go. Pull the scraper with the grain; use two hands and apply only gentle downward pressure to reduce the chance of an accidental slip gouging the wood. Dee uses two blade shapes: a trapezoid for the flats and a teardrop for the narrow crevices.
4. Hand-sand profiles and clear away dust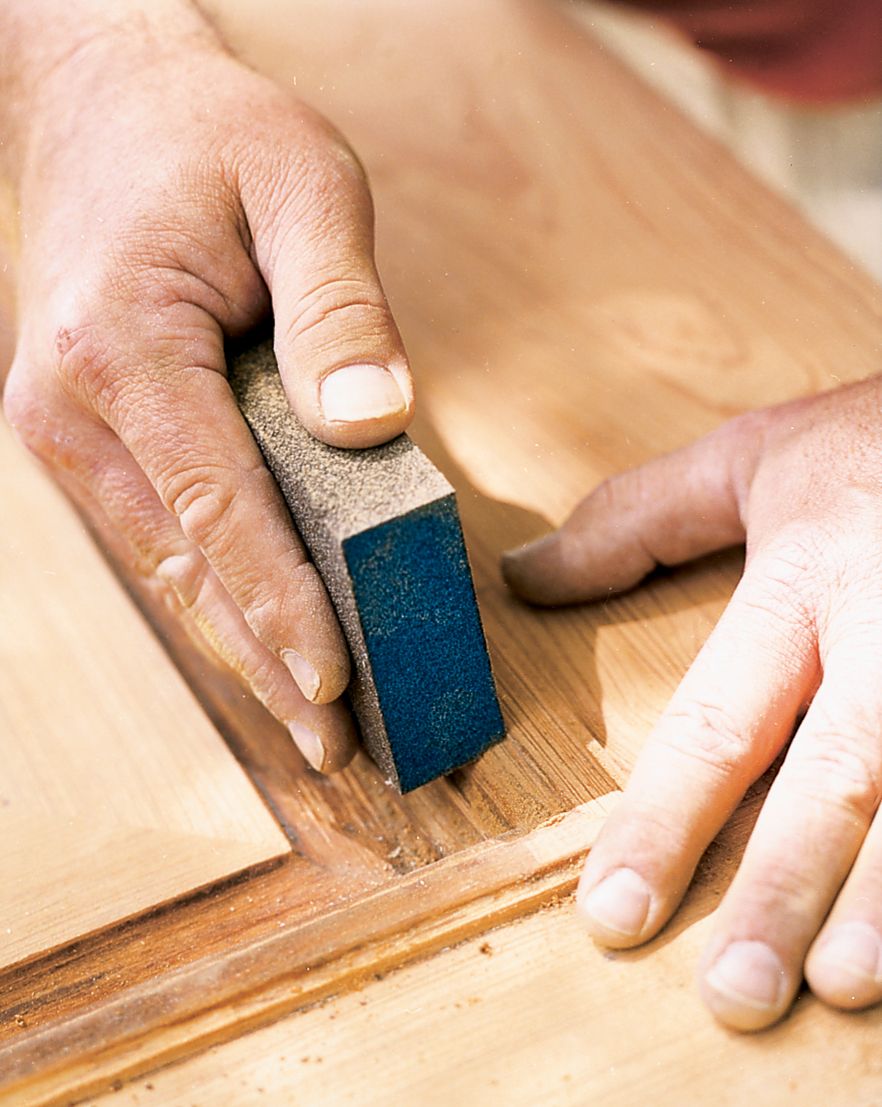 Fold a half sheet of 100-grit sandpaper in thirds, press it into a section of the profile with your fingertips, then rub back and forth in long strokes over the length of the molding.
Use a sanding sponge, above, on inside corners where fingers can't reach. Follow with a quick brushing and a thorough vacuuming to clear away dust that might mar the finish.
5. Seal door edges before rehanging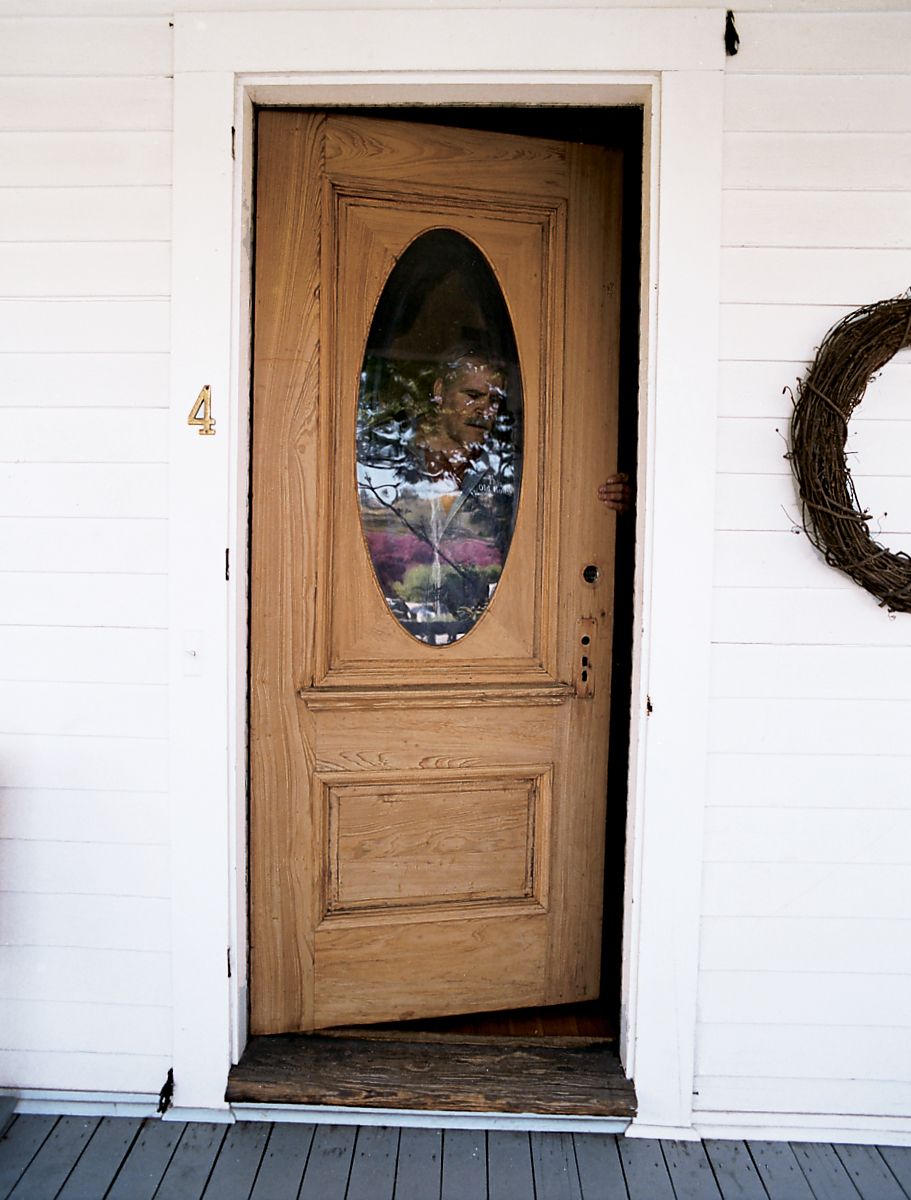 While it's still on the sawhorses, seal the door's bottom and top edges with a coat of finish.
Then put the door back on its hinges before applying the first coat. Otherwise, there's no practical way to rehang the door without damaging the finish.
6. Choose a finish and apply first coat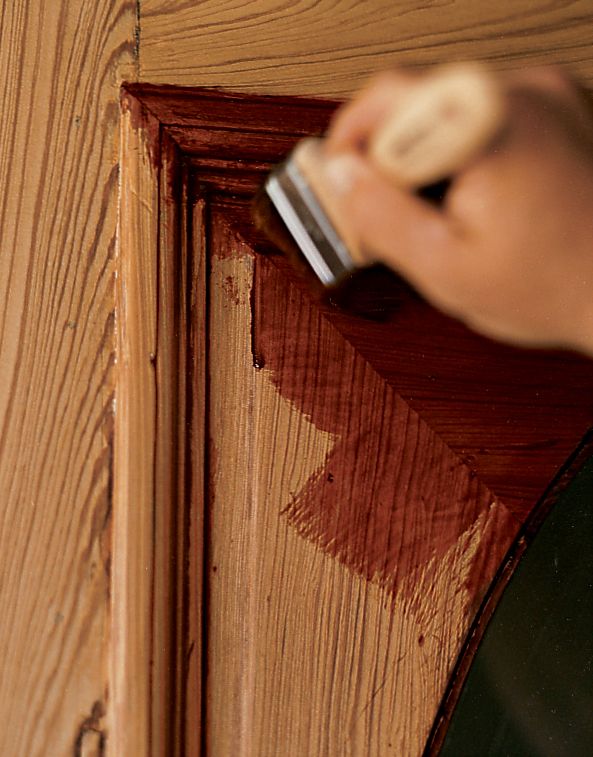 Soak a new China-bristle brush for a minute or two in paint thinner, then spin or knock off the excess.
Pour some finish into a clean bucket and dip the bristles about a third of the way into the liquid. Start on the panels, then move to the surround­ing moldings.
Coat the horizontal rails next, and finally the vertical stiles. If any finish ends up on a dry surface out of sequence, wipe it off immediate­ly with a rag.
Let the door dry overnight before closing it completely.
What Finish to Use
Nothing beats paint for practicality. Two coats of enamel paint over a primer will provide a wood door with the best and longest-lasting protection against sun, abrasion, and weather—about 8 to 10 years. But a beautiful wood door with a clear finish will attract many more admiring glances, as long as you maintain it with devotion.
Spar varnish has long been the clear finish of choice for exterior wood because of its elastic toughness and ability to stand up to the sun. But now many different and effective formulations have made it to store shelves. Look for one specifically for outdoor use and loaded with UV-protection; Dee used Sikkens' Cetol Door & Window on this project. Then follow the application instructions and maintenance regimen to the letter.
A clear finish typically needs a thorough sanding every few years to remove its sun- and weather-damaged top layers, followed by a couple of fresh top coats. Neglect it, and the base coat will eventually lose its grip, leaving you with a graying, peeling mess. At that point, a complete refinishing is your only option.
7. Apply final coat and reattach hardware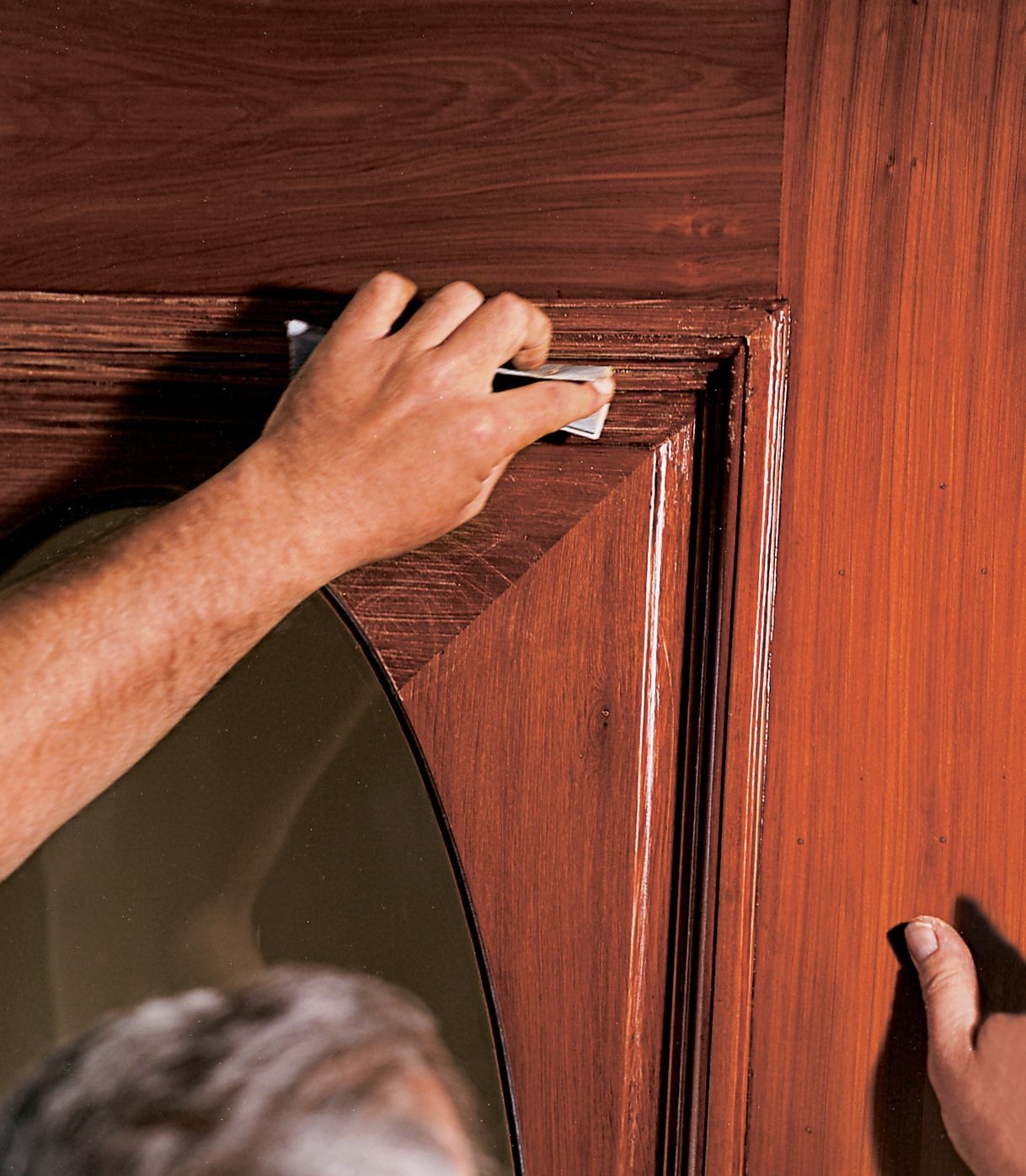 After the finish has dried overnight, gently hand-sand it with 220-grit paper. (You don't want to sand through to bare wood.) Dust the door and wipe it down with a tack cloth.
Brush on the second coat, following the same order, and let it dry overnight. Dust and sand with 280-grit paper, then put on the final coat.
When that's dry, reattach the door hardware.
---
Tools