Each product we feature has been independently selected and reviewed by our editorial team. If you make a purchase using the links included, we may earn a commission.
Finding the perfect bed for your home can feel overwhelming; there are many factors to consider and thousands of beds to choose from. Before committing to a new queen mattress, you want to think about who the primary users of the bed will be and figure out from there what sort of material, firmness, and support features will be best. This Old House Reviews Team and the testing experts at Mattress Advisor compiled a list of the best queen mattresses for various needs. Whether you're looking for a new bed for your guest bedroom or a growing child, this list has all the features you'll want to consider when buying a new bed.
Affiliate Disclosure:This Old House's Reviews Team is committed to delivering honest, objective, and independent reviews on home products and services. To support this business model, This Old House may be compensated if you purchase through links on our website.
Best Queen Mattress of 2023 – Our Top Picks
Best Rated Queen Mattress – Saatva Classic
Whether you're looking to update your guest bedroom with something a little more luxurious or you're making the most out of a small space, the Saatva Classic mattress offers all the plush sumptuousness you could hope for in a queen bed.
Different firmness options allow you to customize your bed to meet your needs, making the Saatva Classic an excellent choice for sleepers of all types, including those with back pain. Scoring an impressive 10 out of 10 in spine alignment, you can say goodbye to achy backs and stiff joints. Mattress Advisor also awarded this bed a perfect 10 out of 10 in edge support, meaning you'll be able to fully take advantage of all the space on your new queen mattress. This American-made mattress is durable and won't sag, so it'll last you for years to come.
Firmness: Plush, Luxury-Firm, Firm
Customer Rating: 4.8/5
Delivery: White glove delivery in 10-15 business days
Trial Period: 365 nights
Lifetime Warranty
Pros and Cons of the Saatva Classic
| Pros | Cons |
| --- | --- |
| Free white glove delivery and set-up make replacing your old mattress a cinch | Luxury price tag, not ideal for budget shoppers |
| Dual-coil system promotes excellent airflow and breathability for a cool night's sleep | Doesn't isolate motion especially well, not the best choice for fidgety sleepers |
| Made of eco-friendly materials | |
| Pros | Cons |
Best Queen Mattress for Back Pain – DreamCloud Original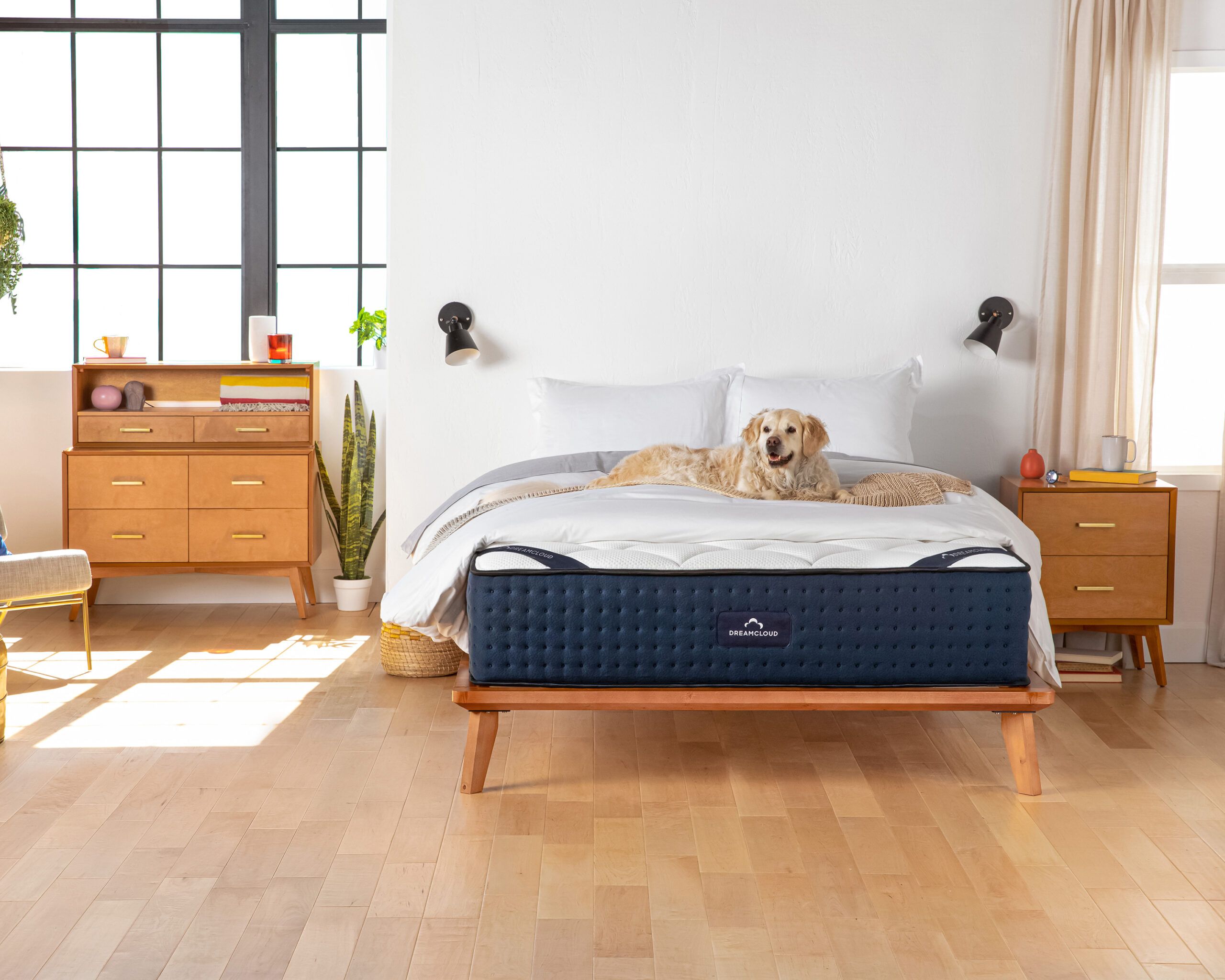 Those who suffer from back pain know how important lumbar support is when they sleep. The DreamCloud mattress scored exceptionally high in Mattress Advisor testing for spine alignment and pressure relief, keeping your spine in its healthy posture and helping reduce aches while offering the necessary gentle contouring in your hips and shoulders.
The end result is a delightfully comfortable sleep that aims to leave you waking up refreshed and with less pain. No matter if you prefer snoozing on your back, stomach, or side, the DreamCloud springs back quickly to support you and your lower back as you move. Plus, a near-perfect score in edge support (9.75 out of 10) means you'll be able to spread out and fully utilize your side of the bed, an important factor for couples sharing a queen bed.
Firmness: Medium-firm
Customer Rating: 4.6/5
Delivery: 18-21 business days
Trial Period: 365 nights
Lifetime Warranty
Pros and Cons of the DreamCloud Original
Pros
Cons
Breathable construction and a cashmere cover keep you comfortably cool
Doesn't isolate motion as well as other mattresses
Durable materials and construction ensure long life span
Lacks plush top layer that other beds offer
Generous warranty and 365-night trial period
Pros
Cons
Best Queen Air Mattress – King Koil Luxury Raised Air Mattress
A queen-sized version of the King Koil, although it's an air mattress, provides a luxurious sleep, so you wake up refreshed, whether that's in a new apartment, or in a tent in the woods.  The outer construction is extra durable, waterproof, and quilted. The suede sleep surface also helps keep your bedding from sliding around. All in all, while an air mattress may be a temporary solution to keep you sleeping off of the floor in lieu of a bed frame, you can make the most of it by investing in one of the more high-quality air mattresses. And with a price point under $200 and frequent sales via Amazon, you'll be hard-pressed to think of an excuse to not have a portable soft surface on hand, just waiting to inflate for when a guest arrives or you're on-the-go.  
Material: PVC, flocking, air-inflated coils
Firmness: N/A
Customer Rating: 4.4/5
Delivery: Free delivery within 7 business days via Amazon
Trial Period: 30-day return period via Amazon
Warranty: 1-year manufacturer coverage
Pros and Cons of the King Koil Mattress
Pros
Cons
Pillow is built into the air mattress
May not be durable with long-term, heavy use
Internal air pump included
One of the pricier air mattresses you can buy
Patch kit comes with purchase, in case of puncture
Pros
Cons
Best Queen Memory Foam Mattress – Nectar Premier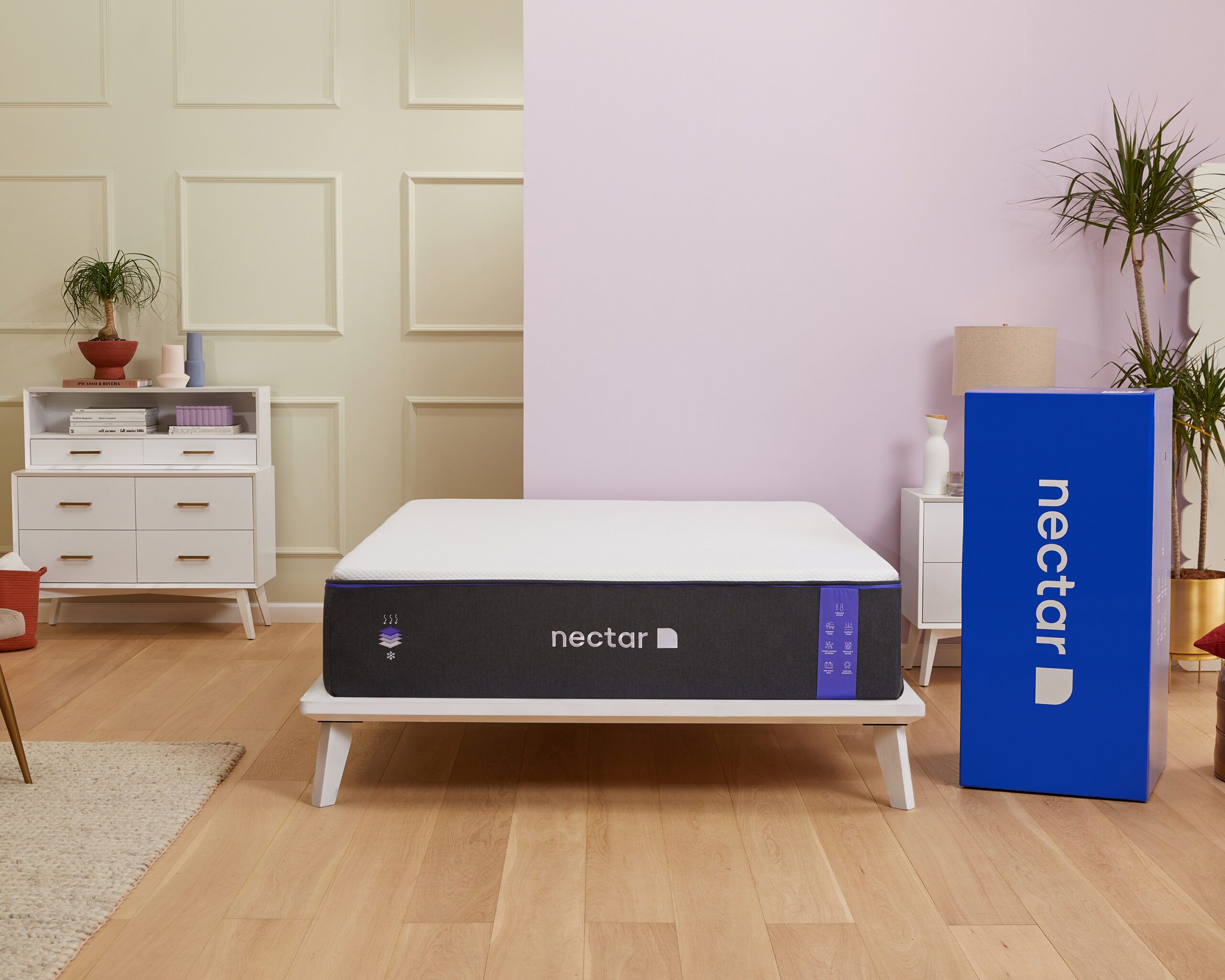 Foam mattresses can be a superb, long-lasting option for growing kids, extra bedrooms, or those who like the cushioning feel that memory foam offers. The Nectar Premier is slightly different from the traditional Nectar mattress. It's a bit softer and sleeps cooler, making it a great choice for anyone who wants the cradling sensation of foam without overheating too much at night. For couples looking to downsize without compromising their quality of sleep, the Nectar Premier mattress provides excellent motion isolation, so one partner's movements won't disturb the other. The all-foam construction also makes this bed exceptionally quiet, so tossing and turning won't create a cacophony of squeaks or other sounds that some beds make.
Firmness: Medium
Customer Rating: 4.4/5
Delivery: 2-5 business days
Trial Period: 365 nights
Lifetime Warranty
Pros and Cons of the Nectar Premier
| Pros | Cons |
| --- | --- |
| Generous trial period and lifetime warranty | Too soft for stomach sleepers |
| More cooling than traditional memory foam beds | Off-gassing odor can take a few days to dissipate |
| Pros | Cons |
Best Queen Mattress Under $500 – Dreamfoam Essential
Fortunately for those on a budget, comfort and affordability aren't mutually exclusive when it comes to mattresses. Within the under-$500, value bedding field, Mattress Advisor testers had high favorability for the Dreamfoam Essential, which is a brand beneath the Brooklyn Bedding umbrella. The Dreamfoam has a soft cover, gel-infused memory foam, and a high-density foam base. With any budget-friendly bed, the main feature you'll likely sacrifice is a period of uber-lengthy durability—most budget beds last 5 to 10 years, versus 7 to 15 for more high-quality materials and builds. With the Dreamfoam, you can opt to stay well under $500 with a 6-inch thick bed, or buy a more durable, thicker mattress. The beds are sold in 2-inch denominations, up to a 14-inch thickness max.
Material: Memory foam
Firmness: Medium-soft (4/10), medium (5/10), medium-firm (6/10, 7/10), firm (8/10)
Customer Rating: 4.7/5
Delivery: Within 10-15 business days
Trial Period: 120 nights
Warranty: 10-year limited
Pros and Cons of the Dreamfoam Essential
| Pros | Cons |
| --- | --- |
| Scored well (minimum 8.5/10) in motion transfer, pressure relief, and spine alignment in the sleep lab | Even with gel foam, may sleep too hot for some |
| Includes a stain and water resistant | Combination sleepers may feel "stuck" in slower-moving foam |
| Multiple thickness options make the bed excellent to fit a camper or RV | Less robust warranty (10 years) than competitors |
| Pros | Cons |
Best Firm Queen Mattress – Brooklyn Bedding Plank Firm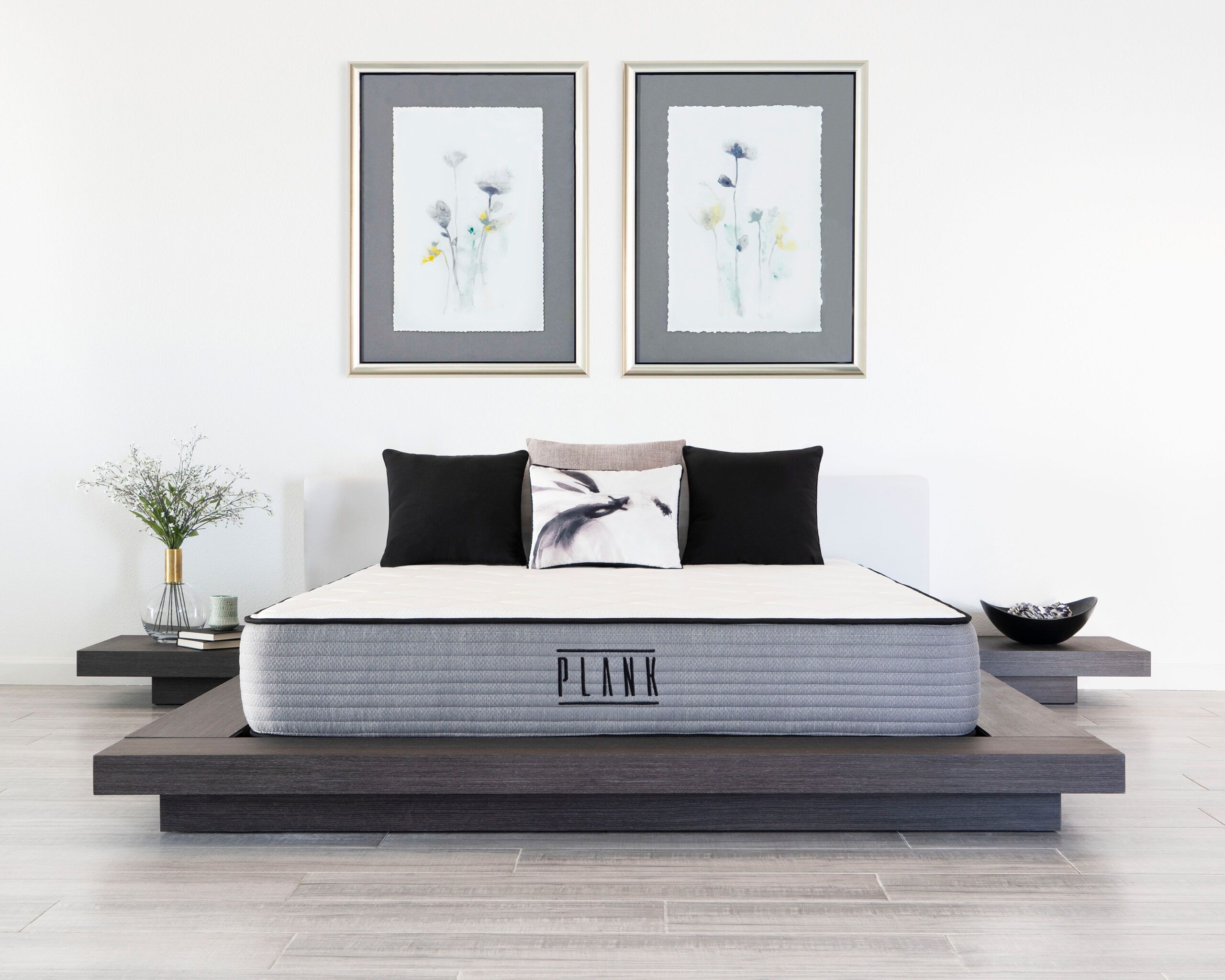 Firm mattresses aren't for everyone, but those who do enjoy the feel of a firmer mattress will love the Plank FIrm by Brooklyn Bedding. This flippable bed has a firm and an extra-firm side, so you can change up your sleep surface as you like. Durable foam construction provides outstanding pressure relief and support in areas such as your lower back and hips, promoting increased blood flow for stomach and back sleepers.
Maybe you're ready for a firmer mattress in your new home, or you find that you could use a bit of extra support at night after a long day of DIY-ing. Whatever the case, the Plank Firm is an excellent choice for anyone who could benefit from better spinal alignment while they sleep.
Firmness: Firm, Extra firm
Customer Rating: 4.8/10
Delivery: 3-4 business days
Trial Period: 120 nights
10-year Warranty
Pros and Cons of the Brooklyn Bedding Plank Firm
| Pros | Cons |
| --- | --- |
| High-density foam construction makes this bed incredibly durable | Side sleepers need a softer mattress |
| Foam is highly responsive, making it easy to change positions | Cooling panel is available for an additional cost ($250 for a queen) |
| Brooklyn Bedding has a reputation for exceptional customer service | |
| Pros | Cons |
Best Hybrid Queen Mattress – Layla Hybrid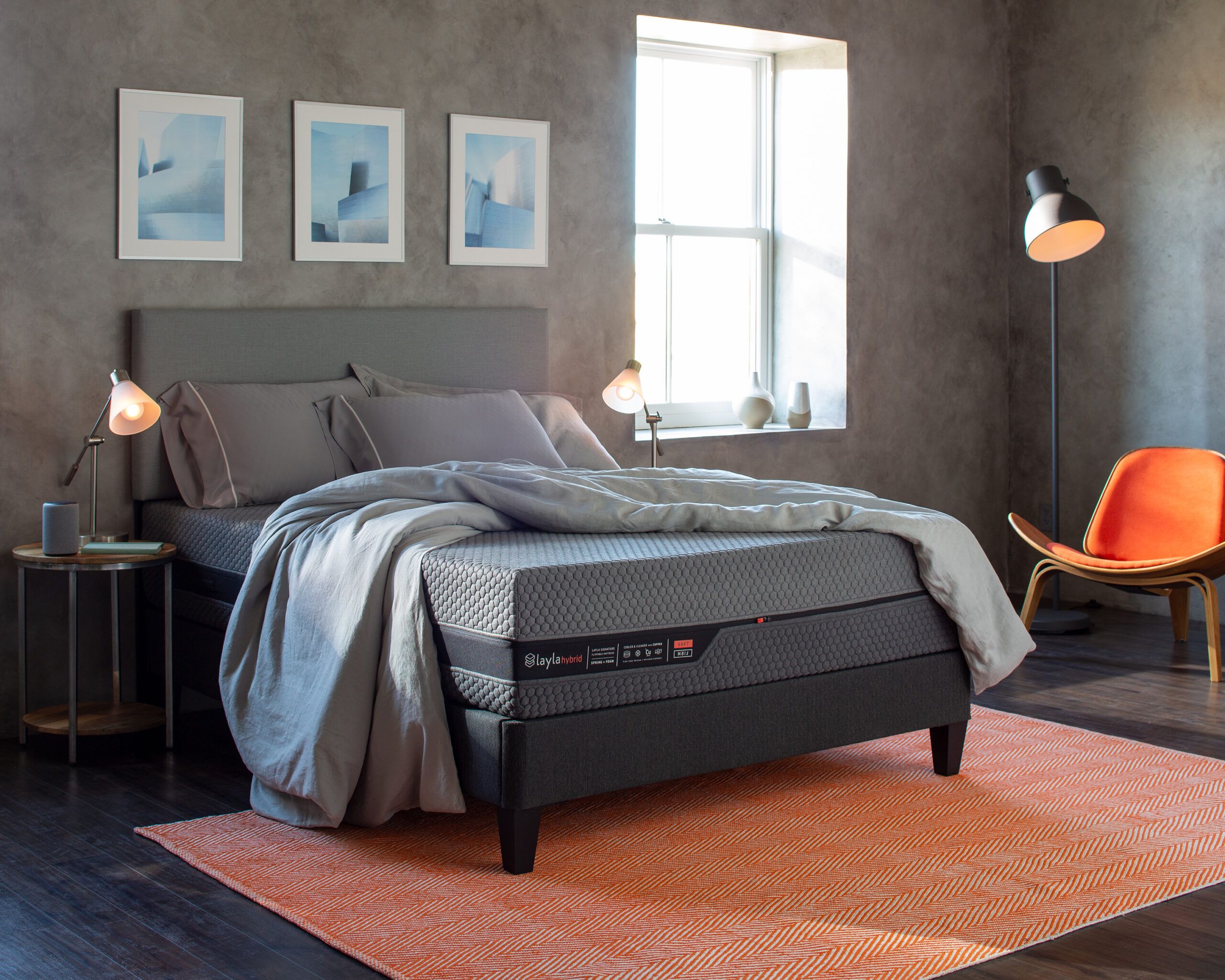 Owning a hybrid mattress is an excellent idea for stomach sleepers who need extra support for the spine. Additionally, with one softer side and one firmer side, the Layla Hybrid mattress is one of the few flippable hybrid mattresses available, so it's also an ideal mattress for a guest room or those with changing preferences. Each side of the mattress has a more conforming foam layer that cushions pressure points and provides good pain relief, with thicker foam on the softer side and thinner foam on the firmer side for customizable relief. Polyfoam transition layers (2 inches on the soft side and 1.5 inches on the firm) ensure you won't sink in too far. Testers said the softer side is a better choice for side sleepers, while those who sleep on their backs and stomachs would likely prefer the firm feel of the other side. This bed is made in the USA and contains CertiPUR-US certified foam. Its memory foam is developed to be breathable, keeping you cool throughout the night.
Firmness: Medium-soft, Medium-firm
Customer Rating: 5/5
Delivery: 7-10 business days
Trial Period: 120 nights
10-year Warranty
Pros and Cons of the Layla Hybrid
Pros
Cons
High versatility makes this perfect for guest rooms, growing children, and couples
Heavier than other queen mattresses
Good spine alignment on both sides
Neither side is especially firm or especially soft, those who prefer extremes should look elsewhere
Great choice for hot sleepers
Pros
Cons
Best Luxury Queen Mattress – Helix Midnight Luxe
As is so often the case with luxury mattresses, the Helix Midnight Luxe is a hybrid mattress, combining the sturdy support of innerspring coils with the gentle cushioning of foam. And when  you sleep on a hybrid, the air circulation through the coils provides some of the best cooling a mattress can offer. Testers also said that the Midnight Luxe's build provides head-to-toe support for more even weight distribution. Some of the other luxury highlights of the Midnight Luxe include a pressure-relieving mattress topper, a cooling gel memory foam layer, and a breathable Tencel (a eucalyptus derivate) fiber cover. It's no wonder the mattress scored a 9.5 out of 10 in the cooling category from Mattress Advisor, making it one of the top mattresses to date they've tested to deliver a luxuriously cool night's sleep.
Firmness: Medium
Customer Rating: 4.5/5
Delivery: 6-10 business days
Trial Period: 100 nights
15-year Warranty
Pros and Cons of the Helix Midnight Luxe
Pros
Cons
Made to order in the United States
Not for budget shoppers
Good option for those with back pain
Couples may prefer a bed with better motion isolation
Innovative cooling technology
Pros
Cons
Most Comfortable Queen Mattress – WinkBed Original
Comfort is subjective, and yet, many among us may not associate comfort with beds that have innerspring bases. However, there's been a paradigm shift with innerspring mattresses. Innersprings are no longer the firm, unyielding beds with a tendency to squeak of yore. Today's innerspring mattresses offer far more options for sleepers of all types, such as the WinkBed, which offers four firmness levels for optimal customization. This coil mattress scored a 10 out of 10 for durability, so whether you're replacing the bed in the spare room or redoing your personal sleep space, this mattress will last you for quite some time.
The luxury firm (a medium-firm mattress) is excellent for back and stomach sleepers, helping to maintain a healthy posture throughout the night for less pain in the mornings. The innerspring construction keeps you exceptionally cool, so if you sleep hot, the WinkBed's breathability ensures you won't overheat. The bed also has near-perfect edge support (9.75/10), making it one of the best mattresses for those who will share a WinkBed—you'll feel less need to splurge on a king size mattress, since every inch of the bed from center to edge feels structurally sound.
Firmness: Softer, Luxury firm, Firmer, Extra firm
Customer Rating: 4.5/5
Delivery: 7-14 business days
Trial Period: 120 nights
Lifetime Warranty
Pros and Cons of the WinkBed
| Pros | Cons |
| --- | --- |
| Good for those with back pain who sleep on their backs or stomachs | This bed is heavy (135 lbs), making set-up difficult for one person |
| Innerspring construction keeps you cool while you rest | Not good for side sleepers |
| Customizable firmness options | |
| Pros | Cons |
Best Queen Mattress for Side Sleepers – Puffy Lux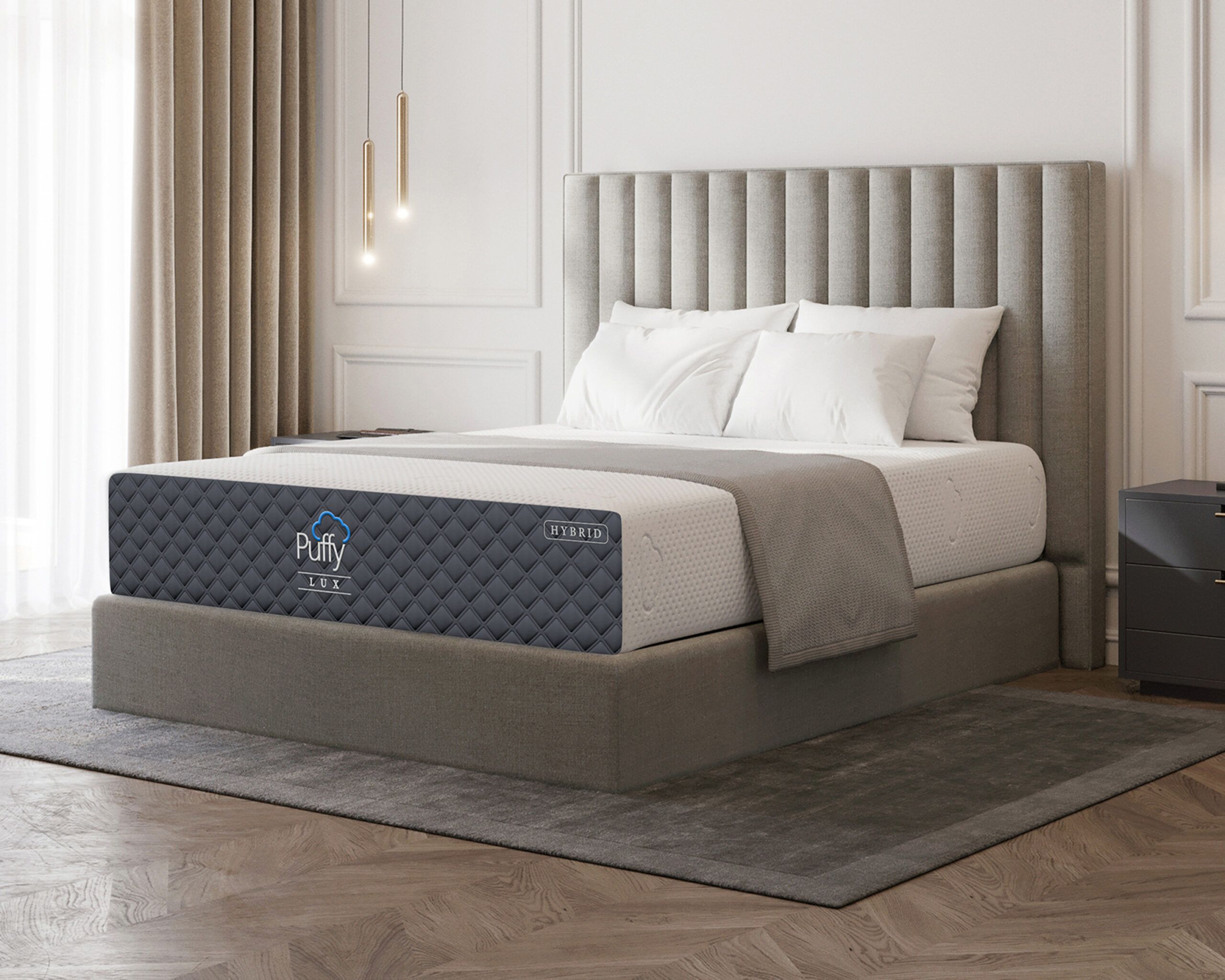 Side sleepers will love the contouring pressure relief this gel memory foam mattress offers. The Puffy Lux foam hybrid mattress uses different layers of foam to create a plush sleeping surface that feels like you've gone to bed in the clouds. The medium firmness level is just right for those for side sleepers, allowing you to sink into the bed while still receiving support. The layer of support foam makes this mattress a solid option for back sleepers, too. The support layer provides the necessary firmness for good posture while you sleep. Cooling technology means the Puffy Lux sleeps much cooler than traditional memory foam mattresses. Additionally, sleepers of all body types are able to enjoy this bed, as it can support up to 350 lbs per side.
Firmness: Medium-firm
Customer Rating: 5/5
Delivery: 6-10 business days
Trial Period: 101 nights
Lifetime Warranty
Pros and Cons of the Puffy Lux
| Pros | Cons |
| --- | --- |
| Made to order in the United States | Not for budget shoppers |
| Good option for those with back pain | Couples may prefer a bed with better motion isolation |
| Innovative cooling technology | |
| Pros | Cons |
MA Score: The Mattress Advisor Score is a weighted score that takes into account 14 different factors related to the mattress' performance, function, convenience and the brand's social responsibility.
Why Should I Buy a Queen-Size Mattress?
Purchasing a new bed can be a big commitment, so there are many things to consider before taking the plunge. A queen-size mattress is ideal for anyone who doesn't have a lot of space but still wants a little more room to spread out while they sleep. They're big enough for couples and co-sleepers to share, but compact enough to fit into a kid's or teenager's bedroom without commandeering the entire space. If you have a growing child who wants to break away from the confines of a twin bed, a queen mattress gives them plenty of room. Couples who are thinking about downsizing or partners with smaller bedrooms can benefit from the ample sleeping space a queen provides without having to take up their entire room with a larger bed.
Another notable advantage of a queen-sized bed is the smaller price tag. Queen mattresses are more affordable than a king or California king mattresses, saving you money on everything from the mattress to the frame, bedding, and pillows. Budget-conscious shoppers will note significant savings in purchasing a queen-size mattress over a larger model.
More About Queen Mattresses
Type of Mattress
Memory foam: Memory foam mattresses are made with durable foam that cradles the body and works to relieve pressure points. The contouring abilities of memory foam provide good spinal alignment, though these mattresses do tend to sleep hotter than other types of beds.
Innerspring: Typically, innerspring beds are made with steel coils that give a mattress that bouncy, responsive feeling. These mattresses are cool and breathable, though they don't always offer great pressure relief.
Latex: Latex is naturally hypoallergenic and dust-mite resistant, making it a great choice for those with allergies. It offers similar cushioning effects as memory foam, though it has more buoyancy.
Hybrid: Hybrid beds combine different aspects of other mattresses to create a mixture. These mattresses usually have an innerspring base topped with a thick layer of foam.
Performance Factors
Sleep position: How you sleep is a crucial factor to consider when browsing for a new mattress. Back and stomach sleepers would do better with firmer mattresses that offer more support in the hips and back, while side sleepers are more likely to prefer a softer mattress that provides pressure relief in the hips and shoulders, keeping the spine aligned while they sleep.
Firmness: Depending on your preferred sleeping position, different firmness levels will feel better or worse. Those who prefer to sleep on their back or stomach would do better with a bed that offers firm support in the hips and lower back, while side sleepers need more cushioning pressure relief in the hips and shoulders that comes with a softer mattress.
Spine alignment: All sleepers require good spine alignment while they sleep, it helps prevent back pain and other issues. This is especially important to those who suffer from backaches and pain regularly.
Durability: Mattresses made with quality materials and solid construction should last for a decade or more. These beds usually have a base layer that is supportive to prevent sagging and other noticeable aging.
Motion transfer: How well the bed can absorb motion is a crucial factor for couples and co-sleepers. Mattresses with good motion transfer help to isolate motion at the source, so you won't wake up when your partner gets up or shifts positions.
Temperature regulation: Hot sleepers know how vital temperature regulation is. Couples and co-sleepers can also benefit from mattresses with cooling properties that resist trapping body heat.
Responsiveness: The ease with which you can move around or change positions on a mattress is its responsiveness. They prevent you from feeling trapped in the mattress and help you adjust quickly. Different mattress types have assorted responsiveness levels, with innerspring and latex mattresses being more responsive than memory foam mattresses.
Edge support: When sharing a bed, good edge support is important. Firm edges on a bed allow you to spread out more without feeling as though you may fall off, they also allow you to get out of bed easier.
Price: Bed-in-a-box brands are known for being "direct to consumer," where it is shipped straight to you from the manufacturer. This not only maintains quality control but gets rid of extra vendor fees and costs to keep the price affordable. These brands also will run sales and promotions to bring the price down even more.
Shipping and Delivery: Your mattress will usually be shipped in 14 business days or less, depending on the build and brand chosen. When making your purchase, take note of the shipping times and any included perks that come with your new mattress. For example, Saatva includes "white glove delivery" that includes complimentary delivery and setup.
FAQ About the Best Queen Mattresses
Do queen mattresses work for kids and teens?
A twin mattress may work for your child for a while, but they may need a little more space to sprawl out once they reach their teenage years. Queen mattresses offer plenty of room to sleep comfortably without the bed frame taking up too much valuable bedroom space, making them a great choice for kids and teens.
Would a queen mattress fit in my RV?
If you have an RV you spend a lot of time in, you'll want to ensure you have a quality mattress for comfortable nights spent on the road. A queen-size mattress fits well in most RV primary bedrooms, providing enough space for two people to sleep comfortably and still giving enough room on the edges for accessing your things.
How much does a queen mattress usually cost?
On the most budget end, queen mattresses tend to cost just upwards of $250. On the more luxury end, mattresses that boast the best durability and materials (think: quilted pillow tops, ultra-thick comfort layers and luxury mattress materials like natural latex foam) can cost upwards of $2000. Most of the mattress brands we recommend furnish queen-sized beds that fall in the $1,000 to $1,800 range. Beds on the higher end of the price range typically also have lengthy sleep trials, giving you plenty of time to decide if the steep investment is worthwhile. 
Do queen mattresses weigh a lot?
You won't have to lug around a box spring with any of these mattresses, which will do fine solo on a standard platform bed frame. However, that also generally translates to a mattress that has quite a bit more heft. Ultra-thick, queen size mattresses can weigh upwards of 120 pounds, although most that we recommend and have solid durability weigh between 60 and 100 pounds. Anything lower may suffer quicker wear and tear under heavy use.
What type of mattresses do five-star hotels use?
High-end hotels most commonly use hybrid beds with a pocketed coil base, i.e. coils encased in fabric for durability and motion insolation. The hybrid type of build also makes for a more cooling mattress, and is a feature of many of our top picks. Hybrids are more popular than memory foam mattresses for hotels because they're also a safer bet; How a memory foam mattress feels can vary greatly depending on body size and sleeping preferences, versus the more universal appeal of a hybrid.
How tall should a queen mattress be?
You shouldn't feel compelled to have a mattress with a certain minimum height, also called "loft" in mattress world parlance. However, how tall your mattress is will often guide how firm the mattress feels. Typically, you need at least 8 inches to have a medium-firm feel—anything with less loft will feel firm or extra-firm. You may want to also double-check that the mattress height suits your bedroom furnishings, including the headboard and nightstands. Ultra-thick mattresses may also require fitted sheets with deep pockets.
Summary of Our Top Picks for the Best Queen Mattress