Bring New Life to Old Gems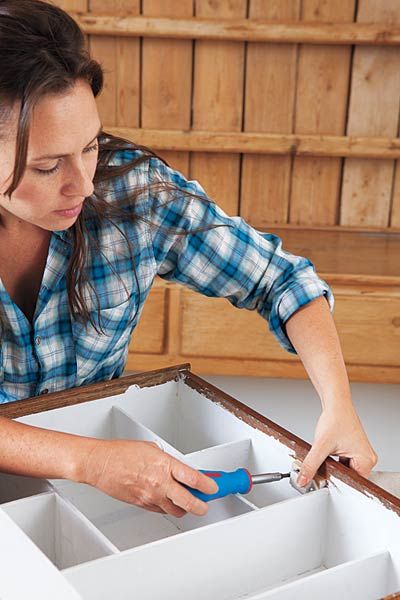 Love hunting in salvage yards and vintage shops for one-of-a-kind pieces and knickknacks? Follow the lead of TOH's salvage-style expert, Amy Hughes, and use a little DIY knowhow to give old gems new life. Here are 23 ways to use those found objects to create new, unique pieces of furniture and accessories for your home.
To see more projects like these and read on about how to navigate the flea market or turn old architectural items into amazing new details, check out Amy's book, This Old House Salvage-Style Projects, available wherever books are sold.
Old Door Trim-Framed Mirror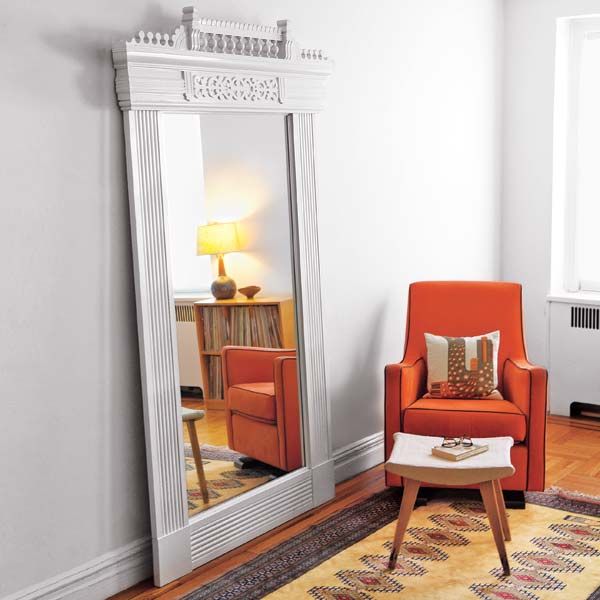 The entrance halls of Victorian-era houses were often decorated with large pier mirrors in front of which homeowners could primp on their way out for the day. You can DIY a version with a few tricks. This large pier mirror is crafted using the entablature of an old door casing for the top and preprimed pilasters from a lumberyard for the sides and bottom. White paint unifies the old wood with the new.
Get the step-by-step instructions: How to Make a New Mirror with Old Door Trim
Medicine Cabinet Turned Message Center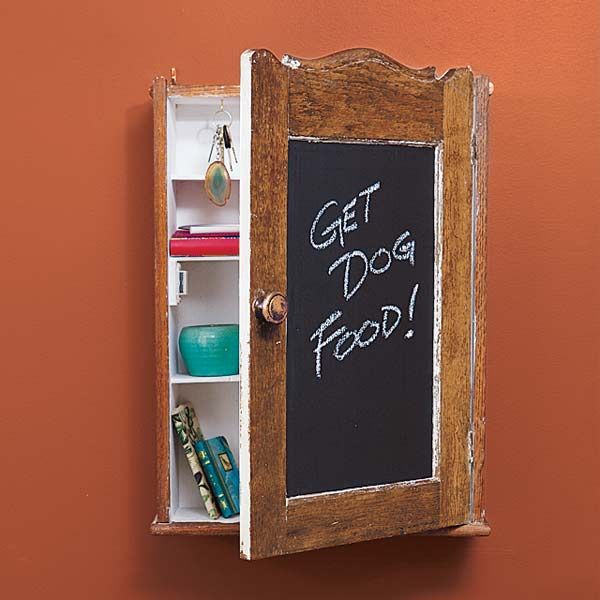 Besides its obvious utility in a bathroom, a vintage medicine cabinet can double as a kitchen spice rack or a curio cabinet. Here, a wall-mounted, oak medicine cabinet (found of Craigslist!) was transformed into an organizer and situated in the corner of a kitchen. Rather than filling the empty recess in the front of the cabinet door with new glass, chalkboard paint was brushed on and the back was lined with cork. A row of cup hooks is perfect for hanging keys.
Find instructions here: Turn a Medicine Cabinet Into a Message Center
Barn Pulley Wall-Mount Light Fixture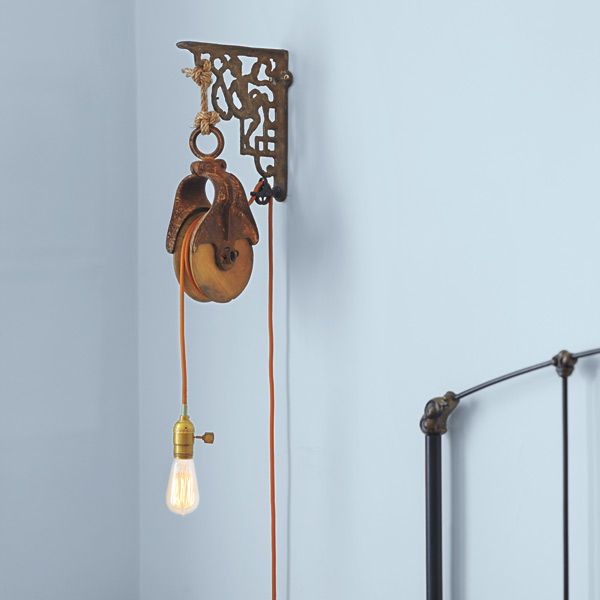 Pulleys have been doing the heavy lifting for centuries. Simple machines comprising a grooved wheel, called a sheave, inside a wood or cast-iron frame, pulleys can be found in various designs and sizes based on the task they were originally created for. Scour flea markets and put one back to work as an adjustable bedside sconce like the one shown here.
To make your own light, follow along for the easy how-to: How to Use a Barn Pulley to Make a Wall-Mount Light Fixture
How to Make a Window Box with Vintage Trim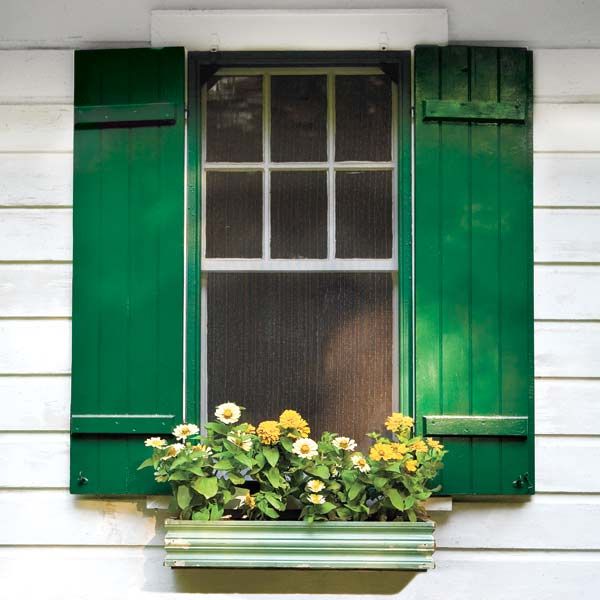 All you need to build a cottage-style window box is a few feet of 6- or 8-inch-wide trim (choose straight baseboard or casing, rather than angled crown), one 2-by-2-foot sheet of ½-inch exterior plywood, water-resistant wood glue, and a shallow plastic planter to cradle the soil and flowers. Because a lot of old trim is covered in toxic lead paint, either remove the finish with a wet stripper or seal it under a clear top coat.
Try this project with a helper or on your own: How to Make a Window Box with Vintage Trim
Outdoor Bar Made From a Salvaged Sink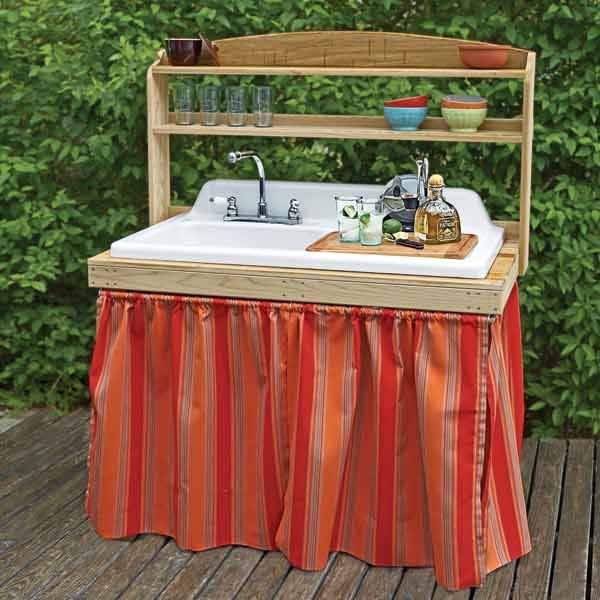 The core of the project is a 1950s cast-iron sink scored at a salvage yard, supported by a cedar potting bench that was assembled in about an hour from a kit. Stoppered and filled with ice, the basin is great for chilling beers. Drain waste water into a bucket placed below the sink or, if you hook the faucet to a garden hose, divert it through PVC pipe. To hide the bottom storage shelf, there is a colorful outdoor-fabric skirt.
See how to make your own in time for outdoor entertaining: How to Turn a Salvaged Sink Into an Outdoor Bar
Vintage Tap-Hook Towel Rack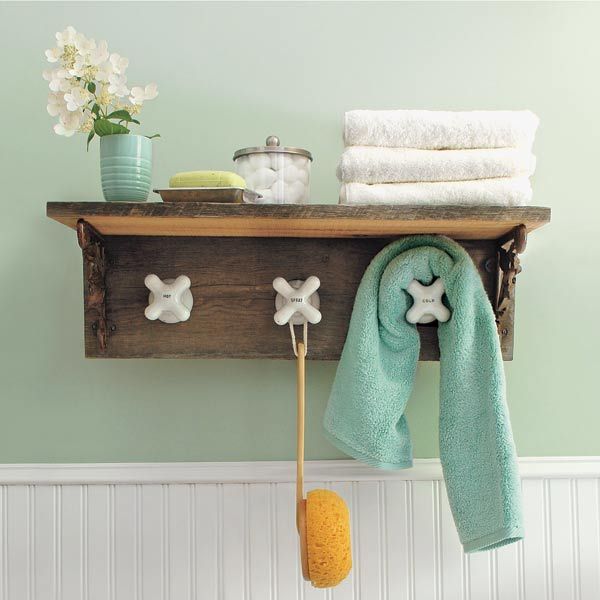 Cross-handle faucet taps can double as hooks. All you've got to do is mount them on a board—such as the salvaged barn siding shown here, but any scrap wood will do—and hang the assembly on a wall. This project went a step further by adding a shelf supported by ornate cast-iron brackets for stacking fresh bath towels and drying wet ones.
See the simple steps: How to Make a Towel Rack With Vintage Taps
Chimney-Pot Garden Light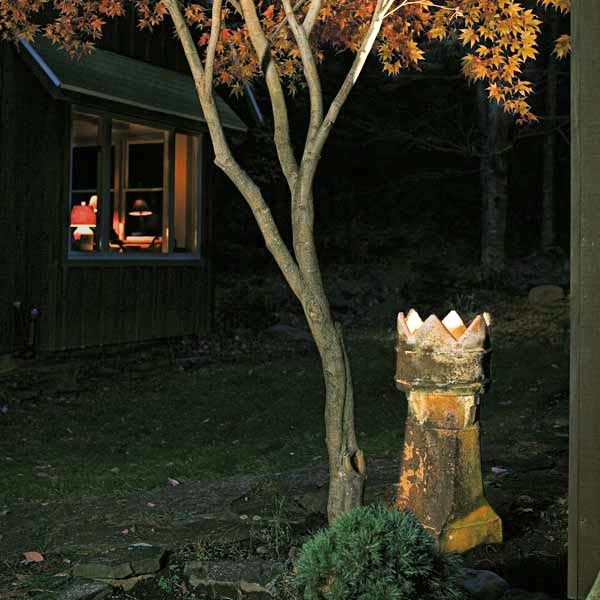 It is difficult to visualize an old chimney pot casting a warm, 50-watt glow on the undersides of a Japanese maple's leaves. But here, a low-voltage landscape light is fitted snugly inside the base of a crown-topped pot. This project also was constructed using a built-in timer so the unit will automatically turn itself on and off each night.
Here's the step-by-step to help you put all the pieces together: How to Transform an Old Chimney Pot Into a Garden Light
Old Hinges and Shutters Folding Screen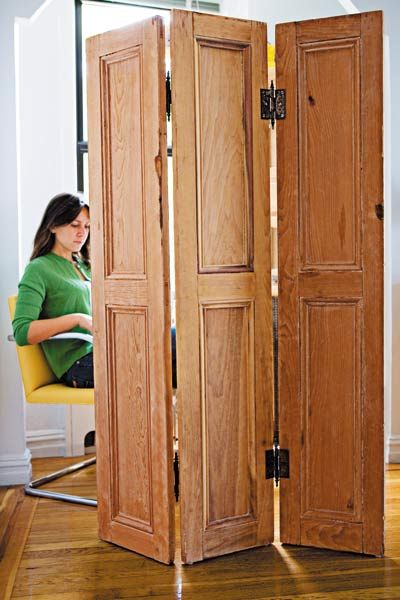 Four old door hinges of similar size and style were used to link together three vintage wooden shutters into a bedroom folding screen. Digging around in the hardware bin at the salvage yard for matching hinges is the toughest step in this project. Making the screen is the easy part, you simply need to screw the hinges to the face of the shutters, rather than mortising them.
See How to Make a Folding Screen Using Old Hinges and Shutters for detailed instructions.
Side Table Made From Stair Parts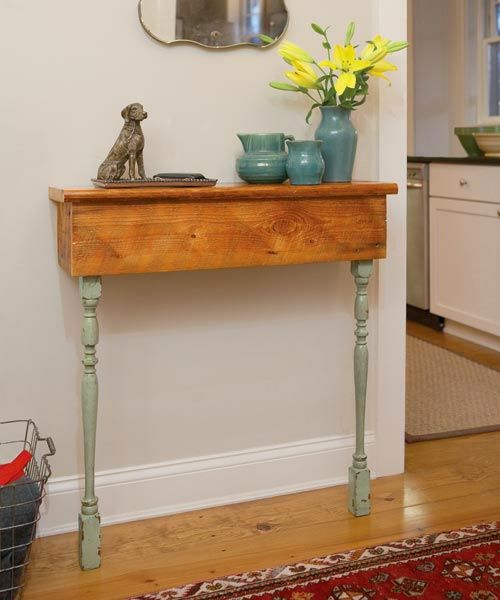 Create a central repository for keys, dog leashes, and mail that fits in a tiny front entry without gobbling up precious square footage. This two-legged console saves space by anchoring directly to the wall. It matches the lived-in look of a farmhouse and it was built using inexpensive salvaged stair parts.
Follow along to create your own: How to Build a Table From Stair Parts
Vintage Tile Tabletop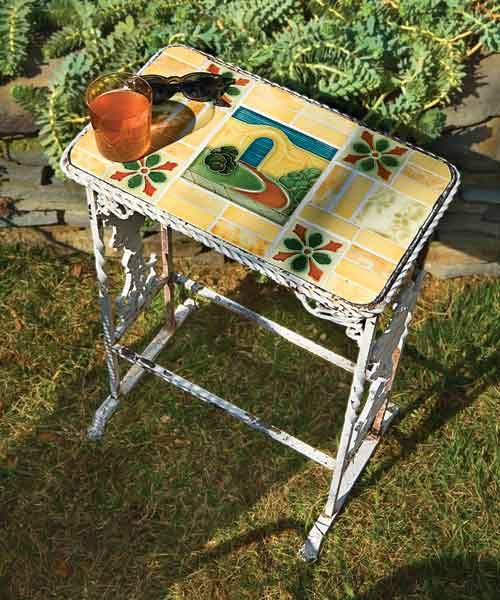 For centuries, decorative tiles have transformed the mundane elements of a house—namely floors and walls—into works of functional art.
Part of the fun of making a table like this is rooting through the tile crates at a salvage shop to snag a find like this 1890s 6-by-6-incher depicting a Spanish Colonial mission. Flowered accents, yellow-and-white marbled tiles from an old fireplace surround—bought in bulk—and a wrought-iron table base with a recess for a glass top round out the materials needed for this cute outdoor accent.
Get crafty and make your own version: How to Create a Vintage Tile Tabletop
Tub-Foot Umbrella Stand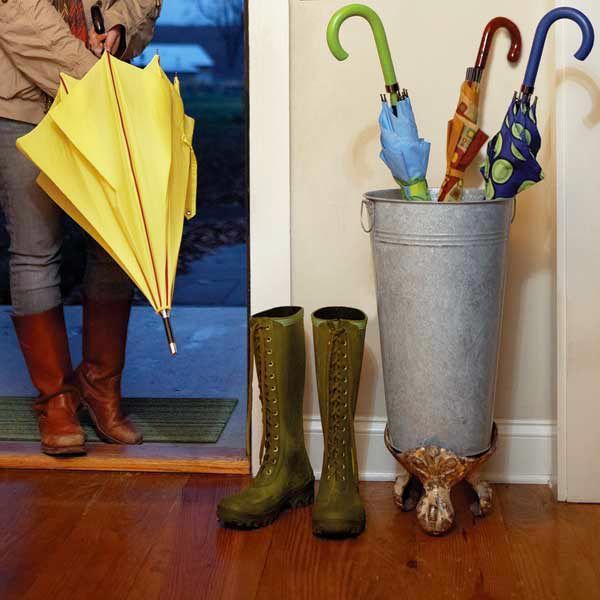 Claw-foot tub interiors were coated in porcelain, but the outsides and feet were usually bare metal. The three matching feet shown here are mounted on the base of a galvanized-tin flower bucket to turn it into an elegant umbrella stand.
See more details to replicate this for your own entry or mudroom: How to Build a Tub-Foot Umbrella Stand
Vintage Window-Guard Pot Rack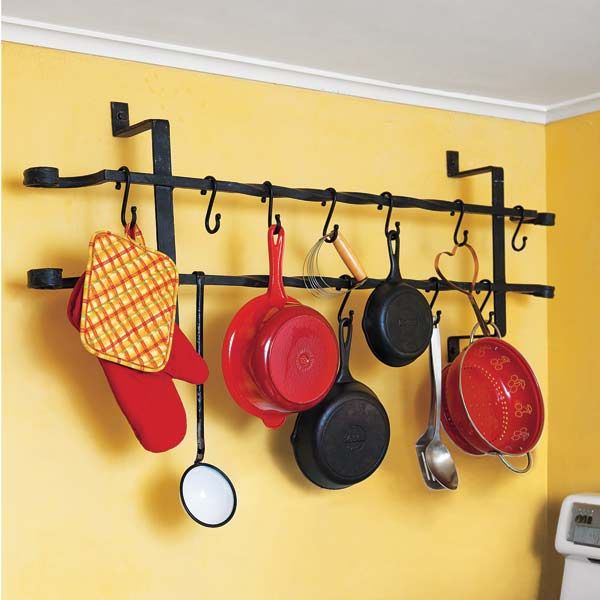 Vintage iron window guards boast strength and enduring style, even when repurposed, like the one shown here. Turn a found one into a rack for hanging pots, oven mitts, and utensils in the kitchen.
Boost storage and display your most loved cooking tools: Make a Pot Rack From a Vintage Window Guard
Salvaged-Beam Table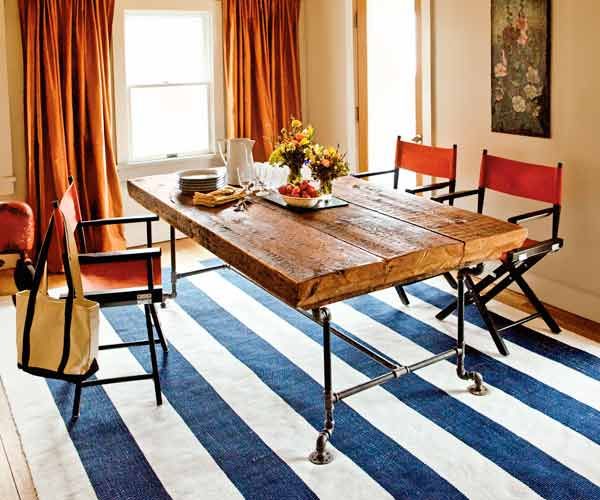 Salvaged from the ruins of old homes, factories, and outbuildings, reclaimed wood has a history, heft, quality, and character you won't find in the new stock sold at your local lumberyard or home center. The wood is typically harder and more dense than timber sourced from many of today's quick-yield tree farms.
The three Douglas fir beams used here were rescued from a dumpster. Their massive size—about 6½ feet long by 15 inches wide—made them ideal for a communal dining table like the ones at trendy farm-to-table restaurants.
Read on to make your own: How to Build a Table from Salvaged Beams
Salvaged Cabinet Door Coffee Table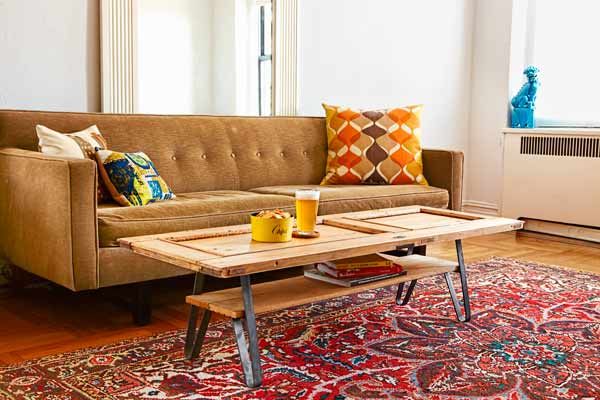 This knotty-pine door was found on the street; the unfinished wood had been babied like furniture, displaying the luster you get from years of waxing.
Here, this old door was transformed into a coffee table. The lower shelf is actually leftover tongue-and-groove flooring from a previous project. So, except for the legs and fasteners, this coffee table was practically free to create.
Follow along to see how it came together: How to Build a Coffee Table from a Salvaged Cabinet Door
Cornice Garden Tool Holder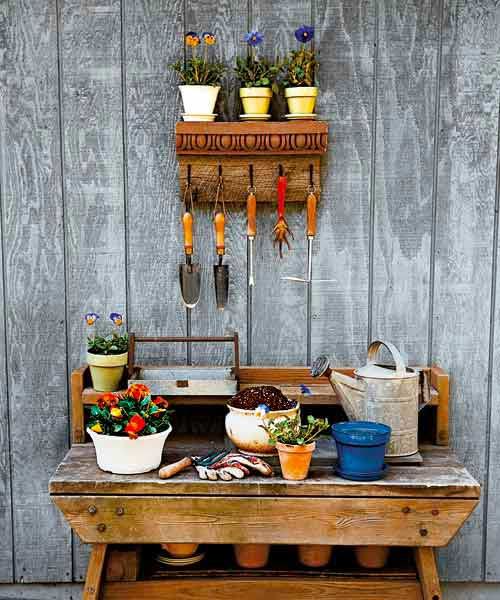 With its deep ledge, this 19th-century terra-cotta cornice makes a perfect top shelf for the tool rack shown here. It is attached to an old piece of wood and paired with a five wrought-iron hooks, which are reproductions ordered from House of Antique Hardware.
See the steps to create a unique rack for your own: How to Turn a Cornice Into a Garden Tool Holder
Spigot-Handle Garden Tool Rack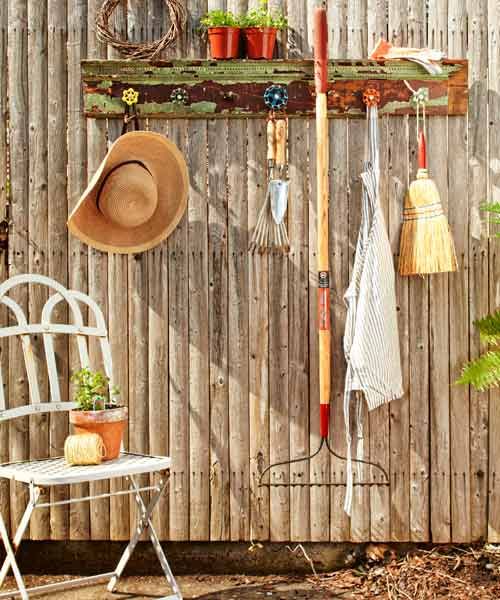 Like a perfectly seasoned cast-iron skillet, garden tools and ornaments tend to get better with age. There may be rust or chipped paint, but nothing a little WD-40 or a new clear finish can't remedy. These colorful outdoor spigot handles and a length of reclaimed door casing were repurposed into a cheery wall-hung tool rack. The handle "hooks" are great for keeping hand trowels and rakes at the ready and for holding a sun hat.
See step-by-step how it was done: How to Build a Spigot-Handle Garden Tool Rack
Window-Sash Picture Frame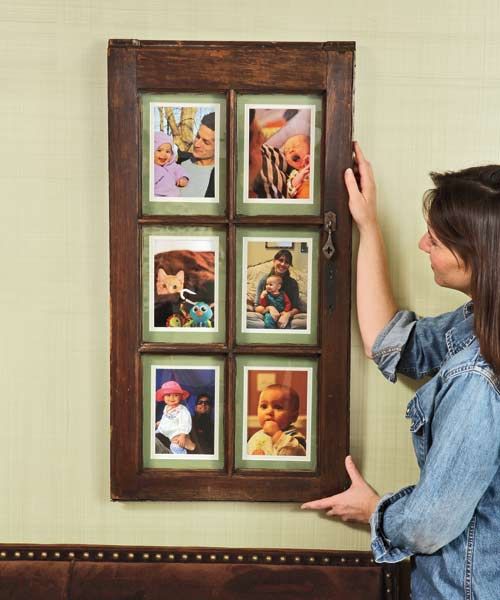 Pained at the thought of a charming wood double-hung ending up in a landfill, the contractor husband of TOH reader and fellow salvager Leslie Geesaman lugged this window home from a job site. And in true TOH fashion, Leslie put it to good reuse. Her idea: Mount photos behind the wavy-glass divided lights and hang the sashes side by side on the wall.
Read on to craft one for your photos, inspired by Leslie's: How to Make a Window-Sash Picture Frame
Salvaged-Column Coat Tree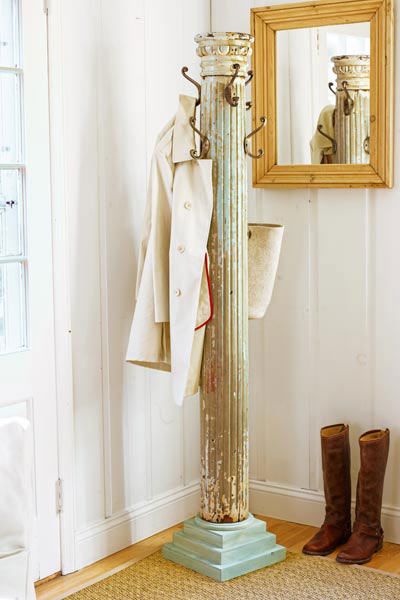 Columns are a bedrock of traditional architecture, and most American columns found from the past century or so are made of wood. For this reuse project, a single column is fitted with shapely brass hooks and stood up on a new plinth base to create a six-foot-tall coat tree. The fluted shaft and the egg-and-dart molding on the capital will add a touch of formality to even the casual entryway.
To learn how to make your own coat tree out of a salvaged column, see: How to Turn a Salvaged Column Into a Coat Tree
Vintage-Door Dressing Vanity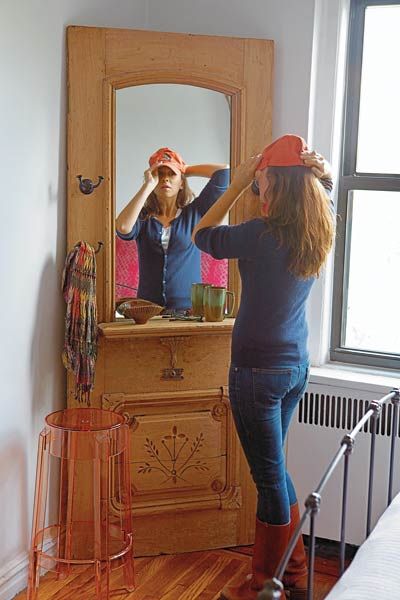 This Victorian-era cottage door was transformed into a mirrored dressing vanity with hooks for hanging clothes. Just like an old window, the glass in a vintage cottage door is typically cased in wood, with a decorative stool and apron moldings at the bottom. A shelf was created by widening the stool and the empty space above it was filled with a new mirror, instead of replacement glass.
To replicate the look of this stylish storage unit, see: How to Make a Dressing Vanity from a Vintage Door
Wagon Herb Planter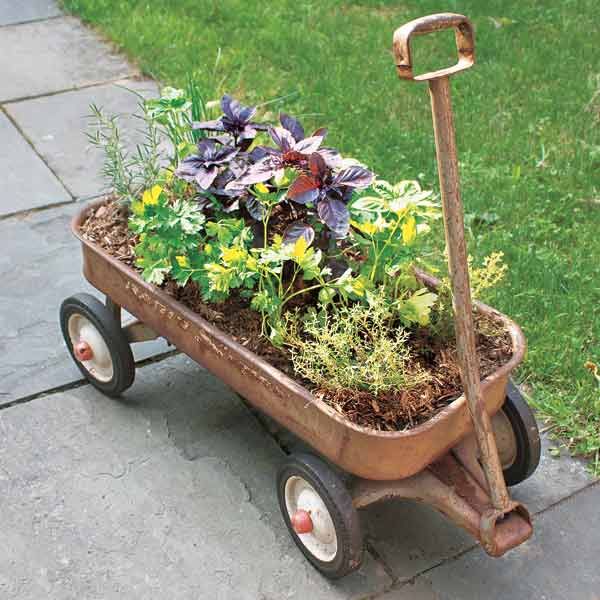 Looking to spice up your container garden? Dig out Junior's rusty old Radio Flyer and turn it into a mobile planter that can go from a sun-steeped corner right to your kitchen door. Your herbs will never be fresher or more local!
Here's how to get rolling: How to Make an Herb Planter From a Wagon
Doorknob Coatrack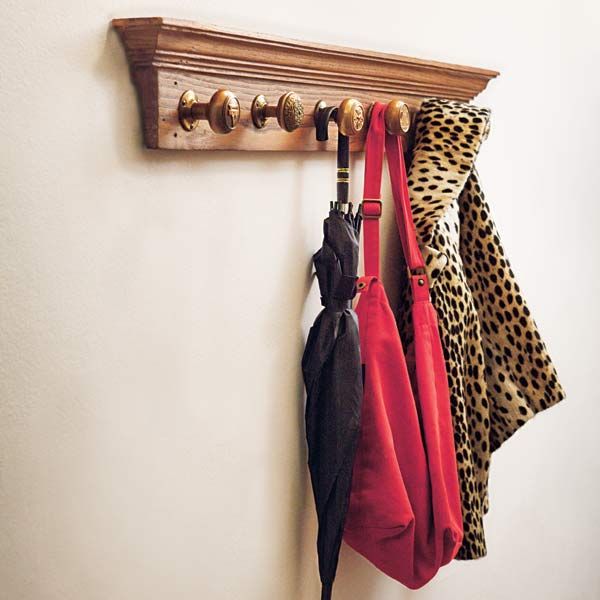 After a long day at work, messing with hangers in a coat closet can seem so fussy. For this project, six vintage metal doorknobs and their matching rosette backplates were used to make a toss-and-go coatrack—the antidote for those lazy evenings. A piece of salvaged chestnut trim stands in as the base.
Here's the step-by-step build your own: How to Make a Doorknob Coatrack
Cabinet Doors Made From Old Shutters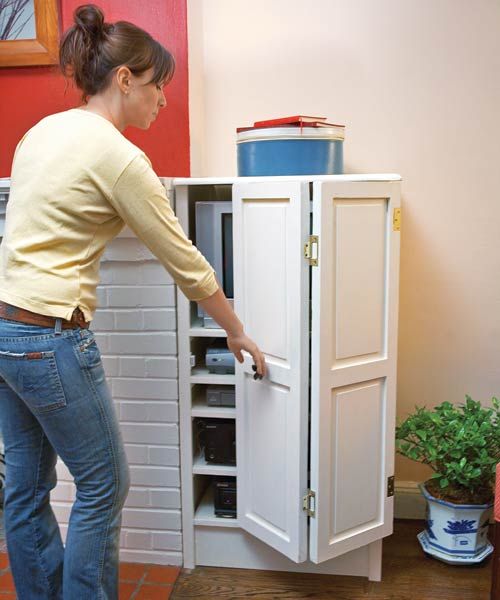 Turn a set of shelves into a discreet storage cabinet by attaching doors. Here, two mahogany shutters picked up at a salvage yard and hinged together as a bifold, and made a perfect fit to hide media equipment.
Get the step-by-step instructions here: How to Make New Cabinet Doors From Old Shutters
Stair Baluster Candlesticks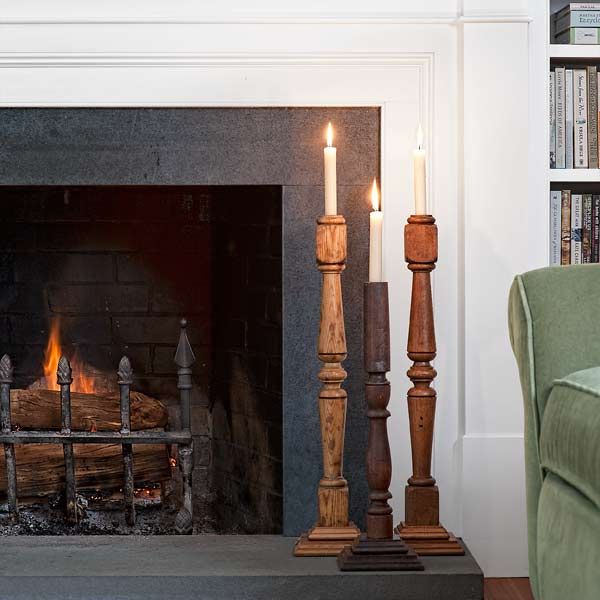 Evocative of classic holders cast in bronze and iron, these stately candlesticks can be made for surprisingly little cash—the balusters cost a few dollars each at a salvage yard. The finished product can transform your hearth or make a dramatic tabletop display.
Here's how to make them: How to Make Candlesticks from Stair Balusters