Project details
Skill
1

out of

5
Easy
No heavy lifting or fancy tools required.
Like a perfectly seasoned cast-iron skillet, garden tools and ornaments tend to get better with age. There may be rust or chipped paint, but nothing a little WD-40 or a new clear finish can't remedy.
In fact, weathered surfaces are what make those old metal rakes and battered watering cans so desirable, oftentimes for uses other than those for which they were originally designed. The head of a rake, for instance, can double as a wineglass holder, with crystal stems steadied between the tines. Fitted with a dollar-store vase filled with fresh-cut blooms, an old, leaky watering can could serve as a rustic centerpiece on a patio table or a dining room buffet.
For my garden salvage project, I used colorful outdoor spigot handles and a length of reclaimed door casing to create a cheery wall-hung tool rack. The handle "hooks" are great for keeping my hand trowels and rakes at the ready and for holding my sun hat.
Step 1
How to Build a Spigot-Handle Tool Rack
You can find vintage garden gear, such as these outdoor spigot handles and spring clips, at flea markets, antiques stores, and online for as little as $1 each. Use them to organize your garden gear with this fun and functional tool rack made from old wood molding, flea-market spring clips, and brightly colored outdoor spigot handles (The Old Time Junk Shop; etsy.com). All you need is a free morning, the tools in a basic kit, and a little creativity and elbow grease. To mount each handle, use a ¼-inch galvanized lag screw threaded with a corresponding nylon spacer, both available at hardware stores.
Step 2
Seal the Wood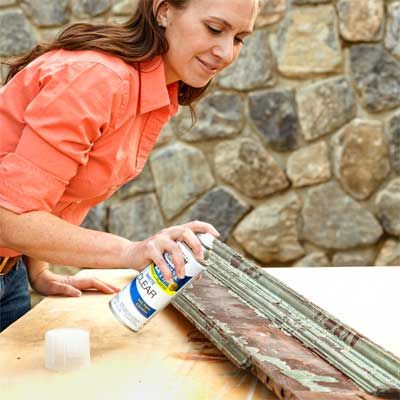 Guard against lead-paint dust and chips by spraying the surface with clear polyurethane in a satin sheen. The finish will also weatherize the wood so that it'll hold up outdoors.
Step 3
Measure for the Spigot-Handle Hooks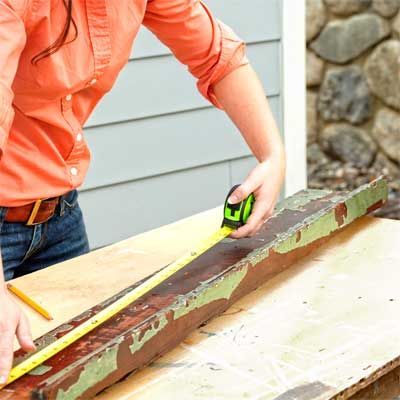 Make a pencil mark on the wood where you want each handle to go, keeping in mind that the handles should be evenly spaced. In place of two handles, I used vintage spring clips—great for holding long-handled tools—that I scored at a flea market, but hardware stores sell new clips in various shapes and sizes.
Step 4
Mount the Handles on the Screw Posts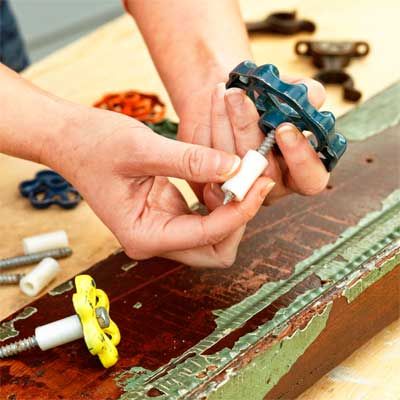 Insert lag screws through the handles' center holes, and twist on the nylon spacers. If a hole is too small, clamp the handle to your work table, put a ¼-inch bit in the chuck of a drill/driver, and widen it.
Step 5
Drill Pilot Holes for the Handle Posts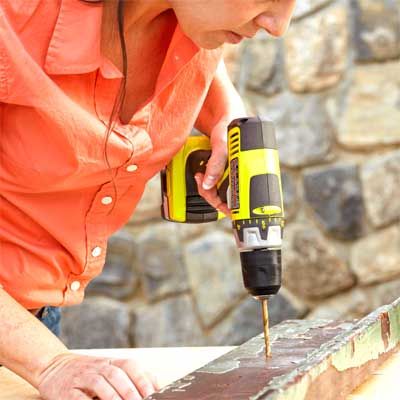 Fit your drill/driver with a bit that's slightly smaller than the screw's shank, steady it on the marks on the wood trim, and bore holes for the lag screws.
Step 6
Secure the Posts
Hand-twist the lag screws into the holes, and tighten each one with a socket wrench.
Step 7
Add the Spring Clips and Hanging Your Rack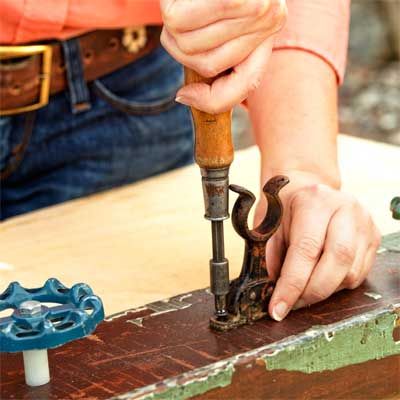 On a pair of pencil marks between two sets of handles, drill pilot holes (be sure to switch to a smaller bit first) for the spring-clip fasteners, and twist in the screws. Now find a nice spot for your rack, install it using the proper hanging hardware for the wall type, and start organizing your garden tools.