Project details
Skill
1

out of

5
Easy
All it takes is a sharp chisel and a steady hand for painting.
Cost
About $110 for shutters, hinges, and paint
Some of us can't afford a display-worthy flat-screen TV. And even if we could, there'd still be the wires, the DVD player, and audio equipment to contend with. Better to keep it all under wraps. After building her media-storage shelves, This Old House multimedia editor Alex Bandon simply got tired of looking at all that equipment when it wasn't in use. Rather than make a custom door, she bought two mahogany shutters at a salvage yard for $75. Hinged together as a bifold, they were a perfect fit. She also knew that if she integrated vintage finds into her upgrade project, I would pitch in with the labor. Clever girl.
Step 1
Fill Old Hinge Mortises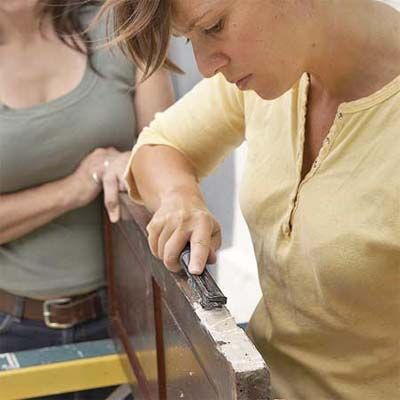 Fill old hinge mortises in both shutters with an epoxy filler. Let dry, and use a rasp to smooth the buildup. To turn two single shutters into a bifold, you must also remove the rabbets (light-blocking strips where opposing pairs of shutters come together). Cut these off with a jigsaw to create smooth edges.
Step 2
Cut New Mortises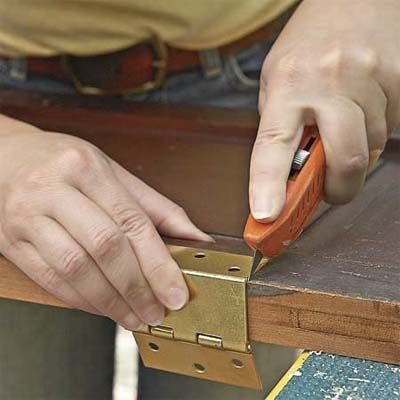 Cut new mortises in the shutter that will attach to the shelving unit, spacing them about 3 inches from the top and bottom. Score around the hinge with a utility knife; chisel out the wood to the depth of the metal. To open the door a full 180 degrees, use wraparound hinges (about $5 a pair; Rockler Woodworking and Hardware). These have a fixed center and two leaves—one that screws into the shutter and one that secures it to the unit.
Step 3
Prime Both Shutters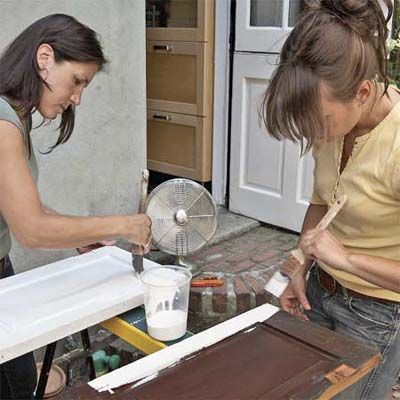 Prime both shutters, let dry, and sand. Brush on two coats of latex paint, sanding between coats.
Step 4
Fit the Hinges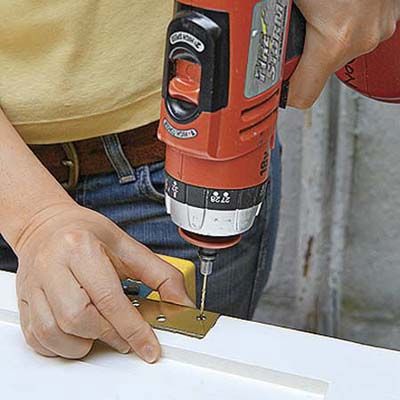 Fit the hinges in the shutter mortises. Predrill holes for their screws, and drive in the fasteners.
Step 5
Steady the Shutter in the Opening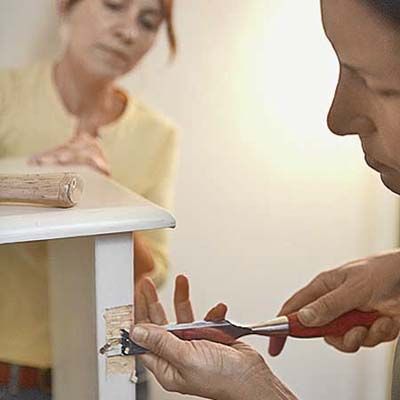 Steady the shutter in the opening, and trace the outline of the hinges where they'll attach to the shelving unit. Score and chisel out the mortises.
Step 6
Create the Bifold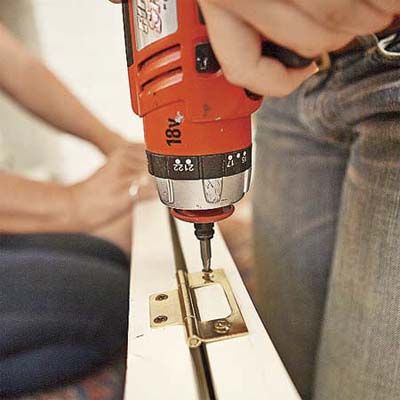 Stand both shutters back to back, their sides facing up. At 6 inches from their tops and bottoms, place a no-mortise hinge (about $3.75 a pair; Rockler Wodworking and Hardware) so the barrel is between the two shutters. Predrill holes, and drive in the hinge screws.
Step 7
Attach the Shutters to the Unit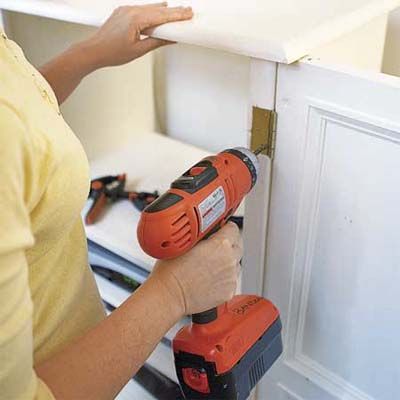 Attach the shutters to the unit, fit hinges in the mortises, predrill holes, and drive in the screws.
Step 8
Center the Knob on the Shutter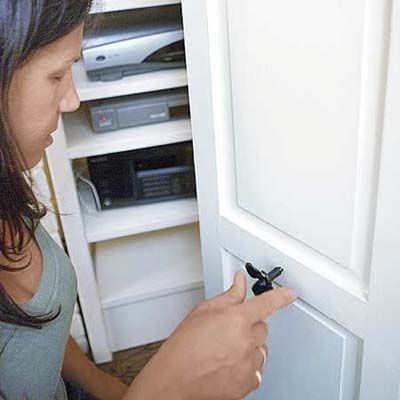 Center the knob on the shutter and predrill a hole. Insert the knob post from the back, and twist on the pull. Now you're ready to swing open your new media cabinet door, flip on the tube, and veg out.