A Generous Helping of Color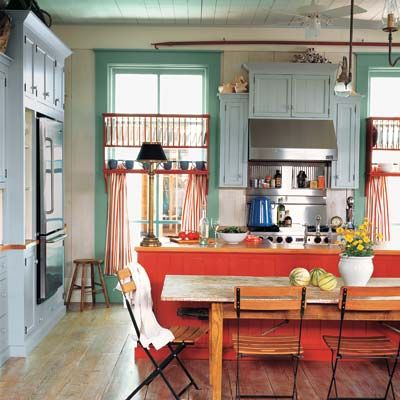 If you like color but feel timid about using it in your home, try it out in the kitchen. It's the most action-filled space in most homes, so gracing it with bright hues make sense, like the "Pow!" power of a comic book. Or look in your closet for inspiration, pulling from items that drew you in because of their hues. No matter what your color style, you can take inspiration from our favorites, gathered here.
Shown: Caribbean-cool blues and greens play nicely against a tomato red island and striped drapes.
Learn more about this colorful family gathering space.
Flavorful Hues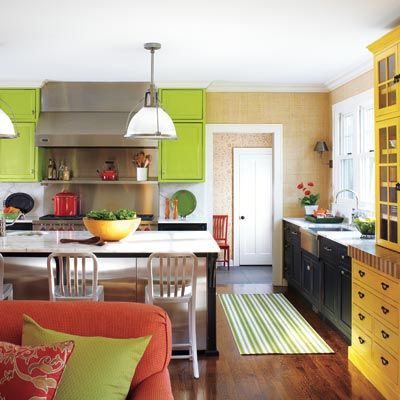 Twists of citrus—here, lemon and lime—bolster the mood of this space. A smattering of red—on the sofa and on pots and pans—heightens the effect.
Check out more on the thinking behind this bright kitchen makeover.
Punched-Up Green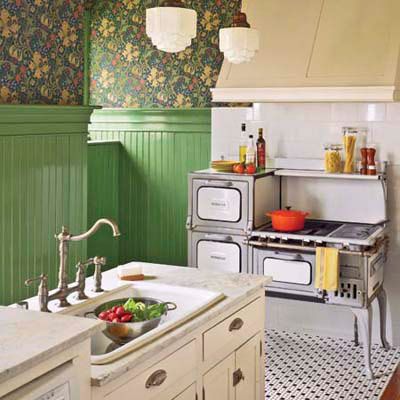 Deep and lustrous, the beadboard's color repeats in the multicolored wallpaper above.
Read about the inspiration for this Queen Anne vintage-style kitchen.
Color Party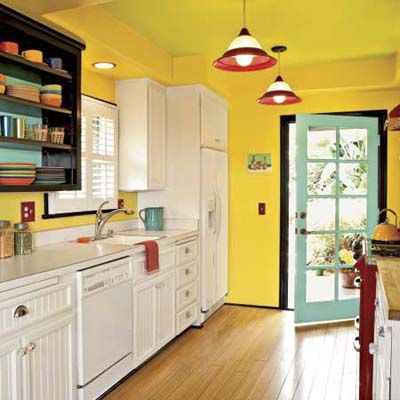 Love Fiestaware? Paint your kitchen in its hues.
Learn a thing or two from this colorist-designed kitchen redo.
Intense Brights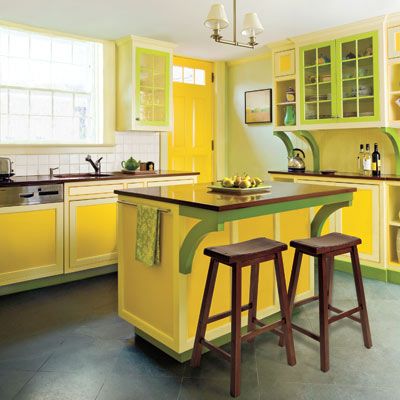 Make your kitchen juicy with fresh-squeezed shades of lemon and lime, with accents in Granny Smith apple.
Get tips on using saturated color combos.
Cheery and Classic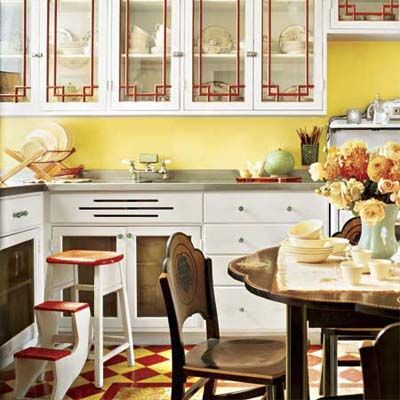 Cabinetry detailing and flooring in red fire up this vintage-style kitchen.
Learn how to create an acquired-over-time feel.
Lots of Butter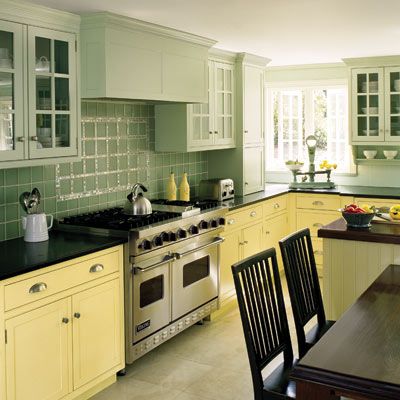 Painting the island and lower cabinets butter yellow—plus coordinating hand-blown glass lamp shades—gives a subdued sage space—a sunny cast.
Read more on this kitchen renovation as a labor of love for both color and cooking.
Contrasting Colors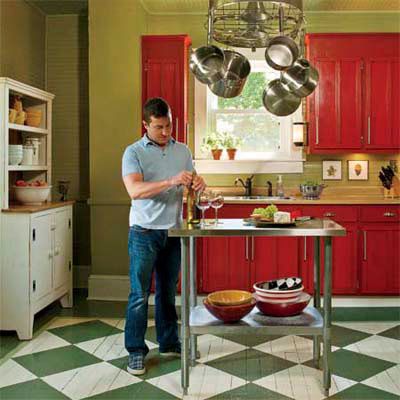 Olive green walls and maraschino cherry red cabinetry (that's equally shiny) play off each other. Green-and-white diamonds painted on the floor and a pale-colored highboy keep the space open and bright.
See how homeowners transformed this 1919 bungalow kitchen.
Blue Standouts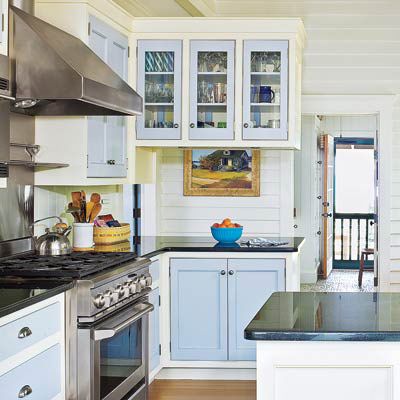 Drawer and cabinet fronts in sky blue pop on a cream-colored background.
Get more ideas for low-cost kitchen upgrades.
As Good as Carrot Cake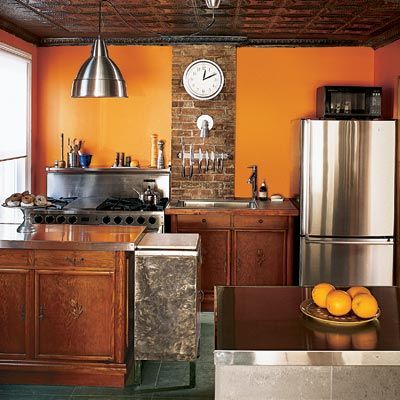 A coat of carrot-colored paint enrobes heirloom cabinetry and stainless-steel countertops.
Tranquil Green and Blue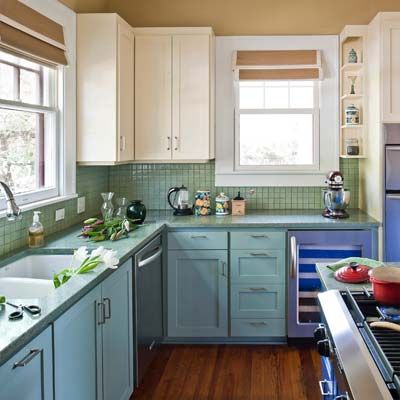 Soft blues and greens from the waist down save this kitchen from a drab beige-and-white fate.
See additional tranquil colors used throughout the TOH TV Austin house project.
Sunny Backdrop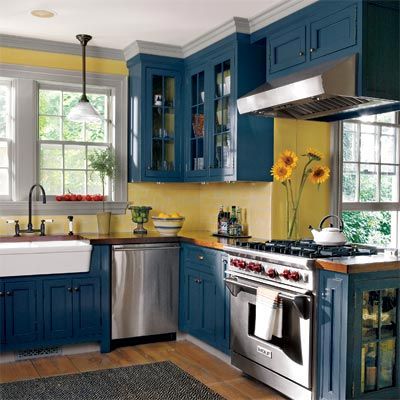 Unexpected palettes—here, prussian blue, weathered yellow, and dove gray—make a space unique. Notice how the sunny wall color is carried into the back of the cabinetry, keeping contents easy to see.
Learn more on the remodel of this circa 1840s whaling cottage.
Daring Blue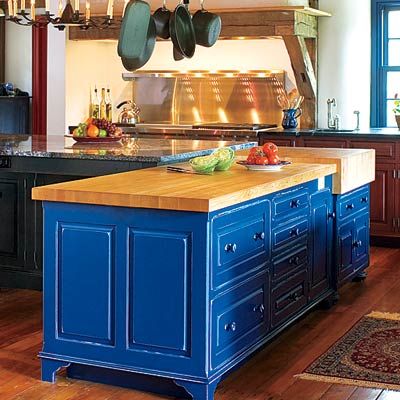 A hefty butcher block-topped island dons a coat of equally bold cobalt, toned down a notch with an antiqued finish.
Find out more on kitchen islands.
Brighter Skies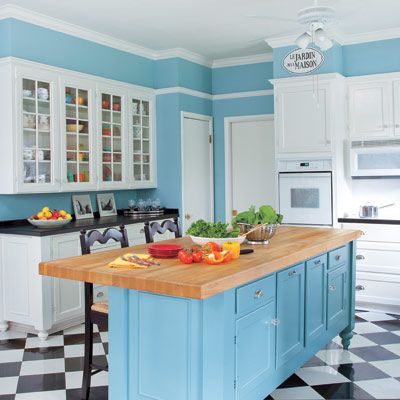 These walls—with cloud-white cabinetry and trim—reflect the optimism of boundless bright sunny skies.
Read all about this charming budget kitchen renovation.
Bring Out the Warmth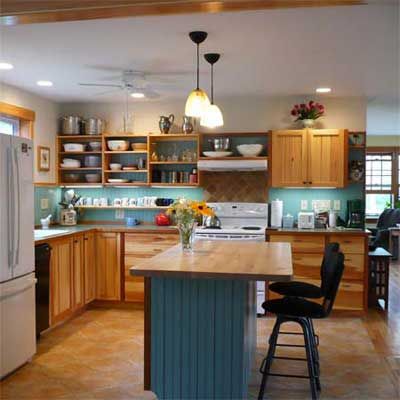 A strip of turquoise, well lit by task lighting, emphasizes the warmth of the heavily grained wood cabinets.
Learn more on this reader green kitchen remodel.
Color on Center Stage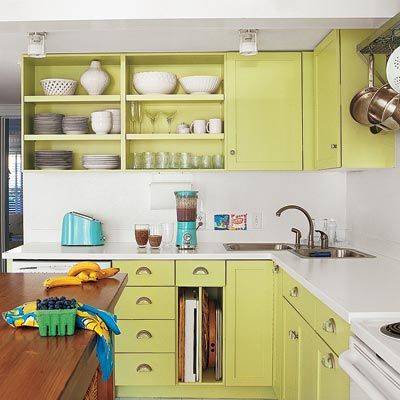 A minimalist white countertop and backsplash makes a great backdrop for bright, tangy cabinetry and kitchen tools in turquoise.
Get some inspiration from these thrifty kitchen customization tricks.
Subdued Drama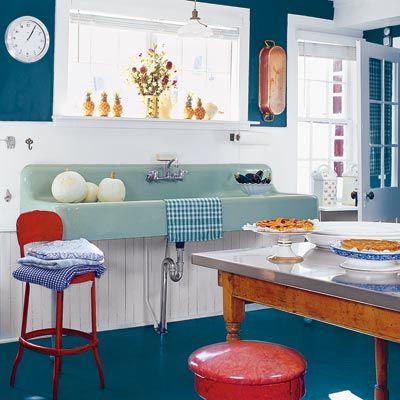 Hues of marine blue—on both wall and floor—celadon, and lipstick red create a dramatic yet mellow palette.
Get more details on this retro kitchen.
Royal Match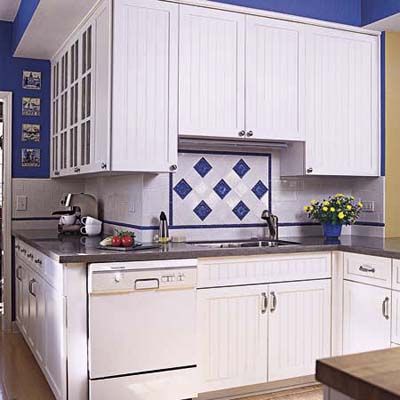 A backsplash of patterned tiles picks up the walls' royal-blue treatment.
Check out the break-down on this blue budget kitchen redo.
Retro Rainbow
A grape-green laminate countertop backed by sun-bleached blue add to the vintage vibe.
Check out additional tips for customizing your kitchen.
Red Hot Oven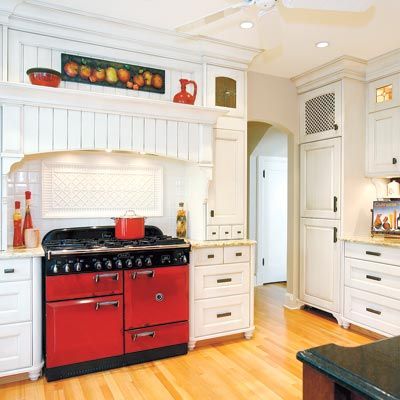 A tulip red stove grabs attention in an all-white kitchen.
Explore more stylish touches in this old-world kitchen.
Vibrant Laminate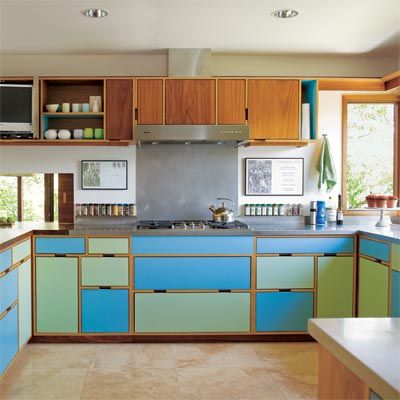 A modern mix of blues and greens grace laminate-fronted cabinets visually enhances the red and orange ones of the woodwork in this Mid-Century style kitchen.
Get more ideas on how to use laminate in the kitchen and beyond.
Beam-ing Blue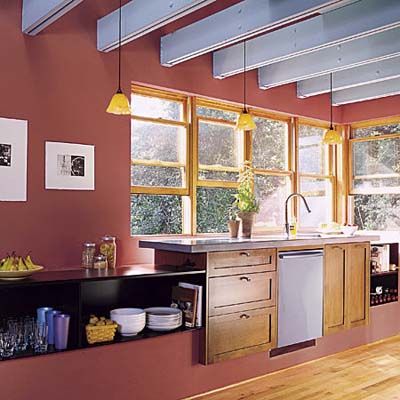 Powder-blue brings beams into focus in a barn red kitchen.
Read other tips on kitchen lighting techniques.
Bright Backsplash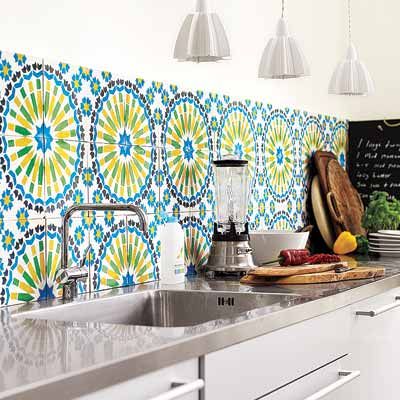 Boisterous tile medallions form the backsplash of an otherwise spare countertop.
See additional high-style kitchen upgrades for less.
It's Elementary Art Class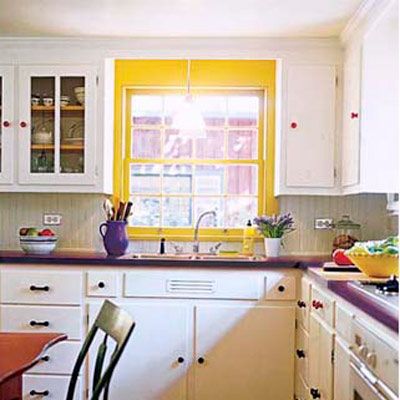 Color theory in action: yellow and violet—opposite each other on the color wheel—grace this kitchen.
Let the color wheel be your guide when choosing paint colors.