Cozy Cottage Living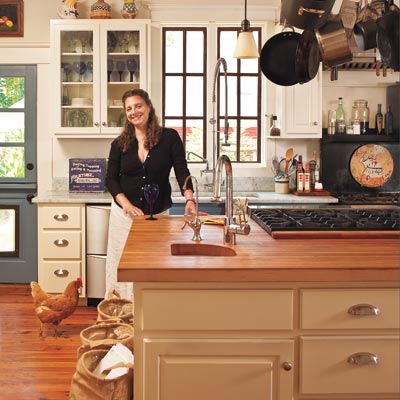 Cottage kitchens are simply charming with an emphasis on functionality. They're built for comfort with features that help you through your routine and bring life to the hub of your home. Whether you're just refreshing your cottage kitchen or looking to add a dash of old-house charm to a new space, these TOH-featured rooms are sure to inspire.
Light, Bright Kitchen
When Curt, a green-building consultant found this circa 1910 shingled house in sore need of an update, he seized the opportunity to make it into a energy- and resource-saving home. He and wife Christine reused existing cabinets and added a restaurant range and broiler.
Here, Christine shows off the large butcher-block-topped island. The cottage-style exudes from the creamy-white cabinetry featuring bin-style drawer pulls and glass-front upper doors. They opted for a 1910s look but mixed old and new with modern amenities.
Modern Flow With Major Savings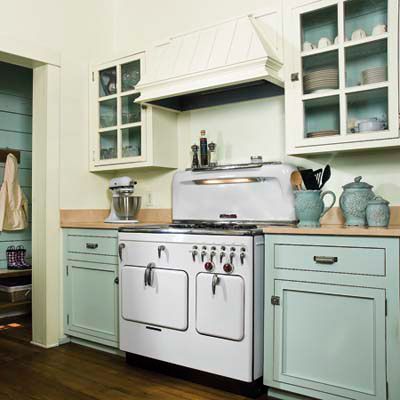 Tracy Stephenson Shaffer and her husband, Doug, gutted the makeshift cooking space in their 1852 cottage in Baton Rouge, Louisiana, and chose an open plan to connect the kitchen with the family room. The look they achieved is cottage-style with kitschy-vintage charm mixed in. The pastel color scheme, open shelves, and the wood-plank floors.
Old Feel, New Height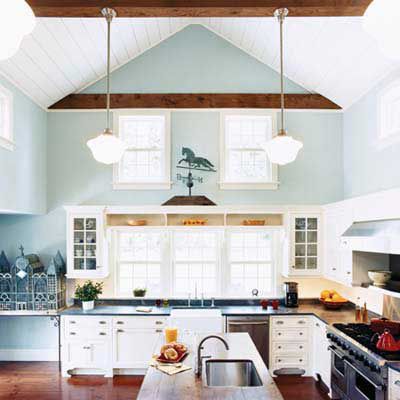 The O'Learys set about turning a first-floor one-story former bedroom wing into an expansive new kitchen, bumping up the room's roof to double height for a soaring ceiling, which is lined with tongue-and-groove boards resembling 19th-century planks. New oak beams act as structural cross-ties. Clerestory windows flood the kitchen with light.
The center island is topped with the old chestnut boards salvaged from the living room floor. Early-20th-century finishes include flat-panel cabinet doors and bin-pull hardware.
Restored Details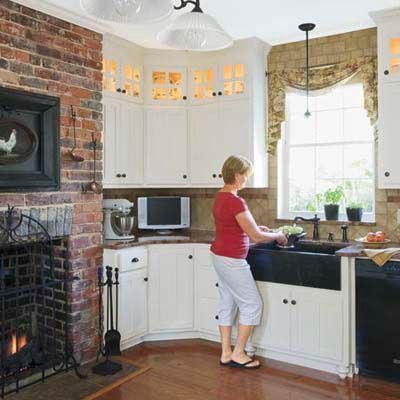 Getting the kitchen up and running inside a ramshackle 1850s cottage proved a really difficult task for Walt and Roberta Purcell. The first step in creating a kitchen was running electrical lines and plumbing into the space. Once that was taken care of, a local cabinet-maker built their custom birch cabinetry to fit in their awkwardly-shaped space. They also revived and repaired 160-year-old windows.
Beach Cottage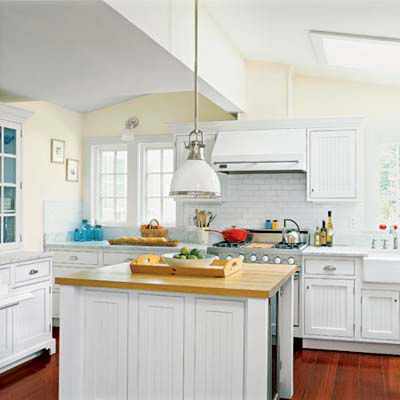 David and Tracy Gavant added a bumped-out addition to their 300-year-old home in order to achieve the highly functional kitchen they needed. The large, all-white room is clad in beadboard cabinets, nickel hardware, bin pulls, subway tile, marble countertops, an apron-front sink, and old-style work lights. A well thought out detail is the white enamel finish on the modern range and vent hood, which allow these appliances to fit in with the vintage look of the whole room.
Period-Style Galley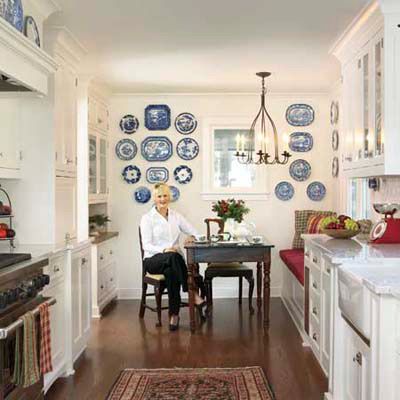 Once they decided to undertake a whole-house redo of their 1912 lakeside cottage, Andrea and Michael Kerrison got to work reinforcing the galley kitchen's vintage bones. Andrea took out the fussy wallpaper, blond cabinets, and laminate counters and added pale marble work surfaces, painted recessed-panel cabinets, bin pulls, and subway tile. Andrea says, "Period details should be warm and layered, as if the room evolved over the years."
Space Smart and Storage Loaded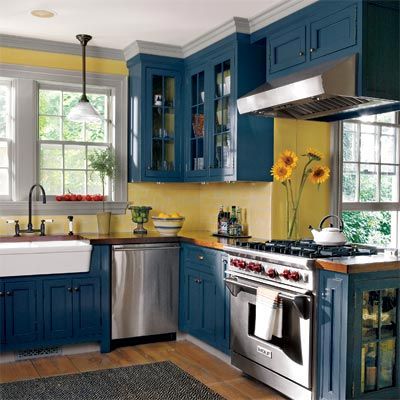 Under the care of an anxious new owner, Paul Rogers, an old whaling cottage circa 1840s was saved and restored. In the pretty blue and yellow kitchen, ceiling-hung cabinets hold the vent hood and frame an opening that allows the cook to keep an eye on guests. The white apron-front sink, seeded-glass cabinet doors, Victorian-style faucet, and butcher-block counters all add cottage accents.
"Every single ounce of space was put to use, whether for closets, plumbing, or heating and cooling," says Paul. "Because plots in the historic district are generally small, and you can only build on a percentage of your land, there is this constant utilitarian ethos running through both the house and the entire town."
Small Fixes, Lots of Function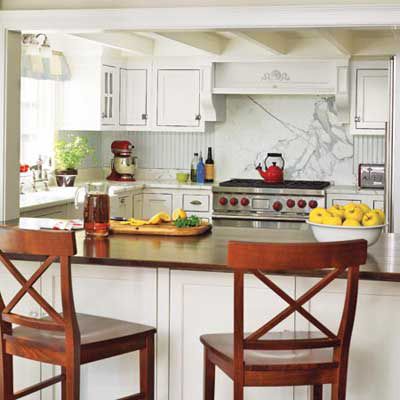 This kitchen in a Amagansett, New York cottage was widened just 2 feet, but with white cabinets swapped in for the old cherry cupboards, and the addition of white marble countertops and backsplash, the room appears twice its former size. Architect Darren Helgesen's simple, clean-lined moldings and trimwork—all, like the beamed ceilings and walls, finished in white tones—contribute to the sense of spaciousness.
A custom mantel hides the range hood and gives cabinets a finished look. A wall came down to create room for a peninsula and open up the kitchen to a new breakfast area. Marble counters, a pro-style range, and a walnut-stained top on the snack bar play off cottage-style beadboard and vintage-look cabinets with old-fashioned polished-nickel hardware.
Bright and White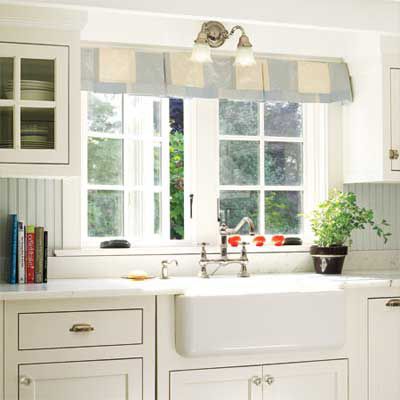 Another view of the all-white cottage kitchen in Amagamsett, shows the sunlight pouring through new, storm-worthy windows onto the apron-front sink and polished-nickel Victorian-style lav faucet.
Rustic, Relaxed, and Colorful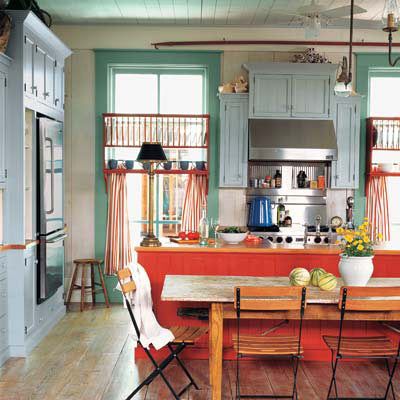 The kitchen offers more than a place to chop veggies or cook a roast. This colorful kitchen in Watercolor, Florida acts as the ultimate family gathering spot, where grandkids clamor for snacks while puppies play at their feet. To accommodate all the activity, homeowners Jim and Linda Strickland opted for well-worn antiques and rustic furniture that belie the space's relatively young age. "Even though we renovated only about eight years ago, we chose old furniture, old lights, and old art," says Jim, "so we don't worry if something gets messed up." Bright colors enhance the laid-back vibe and draw attention to the room's custom pieces, including a window-mounted plate rack and extra-long island.
Salvaged Wood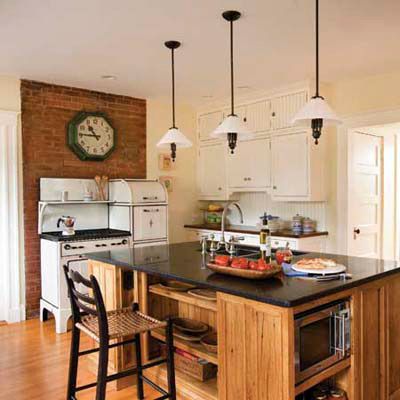 When the owners of this kitchen, Eileen Eisele and Greg Ruccio, moved into their 1906 Shingle-style house, the existing space was dysfunctional. A professional photo stylist, Eileen knew she could create a warmer mood with just a few changes in the visual landscape. Now, with its warm finishes and artful details, the once yawning room is intimate.
Eileen loved the idea of using reclaimed wood for its timeworn patina, so their architect used it for an island that marries modern efficiency and vintage styling. The dishwasher and pullout trash bin are totally concealed behind wood panels. Open-shelf storage allows access to the microwave on one side and, on another, provides a foothold for anyone who wants to sidle up to the counter for a snack or keep the cook company.
White Stripes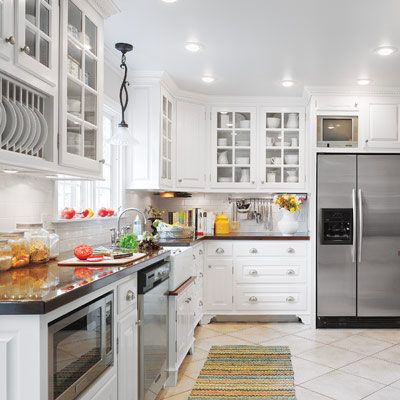 Gregg and Nancy Alling were eager to redo the kitchen in their 1968 house in Toledo, Ohio—and they tackled it bit by bit, using little more than his workshop, her eye, and a shared taste for bargains.
To-the-ceiling cabinets and trim, light-reflecting finishes, a built-in plate rack, a tiled toekick, and niches for the fridge, TV, and microwave add function and updated traditional style. A striped rug adds a welcome pop of color that plays nicely with fresh flowers and colorful appliances.
From Forlorn to Refreshed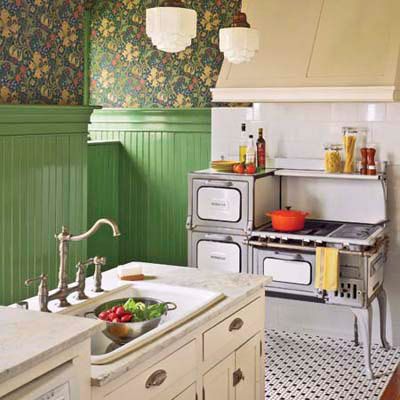 The kitchen inside this Bowling Green, Kentucky, 1896 Queen Anne had to be gutted. It turned out to be owners Dorian and Elaine Walker's biggest hands-on project. Dorian learned how to make cabinet doors and Elaine had mastered putting down hexagonal ceramic-tile flooring.
A circa-1920 gas- and wood-burning stove became the starting point for a vintage-style kitchen with marble counters, a tin ceiling, salvaged pendant lights, and a reclaimed heart-pine floor with a ceramic-tile "rug" in front of the range. The wainscot was inspired by beadboard in an existing pantry.
What's Old is New Again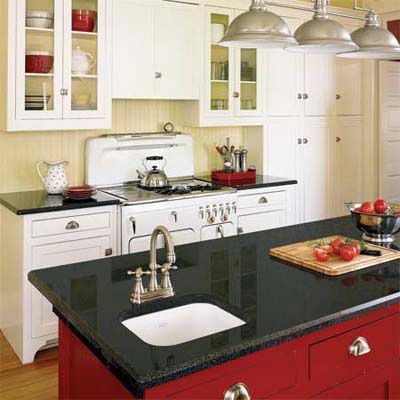 After relocating a once-grand Texas Queen Anne to their lakefront building lot, Jim and Sharon Wade tackled a massive whole-house renovation. They saved a good deal of money because Sharon had a knack for salvaging materials and fixtures.
Sharon bought a pristine 1950s Chambers gas range on eBay and had it retrofitted with a shut-off safety valve for $700. The durable gray granite countertops mimic the look of period-appropriate but more nick-prone soapstone. Retro details like the built-in plate rack, glass-front doors, bin pulls, and cabinet latches maintain the spirit of the old kitchen.
Bold-Color Kitchen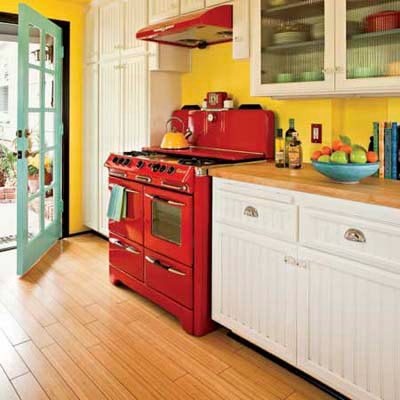 Nothing revives an old room like an energetic new color scheme. In Rich and Sue Linder's 1940s ranch house in Laguna Beach, California, a previous remodel left behind a washed-out white kitchen, save for the sensational 1945 stove Sue inherited from her mother. White beadboard and glass-front cabinets mixed with open shelves; a red range hood and pendants helped tie in the vintage range. Still, the room looked a little tired.
The cabinets and counters stayed the same, but a carefully composed riot of colors makes the remodeled room as warm and welcoming as its 1940s stove. The new color palette complements the sunny space, including bright yellow walls, a citron ceiling, and lime wainscoting. The revved-up range finally has surroundings that suit its playful spirit. Says Sue of the space: "It's fun and uplifting, and makes us smile."
Modern-Day Makeover With Antiques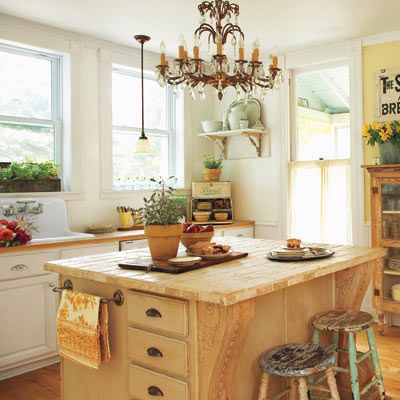 To keep a modern-day kitchen from appearing too cookie cutter, it can pay to look to the past. "Antiques offer such one-of-a-kind beauty," says Fifi O'Neill, who wrote Romantic Prairie Style and helped design the space shown here. Anchored by a stock island customized with oversize corbels, the room features almost entirely second-hand (or third- or fourth-hand) finds, from the freestanding pine dish cabinet to the painted breakfast stools. A soft palette of white, cream, and gold brings out the faded patina of these furnishings—and ties in the few new pieces, including bronze cabinet hardware and a home-center pendant lamp.
DIY Bungalow Redo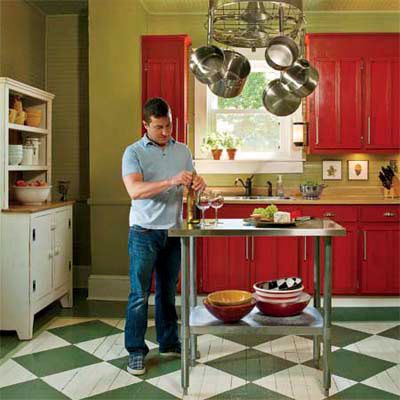 After four years of remodeling weekends, a DIYer and his partner made a 1919 bungalow into an inviting home, complete with a colorful, rustic kitchen.
They had an ugly, unfinished pine floor beneath the old vinyl flooring. After seeing someone paint a floor on TV, they decided to give it a try. They spent two weeks painstakingly taping off the floor and creating a diamond pattern with several shades of $5-per-gallon "oops" paint that had been returned to the home center. Next, they installed a new light, bought a restaurant supply cart for an island, and finished painting the space.
The kitchen didn't look complete, though, until they re-vamped the cabinets to replicate a Shaker-style. They'd still like to add a dishwasher and new counters, but for less than $300 in materials and a lot of work, it looks much, much better.
Opened Up and Resurfaced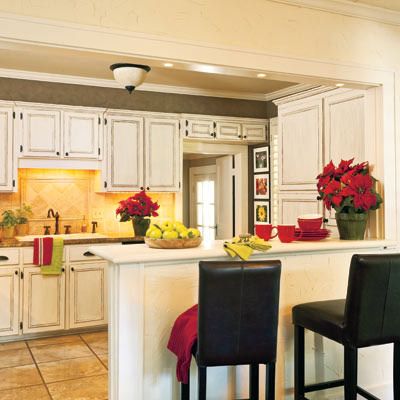 Homeowner Dr. Susanna Shermer turned a nondescript 1940s house into a light-filled Craftsman-style home. In the kitchen, she removed a wall between the dining room and kitchen, preserving a portion of it as a peninsula snack counter. Underwhelmed by ornate kitchen cabinets, laminate countertops, and vinyl flooring, she replaced all the surfaces, choosing a travertine floor, granite countertops, and a natural stone tile backsplash. To save money, she kept the cabinet boxes, had them refaced, and added new doors with a hand-glazed finish.
Cool Concrete Counter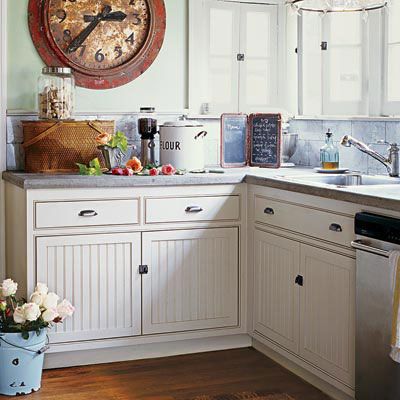 One of the more prominent cottage-style features in this kitchen is the concrete counter tops, a thrifty way to customize your kitchen. Make your own poured-concrete surface using a prepackaged mix and a form kit from your local home center.
Affordable and Stylish Upgrade Ideas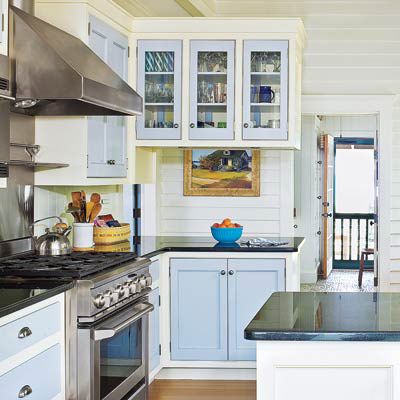 We love the charming look of these cabinets with soft blue set against a white sand background for beachside kitchen. To get this look, paint inset or partial overlay doors and drawer fronts a different shade from the cabinet boxes. This kitchen also features walls with a V-groove paneling, which adds texture and scuff protection in high-traffic areas. See even more stylish, low-cost upgrades.