Refresh Your Rooms With Color
A fresh paint job enlivens a ho-hum interior, but picking the right color (or combination of colors) and figuring out where best to put it and how much to use can prove perplexing.
To narrow your choices, break out a color wheel. Paint pros use this tool to see how colors will look together before they roll them on. Hues that are next to each other on the wheel, such as yellow and green, make pleasing pairs, as do shades of complementary colors, which are found on opposite sides of the wheel.
To judge where and how much, try the 60-30-10 rule. "Basically you use a dominant color for 60 percent of the room, a recessive one for 30, and an accent for 10," says color expert Debbie Zimmer of the Paint Quality Institute. For a whole-house scheme, Zimmer suggests using the same three colors but varying which ones play the starring and supporting roles.
If you're thinking on a smaller scale, consider adding a single dose of a color you love to just one element in a room, such as the inside of a built-in bookcase. "Painting one surface or an interesting architectural detail is such a great way to get some bold punch," says Ann McGuire, a color consultant for Valspar and founder of Beehive Studios.
See more paint tips put to work in 15 colorful spaces. Then steal a few to stylishly and inexpensively update any tired rooms in your house.
Unify Your Living Spaces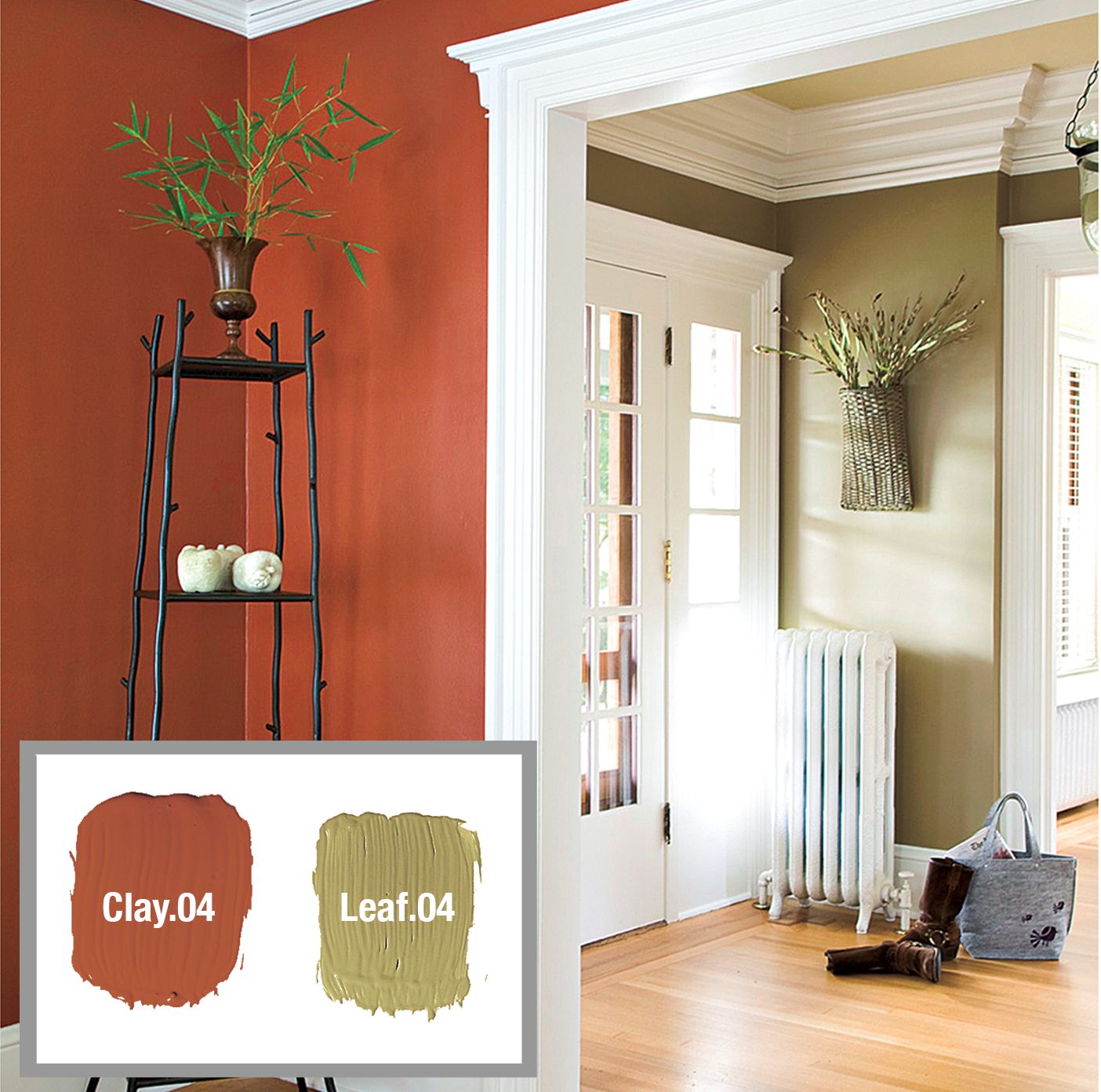 Wall colors that relate to each other draw the eye from one area to the next, creating a harmonious flow.
Try Muted Opposites
An entry hall and adjacent room in soft shades of complementary red and green—opposites on the color wheel—has a soothing effect. Paired with a honey-hued wood floor, the brick red and olive green work as neutral earth tones.
Paint: Yolo Colorhouse
Use White to Highlight Your Color Choices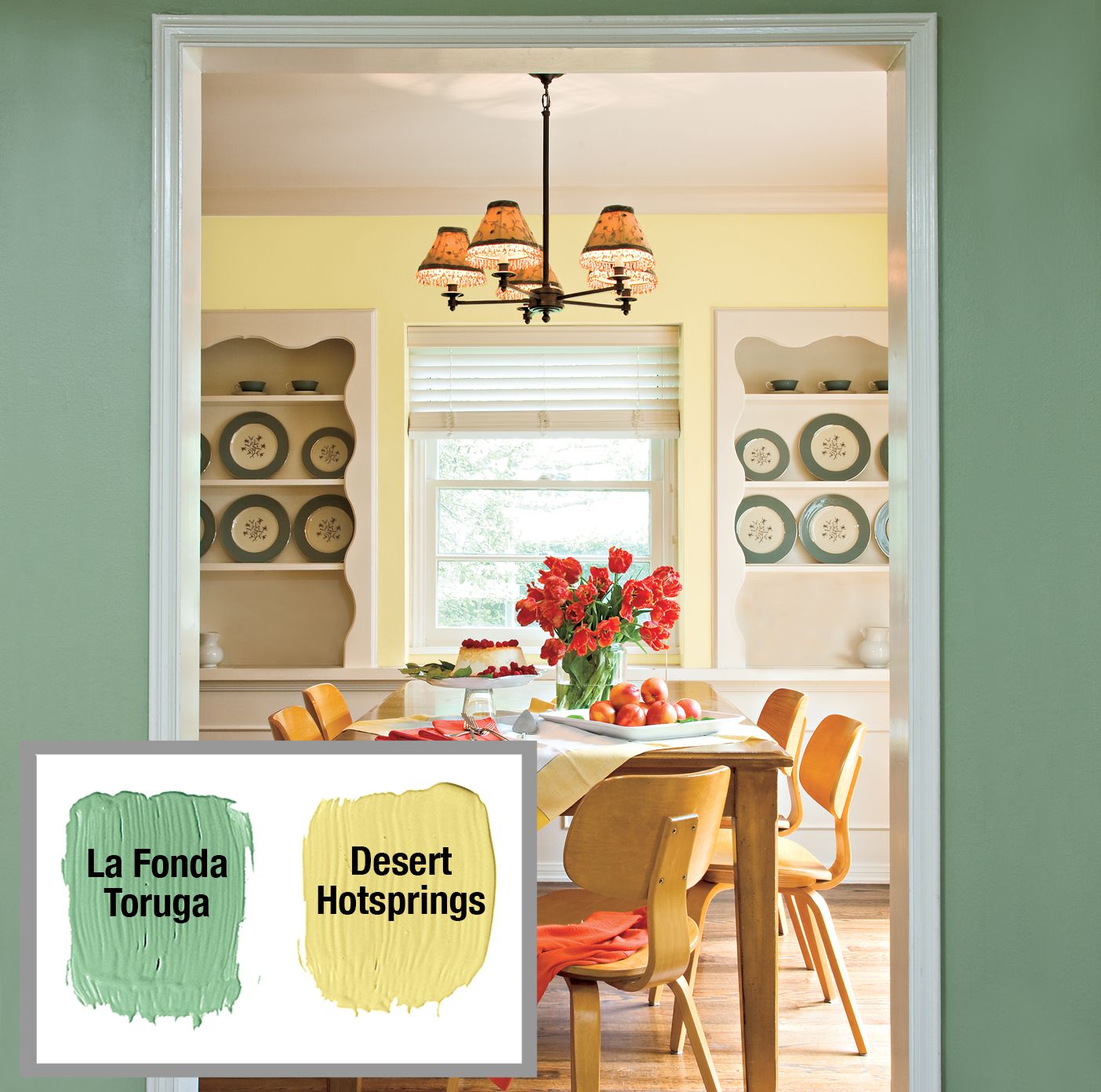 "Painting trim white will ensure that warm hues don't look dingy or cool hues too stark," says McGuire. Even neighbors on the color wheel get a boost. Here, a door casing acts as a frame, cleanly setting off the dining room's warm yellow walls and the foyer's cool green.
Paint: Valspar
Create an Accent Wall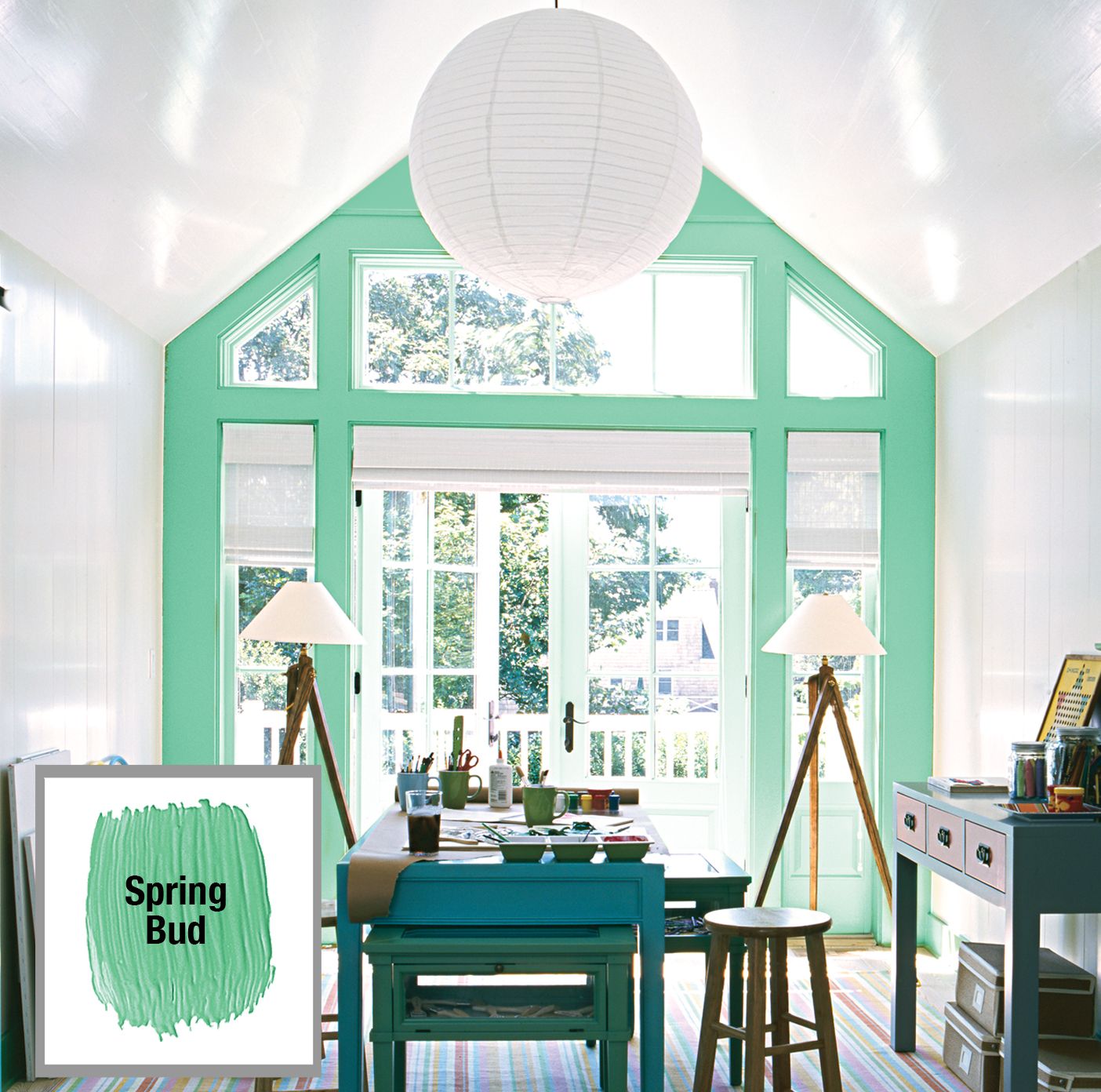 A single field of color can set off a room's best assets—both the built-in details and the artwork and furnishings you introduce.
Use Color to Highlight Architecture
Painting the exterior wall of this all-white studio a leafy green draws attention to its peaked ceiling as well as the outside views glimpsed through the French doors and windows. Here, a vibrant color choice is ideal because of the abundance of natural light, where something more subdued would appear washed out.
Paint: Pantone
Set a Stage With Paint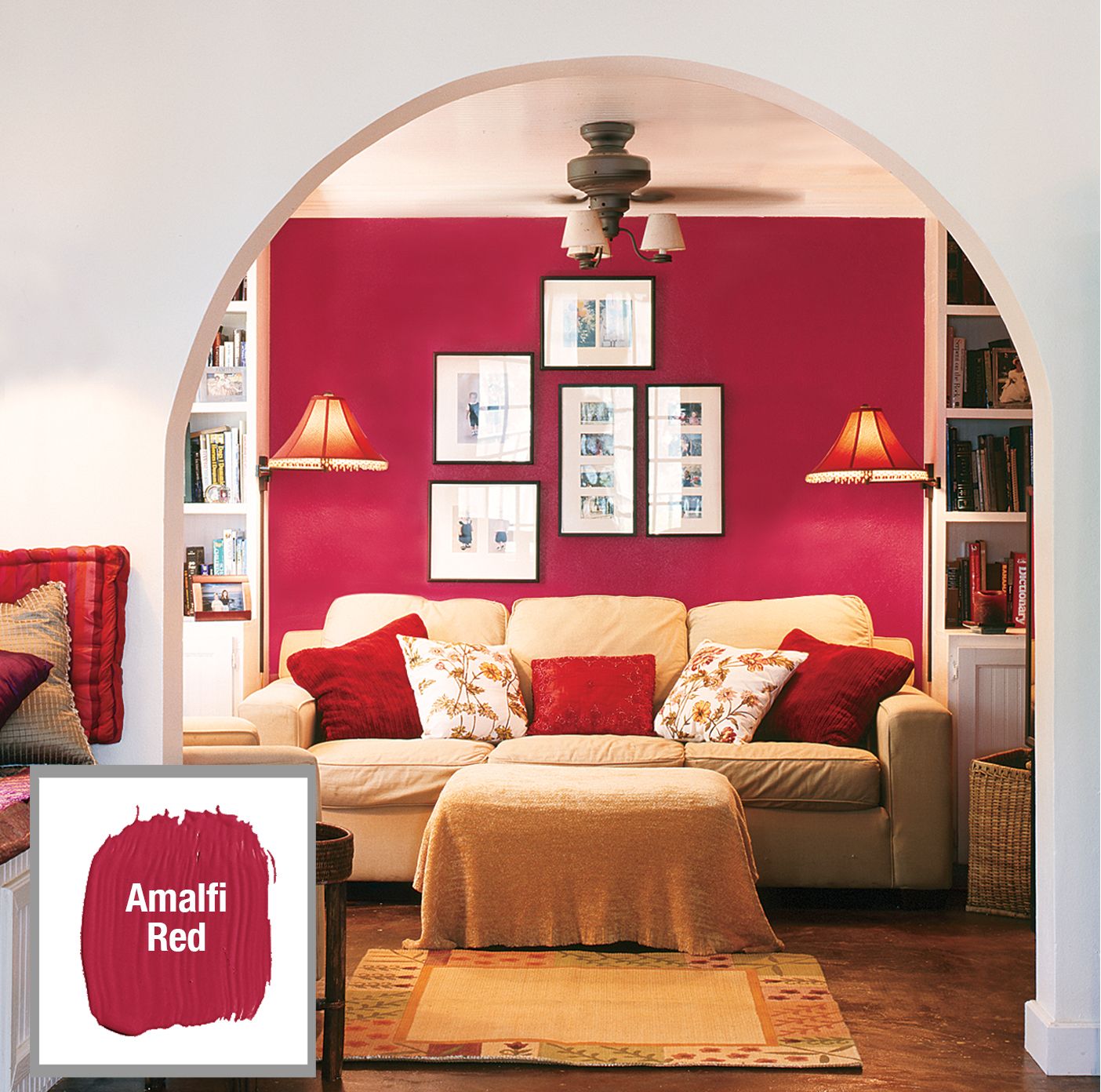 "A deep color becomes the backdrop for whatever is in front of it," says McGuire. Bold red on this accent wall puts the focus on a collection of framed photos while providing a warm and energizing foil to the room's pale neutral furnishings.
Paint: Ralph Lauren Paint, Ralph Lauren Home
Define an Area in an Open Plan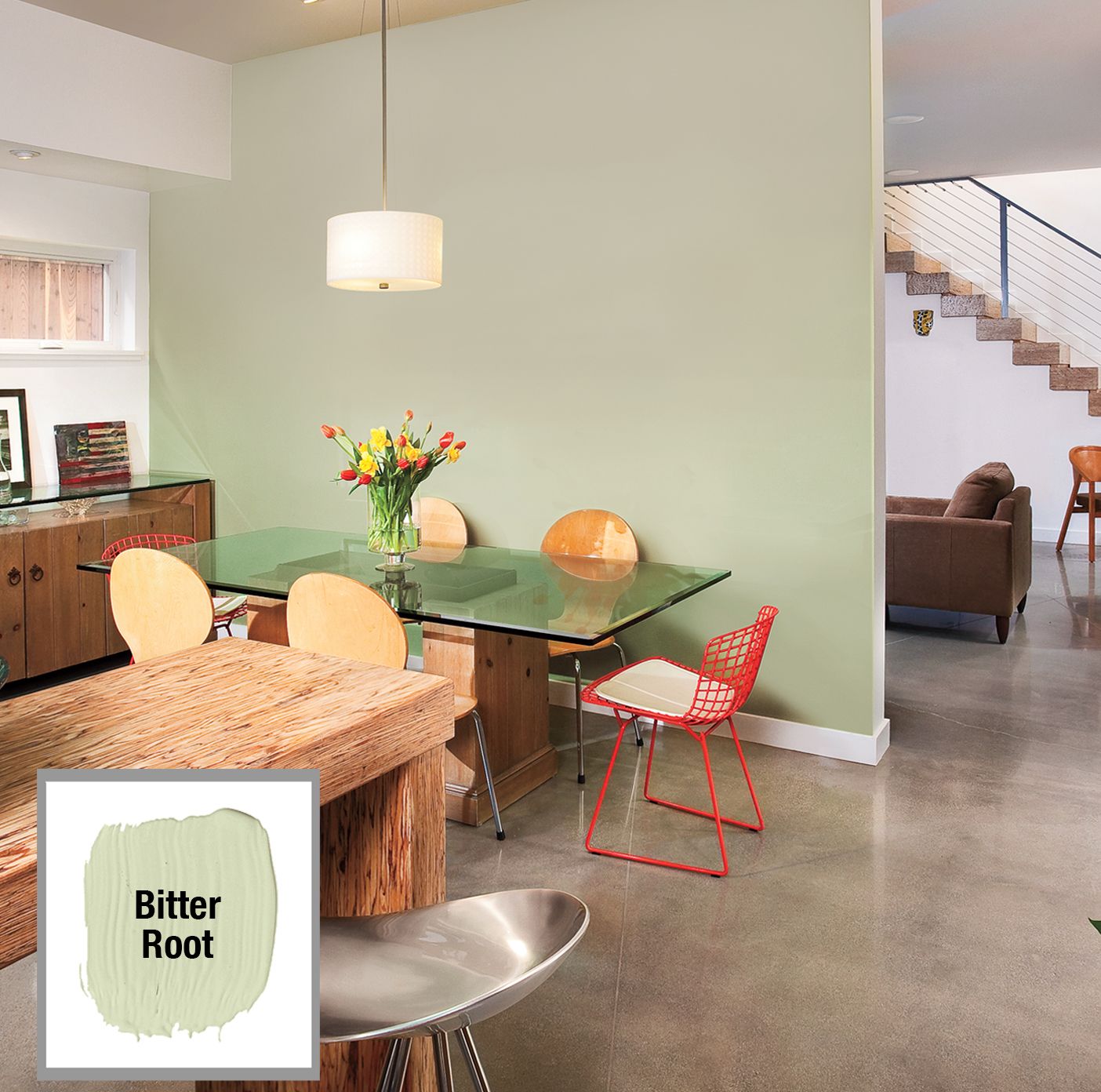 A colored wall can delineate space for a specific activity. Here, grayish green behind the dining table helps carve out a distinct eating area within a whitewashed kitchen.
Paint: AFM Safecoat
Play Up Ceilings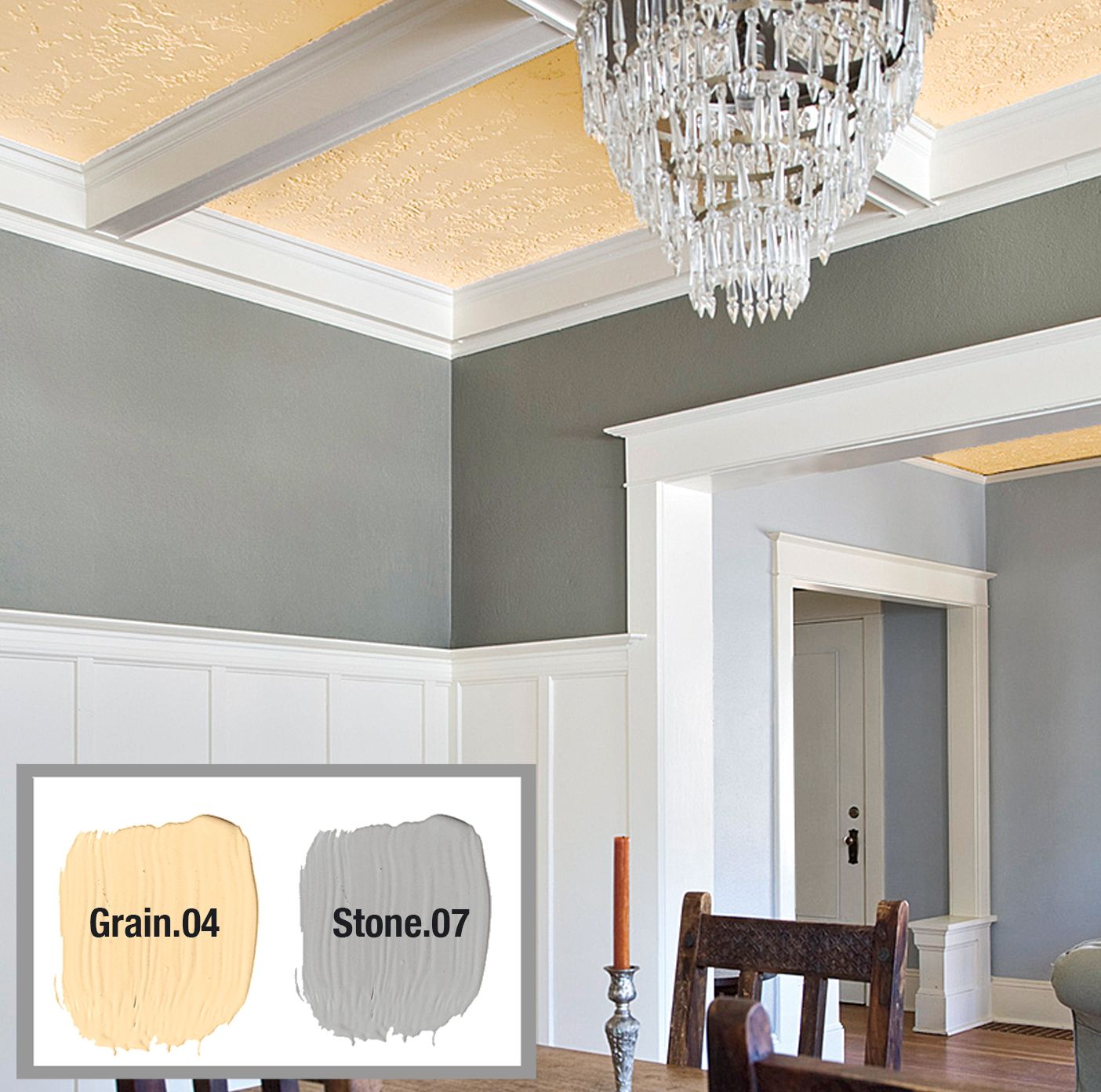 While white on high may make rooms feel airier, color can add comfort and personality where it's least expected.
Maximize a Lofty Look
Adding color to the inner trays of a coffered ceiling amplifies the feeling of height. Here, a golden yellow adds depth while a tall wainscot—painted white to match the coffers—draws the eye upward. A band of silvery gray on the walls is a cool counterpoint to the ceiling's warm gold.
Paint: Yolo Colorhouse
Warm up Walls of Windows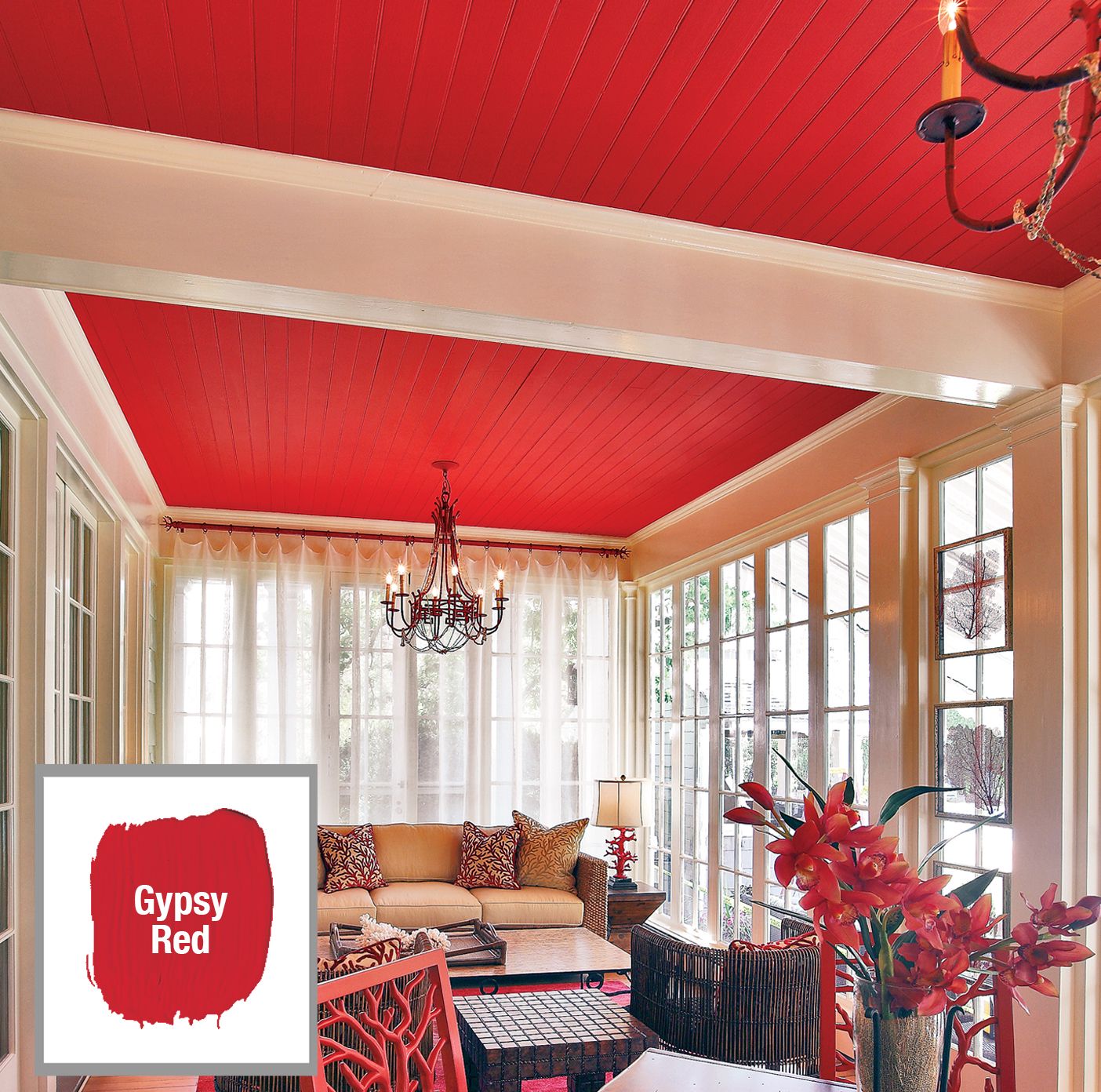 Painting this tongue-and-groove ceiling bright red lowers it visually, making the glass-walled room feel cozier. A red area rug, chairs, and table lamps reinforce the effect at ground level.
Paint: Sherwin-Williams
Be Bold in the Kitchen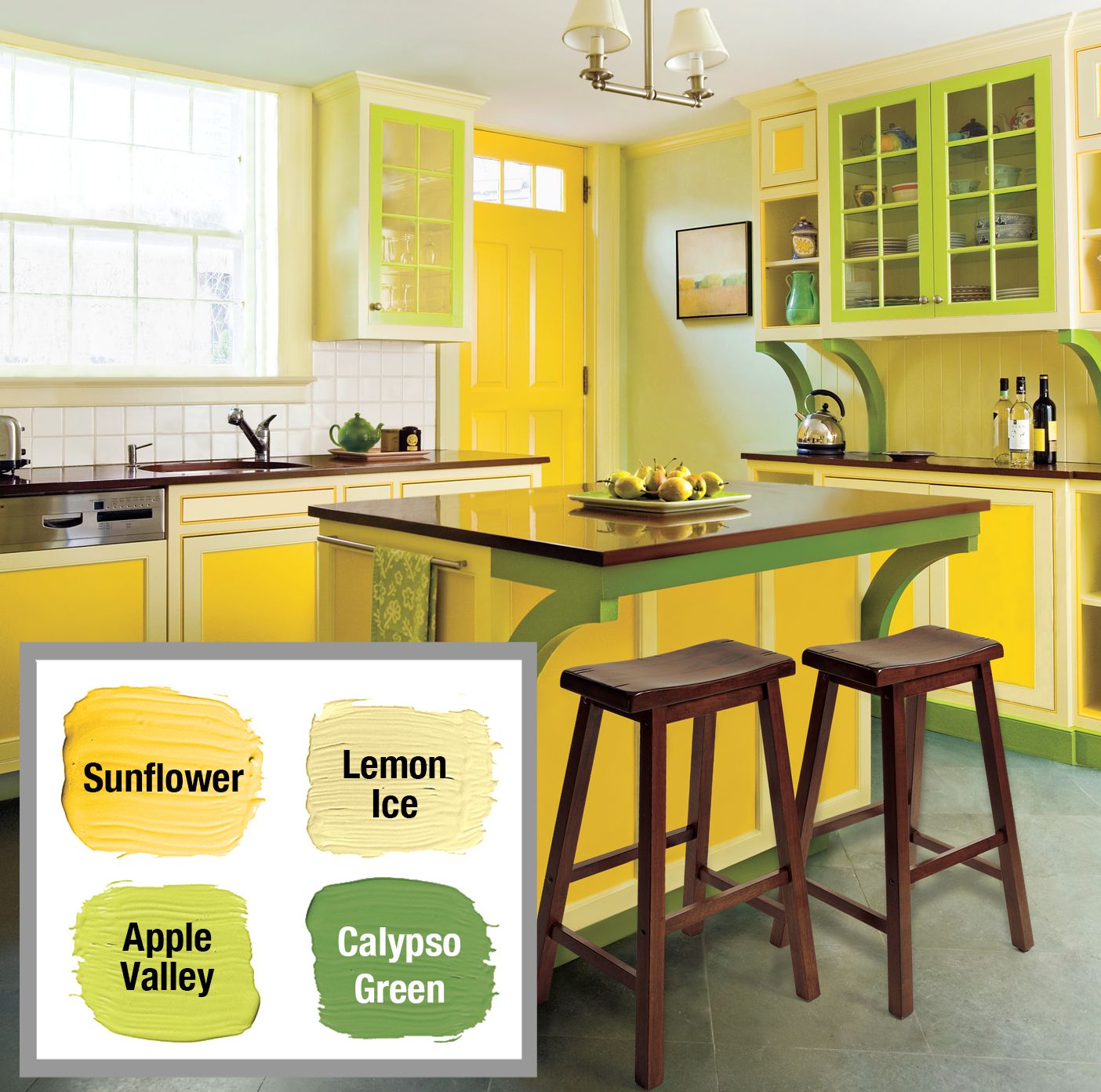 An activity-oriented gathering space, the kitchen is ideal for energetic color, a lively departure from traditional white.
Go for Shades of Equal Intensity
Pairing saturated colors, such as the daffodil used on these base cabinets, the apple green on the uppers, and the grass green on the brackets, creates a dynamic yet balanced look. Saturated hues are often found in the lower portion of paint strips, with lighter tints—such as this lemony trim—at the top.
Paint: Glidden
Focus on a Dominant Color with Neutrals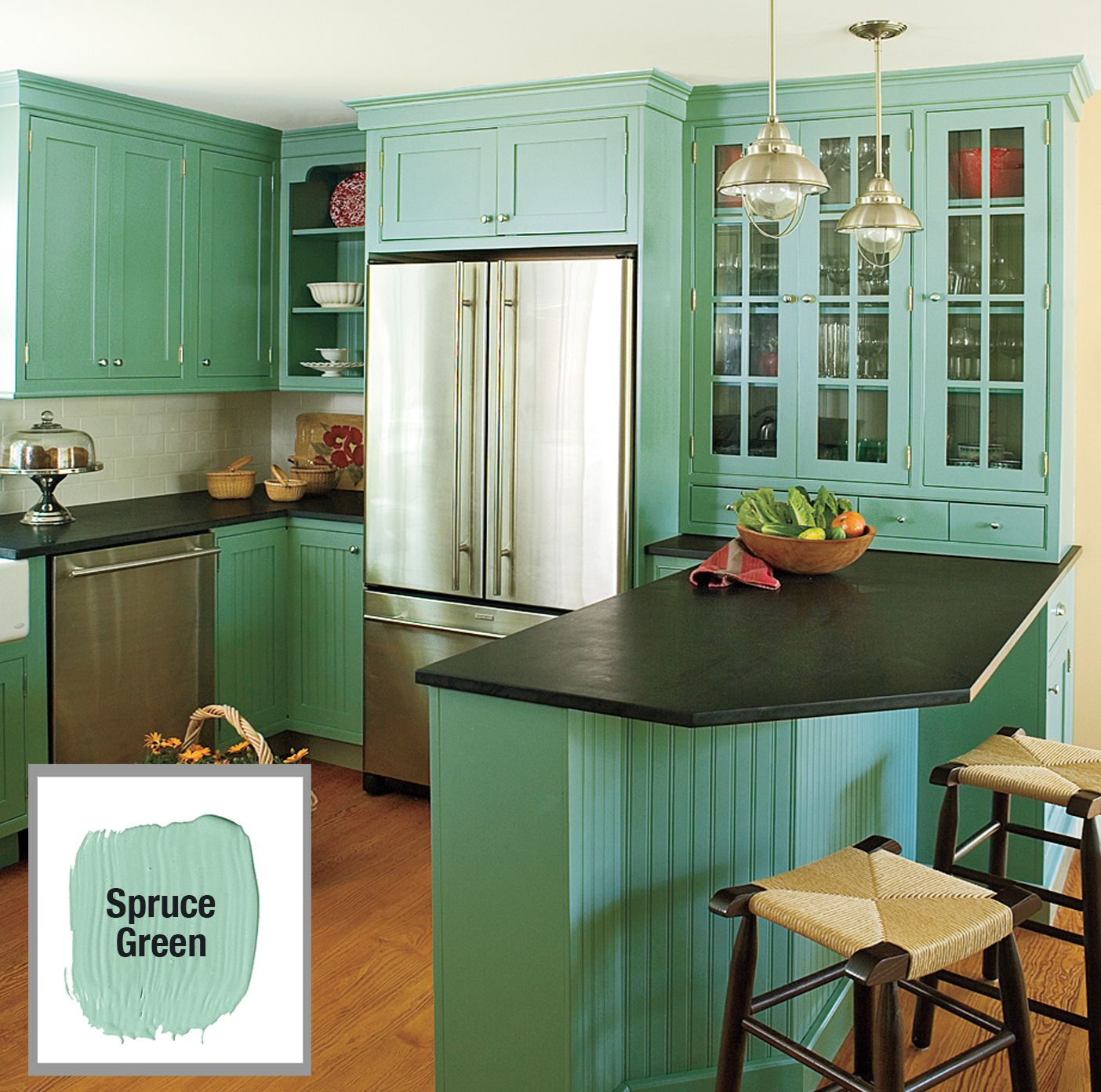 Beige walls and a caramel-tinted floor bring out the warm yellow undertones in the cabinetry's scene-stealing green paint. Black counters and stainless-steel appliances give what might otherwise seem like an old-fashioned paint palette an updated and sophisticated look.
Paint: Olympic
Use the 60-30-10 Rule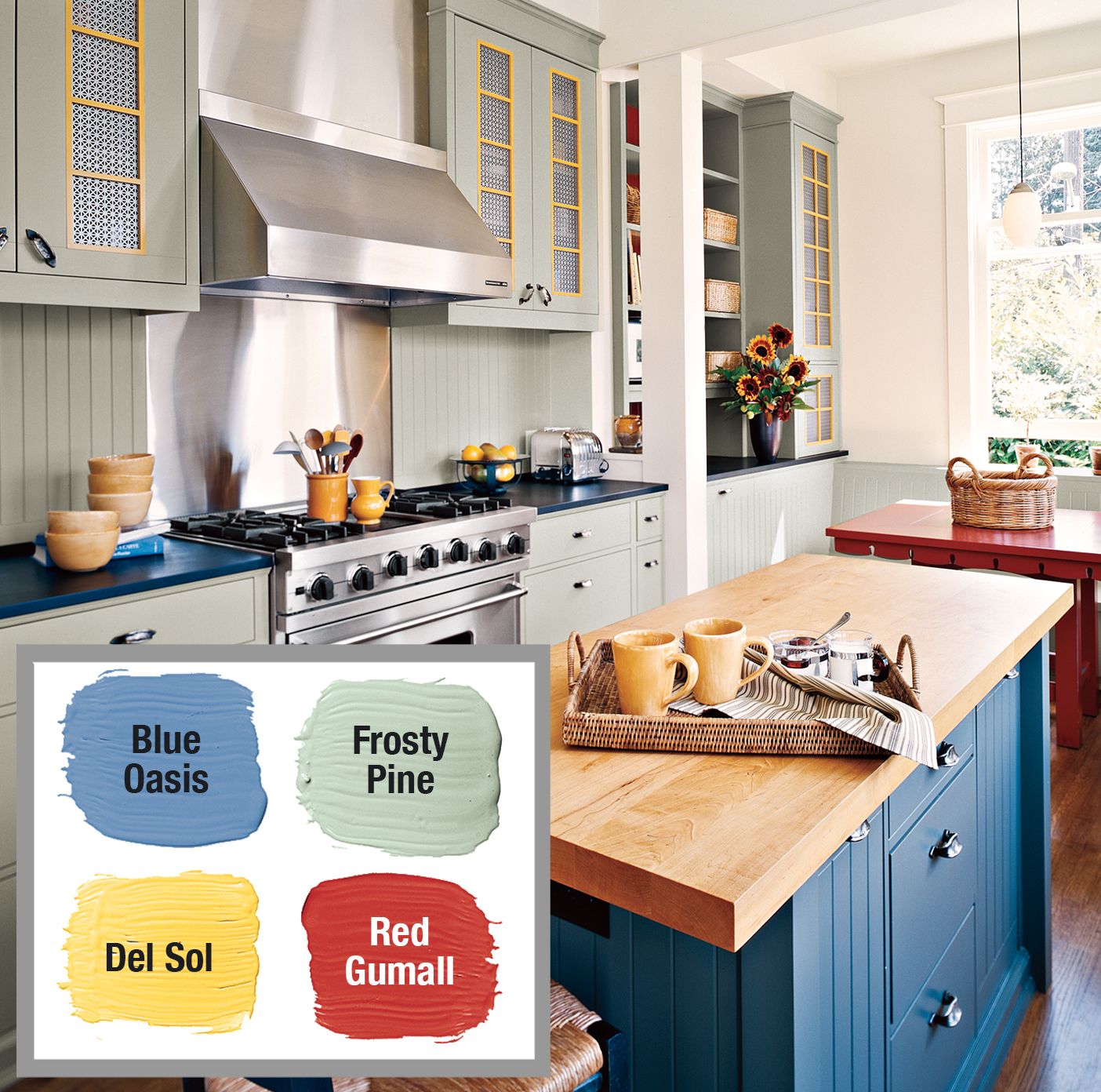 Gray-green paint on cabinetry provides a unifying 60 percent base color in this kitchen. Blue, which accounts for 30 percent, highlights the room's center island. Red paint on the dining table and yellow on the cabinet doors' window muntins add cheery accents for the last 10 percent.
Paint: Benjamin Moore
Brighten Built-ins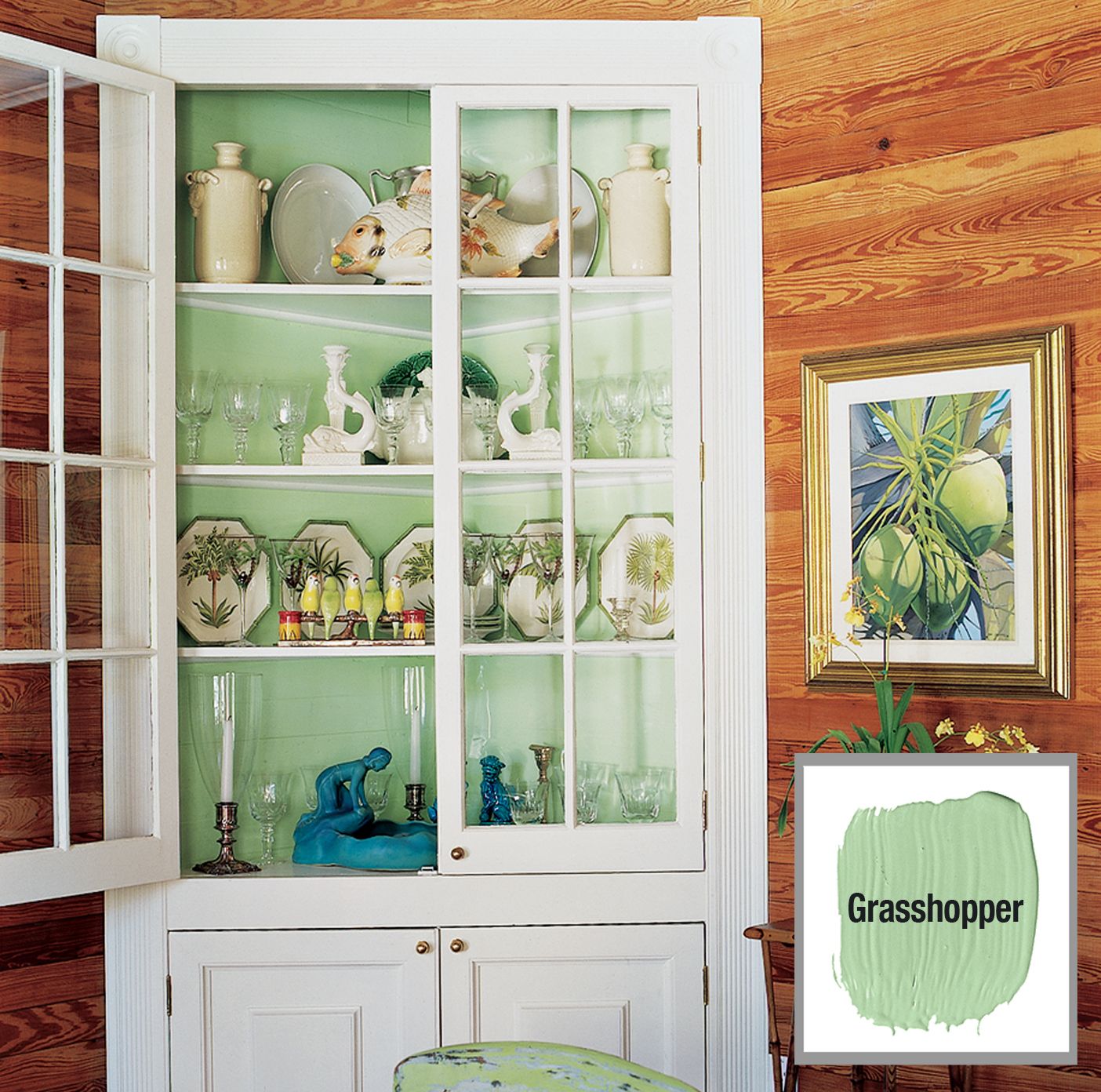 A hit of color can turn the functional elements in a room into eye-catching focal points.
Spotlight a Collection
A minty hue inside this corner cupboard echoes the green paint on the dining chairs and highlights the array of dishes and decorative objects displayed on the shelves. Crisp white paint on the outside, surrounded by natural pine wall paneling, gives the built-in a fresh, cottage-style look.
Paint: Pratt & Lambert
Enhance an Open Feeling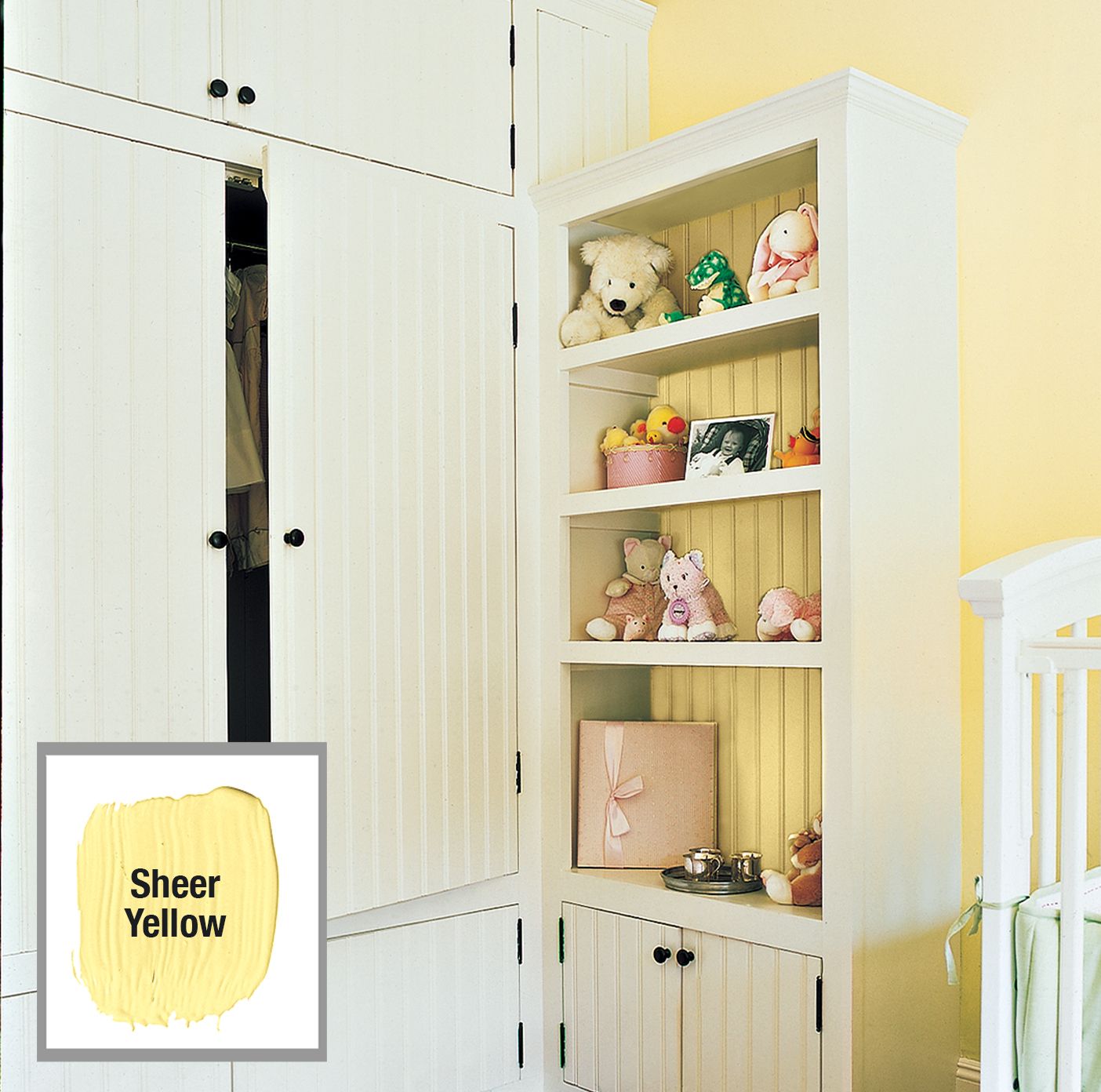 Painting the back panel of this shelving unit the same sunny yellow that's used on the surrounding walls gives the built-in a light, airy look to balance the heft of the attached wardrobe.
Paint: Dutch Boy
Punch Up Trim and Panels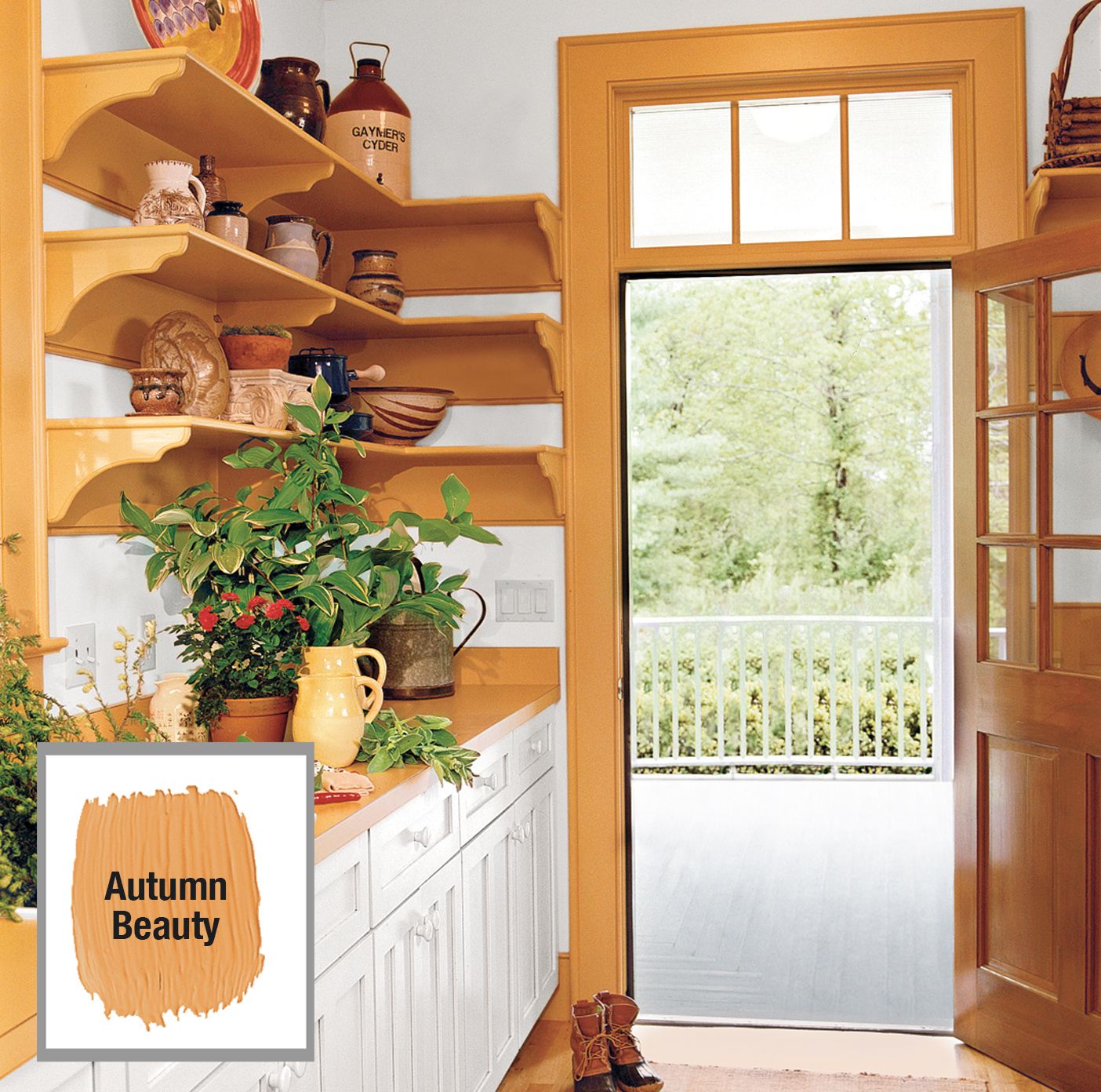 One color for all your woodwork provides a consistent, grounded look, whether in one room or throughout the house.
Reverse the Conventional Scheme
Instead of the typical arrangement of white trim set against a colored wall, a glossy pumpkin-colored paint—selected to match the laminate countertop—highlights crown molding, open shelving, and door casing. As a result, the white base cabinetry seems to recede into the white wall.
Paint: Kelly-Moore
Link Spaces With Trim Paint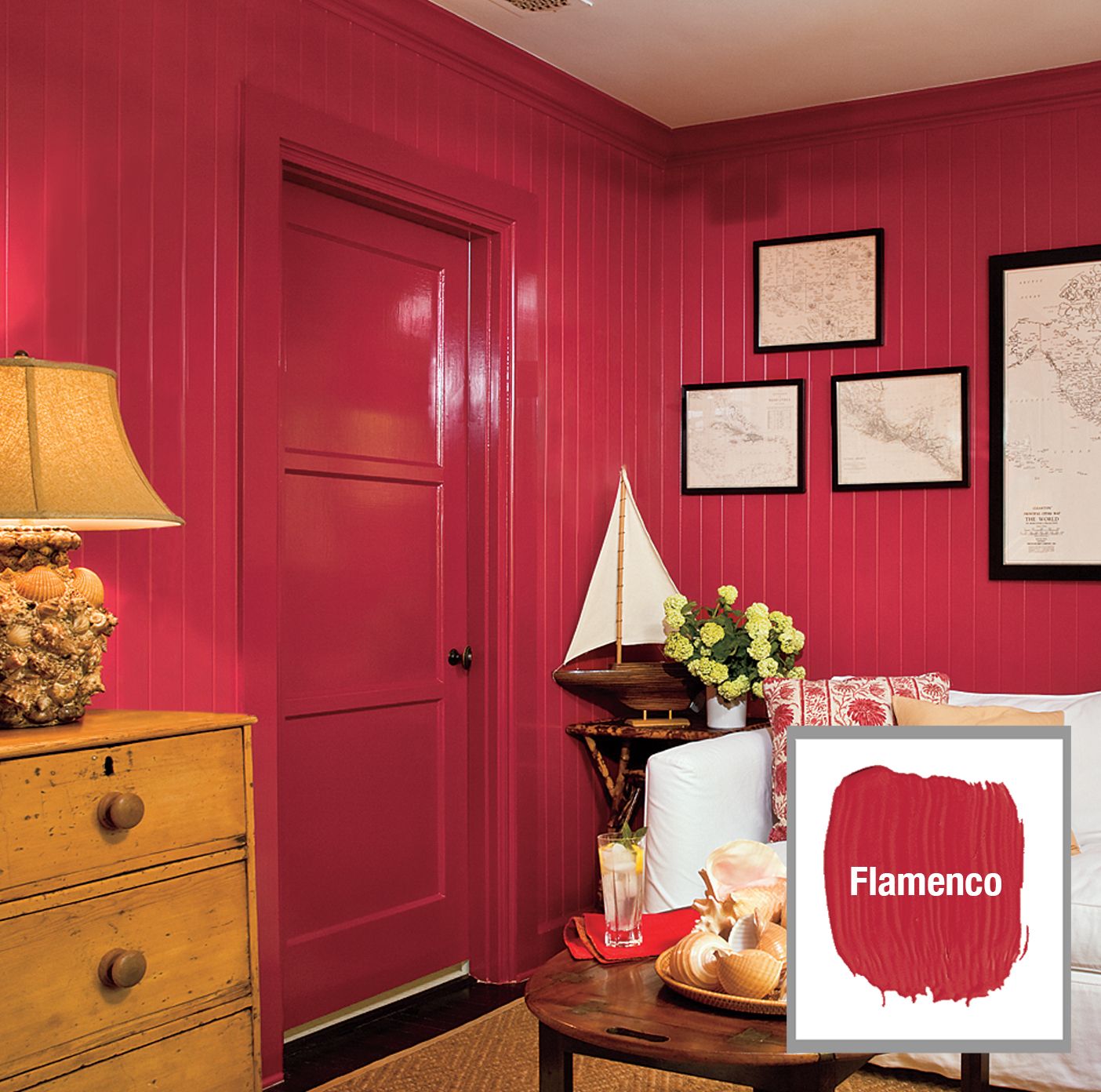 Using the same paint for wall paneling, doors, and moldings, such as the fiery tomato gloss used here, adds drama to a room, says Debbie Zimmer. Choose a deep shade to make a large space seem snug, as in this den. For a more expansive feel, go with a light color.
Paint: Ace Paint
Wrap a Room in Color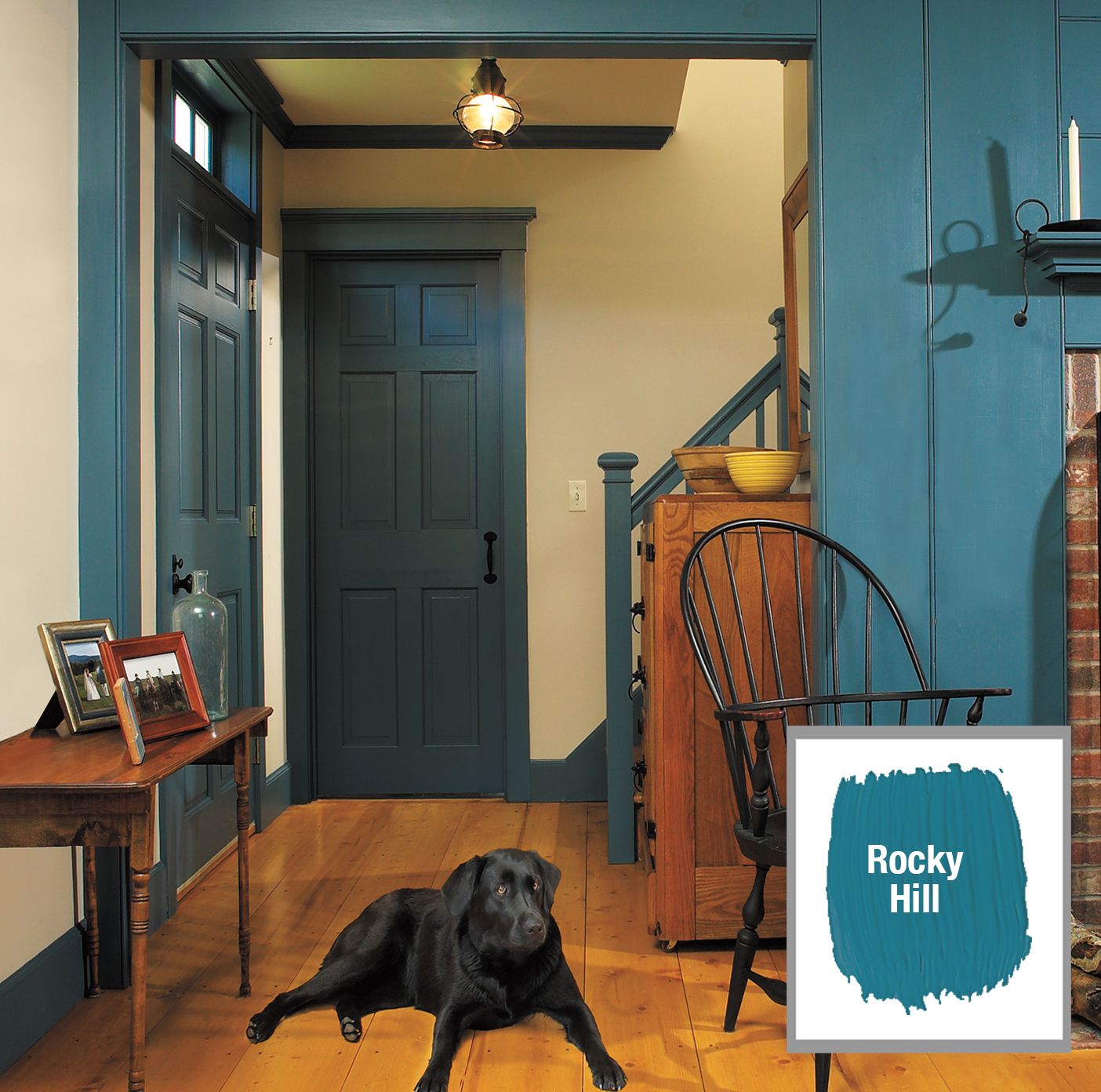 Brushing the living room and adjacent foyer's woodwork with the same blue paint creates a seamless transition between the two rooms. The saturated shade has the added effect of highlighting shadow lines in the trim and moldings. White paint has a reflective quality that tends to blend details.
Paint: California Paints