Look Good, Spend Less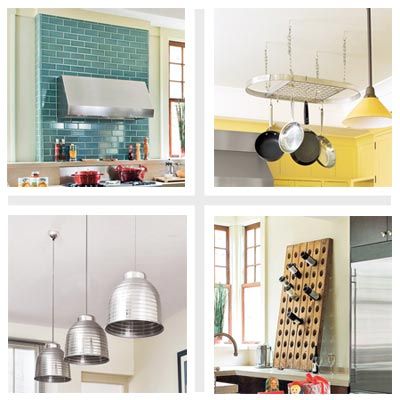 Adding character to your cook space doesn't have to put you in the poor house: The secret's in the finishing touches. See how fresh paint, new lighting, and smart use of colorful tiles and vintage accents can personalize the hub of your home.
Go for Retro Cool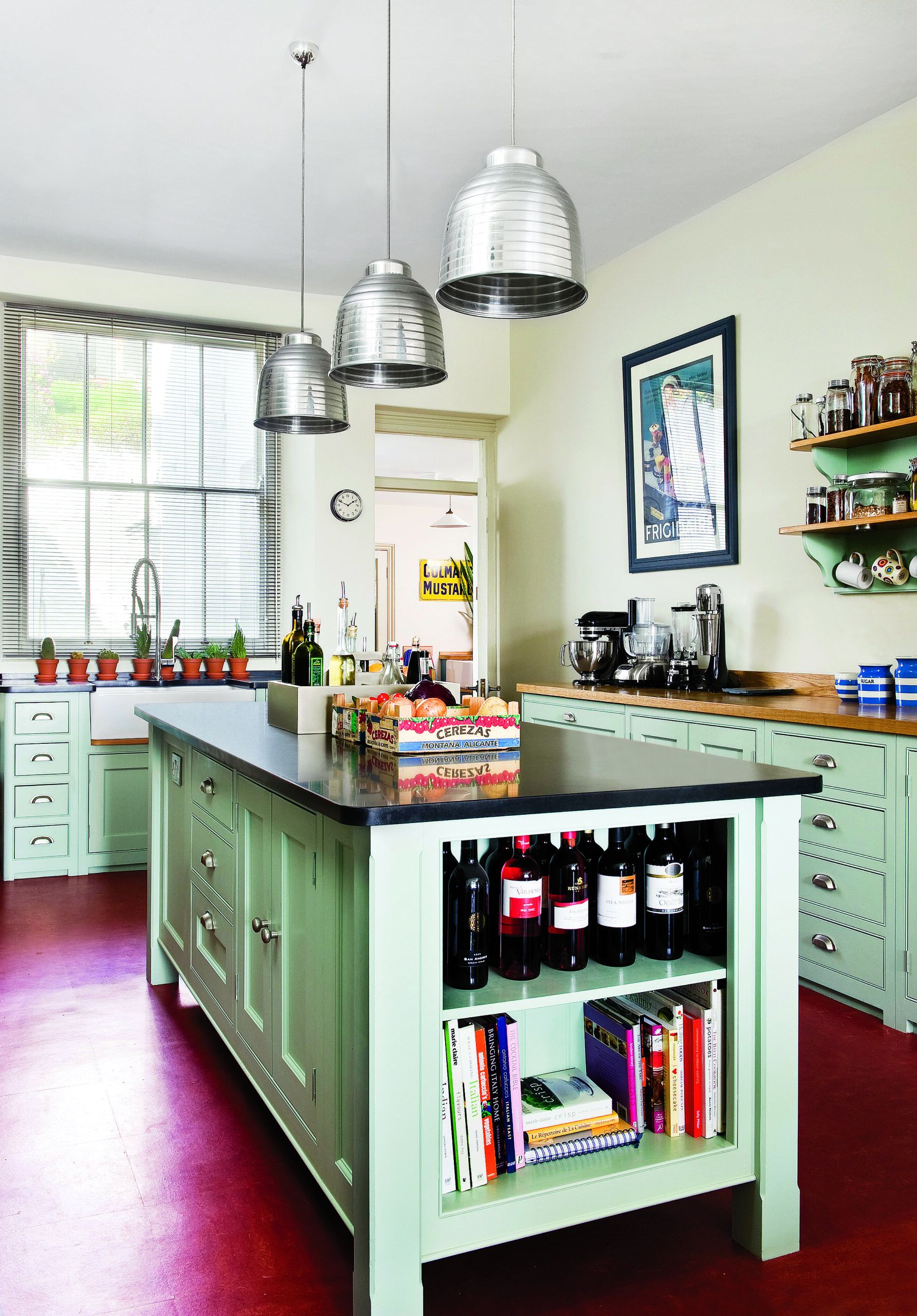 Reinvent dark wood or white cabinets by painting them a refreshing hue. Here, a pale sage green reminiscent of vintage jadite dishware balances the intensity of the red floor. Premium Plus Ultra interior semigloss acrylic latex in Frosted Jade, $34 per gallon; behr.com
Oversize Task Lights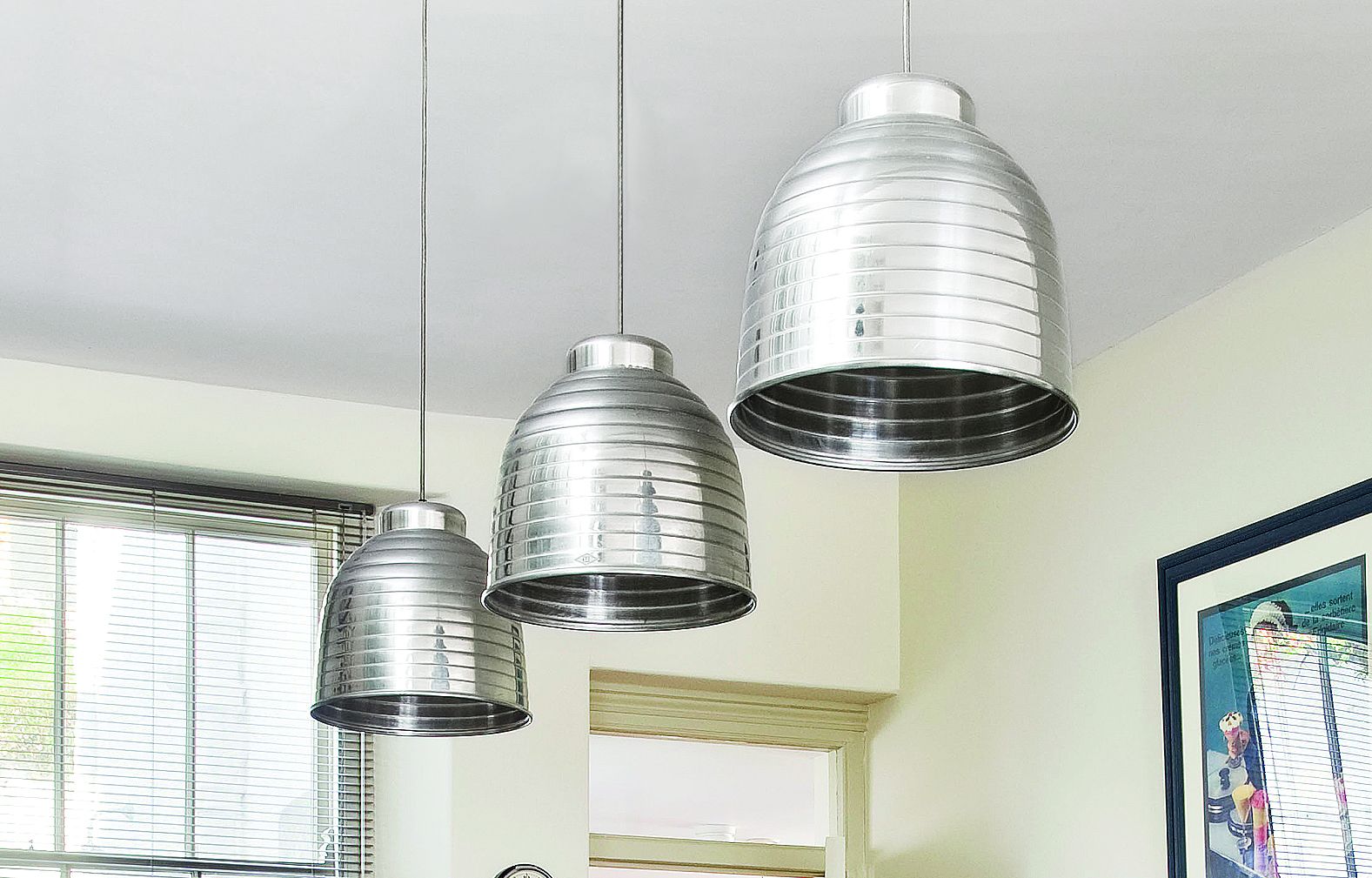 Put pendants above the kitchen island. They're classier than track lighting or recessed cans, and can cost less, too. The large-scale aluminum ones at right echo the shine of the faucet and cabinet hardware, tying the kitchen's details together. Similar to shown: 20-inch Foto Pendant Lamp, $30; ikea.com
Vintage-Look Floor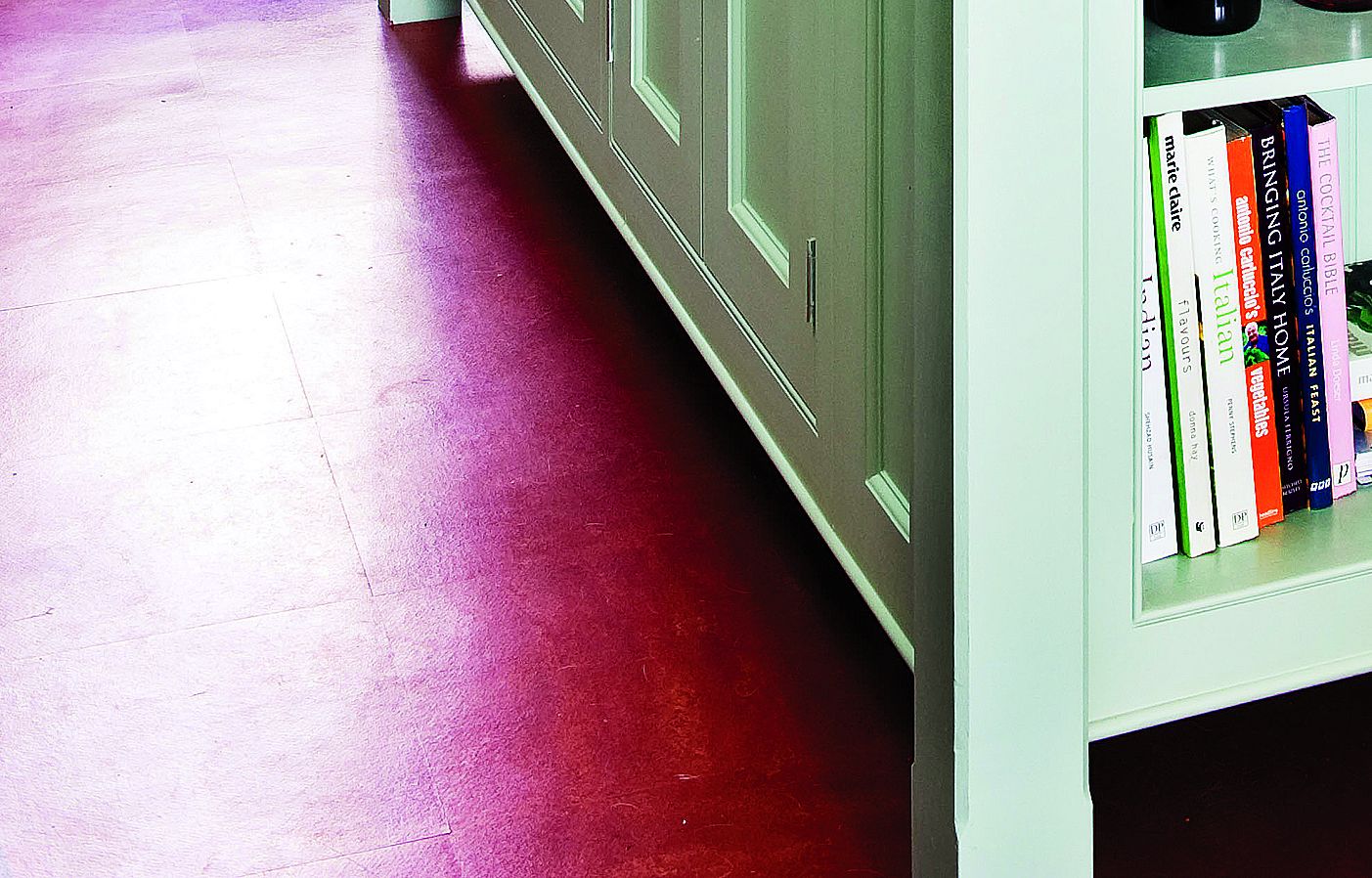 Add some oomph with a new floor made of an old-school material: linoleum. It's easy to clean, naturally antimicrobial, and comes in more than a dozen shades, such as this vibrant red. Similar to shown: Marmoleum 13-by-13-inch tiles in Red Amaranth, $4.99 per square foot; thenaturalabode.com
Wall-Art Upgrade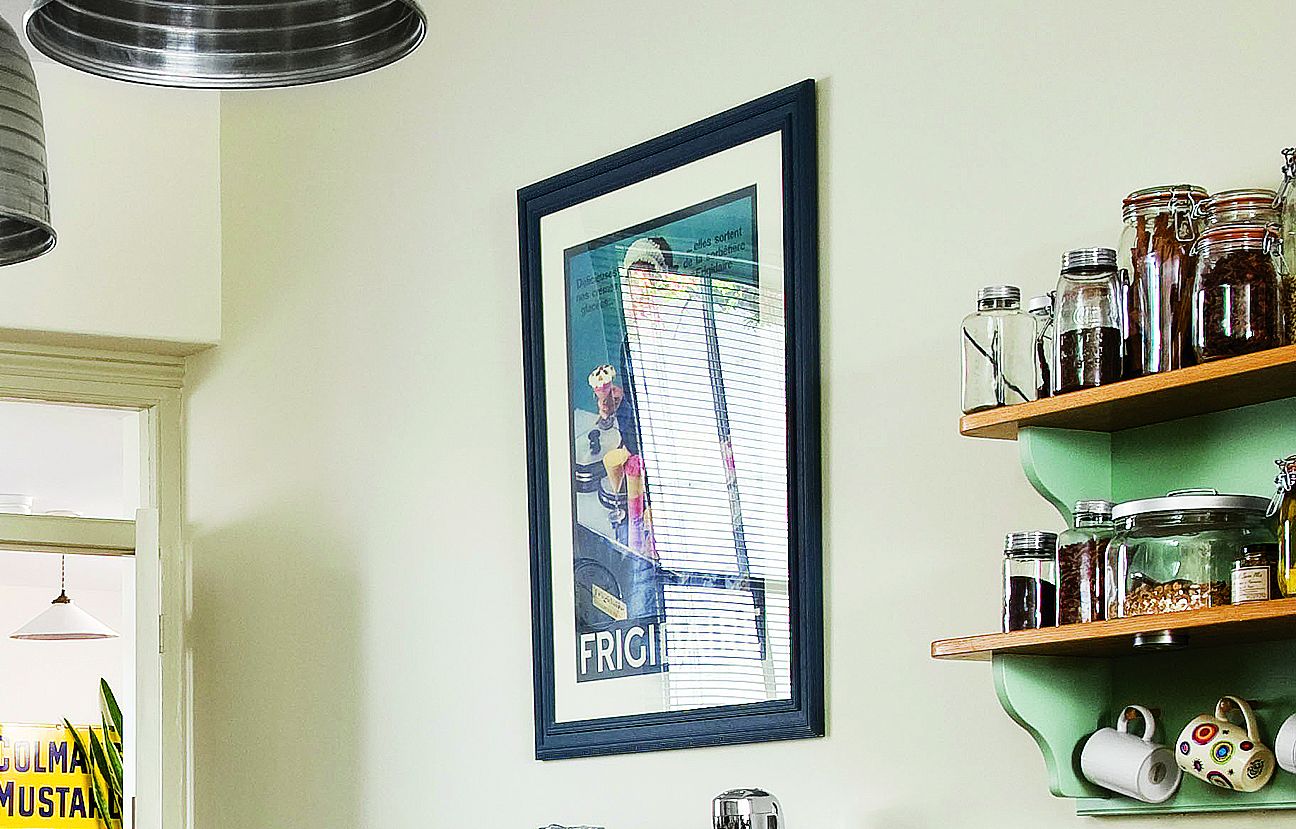 Trade crayon doodles for graphic prints like this one. Vintage-look posters, starting at $10; allposters.com
Try Traditional with a Twist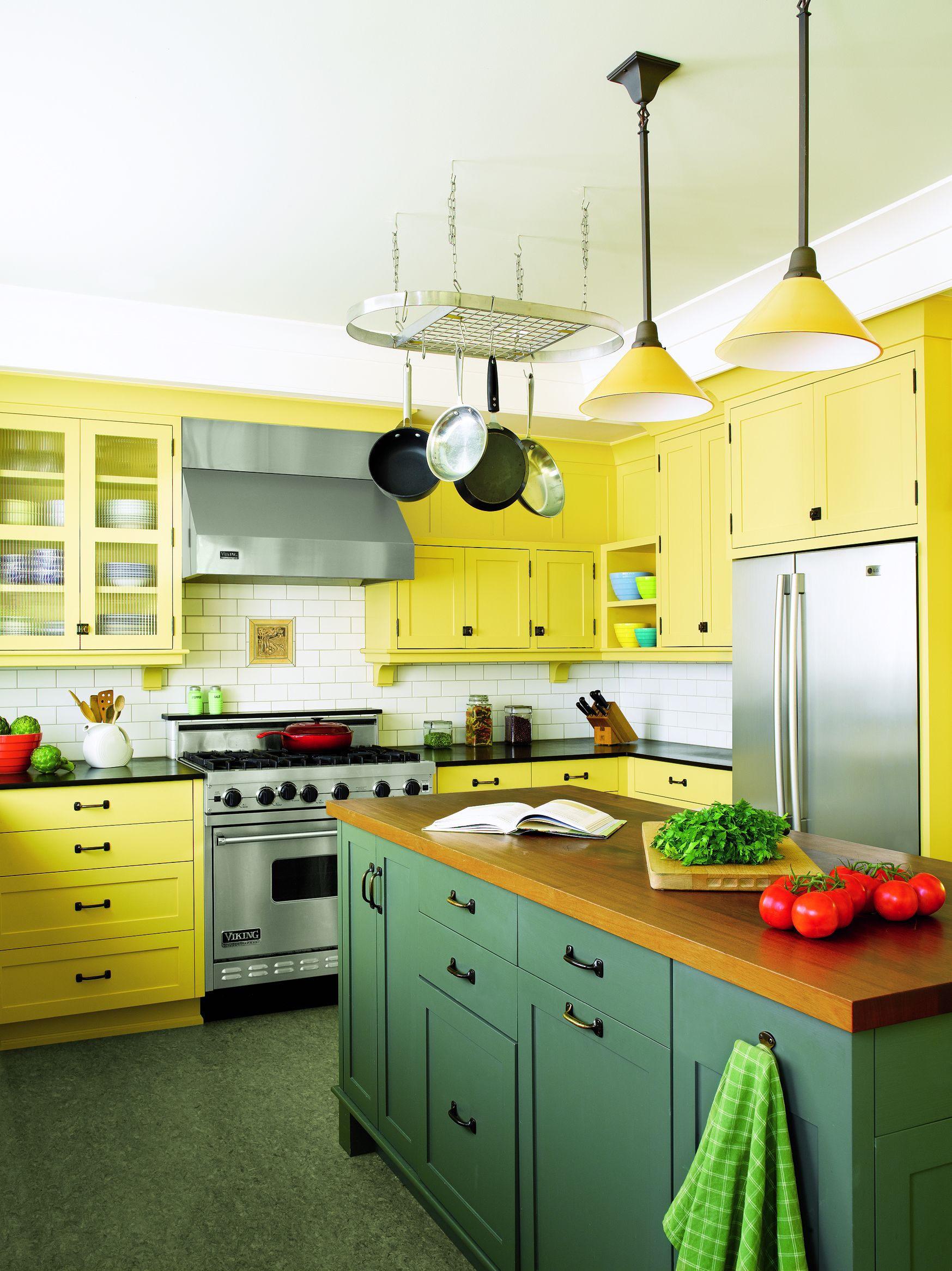 Paint your kitchen workhorse an accent color. This dark green balances walls lined with warm-yellow cabinets and creates a strong visual impact. Interior Latex Semi-Gloss in Morris Green (island) and Pale Ale (cabinets), $57 per gallon; c2paint.com
Wood Counter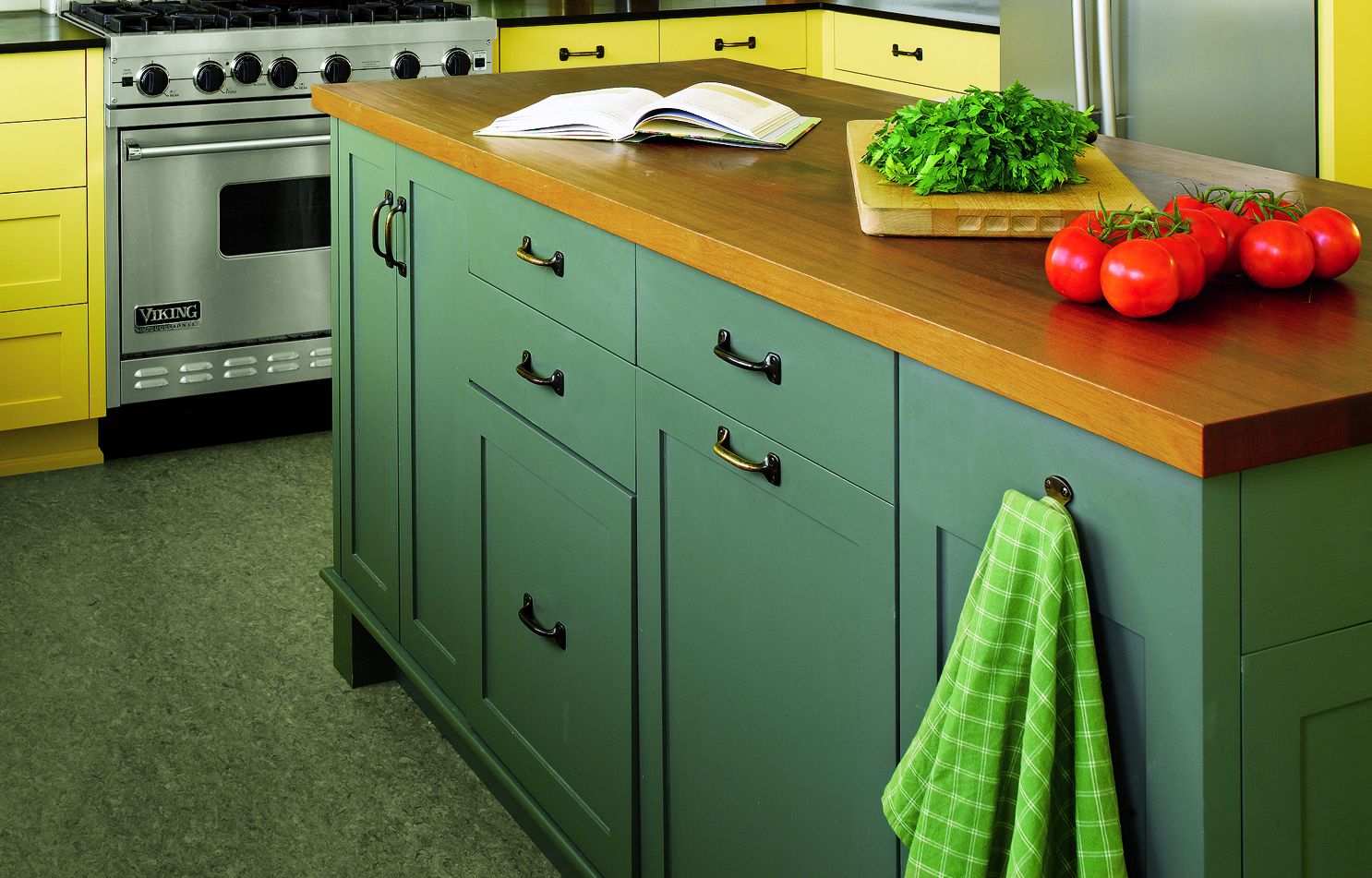 Cover the island top with butcher block. This hard-wearing, knife-friendly surface softens the look of the black counters that ring the room. Similar to shown: oiled maple, 27-by-60-inch slab, 1½ inches thick, $331; johnboos.com
Pot Rack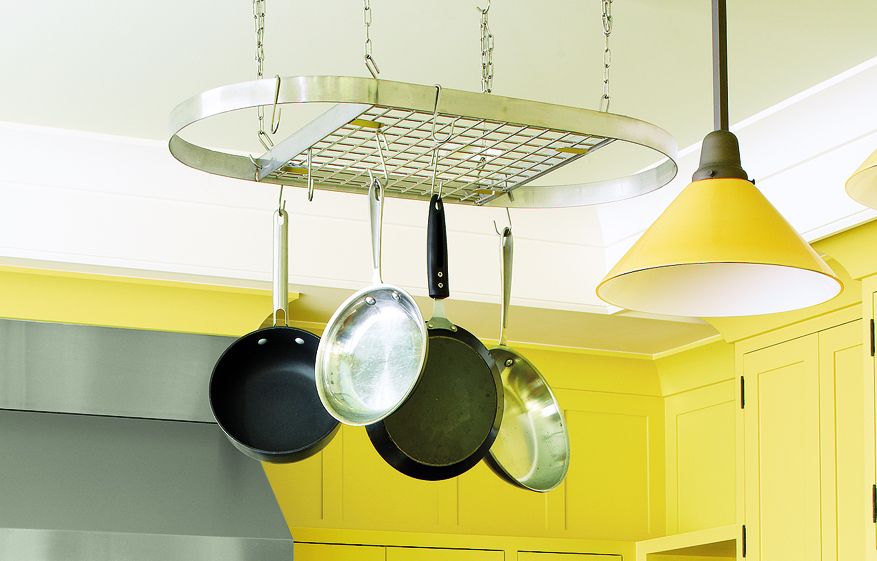 Save cabinet space by hanging cookware overhead. This rack is positioned over one end of the island to avoid head bumps and keep it within easy reach of the range. Similar to shown: Small Grey Ceiling Pot Rack, $120; crateandbarrel.com
Add Commercial Appeal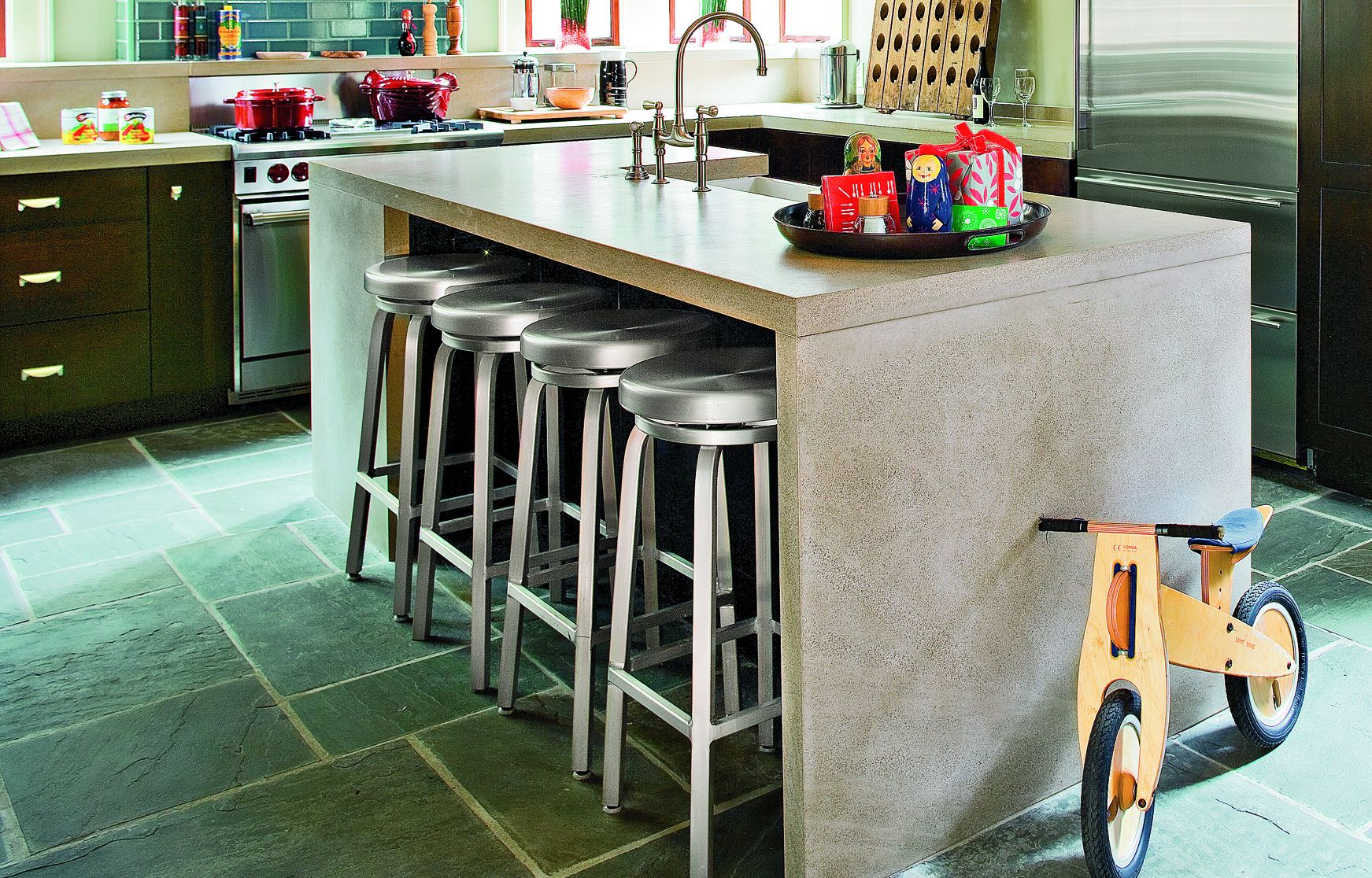 Pour a concrete top like this one with help from kitchen designer Fu-tung Cheng. An authority on concrete countertops, Cheng sells an instructional DVD, plus all the tools and materials to craft a counter, for as little as $10 per square foot; concreteexchange.com
Wall Runner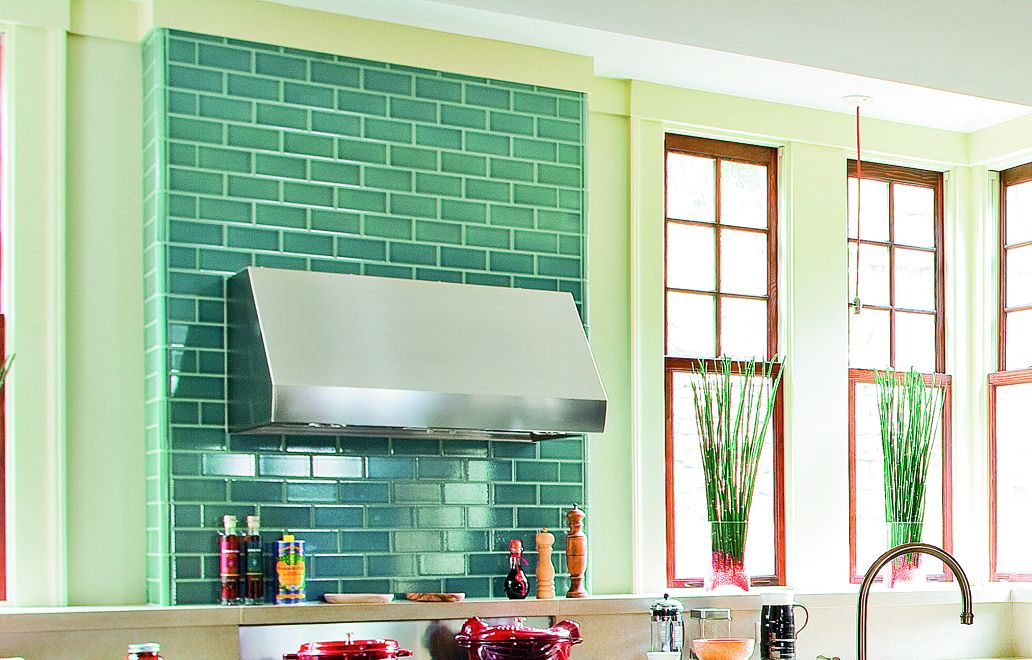 Use expensive finishes sparingly. This single strip of blue subway tile behind the range makes an oceanic impact. Similar to shown: 3-by-6-inch Elements tile in Fathom Gloss, about $20 per square foot; annsackstile.com
Natural Stone Floor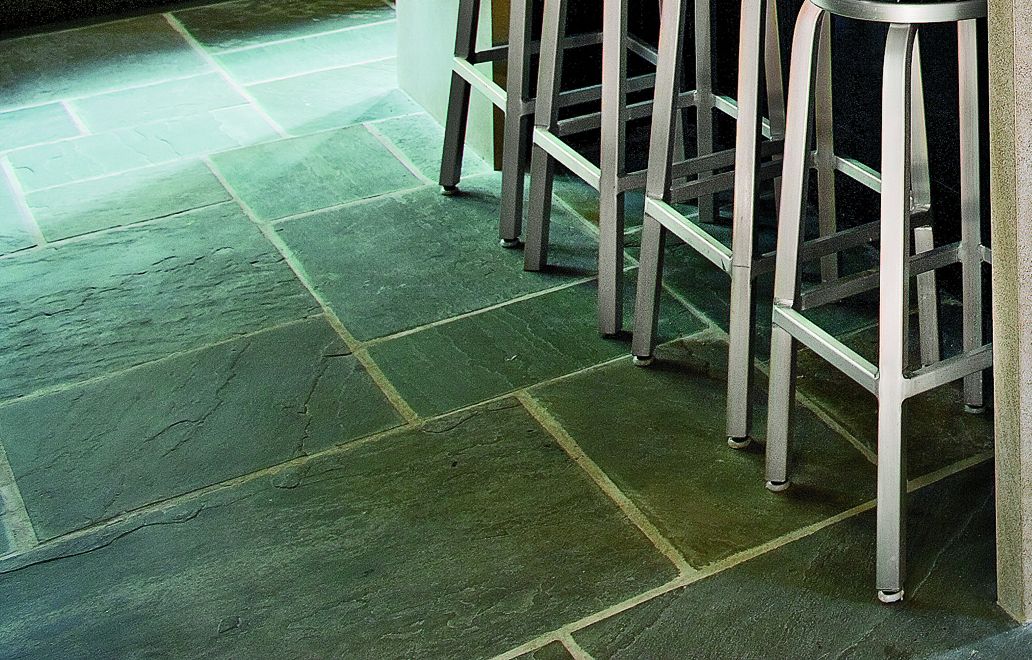 Bring outdoor materials indoors. These bluestone patio pavers are hard-wearing, easy to clean, and inexpensive. Starting at $3 per square foot; at stone yards
Pro-Style Wine Storage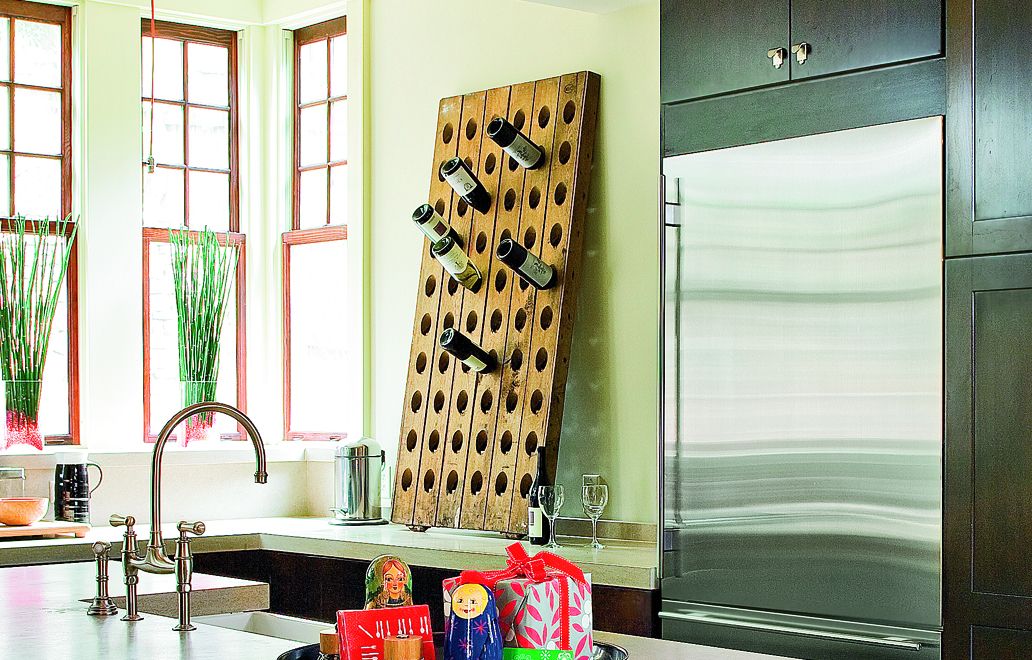 Keep bottles in a vintage wood riddling rack like this one. Once used by French champagne producers to stow fermenting bubbly, the salvaged racks double as wine cellars. Similar to shown: Single Side oak riddling rack, starting at $199; riddlingracks.com
Create an Airy Look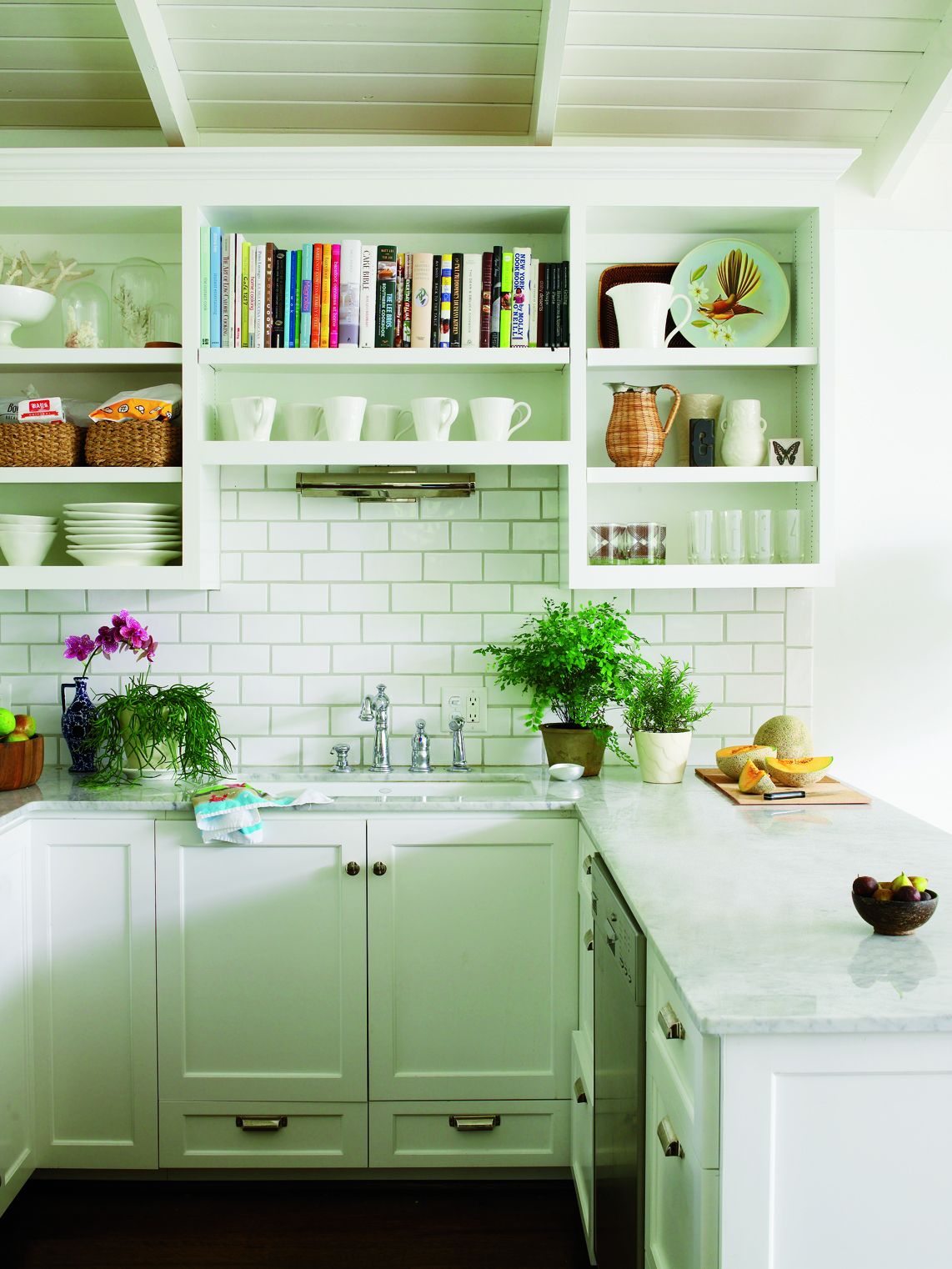 Remove the doors on upper cabinets to make a cramped kitchen feel more spacious. For a finished look, paint the interiors to match the base cabinets. Here, a crisp white enamel matches the subway tile backsplash and marble countertop for a sophisticated monochromatic look. Interior Plus Ultra semigloss acrylic latex in Ultra Pure White, $34 per gallon; behr.com
Tinted Grout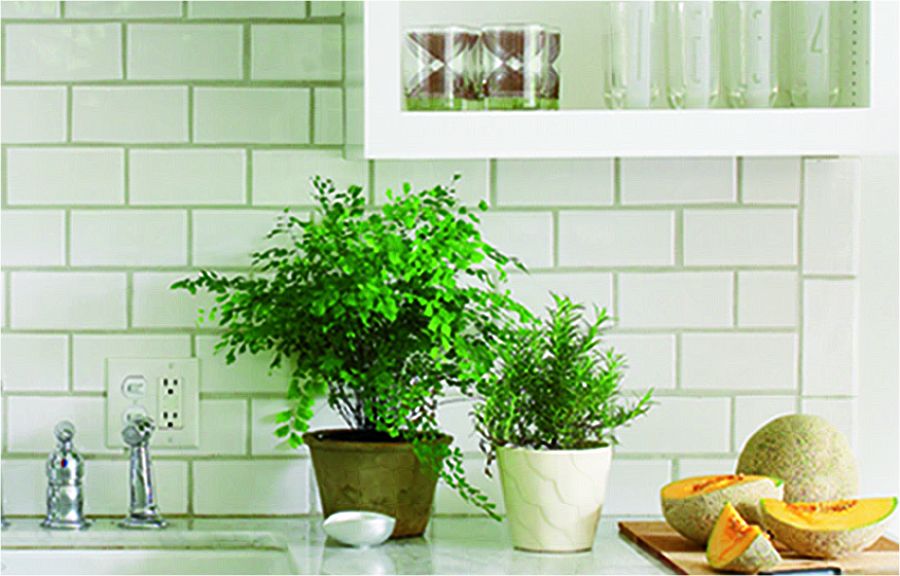 Highlight the grid pattern around tiles by mixing a colored pigment into the mortar. Soft gray grout lines contrast with these white subways, giving the backsplash an aged look to match the retro feel of the kitchen. Similar to shown: Laticrete SpectraLock Powder Grout in Light Pewter, $15 for a 2¼-pound bag; lowes.com
Library Light
Trade a utilitarian under-cabinet fluorescent strip for a handsome lamp typically used to brighten bookshelves or artwork. This chrome version above the sink echoes the finish on the cabinet knobs and pulls. Similar to shown: 18½-inch Picture Light in chrome by George Kovacs, $110; lumens.com
Make it Light and Bright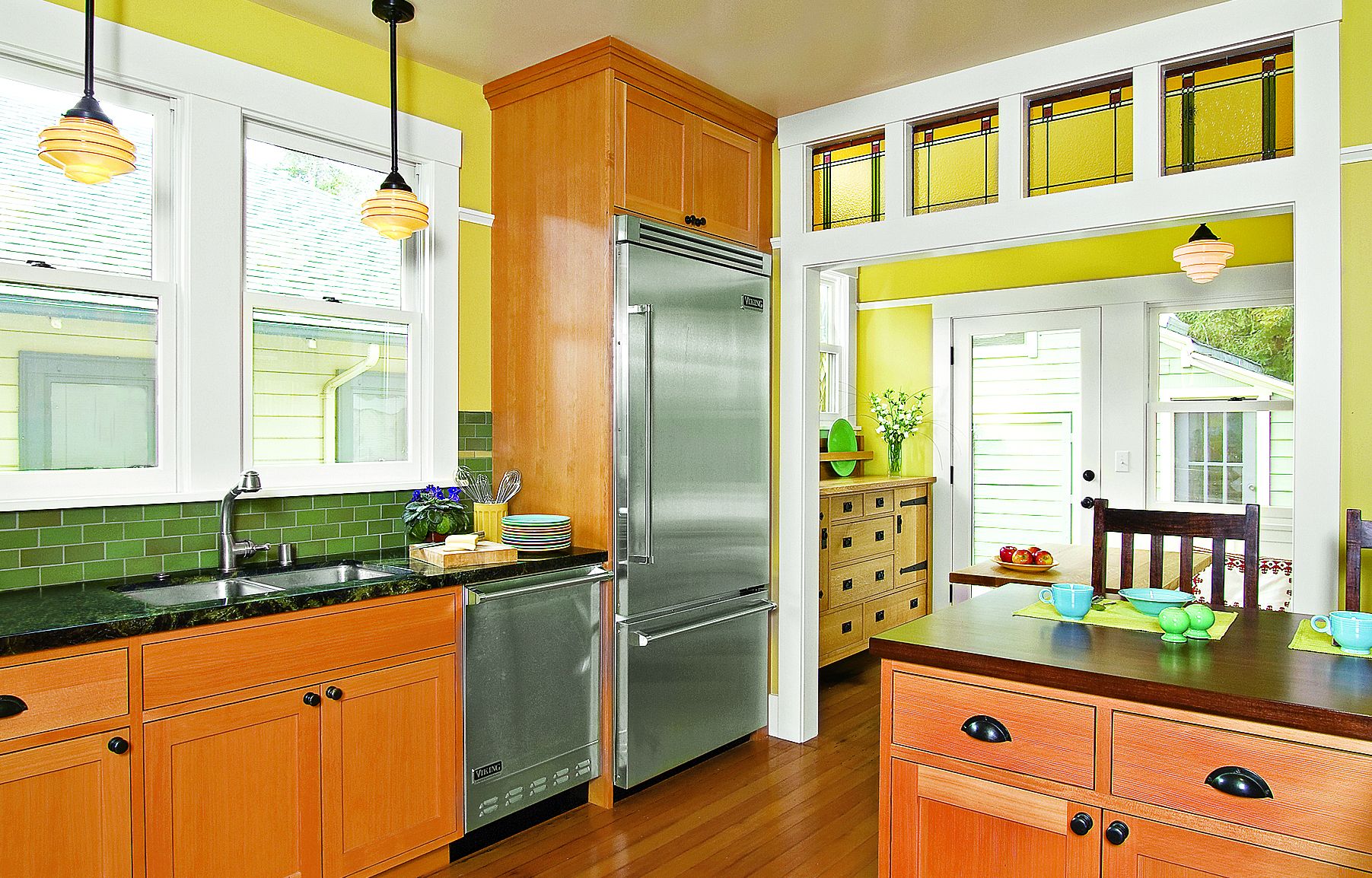 Frame vintage window panels over an interior passageway. Four small squares span this extra-wide opening, but in most cases a single rectangular window will do. Similar to shown: Salvaged panels starting at $125 each; seattlebuildingsalvage.com
Mini Pendants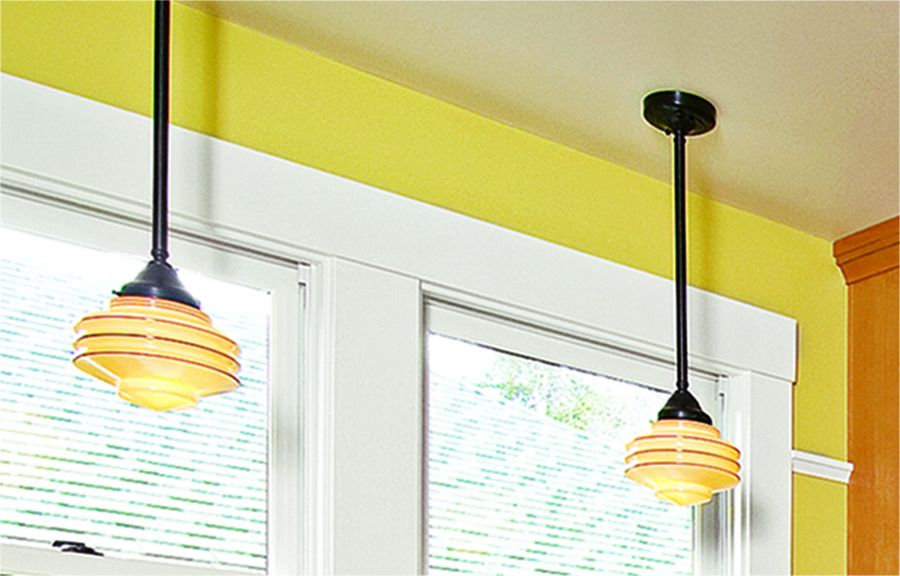 Install multiple scaled-down versions of large hanging fixtures. These miniature schoolhouse lights brighten a long run of countertop. Similar to shown: Washington 1-Light Mini Pendant in bronze with white glass shade, $92; bluemarblelighting.com
Fashion a Farmhouse Feel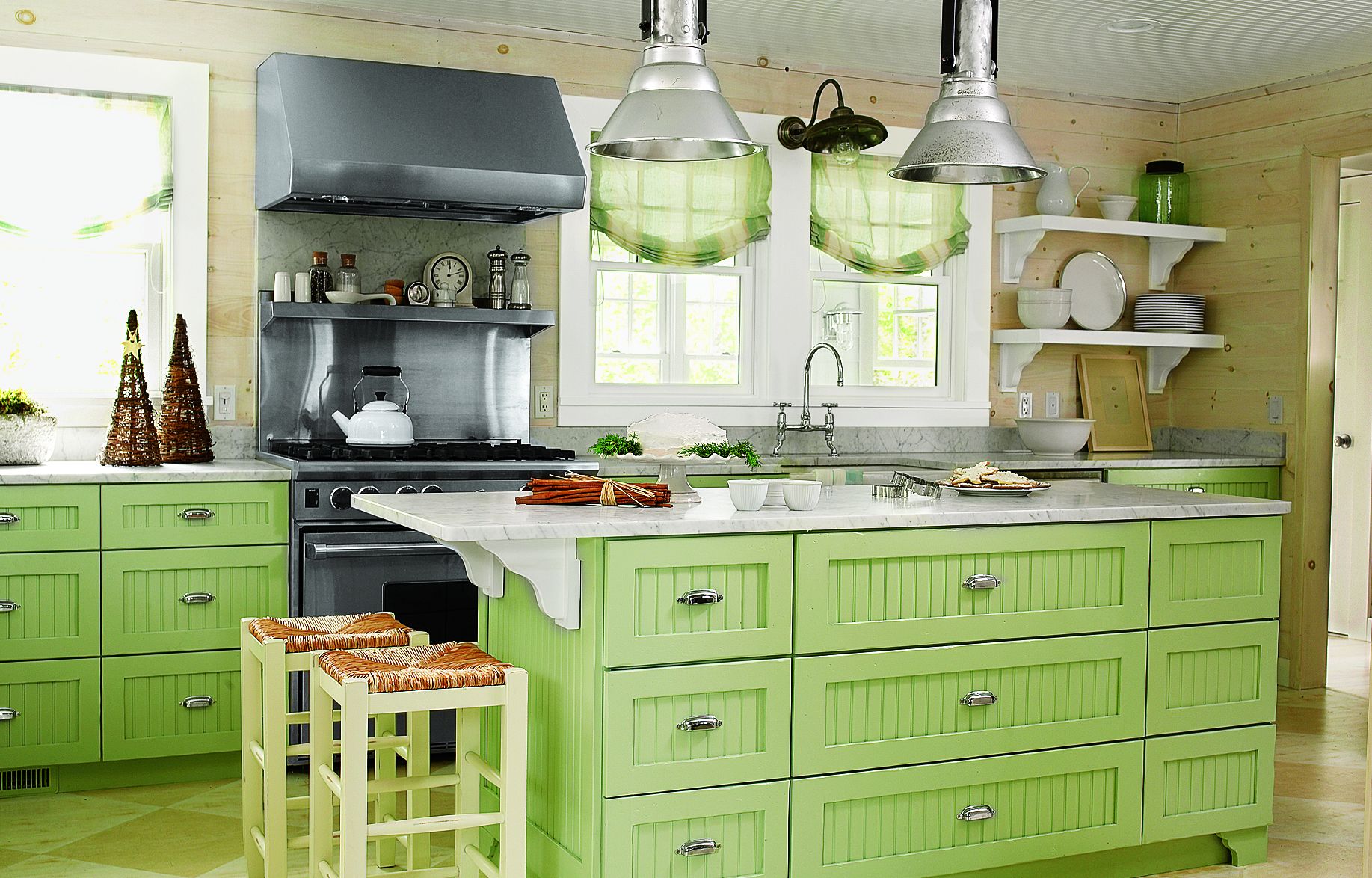 Lighten the look of wood paneling by brushing on a white-tinted glaze. Here, the finish softens knotty pine's busy grain pattern. Studio Finishes latex glaze,$23 per gallon; benjaminmoore.com
Decorative Brackets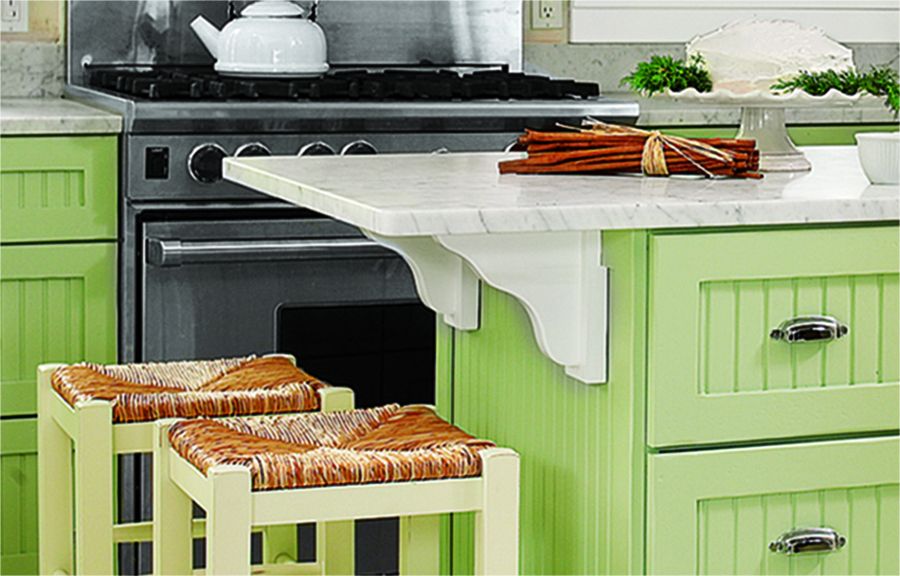 Boost style with carved wood supports, such as these white-painted ones propping up open shelves and a breakfast bar. Similar to shown: Waddell two-way brackets, $7 each; homedepot.com
Light-Diffusing Shades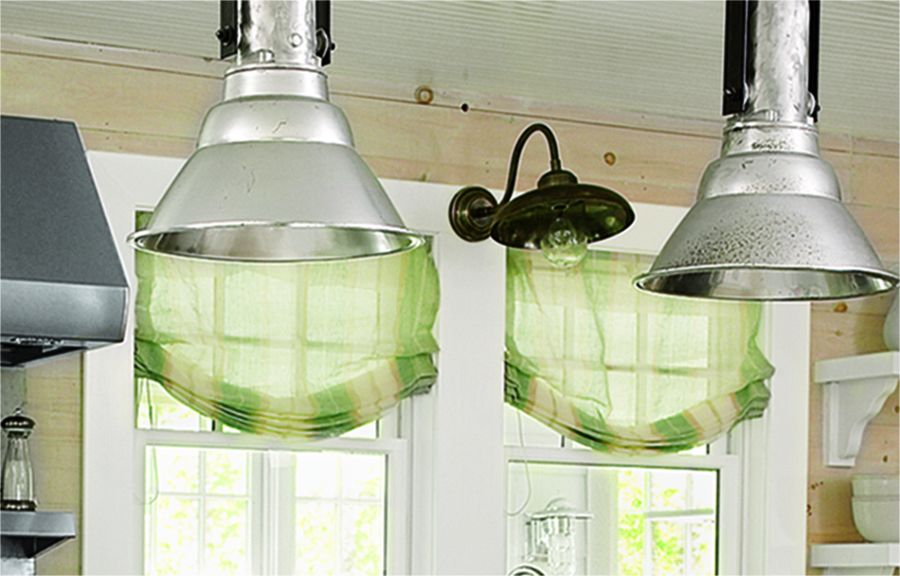 Reduce glare with semi-sheer fabric shades. These relaxed romans are custom, but for a similar look try the Aspen Tie-Up Shade in khaki, $20; bedbathandbeyond.com
Barn Light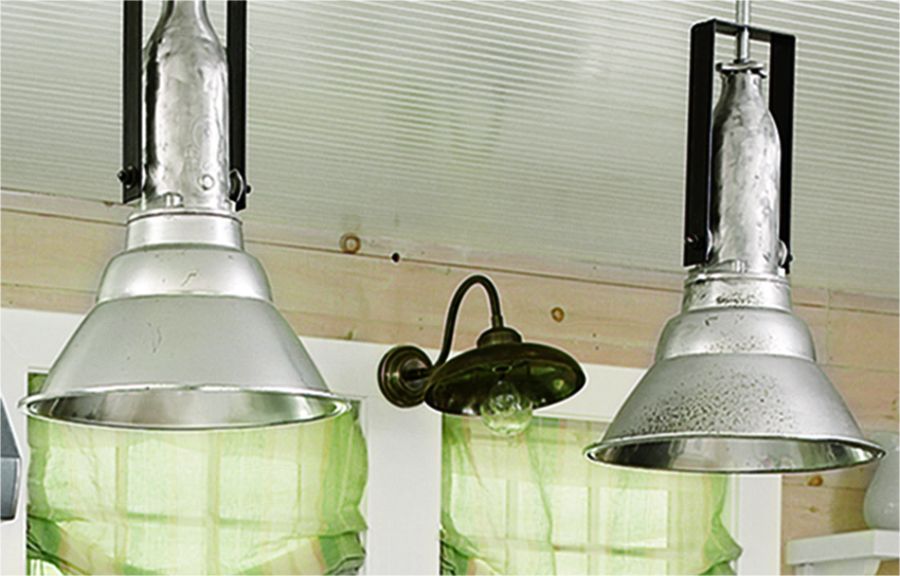 Install a rustic wall sconce with a wide-brim shade. Put it over the sink, as was done here, to illuminate your cleanup spot. Similar to shown: 14-inch Warehouse Gooseneck Barn Light with bronze finish, $130; barnlightelectric.com
Craft Cottage Charm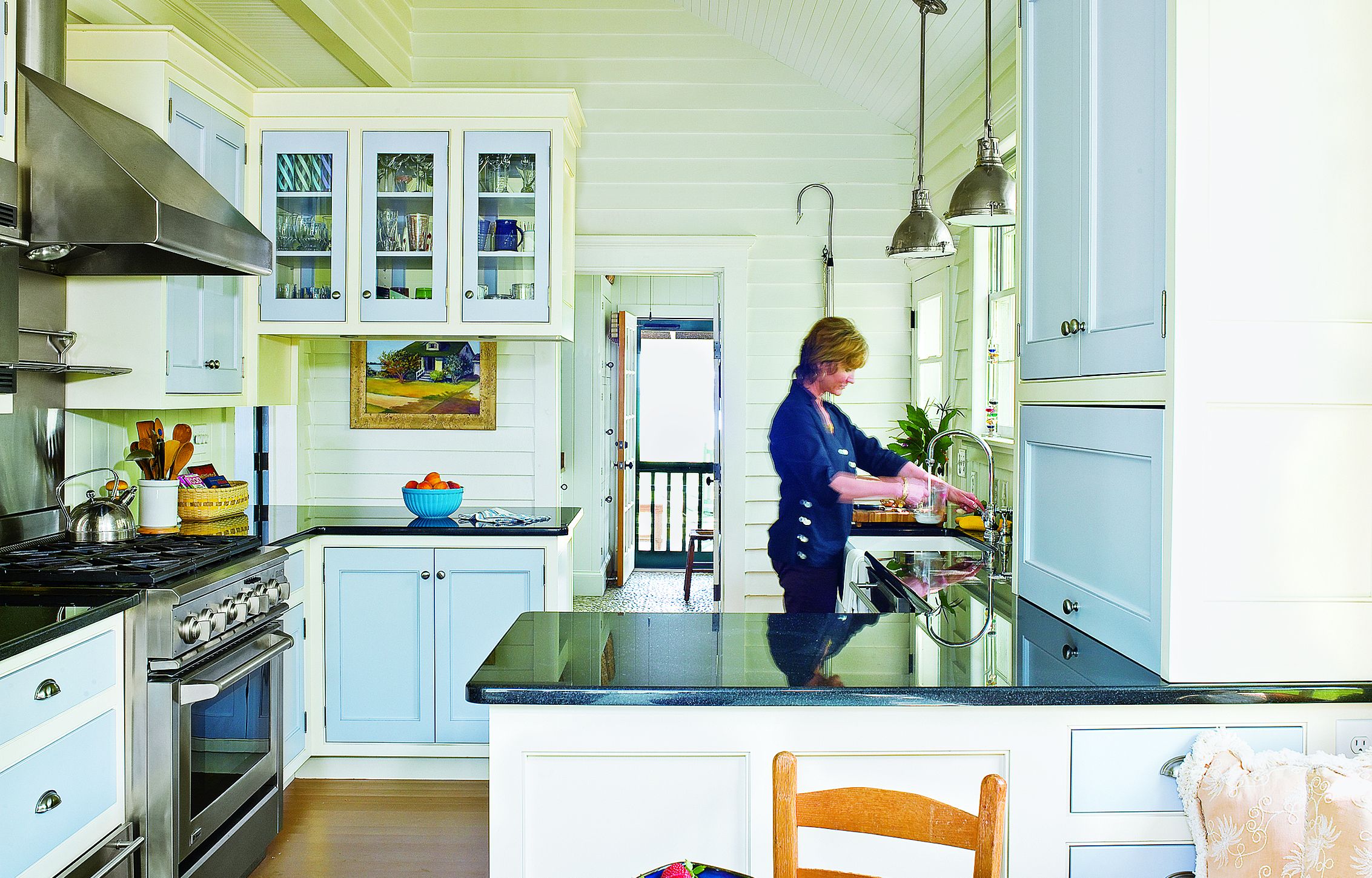 Call out inset or partial overlay doors and drawer fronts by painting them a different shade from the cabinet boxes. Here, soft blue set against a white sand background evokes a beachside retreat. Eco-Spec Interior Latex semigloss in Blue Diamond (doors) and Powder Sand (boxes), $40 per gallon; benjaminmoore.com
Rustic Paneling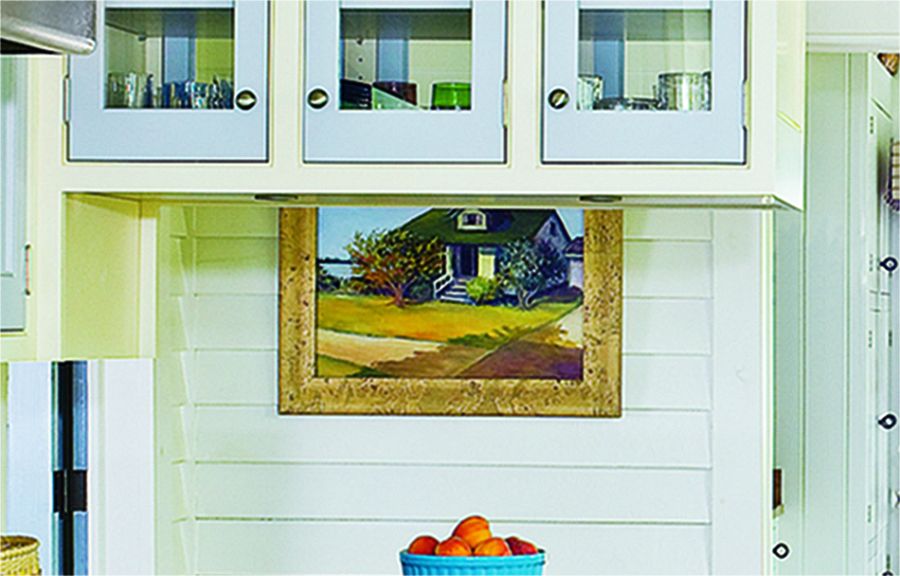 Add texture to smooth drywall, as well as scuff protection in high-traffic areas, such as the hallway leading to this kitchen, with floor-to-ceiling V-groove paneling. Similar to shown: EverTrue MDF V-groove 5¼-inch-by-8-foot preprimed wall planks, $15 for 14 square feet; lowes.com
Thrifty Tile Ideas: High-Class Seconds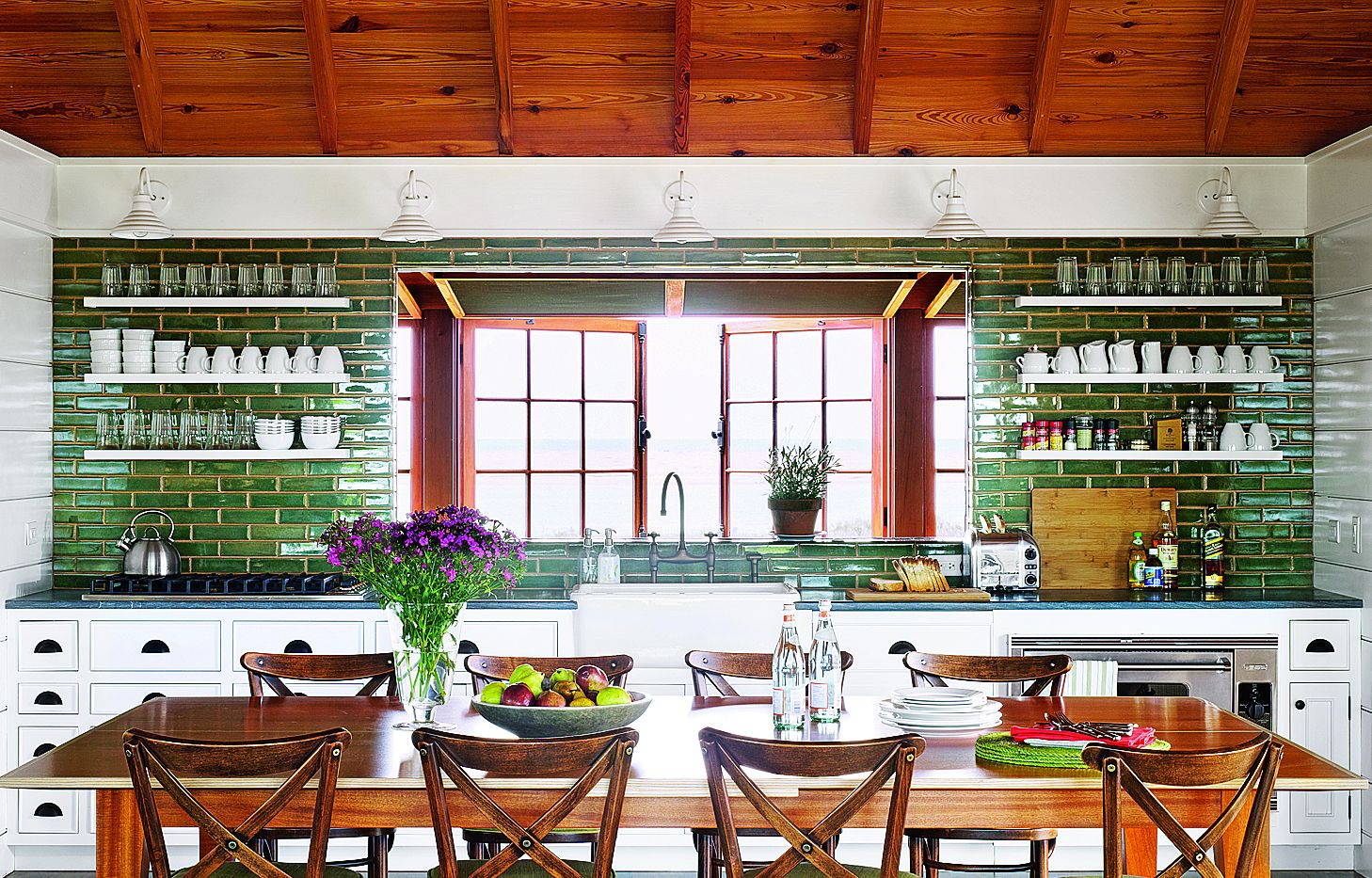 Save on big jobs, like this sink-wall installation, by using imperfect tiles. If you don't mind tiny blemishes, pricey tiles can be had for cheap. Trikeenan, for instance, sells seconds for $1 per pound, or about $5 per square foot. That's 60 to 80 percent off; trikeenan.com
Thrifty Tile Ideas: Eye-Catching Border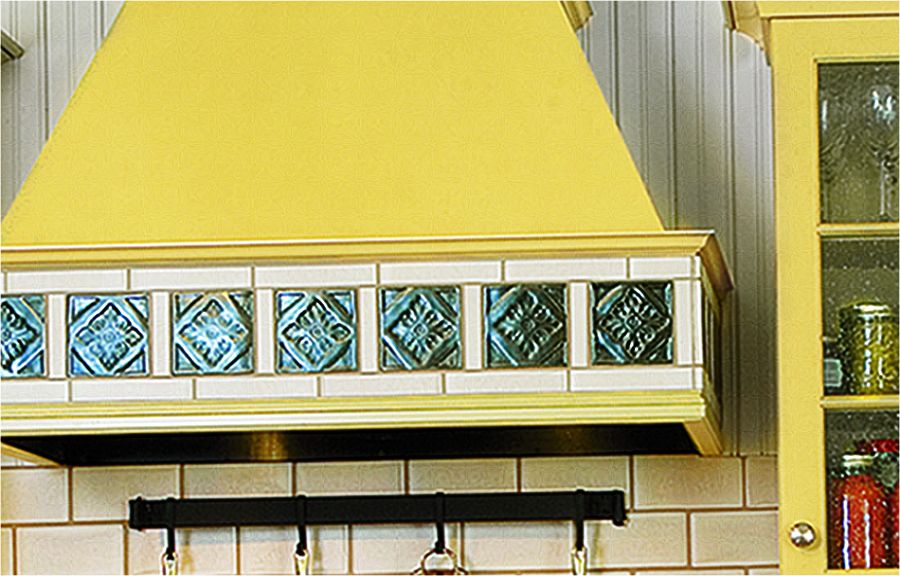 Upgrade a wood range-hood canopy by trimming its bottom edge with decorative art tiles. Search ebay.com for vintage ceramic squares with a raised relief design similar to the ones shown here—as little as $1 each.
Thrifty Tile Ideas: Multicolor Grid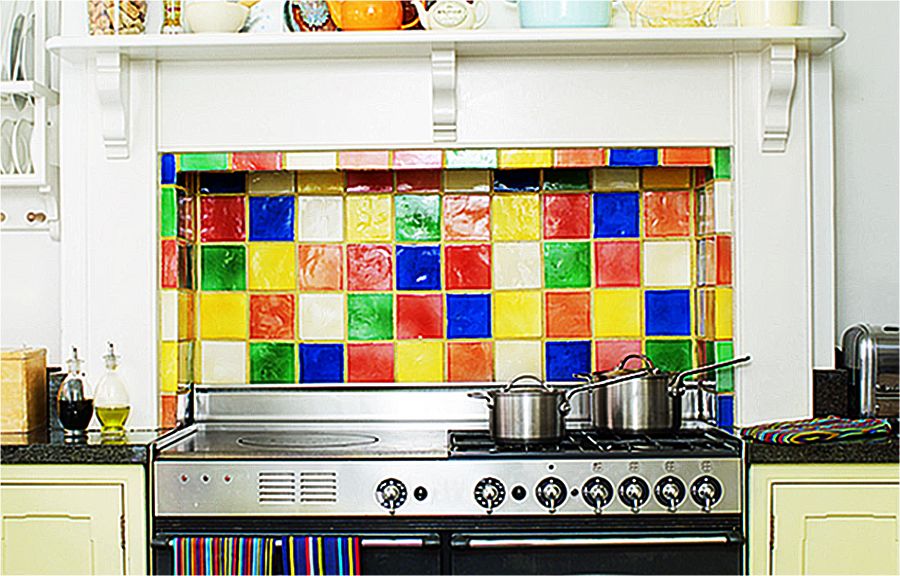 Mix and match brightly hued field tiles to create a backsplash mosaic. These hand-painted terra-cotta tiles from Mexico stand up to the high heat from a pro-style range. Similar to shown: Talavera Solid Color 4-by-4-inch tiles, $1.65 each; mexicantiles.com
Thrifty Tile Ideas: Backsplash Medallions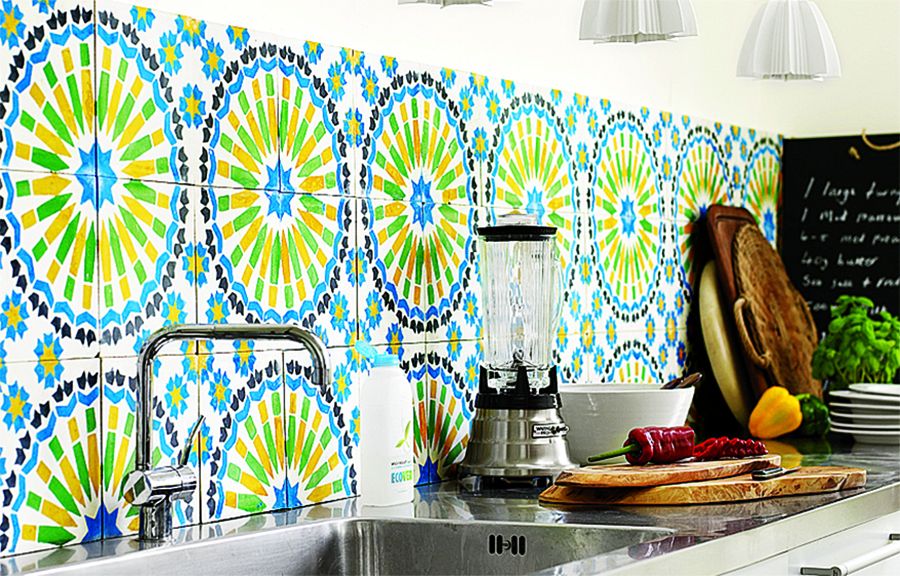 Use graphic encaustic cement floor tiles, such as these Moroccan imports, on the wall. The thick handmade squares fit together like puzzle pieces to form colorful medallions. Similar to shown: 8-by-8-inch tiles in the Meilla pattern, $7.25 each; villalagoontile.com