Get the Kitchen You Want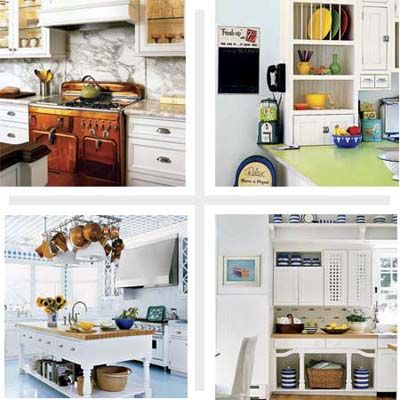 Who wants to settle for a cookie-cutter cook space? Not us. But these days we're all looking to improve on what we've got without forking over fistfuls of cash. See how to use fresh paint and paper, vintage finds, and other smart kitchen remodel ideas to get made-to-order looks at off-the-shelf prices.
Go for an Updated Farmhouse Feel
1. Zinc-top prep table: Use a potting bench to stand in for an island; its shelf can hold pots for cooking just as easily as ones for planting. Finish it to match your cabinets, or use an accent color to make it a focal point. One we like: Living Accents bench, about $240; Ace Hardware
2. Warm wood counters: Gentle on knives and simple to install yourself, butcher block is one of the most popular—and affordable—countertop materials. Choose long, edge-grain strips or blocky end grain. A ½-inch-thick-by-26-inch-square beech slab, about $29; Ikea
3. Skirted sink: A curtain on a $7 rod handily hides cleaning supplies and plumbing and adds a welcome hit of color and pattern. Buy a fabric remnant and stitch it yourself or have a tailor sew it to your specs. Find designer prints for under $10 per yard; Joyce Fabrics
4. Pendants with patina: Repro lights can cost more than the real deals. You pay for new wiring and the ease of not having to troll salvage yards. But these days many dealers refurbish their old lights, and the search is half the fun. Find ready-to-install vintage industrial pendants like these, about $100 to $225; Portland Architectural Salvage
5. Metal backsplash: A nod to commercial kitchen backsplashes, galvanized-steel roofing forms a fire-safe barrier between the range and the wall. Make yours using Galvalume Ribbed Steel Roof Panels, about $32 per 38-by-144-inch piece; Lowes
6. Stylish score: A hanging plate rack doubles as a dramatic window treatment. Get a similar one, about $130; Plow & Hearth
Create Crisp Cottage Style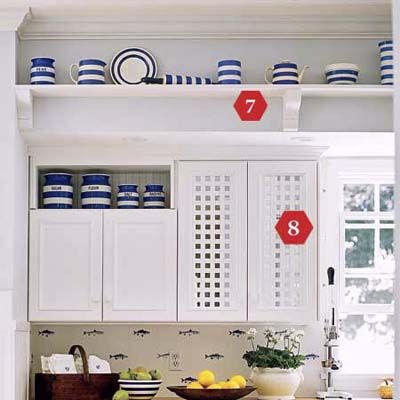 7. High plate rail: A deep shelf with decorative wood brackets turns the dead zone along a soffit into an attention-grabber. Painted white against a white wall, it's an ideal display space for colorful collections. Make your own with the Real Organized kit containing a 48-inch-long, white-painted MDF shelf and two brackets, about $20; Lowes
8. Made-to-order cabinetry: Wood lattice gives stock stile-and-rail doors a designer touch. Build your own by removing the solid center panels and replacing them with checkerboard-pattern grilles, about $65 for an 18-by-24-inch grille in paint- or stain-ready red oak; Van Dyke's Restorers
Add Interesting Details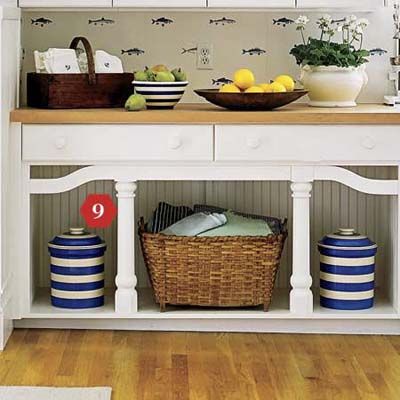 9. Decorative moldings: A beadboard back and custom face frame accented with turned posts add instant architecture to an ordinary open-base cabinet. Put together your own frame using stock porch parts. We like the 20-inch-high Classic Cedar Balusters, about $16 each, for the center supports, and the cedar Fleur Spandrel Running Trim, about $81 for a 7-inch-tall-by-4-foot-long section, for the decorative top rail; all from Vintage Woodworks
Craft Some Country Charm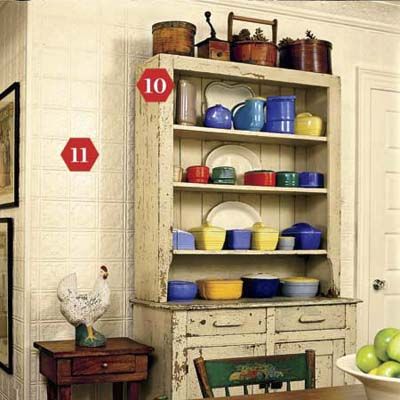 10. Freestanding hutch: A piece of furniture offers all the storage of a custom built-in for a fraction of the cost. Expect to pay about $700 for a vintage wood step-back cupboard like this one at antiques stores, or, if you're lucky, find one for less at a yard sale.
11. Patterned walls: White-painted metal ceiling tiles used as wall cladding add new dimension to the room. Install them floor to ceiling or only halfway up as a wainscot, then cap it with a wood chair rail. Save on paint by using tiles finished with a white satin powder coat. Find them for about $13 per 2-foot-square tile; American Tin Ceilings
Try the Lived-In Look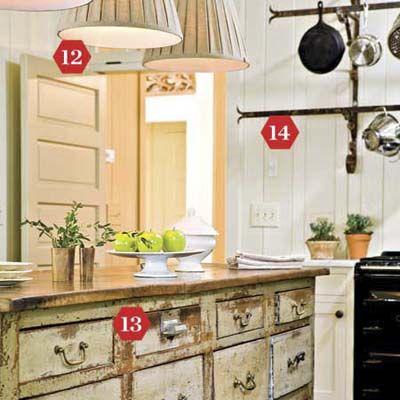 12. Stylish score: Dress up your task lighting. Convert recessed cans with a pendant-light adapter and fabric shade, about $79; Ballard Designs
13. Repurposed island: A country store "seed and bean" counter offers twice the charm for half the price of a carpenter-built island. Search salvage yards and flea markets for rustic, unrestored versions like this one, starting at about $800.
14. Period pot rack: The rusted patina on this custom wrought-iron rack imparts an antique feel to this kitchen. For a DIY version, mount a section of Victorian-era iron fencing horizontally on the wall and hang pots from hooks on the rails, about $45 per linear foot; Recycling the Past
Riff on the Modern-Day Manor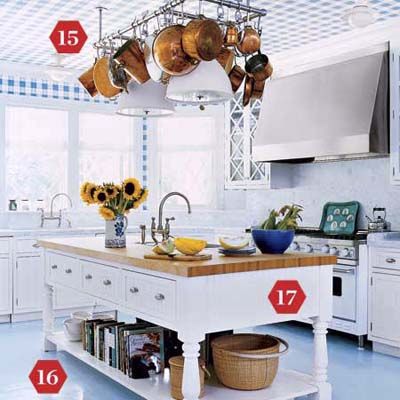 15. Wallpapered ceiling: Checked paper adds more depth and liveliness than plain old paint, and costs a lot less than a similarly striking coffered treatment. To focus attention on your "fifth wall," try scrubbable vinyl-coated paper in Big Check, about $44 per roll; Thibaut
16. Brightly painted floor: Sky-blue paint covers worn wood planks, creating a cool contrast with white cabinetry. Brush on a similarly eye-catching hue as an alternative to refinishing. Glidden latex floor paint, about $20 per gallon; The Home Depot
17. Multitasking island: With this budget kitchen remodel idea, one piece of furniture does the work of three kitchen staples: a service buffet with spacious drawers for organizing flatware and linens, a bookcase with a raised bottom shelf for corraling cooking tomes, and a meal-prep surface with a thick butcher-block top. The 58-inch-long Vintage White Cottage Kitchen Island could do it all for you, about $653; FurnitureOnTheWeb.com
Bring in Retro Diner Details
18. Tricked-out cubbies: A rack fitted with wood dowels puts brightly hued plates on view and keeps them within reach of the breakfast bar. Customize a cubby or open cabinet in your kitchen with a 48-inch-wide plate rack kit, about $69; Knape & Vogt
19. Colorful counter: Laminate is easy to clean, never needs sealing, and comes in just about every shade in the Crayola box. Here, metal-edge banding gives this lime-green counter a cool '50s vibe. Laminate, about $1.65 to $2.50 per square foot; The Home Depot. Banding starts at about $1.25 per linear foot; New York Metal.
Add Timeless, Elegant Touches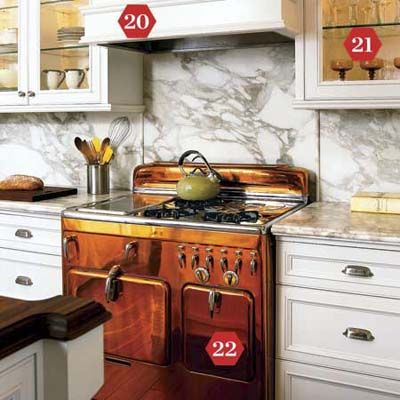 20. Cooking hearth: A custom wood vent-hood canopy mimics the look of a fireplace mantel. Get a
stock cover that echoes trim details in your kitchen, starting at about $210; Hoffco Cabinet Accessories & Components
21. Showcase shelves: Glass doors and shelving lighten the potentially bulky look of upper cabinets. Make over yours by replacing solid center panels in doors and wood shelves with tempered glass. A panel for a standard 15-by-36-inch upper cabinet is about $24, plus about $28 per ½-inch-thick shelf; One Day Glass
22. Vintage stove: A 1950s copper-colored Chambers range has the firepower of a modern pro-style cooker but loads more style. Get unrestored classics from various makers for as little as about $200—sometimes even for free—in The Old Appliance Club's classifieds; Antique Stoves
Smart Storage Solution: Country Cupboard Doors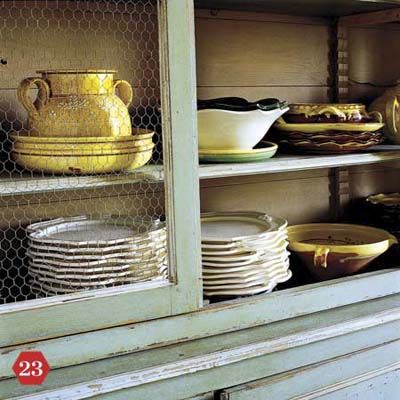 23. Replace solid center panels with chicken wire to showcase dishes. Buy a 12-inch-by-50-foot roll of
Mesh Poultry Netting for about $8 at True Value
Smart Storage Solution: Glass Rack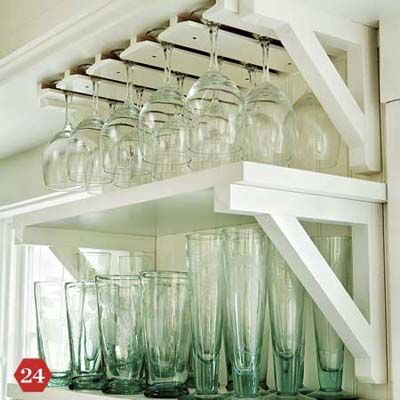 24. Use the underside of open shelves to
store wine glasses and champagne flutes. Pick up the Oak Undercabinet Stemware Rack for about $30 at the Container Store
Smart Storage Solution: Pro-chef Utensil Bar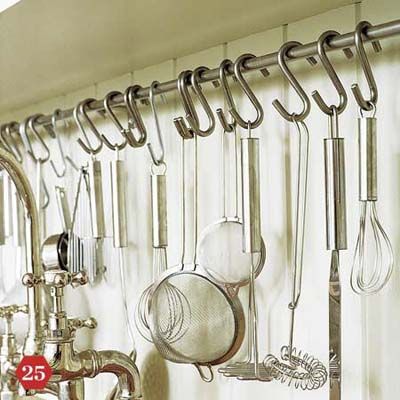 25. Hang cooking essentials from S-hooks on a stainless rail. We like the 21-inch-long Grundtal rail and five-pack of hooks for about $9 at Ikea
Smart Storage Solution: Customized Containers
26. Vary the height of clutter-controlling baskets to correspond with their contents. A small, medium, and large set of fabric-lined willow baskets is about $25 at Walmart
Smart Storage Solution: Café-Style Cup Holder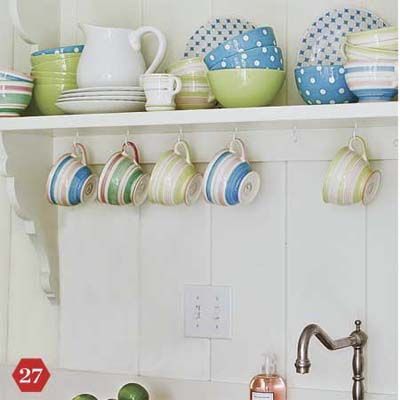 27. Dangle a vibrant array of mugs from hooks screwed into the bottom of open shelving. Eight decorative Bulldog Mug Hooks in Antique Brass are just about $4 at D. Lawless Hardware
Smart Storage Solution: Whitewashed Wine Rack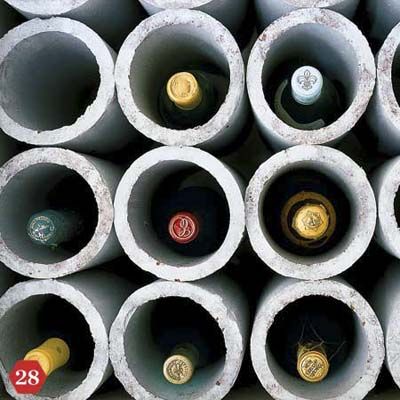 28. Stack and glue together 1-foot sections of painted terra-cotta drainpipe for a compact wine "cellar" above the fridge or in an open storage cubby. Get precut round pipes like the ones shown, as well as self-supporting hexagonal ones, for about $3 each; go to Sandkuhl Clay Works for dealer info.