Same Places, New Faces:
Less Than $20,000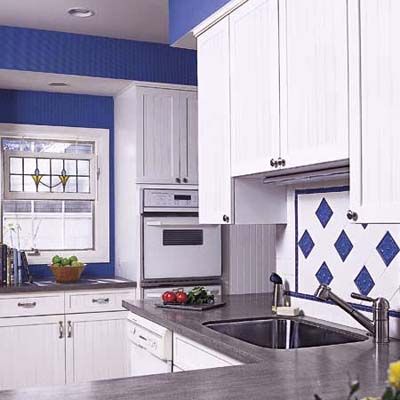 It takes guts to buy a house with a hideous kitchen, but if the price is right and the remodel is well budgeted, ugly ducklings can be worthy investments. "We loved everything else about this house at first sight," says Lisa Centner, "but my husband said, 'Forget it. There's no way I can live in a house with a pink kitchen.'" Encouraged by the workable layout and ample size of the Winnetka, Illinois, space, Lisa convinced her husband, Geoff, that they could revitalize the room for less than $20,000.
Use What You Have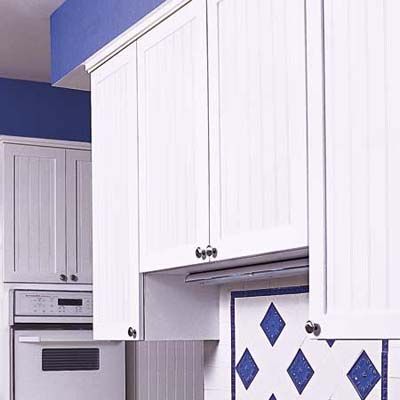 She knew exactly the look she wanted. "For the 14 years we'd been married, I'd been saving pictures of my 'someday' kitchen and they all looked the same, with white Shaker-style cabinets and soapstone countertops," Lisa says. Since the existing cabinets were sound and well configured, the couple was able to reface them and add new doors rather than replace them, a step that saved thousands of dollars.
Must-Have Cooktop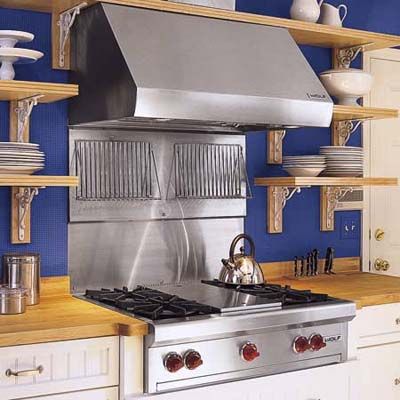 But Geoff's one requirement—a pro-grade Wolf cooktop for $2,600—threatened to bust the budget. "We knew we really wanted that, so instead of a restaurant-grade refrigerator, we got a stainless-steel–look Amana for a lot less," says Lisa.
The pro-style Wolf cooktop has four burners and a grill. New open shelving surrounding it keeps essentials within reach; it also reduces cabinetry costs.
True or Faux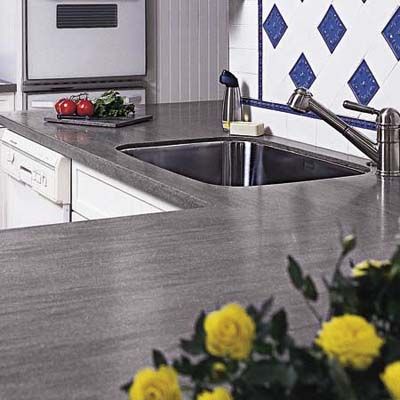 Also, after careful consideration, the couple opted for more affordable (and easier to maintain) solid surfacing countertops instead of natural soapstone. The gray-toned solid surfacing from Corian's Artisan Series delivers the look of natural soapstone for about half the cost.
Light Touch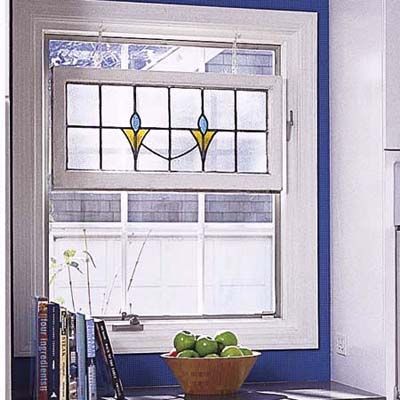 A leaded-glass panel found at a flea market lends privacy without blocking light from entering the kitchen's only window.
Decorative Tile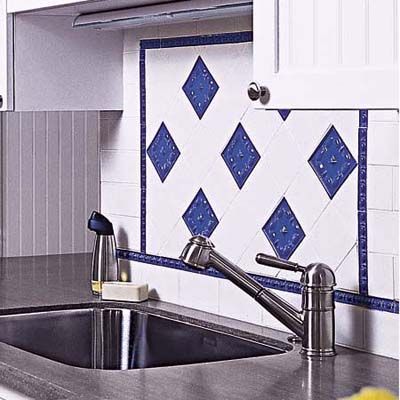 The couple splurged on seven hand-glazed tiles and mixed them with inexpensive ceramic squares to create an eye-catching blue-and-white backsplash behind the undermount sink.
Look Up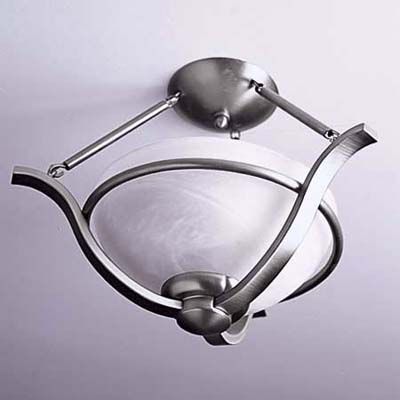 The brushed finish of the ceiling fixture picks up the gleam of the new stainless-steel cooktop, Broan-NuTone backsplash and Wolf range hood; curving lines add style to the hardworking space.
Sharp Storage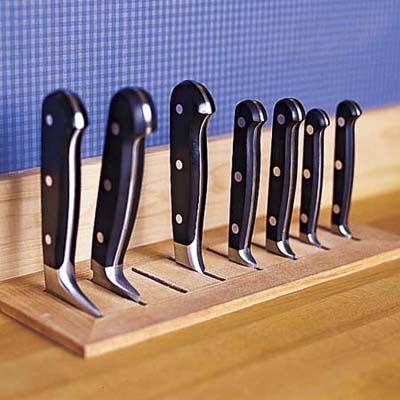 A knife holder recessed into a section of the new butcher-block counter adds safety while cutting down on visual clutter.
Shop Smart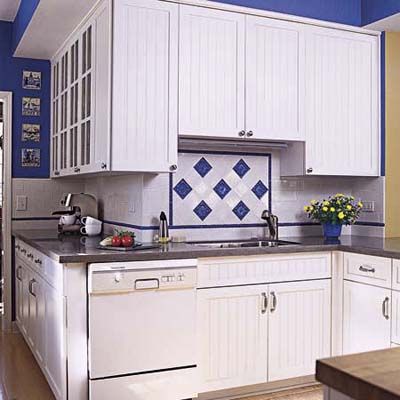 New glass doors give the dish pantry an elegant look. By buying the cabinet pulls—as well as the faucet and the garbage disposal unit—from a local retailer, the couple was able to negotiate a 10 percent discount for purchasing multiple items.
What They Got:
• Cabinet refacing, new open shelving, and butcher-block counters with knife holder: $6,406
• Solid surface countertop: $4,300
• Cooktop and hood, fridge, sink, and faucet: $7,296
• Tile backsplash: $1,350
• Ceiling light fixture and strip lighting over sink: $150
• Cabinet pulls: $275
• Leaded-glass window: $50
Total: $19,827
Fresh Paint, Better Performance:
Around $40,000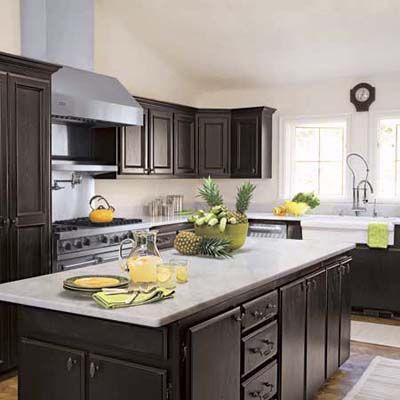 Waste not, want not is a philosophy that can pay off big-time in a kitchen remodel. It certainly did in Steve and Caroline Thompson's 1980s Spanish-style house in Montecito, California. "When we bought the house, my first thought was 'Well, we'll just ditch the kitchen cabinets,'" says Steve. "They were an awful, outdated-looking oak." Still, the boxes were sound, the doors were solid wood, and the couple realized that by reconfiguring and painting the existing units, they could create the look and layout they wanted at a savings of $30,000.
Another way they saved was by hiring a stained-glass artist to define single-pane windows with lead tape instead of buying new divided-light units.
New & Old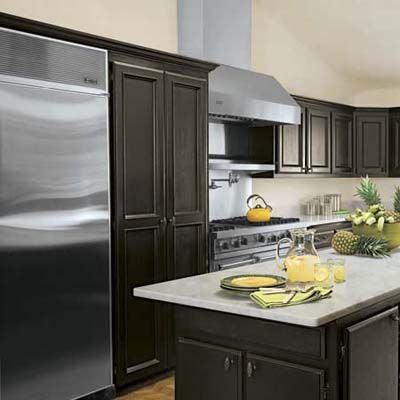 The couple splurged on a new 48-inch Viking range and hood, but saved a bundle by refurbishing a used Sub-Zero fridge with new glass shelves and a stainless-steel panel made by a local fabricator for about $100 (a quarter the cost of one from the manufacturer), making luxuries like the Shaw's farmhouse sink, arched faucet, and Danze pot filler affordable. "I get a kick out of reusing things," says Steve. "Plus, it's the 'green' thing to do."
Perfect Fit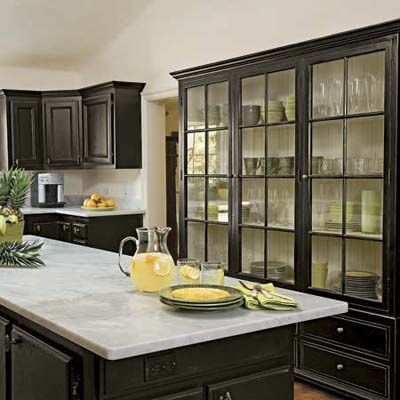 Freestanding furniture—like the glass-front china cabinets—can have the effect of built-ins, at a lower price. "They were $1,400 each," says the husband. "It would have cost thousands more to fit that wall with new cabinets."
Store More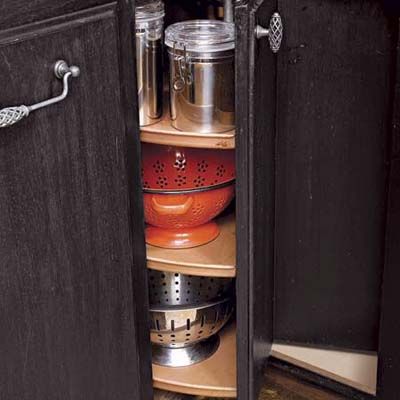 Efficient storage, like this revolving corner cabinet, is key to a well-designed kitchen. The homeowners outfitted their base units with smart features like slide-out shelves for pots and pans,
Bright Idea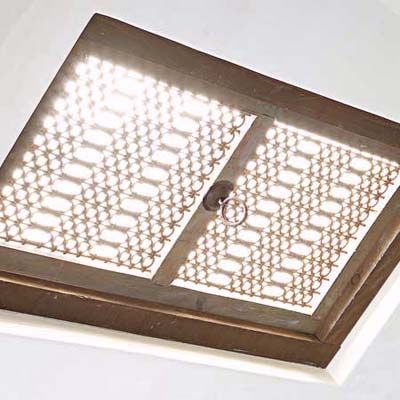 A wrought-iron Moroccan door found at a Santa Fe antiques store transformed the white plastic well of the skylight.
Color Trends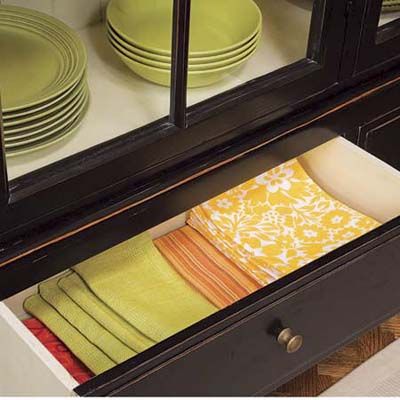 The couple played it smart by keeping the background colors neutral and injecting notes of color with accessories (not big-ticket appliances or countertops), which can be swapped out at little expense when they are in the mood for a change.
What They Got:
• Cabinet paint job and new wall units: $11,900
• Marble countertops and backsplash: $9,000
• New dishwasher, range, vent hood, and microwave, plus refrigerator shelves and panels: $13,304
• Farmhouse sink, faucet, pot filler, soap dispenser: $2,165
• Light fixtures: $680
• Putting lead tape on 2 windows: $400
Total: $36,702
Custom Design, Top of the Line:
$100,000 Plus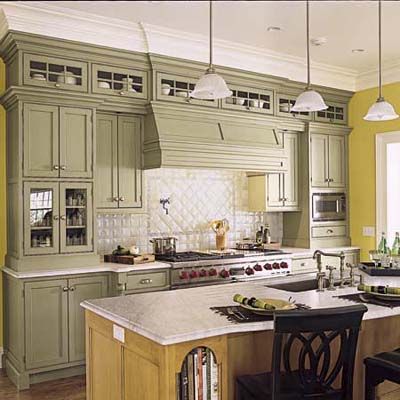 It may be the ultimate dream kitchen, but what makes it work is its down-to-earth approach: There's a place for everything—and everyone—in this New Canaan, Connecticut, home's friendly, high-functioning command center. Created by Norwalk-based kitchen designer Matt Giardina, the relaxed environment reflects the architectural style of the house as well as the lifestyle of its owners. "It's a large house, but it isn't formal," Giardina says. "We wanted the kitchen to have a comfortable, almost country feel to it."
Custom Cabinets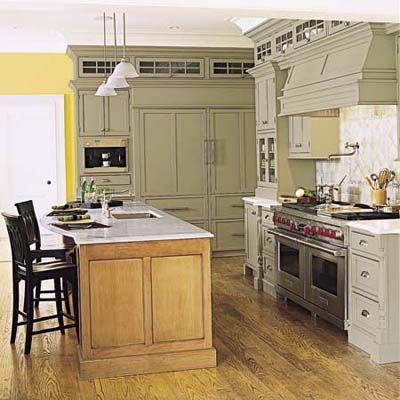 Giardina underscored the kitchen's informality with Plain & Fancy custom maple cabinets that have the look of built-in furniture with turned legs, recessed-panel doors, and three oven-dried finishes mixed to the owner's specifications. While the hub of the kitchen is fairly compact and easy to navigate, its 10-foot-high ceilings give the impression of grandeur. Giardina took advantage of the wall space by stacking cabinets right up to the wide crown molding, adding a stretch of narrow cases with flip-up, glass-front doors across the top.
Tip: Can't swing custom cabinets? Create a one-of-a-kind effect with stock sizes by varying the height and depth of the cabinet boxes. And give an island a contrasting finish.
Looks Good, Cooks Great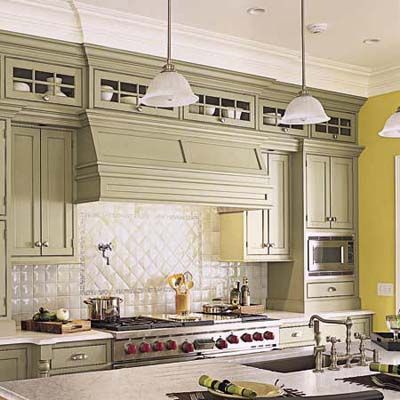 Appliances suit the owners' penchant for entertaining at home, providing them with a 60-inch Wolf range (backed with easy-to-clean tile and topped with a custom hood cover); twin 36-inch refrigerators (camouflaged behind custom panels), four freezer drawers, and a wine cooler, all from Sub-Zero; as well as a microwave, a warming drawer, and a built-in coffee station. The result is a kitchen with a timeless look and long-lasting, high-quality materials to match.
Isle Seat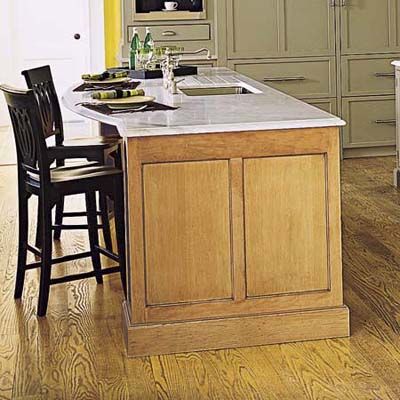 The marble-topped island with bar seating puts family and friends in proximity to the cook, who is just steps away from sink, stove, and storage aplenty.
Visual Divider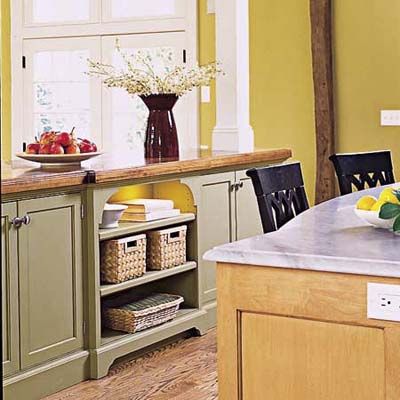 A second maple-topped island bracketed with columns and fitted with open shelves and cabinets separates
the kitchen from the family room,
One Hot Item
The built-in Miele coffee and espresso maker keeps caffeine close and countertops clear. The unit can share a water line with the fridge or as shown a pot-filler faucet.
On The Rack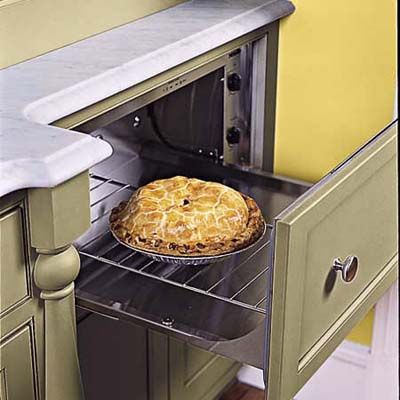 A Miele warming drawer keeps foods at the right temperature till you're ready to serve them—a big help when hosting a dinner party.
Shedding Light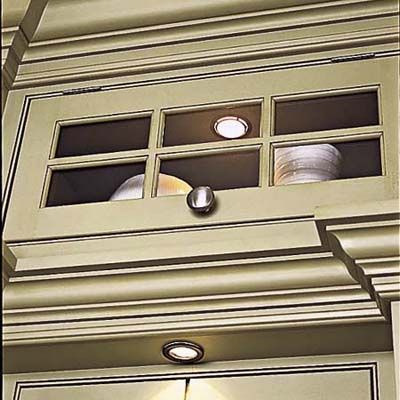 The lighting plan includes 19-low voltage pucks to illuminate cabinet interiors and undersides, plus recessed ceiling fixtures and decorative pendants.
Pull-Out Organizers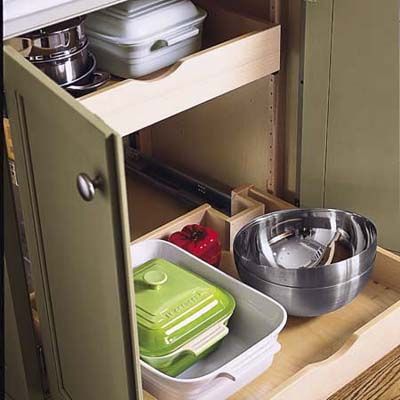 A big luxury in any kitchen is storage compartments that make essentials easy to access and put an end to cluttered cabinet interiors where things can get buried forever.
In Clear View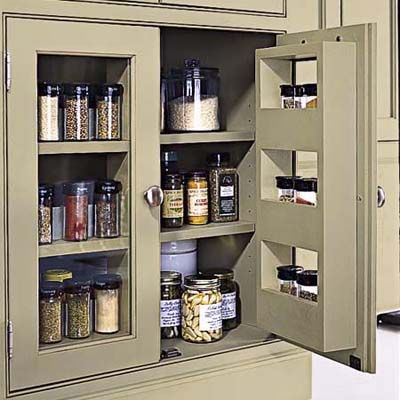 A glass-front spice cabinet puts a smattering of jars on display and keeps the rest neatly organized and close at hand.
What They Got:
• custom maple cabinets, range hood cover and island: $64,600
• marble and maple countertops: $13,000
• tiled backsplash: $2,500BR]
• sink, faucet, and pot filler: $2,100
• light fixtures: $4,000
• range, refrigerators, freezer drawers, wine cooler, warming drawer, built-in coffee station: $33,000
Total: $119,200