Topping the list of must-haves in most kitchen renovations, an island is the perfect value-added improvement, one that transforms the way you use and enjoy the busiest room in your house.
Is a Kitchen Island a Good Idea?
At a minimum, an island adds counter and storage space just where you need them: at the pivot point between your kitchen's cooking, cleaning, and food-prep zones. And outfitted with fixtures and appliances, such as a sink and cooktop, or bar stools for dining, an island itself can become the hub of activity. Such utility is the reason builders and designers say that adding an island offers more bang for your buck than just about any other kitchen upgrade.
The first kitchen islands in America date to the colonial era. These simple worktables, situated near the hearth of the home, were where families prepped meals and then sat down to break bread. Even after the advent of built-in cabinetry, and well into the first half of the 20th century, the island remained a freestanding piece of furniture, often with a look and style all its own. The tradition continues today, as islands often integrate materials, colors, and design flourishes that are different from those of the surrounding wall cabinets, making them the focal point of the space.
In the following piece, you'll find all the information and DIY kitchen island ideas to create a kitchen island that's right for you—from the critical clearances for good traffic and workflow to the many ways you can customize it to suit your particular space and the way you cook and entertain.
A handcrafted island made of reclaimed chestnut stands apart from the painted wall cabinets.
Shown: Custom kitchen island, $15,000 (not including the countertop, sink, or faucet); Crown Point Cabinetry.
Key Questions Answered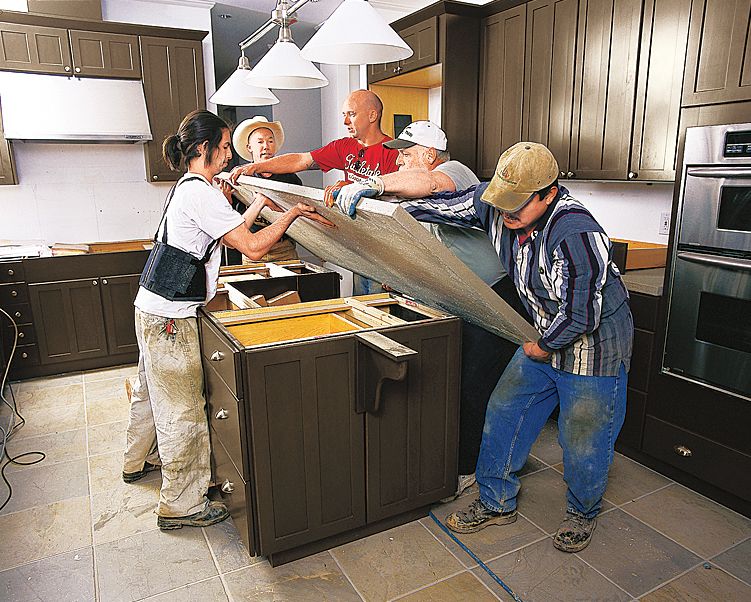 How much does a kitchen island cost?
Freestanding worktables or rolling carts can be had for as little as $200. Basic built-in islands made with stock cabinetry and butcher-block or stainless-steel counters start at about $600. More features, larger sizes, and costly materials can easily push the price above $5,000.
DIY or hire a pro?
Anyone can put in a worktable or cart. An island assembled from cabinetry is more of a challenge but doable for handy homeowners. Call in the pros for custom configurations if you plan to have plumbing fixtures and electric appliances or if you want a stone countertop (shown).
How big?
An island ought to have enough counter space to meet your needs, look proportional within the kitchen, and have ample pathways around its perimeter. For smaller kitchens, a worktable or rolling cart may be a better choice than a built-in.
Where to Put Your Island
Be sure to leave enough space on all sides to permit the free flow of traffic all around it and between the key activity zones centered around the stove, sink, and fridge.
Planning
Walkway Clearances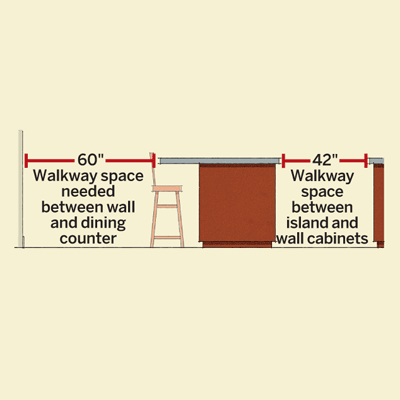 For two-cook kitchens or for universal design, which accounts for people with physical limitations or those who rely on a wheelchair, plan a 48-inch passageway on all sides.
Food-Prep Height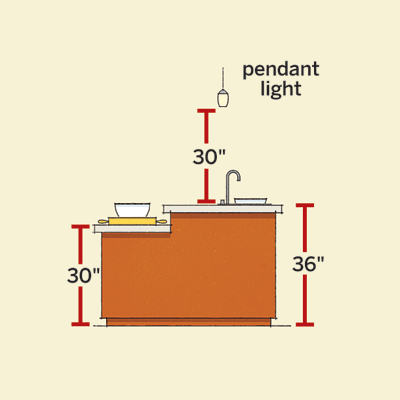 A 36-inch-high counter is standard, but 30 inches is best for kneading and rolling out dough because you can apply more downward force.
Dining and Cooking Dimensions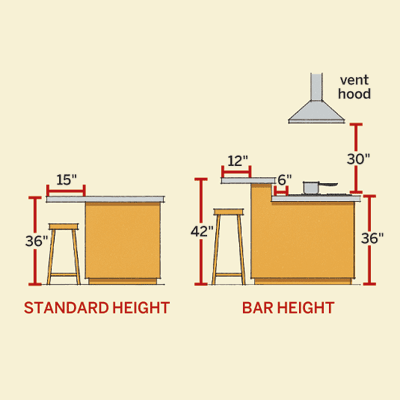 The higher a counter, the less overhang it needs. (Knees bend less on tall stools). The distance between the seat and the top of the counter is always the same—12 inches—which puts the surface at a comfortable height for eating.
Use Cases and Types of Islands
Working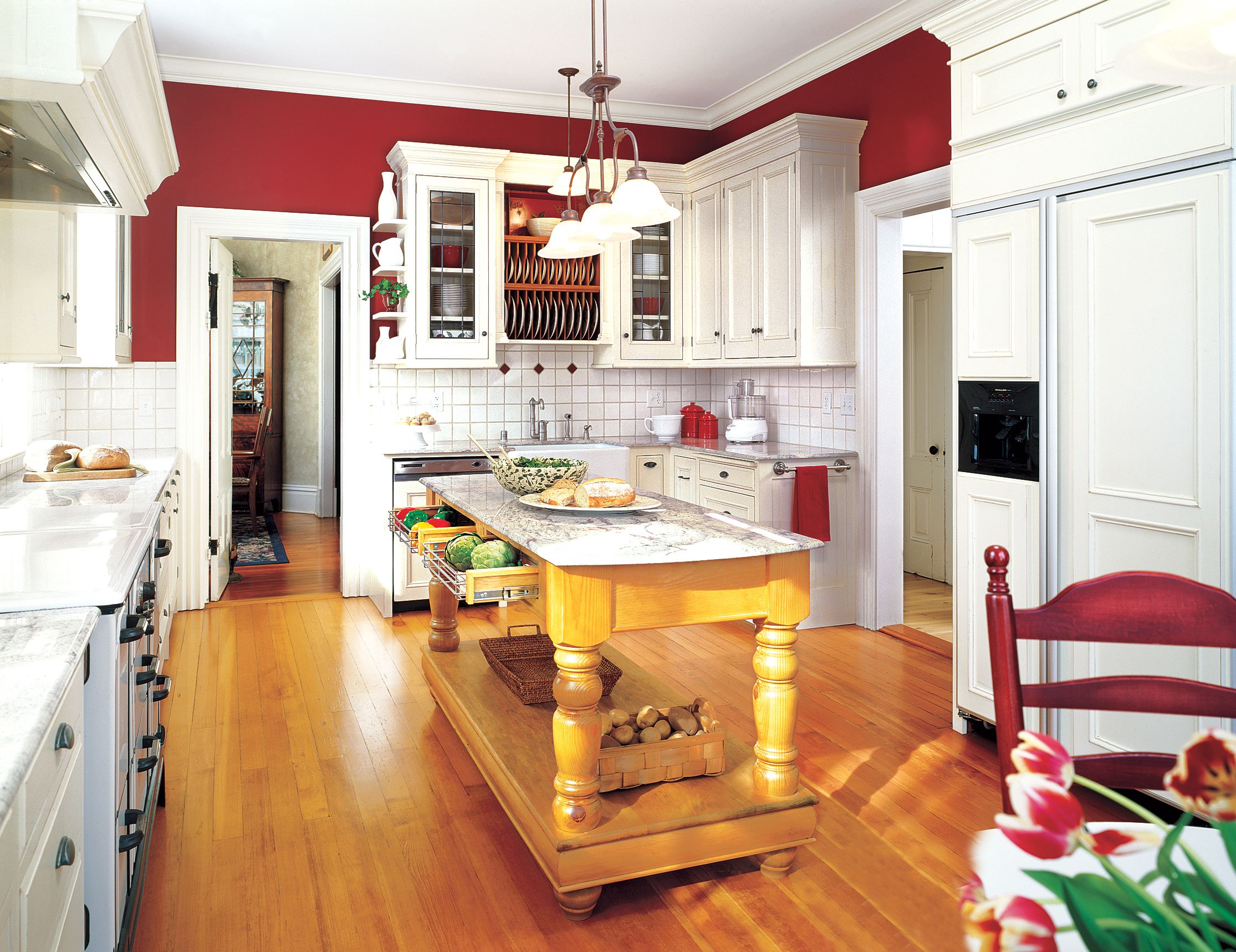 These furniture pieces, styled after vintage worktables, often have drawers and open shelves. Their "see-through" design takes up less visual space but makes it hard to hide utility lines.
Price: From $200 for a stainless-steel table to more than $3,000 for a custom wood one with turned legs and a stone top.
Similar to shown: Carrara Marble Kitchen Island with built-in wine rack, 24 by 49 inches, $1,399; NapaStyle
Storage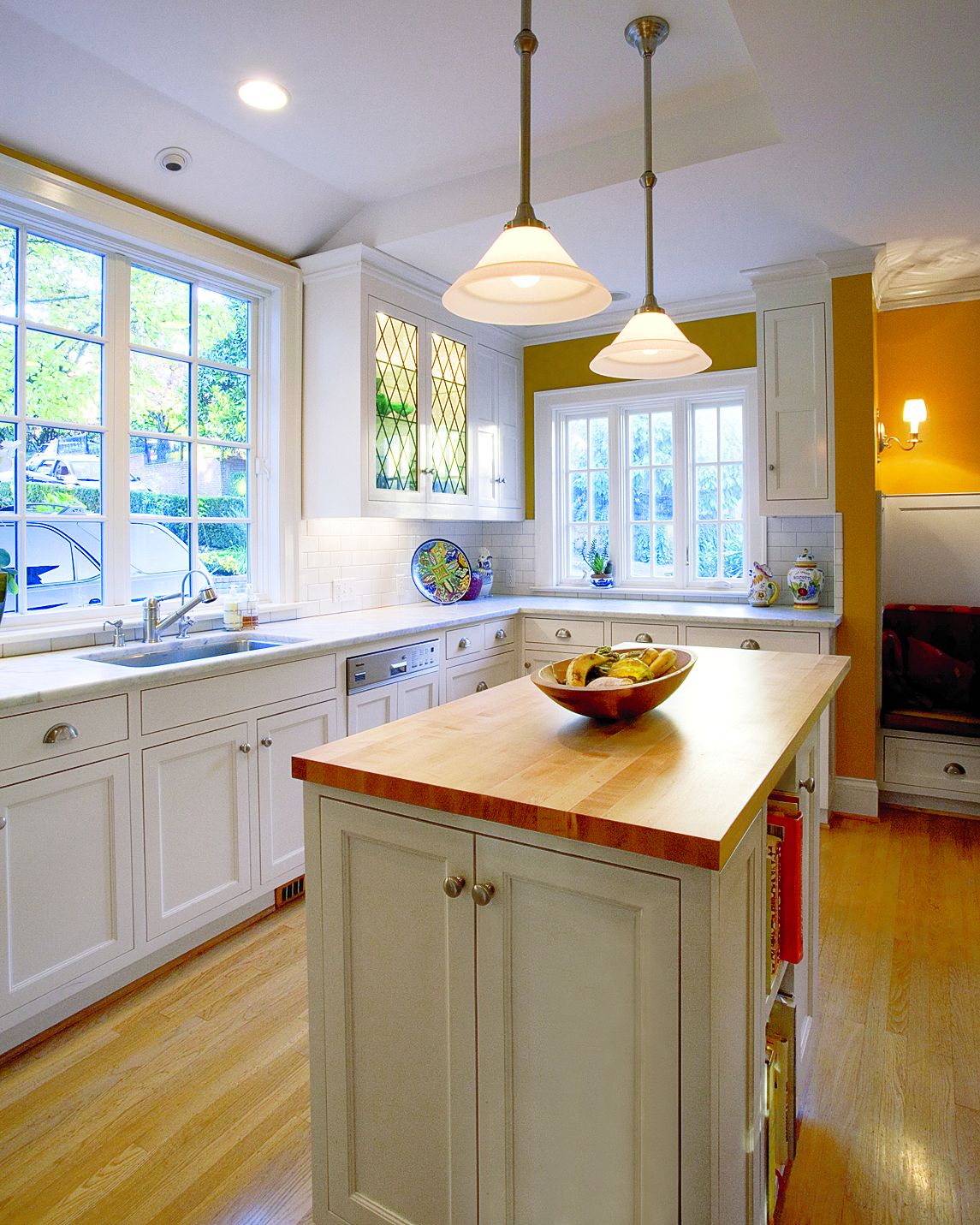 A basic freestanding or built-in island provides counter and cabinet space without the expense of sinks or major appliances. Open shelves, as shown here, can keep cookbooks and dishes handy.
Price: Starting at about $300 for a movable prefab unit and $800 for a semicustom built-in, not including the countertop.
Similar to shown: Belmont White Kitchen Island with sliding doors, 20½ by 44¼ inches, $630; Amazon
Prep and Wash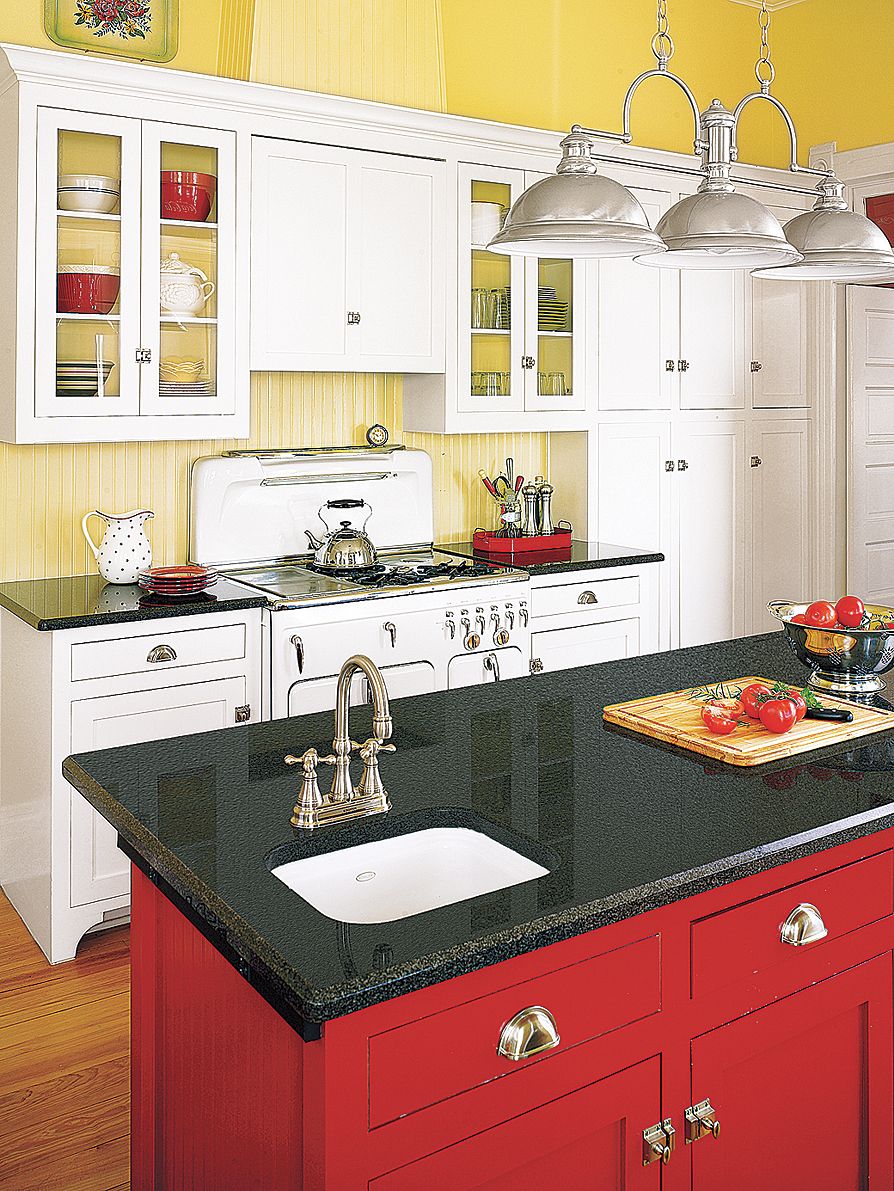 Sinks make islands ideal for washing hands and food and bartending for parties. Tuck bar sinks, like this one, into corners to maximize counter space. Give full-size sinks at least 1 foot of counter on both sides.
Price: Built-ins with sinks tend to be bigger than storage units—at least 4 feet long—and pricier, about $1,000 and up. Sink, faucet, and counter are extra.
Similar to shown: Custom, painted-maple island, 24 by 48 inches, starting at $1,500; Plain & Fancy
Dining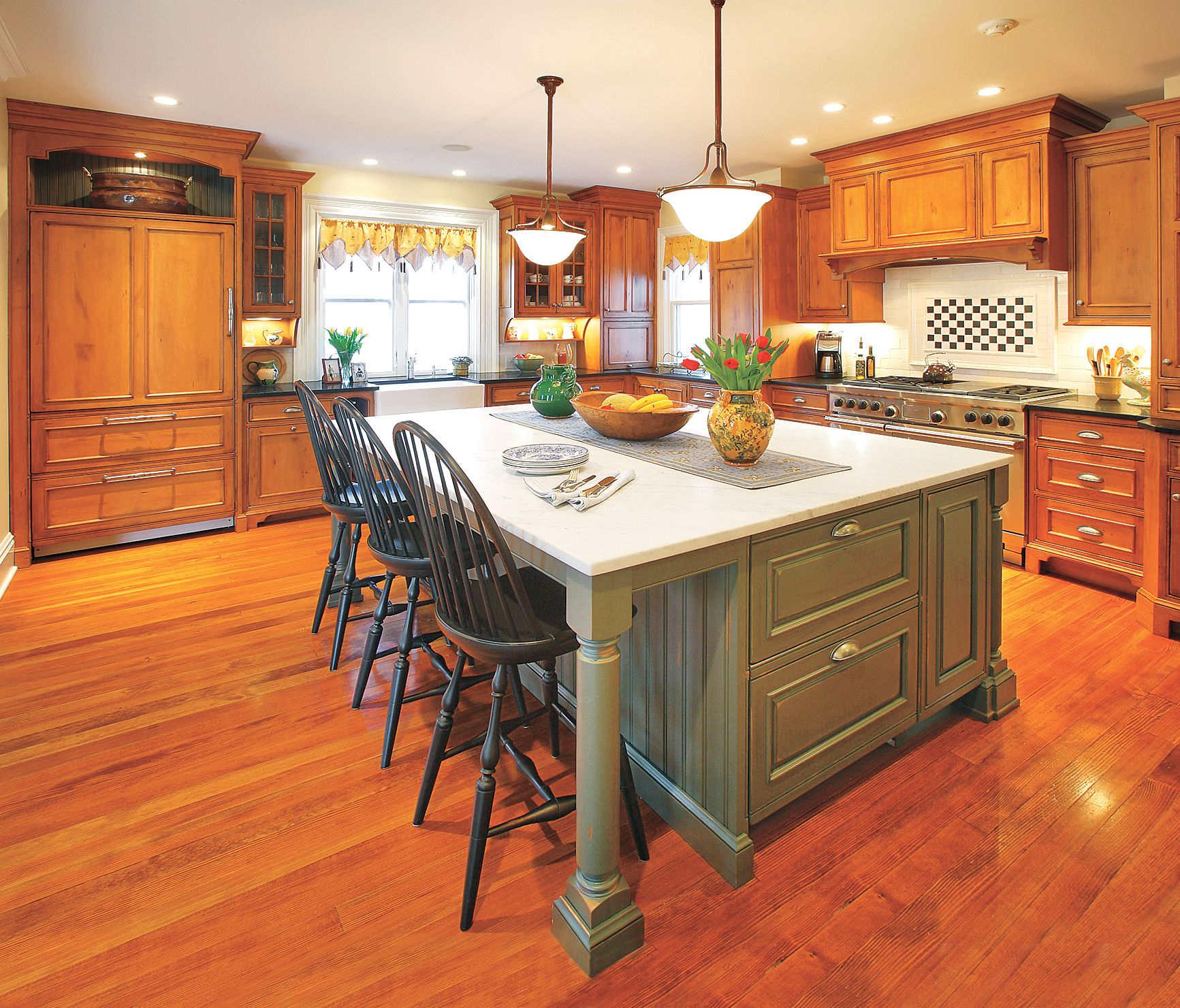 An overhanging counter for casual eating needs space for knees, for diners to scoot chairs back, and for seating—at least 24 inches for each chair.
Price: About $800 for a prefab freestanding dining island to more than $5,000 for a custom built-in without a countertop.
Similar to shown: Broyhill Color Cuisine Kitchen Island with slide-out dining table, 30 by 56 inches, in nine colors, starting at $1,289; Wayfair
Cooking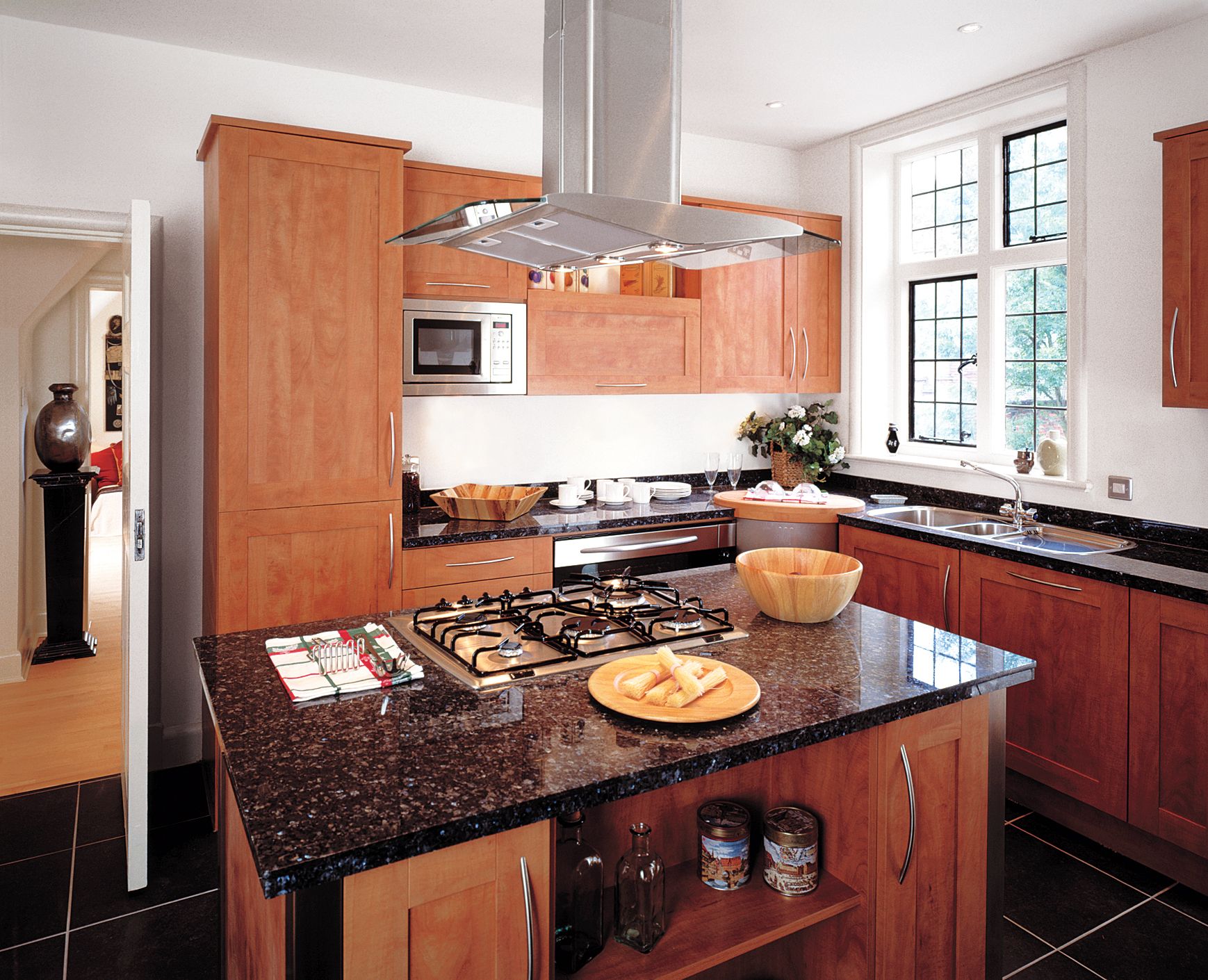 A cooktop on an island turns the chef toward the center of the room so that he can keep an eye on the action. But unlike a range by a wall, a cooking island leaves hot pans more exposed and will cost more to ventilate.
Price: These built-ins are bigger than sink islands and typically cost $1,200 to $7,000, not including the cooktop or counter.
Similar to shown: Semi-custom maple island with cabinets and open shelves, 30 by 60 inches, about $1,200; HomeCrest Cabinetry
Cooking and Eating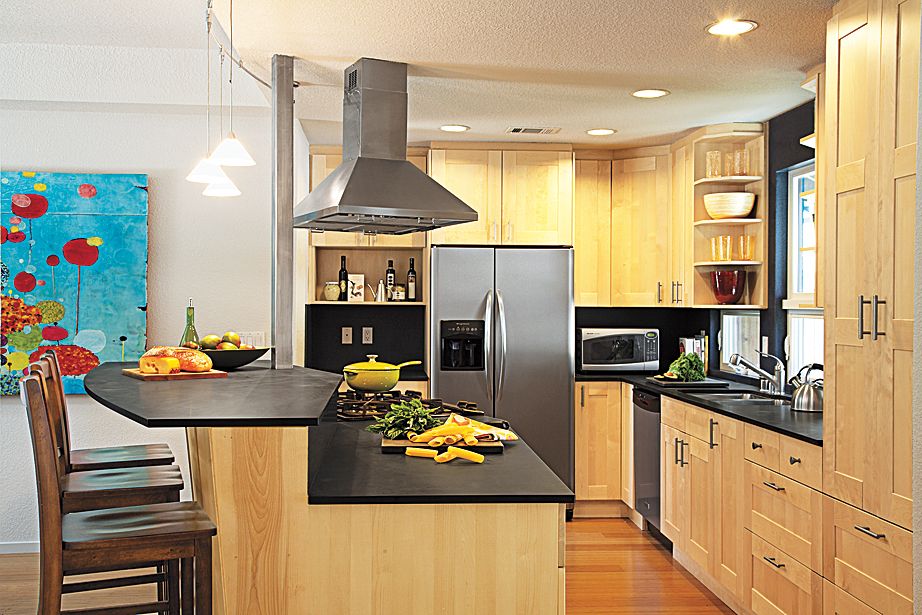 If you plan to cook and dine on an island, opt for a raised eating counter to create a safety buffer against an open flame or scalding steam.
DIY Kitchen Islands
Movable Cart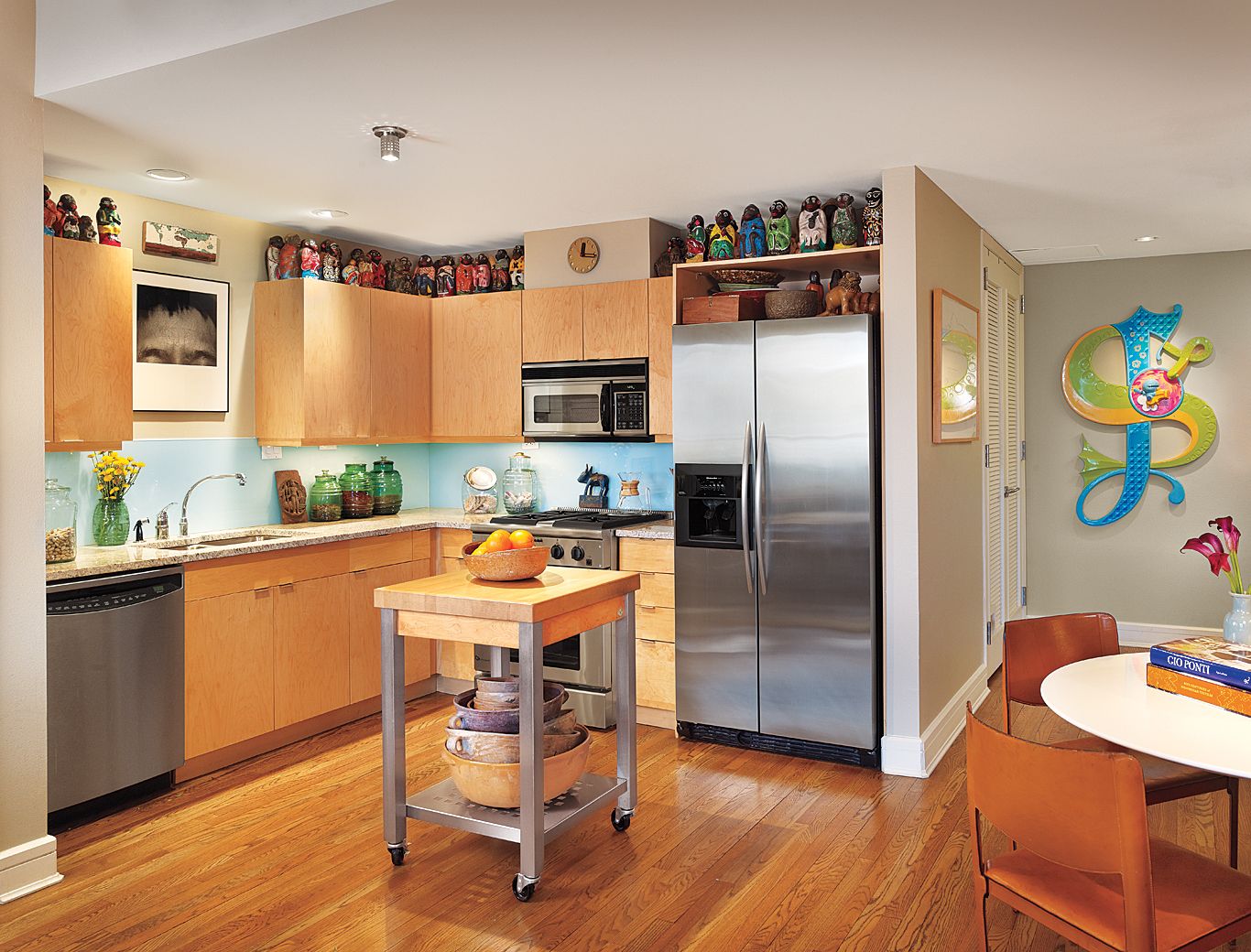 It rolls into place on locking casters when you need it and out of the way when you don't. Most are small—24 by 36 inches—making them good for tight kitchens.
Similar to shown: John Boos Cucina Culinarte kitchen cart with butcher-block top, $777; Amazon
Stock Cabinets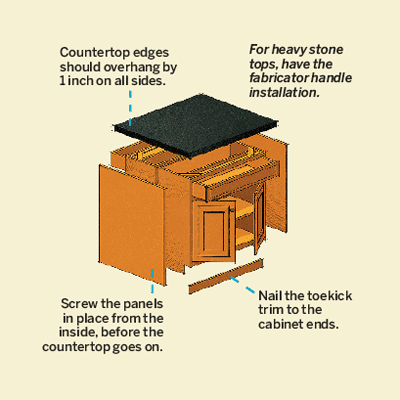 To build your own island with a couple of home-center base cabinets, just place them back-to-back, shim them level, and screw them together. Cover the sides with end panels and the top with a counter.
Similar to shown: Two 30-inch American Classics base cabinets in oak with drawers and end panels, $185 each, and Stonemark Absolute Black granite countertop, $70 per square foot; The Home Depot
L-Shaped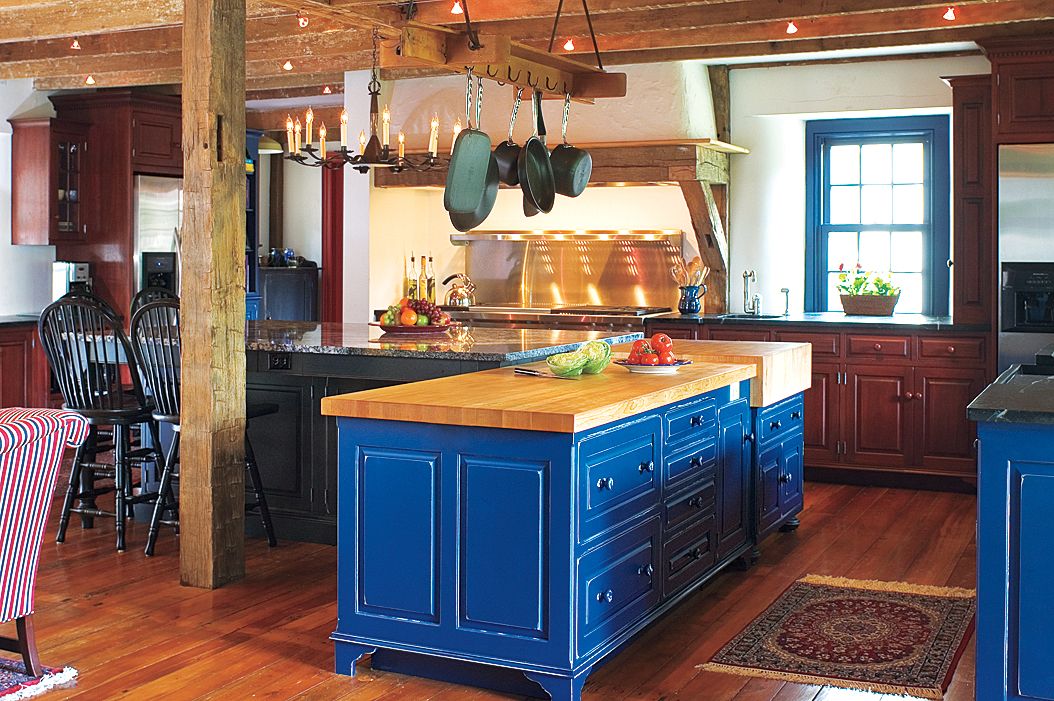 This configuration allows various activity zones to occupy a single island; one leg can have a cooktop, the other, a bar sink. Or devote one leg to food prep and one to dining. Here, the legs are topped with different counter materials set at varying heights and are connected by a raised block just for chopping.
T-Shaped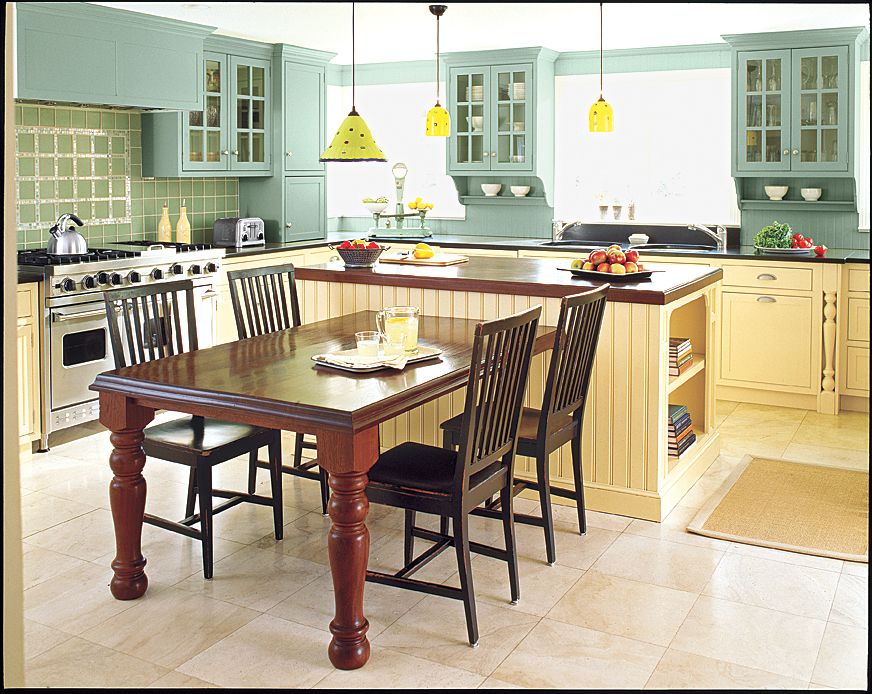 Grafting a kitchen table onto the back of an island is another way to integrate dining. The configuration shown here offers seating at the standard 30-inch table height, for maximum comfort. The table requires ample space: about 48 inches in length to seat four and at least that much on either side of the table to move chairs in and out.
Curved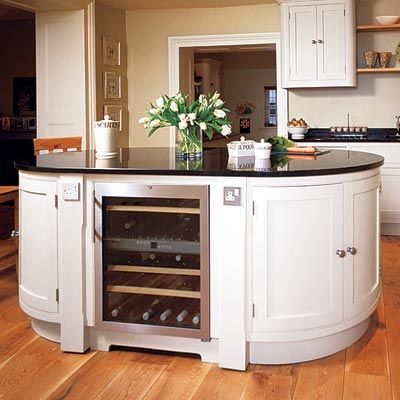 Grafting a kitchen table onto the back of an island is another way to integrate dining. The configuration shown here offers seating at the standard 30-inch table height, for maximum comfort. The table requires ample space: about 48 inches in length to seat four and at least that much on either side of the table to move chairs in and out.
Fixtures and Appliances
Sinks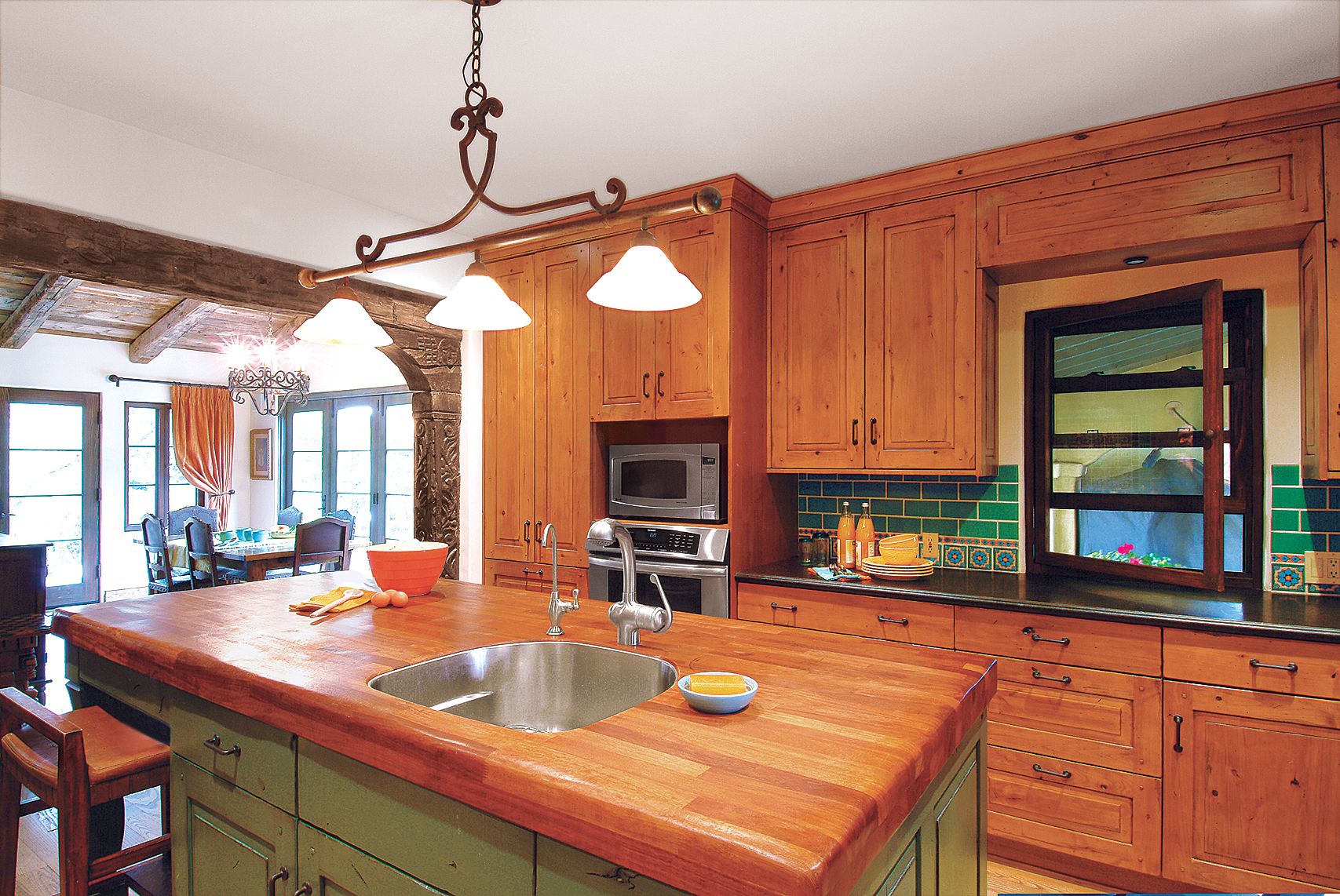 Whether it's big, to handle full-on dinner cleanup, or small, for rinsing veggies and wine glasses, your sink needs a drain that's vented. With no wall to hide the vent pipe, island sinks can be vented either by running the pipe under the floor and connecting it to the nearest existing vent or by mounting an air-admittance valve on the drain under the sink. These valves are simpler to connect, but check local building codes; some municipalities don't allow them.
Dishwashers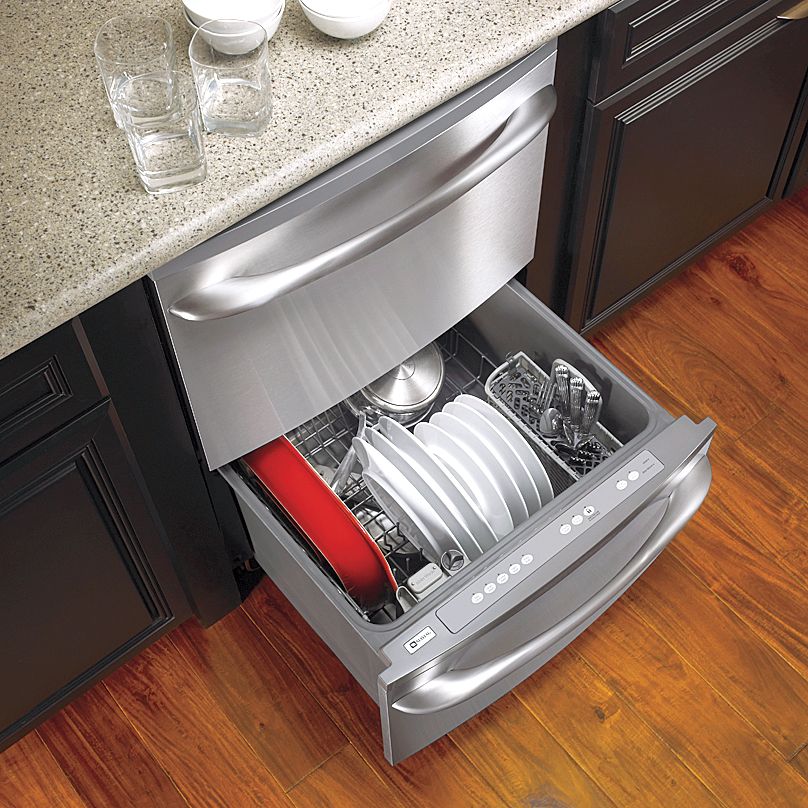 A dishwasher makes a perfect companion for an island sink. Put them close together, no more than a step apart, for convenience and so that they can share the same drain. A conventional dishwasher is one option, although its hinged, drop-down door may cause traffic jams. Slide-out dishwasher drawers (shown) take up a fraction of the floor space when open and come in a variety of sizes with one- and two-drawer configurations. The downside? They're not cheap.
Refrigeration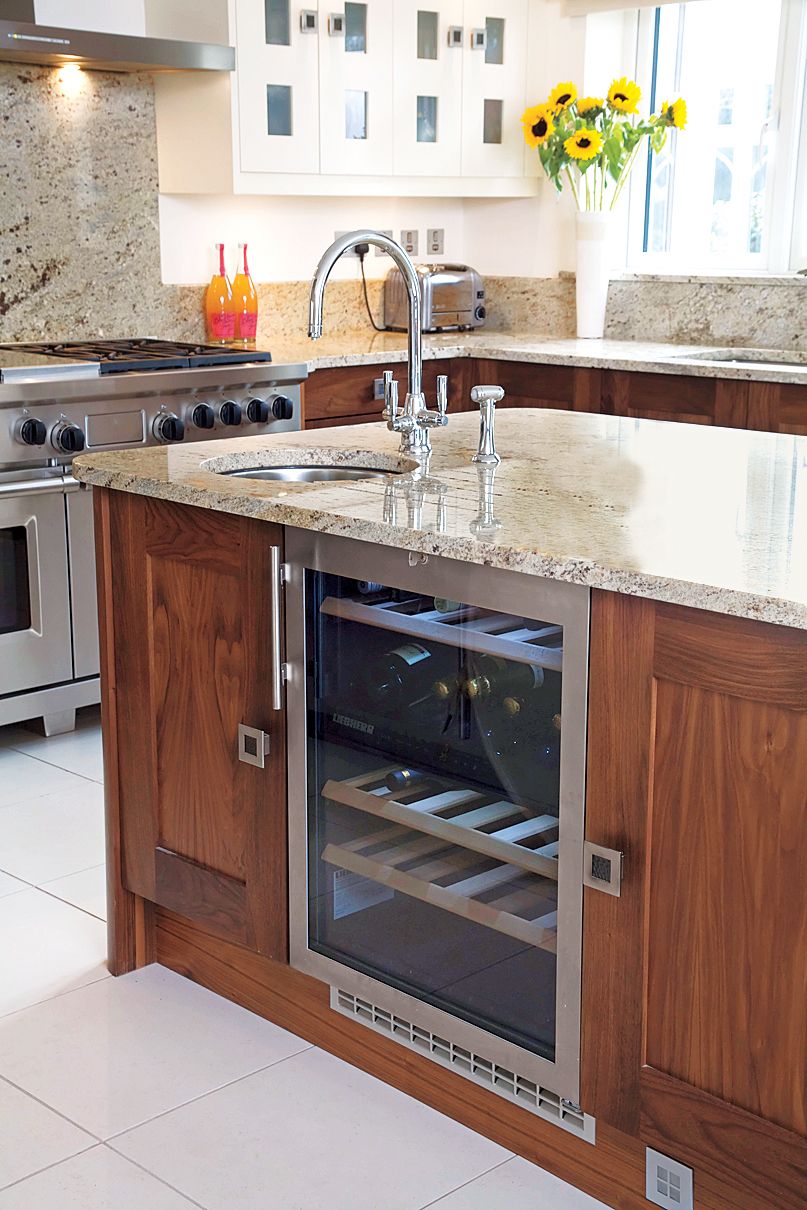 An under-counter fridge, ice-maker, or wine cooler (shown) put food, supplies, or drinks within reach where guests and family members gather. Choose a swing-out door or a slide-out drawer based on how much floor space you have around your island. Appliances that vent out the front take up less room inside the island than ones with coils in the back, which require at least 2½ inches of space around the sides and back to stay cool.
Cooktops
If your island (and budget) is big enough to handle one, a cooktop allows the chef to survey the room rather than face a wall. Pros recommend a minimum of 12 inches on the sides and 9 inches behind the top.
For electric units, you'll need a pro to install a dedicated 240-volt circuit; for gas models, a plumber can install the supply line. If you want the benefits of gas—quick adjustments, high power—with the simplicity of an electric hookup, go with an induction cooktop.
Whichever type of top you choose, pair it with a vent to handle smoke, steam, and odors. Choose either the more effective overhead canopy, which vents up through the ceiling, or the less obtrusive downdraft vent, which sends smoke through the floor.
Both options must move at least 150 cubic feet per minute (cfm) for each linear foot of cooktop. Also, make sure there's a way to run the ductwork outside with few bends and within the maximum distance specified by the manufacturer.
Kitchen Island Countertops
Stone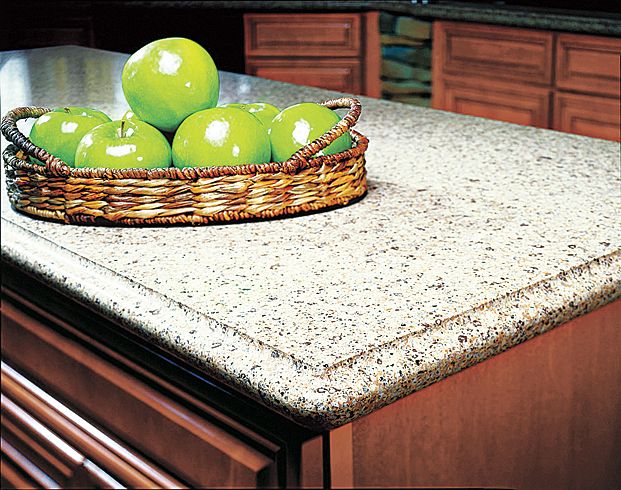 Good for islands because it stands up to hard use and hot pots. Its cool surface is perfect for making pastry.
Stainless Steel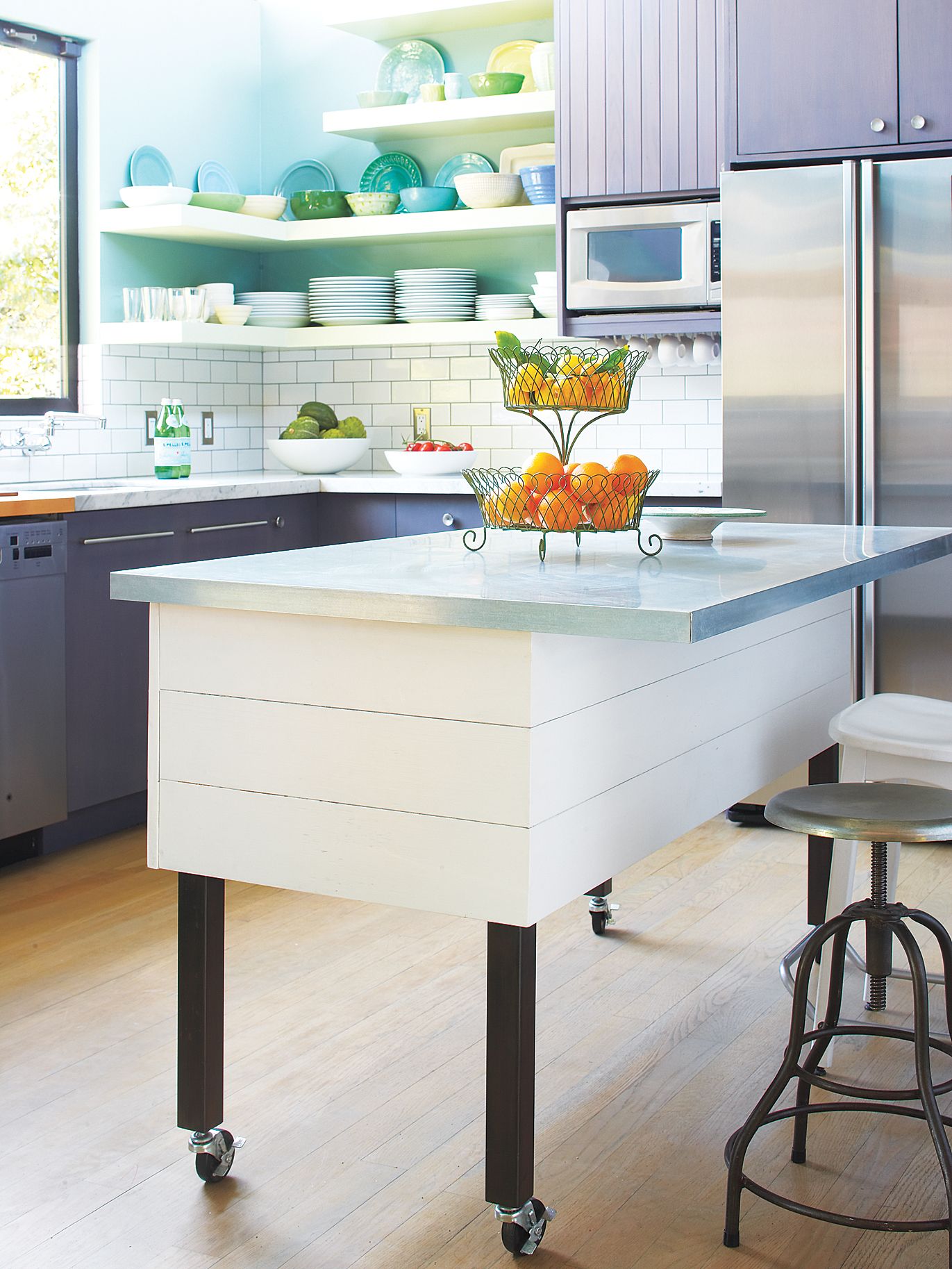 A favorite for worktables in commercial kitchens because it shrugs off water, heat, and germs. Pair it with a cutting board for food prep to prevent scratches.
Butcher Block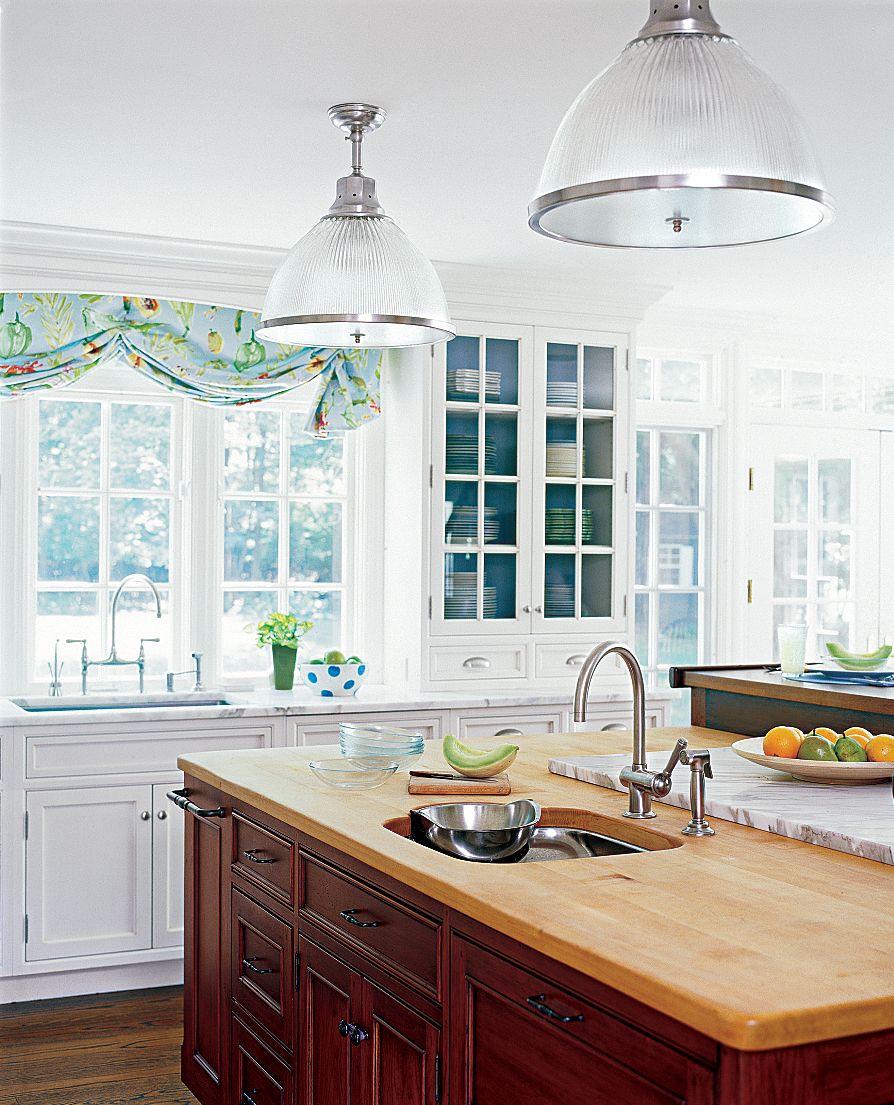 The best material for chopping; it doesn't dull knife edges, and any nicks and scratches can be sanded out. Treat it with mineral oil for a food-safe finish.
Add-Ons
Wine Storage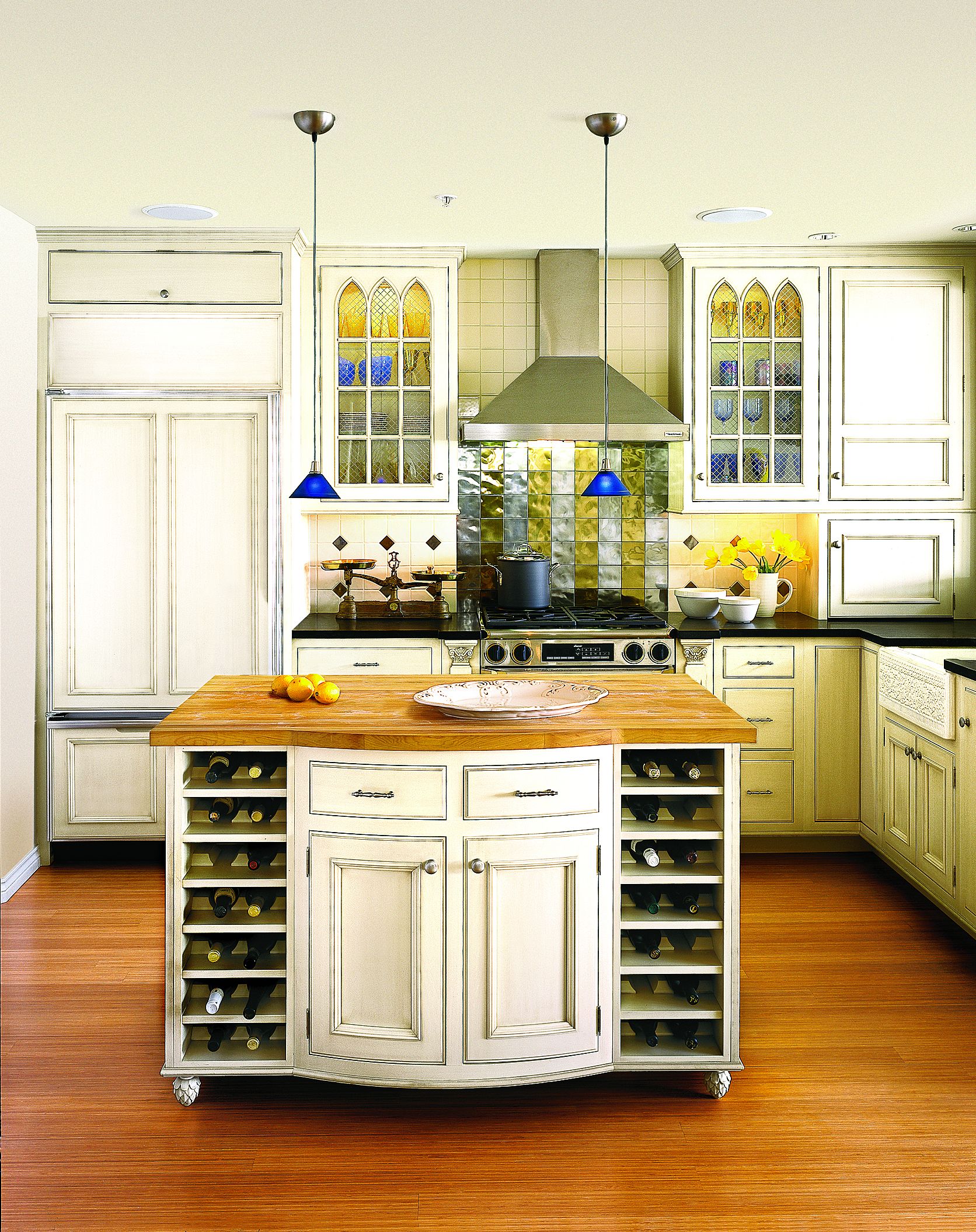 Store bottles in a built-in rack, where they're easy to grab. Styles include crisscross grids, cubbies, and open shelves lined with scalloped inserts (shown). Minimum rack depth is 12 inches. Costs up to 40 percent more than closed cabinets.
Shown: Custom, painted cherry island with Florentine curved inset doors; Rutt
Appliance Cubbies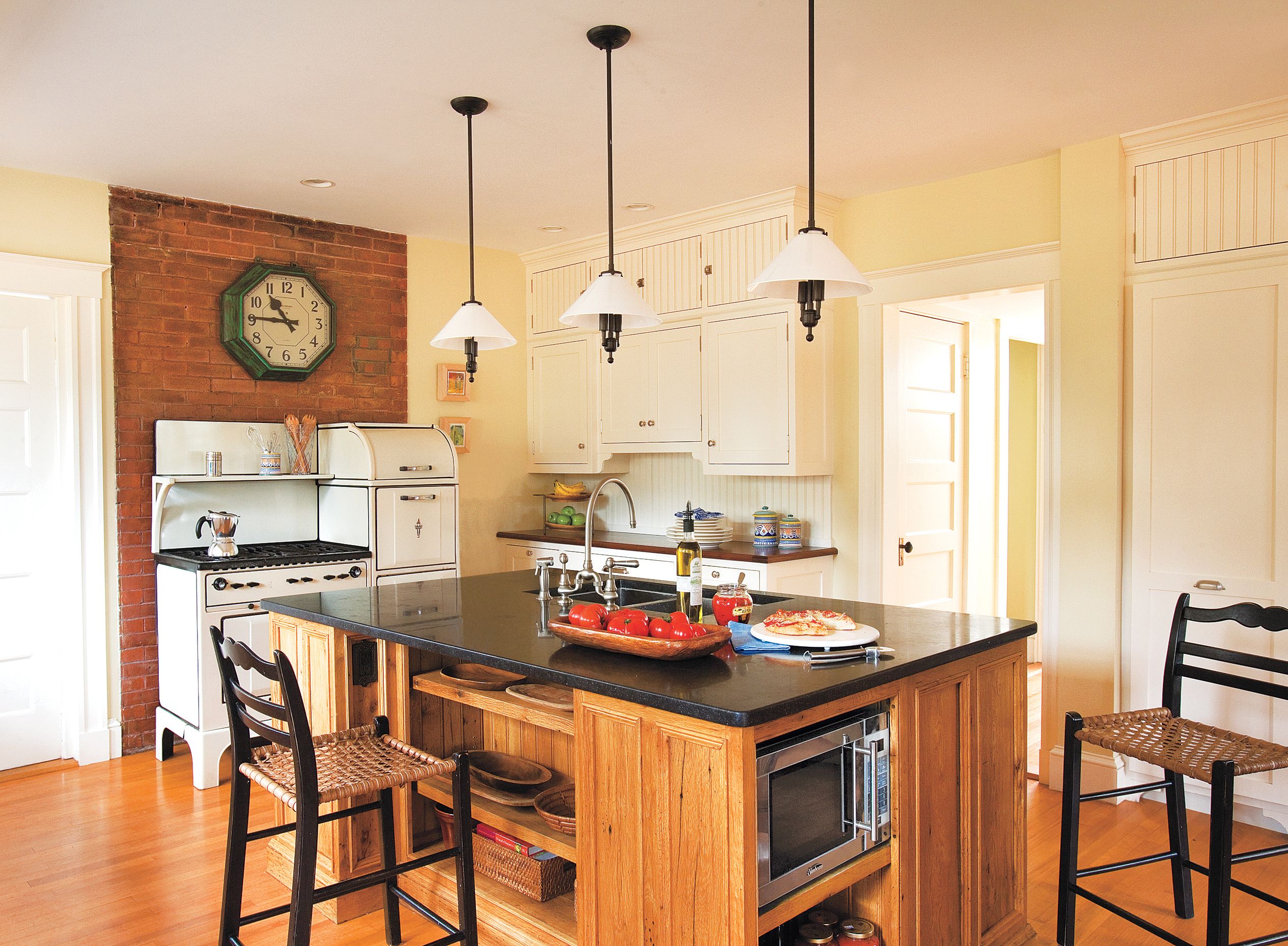 Control clutter by stowing small appliances. Microwaves need at least 1 inch of clearance on all sides for airflow. Cubbies with finished interiors add about 20 percent to a cabinet's cost.
Similar to shown: Custom cabinet in hickory; Plain & Fancy
Stylish Supports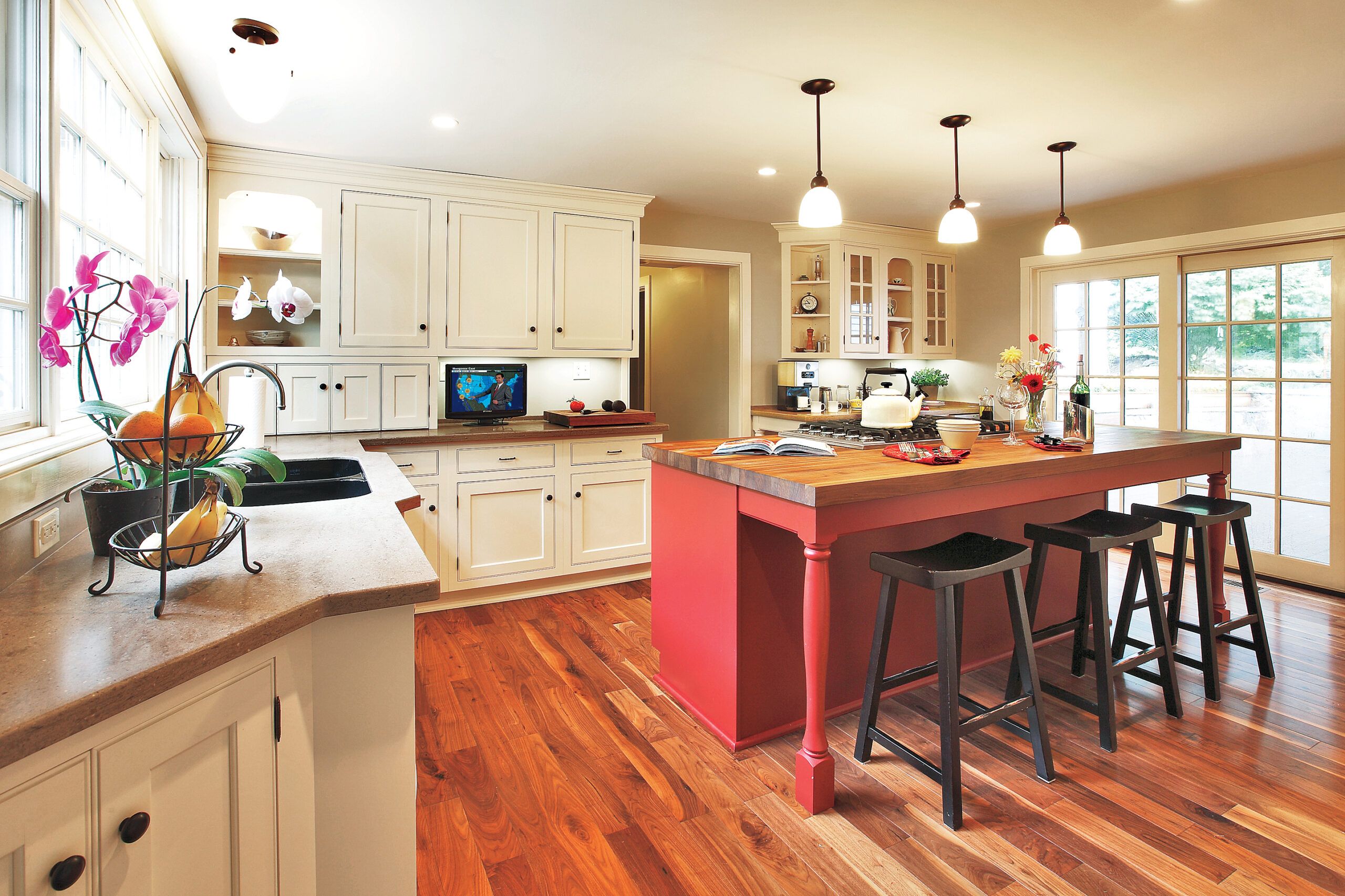 Countertops that cantilever out more than 1 foot need support. A pair of decorative turned legs costs about 50 percent more than plain angle irons.
Similar to shown: Narrow Islander leg in maple; Osborne Wood Products, Inc.
Baking Center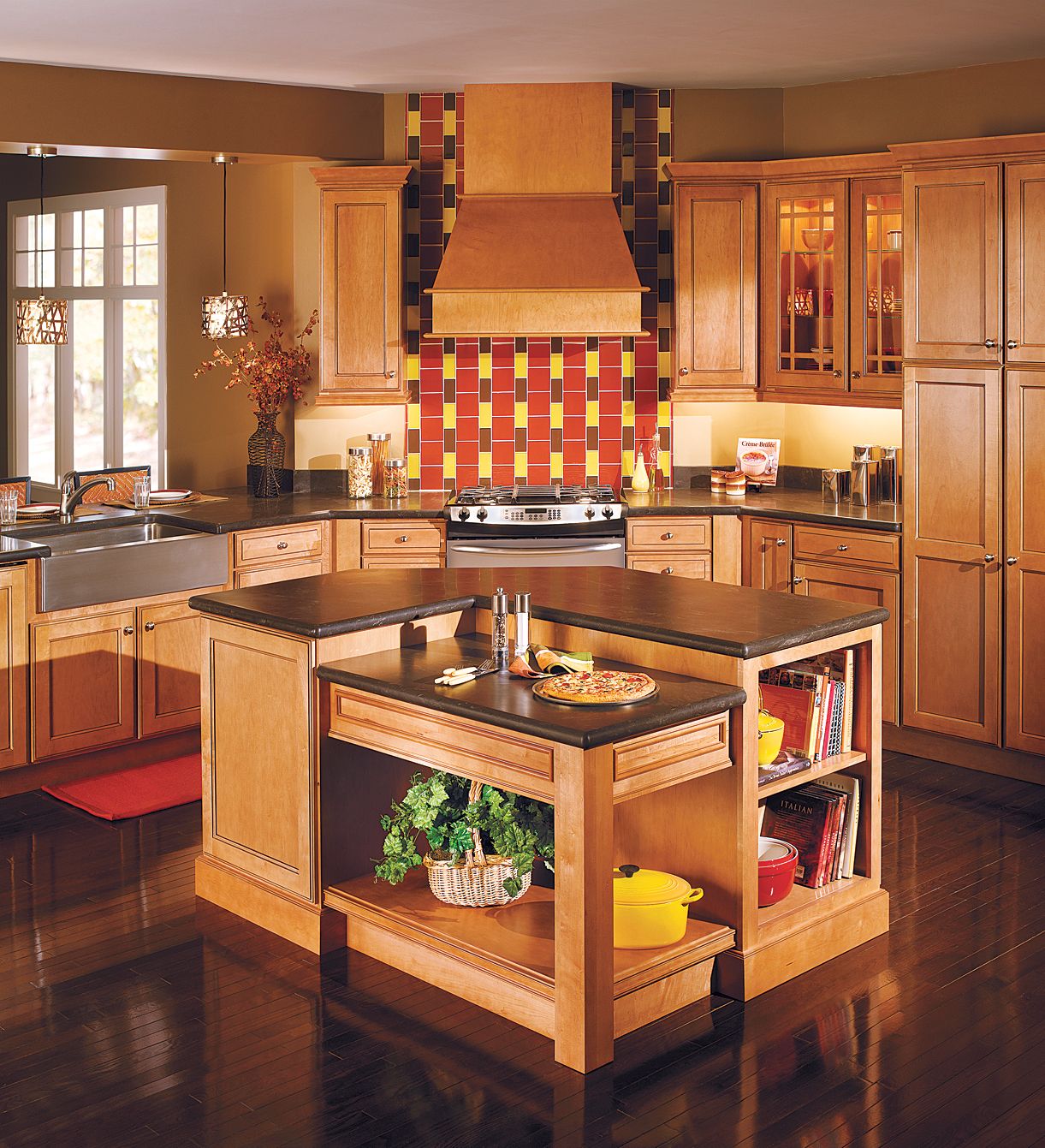 A dropped-down station 6 inches lower than the rest of the island is ideal for kneading pastry or rolling out pizza dough. A dual-height island typically costs the same as one on the same plane.
Shown: Quincy2 cabinets in maple; QualityCabinets
Pet Station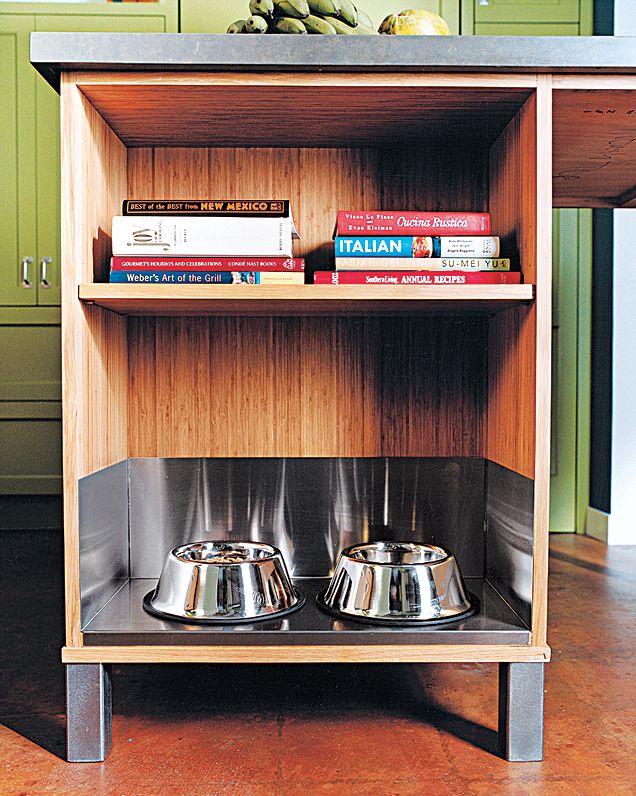 Cater to your dog or cat with a spot for bowls and kibble. Here, food and water dishes rest on a shelf lined with stainless steel. A custom liner from a sheet-metal fabricator will add about 30 percent to the cost of a $1,000 storage island like this one.
Shown: Custom bamboo island; R & J Cabinets
Open Shelves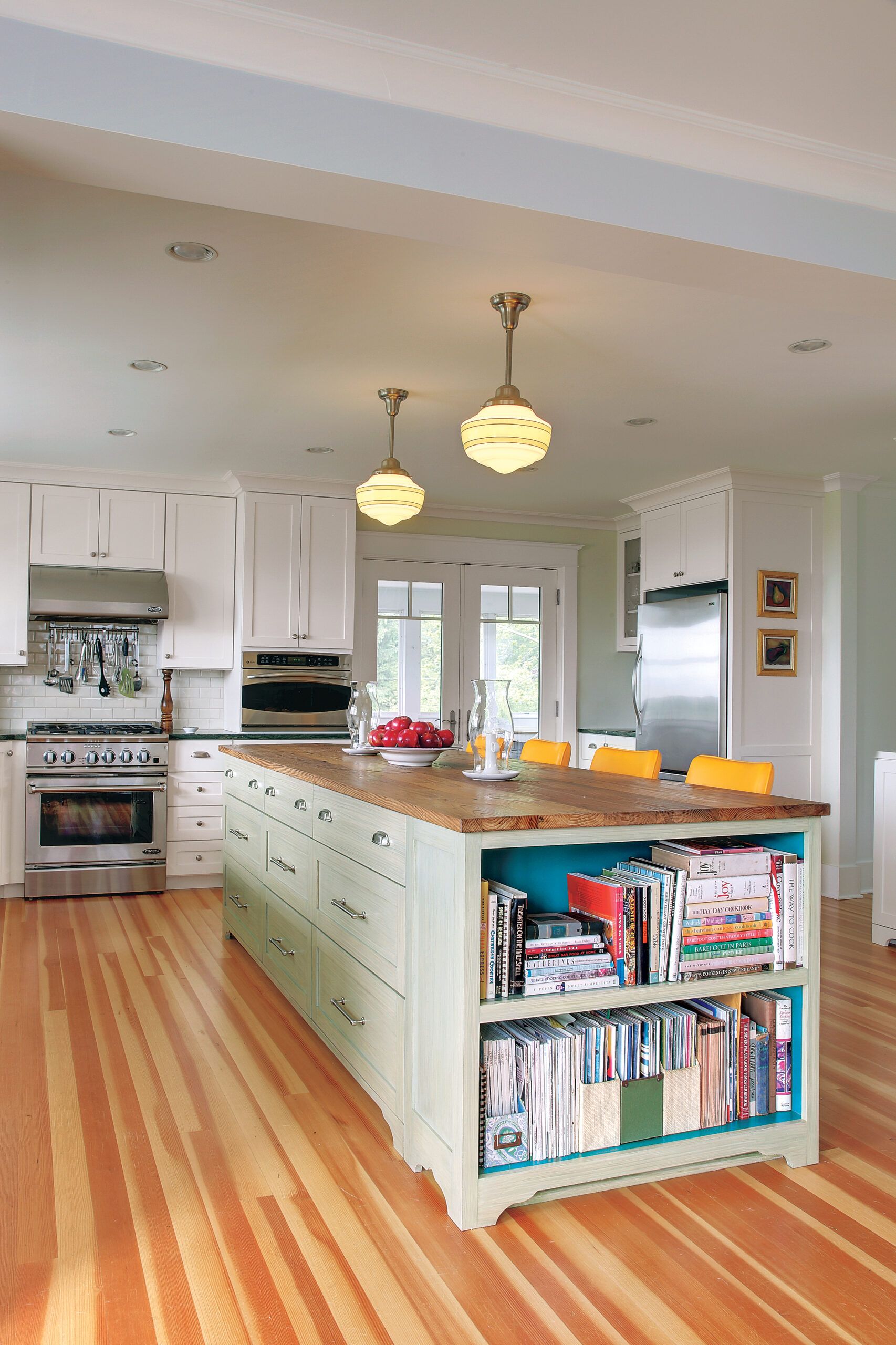 When you want cookbooks close at hand, provide shelves at least 10 inches deep and 12 inches high, or size them to your biggest books. An attached bookcase can add 20 percent to the island's cost.
Similar to shown: Custom bookcase in painted maple; Plato Woodwork, Inc.