The Right Combo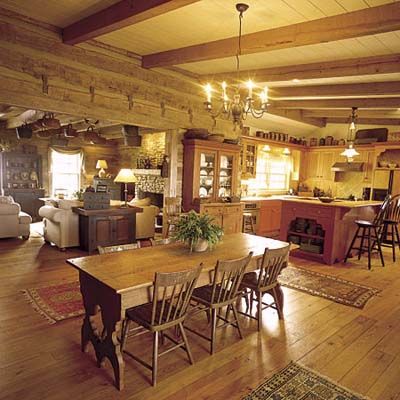 "Contrast is good—it creates drama," says professional lighting designer Rosemarie L. Allaire, IALD. A good lighting scheme can be achieved by layering, which consists of mixing various types of fixtures to create a comfortable space. In this kitchen, task lighting is placed over the sink and prep area, where close work is done regularly. The dining space is illuminated with a decorative candelabra-style fixture, which provides ambient light for meals.
by Kristen Mucci
Perfect Pendants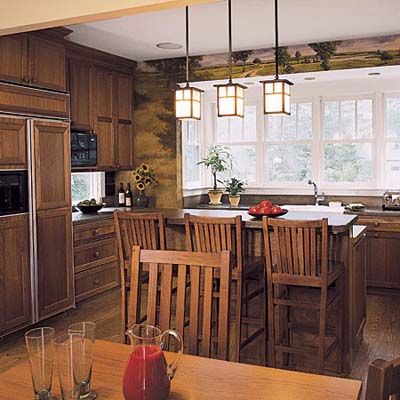 These Craftsman-style pendant lights provide illumination for eating or preparing food at the island, and serve as a design element that evokes the home's early-20th-century roots. A few recessed fixtures add additional task lighting when necessary, and a large window lets in plenty of sunshine.
Undercover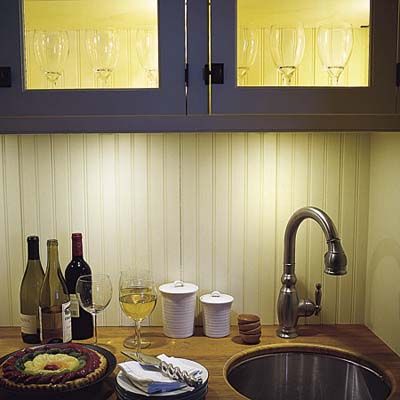 Discreetly adding to a good kitchen lighting scheme, undercabinet fixtures provide illumination over otherwise shadowy counter surfaces. In this butler's pantry, undercabinet fixtures light the countertop workstation for easier food prep, while illumination inside the cabinets puts attractive glassware on display.
Product Options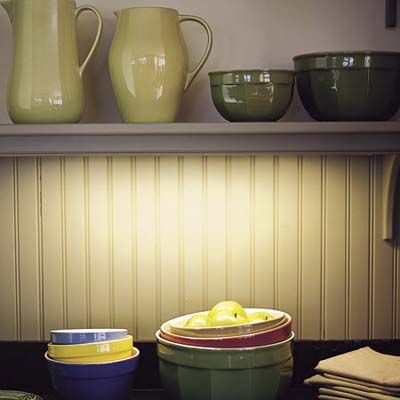 Undercabinet lighting comes in three forms—strip, puck, and mini-track. Strip fixtures are the most common. The linear shaped bulb offers lots of evenly diffused, shadowless task lighting. Puck, or disc lights, cast pools of light onto counters. The light is softer, which can be more aesthetically pleasing but less beneficial for task purposes. Easy to install, track systems consist of miniature low-voltage halogen or xenon bulbs, which can be spaced according to the desired effect.
Set the Mood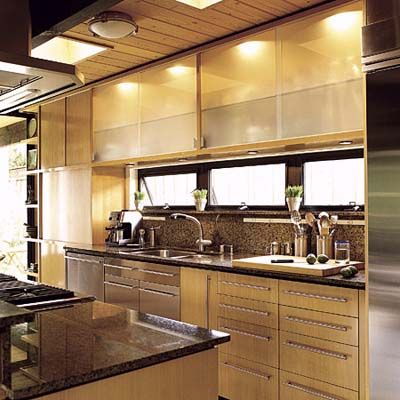 This kitchen's overall vibe is definitely a product of its lighting scheme. Combining natural light—from glass doors, small skylights, and rectangular windows along the backsplash—with subtle undercabinet puck fixtures and interior-lit cabinets, the space is bathed in comfortable ambient illumination. For task lighting, additional fixtures are placed in between the skylights.
Design Details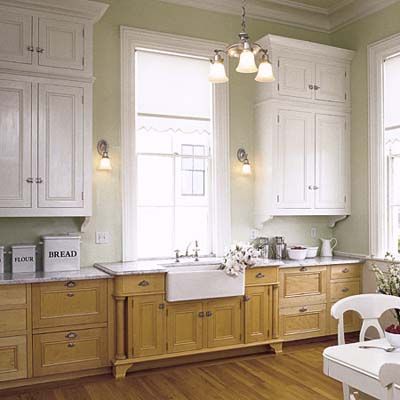 Here, the matching fixtures truly add to the décor of the room. Two sconces flank the farmhouse sink accentuating the pale green walls and enabling that area to become the focal point of the room.
Zoning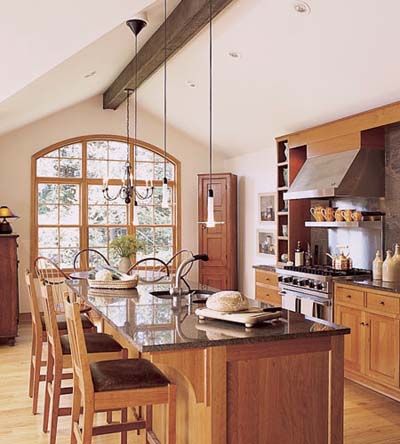 The various parts of this open-plan kitchen are largely defined by lighting. Long pencil-like pendant lamps distinguish the island as a functional area, while the candelabra-style fixture over the table sets apart the dining space.
Green Scheme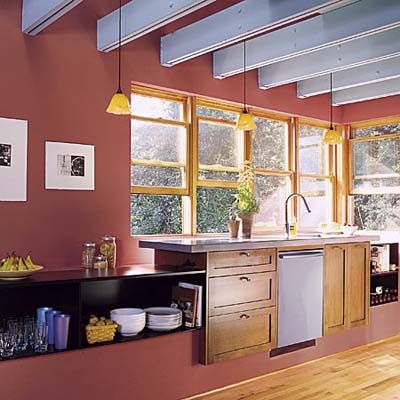 By day, a bank of dual-pane, low e-windows bring in ample natural light while capturing views. Combining windows with an open plan layout lets sunshine be the main light source in this kitchen. When using this much natural light, Allaire recommends maximum UV protection for prevention from interior damage and fading.
Ceiling Spotlights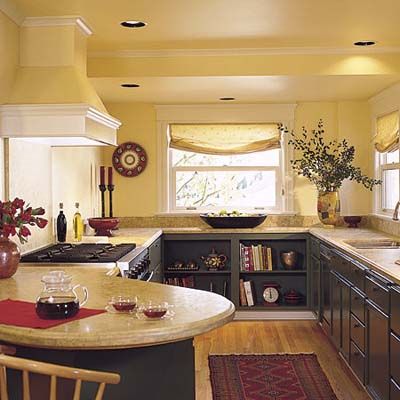 Recessed fixtures are the main source of light for this kitchen. Allaire says her top request from homeowners is for halogen low-voltage recessed downlights. "Most people are fascinated and intrigued with halogen, although it's a technology that has been developed for decades."
Time Travel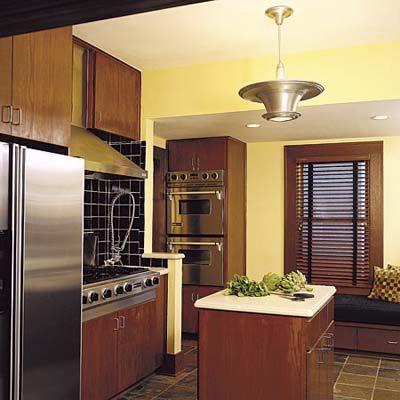 In this case, the lighting fixture serves as a bridge for assimilating a more modern kitchen with its 1920s roots. An old-time light from that era was placed over the island to provide task lighting.