Rustic and Relaxed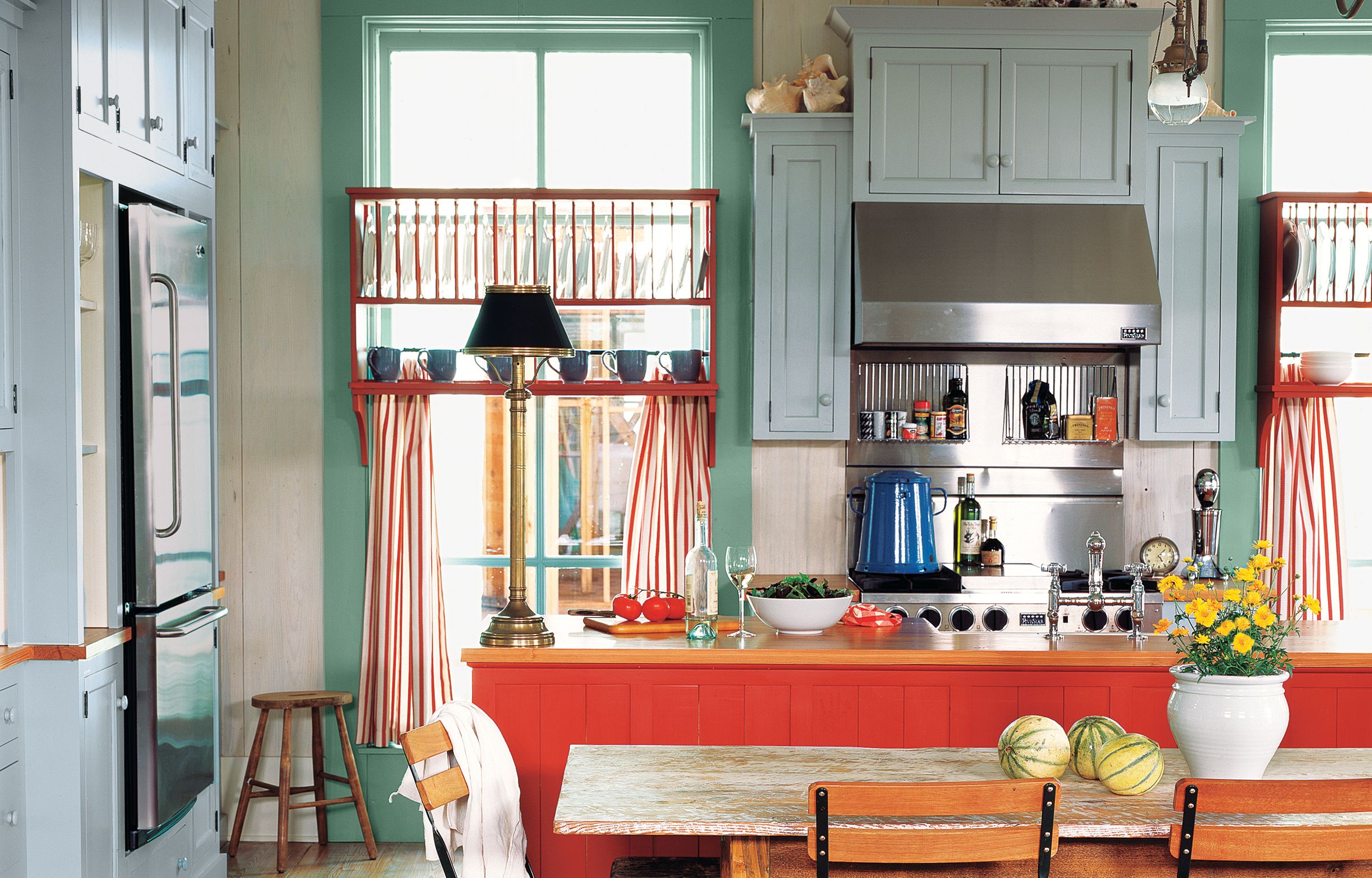 The kitchen offers more than a place to chop veggies or cook a roast. In this house in Watercolor, Florida, the room acts as the ultimate family gathering spot, where grandkids clamor for snacks while puppies play at their feet. To accommodate all the activity, homeowners Jim and Linda Strickland opted for well-worn antiques and rustic furniture that belie the space's relatively young age. "Even though we renovated only about eight years ago, we chose old furniture, old lights, and old art," says Jim, "so we don't worry if something gets messed up." Bright colors enhance the laid-back vibe and draw attention to the room's custom pieces, including a window-mounted plate rack and extra-long island. Inspired? Get cooking with these ideas for your own kitchen.
Buffet Lamp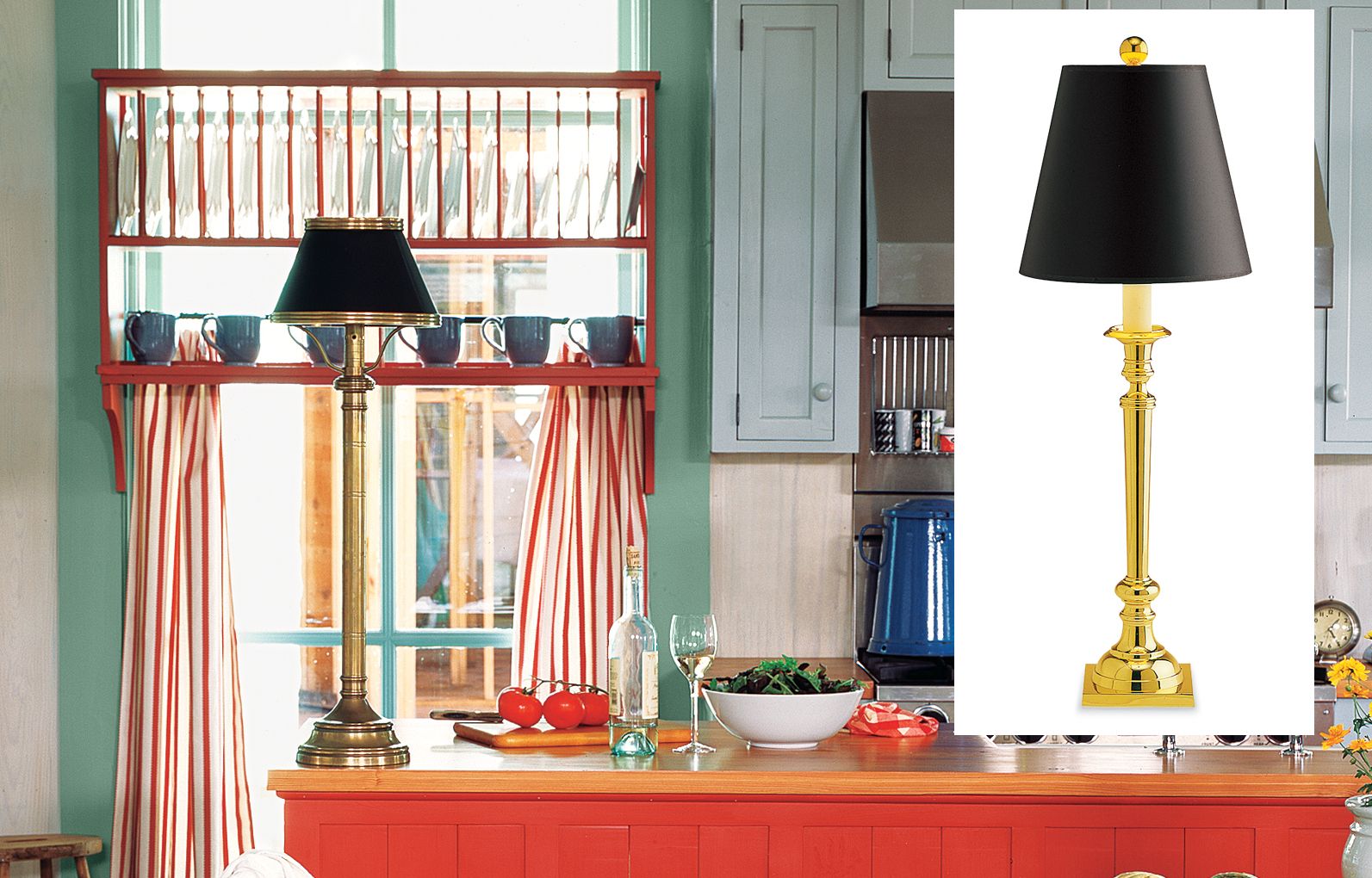 Proving that task lighting's not just for your desk, this polished-brass fixture offers extra illumination for kitchen counters.
About $204; bellacor.com
Cabinet and Trim Paint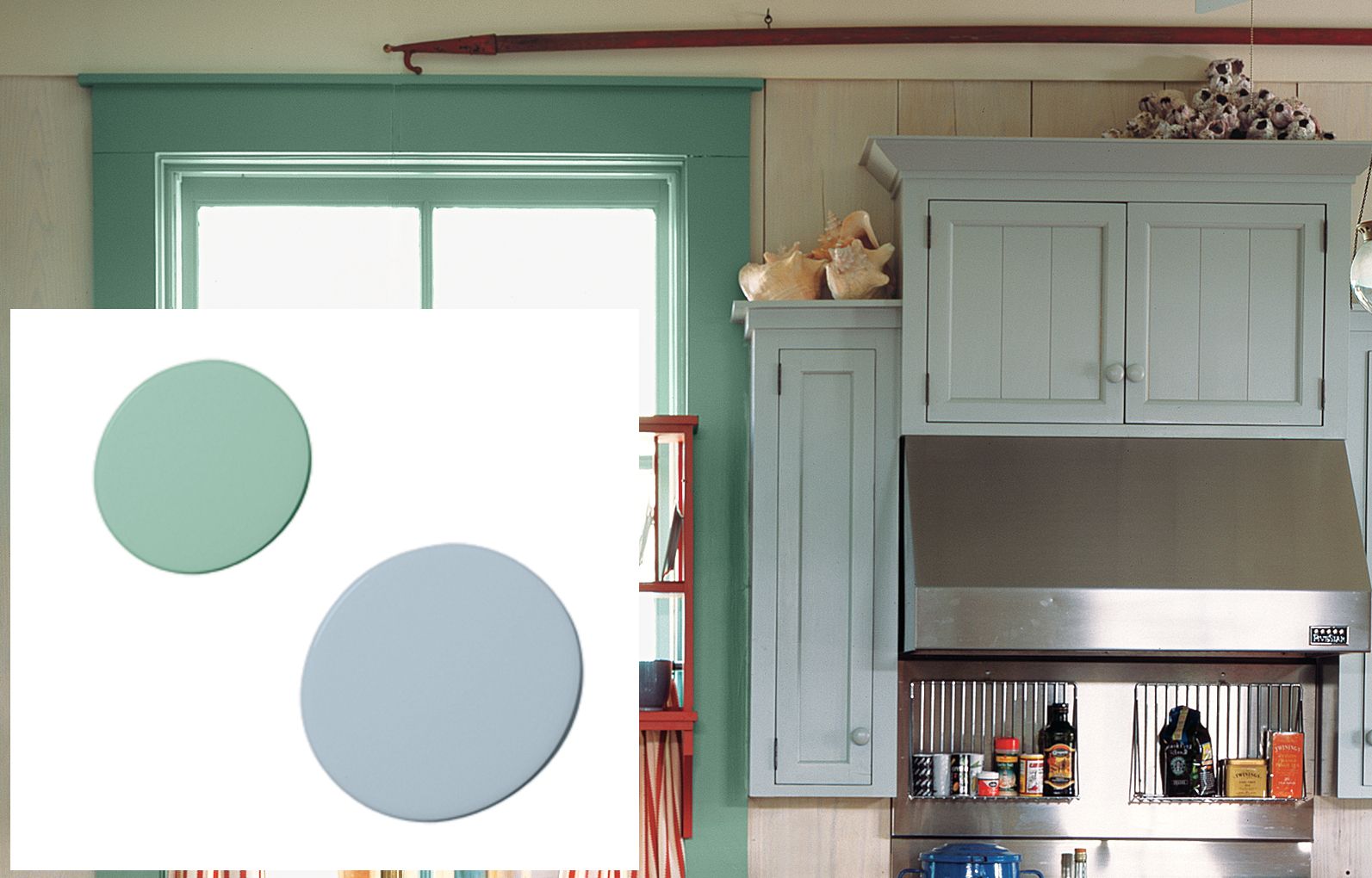 Cool tones pop against white walls. Natura Semi-Gloss in Nantucket Fog (AC-22) on cabinets and Harrisburg Green (HC-132) on trim.
About $51 per gallon; benjaminmoore.com
Round Stool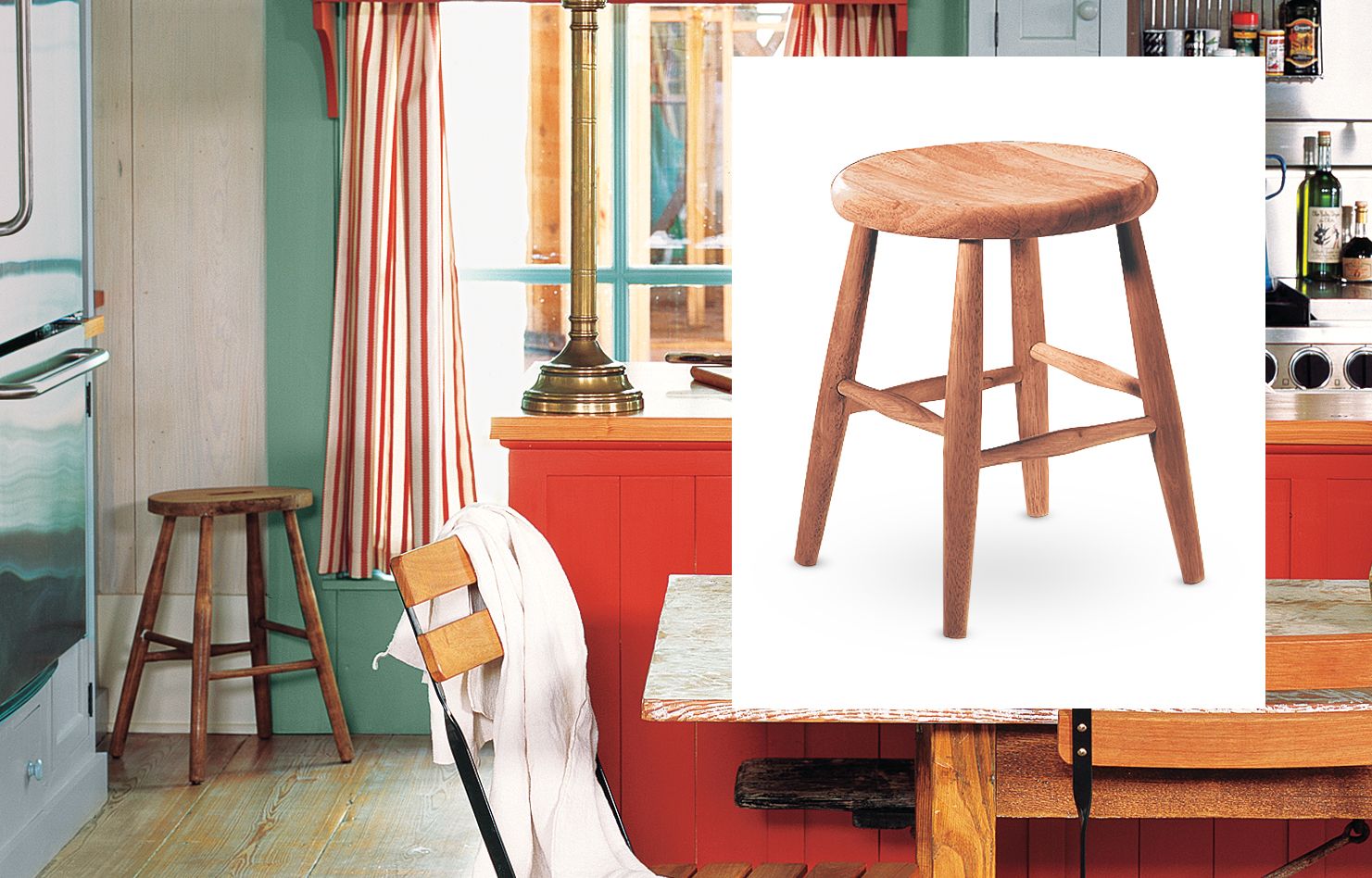 This simple seat ensures there's always room for one more at the table. Give it an aged look by sanding the wood, then coating it with a dark paste wax.
About $42; stacksandstacks.com
Striped Fabric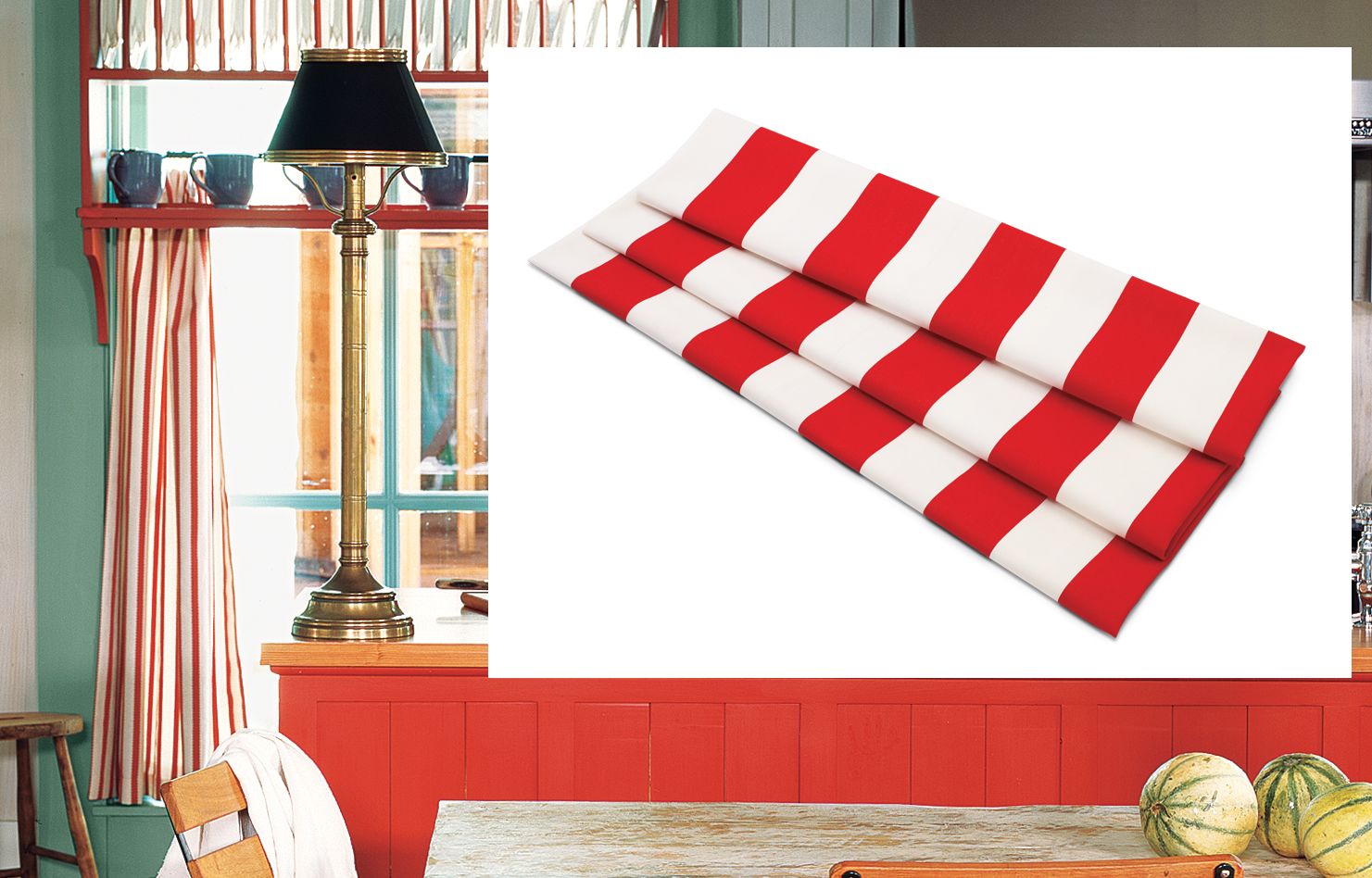 Add some French flavor to windows with café curtains stitched from durable cotton.
About $7.99 per yard; ikea.com
Enamelware Coffee Pot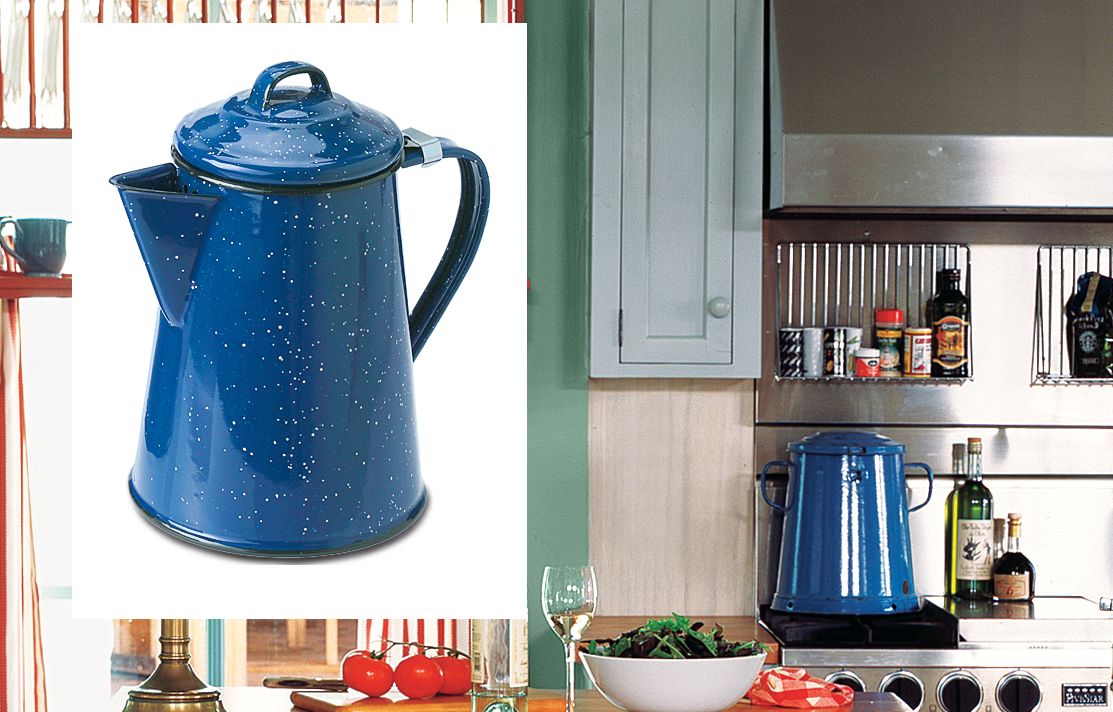 Because it's designed for camping, this 12-cup glazed-steel vessel is ultra-durable.
About $23; gsioutdoors.com
Bistro Folding Chair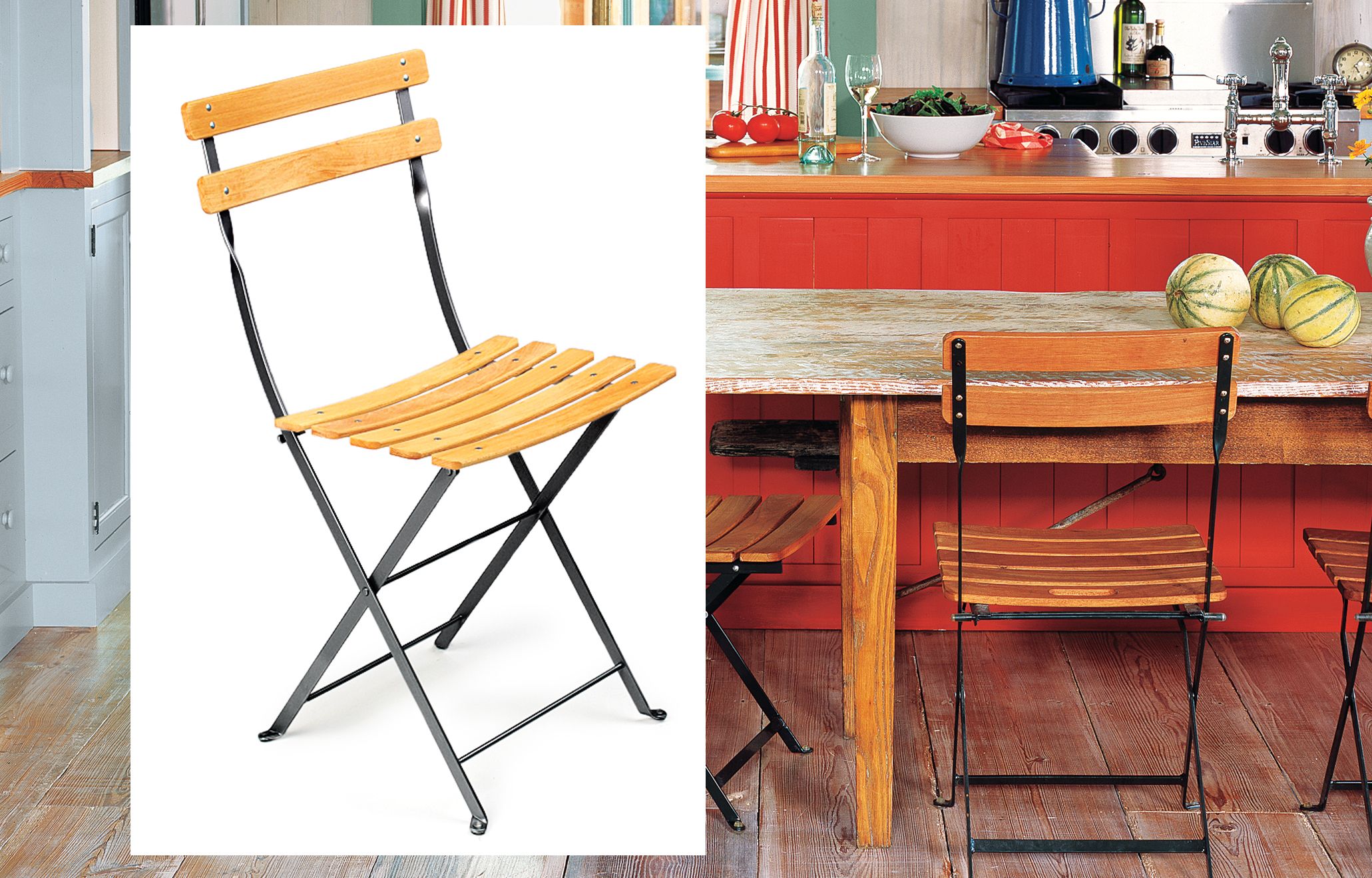 Fermob's classic design, made with beechwood slats and a lacquered steel frame, looks just as good in the kitchen as it does on a patio.
About $264 for two; dragonflydrygoods.com
Retro Drink Mixer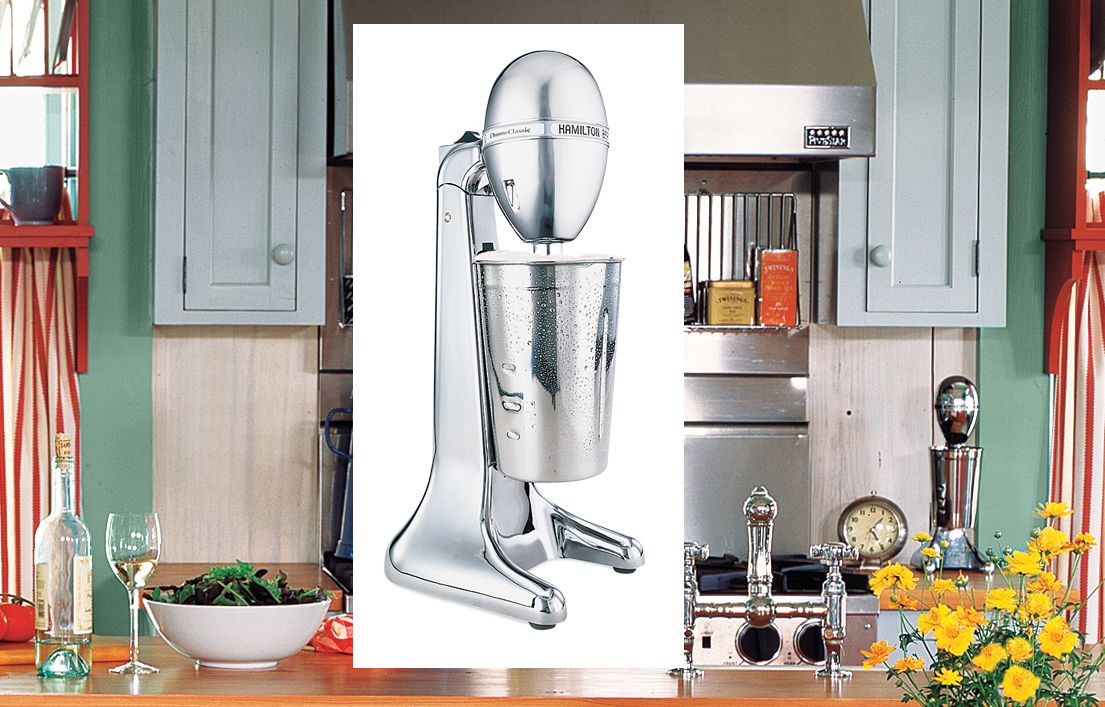 Satisfy a thirsty crowd by whipping up milk shakes with this vintage-style chrome appliance.
About $49; hamiltonbeach.com
Painted Plate Rack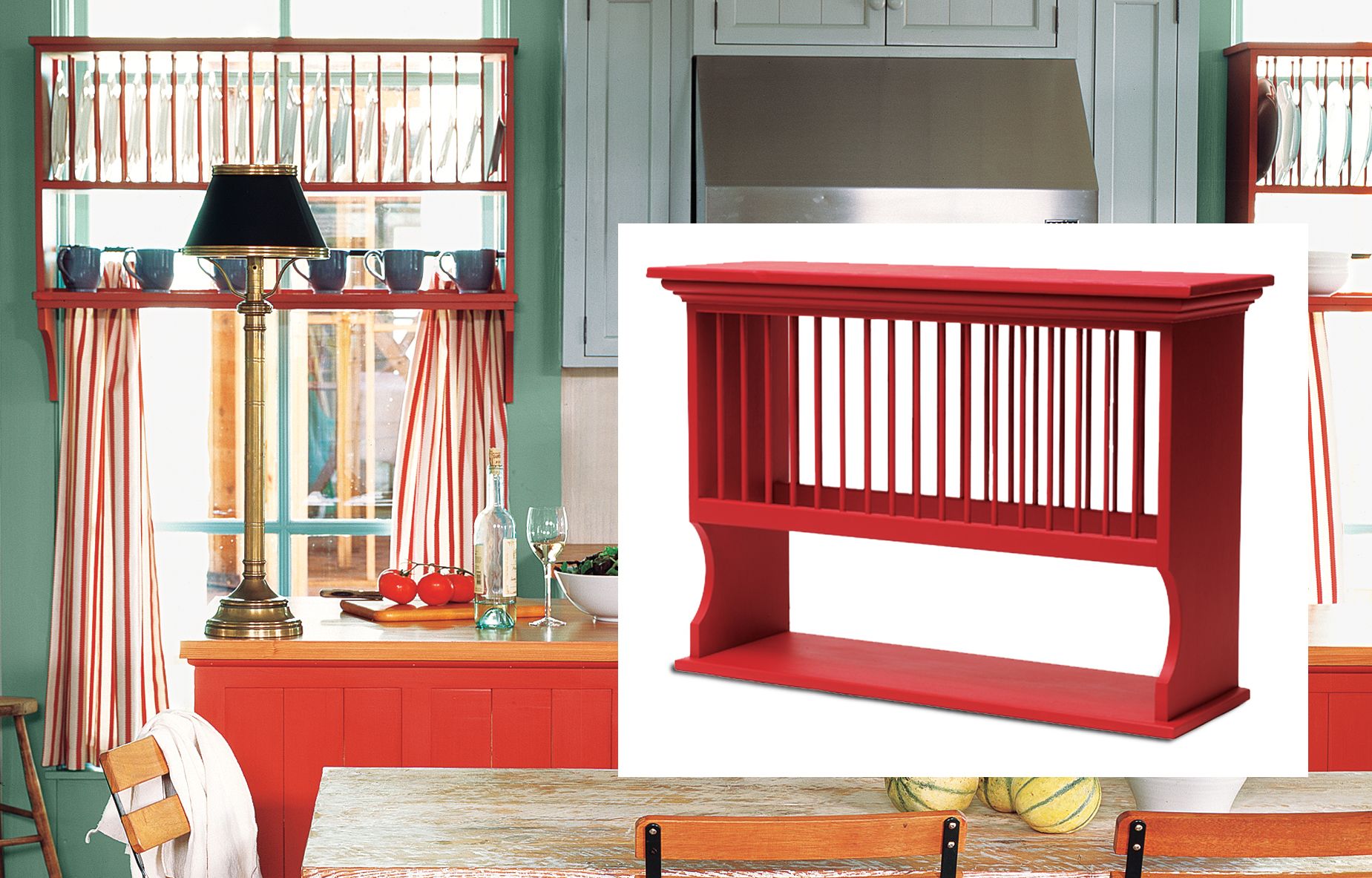 To match the custom piece at left, we coated this pine unit in a fiery red (which also brightens the island).
Plate rack, about $212; doorcountywoodworks.com.
Paint, Regal Matte Finish in Ryan Red (1314), about $16 per quart; benjaminmoore.com
Bridge Faucet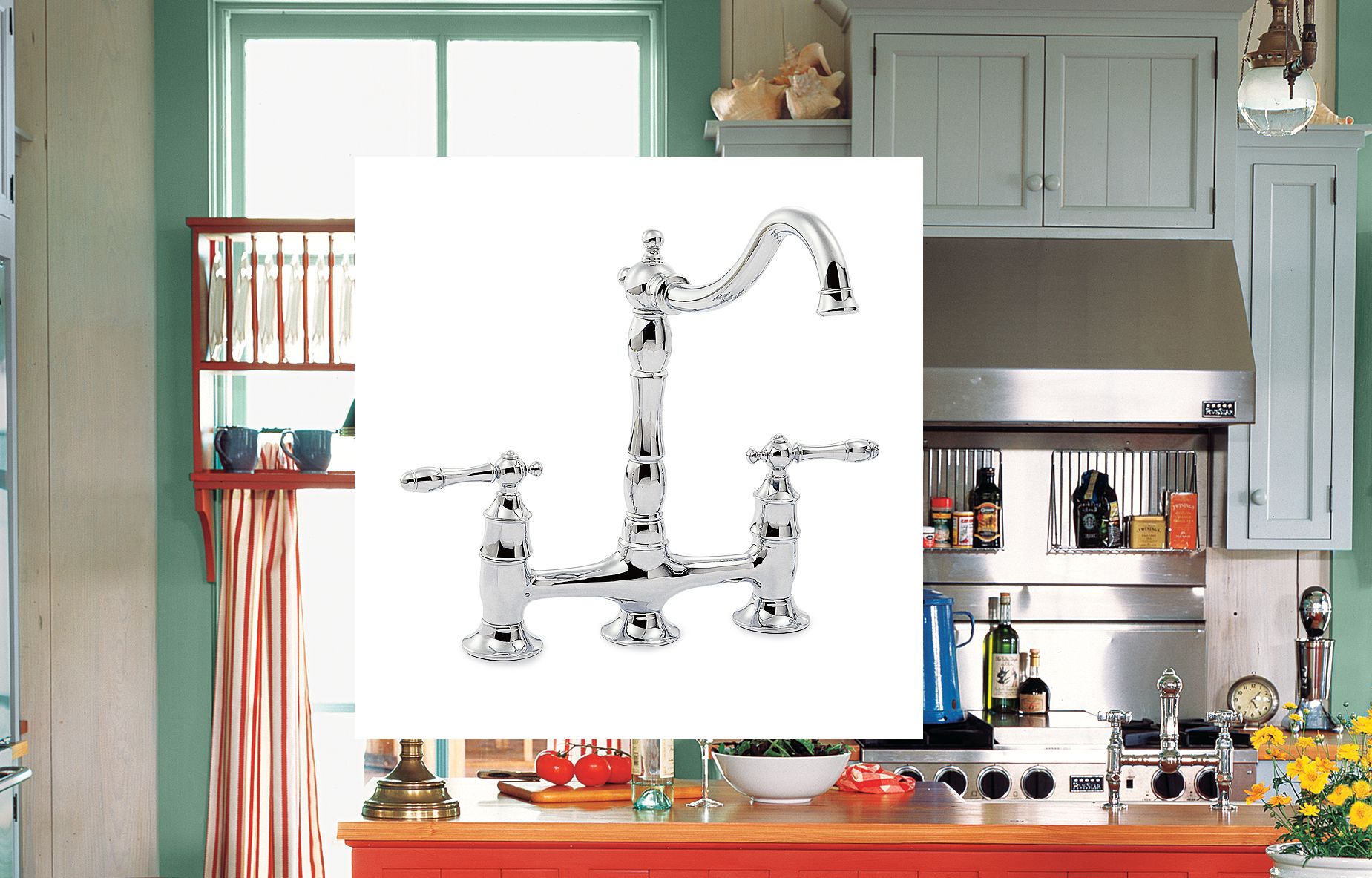 This Victorian-style faucet from Glacier Bay looks elegant—and its high neck makes filling large pots a breeze.
About $104; homedepot.com
Weathered Farm Table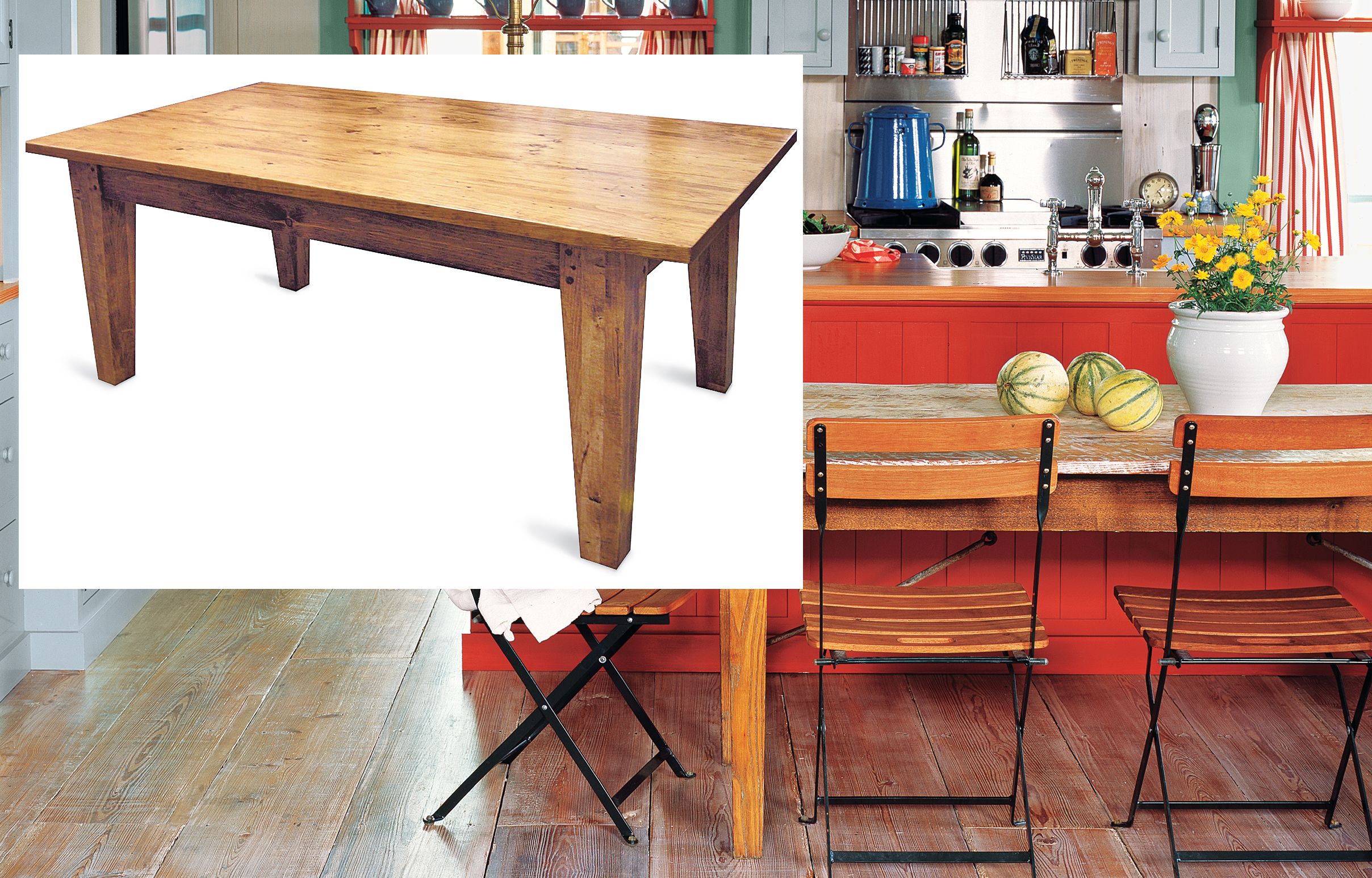 The homeowner built his table from old floorboards. This pine option features similar distressing and seats up to 12.
About $1,395; katemadison.com