All About Laminate
Plastic laminate is the chameleon of the building world, able to give the most mundane surface the look of polished granite, exotic hardwood, vibrant enamel paint, or patterned wall-paper. And though not much thicker than a credit card, laminate is as tough as rhino skin and virtually impervious to water, staining, scratching, fading, or cracking.
Laminate, made of thin sheets of heat-fused paper topped with melamine plastic, gained widespread popularity after World War II, popping up everywhere: in kitchens, bathrooms, restaurants, and high-end furniture. Embraced by famed architects like Charles and Ray Eames, Joseph Eichler, and even Frank Lloyd Wright, this modern material—sleek, economical, low-maintenance—captured the very essence of the modern lifestyle of the 1950s and '60s.
Laminate is now enjoying a renaissance of sorts as a new generation rediscovers its practical virtues and fun looks. Laminate has been improved over the years with sharper, more realistic images; new textures; greater scratch resistance; and more color choices than ever.
Similar to shown: Verde Acido and Blue Valencia, about $1.30 per square foot; Decotone Surfaces
What is Laminate?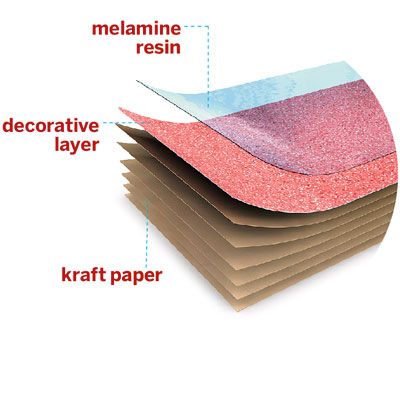 Heat and pressure turn layers of paper and plastic resins into a tough-as-nails sheet.
Melamine resin: transparent, protective top layer
Decorative layer: a printed paper or foil that gives laminate its good looks
Kraft paper: a stiff, resin-saturated backing that sticks well to adhesives. Some types of laminate have no backing.
Laminate Vitals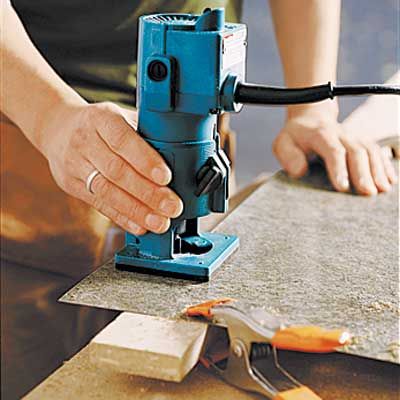 What's it cost? At a home center, you pay as little as $1.60 per square foot for a sheet of DIY laminate used for countertops, wall panels, and cabinet doors. Prefab panels for shelving and cabinet interiors start at about $2.40 per square foot.
What's the warranty? Laminate typically comes with a one-year warranty, but the material should last indefinitely.
DIY or buy it from a pro? You'll need a pro for a counter with an integral sink or a wrapped ogee edge. But you can make your own laminate counters, cabinets, and wall panels with the sheets and backerboards sold at a home center.
How much care? Clean laminate with nonabrasive, no-bleach cleansers. It's heat sensitive, so use a trivet when setting down hot cookware or votive candles on counters or tabletops.
Environmental Scorecard Air quality. High-density laminate sheets are Greenguard certified, meaning they pass strict tests for off-gassing. To further limit exposure to toxic chemical emissions, use low-VOC contact adhesive and a particleboard base that's made without urea-formaldehyde glues. Get boards at Panel Source and Uniboard.
Recycled content. Laminates typically have some recycled content in their paper backing; Wilsonart's line has as much as 20 percent. Tefor thermoplastic laminates from Abet Laminati are 100 percent recycled but won't work on counters. For extra eco cred, adhere the sheets to 100-percent-recycled FSC-certified particleboard made of wood from well-managed forests.
Type: High-pressure Laminate (HPL)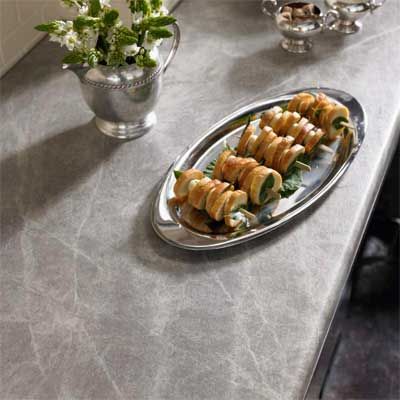 These sheets, backed by layers of kraft paper, come in two grades: thick, for horizontal surfaces like counters, tables, and desktops; and thin, for vertical walls, panels, and cabinet doors. Both kinds are usually glued to particleboard.
To find out where sheets—and prefab counters and panels with backing already adhered—are sold, go to manufacturer websites, such as Formica Group and Wilsonart.
Type: Low-pressure Laminate (LPL)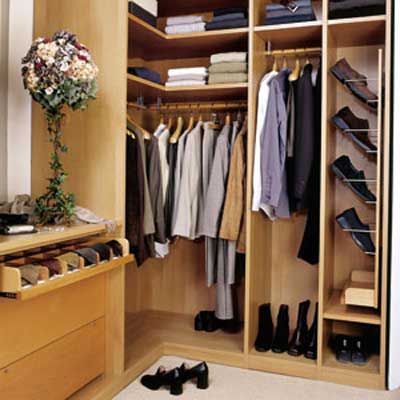 This panel material is made of a single sheet of decorative paper that's impregnated with melamine resin and bonded to either a particleboard or medium-density fiberboard (MDF) substrate. LPL is used primarily for shelving and for cabinet interiors. Available in solid colors or faux wood grain. Though somewhat scratch and stain resistant, it's not as tough as HPL.
Buy panels at home centers—Uniboard is one brand—or get just the melamine sheets from online sellers, such as BAND-IT, and iron them onto a substrate yourself.
Type: Thermoplastic Laminate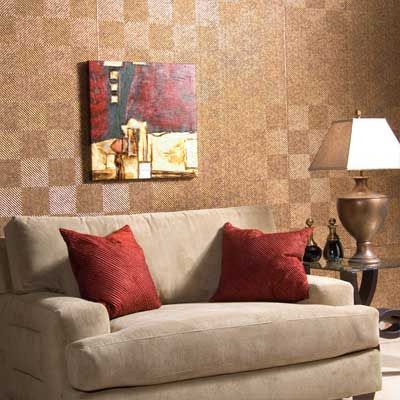 Layers of plastics or of plastic topped with metal foils or paper are heat-fused into sheets with bold, three-dimensional textures or high-gloss sheens. Some sheets can be affixed to walls and ceilings with a trowel-on adhesive; others have to be mounted on particleboard. Most are not suitable for countertops.
One company, Advanced Technology Inc., sells through distributors listed on its website.
Pattern: Abstract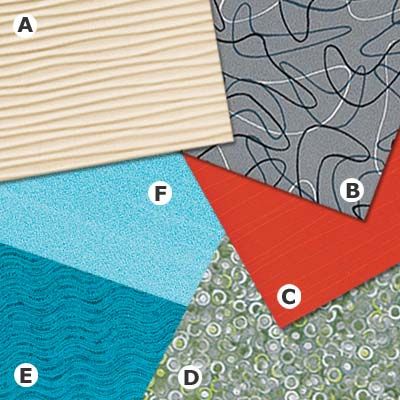 A. Beach dune. This paintable thermoplastic laminate has a 3-D texture resembling windblown sand. EccoFlex Mojave, starting at about $6.25 per sq. ft.; Advanced Technology Inc.
B. Boomerangs. Created by Raymond Loewy in the 1950s, this is a classic example of mid-century modern design. Charcoal Boomerang, about $2 per sq. ft.; Formica Group
C. Red ripple. Sculpted grooves add shadow lines to vertical applications. Grenadine, about $2.25 per sq. ft.; Formica Group
D. Tiny bubbles. This anime-inspired pattern is embedded in a high-pressure laminate. Beluga, about $2.25 per sq. ft.; Formica Group
E. Blue wave. A wavy pattern reminiscent of finger paint adds a fun touch to counters, Blue Agave, starting at about $2 per sq. ft.; Wilsonart
F. Blue shimmer. Streaked with sparkles, the surface has a pearlescent sheen. Beryl Wisp, about $3.25 per sq. ft.; Lamin-Art
Patterns: Metal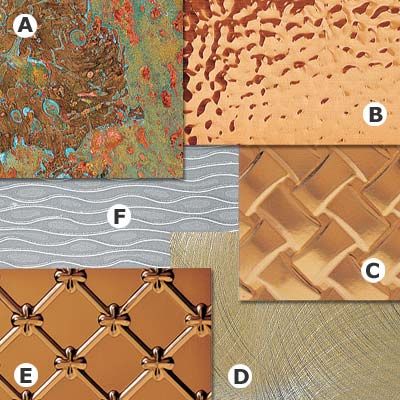 A. Patinated metal. An oxidizing agent applied to real brass makes every sheet unique. Melrose, Metal Images Collection, about $14.50 per sq. ft.; Chemetal
B. Hammered copper. A foil applied to bumpy plastic looks like the real thing. Use only on walls. MirroFlex Hammered, starting at about $6.25 per sq. ft.; Advanced Technology Inc.
C. 3-D texture. A dimensional pattern and faux metal finish make an eye-catching backsplash. MirroFlex Celtic Weave, starting at about $6.25 per sq. ft.; Advanced Technology Inc.
D. Metal swirl. It's real brushed aluminum for use on vertical surfaces. DecoMetal Goldtone Crush, about $9.50 per sq. ft.; Formica Group
E. Victorian lattice. The raised pattern on this laminate evokes a pressed-tin ceiling panel. MirroFlex Annapolis, starting at about $6.25 per sq. ft.; Advanced Technology Inc.
F. Wavy metal. Actual aluminum is embossed with a striated pattern. DecoMetal Aluminum Twirl, about $10.25 per sq. ft.; Formica Group
Patterns: Stone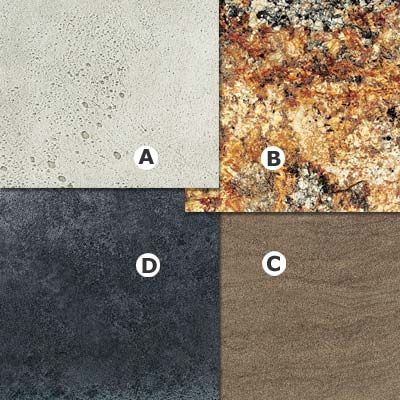 A. Concrete. Marble sand gives this laminate the look and feel of cast concrete. ConcreteLite, starting at about $20 per sq. ft.; Advanced Technology Inc.
B. Granite. Its pattern spans 5 feet (18 inches is the norm). 180fx Golden Mascarello, about $2.50 per sq. ft.; Formica Group
C. Sandstone. This matte-finish HPL convincingly mimics sandstone. Verdicts In, about $2.75 per sq. ft.; Nevamar
D. Rough stone. The textured Aeon surface contains aluminum oxide for high scratch resistance. Luna Night, starting at about $2.75 per sq. ft.; Wilsonart
Patterns: Fabric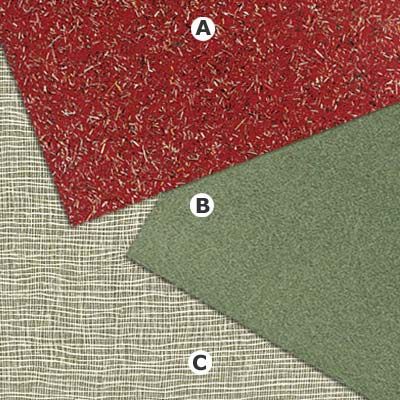 A. Natural fiber. A mix of banana-tree fibers imparts an organic look. Crimson Abaca, about $3.50 per sq. ft.; Lamin-Art
B. Moss green. This multitonal, matte-finish HPL has a pattern that resembles fine-grain leather. Vous Verde, about $2.75 per sq. ft.; Nevamar
C. Loose weave. The cheesecloth looks rough, but the surface is smooth. Possum Warp, about $2.25 per sq. ft.; Formica Group
Patterns: Wood Grain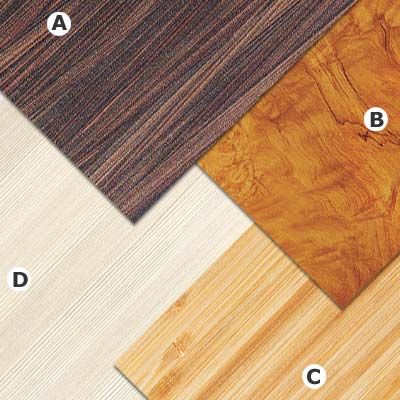 A. Tropical timber. It looks like a hardwood, but it's actually a photographic print set in HPL. Wenge Strand, about $2.25 per sq. ft.; Formica Group
B. Shiny burl. The high-gloss acrylic finish shines like lacquer on table tops and walls. ClearCore Medium Teak, starting at about $4.50 per sq. ft.; Advanced Technology Inc.
C. Bamboo. Authentic pressed bamboo for vertical surfaces has a water-, stain-, and scratch-resistant finish. Veneer-Art Natural Bamboo; about $10.75 per sq. ft.; Lamin-Art
D. Whitewash. It captures the soft look of pickled antique pine. Leave Likatre, about $2 per sq. ft.; Pionite
Where to Use Laminate: Cabinets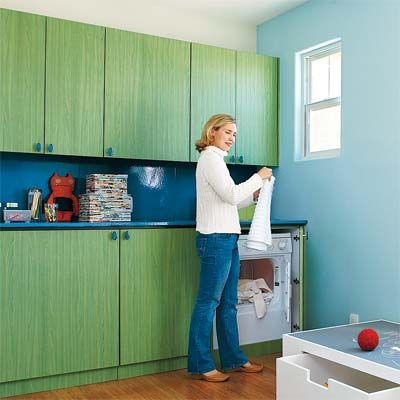 High-pressure laminate on the doors and drawer fronts means these cabinets will retain their bright color for years to come without fading.
Shown: Legni Colorati 1673 Soft, about $2.50 per square foot; ABET Laminati
Where to Use Laminate: Shelving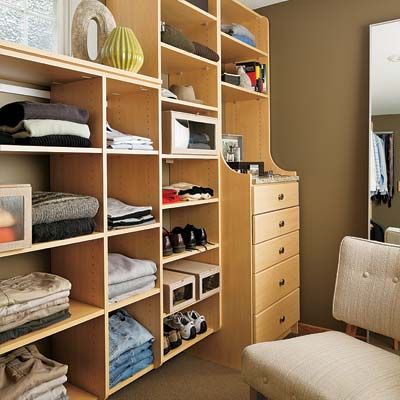 Low-pressure laminate panels provide a quick and easy way to make shelving and cabinet interiors for kitchens, closets, home offices, and workshops.
Shown: Custom melamine shelving system in Maple, starting at about $150 per linear foot; California Closets
Where to Use Laminate: Countertops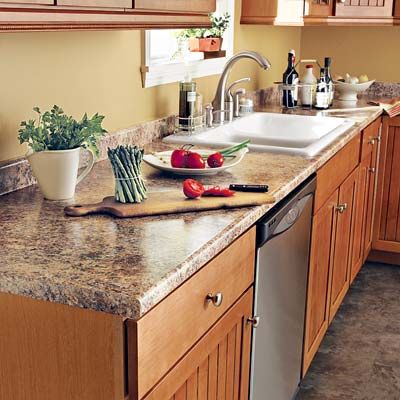 This prefab laminate counter looks like granite but has no seams from the eased front edge to the integral backsplash, a feature no stone counter has.
Shown: Finished counter in Formica's Butterum Granite, about $9.50 per square foot; L. E. Smith Company
Where to Use Laminate: Backsplashes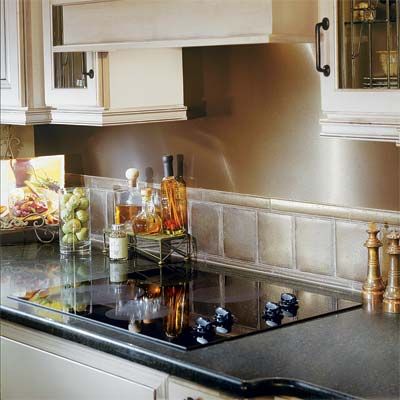 A laminate topped with a layer of anodized aluminum creates a lustrous kitchen backsplash. A high-pressure laminate such as this must first be glued to ⅜-inch MDF or particleboard that is stuck to drywall with construction adhesive.
Shown: Satin Brushed Copper, about $25 per square foot; Wilsonart
Where to Use Laminate: Furniture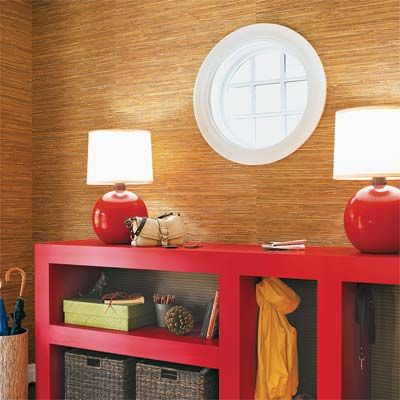 Unlike paint, laminate never needs refinishing. This entryway console is sheathed in ColorCore 2, a high-pressure laminate that has none of the telltale brown edges that typically show where pieces intersect.
Shown: Spectrum Red, about $5.50 per square foot; Formica Group
Where to Use Laminate: Wall paneling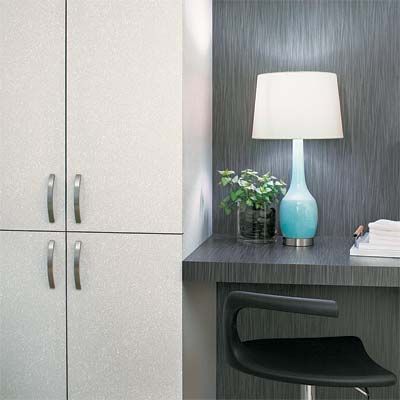 When applied to vertical surfaces, laminate displays its bold colors, textures, and patterns to full advantage, and far surpasses wallpaper in durability. As with backsplashes, HPL sheets like this one have to be adhered to a substrate before going on the wall.
Shown: Burnt Strand, about $2.25 per square foot; Formica Group
Edge Upgrades: Metal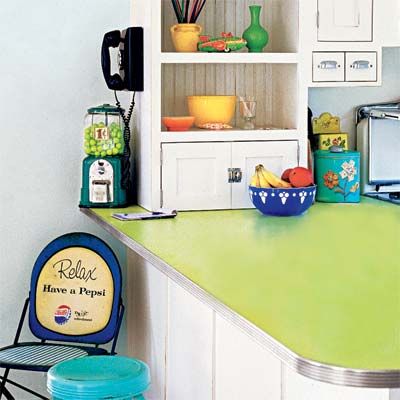 For that retro diner look, wrap the edge with a shiny band of stainless steel or aluminum. Clip-on, 1⅝-inch-wide stainless edging can be installed on straight runs by DIYers. Aluminum edges can be straight or curved but require cutting a slot in the edge of the counter.
Stainless clip-ons, about $4.75 per linear foot, and aluminum, starting at about $1.20 per linear foot; L. E. Smith Company
Edge Upgrades: Wrapped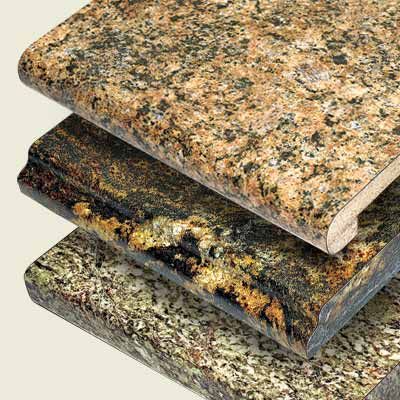 A seamless bullnose, ogee, or eased edge is made in a factory using heat and pressure.
Order this treatment through a home center or a fabricator and get a ready-to-install counter starting at about $2.40 per square foot. Find fabricators through VT Industries.
Edge Upgrades: Beveled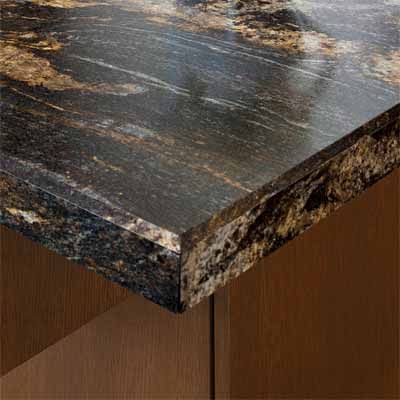 A 45-degree bevel in the top of the counter's edge has less chance of chipping or coming loose than a standard square edge.
Beveling costs about $45 per linear foot if done by a pro. DIY strips, starting at about $3 per linear foot; KUEHN Bevel
Edge Upgrades: Solid Surfacing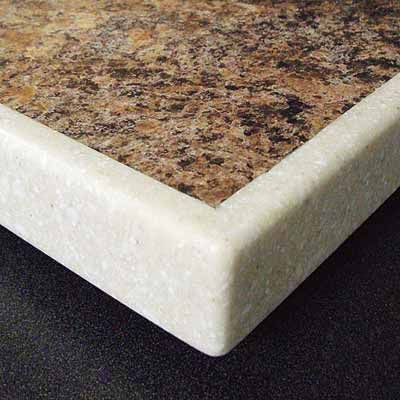 This durable, low-maintenance material, held on with an acrylic adhesive, can be cut and shaped like wood but doesn't require a protective finish.
Pro-installed strips (shown) start at about $20 per linear foot. DIY strips run about $7 per linear foot; KUEHN Bevel.
Edge Upgrades: Wood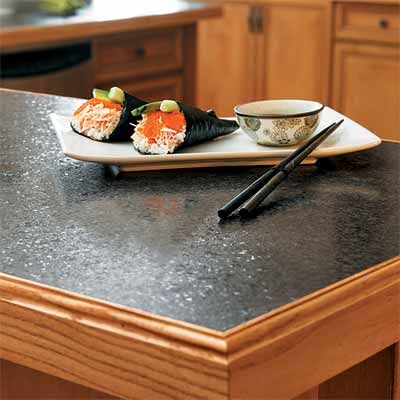 Hardwood adds a warm, natural touch to laminate's man-made coolness. Wood can easily be shaped into different profiles, but it needs a water-resistant finish, such as tung oil.
Factory-installed white oak edging starts at about $30 per linear foot. Red oak bullnose for DIY installation runs about $1.50 per linear foot; Baird Brothers.
New Sinks for Laminate
One of the hardest knocks against laminate countertops was that they required a drop-in sink—one that rested on top of the counter so that the particleboard base was protected from water. Unlike undermount sinks for stone or seamless integral sinks for solid surfacing, drop-ins have a lip that accumulates grime and makes wipe-downs more difficult.
But now, thanks to special waterproof adhesives and new installation techniques, there are acrylic and stainless-steel sinks with lips that go under the laminate. These sinks, from Wilsonart (shown) and Karran, must be professionally installed; a basic acrylic version adds about $600 to the cost of a counter.
How to Handle the Oops!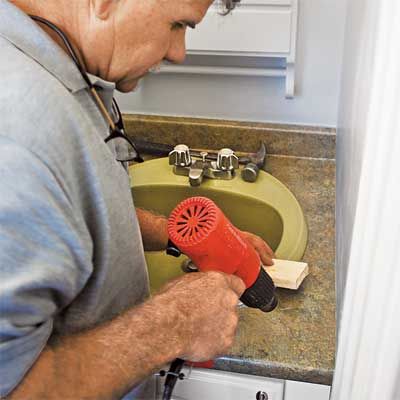 Laminate is tough, but it's not totally immune to damage. TOH general contractor Tom Silva explains what to do about blemishes.
Burns: If a hot pot creates a crispy blister on your countertop, rout out the affected area and fill the recess with a heat-proof cutting board, like the Surface Saver (Vance Industries, Inc.).
Delamination: Occasionally an edge or a top may pop loose from its base. Most times, all you need is a hair dryer or a heat gun to reactivate the adhesive (shown). Use a rolling pin to press the laminate back in place. Weight it down for 24 hours.
Chips: Disguise small chips with color-matched laminate-repair paste, such as SeamFil (American Technology). Larger chips aren't repairable; you have to replace the entire surface or, for countertops, you can put a new sheet of laminate over the old one. Fill the chip with Bondo, then sand it smooth. Rough up the old surface with 80-grit sandpaper, and adhere the new sheet with contact cement.
Stains: Attack stubborn stains with a thick paste of baking soda and water. Apply directly to the stain and let it sit overnight, covered with plastic wrap to keep it moist, then wipe clean in the morning. Avoid abrasive cleansers, which leave minute scratches that pick up dirt. Use bleach only as a last resort, dabbing stains with a cotton ball. Rinse thoroughly; bleach residue can discolor laminate.
How to install and repair laminate: watch how Tom Silva glues up and fixes countertops.