Low-Cost Refreshments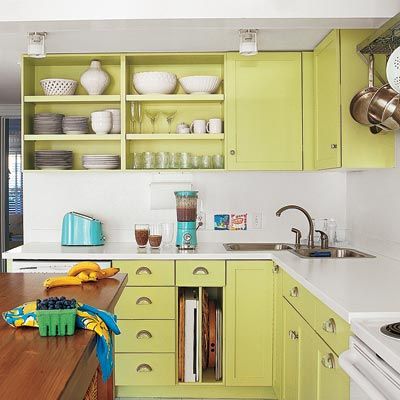 Upgrading your kitchen needn't cost a fortune. See how painted cabinets, stylish task lighting, vintage fixtures, and clever storage ideas can create made-to-order looks for less
Warm and Inviting: Colorful Cupboard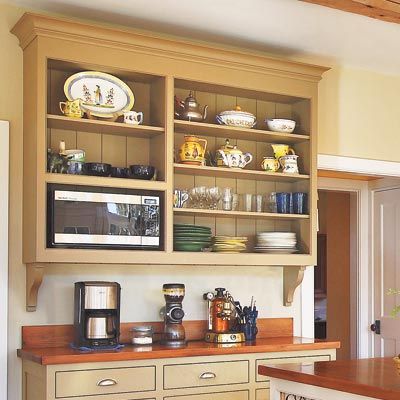 Turn a built-in storage unit into a focal point by painting it a different color from your kitchen cabinetry. To mimic the finish on this two-piece cupboard, try Behr's Premium Plus Ultra Interior Semi-Gloss Enamel paint and primer in one in Beachwalk.
About $34 per gallon; The Home Depot
Warm and Inviting: Targeted Task Lighting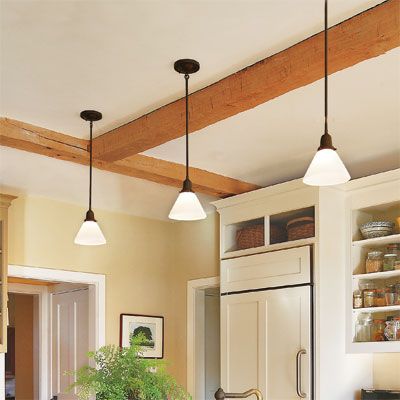 Install mini pendants over an island or a peninsula to bring light down from ceiling height to the work surface.
Similar to shown: Thatcher 1-Light Pendant in iron with frosted glass shade, about $69; Ballard Designs
Warm and Inviting: Wood Countertop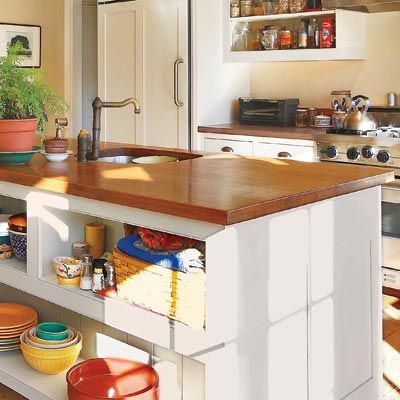 Soften the look of your kitchen by topping base cabinets with a wood counter finished with a food-grade sealer.
Similar to shown: Lagan beech countertop, about $59 for a 2-by-8-foot slab; IKEA
Bioshield Wood Counter Finish, about $13; Green Building Supply
Warm and Inviting: Open Shelves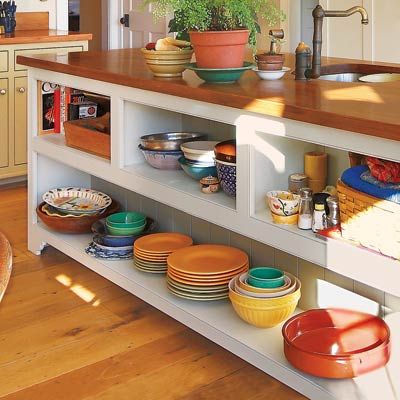 Give open shelves a chunky handcrafted look like the ones in this island by overlaying a face frame made of 1×3 poplar.
About $1 per linear foot; Lowe's
A Cheery Retro Look: Showstopping Sink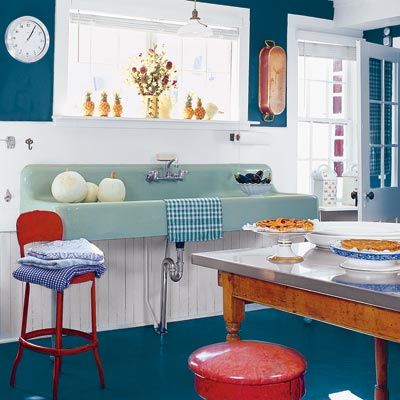 Make an old farmhouse sink, such as this mid-century minty-green one, the centerpiece of your kitchen cleanup zone. Find one at a salvage yard for as little as $175. Inspect carefully for scratches, chips, and rust spots, and buy in a condition you can live with; you'll be hard-pressed to find a pro who can repair the surface and bake on a new porcelain coating.
A Cheery Retro Look: Wood Wainscot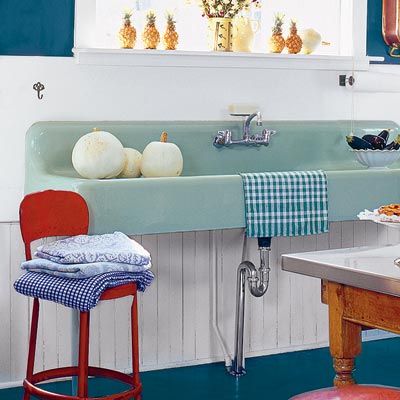 Protect walls from scratches and splashes with exterior-grade, moisture-resistant beadboard.
Similar to shown: Nantucket BeadBoard MRX, about $3 per square foot; Nantucket Beadboard
A Cheery Retro Look: Vibrant Flooring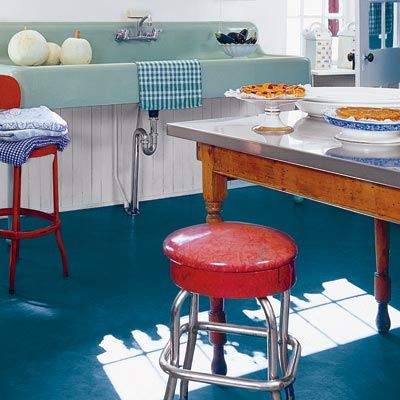 Enliven the whole look of your kitchen with a durable and naturally antimicrobial linoleum that reflects the color of your wall paint.
Similar to shown: Armstrong Marmorette with NaturCote in Bluebird, about $3 per square foot; Floors Emporium
Trim Out: Open Storage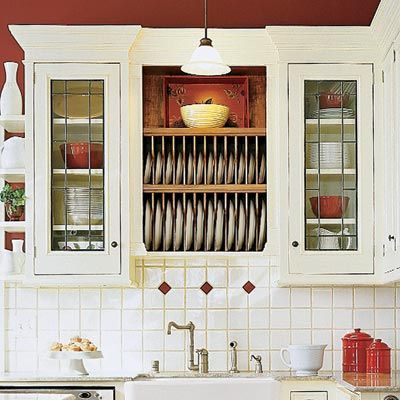 Remove the doors on an existing upper cabinet and fit the interior with a plate rack for easy access to everyday dishware. This rack is perfectly placed within arm's reach of the sink.
Similar to shown: Omega National ready-to-assemble rack in maple, about $40; KitchenSource.com
Trim Out: Backsplash Accents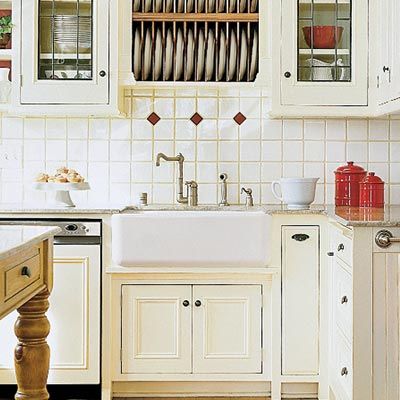 Use a few overstock or salvaged ceramic tiles in a fun color, such as these red squares turned on point, to punch up an inexpensive all-white backsplash. Find small quantities of matching tiles for as little as 5 cents each at Habitat for Humanity ReStore outlets.
Find a store near you at Habitat for Humanity ReStore
Trim Out: DIY Dishwasher Cover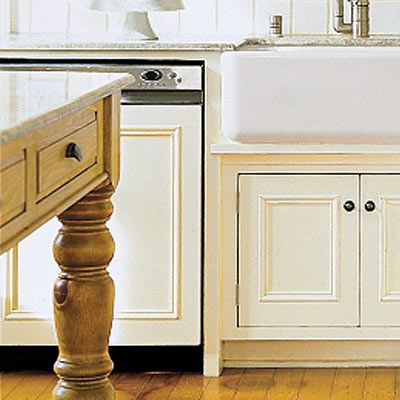 Rather than replace a dated dishwasher with a new stainless model, reface it with a wood cover painted to match your cabinetry. For the look of this recessed panel design, glue and nail panel molding to ¾-inch plywood cut to the dimensions of your dishwasher's front. Use adhesive-backed hook-and-loop tape to secure the cover.
Materials, including a 15-foot roll of Velcro Industrial Strength tape, about $50; The Home Depot
Stock Products: Backsplash Ledge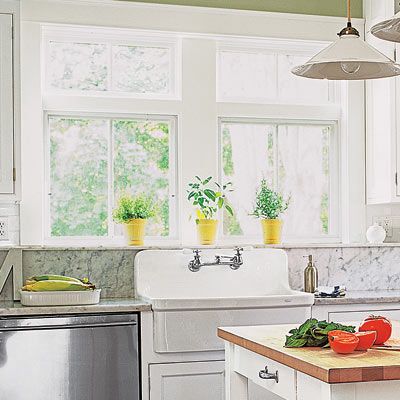 Top your backsplash with a marble ledge made of window-sill strips.
3-inch White Gray Polished Marble, about $15 for 3 feet; Marble Thresholds.com
Stock Products: Pulley Lights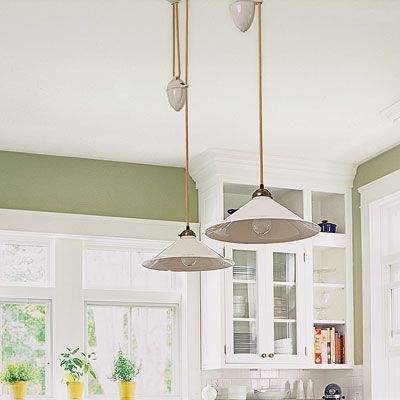 Install fixtures that adjust to your needs. These pendants can be pulled down for task lighting or raised for ambient, whole-room illumination and to prevent head bumps when the worktable is relocated from the center of the kitchen.
Similar to shown: Porter Pendant with white ceramic shade, about $79; Pottery Barn
Stock Products: Handsome Cornice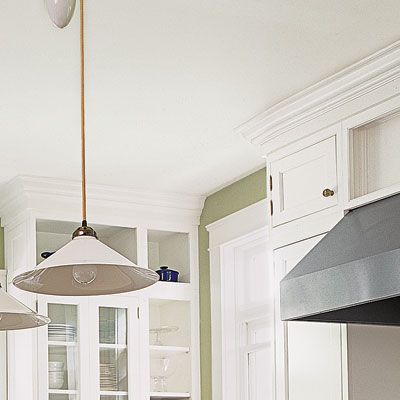 Bridge the gap between cabinets and ceiling with large, one-piece polyurethane crown molding you can install yourself using construction adhesive.
Similar to shown: Charleston crown, about $51 for 6½ feet; Inviting Home.com
Stock Products: Instant Island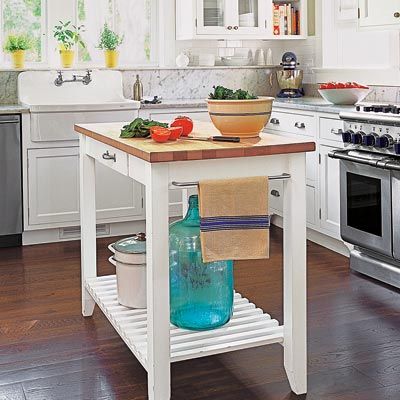 A freestanding worktable, such as this butcher-block-topped model with a bottom storage shelf and steel utility rail, does the job of a built-in island for a fraction of the price. The table can also be moved to a corner of the kitchen to serve as a buffet station.
Similar to shown: Groland kitchen island in unfinished solid birch, about $199; IKEA
Simplify: Painted Cabinets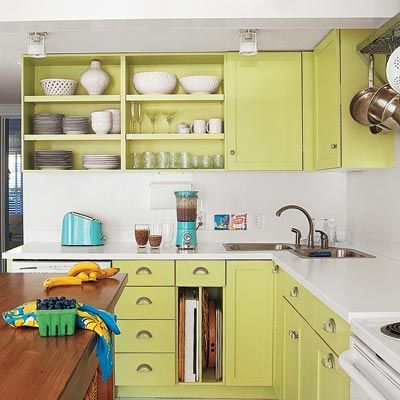 Revive tired wood cabinets by painting them a bright hue. For a fresh and flawless finish like this one, brush on a 100 percent acrylic latex primer.
Then coat with Advance Waterborne Interior Alkyd Semi-Gloss in Sweet Pea, about $48 per gallon; Benjamin Moore
Simplify: Handsome Hardware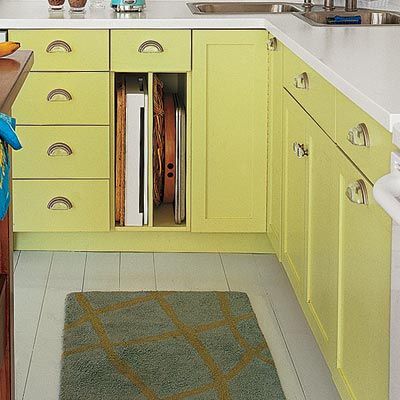 Swap out old knobs and pulls for updated versions with more pizzazz.
Similar to shown: Metal Bin Pull and Mushroom Metal Knob in seven retro-inspired colors with polished chrome collars, starting at about $4 and $3 each; Van Dyke's Restorers
Simplify: Tied-In Appliances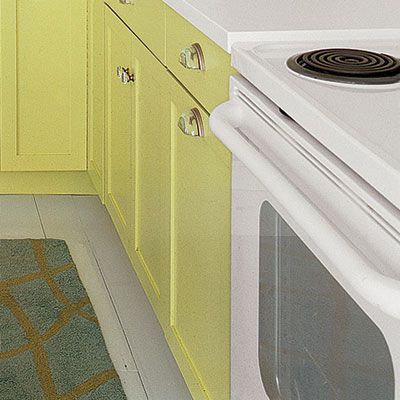 Hide an existing white range, fridge, and dishwasher in plain sight by coordinating them with other finishes in the room. Here, thrifty white laminate for the countertop and white paint on the wood floor create a unified look.
Similar to shown: Wilsonart Designer White Linearity 3-by-8-foot counter sheet, about $71 and Valspar's Latex Satin Porch and Floor Paint in white, about $26 per gallon; Lowe's
Modern: Shoji-Style Doors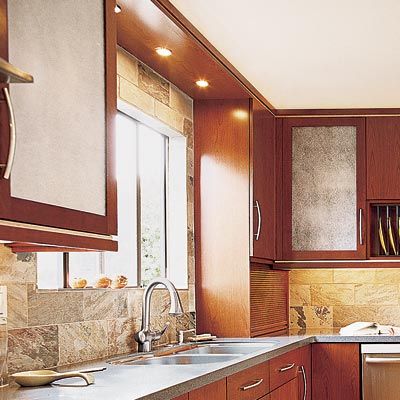 Give cabinets with clear-glass fronts a frosted effect by lining the backs of the glass inserts with durable, easy-to-clean laminated rice paper. Simply cut the paper to size and adhere with double-sided tape.
Similar to shown: Cloud Dragon, about $30 for a 3-by-6 foot roll; Shoji Woodworking
Modern: Rustic Walls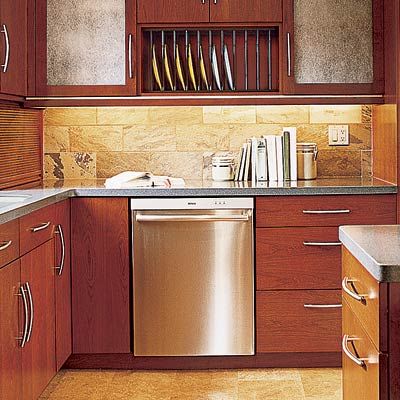 For a backsplash with textural appeal, use a tile saw to halve 12-inch slate squares, and install the cut tiles in a running bond pattern, as shown.
MS International Three Rivers Gold ⅜-inch-thick tile, about $20 for a case of ten; The Home Depot
Modern: Countertop Clutter Buster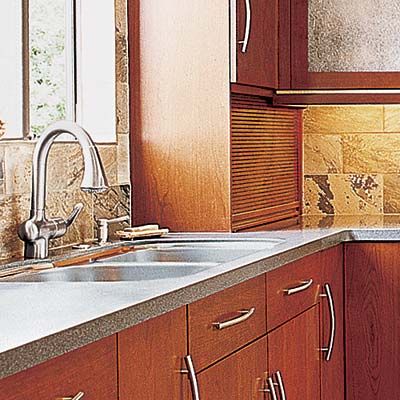 Hide your toaster and coffeemaker inside a DIY appliance garage.
Tambour door kits, in cherry, maple, or oak, for either a straight (shown) or corner cabinet configuration start at about $76; Cabinetmart, Inc.
Cottage Charm: Wood Paneling Overhead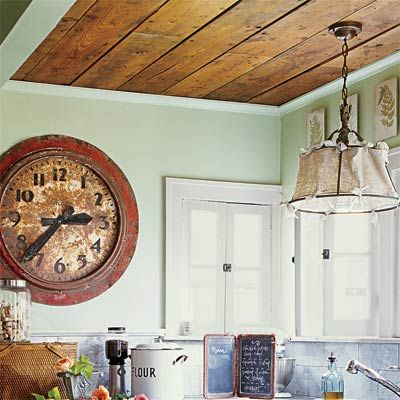 Line the ceiling with reclaimed floorboards for added texture and color in an unexpected place.
Similar to shown: Vermont Moonlight Medley, from The Naturals Antique Wood Flooring collection, starting at about $3 per square foot; Elmwood Reclaimed Timber
Cottage Charm: Metal-Frame Pendant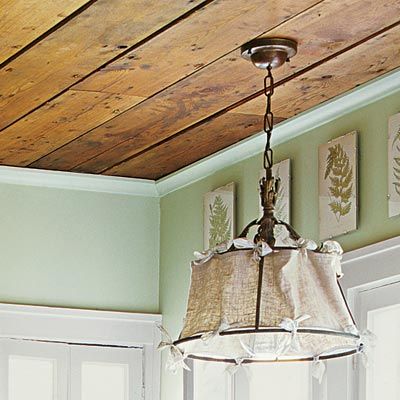 Give a vintage hanging light a whimsical redo by weaving burlap through the shade's wire frame and securing the fabric with cotton ties. Be sure to use a cool-burning CFL bulb.
Similar flea-market fixtures go for as little as $25. Burlap in assorted colors, $4 per yard; Joann
Cottage Charm: Concrete Counter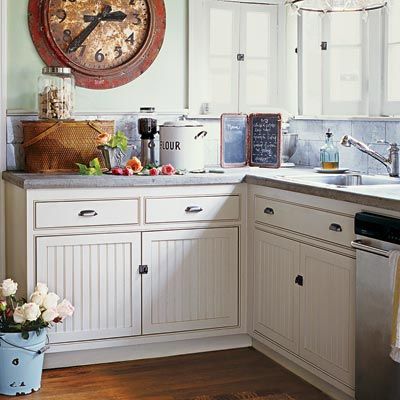 Make your own poured-concrete top using a prepackaged mix and a form kit available only to TOH readers.
Quikrete Countertop Mix, about $14 for an 80-pound bag; by special order at home centers. Preitech's foam form for a 4-foot-by-25-inch slab, $25, including an instructional DVD; PreiTech Corporation
Money-Saving Storage: Wine Rack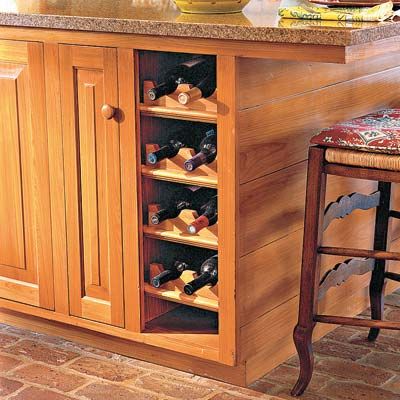 Make space for wine bottles by removing the door on a base cabinet and lining the open shelves with scalloped wood inserts.
Snow River Wine Rack Accessory Kit, about $24 for a five-bottle model you can trim to fit inside a standard 18-inch cabinet; Sears
Money-Saving Storage: Sink Skirt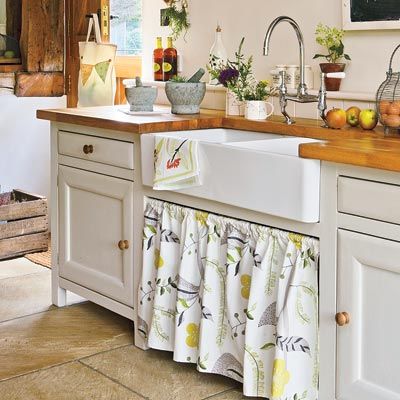 Hem a premade curtain and hang it on a tension rod to cleverly conceal the under-sink area.
Try a floral, such as Waverly's 84-inch pole-pocket panel in Antique, about $25; Lowe's
Money-Saving Storage: Open Shelves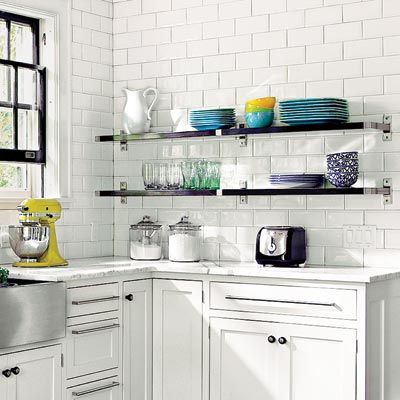 Stow everyday dishes within reach on minimalist open shelving.
Ekby Jarpen 31-inch wall shelf in black brown with Ekby Bjarnum aluminum brackets, about $20; IKEA
Money-Saving Storage: Repurposed Tables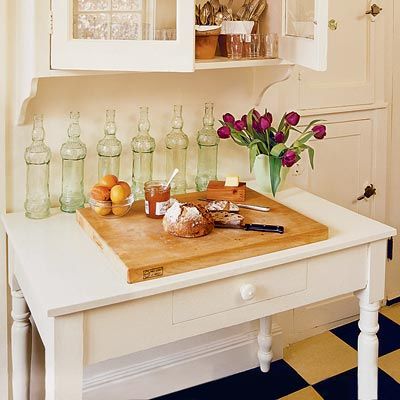 Rather than add built-in base cabinetry below an existing wall-hung cupboard, pick up a $25 thrift-store table. To unify the look, brush both pieces in a matching shade of semigloss latex paint.
Money-Saving Storage: Pantry Niche
Carve out a shallow shelving unit between studs. Frame the recess, line with plywood, and fit with shelf boards. For a finished look, trim the edges with moldings.
Less than $100 in materials; at lumberyards