Looking to build a table? We rounded up some of our favorite DIY table projects to inspire you.
We've selected some great classic options such as picnic, coffee, and dining tables as well as more unique options like a rolling grill table or a poker table for you to choose from.
1. Picnic Table with Benches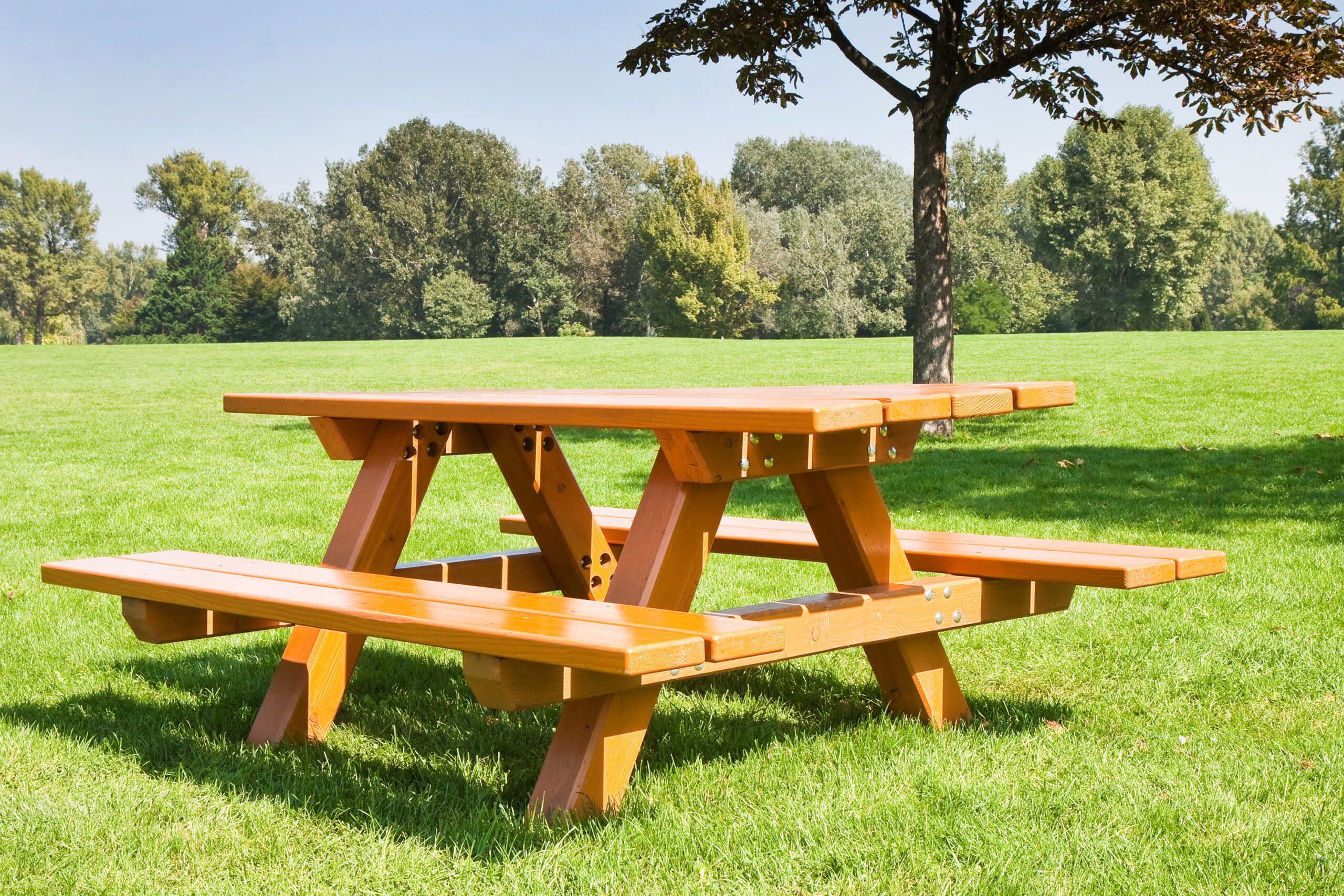 Rather than tangling chairs around teetering folding tables in your backyard, devote an afternoon to building this beauty. Follow the step-by-step instructions in our How to Build a Picnic Table with Attached Benches tutorial.
You can also watch our How to Build a Picnic Table video, where TOH TV general contractor Tom Silva and host Kevin O'Connor work on a similar project.
2. Build a Live-Edge Table
Rustic wood meets modern metal to create this striking—and timeless—piece of furniture. Tom Silva and Kevin O'Connor show how to make a live-edge console table of your own. Pick up the full step-by-step tutorial with how-to video here.
3. Rolling Grill Table
Build a rolling cart from naturally rot-resistant cedar. This design includes two shelves for easy transport of barbecue ingredients to the patio. The cart also has a metal rod for hanging utensils.
Get all the information you need in our How to Build a Rolling Grill Table tutorial, where you'll also find complete lists of tools and materials.
4. Tiled Tabletop
This showpiece table is the perfect color splash to decorate any patio. Trim a folding luggage rack with molding to create a tray, then paint.
To read our full step-by-step guide, visit Use Leftover Tile to Create a Showpiece Table.
5. Create a Hypertufa Table
For an outdoor table that can withstand the harshest of winters and the stickiest of fingers, opt for hypertufa. Hypertufa is a mixture combines cement with peat moss and perlite for a final product that weighs less than concrete and won't require sealing.
For the full step-by-step guide, see How to Make a Hypertufa Table.
6. Upcycle a Cabinet Door Into a Table
Create this one-of-a-kind table for the cost of, well, just legs. Visit How to Build a Coffee Table from a Salvaged Cabinet Door to access our full step-by-step guide. The job can be done in about an hour.
7. Trestle Table
This solid wood table is made from corbels and staircase parts. It may look like an intimidating job, but all you really need is a helper to assist in maneuvering heavy materials.
Personalize after building with satin latex paint and a coat of waterborne polyurethane. See How to Make a Trestle Table for TOH general contractor Tom Silva's tutorial.
8. X-Style Picnic Table
The rustic charm and durability of this rough-sawn cedar table only improves with age and wear. You can build the X-shaped table and bench legs over the course of a weekend. Find the cut list, tools and materials in our How to Build a Classic Picnic Table step-by-step project. Video after the jump, too.
9. Salvaged Beams and Pipe
Attach three beams to gas pipe legs for a communal dining table that's full of industrial style. You can get beams at a reuse center or vintage lumber dealer.
See the full step-by-step guide and complete lists at How to Build a Table from Salvaged Beams.
10. Display Coffee Table
This custom tabletop doubles as a shadowbox. Check out How to Build a Display Coffee Table for a video and step-by-step guide to creating this unique storage feature.
11. Blend Metal and Wood
Hairpin metal legs give this table a modern look. This project will take an afternoon to build.
Visit How to Build a Hairpin-Leg Coffee Table for a step-by-step guide and complete lists of tools and materials.
12. Tiered Side Table
A multi-level side table has enough space to help you declutter your living area. Spend a quick couple of hours building and spend the rest of your weekend admiring your handiwork.
TOH general contractor Tom Silva takes you through the process in How to Build a Three-Tiered Side Table, where you'll also find tools and materials lists.
13. Use Stair Parts to Build a Table
Spice up (and organize) your front entry with a small table that anchors to the wall, taking up just enough space to give your wallet and keys a permanent home. Complete this $70 project after visiting How to Build a Table from Stair Parts for the full tutorial.
14. Convertible Dining/Poker Table
Removing a sturdy wooden cover reveals a legitimate poker table, complete with poker-chip holders!
Finish the project in a weekend's time, after you check out our How to Build a Poker Table tutorial.
15. Dress a Simple Table with Trim
Arrange stock molding into a pattern, then cut and attach to a table to amp up style. You can stain or paint the enhanced piece for a finished look. Visit How to Trim Out a Plain Table for the full step-by-step guide.
16. Build a Shaker Table with Tommy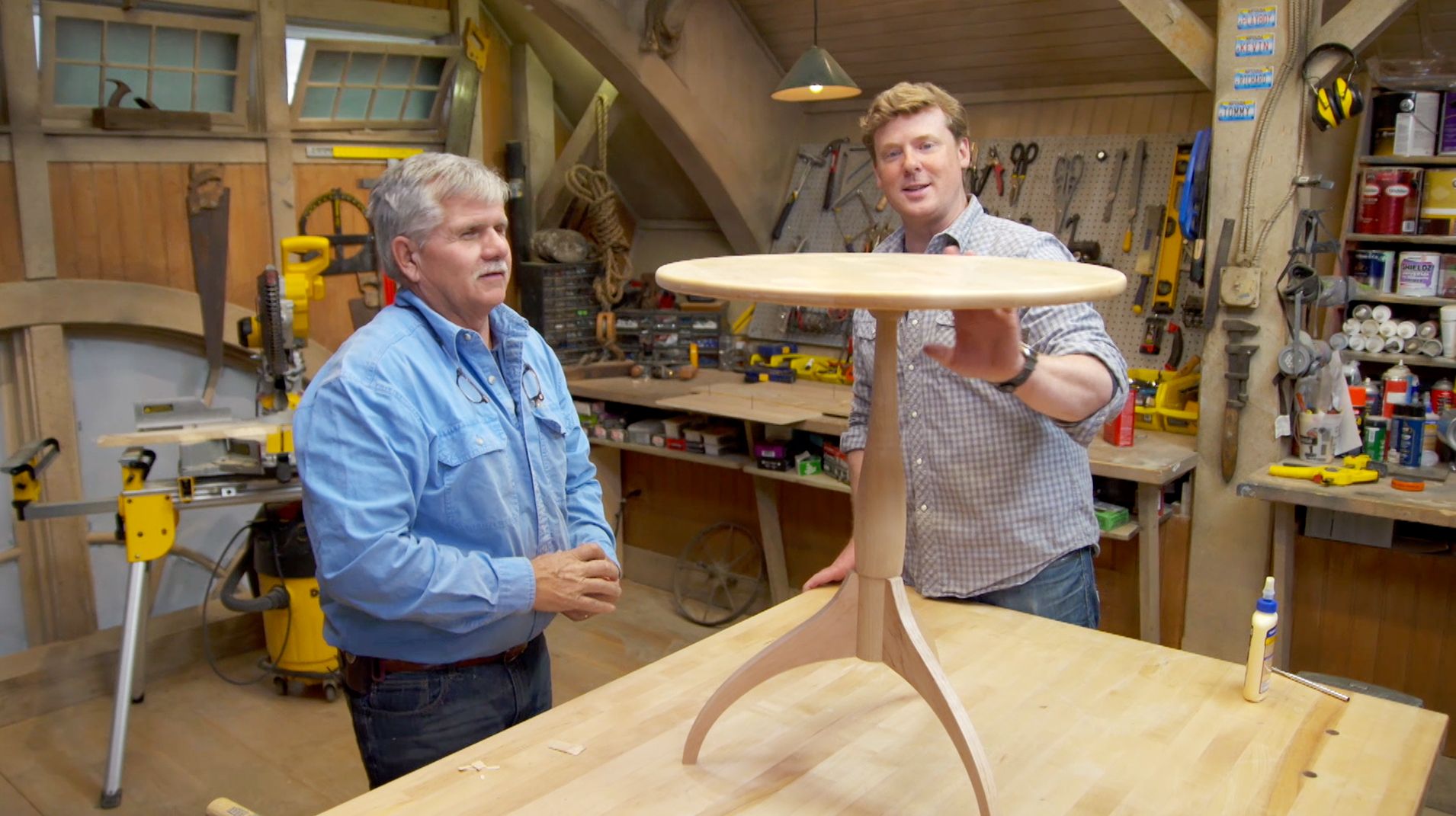 Watch as Tommy takes Kevin through the process of making this historic-looking piece. Watch the full Build It! segment here.
17. Simple Side Table
This design is so simple that you can build two of these tables in a single weekend. See the step-by-step guide and how-to video at Build It | Simple Side Table.