Perk Up a Picnic: Easy Canopy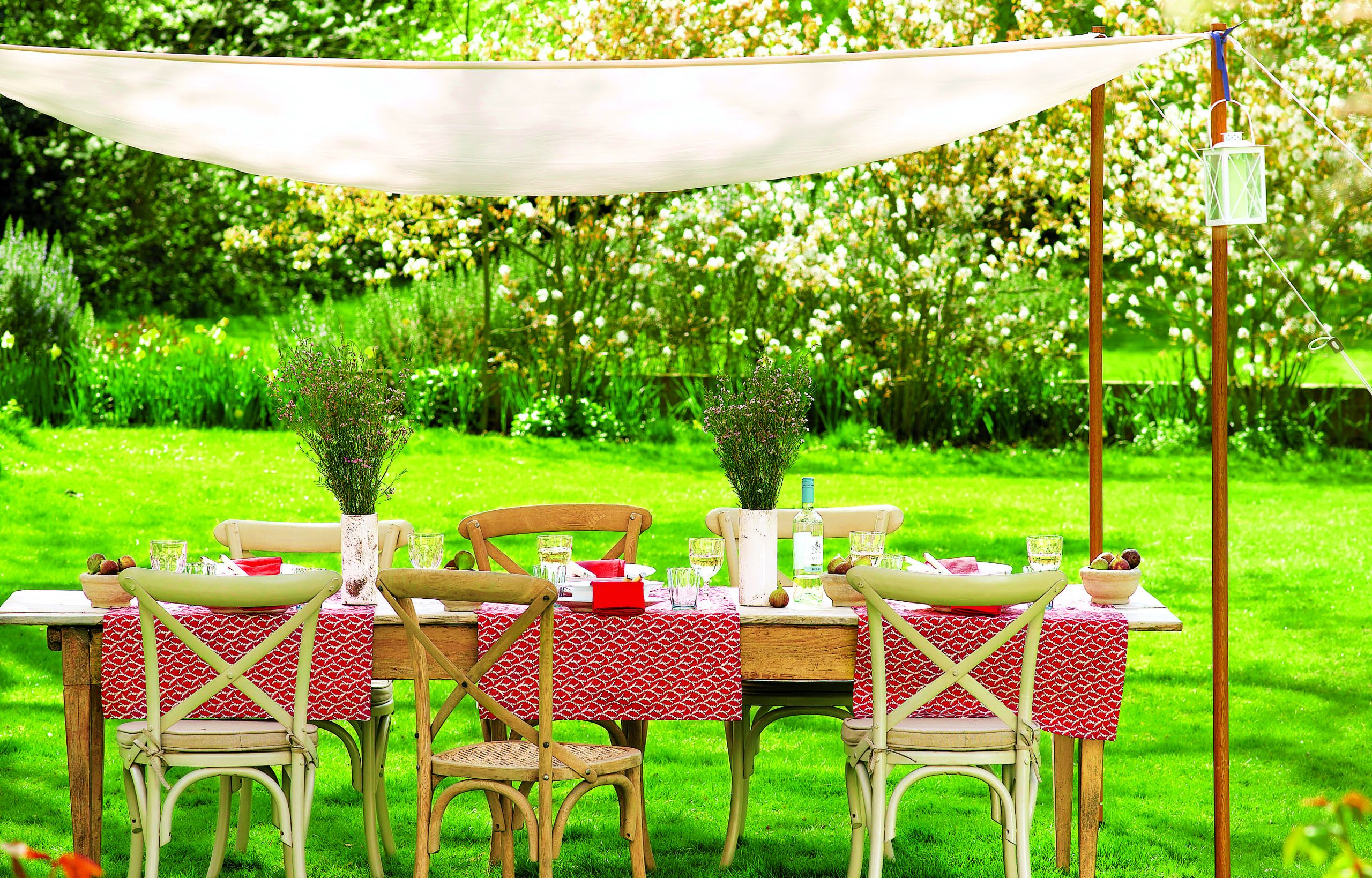 Drape fabric between four poles sunk in the ground for a DIY sunshade. Use tent pins to anchor lines that run from the pole tops to the lawn.
Similar to shown: Taiwan bamboo poles, about $9 each; Bamboo Fencer. Instead of a custom shade, use a drop cloth. The rectangular Workforce canvas drop cloth has a water-resistant backing in case of rain, about $20; The Home Depot
Perk Up a Picnic: Multitasking Kitchen Set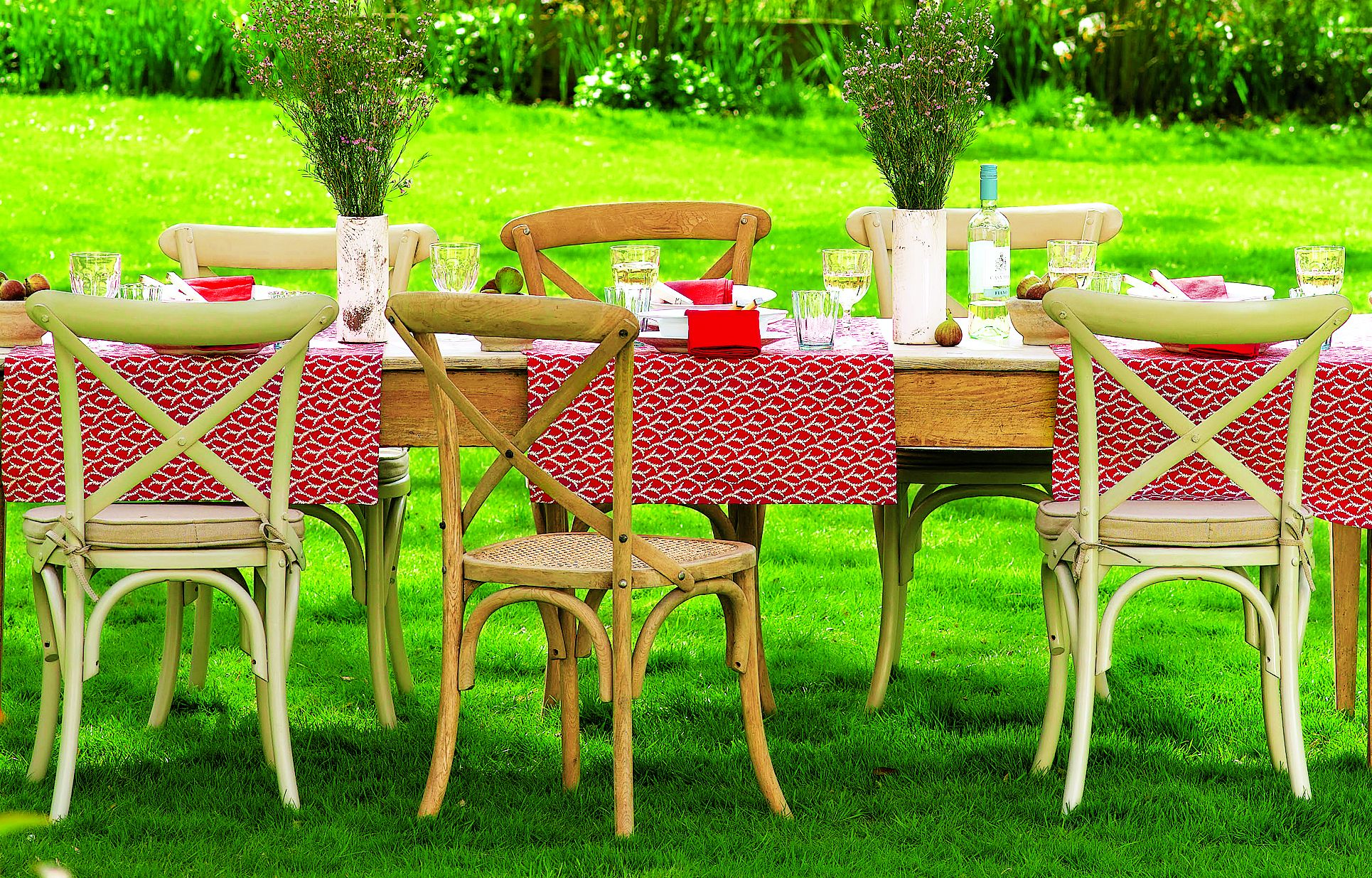 A major upgrade over the picnic blanket—and infinitely more comfortable for long lunches—your familiar table and chairs will seem fresh and new when moved into the light of day. No cost
Perk Up a Picnic: Vibrant Runners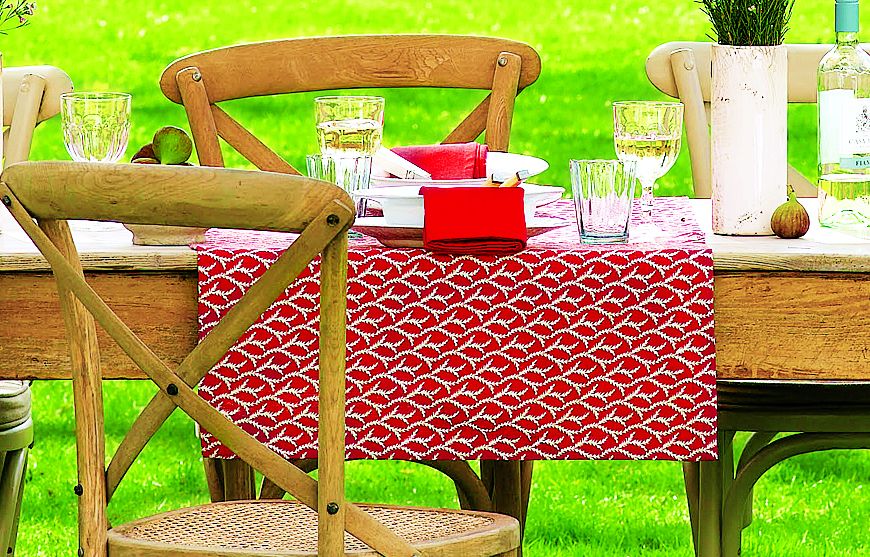 Use colorful table settings to echo colors from the garden. Here, three runners laid across add more charm than a single one laid lengthwise. Make your trio out of a tablecloth; just cut pieces to size and stitch the edges.
Similar to shown: The 60-by-84-inch Cherry Blossom cloth, about $40; Trendex Home
Carve Out a Courtyard: Flagstone Floor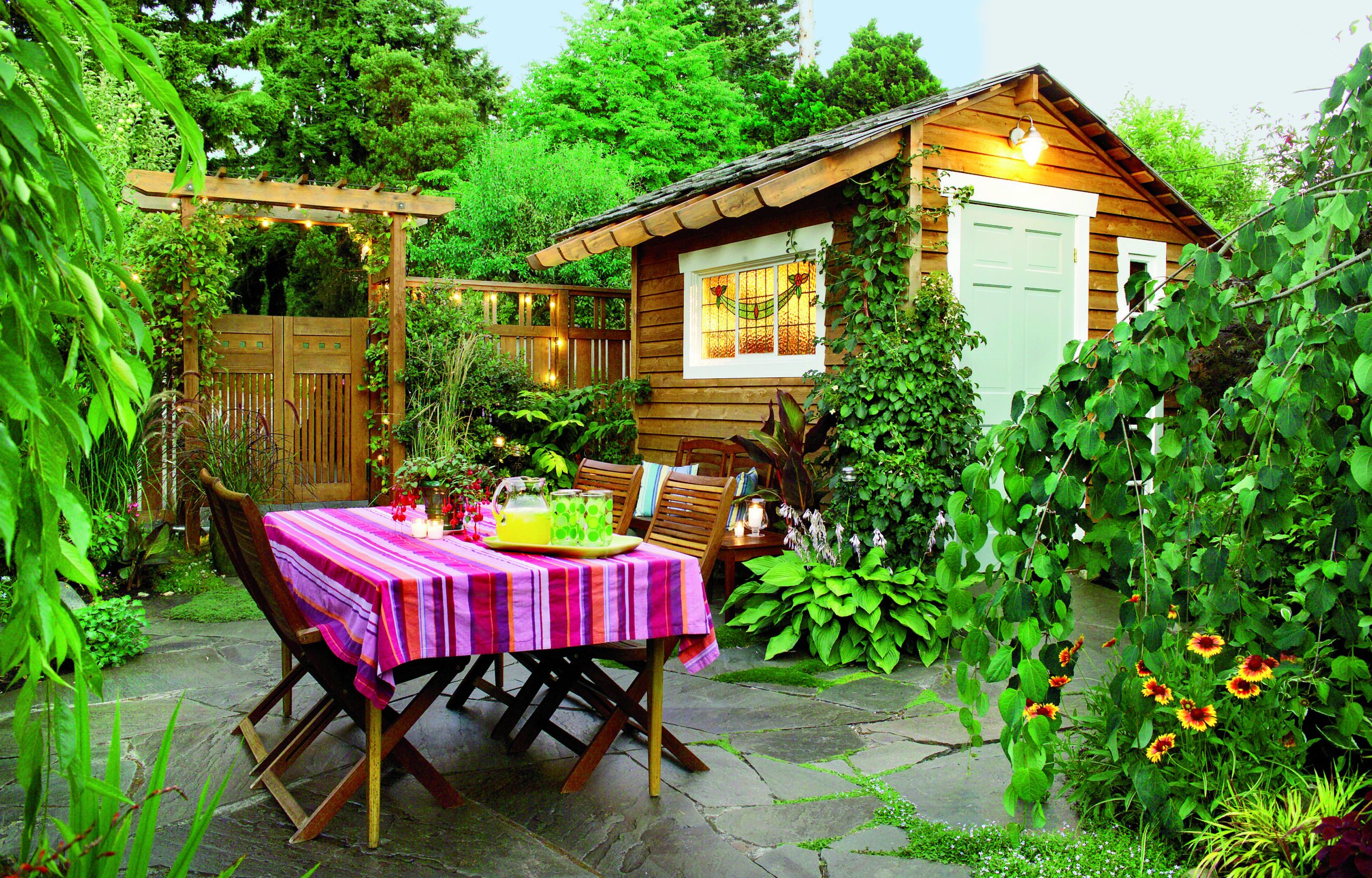 Convert an unused portion of driveway into an inviting patio. Here, stone pavers with living green "mortar" replace a concrete parking pad.
Similar to shown: MS International Santa Barbara Gold meshed flagstone, about $5.75 per square foot; The Home Depot. Foot-traffic-tough woolly thyme, about $5.50 per plant; High Country Gardens
Carve Out a Courtyard: Cozy Enclosure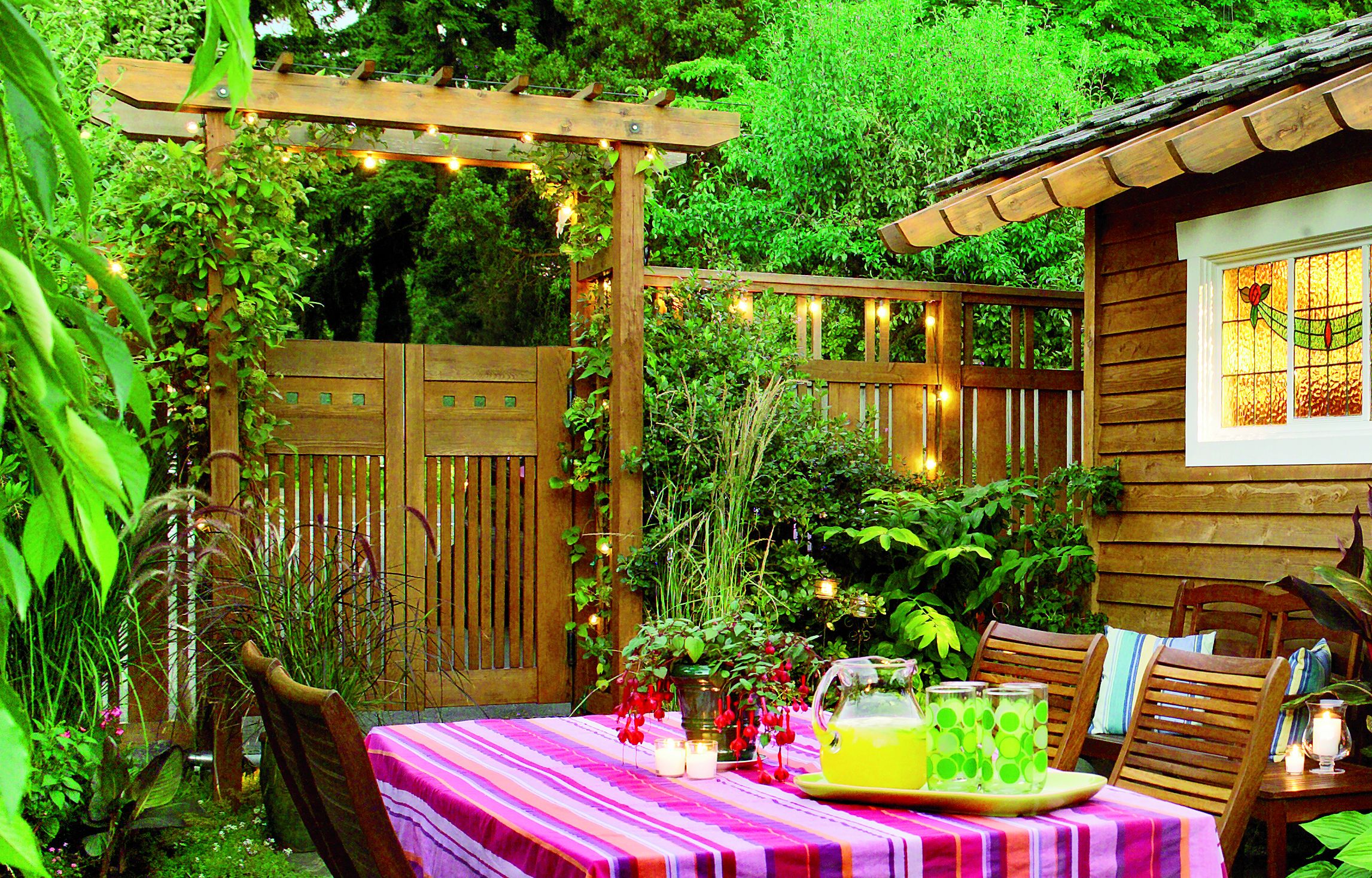 Create a walled-in retreat. A custom fence with an arbor-topped gate intersects the side of an existing outbuilding, adding a sense of intimacy.
Similar to shown: The ready-made red cedar Canterbury Arbor with Gate and two side wings, about $1,049; CedarStore.com
Carve Out a Courtyard: Stained-Glass Window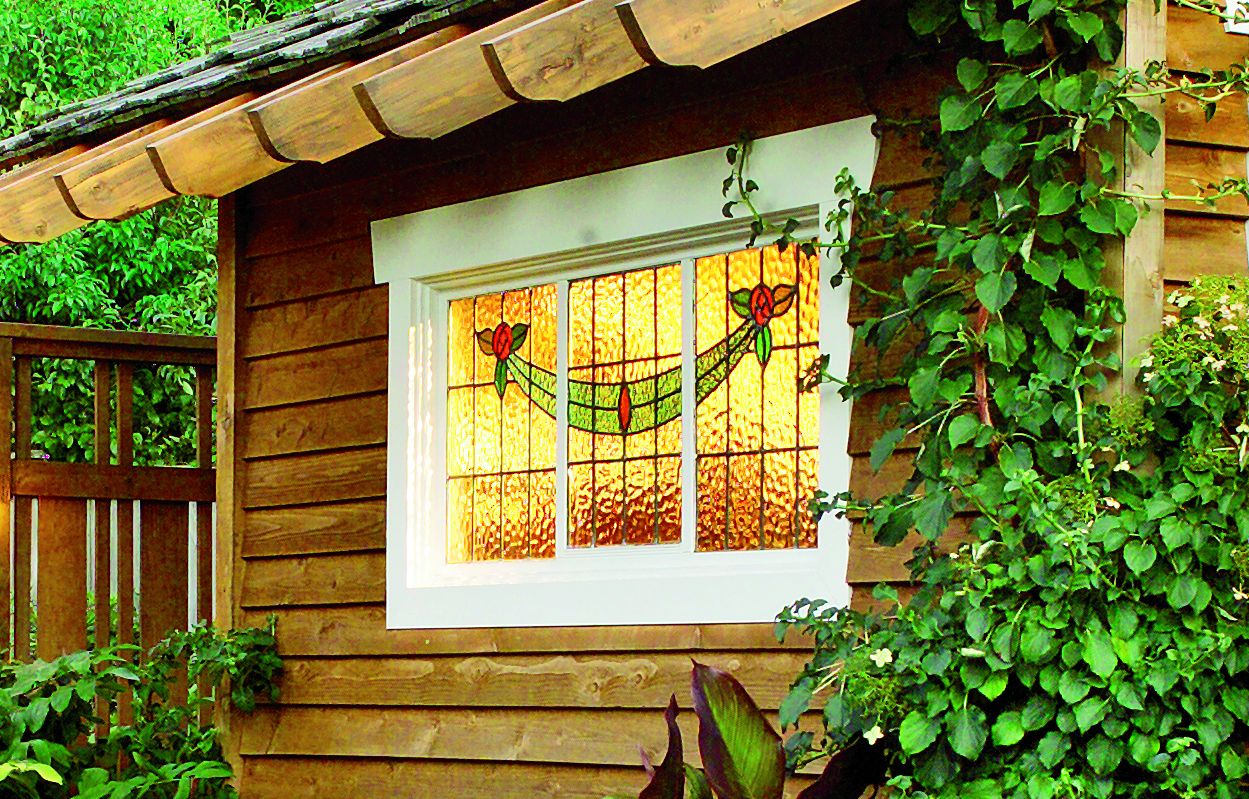 Swap out plain plate glass for something more romantic. Amber-colored glazing casts a warm glow, turning this lighted outbuilding into a sort of lantern.
Similar to shown: Craftsman 40-inch Rectangle Tiffany-Style Art Glass, about $199; Home Decorators Collection
Add Drama to a Simple Deck: Curtained Alcove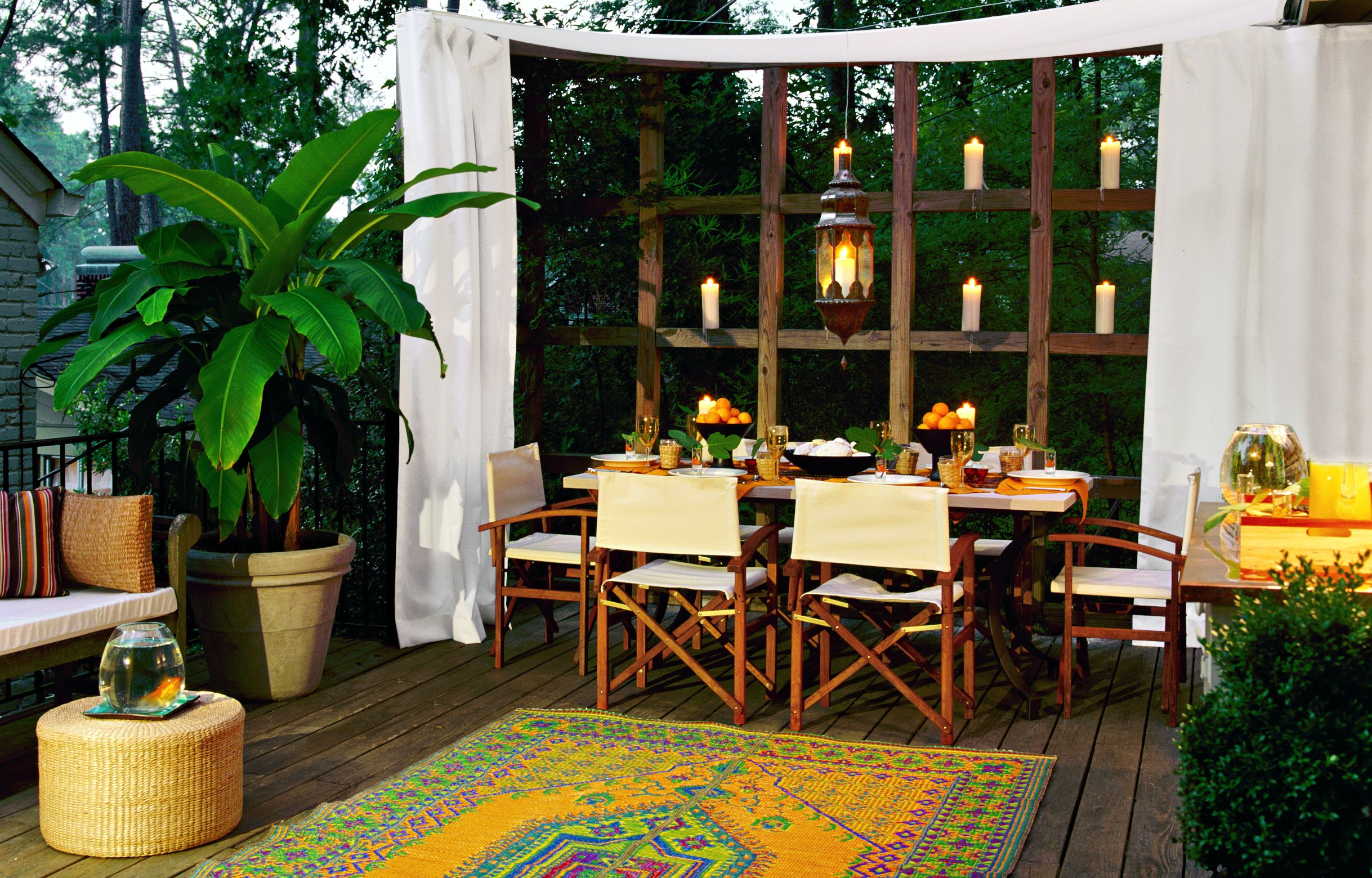 Set the stage for dinner with a sunshade valance and fabric panels that frame a candle wall grid like a window.
Similar to shown: Coolaroo Square Shade Sail, about $130; Walmart. Outdoor curtains, about $70 per panel; Plow & Hearth
Add Drama to a Simple Deck: Candle Wall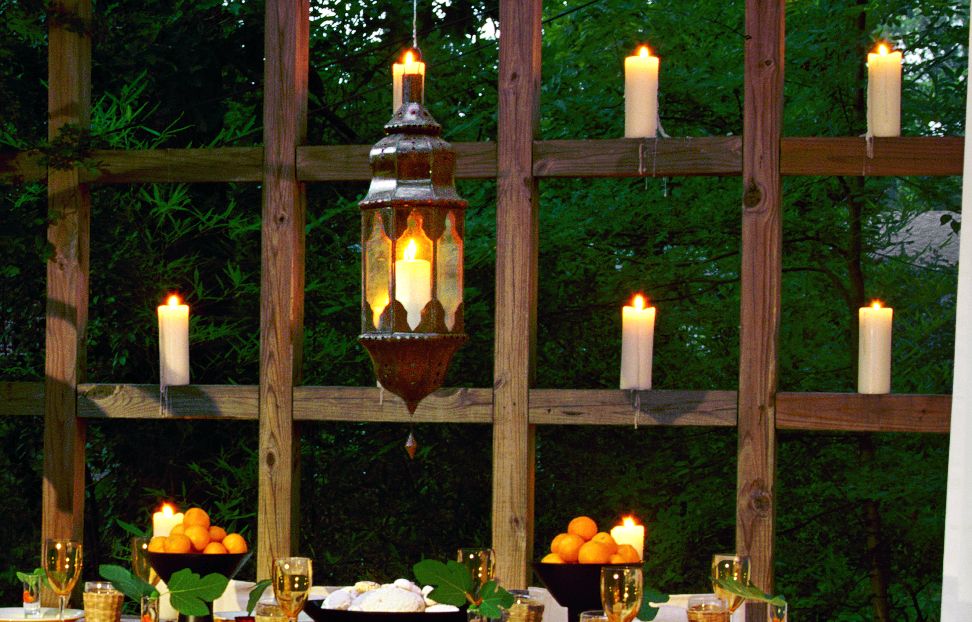 Add a trellislike backdrop on a raised platform of decking, then fill its grid with candles. Here, beefy 4×4 posts are notched where they intersect: in the front for horizontal members, in the back for vertical ones.
Similar to shown: 10-foot pressure-treated pine 4x4s, about $14 each; Lowe's. Safe and windproof battery-powered, 8-inch-tall Outdoor Flameless Candles, about $15 each; Flameless Candles
Add Drama to a Simple Deck: Cocktail Area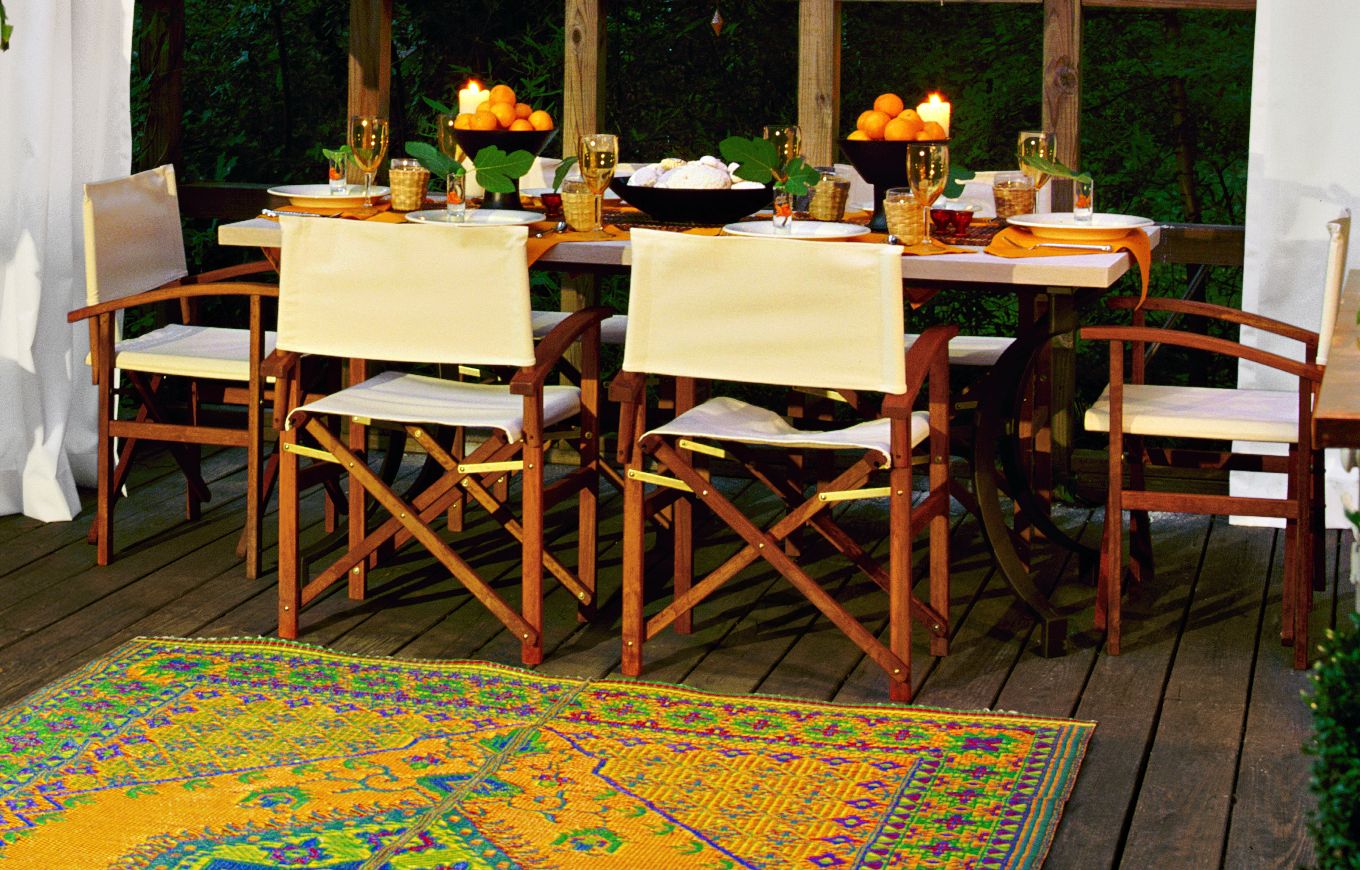 Roll out a colorful, all-weather rug to delineate a separate space for guests to gather for drinks before dinner.
Similar to shown: Mad Mats Oriental Turkish rug in Rust, 6 by 9 feet, about $95; 3r Living
Create a Welcome Work Zone: Dual-Purpose Table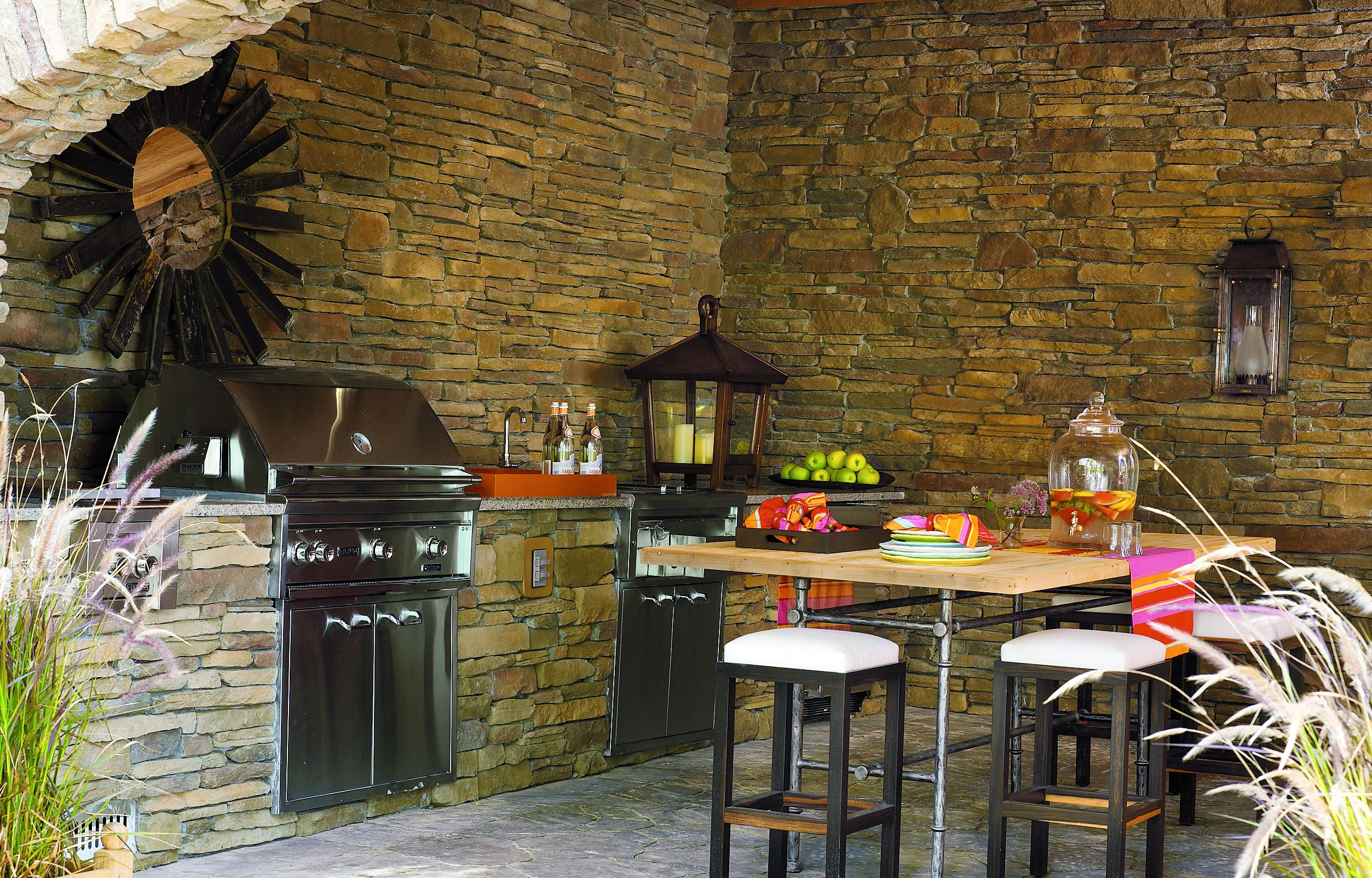 Topped with butcher block, a bar-height prep table near the grill can double as a place for guests to pull up a stool for a drink while cheering on the cook.
For a DIY version of the custom table shown, use lengths of threaded 1¼-inch steel pipe and fittings for the base, about $250 at home centers, and the 50-by-26-inch Numerar beech slab for the top, about $89; Ikea
Create a Welcome Work Zone: No-Wire Sconce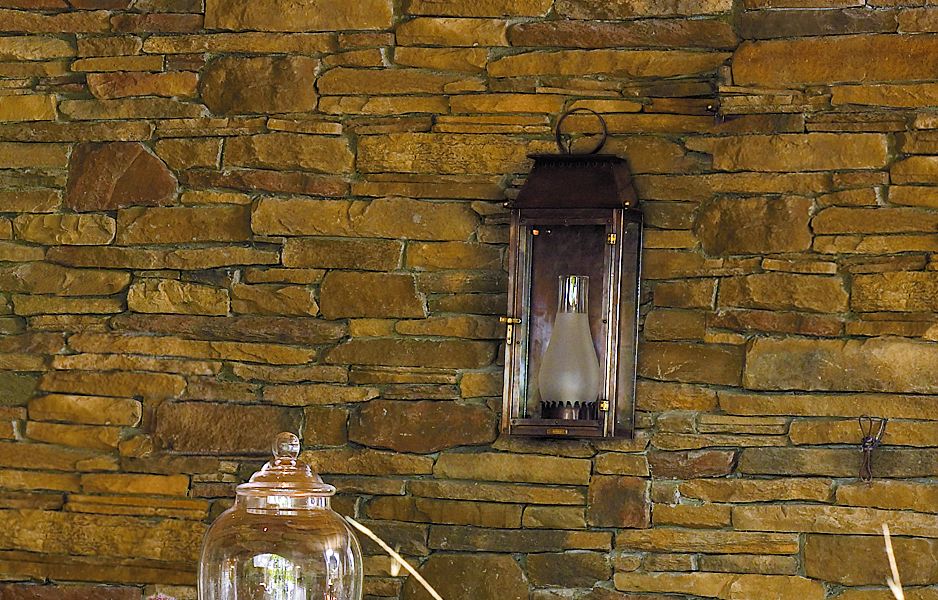 A hanging candlelit lantern offers a thrifty alternative to wall-busting electrical work.
Similar to shown: Copper Wall Lantern with frosted hurricane, about $178; deWolf Fine Lighting
Build a Backyard Retreat: Airy Gazebo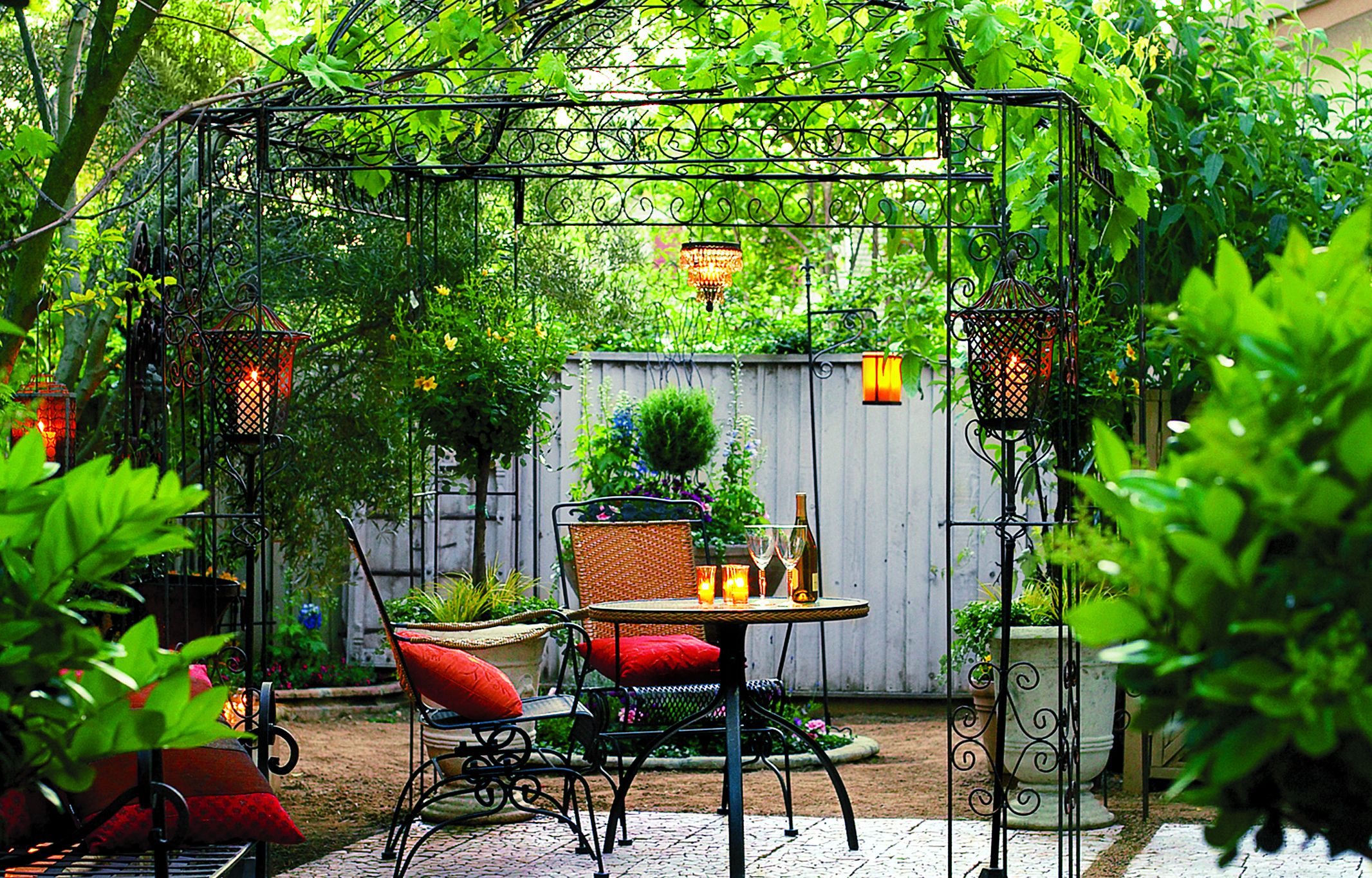 Create an instant "room" with a garden structure. This filigreed wrought-iron gazebo defines the dining space without blocking the sunset, the stars, or the breeze.
Similar to shown: Iron Domed Gazebo, about $1,200; Home Garden and Patio Outlet
Build a Backyard Retreat: Tiled Area Rug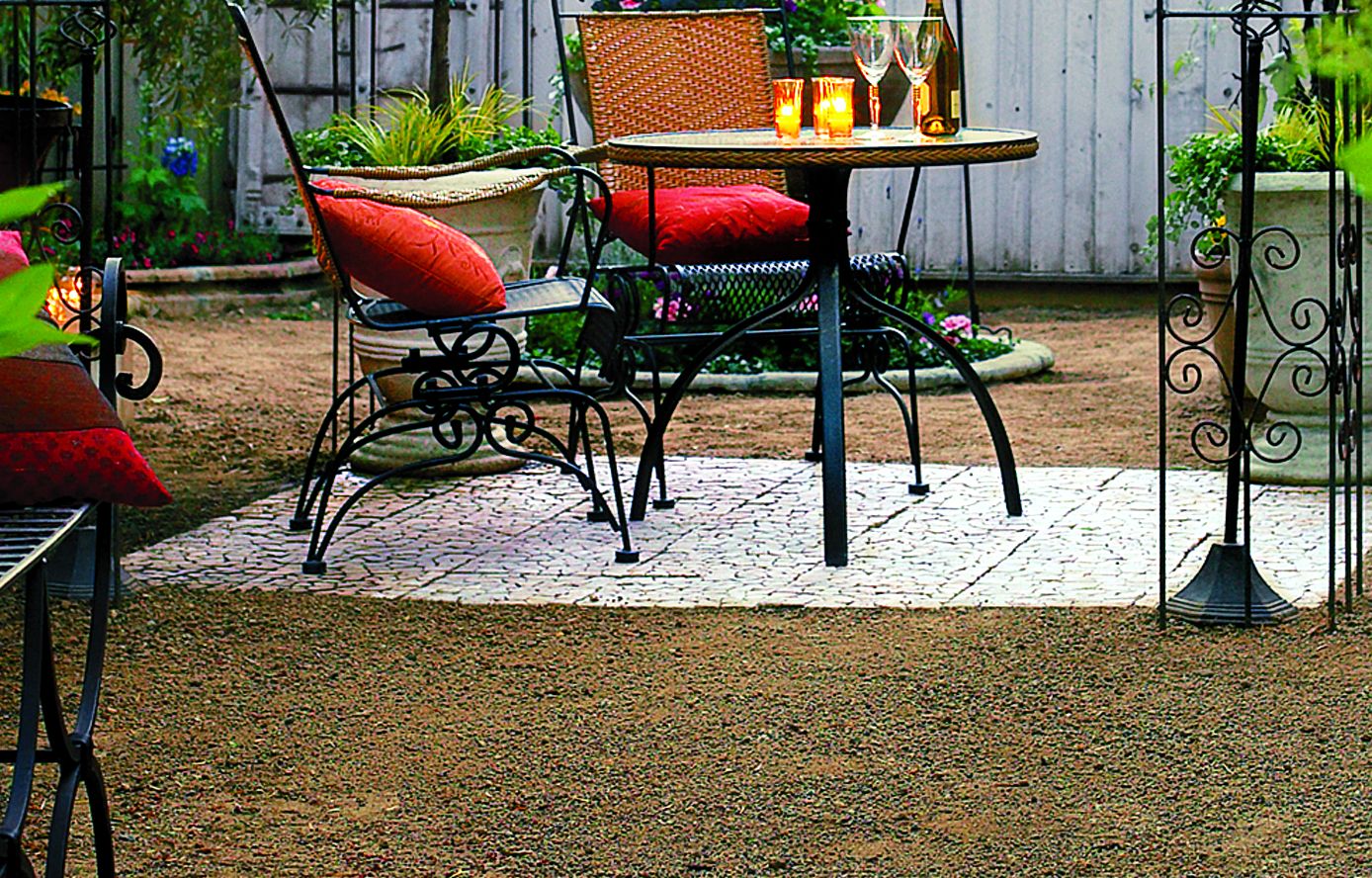 Face concrete pavers with mesh-backed mosaic tiles left over from a bathroom or kitchen remodel for a stylish, DIY all-weather carpet. Adhere the tile with exterior-grade thinset mortar, and grout as you would indoors.
Similar to shown: Oldcastle 12-by-12-inch gray stepping stones, about $2 each; Lowe's
Build a Backyard Retreat: Layered Lighting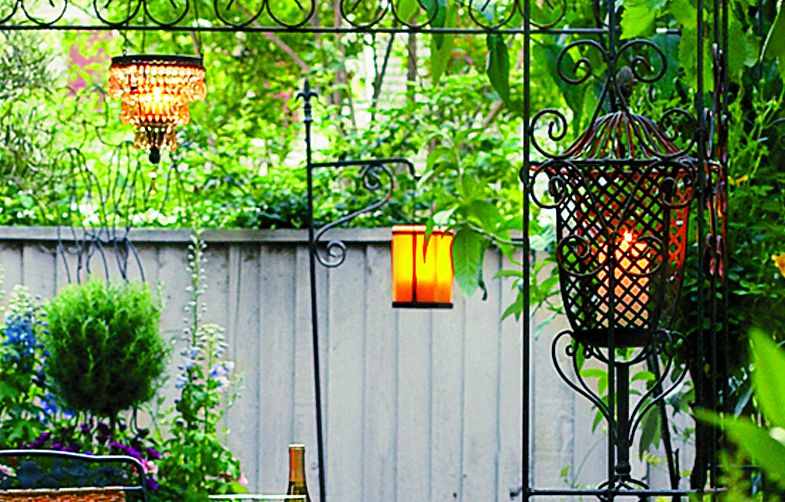 Place candles at different heights, as was done here with standing lamps, a hanging lantern, and tabletop votives, to see where you're walking as well as what's on your plate.
Similar to shown: Old World Wrought Iron Floor Candle Lantern, about $100; Old World Home Decor.
Hanging Swirl Lantern, about $10; Cost Plus World Market. Amber Votive Cup, about $2.30 each; Candle-licious
Accessorize Your Entertaining Area: Colorful Cushions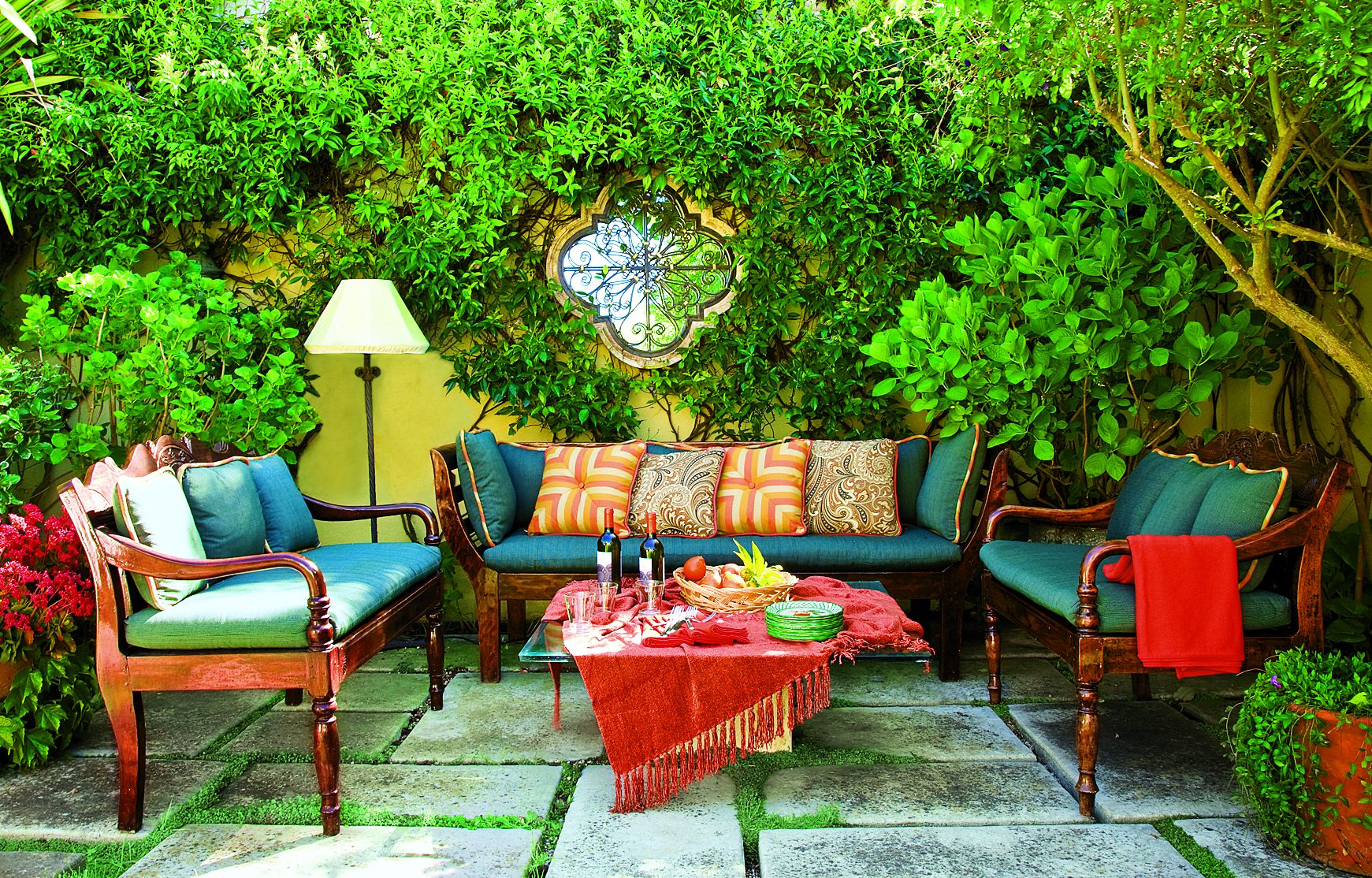 Add plush comfort to outdoor furniture with mildew-resistant cushions that are easy to wipe clean after meals around the coffee table.
Similar to shown: 54-inch Sunbrella fabric bench cushions in Air Blue, about $75 each; Cushion Connection. 20-inch square Valencia Woodcut and Medallion pillows in assorted colors, about $32 each; Restoration Hardware
Accessorize Your Entertaining Area: Floor Lamp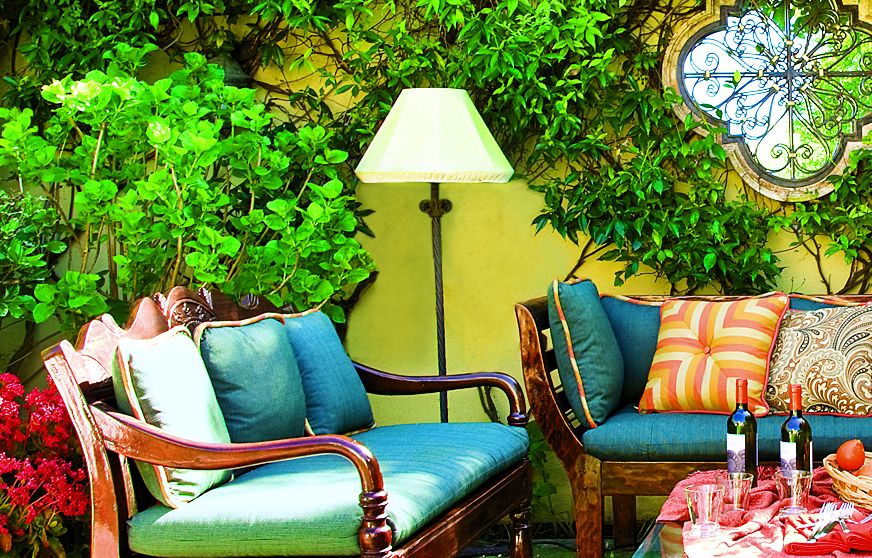 Park a weather-resistant fixture next to the sofa. Here, a rust-proof resin version provides soft lighting for conversation, and helps pull together an indoor look outside.
Similar to shown: Black Outdoor Floor Lamp, about $120; Bed Bath & Beyond
Accessorize Your Entertaining Area: Metal-Frame Mirror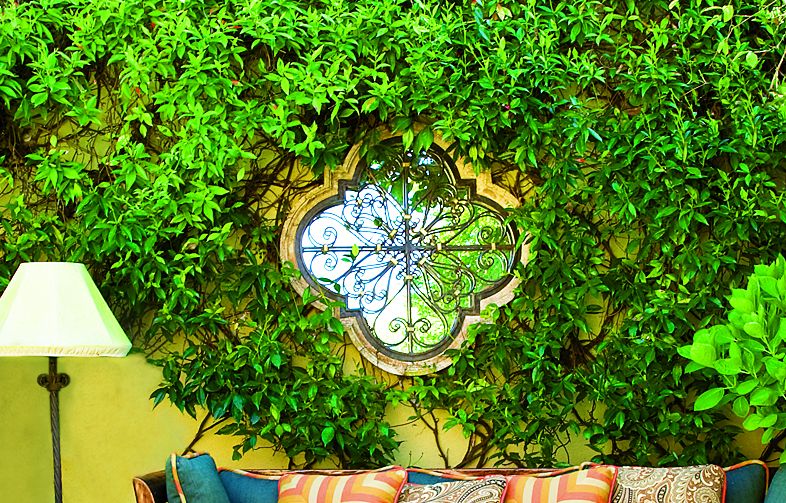 Hung on a garden wall, a mirror acts like a window to another space.
Similar to shown: Sabrina Decorative Wall Mirror, about $149; Home Decorators Collection
Personalize the Porch: Nature-Inspired Hues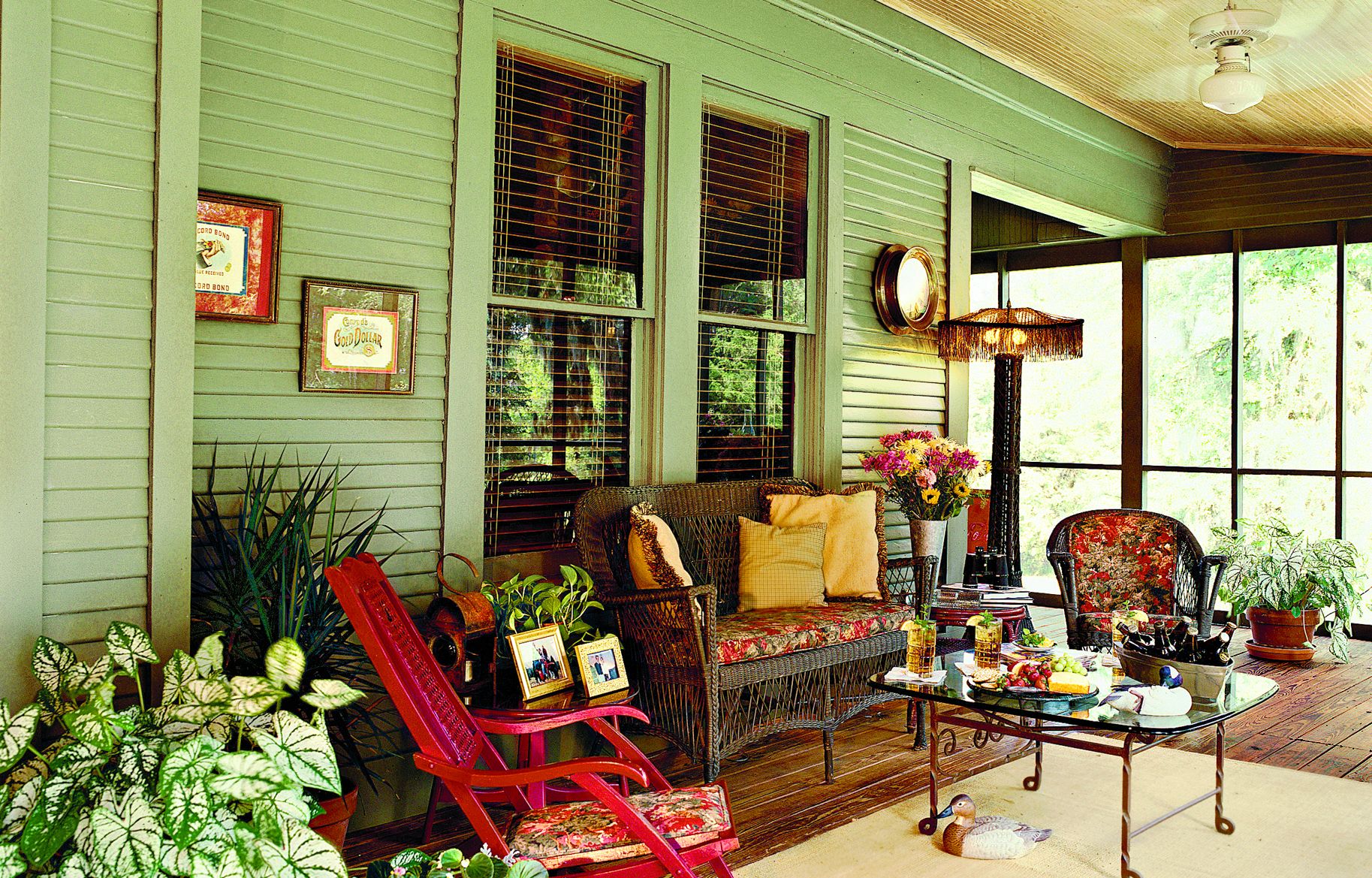 Pull colors from the landscape to give an open-air ambiance to an enclosed space. A leafy green paint extends the lush feeling to all sides of this screened-in porch.
Similar to shown: Behr Premium Plus Ultra Exterior Semi-Gloss Enamel in Cricket, about $36 per gallon; The Home Depot
Personalize the Porch: Secondhand Seats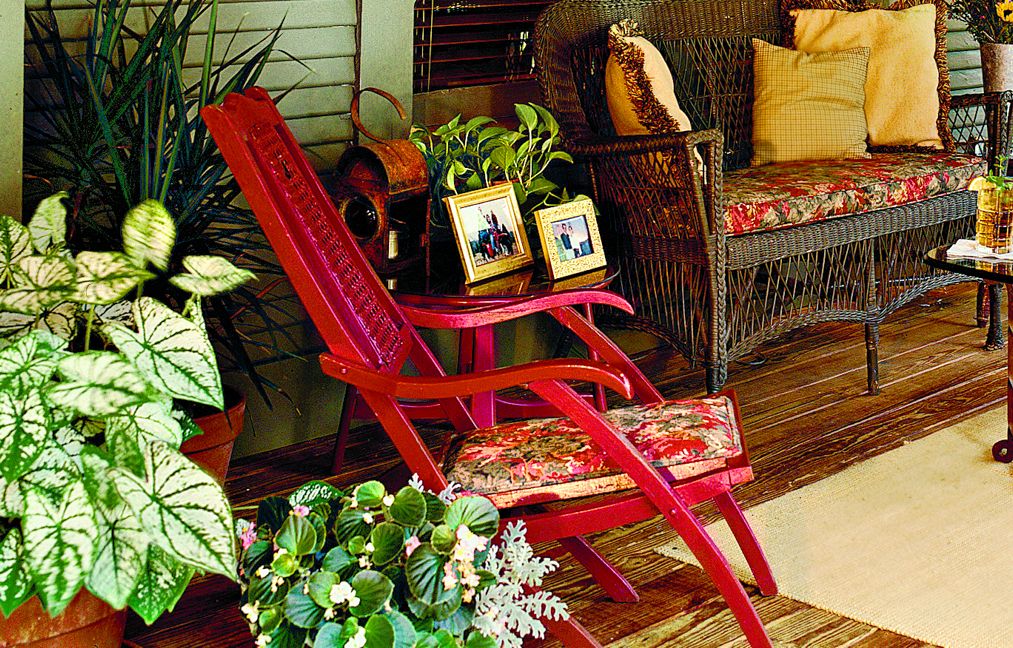 Shop thrift stores for mismatched furniture you can customize to create a cohesive-looking set. Here, a coat of red paint on a folding wood recliner echoes the floral cushions on the wicker settee and chair.
Find vintage seats for as little as $10 apiece at your local Goodwill or Habitat ReStore.
Personalize the Porch: Indoor/Outdoor Materials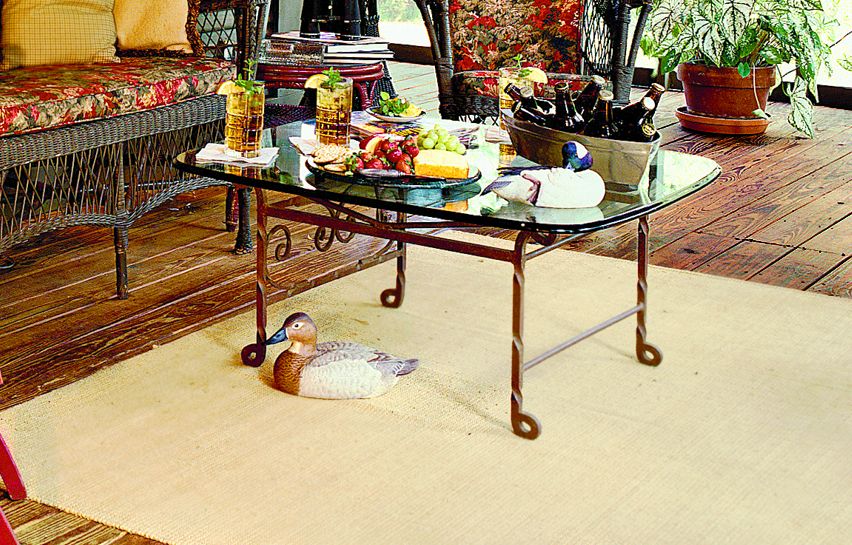 Search the house for items that can handle indirect exposure to weather. This rusted iron-and-glass coffee table and sisal rug stand up to moisture and provide a place to gather round for casual lunches. No cost
Put a Roof On It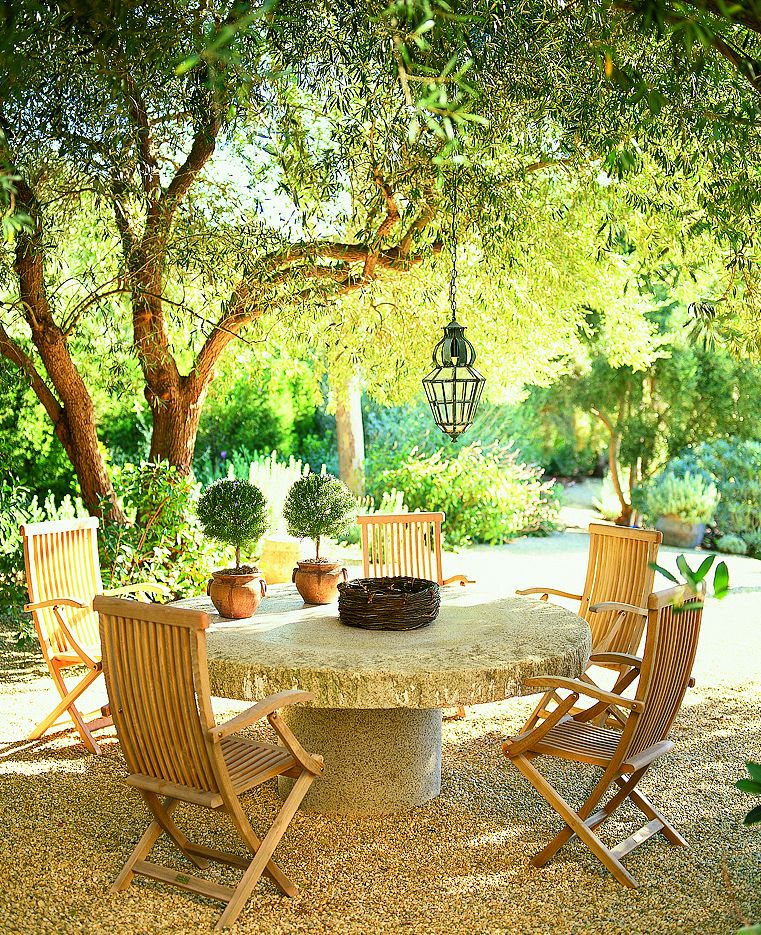 Enjoy your outdoor dining area even when the sun is baking or the rain clouds are rolling in. These overhead shelters help keep you cool and dry.
Shade Tree
Take advantage of a natural canopy. Lasso a strong horizontal tree branch to support a candle lantern. No cost
Put a Roof On It: Market Umbrella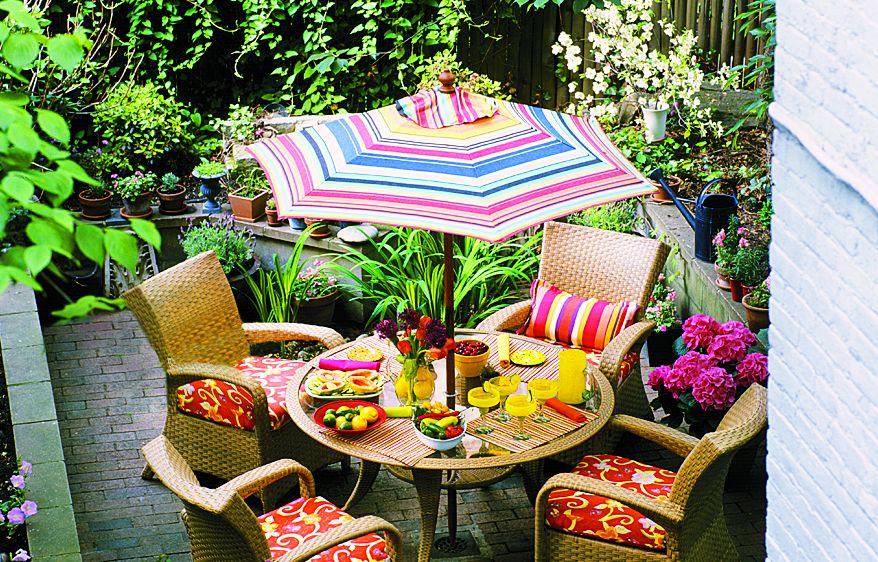 Use a vibrant umbrella to block sun and inject more color into a leafy patio space.
Similar to shown: 6-foot Striped Market Umbrella, about $99; Pottery Barn
Put a Roof On It: Protected Pergola
Make your own wood-and-metal pergola with a tightly spaced slat roof to diffuse sunlight during the day and provide a place to hang candlelit chandeliers for nighttime dining. Here, a roof and posts made of stained 1×4 pressure-treated pine surround a sturdy metal pipe frame.
Similar to shown: 16-foot 1x4s, about $4.30 each, and 10-foot lengths of ¾-inch black iron pipe, about $11 each; Lowe's
Put a Roof On It: Covered Carport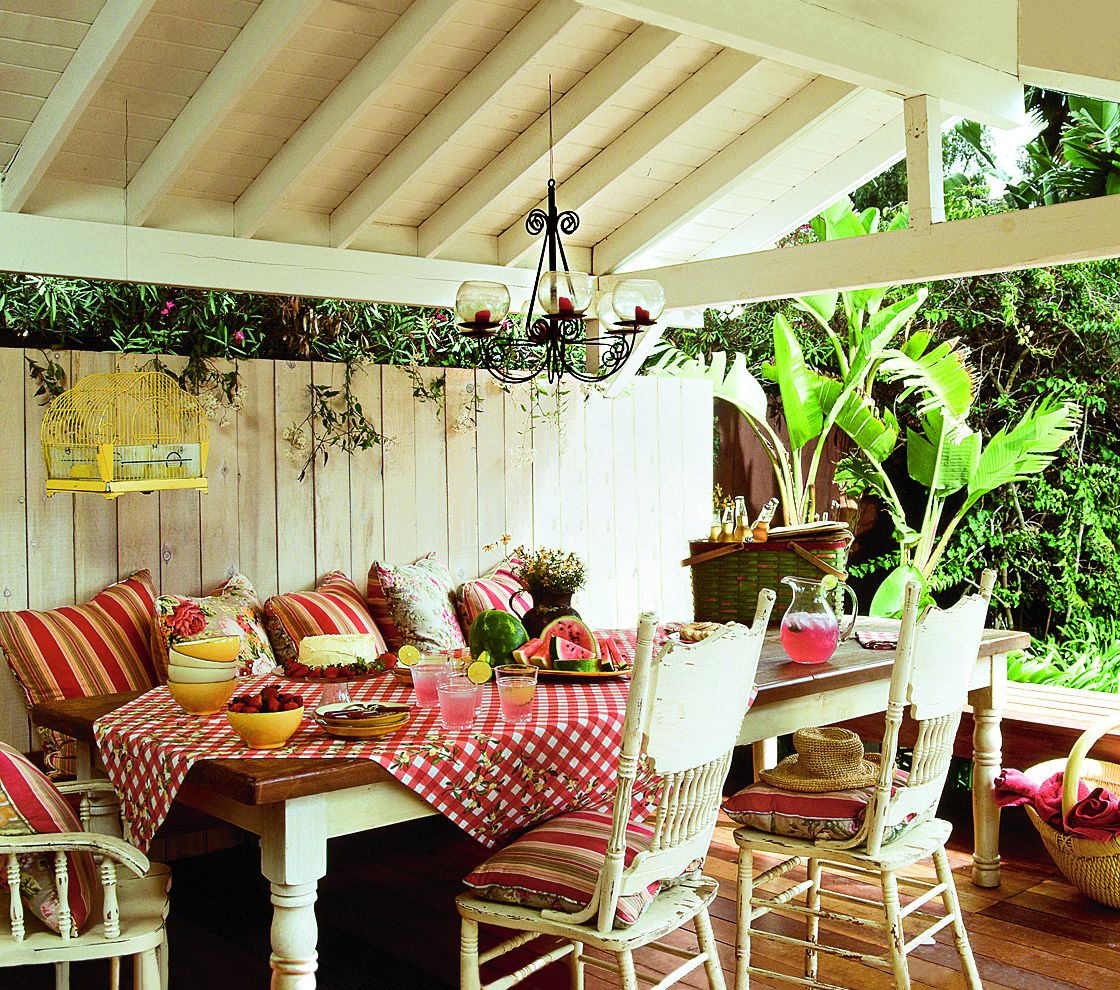 Park your vehicle in the driveway and your dining table in the shade. Bonus: Because it's protected from the elements, you can also make this your rainy-day outdoor retreat. No cost
Put a Roof On It: Canvas Cabana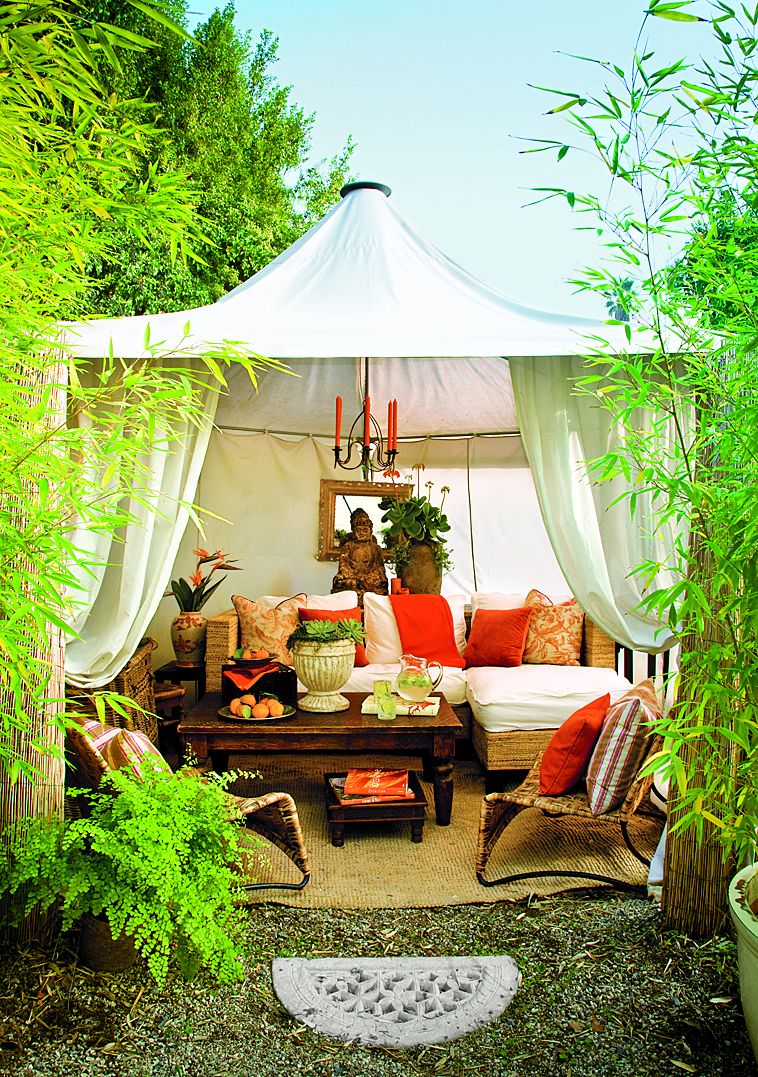 Tent a corner of the garden. A lofty cabana offers a glamorous hideaway just steps from the back door.
Similar to shown: 10-by-10-foot Mandalay Gazebo Canopy, about $220; Ace Canopy