Revived Turreted Queen Anne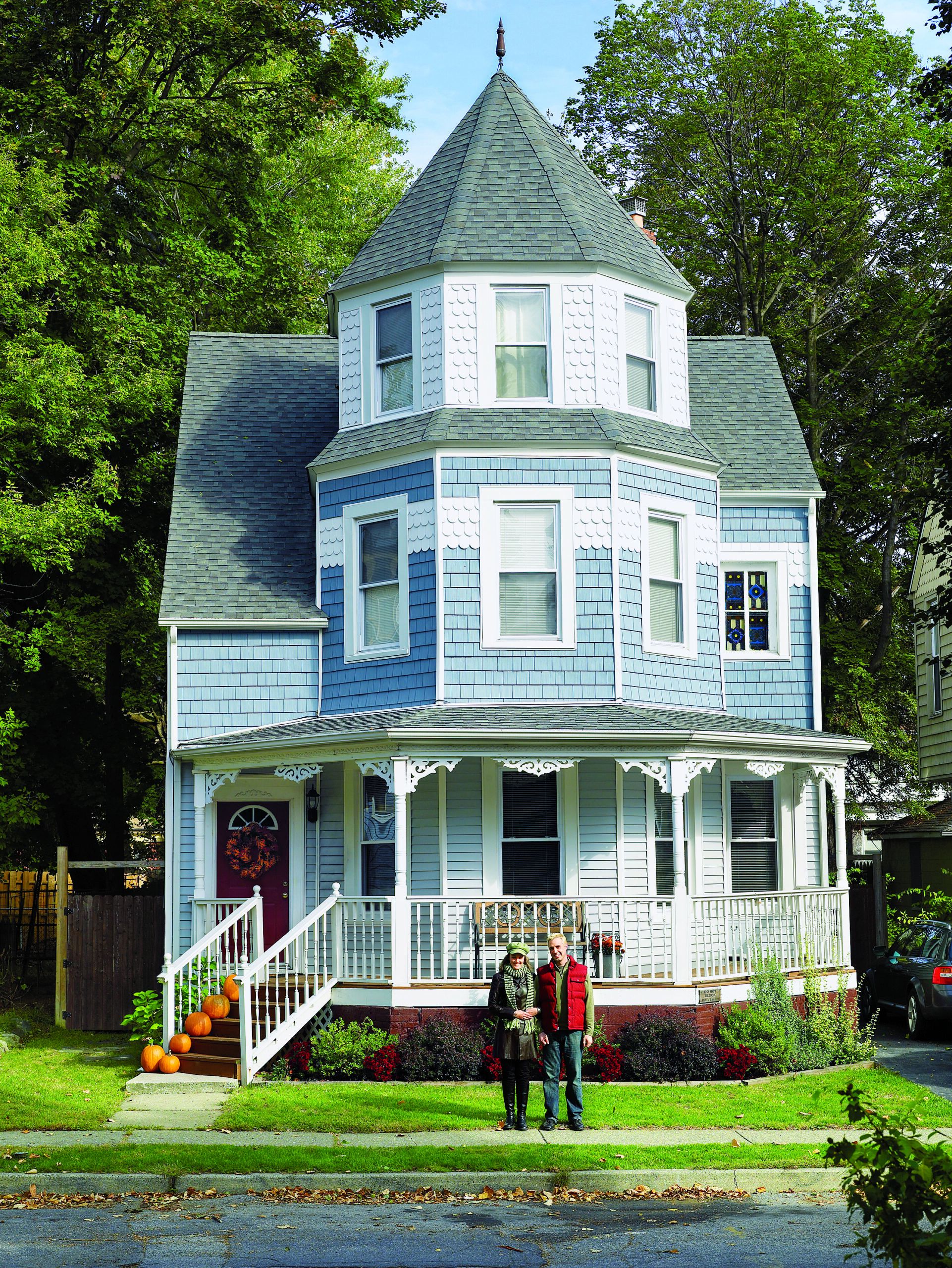 My fiancee, Merle, and I wanted an old house and found ourselves drawn to Newburgh, New York, where the streets are lined with Victorian mansions. An 1887 Queen Anne, encased in asphalt shingles but with its grand octagonal tower intact, stood out from the crowd. We joked that with five bedrooms, two baths, four fireplaces, and about 2,200 square feet,­ it was big enough to ride our bikes around in. At $46,000, it seemed like an unbelievable deal.
We knew it needed work. At some point the house had been converted to a two-family, with bleak little kitchens upstairs and down. None of the fireplaces functioned, the plumbing and wiring were kaput, and holes in the roof invited in rain, destroying much of the third floor—where Merle, a filmmaker, envisioned her office. Shortly after closing, the former owner's daughter dropped by for a farewell look. Walking around the kitchen, she suddenly felt her foot go right through the floor.
Did I mention that the house had been condemned? The kitchen floor was soggy because a blocked waste pipe had leaked, sending sewage down inside a wall. Moldy carpet, peeling paint, and dangling ceiling tiles greeted us at every turn, and the water-damaged third floor was an unheated no-man's zone.
Shown: Colorful vinyl siding, new roof shingles, and a porch re-created with salvaged period trim brought the Queen Anne back to life.
Strings Attached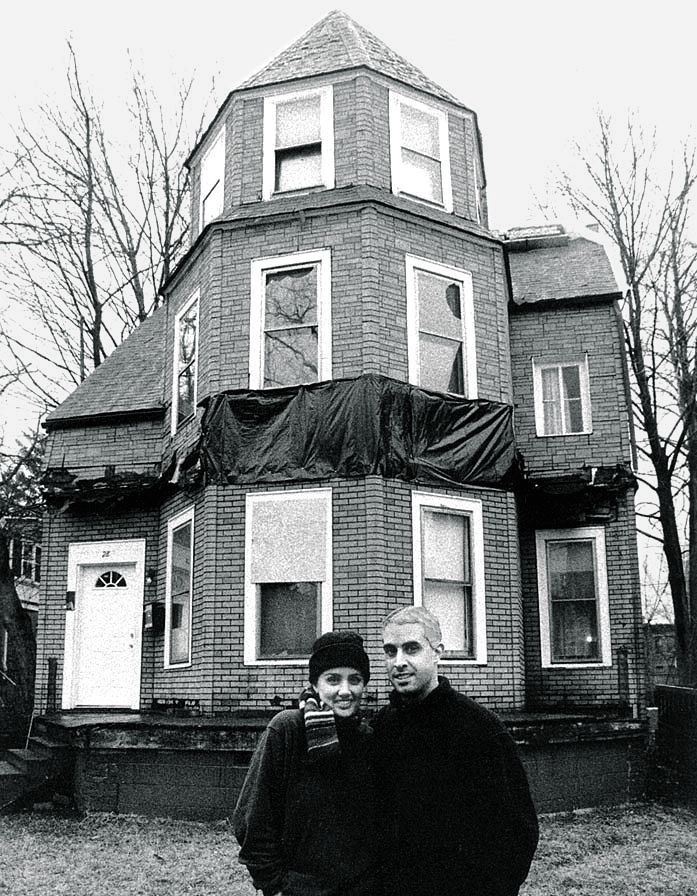 But then there was that magical tower, holding eight-sided rooms on all three floors. A friend showed us a picture of the house taken just four years after it went up, and we knew that with new siding and a restored porch, it could once again stand proud.
Though Merle was fairly new to the world of home renovations, I'd fixed up several places, most recently a 1920s house in the same area of upstate New York, while working as a musician. Of course, making this place livable was going to be a real challenge, and the only way to afford it was to do the work ourselves.
A local bank agreed to lend us the full purchase price plus the cost of renovations, but with a sobering string attached: We would have just six months to make any major structural fixes and get the plumbing and electrical up to code.
Our plan, which our friends immediately deemed crazy, was this: I'd ignore my other work and do the demolition and electrical and structural repairs full-time while Merle would log hours at night and on weekends scraping off wallpaper and pulling up carpets and linoleum. We'd hire a carpenter to restore the main porch, using the 1891 picture as a guide. And because Newburgh requires plumbing and roofing by town-licensed pros, we'd get help there, too.
Shown: The front exterior before renovations. Homeowners Merle Becker and Chris Hanson in front of the house after the crumbling first- and second-floor porches came down.
Old "Charm"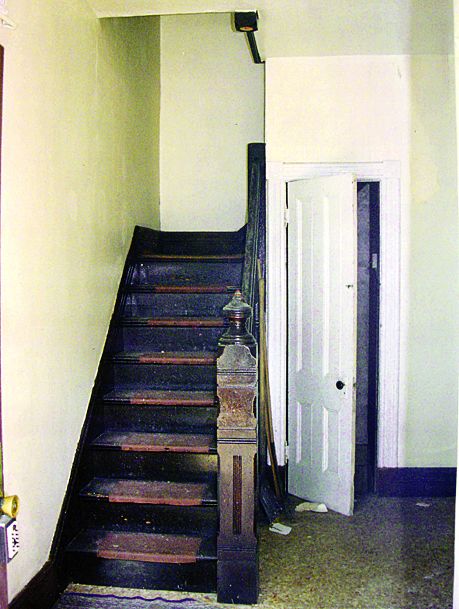 We steeled ourselves as we prepared to move in. It was February and freezing. Bats were still nesting in one hallway, and we could hear pigeons cooing under the floorboards in our bedroom. Before the end of move-in day we got hit by another surprise: The old water main burst. So no running water.
Shown: The Foyer Before. The balustrade and newel post were covered in old varnish and black grime.
Refreshed, Yet Preserved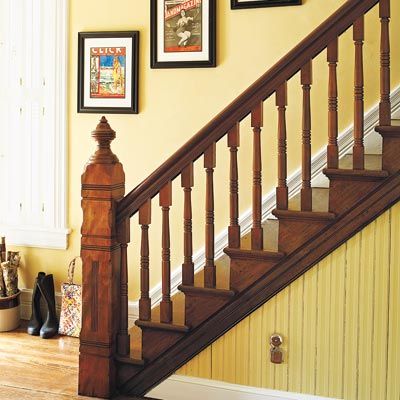 We joined a gym for its showers, started "borrowing" water from a neighbor's spigot—and learned to pee in a bucket. Gross, yes, but true. Without water, we also had no heat. That meant sleeping in jeans and sweatshirts, and throwing on coats when venturing beyond the bedroom.
While waiting for the water main to be repaired—it would end up taking a couple of months—we made new wiring our priority. Some rooms had no outlets, and the ones that did supplied voltage too weak to run power tools. Luckily, I was able to snake wires through walls, so I didn't have to rip through them. Tedious, but Merle and I were adamant about preserving the plaster wherever possible.
Shown: Merle and Chris stripped and stained the woodwork. Several 1940s magazine covers found in the house became a stairwell gallery.
Painted Molding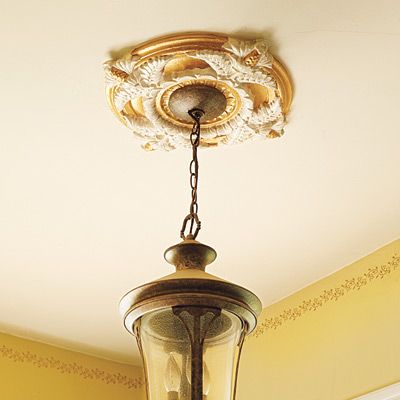 To stay on schedule for the plumbers—who would be putting in a boiler and water heater, replacing several radiators and waste lines, and roughing in our kitchen and a new first-floor bath—we set up shop in the living room with a table saw and a sawhorse for stripping doors and adding another coat to the salvaged painted molding.
Shown: A painted medallion sets off a repro fixture and echoes Chris's stencil work.
Wall paint: Valspar's Beachcomber
Kitchen Nightmare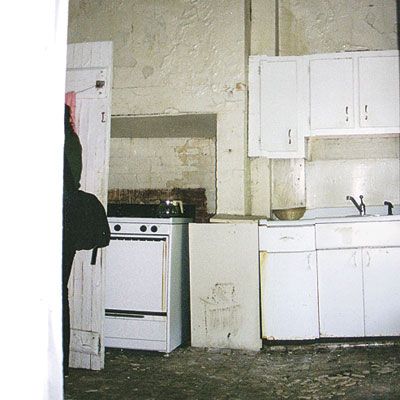 Back when the house had been converted to a two-family, a tiny bath was jammed into a corner of the main kitchen. I decided to take it out and let the kitchen reabsorb the square footage. We realized we needed to reframe and insulate walls in the kitchen, so Merle added demolition to her will-do list as we donned masks, grabbed hammers and pry bars, and took it down to the studs.
Shown: The Kitchen Before. Extensive water damage had made a sad situation worse.
Salvaged Breakfast Bar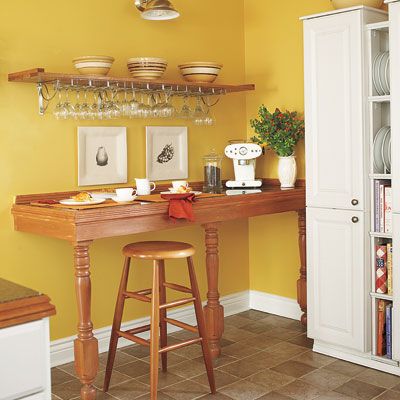 Shown: After gutting the room and annexing a tiny bath, the homeowners finished the kitchen with a ceramic-tile floor and a breakfast bar fashioned with mahogany floorboards and poplar legs left over
from previous projects.
The Kitchen After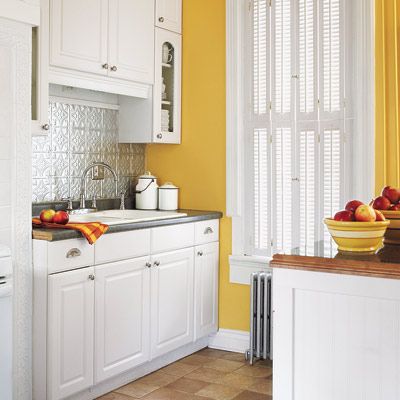 We figured the original hearth would remain the perfect spot for the stove. While tiling the surround, I caught sight of a piece of plywood and pried it loose, and a ton of bricks came crashing through the flue within inches of my head. Guess that was one way to remove the remnants of a crumbling chimney. At least we were able to use the bricks to line a path in the backyard.
Shown: Sunny walls, crisp white trim and cabinets, and an embossed aluminum backsplash brighten the cleanup area. For added warmth, the ceiling was painted a metallic bronze. Cabinets: Lowe's.
Wall paint: Valspar's Fools Gold (below picture rail)
The Living Room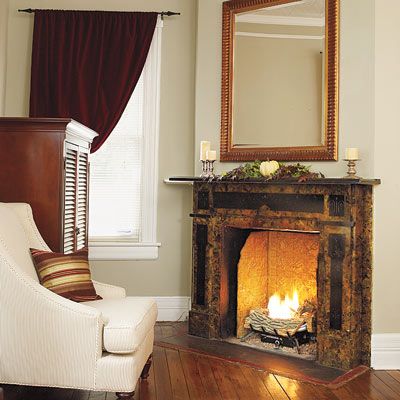 The other chimney got a new cap and gas insert, and a window company replaced 33 windows. With help from a plumber, we turned a spare room into a spacious downstairs bath, converted the upstairs kitchen to a bathroom, and made the old upstairs bath a laundry room.
Six months later, we made our deadline—with an extension to finish the siding. With the loan in hand we were able to pause and plan other fixes in the rest of the house.
Shown: A new gas insert made the living room fireplace functional once again. Chris and Merle sanded and stained the pine floor themselves.
Wall paint: Valspar's Bonsai
Vintage Dining Room
In the octagonal dining room, the couple created a vintage look with painted pressed-cardboard ceiling tiles and a ribbon of gold trim. The piano was the one Merle learned to play on as a kid. The chandelier came from a home center.
Wall paint: Warm Mahogany
Hidden Gems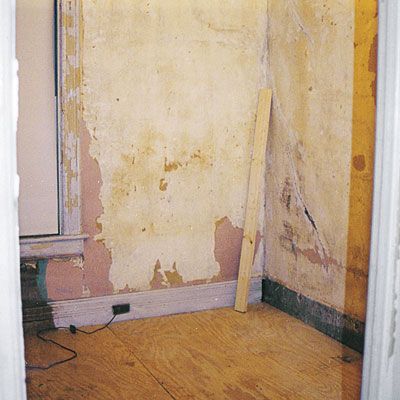 Under the old linoleum and canvas floor covering we found painted yellow pine in good condition, and we sanded and finished it with a dark stain. Plaster repair and paint made the biggest difference, especially on the second floor, where the bedrooms were in decent shape. We patched the floor in places where it couldn't be saved and moved on to the third floor, where we had already added insulation and now painted and put down a hardwood floor. Merle was finally able to furnish her turreted office just as she'd dreamed.
Shown: The first-floor bath before. Damaged plaster walls, prior to being scraped, sanded, and skim coated.
Bright New Bath
The homeowners added beadboard wainscot and a ceramic tile floor and had the existing cast-iron tub refinished.
Wall paint: Valspar's Bahia Green
Bargain Finds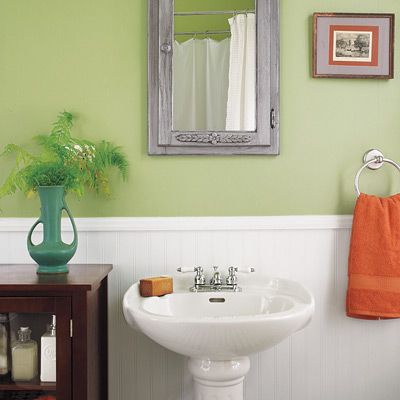 The pedestal sink cost $80 at a salvage yard, and the medicine cabinet was a $10 yard-sale find.
Tackling the Exterior and Backyard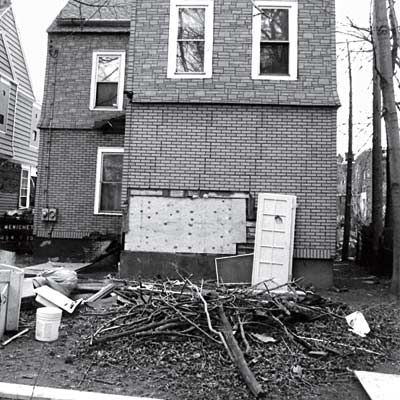 With the interior near completion, we turned to the exterior—and the house got its last laugh. We had hoped to restore the siding, but when we ripped off the asphalt shingles it was too far gone. Cedar shingles just weren't in the budget, so we mimicked a period look with vinyl.
Shown: The rear exterior before. The beat-up asphalt siding and damaged doorway had to go.
Pretty Porch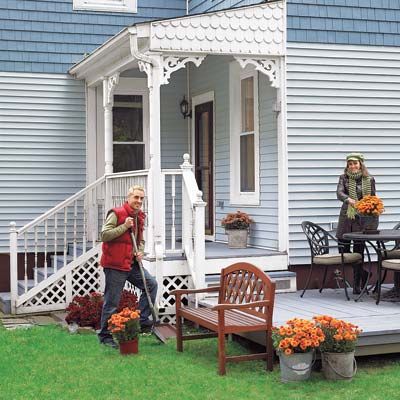 Fast forward nearly a decade from the day the deed changed hands. Now married and well ensconced, we often forget how rough those first months were. Naturally, there are things we'd change, like rebuilding the porch with mahogany instead of pressure-treated fir. But enough time has passed that we're hankering for another big project. I know there's another renovation in us. Please just let any future house be one that isn't condemned.
Shown: Chris and Merle, with their new back porch, deck, and landscaped yard. Some of the front- and back-porch brackets were found inside the house, and Chris made others to match.
What We Did: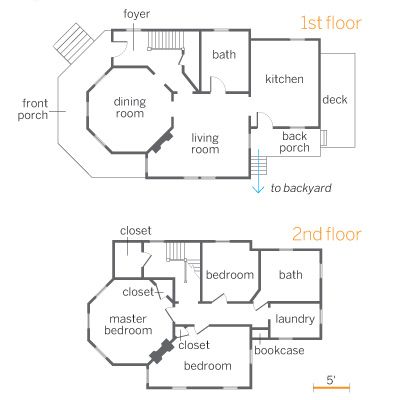 Restored a condemned 1887 Queen Anne that had been vacant for about three years.
Cost: $100,000 plus our labor.
Time frame: Six months to prepare plumbing, electrical, and structural repairs for inspection. Close to two years to complete the interior, front and back porches, and new siding.
Where we saved: Kept most of the layout the way it was. Did the demolition, reframing, rewiring, insulation, and cosmetic work ourselves. Shopped at home centers and salvage yards.
Where we splurged: Energy-efficient windows, and granite-tile countertops on the island and breakfast bar.
What we would do differently: Opt for cedar instead of vinyl siding, and rebuild the second-floor porch.
Biggest challenge: Getting work done quickly to secure a home loan.
How we solved it: Living in the house while struggling to stay ahead of the plumbers and roofers.
Floor plans: On the first floor, a small bath came out and a spare room became a full bath. The second-floor kitchen became a bath, and the adjacent bath, a laundry room.