Each product we feature has been independently selected and reviewed by our editorial team. If you make a purchase using the links included, we may earn a commission.
Is bigger better? Americans seem to increasingly agree the answer is "yes" when it comes to the king-size mattress. Since its 1953 debut, king mattresses have soared in popularity—more than one in six mattresses sold were king sized in 2018, according to the International Sleep Products Association.
But the king of kings when it comes to mattresses? The California king, of course. So if you're a couple that could use the extra wiggle room—or even simply a solo sleeper looking to upgrade—and it's time to size up, you may want to consider the best California king mattress for your lifestyle.
Our roundup of the best California king mattresses is based on tireless testing and mattress reviews from the experts at Mattress Advisor. So you can rest assured: You, your partner's sleep, and your bedroom will all get a king-sized glow up (West Coast style) with these nine California king mattresses:
Affiliate Disclosure:This Old House's Reviews Team is committed to delivering honest, objective, and independent reviews on home products and services. To support this business model, This Old House may be compensated if you purchase through links on our website.
The Best California King Mattresses:
Best Overall – Saatva Classic
Pros and Cons of the Saatva Classic
| Pros | Cons |
| --- | --- |
| One of the best scoring beds to have been tested by Mattress Advisor | May not be the best option for those on a budget |
| Free white glove delivery and removal of old mattress included with purchase | |
| Pros | Cons |
Material: Hybrid (foam and coils)
Firmness: Soft (3/10), luxury-firm (6/10) and firm (8/10)
Customer Rating: 4.9/5
Free white glove delivery
Warranty: Lifetime
An exceptionally well-rounded mattress, Saatva earned Mattress Advisor's top pick in the realm of California king mattresses. Saatva gets its supportiveness from its innerspring coil base, which lends the stability that helped the mattress earn an impressive 10 out of 10 in spinal alignment. Yet, Saatva was also well-attuned for cradling side sleeper's sore spots, like hips and shoulders, due to its seamlessly incorporated quilted top layer. That signature pillow top, which has a plush 3-inch depth, helped the mattress earn an 8.75 out of 10 in pressure relief.
For California king shoppers seeking firmness options, the Saatva Classic is furnished in three distinct firmness levels. Side sleepers might enjoy the cozy "plush-soft" mattress, although if you experience back pain, Mattress Advisor recommends at minimum the firmness of the "luxury-firm" model, rated a medium-firm by testers.
Best Value – Nectar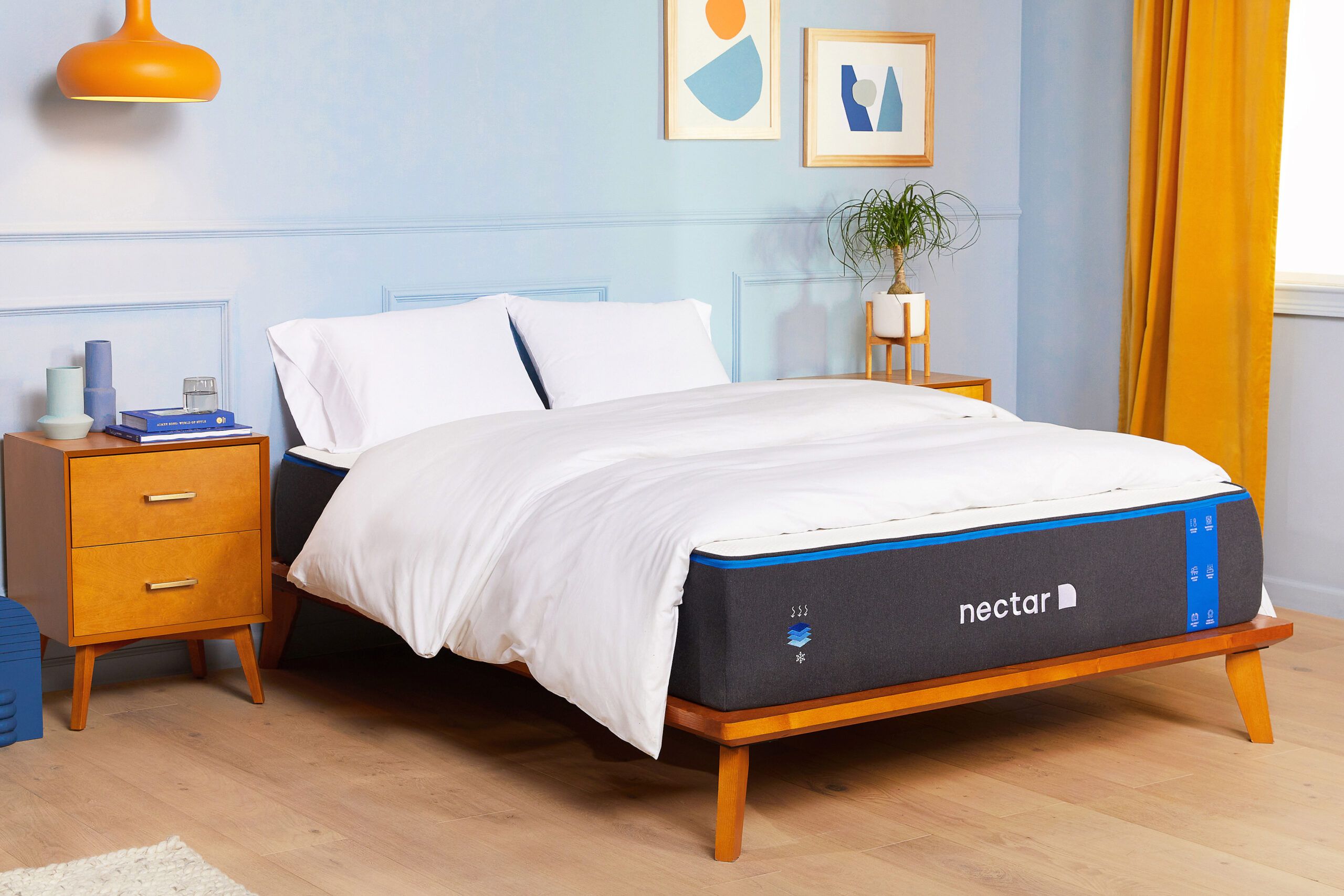 Pros and Cons of the Nectar Original
| Pros | Cons |
| --- | --- |
| High performance in edge support and motion transfer in the sleep lab make Nectar good for couples | Hot sleepers may require a bed with a more cooling construction |
| Lifetime warranty and one-year sleep trial | |
| Pros | Cons |
Material: Gel memory foam
Firmness: Medium-firm (6/10)
Customer Rating: 4.8/5
Delivery: 2-5 business days
Warranty: Lifetime
It may feel at times like the price tag of a California king mattress is akin to the high cost of living in its namesake state. However, fret not—solid budget options are available. And one of the best values among them is the Nectar. With Nectar, you get an affordable mattress that doesn't compromise quality. The memory foam mattress backs its durability with a lifetime warranty and full-year sleep trial. Nectar's three layers of breathable memory foam make it a particularly great mattress for couples who are looking to upgrade to a California king. The motion isolating gel memory foam contours pressure points, and also helps to ensure that light sleepers aren't disturbed by their partner's movement.
Best Luxury – Nolah Evolution
Pros and Cons of the Nolah Evolution
| Pros | Cons |
| --- | --- |
| Innerspring coil layer adds breathability and responsiveness | Luxury bed with a steep price tag to match |
| Lifetime warranty | |
| Pros | Cons |
Material: Hybrid
Firmness: Plush (4.5/10), luxury-firm (6.5/10), firm (8/10)
Customer Rating: 4.9/5
Delivery: 2-8 business days
Warranty: Lifetime
The upgrade to a California king can turn simple sleeping quarters into a palatial-feeling, luxury suite. To complement the upgrade, why not splurge on a truly luxury mattress like the Nolah Evolution. The Nolah is an impressive 15 inches, with multiple design features to promote cooling, including flaps that help dissipate heat, and a foam layer infused with graphite, which is a heat conductor. The Nolah also has a coil layer that is zoned—or in other words, the coils are firmer toward the center of the bed, for extra lumbar support. Topping off the plush luxury is a 2-inch Euro pillow top. It's choose-your-own-adventure when it comes the Nolah's softness, so you can select a plush, luxury-firm, or firm model of the mattress.
Best for Pressure Relief – DreamCloud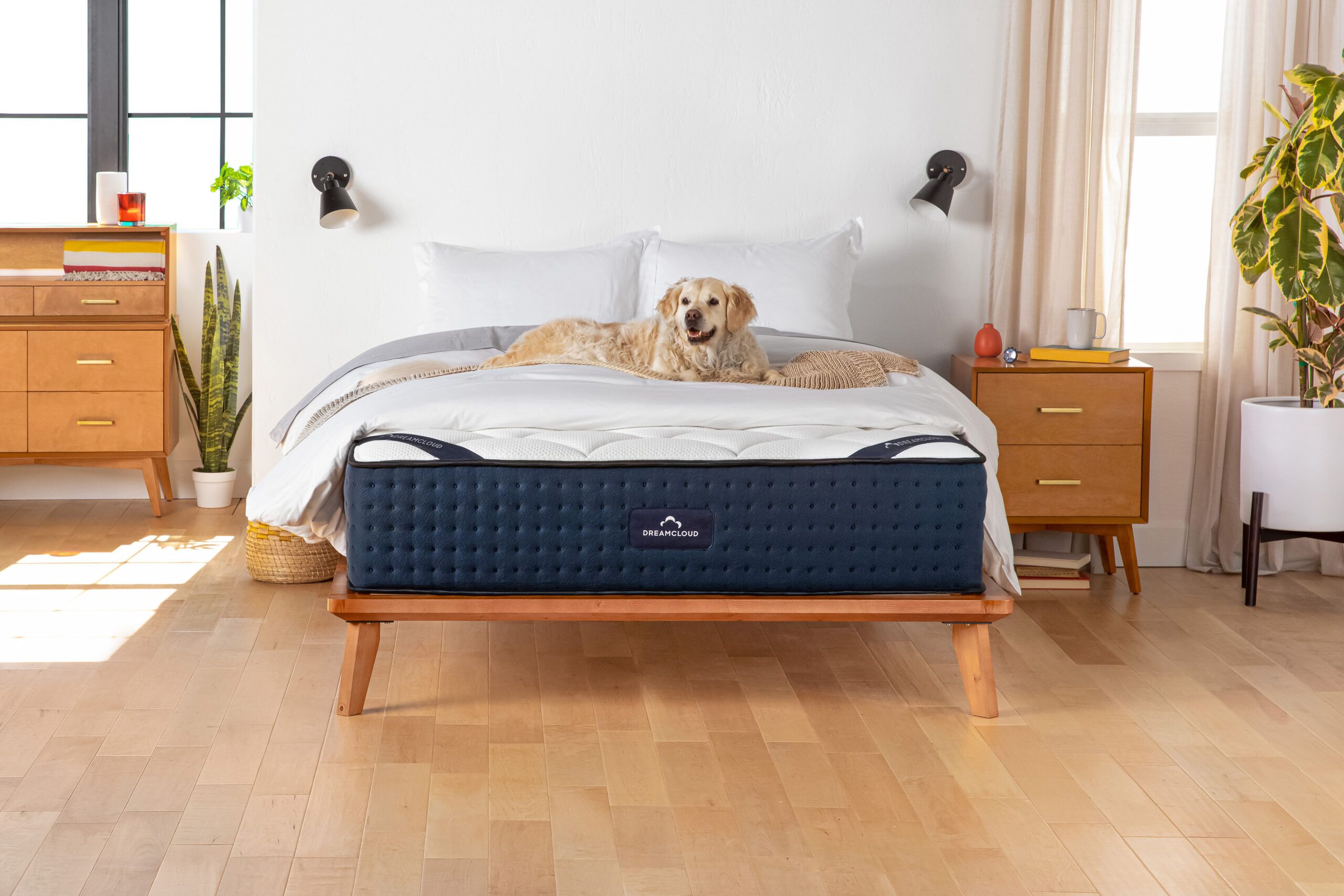 Pros and Cons of the DreamCloud Original
| Pros | Cons |
| --- | --- |
| The cashmere cover is a favorite among testers | If you want a more plush top layer, DreamCloud Premier is preferable |
| Lifetime warranty and year-long sleep trial | |
| Pros | Cons |
Material: Hybrid (foam and coils)
Firmness: Medium-firm (6.5/10)
Customer Rating: 4.6/5
Delivery: Within 18-21 business days
Warranty: Lifetime
When purchasing a new California king, an innerspring mattress may not come to mind as the ideal choice for pressure relief. However, the cushioned support of a hybrid mattress like the DreamCloud strikes the ideal balance for sleepers who need pressure relief and is proven out by Mattress Advisor's metrics. Testers said DreamCloud does a solid job easing tension on hips and shoulders, scoring the DreamCloud 8.75 out of 10 for pressure relief. The DreamCloud also has the benefit of being both responsive and cooling, scoring 8.75 out of 10 and 9 out of 10 in those categories, respectively. For a touch of soft luxury, a foam and cashmere blend comprise the DreamCloud's quilted cover. Indecisive sleepers also get a full 365-night sleep trial period to decide if they want to keep DreamCloud forever.
Best for Back Pain – The WinkBed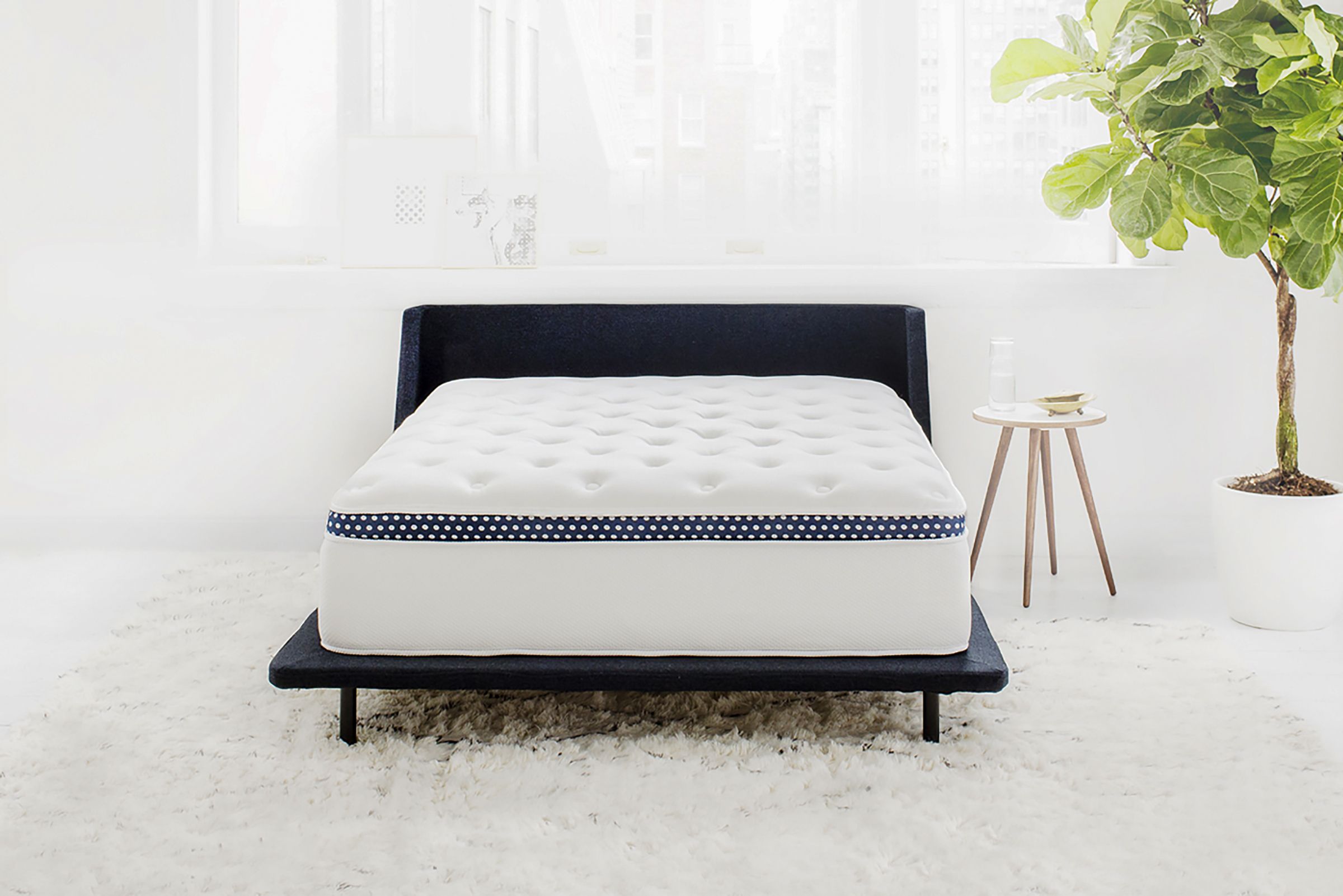 Pros and Cons of the WinkBed
Material: Hybrid
Firmness: Soft (4.5/10), luxury-firm (6.5/10), firm (7.5/10), plus (8/10)
Customer Rating: 4.5/5
Delivery: Within 7-14 business days
Warranty: Lifetime
Tall sleepers looking at a California king may be an especially good fit for The WinkBed, given their elevated risk for lower back pain. The WinkBed earned Mattress Advisor's pick for back pain relief because of two key features. First, the bed's system of wrapped innersprings are arranged in varying thicknesses in a manner that provides targeted support to the lower back. Second, the WinkBed's dense cotton layer provides additional lumbar support.
If you are swapping out a king-sized mattress in favor of a California king, you may miss the slight loss of inches width-wise. However, WinkBed's sturdy edge support (9.75/10) can offer some reassurance that although you're losing a bit of space on the sides, you'll feel supported on every inch of your new California king.
Best for Side Sleepers – Helix Midnight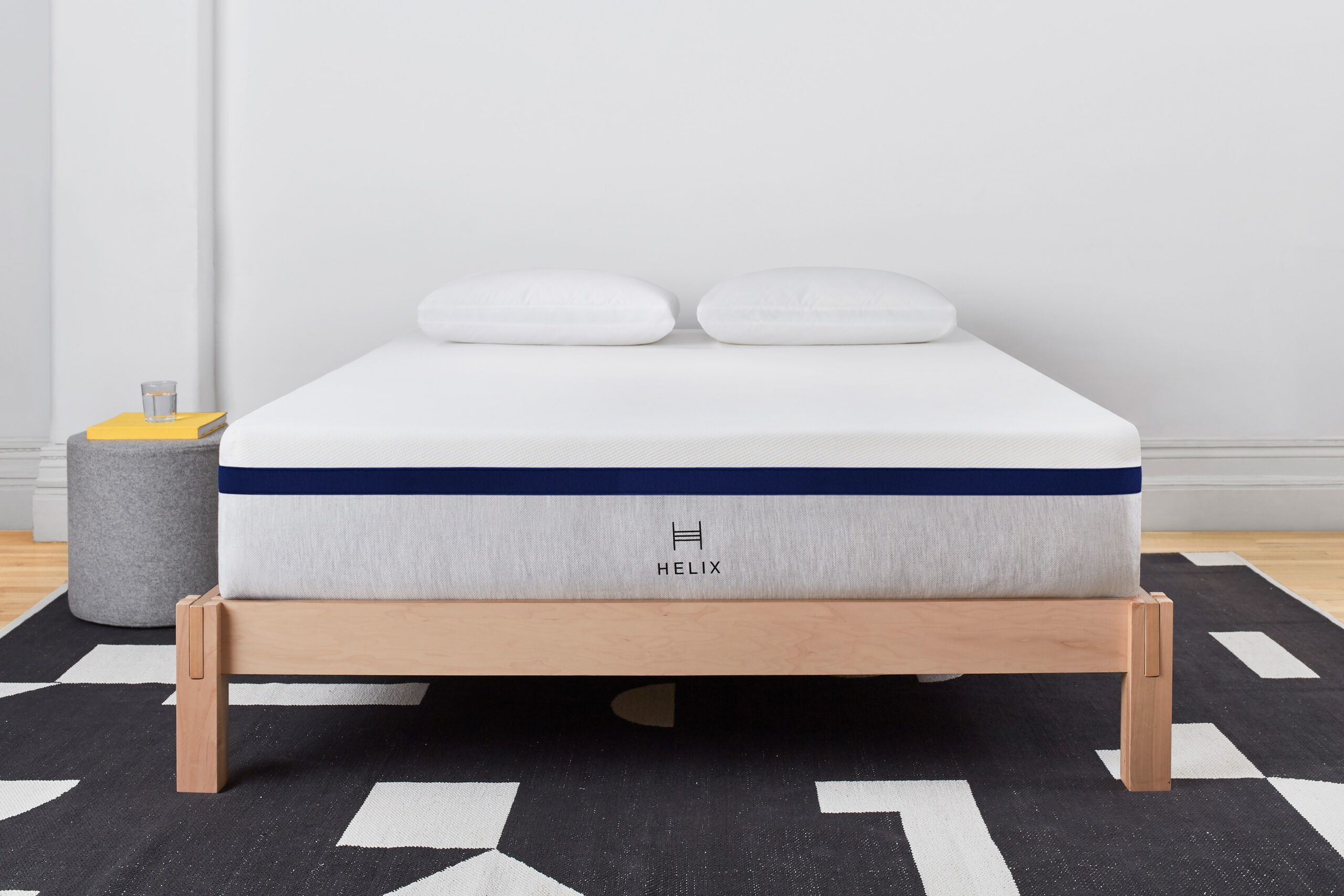 Pros and Cons of the Helix Midnight
| Pros | Cons |
| --- | --- |
| High scores in edge support and motion transfer, great for couples | Mild scent upon unboxing |
| Lifetime warranty and one-year sleep trial | |
| Offers excellent pressure relief for those with joint pain | |
| Pros | Cons |
Material: Hybrid
Firmness: Medium (5.5/10)
Customer Rating: 4.5/5
Delivery: 3-7 business days
Warranty: 15-year limited
A common sighting in mattress reviews is the testimony of former insomniacs. In reviews of Helix Midnight, a mattress that was designed with side sleepers in mind, many former night owls praised the mattress's ability to have them fast asleep well before midnight. Likewise, Mattress Advisors testers also thought highly of the Midnight, awarding high scores in three vital categories: spinal alignment (9/10), motion transfer (9/10), and pressure relief (8.5/10). The Helix Midnight also has a durable hybrid build, including three layers of memory foam and a support base of pocketed coils.
Best Cooling – GhostBed Luxe
If your above-average height led to choosing a California king, you might also be prone to overheating thanks to the extra body heat lent by your larger build. And one of the only things more frustrating than a too-small bed? A too-hot one. Thankfully, even all-foam beds like the GhostBed Luxe can make a California king feel as crisp as the Santa Ana winds, according to Mattress Advisor testers.
The GhostBed Luxe was deemed especially wonderful for cooling (with a 9 out of 10 score from testers) hot sleepers because of three features in its build. First, you have cooling gel beads in the Luxe's layers of foam. Second, the bed uses breathable fibers that promote airflow. And third, the bed has a naturally cooling latex layer that also adds bounce (scoring 9 out of 10 in responsiveness from testers).
Best Extra-Firm – Brooklyn Bedding Plank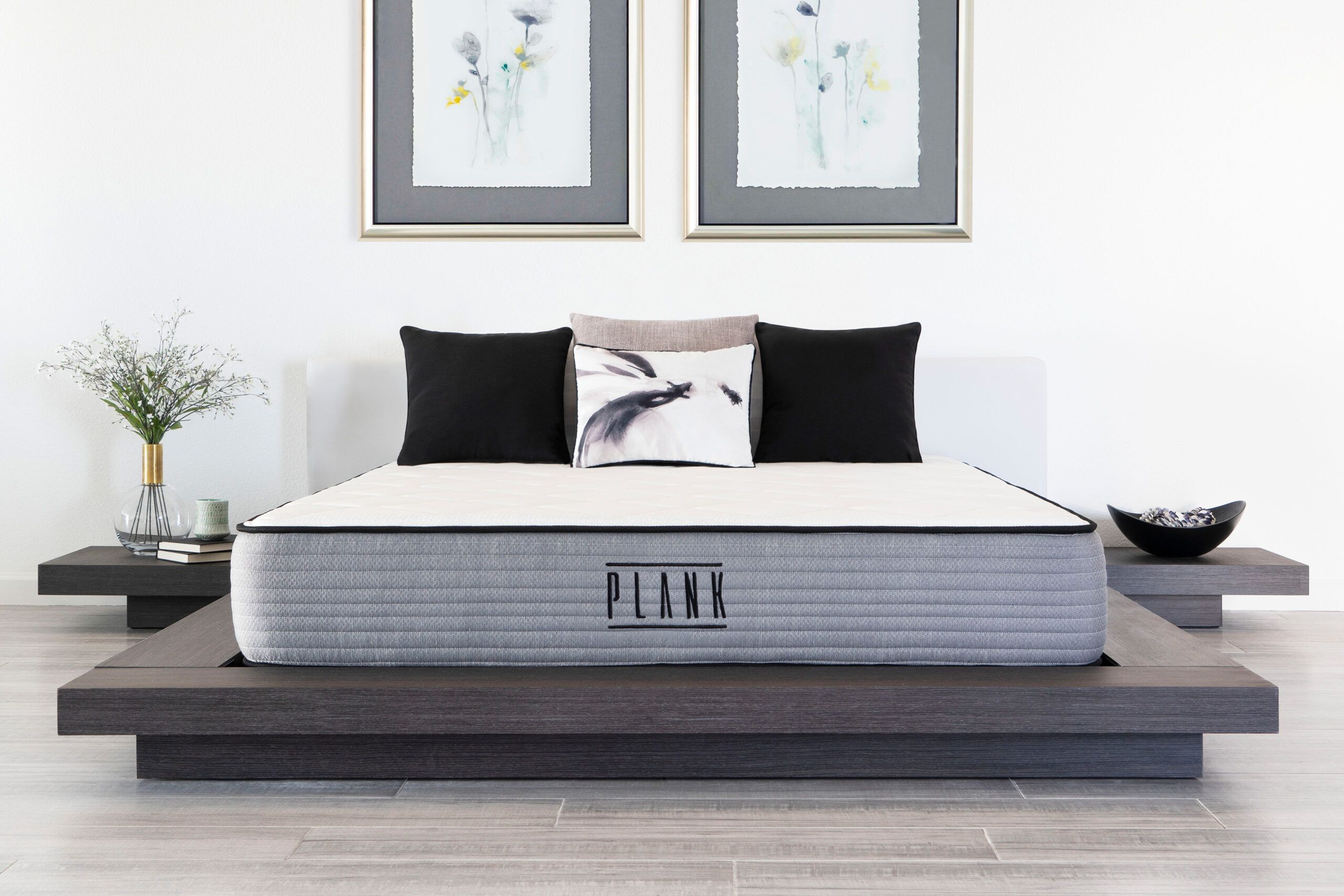 Pros and Cons of the Plank
| Pros | Cons |
| --- | --- |
| Firm build helps keep the hips aligned with the neck and shoulders | Both sides may be too firm for soft mattress lovers |
| Plank's flippability gives it both a firm and extra-firm side | Plank's 10-year warranty is less robust than most other mattresses |
| Pros | Cons |
Material: Polyfoam
Firmness: Firm (7/10) and extra-firm (9/10)
Customer Rating: 4.8/5
Delivery: 3-4 business days
Warranty: 10-year
If you're the type of person who thinks a mattress must be extra-firm in order to befit your stately posture, try a king-size Brooklyn Bedding Plank. The flippable, all-foam mattress has two firm sides to its build. Testers said despite the firm support, both sides of the Plank offer sufficient pressure relief in its foam comfort layers. The Plank's flippability also makes it an excellent option for picky guests who prefer a mattress with an uber-firmness that's not as universally embraced. Finally, a supportive, firm mattress like the Plank especially lends itself to all body types, and back sleepers and stomach sleepers, testers said.
Best Organic – Birch by Helix
Pros and Cons of the Birch by Helix
| Pros | Cons |
| --- | --- |
| Back and stomach sleepers get the right amount of support and give | High-end materials like latex make the Birch pricier |
| The latex-hybrid build makes Birch a good match for hot sleepers | May be too firm for some sleeping positions, like side sleeping |
| Pros | Cons |
Material: Hybrid (latex and coils)
Firmness: Firm (8/10)
Customer Rating: 4.6/5
Delivery: 5-10 business days
Warranty: 25 years
One way you can be conscientious with your mattress choice as part of a larger green bedroom remodel is by shopping for an organic mattress. Birch by Helix offers an organic sleep experience that's bouncy, soothing, and sturdy: The mattress garnered stellar scores in responsiveness (9/10), pressure relief (8.5/10), and edge support (10/10). Because latex is not as good at absorbing motion as memory foam, one noteworthy knock against the Birch is its modest motion isolation score (with a 7 out of 10 score from testers). Couples, where one or both are light sleepers, may want to consider a bed that's better at absorbing movement.
Best for Couples – Casper Wave Hybrid
Pros and Cons of the Casper Wave Hybrid
| Pros | Cons |
| --- | --- |
| High scores in the sleep lab in all performance-related categories | One of the priciest mattresses on this list |
| Fits all body types and sleep positions | |
| Pros | Cons |
Material: Hybrid (foam and coils)
Firmness: Medium (5/10)
Customer Rating: 4.6/5
Delivery: Within 2-7 business days
Warranty: 10-year limited
A bed-in-a-box household name, Casper's latest creation is the Wave Hybrid mattress, a top California king-sized option for couples thanks to the bed's outstanding sleep lab scores across the board: The hybrid bed is rated well for durability (9.5/10), spine alignment (9/10), motion transfer (9/10), edge support (8.75/10) and pressure relief (8.5/10). On top of all that, the bed also scored well in responsiveness and cooling–9.25 and 9 out of 10, respectively–because of its use of natural, bouncy latex and springy, breathable coils. That means it'll be that much easier for you and your partner to get cozy in different positions together, and without overheating.
What is a California King Mattress?
Looking at king-sized mattresses starts as a simple enough decision to upgrade. But you may have quickly realized that the California king is in fact just one king-sized mattress model among many. Beyond a regular king-size bed, other king models–albeit they're less widely available to buy–include the Alaskan king and Wyoming king. The California king stands out thanks to measurements that make it uniquely accommodating for both your body and bedroom dimensions.
California King vs. Other King Models
You'll need to carefully consider your room size and budget for buying a bed frame and bedding when looking at a California king. Here's how the dimensions compare:
California king mattress: One of the biggest misconceptions about the California king is its width. At 72 inches by 84 inches, a California king is longer but more narrow than a regular king. So if you want more space between you and your partner, you may want to consider a regular king mattress.
Regular king mattress: You'll sometimes see the standard king referred to as an "Eastern King," and at 76 inches by 80 inches, this mattress is almost exactly equivalent to two twin XL mattresses put together. To most folks, that's a solid enough upgrade from a queen-size mattress, which measures 60 inches by 80 inches.
Alaskan king mattress: If you're not most folks though, you may want to opt for the biggest among the three, an Alaskan king. Although at a whopping 108 inches by 108 inches, the Alaskan king mattress probably makes the most sense as a comfy, square lounge space for your whole family in a large den. Bedroom-wise though, it may be hard to justify the 81 square feet usurped by the Alaskan's largesse.
Who is a California King Mattress Best For?
Best for:
Tall sleepers: Healthwise, there are pros and cons to towering over your peers. One con: An increased association with lower back pain, especially among men. So it's far from self-indulgent to invest in a California king if your feet hang off the end of your bed, leading to poor posture and exacerbating lower back pain.
Co-sleepers and those who sleep with pets: Anyone with pets knows that they'll often seek out slumber next to you. As heartwarming as furry companionship is, in lieu of enough mattress space for you to stretch out comfortably, you may be compromising the quality of your sleep. A California king is the perfect size for a tall sleeper to sleep side-by-side with a large pet, or for co-sleepers to have their creatures curl up below their feet.
Someone who's room size requires a narrower bed: Some pieces of furniture just aren't meant for narrow rooms, and a king-size bed is one of them. However, that doesn't mean you have to count out the more narrow California king, which might just be the perfect fit.
Not best for:
Those on a budget: California kings oftentimes run more pricey than queen- and king-sized mattresses. Plus, you have to account for the extra cost in bedframe and sheets.
Couples who prefer the width of a king mattress: If a California king mattress sounds appealing because you want to maximize space between you and your partner, the better bet is to opt for a regular king. Having said that, if a California king fits your room better, you'll still get an extra foot of width when upgrading from a queen.
How To Choose The Best Type of California King Mattress
A mattress has a defining composition or "type" that will largely determine its feel. Here's what to know about the most prominent mattress types:
Memory foam: Memory foam mattresses are the longest-standing type that mattress brands have sent in a box at your doorstep, as simple as an Amazon package dropoff. And they're still going strong thanks to the dedicated crowd of memory foam lovers. And there's a lot to love: Slow-moving memory foam gives a cradling feel that's great for side sleepers, the most popular sleep position. Most builds have a high-density foam toward the foundation, and squishier, softer cushioning foams at the top.
Innerspring: Old-fashioned innerspring mattresses, which exclusively rely on a base of springy coils for comfort and support, are largely a thing of the past now. Innersprings instead have been replaced by the modern hybrid build.
Hybrid: A hybrid mattress, on the other hand, combines the support of innerspring coils with the comfort of pressure-relieving memory foam. Hybrids are often high-quality mattresses with added durability from the support base of pocketed coils, or individually wrapped coils that move and bounce independently from one another.
Latex: Latex is another of the more modern mattress materials. Latex mattresses are known for their durability and eco-friendly appeal. Compared to memory foam, latex foam tends to have more bounce, making for firmer mattresses that are more responsive.
Summary of the Best California King Mattress: