A good mattress can do a lot for you: enhance the quality of your sleep, help reduce back pain, make it easier to share a bed with a partner or pet, and even improve your recovery time. This Bear mattress review covers the entire Bear fleet of mattresses, from their most basic model to their high-end luxury mattress offering. All Bear mattresses are designed with active lifestyles in mind; cooling technology, pressure-relieving foams, and excellent spine alignment are found in every mattress they offer. Whether you exercise regularly and are looking for something to help you recover between workouts, you're seeking a cooling mattress to help with overheating, or you want a bed to reduce your joint and back pain, a Bear mattress is a good fit.
Perks of a Bear Mattress
The Bear mattress fleet consists of four high-quality mattresses available in various models at different price points ranging from $998 to $2,398 at queen size. Whether you want something a little more luxurious or something that's more budget-friendly, Bear has you covered. All Bear mattresses have a Celliant cover that Bear says uses infrared light technology to promote recovery. While our testers don't have the technology to test the claim, Bear mattress' ability to keep sleepers' backs aligned and pressure points cradled can help reduce aches for mornings without soreness. Regardless of which model you decide to purchase, it will ship free to your doorstep and you'll have 120 nights to test out your new mattress before committing. If you decide within that period that your Bear mattress is not a good fit, you can return it at no added cost. Bear donates returned mattresses to local charities, and they will arrange a free pickup of the mattress to provide ultimate convenience. When you find the perfect Bear mattress for you, it comes with a lifetime warranty, so you can rest assured that your new bed will last a while.
All Bear mattresses are Greenguard Gold Certified and CertiPUR US Certified, meaning they don't contain any materials that are harmful to the people sleeping on them or the environment.
The products featured in this article have been independently reviewed by the Mattress Advisor team. When you buy something through the retail links on this page, we may earn commission at no cost to you, the reader.
Affiliate Disclosure:This Old House's Reviews Team is committed to delivering honest, objective, and independent reviews on home products and services. To support this business model, This Old House may be compensated if you purchase through links on our website.
Bear Original Mattress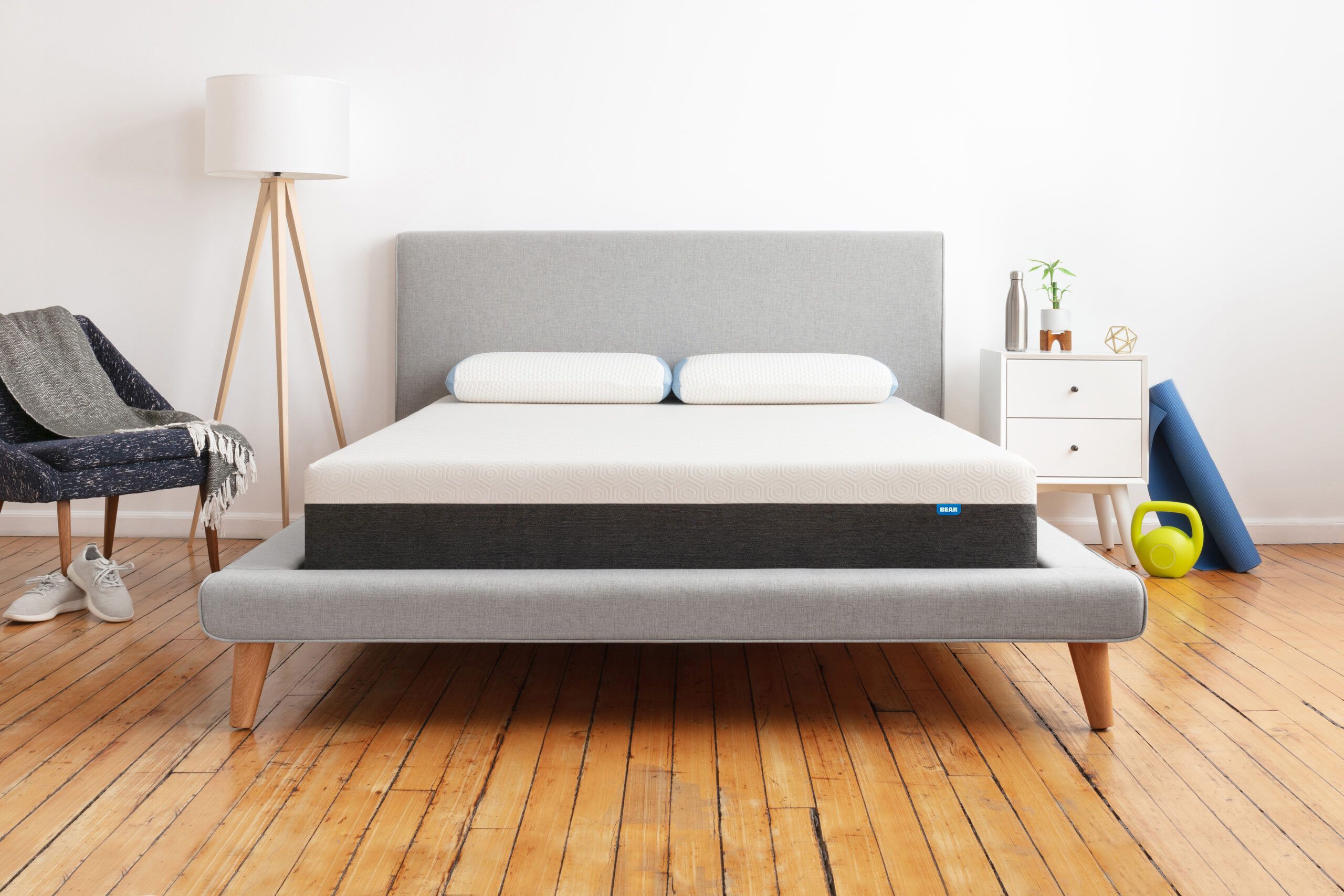 Pros and Cons of the Bear Original Mattress
| Pros | Cons |
| --- | --- |
| Good for combination sleepers | Side sleepers may need more pressure relief |
| Sleeps exceptionally cool for memory foam | Not well-suited for heavy sleepers |
| Can help relieve joint pain | |
| Pros | Cons |
Material: Memory foam
Firmness: Medium-firm (6.5/10)
Customer Rating: 4.7/5
Delivery: Ships free within 7-10 business days
Warranty: Lifetime
If you lead an active lifestyle, you understand the importance of muscle recovery. The Bear Original Mattress is designed for athletes and active people, with materials that promote restorative sleep for faster recovery. Those who enjoy the memory foam feel will love the pressure-relieving capabilities offered by this bed. The Bear mattress is crafted with multiple foam layers, including cooling graphite-infused memory foam, support foam, and responsive comfort foam. The comfort layer gives this mattress plenty of bounce, making it easy to switch positions, earning it a 9 out of 10 in responsiveness. The support layer keeps your back in a comfortable, neutral position, receiving an 8.5 out of 10 in spine alignment from the testing team. A near-perfect 9 out of 10 score in cooling comes from the breathability of the top layer of memory foam infused with graphite, preventing you from overheating while you rest. While all of these cooling and restorative qualities are important for athletes, they are also ideal for the average sleeper, making the Bear Original a great choice for nearly all body types. One thing to note: Bear does not suggest using a box spring with the Original mattress.
Bear Hybrid Mattress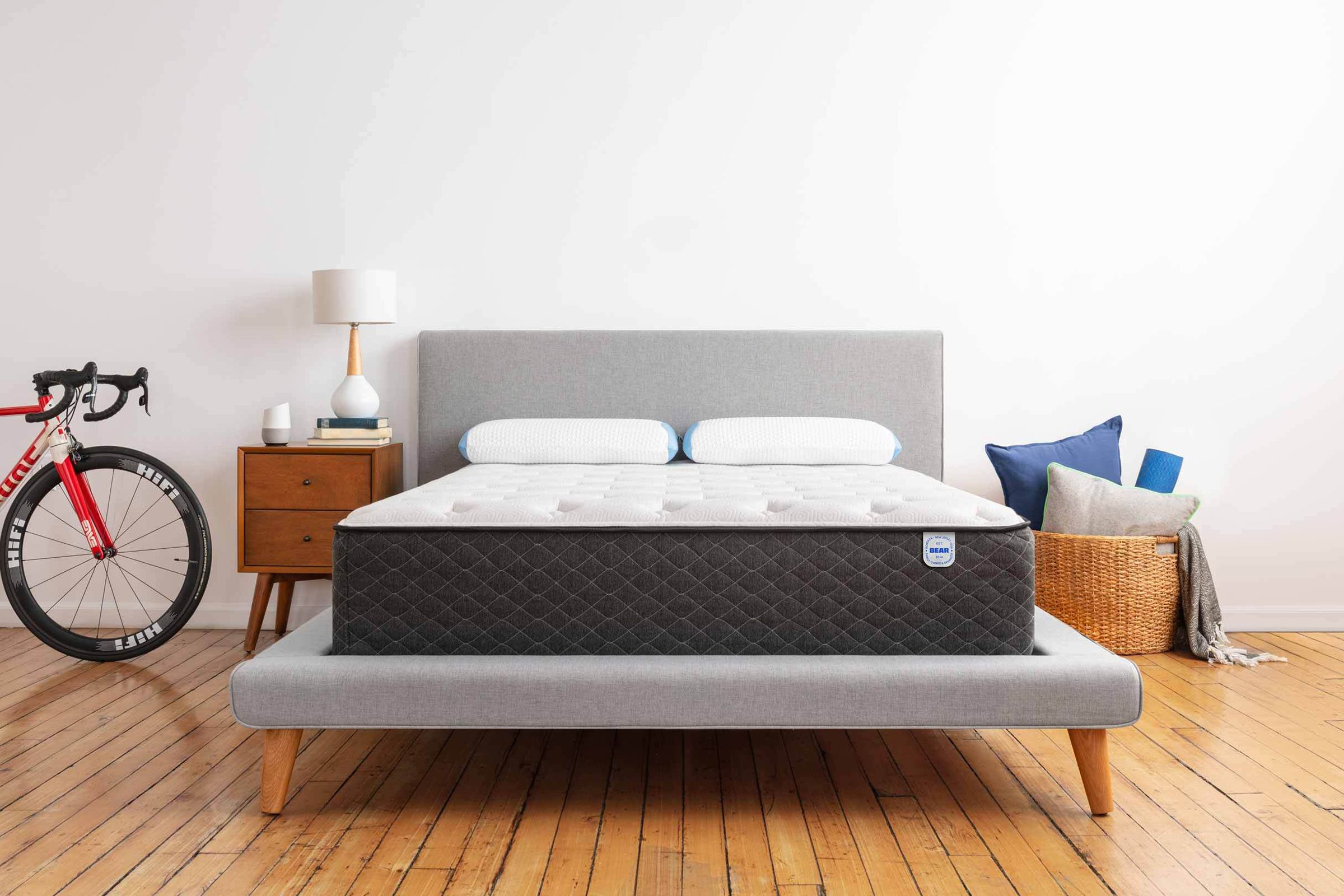 Pros and Cons of the Bear Hybrid Mattress
| Pros | Cons |
| --- | --- |
| Good pick for hot sleepers | Not the best choice for couples |
| Solid choice for seniors | Side sleepers may need more pressure relief |
| Excellent durability | |
| Pros | Cons |
Material: Hybrid (foam and coils)
Firmness: Medium-firm (6.3/10)
Customer Rating: 4.7/5
Delivery: Ships free within 7-10 business days
Warranty: Limited lifetime
Hot sleepers and active individuals will love the cooling, supportive sleep the Bear Hybrid provides. The Bear Hybrid is a medium-firm mattress, falling just above a six out of 10 on the firmness scale. This bed offers lifting support and cushioning pressure relief, making it well-suited for sleepers of all shapes and sizes, and the high responsiveness makes it one of the best mattresses for seniors. A layer of gel memory foam reduces body heat retention and works with a system of encased coils to keep the spine in near perfect alignment, earning this mattress a 9.5 out of 10 in this category. High-density support foam at the base of this mattress adds to the stability of the bed. The quality materials and hybrid construction give this bed great durability (9.5 out of 10), meaning it should continue to provide good pressure relief and alignment for years to come.
Bear Elite Hybrid
Pros and Cons of the Bear Elite Hybrid Mattress
| Pros | Cons |
| --- | --- |
| Super cooling for hot sleepers | Not for budget shoppers |
| Good option for couples | Might be too tall for some sleepers |
| All sleep positions | |
| Pros | Cons |
Material: Hybrid (foam and coils)
Firmness: Luxury-plush (5.5/10), luxury-firm (6.5/10), extra-firm (7.5/10)
Customer Rating: 5/5
Delivery: Ships free within 7-10 business days
Warranty: Limited lifetime
The Bear Elite Hybrid mattress takes the traditional Bear Hybrid and improves upon the design. Available in three firmness levels, the Bear Elite Hybrid offers sleepers a customizable luxury sleep experience. If you prefer a softer mattress feel, the luxury plush is a great option, and those who prefer a firmer bed can opt for the luxury firm or extra firm models. Two layers of foam—memory foam and zoned comfort foam—provide targeted pressure relief where it's most needed, releasing muscle tension while supporting the lumbar region. A system of encased pocketed coils keeps the spine in a neutral position as you sleep while also promoting breathability and responsiveness. Another coil system along the edge of the bed reinforces the edges to prevent sagging, allowing you to sit or sleep on the perimeter. A base of high-density foam adds additional support to the whole bed. One thing worth noting: Bear recommends against using a box spring for this mattress as it doesn't offer ample support for this bed.
Bear Pro Mattress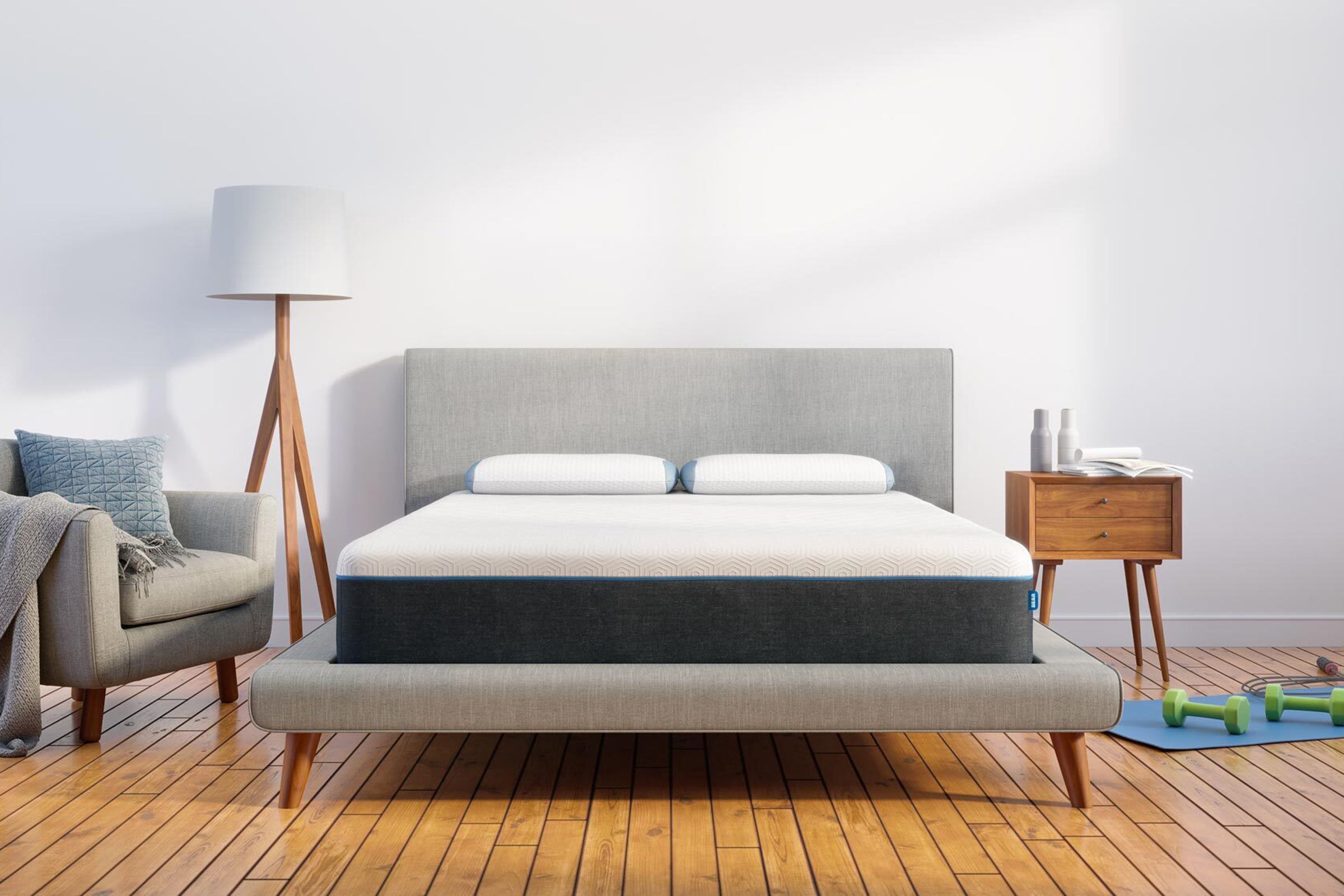 Pros and Cons of the Bear Pro Mattress
| Pros | Cons |
| --- | --- |
| Foam build is good for couples | Not the best budget option |
| Great for hot sleepers | Slight off-gassing odor when you initially open it |
| Offers good pressure relief for those with joint pain | |
| Pros | Cons |
Material: Memory foam
Firmness: Medium-firm (6.5/10)
Customer Rating: 4.4/5
Delivery: Ships free within 7-10 business days
Warranty: Lifetime
Reset and recover on the Bear Pro mattress. Its four layers of foam are infused with cooling capabilities to relieve pressure and keep you cool as you sleep. The medium firmness of this bed makes it suitable for all sleeping positions, providing enough lift for back and stomach sleepers and ample pressure relief for side sleepers. The foam construction inhibits motion transfer, which is great for couples or those who sleep with pets as you won't be disturbed every time your partner (or dog) shifts in their sleep. A layer of gel-infused memory foam helps keep you cool as you rest, reducing those sweaty morning wake-ups. A slab of transition foam keeps the body supported during sleep. The construction of this mattress makes it antiviral and naturally resistant to bacteria, ensuring you have a clean sleep from unboxing until the end of its lifespan.
Bear Sizes and Prices
| Size | Dimensions | Bear Original | Bear Hybrid | Bear Elite Hybrid | Bear Pro |
| --- | --- | --- | --- | --- | --- |
| Twin | 39″ x 75″ | $748 | $1,298 | $1,721 | $1,265 |
| Twin XL | 39″ x 80″ | $811 | $1,398 | $1,782 | $1,365 |
| Full | 54″ x 75″ | $873 | $1,498 | $1,917 | $1,415 |
| Queen | 60″ x 80″ | $998 | $1,732 | $2,111 | $1,465 |
| King | 76″ x 80″ | $1,248 | $2,132 | $2,511 | $1,865 |
| California King | 72″ x 84″ | $1,248 | $2,132 | $2,511 | $1,865 |
| Split King | 76″ x 80″ | $1,622 | $2,796 | $3,565 | $2,730 |
| Size | Dimensions | Bear Original | Bear Hybrid | Bear Elite Hybrid | Bear Pro |
MA Score: The Mattress Advisor Score is a weighted score that takes into account 14 different factors related to the mattress' performance, function, convenience and the brand's social responsibility.
Bear Mattress Features
Motion Isolation: Couples, co-sleepers, and those who share their bed with a pet or child need a bed that isolates motion and prevents movement from transferring across the mattress. The Bear Pro offers the best motion isolation of their entire lineup, though the Bear Hybrid also earned high marks from testers in this category.
Edge Support: Edges that offer good support and don't sag can be beneficial for those who like to sleep near the edge of the bed. Having good edge support is also helpful if you like sitting on the edge while you get ready. Edge support can be critical for seniors, those with joint pain, or those who need a little more help getting in and out of bed. The Bear Original mattress received the highest score in this category of all the Bear mattresses.
Firmness: Your preferred preference is usually something determined by your size or weight and how you prefer to lie while sleeping. Side sleepers tend to prefer soft mattresses with more pressure relief, while stomach sleepers need a bed that offers enough firm support to lift their hips and keep their spines aligned. Most of the Bear lineup are in the medium-firm range, though the Bear Elite Hybrid comes in a few options.
Pressure Relief: If you deal with joint or back pain, sleep on your side, or want a little more cushioning as you sleep, choosing a bed that offers good pressure relief is optimal. Beds with plenty of cushioning foam (such as memory foam mattresses or hybrid beds) are great at relieving pressure points, like the Bear Pro or the Bear Elite Hybrid.
Spine Alignment: Spine alignment is the measurement of how well a mattress keeps your back in a natural position as you sleep. Good posture is just as important during the night as it is during the day, and poor sleeping posture or spine alignment can cause or exacerbate back pain. If you struggle with a sore back, finding a bed that promotes healthy posture through the night can help with your pain. Each of the Bear mattresses received high marks for keeping the back properly aligned.
Temperature Regulation: If sleeping hot is impacting the quality of your sleep, choosing a mattress (and bedding) that promotes body temperature regulation and offers good breathability can help improve sleep quality and reduce overheating at night. The Bear Original and Bear Pro both excel at keeping sleepers cool.
Price Point: The cost of a Bear mattress can range from under $1,000 to well over $3,000, though most mattresses-in-a-box fall somewhere between the two. Hybrid mattresses tend to cost a bit more than memory foam or innerspring mattresses, since they use more than one type of material and have a slightly more complex construction. Bear often offers coupons and runs sales that bring the cost of their beds down.
Shipping and Delivery: One of the best parts of buying a mattress online is the quick and free delivery. Your new mattress should arrive from Bear within 7-10 business days and ships free of charge.
Warranty and Trial: One perk of buying a bed-in-a-box is that they come with sleep trials that allow you to test out the mattress before you buy it, and once you commit they have warranties that cover any issues. Bear mattresses come with lifetime warranties and 120-night sleep trial periods.
Sleeping Positions on Bear Mattresses
Side Sleepers: Side sleepers need good pressure relief to take the strain off of their hips and shoulders as they rest. The Bear Pro, with four foam layers, is the best Bear Mattress option for individuals who want a softer bed that contours to their body. The Bear Elite Hybrid in the luxury plush firmness would also be a suitable choice.
Back Sleepers: Back sleepers can sleep on a variety of mattress types and firmnesses without experiencing pain, though good spine alignment is an important factor for those who sleep on their backs. The Bear Hybrid keeps the midsection and lumbar regions almost perfectly aligned, giving sleepers excellent posture as they rest and helping to reduce any pains.
Stomach Sleepers: If you sleep on your stomach, you likely prefer a firmer sleep surface to prevent your hips and shoulders from sinking into the mattress too much and causing pain. The original Bear Mattress, Bear Hybrid, or Bear Elite Hybrid in extra-firm would all be suitable for stomach sleepers.
Combination Sleepers: Combination sleepers toss and turn as they sleep, changing positions several times throughout the night. For a comfortable sleep, they need a bed that offers good bounce and responsiveness, allowing them to shift without feeling overly stuck. All the mattresses in the Bear fleet should be a good option for a combination sleeper.
Bear Mattress Materials
Comfort Foam: The Bear Original, Hybrid, and Elite Hybrid all use comfort polyfoam which gives the beds good responsiveness and helps the body adjust when changing positions.
Gel Memory Foam: The entire Bear Mattress fleet employs graphite gel memory foam to support your body, relieve pressure from high-tension areas, and prevent overheating.
Copper-infused Memory Foam: Imbued with antimicrobial properties, this foam is found in the Bear Pro, Bear Hybrid, and Bear Elite Hybrid. It helps to keep your sleep space cleaner while also working to contour your body.
Encased coils: The Hybrid models of the Bear fleet use a system of encased coils to help support the body, give the mattress good bounce and responsiveness, increase airflow and breathability, and improve the overall durability of the bed,
FAQ
How long does a Bear mattress last?
A Bear mattress should last around seven years, but that varies depending on the weight and size of the sleepers, how often the mattress is used, and how well the mattress is taken care of. A mattress can easily last longer than their anticipated lifespan if properly cared for.
How thick are Bear mattresses?
The thickness of a Bear mattress differs based on the model you get. The Bear Original is 10″ thick, and the Bear Pro is 12″ thick, both are pretty standard heights and offer good support. The Bear Hybrid is a bit taller, reaching 13″ in thickness, and the Bear Elite Hybrid is the thickest at 14″. The taller mattresses will offer better support and are better suited for larger and heavier sleepers.
Who are Bear mattresses best for?
Bear mattresses are designed for athletes and those with active lifestyles, though they accommodate a wide range of sleep needs. People with back or joint issues can benefit from the excellent spine alignment the Bear mattresses offer, while the cooling technology in these beds is beneficial for hot sleepers. The responsive foams make the Bear mattresses a good option for combination sleepers.
Where can you buy a Bear mattress?
The best place to buy a Bear mattress is online, where they'll deliver the bed to your doorstep for free. However, if you want to test out your mattress in person before purchasing, there are showrooms and partner stores in New Jersey, Texas, New York, Florida, Washington D.C., and Michigan. Keep in mind that you receive a 120-night sleep trial when you purchase a Bear mattress, so you'll have plenty of time to test it and decide if you like it.