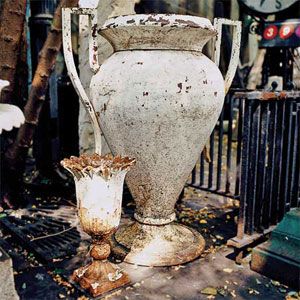 Back in the day—way back, in Victorian times—having iron in your garden was a status symbol. Not just some old chunk of ore, but an ornate cast-iron urn, the kind you'd imagine overflowing with rare plants at Versailles.
You see, in the second half of the 19th century, besides covering practically every indoor surface with velvet, lace, or busy wallpaper, the Victorians gussied up their outdoor spaces, too. "It was a 'more is more' atmosphere," says Barbara Israel, owner of Barbara Israel Garden Antiques in Katonah, New York. "Decorating your small garden with vine-filled urns meant that you were cultured and you had the money to afford indulgences." The trend was led by America's emerging middle class, which could afford to devote land to beds full of vibrant annuals and romantic winding paths, rather than farm crops.
Early cast-iron urns, which date to about 1850, were modeled after ancient Greek and Roman architecture, with fluted, columnlike sides, scalloped cornices around the rims, and boxy pedestal bases reminiscent of a sturdy foundation. Handles sometimes took the forms of snakes, maidens, or mythological beasts. By 1880, urns were more fanciful, with the sorts of Rococo embellishments—cherubs, shells, and flowers—that characterized flamboyant 18th-century French furniture.
Major manufacturers of the time, including J. L. Mott Iron Works in New York and Wood & Perot in Pennsylvania, let you create your own designs, offering through mail-order catalogs a wide selection of urns that could be customized by swapping out different bowls, bases, and handles, Israel says. You could also choose among bronze, green, brown, and black finishes.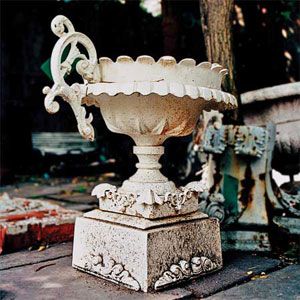 After a few years outside, cast-iron urns require a new coat of paint to prevent rust. So when purchasing a vintage urn at a salvage yard or garden-ornament shop today, it's best just to find a well-proportioned one in a style you like. Don't even attempt to restore the original finish; beneath that top layer of flaky paint, there will be many, many more. "All I try to do is maintain the texture," says Israel, who knocks off chips with a wire brush and then applies a fresh coat of paint. "If you sandblast it, you lose that wonderful mottled surface, and then that lovely old piece will look like a reproduction," she adds.
Prices for garden urns vary widely, from about $150—what I paid for a used but not very old, midsize 3-footer that I turned into a fountain—to $2,500 or more for larger and highly ornamented 19th-century antiques.
An urn's versatility, particularly in the yard, can make up for a high price. In addition to using one as a water feature, you can top a single urn with glass for a custom dining table. Or for a more modern take on using cast iron to keep up with the Joneses, position a small pair at your front entry or mount them on -masonry posts at the end of your driveway to boost your home's curb appeal.