Mahogany Charm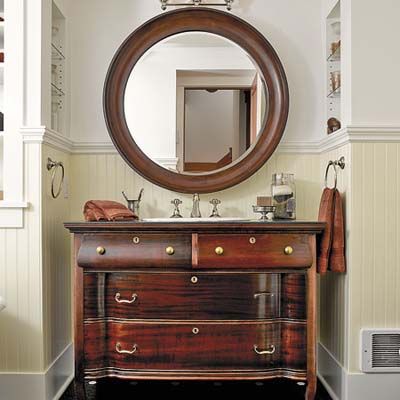 A sink vanity made from furniture, paired with creamy beadboard, add warmth to this bathroom while white walls and ample windows keep it bright.
See the gorgeous results of a growing family forced into a houseboat expansion within Seattle's height limits and the structure's original style.
A Dusting of Cocoa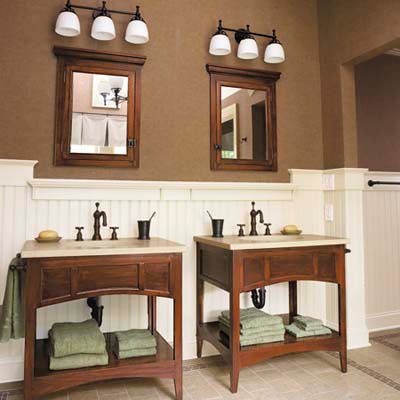 Creamy beadboard wainscoting topped with cocoa-colored walls complement mahogany-stained recessed cabinets and matching vanities. A border of stone-look ceramic on the floor picks up the warm woodsy hues.
Frequently hosting their grown kids' friends called for a whole house renovation for empty nesters.
Looking Beyond Color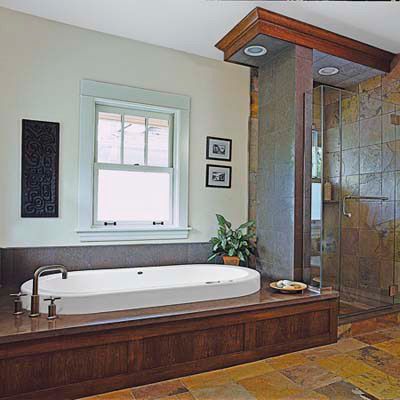 You don't have to use light colors to bring in light. Consider texture. Here, the sheen of multi-colored slate tiles reflects plenty of light coming from outdoors.
There are lots more wood-adorned rooms in this remodeled 1910 American Foursquare beauty.
Framed Beauty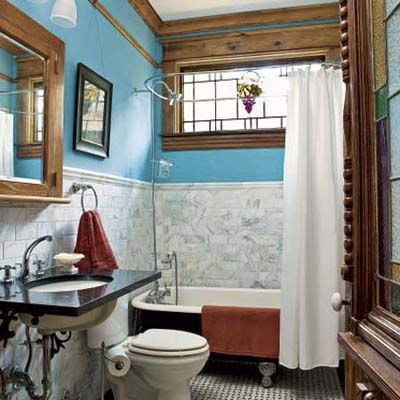 A salvaged stained-glass window found a new home in this bath's detailed wood door, right beside wood trim and marble wainscoting.
Lots of salvaged materials and sweat equity brought a rough 1911 bungalow back to life.
The Dark Side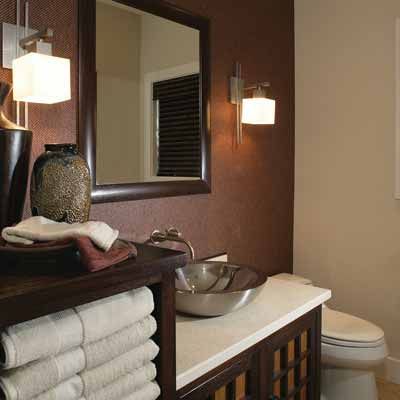 A dark wall in a small bathroom creates the illusion of a larger space.
Explore more innovative small bathroom design ideas from the National Kitchen & Bath Association's Design Competition archives.
Go With the Grain
Showcase the patterns found in natural materials. Here, the sink cabinet shows off the wood's striking grain.
Simplify shopping by browsing our comprehensive bath light fixtures guide.
Recycled Meets Newly Harvested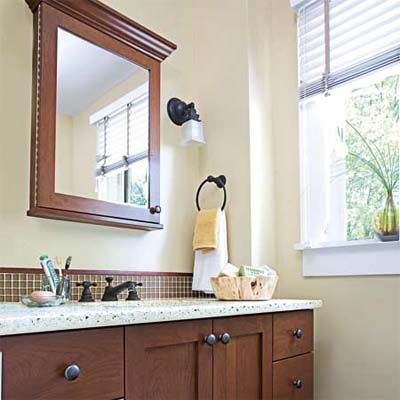 A concrete-and-recycled-glass countertop balances out sustainably harvested cherry.
See other vintage-style tactics used in this beautiful green bath redo.
Paint a Pattern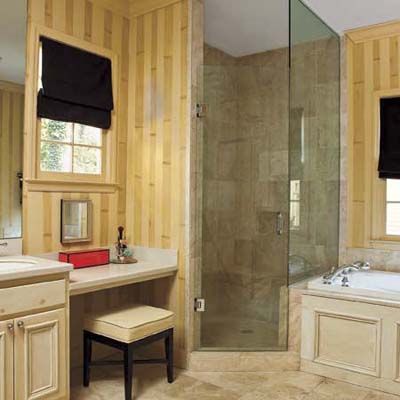 A bathroom's humid environment can be tough on wall coverings. Instead, consider using paint to add a design.
Read all about the practical considerations of designing a half bath.
Beyond Browns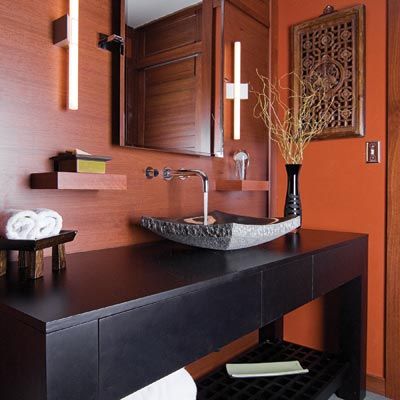 Red? A neutral hue? Sure. Think of the red clay that gives the color of terra-cotta pots its zing.
Browse other zen bath design and decor ideas.
Soothing Just to Look At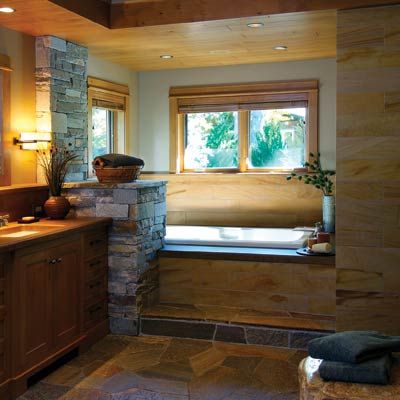 Such an earthy, organic space made with a mix of three different rocks and a lowered soffit feels as though it were carved out of a hillside—a hillside with great views.
No Integrity Lost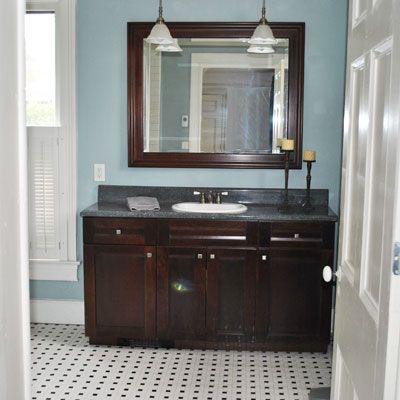 Black and white subway tile keep the bells and whistles—like in-floor heating and a multi-jet shower—of this former spare room from looking out of place.
Inspired? Check out more bath transformations from our readers.
Variations on a Tile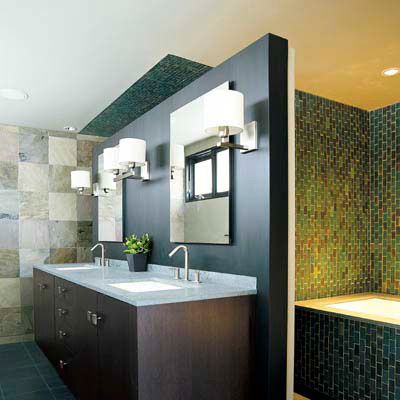 Can't decide on a tile for your bathroom's walls? Pick more than one. Here, the bath walls are wrapped in variegated green tile, while squares of marble grace another wall.
The ways to use tile in a bath number as high as tile variations. Get inspired by these stylish ways to use tile in baths.
Old With New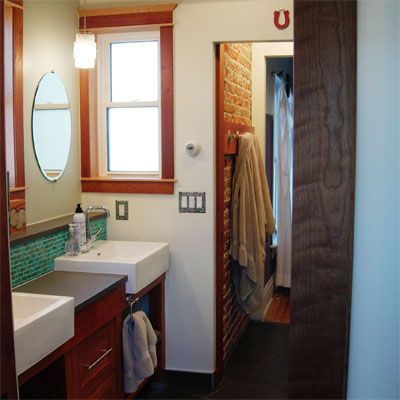 Deep wood trim and custom cabinetry play off modern elements without sacrificing the "old house" feel.
Browse through more outstanding reader bath renovations.
Period Perfect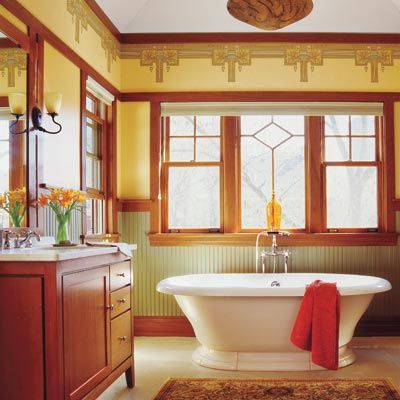 The wooden trim and vanity in this American Craftsman-style bath follows the movement's edict of sticking to natural colors in order to showcase the material.
Use this guide to create a vintage-style bath to fit your style.
Warm and Welcoming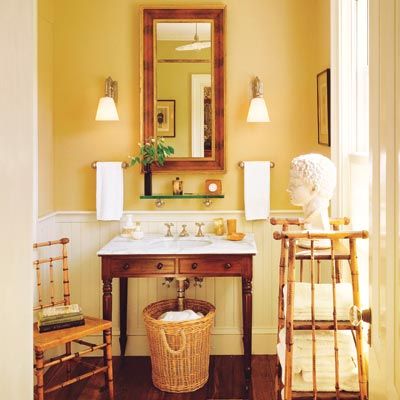 Lacquered mahogany, bamboo furnishings, and a wooden floor enliven this half bath.
Half baths can boast a well-furnished look too. See how to play up a small space in the style of a British colonial-style powder room.
In Tune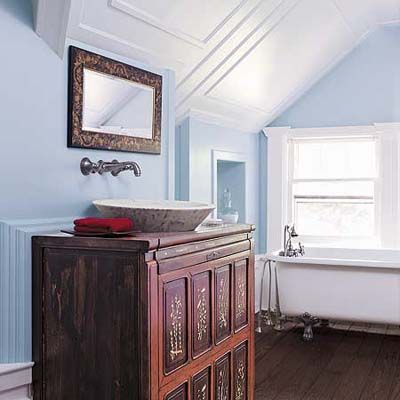 Tranquil blue walls and cabinetry in hues of red and orange strike a chord together.
Browse the redos TOH editors picked as the best bath before and afters.
Furniture Reincarnated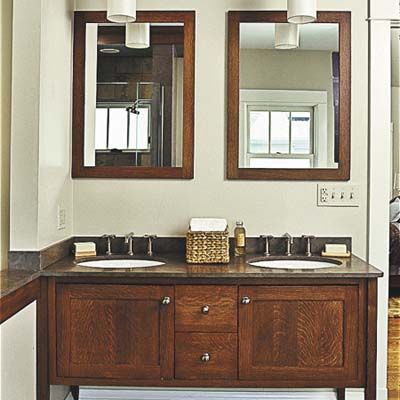 Stained oak mirror frames and matching cabinetry take center stage in this bathroom.
Killer Color Combo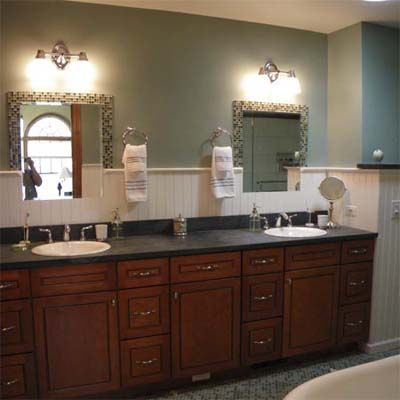 If the pairing of red and green makes you think of Christmas, think again. Here, the deep tone of the cherry-colored cabinets and the muted greenstone painted on the walls work together beautifully.
See some of the most notable reader bath remodels.
Burnished Beauty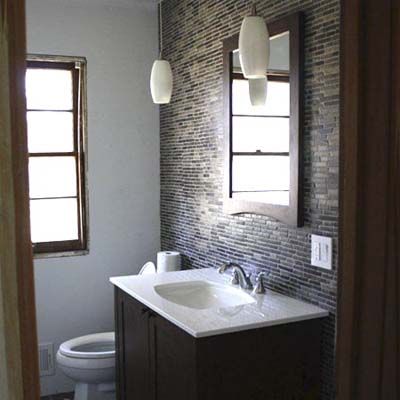 Clean lines, a white wall and a white vanity top add lightness to dark wood and stone tiles.
Seek Salvage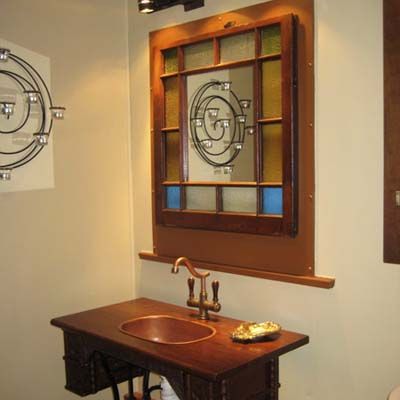 For a sprinkling of color, turn an old glass window with bits of jewel-toned stained glass into a vanity mirror.
Running Hot and Cold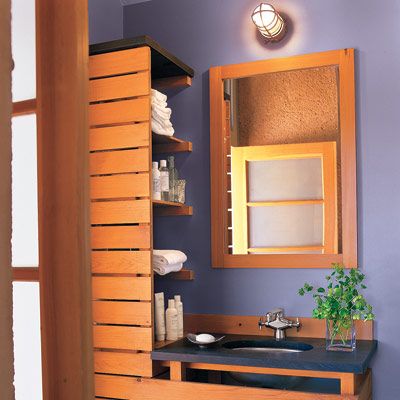 Gray-periwinkle walls make orange-hued mahogany pop.
Rather than start from scratch with a whole redo, consider these ways to dress up a bath on a budget.
Mix it Up
You don't have to get all matchy-match with the woodwork. Here, deep-red wood frames anchor the windows, and mirrors make the space feel roomy—as does the pale honey-colored cabinetry. Its light hue makes it blend visually with the similarly tinted floor and walls.
Marble Marvel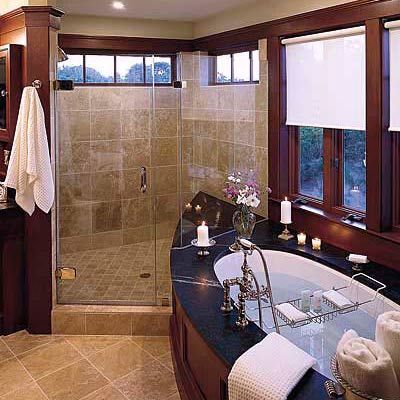 A bath with an organic shape complements its veined black stone surround.
Classic Touches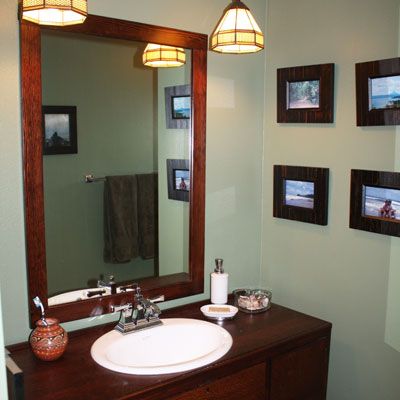 An antique buffet-turned-vanity and baseboard wood trim used on the mirror bring cool, classic style to this bath remodel.
Fit for More Than a Stable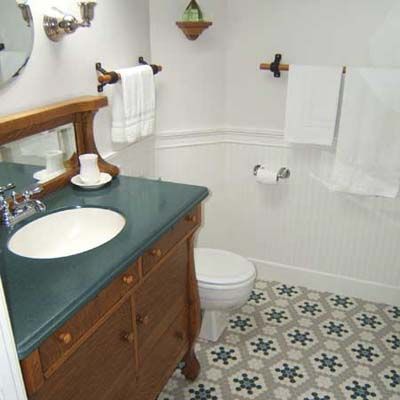 Period wood accents and a refurbished sideboard fool the casual onlooker in this converted carriage house bath.
See how readers took what they learned in TOH and wowed us with bath remodels.
Extra Storage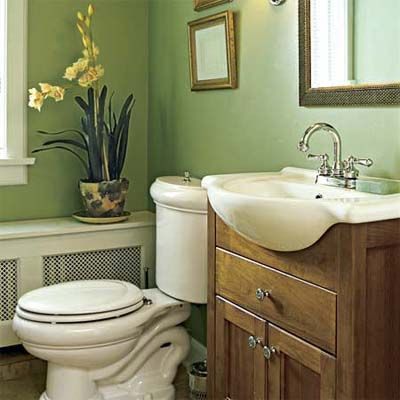 A commanding dresser-style vanity and classic radiator cover surpass the bare minimum of a half bath.
Planning for a small space doesn't have to cramp your style. Half baths are full of decor possibilities.
Fit for a Gentleman
Dark-stained maple custom cabinetry adds a rich masculine flair to marble floor tile and a claw-foot tub.
A leaking shower created the perfect excuse for a homeowner to trade in outdated style for something straight out of a traditional gentleman's club.
Suite Worth Sharing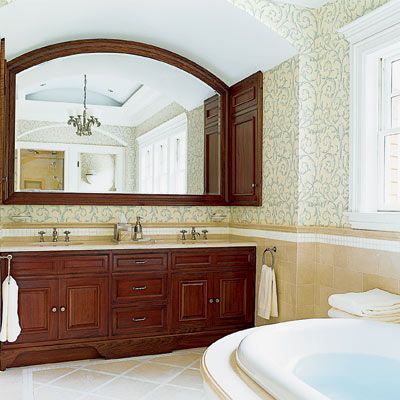 A niche-filling vanity with his and her sinks, and gracious mirror make this traditional bath feel grand.
Find out how owners merged separate his and her bath designs into a luxurious retreat.
Frank Would Be Proud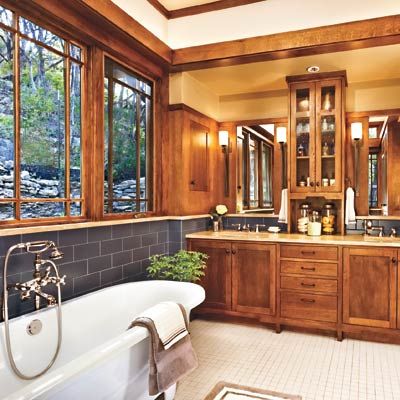 Rift-sawn white oak cabinets play off of clerestory windows and a limestone pencil edge in the style of Frank Lloyd Wright.
Flooding cleared the way for Prairie and Craftsman style in the master bath redo.
Commode or Bench?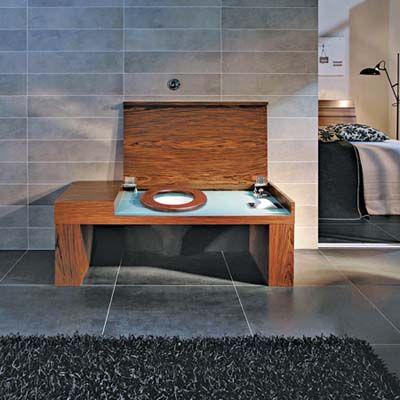 Flip down the wood veneer lid of this commode to use it as a bench.
See other streamlined bath and kitchen solutions to help hide the clutter.
Chic Waterside Retreat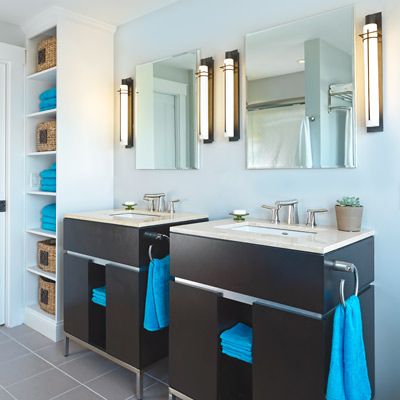 Dark wood his and hers vanities and rubbed-oil bronze fixtures keep a seaside Cape Cod bath from looking beach kitschy.
See the transformation of TOH TV's Barrington Beach House Project.
Sumptuous Style on a Modest Scale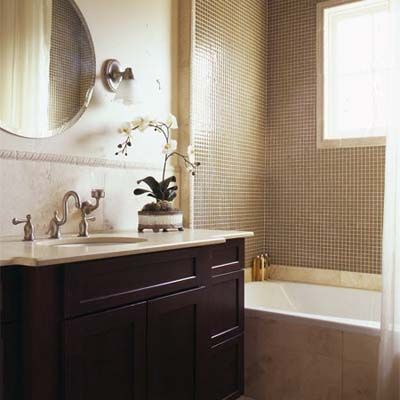 A small master suite can still accommodate a luxurious bath fit for royalty. A deep-toned vanity provides lots of storage, leaving more room to admire the tile shower surround.
See the stunning results of the TOH TV New Orleans House project.
Shabby-Chic Appeal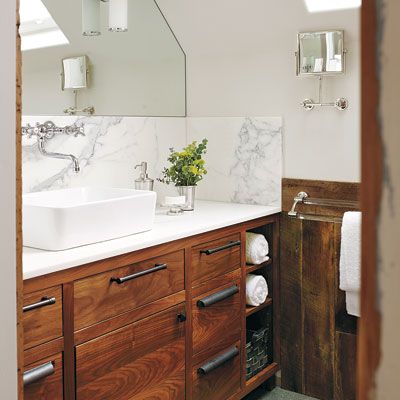 Barn wood finds a new home as wainscoting in this rustic-looking bath with chic touches and genius open-shelving storage.
View other salvaged finds in this charming 1911 rowhouse redo.
Crisp and Airy Master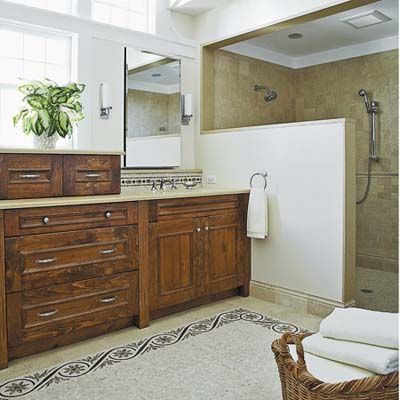 Dark wood from extra countertop storage keeps this former enclosed sleeping porch from looking too dainty.
A Victorian-era house got a full makeover—will the help of TOH TV—and became a lifetime home for a family.