Remodeled Houseboat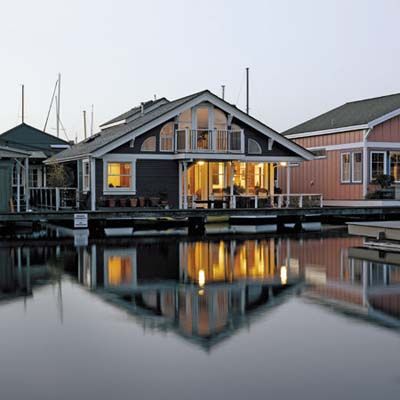 In 2001, after deciding to start a family, my wife, Krissy, and I realized that our 1,390-square-foot one-bedroom houseboat on Seattle's Lake Union wouldn't be big enough for us for long. We decided to add on and reconfigure the inefficient layout, which required us to walk through four rooms to get from the main entrance to the home's only bathroom. Seattle laws limit the height of floating homes to 18 feet off the water, but I didn't want some boxy structure with low ceilings just to get extra square footage. I fought to maintain the look and feel of the original gabled structure. I decided to keep the south half of the house, with the living room, dining room, and one of the home's two upstairs sleeping lofts, largely intact. At the north end of the house, I planned to raise the roof and add a gabled dormer to fit a full-fledged master suite upstairs and a bedroom downstairs. The two rebuilt bedrooms and a new bath added only 30 square feet of space but helped preserve the houseboat's gabled charm.
Houseboat Homeowners with Their Kids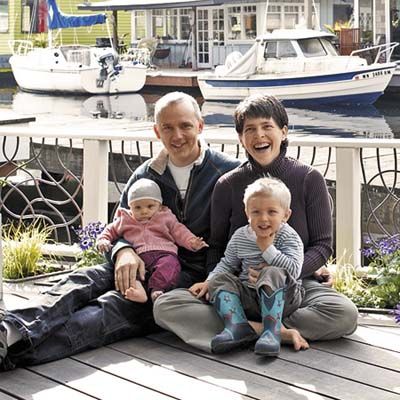 I had spent nine months working with a contracting firm called Envirotecture, which specializes in houseboats, but I'd never done any designing. So I spent months doing research, teaching myself to use a CAD program, and consulting my old boss, contractor Eric Hogeboom. All that work paid off when an engineering firm and the building department signed off on my design. The addition's extra weight meant I'd need more flotation. Our houseboat was built on a raft of old-growth cedar logs, but after a century underwater, they weren't very bouyant. About 85 steel drums and some Styrofoam had been added over time, but it was all poorly placed, and the barrels were rusting apart. So, armed with scuba gear, I removed this extra flotation from half of the house. I did several dives to add and move around 80 new 55-gallon plastic barrels, recycled from a local soda-bottling plant.
Entry Area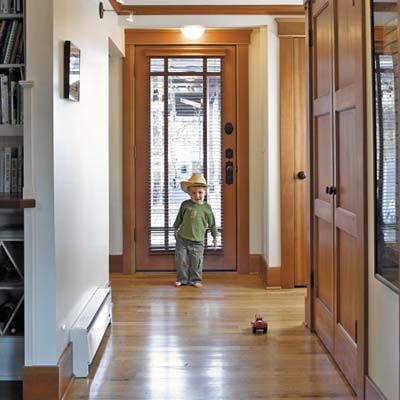 To make the house as eco-friendly as possible, we used recycled and salvaged pieces when we could. For the flooring in the entry and living areas, Krissy got her hands on some old maple from a circa-1865 linen mill in North Carolina. It was only $3.60 per square foot. Even at that price, I almost sent it back. It looked terrible, with cracks, splits, metal embedded in many boards, and lots of holes. After installing the better boards, I spent two days filling something like 2,000 original nail holes with epoxy. But once it was sanded and finished it was stunning.
Kitchen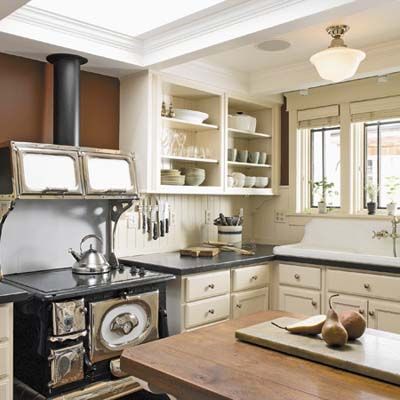 The flooring and peninsula in the kitchen are also reclaimed: teak plants from a mid-19th-century Dutch colonial building in Indonesia. We happened to find the exotic boards in the back room of a local furniture importer. The refinished shell of an antique wood-burning range encases a new glass cooktop. A black stovepipe masks the ducting that leads to a vent fan in the attic. The 5-foot salvaged sink came from a local hotel that was condemned after an earthquake. I saved about $10,000 by buying off-white, stock kitchen cabinets at Home Depot, then tricking them out with extra trim and matching paint.
Kitchen Message Center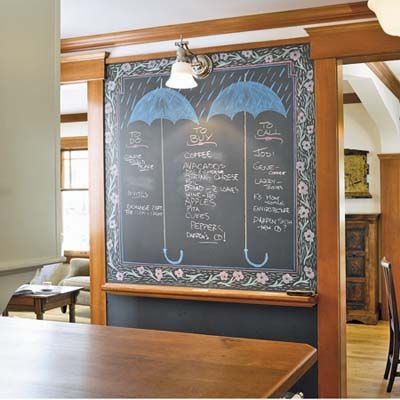 A 4-by-7-foot piece of reclaimed schoolhouse chalkboard, installed on a kitchen wall that opens to the dining room, serves as the message center. The rest of the slate was honed to make counters for the kitchen and a bathroom vanity. After much sanding to remove deep scratches, it looks beautiful. The counters have been in place for over two years now and have no stains or major scratches, though we are careful about placing heavy pots and pans on them.
Dining Room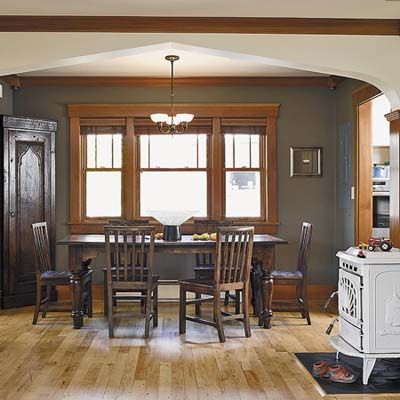 The dining room's window casings, which match the home's trim, are sustainable fir sanded smooth, then topped with a custom-blended stain and three coats of clear finish.
Living Room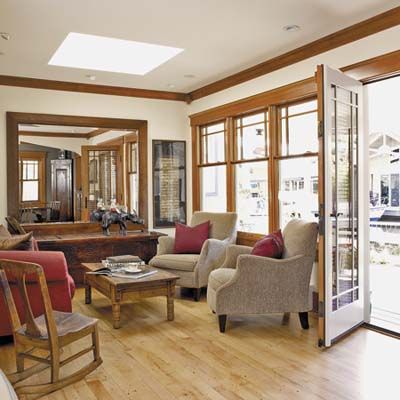 A bank of nearly floor-to-ceiling windows, a French door, and a skylight—one of eight in the house—bring in enough natural light even on cloudy days to brighten the large living room.
Guest Bathroom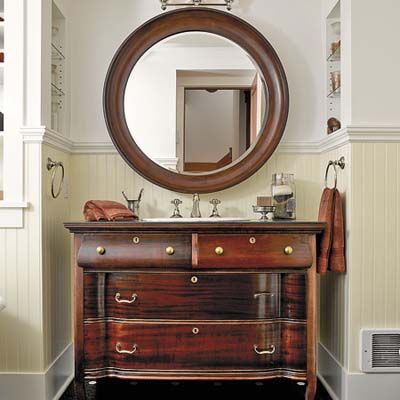 In the guest bath, we converted a mahogany dresser, found at a local Salvation Army store, into a vanity topped with honed reclaimed slate.
Master Bathroom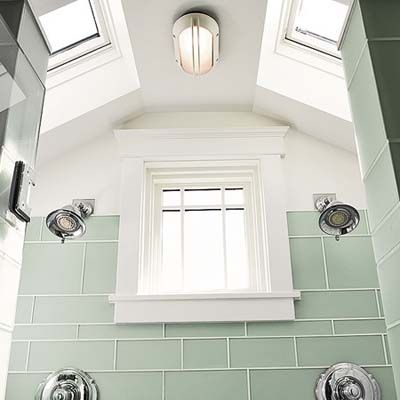 To get the feeling of an outdoor shower, which we originally wanted, we installed two skylights and a window in the master bath.
Master Bedroom Built-in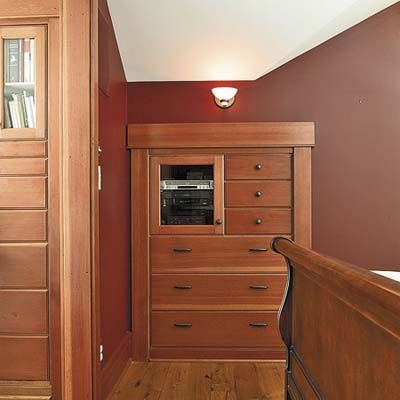 One of several built-ins, this fir storage unit in the master bedroom holds clothing and audio equipment.
Plexiglas Window in the Floor
The whole family enjoys peering through the inch-thick, 2-foot-square Plexiglas window in the floor outside the first-floor bath. There we can view the houseboat's original timber raft, as well as crawdads that scuttle over it and fish that swim in the waters below.
The Deck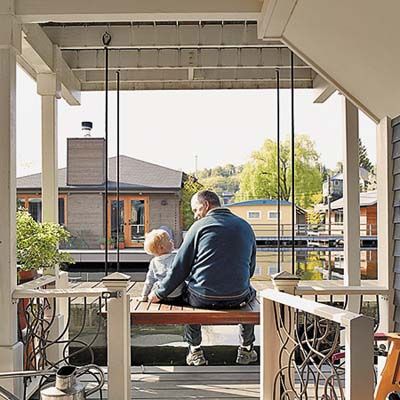 I gave similar attention to the exterior, laying out sustainable Brazilian redwood decking, creating a floating garden with built-in planters and a two-person swing, then hand-weaving copper tubing into a curvy, whimsical railing. It helps keep Devon, now 3, and his 8-month-old sister, Sophie, safely away from the Lake Union waters that we all love so much.
What I Did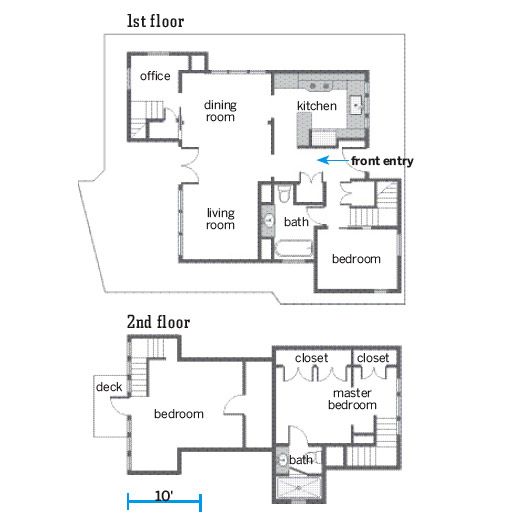 Renovated a century-old houseboat.
Remodeling cost: $250,000
Time frame: 4 years
Where I saved: Used salvaged materials and did most of the work myself.
Where I splurged: Wood windows, doors, and trim that I had to sand, stain, and finish.
What I'd do differently: Not use sanded glass bath tile. It's beautiful, but though I pretreated with a sealer before grouting, I had to spend three days with a random-orbit sander taking off a grout haze of silicone caulk that remained.
Biggest challenge: Trying to build a square, level, and plumb addition without being able to use two normally indispensable carpenter tools: a level
and a plumb bob.
How I solved it: Running lots of string lines and retaking lots of measurements.
Though it added only 30 square feet, the new layout accommodates three finished bedrooms (two with extra headroom), a second bath, and lots more storage.