There Were Bullets in the Siding and Bars on the Windows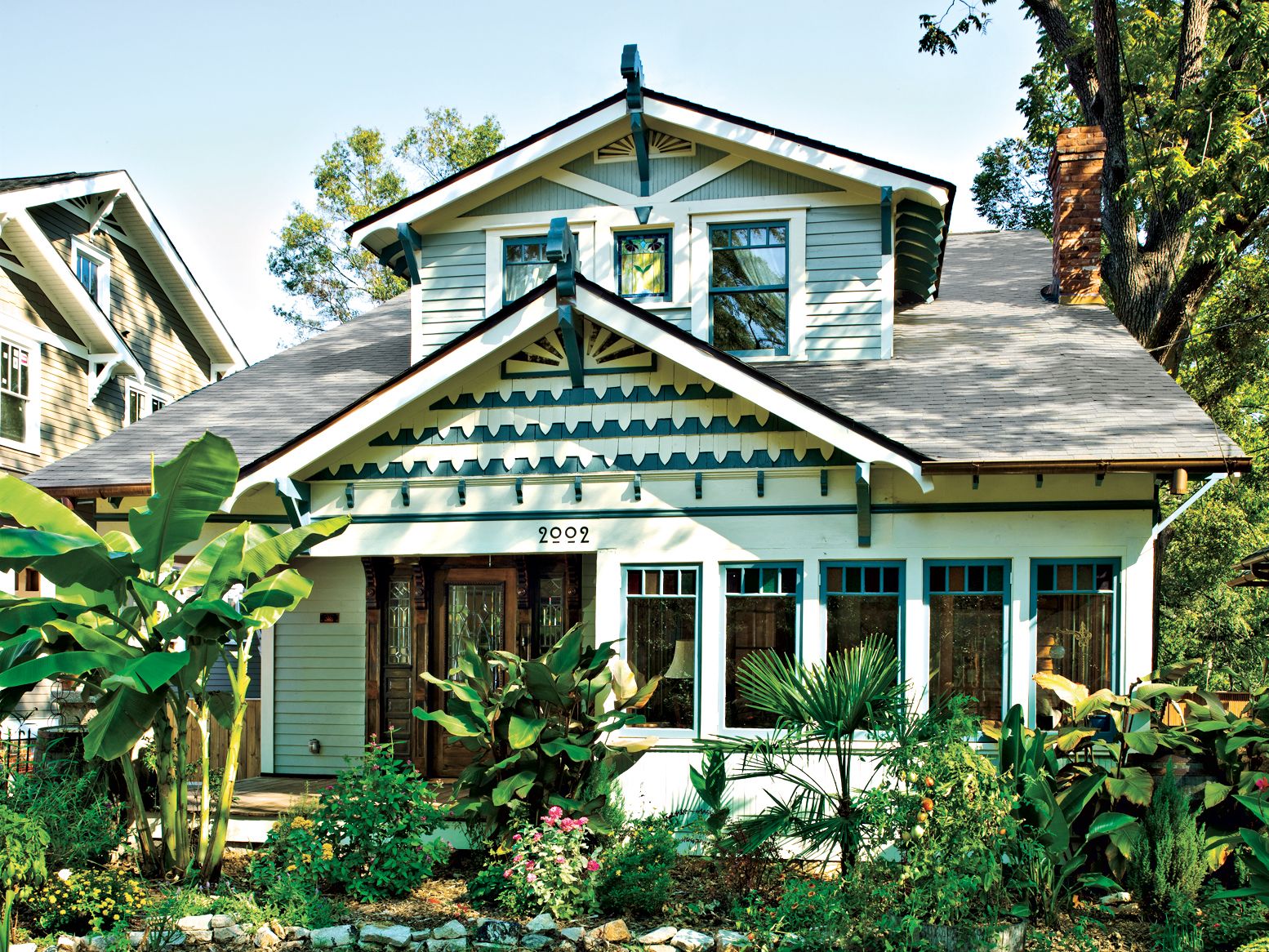 I wanted to buy this house from the first time I laid eyes on it, back in 1998. It was just so sad looking. I thought, I need to fix it up.
The 1911 bungalow was one of three vintage houses that sat in a row on the same block in the Kirkwood neighborhood of Atlanta, Georgia. While the area was starting to revitalize, the house bore the marks of its rough recent history: Iron bars secured the living room windows, and bullets were lodged in the siding. We learned at the closing that two people had been murdered on the site.
Still, the solid heart-pine house had character and potential, even if its cedar shingles and roof were rotting from neglect. We desperately wanted to save it. But the owner, who showed up every three months to mow the lawn, refused to sell, though he rented it just once in five years.
Shown: White and cool green paints highlight the architectural features—including replicated horse-head-shaped gable ornaments—on the restored 1911 bungalow.
Exterior: Before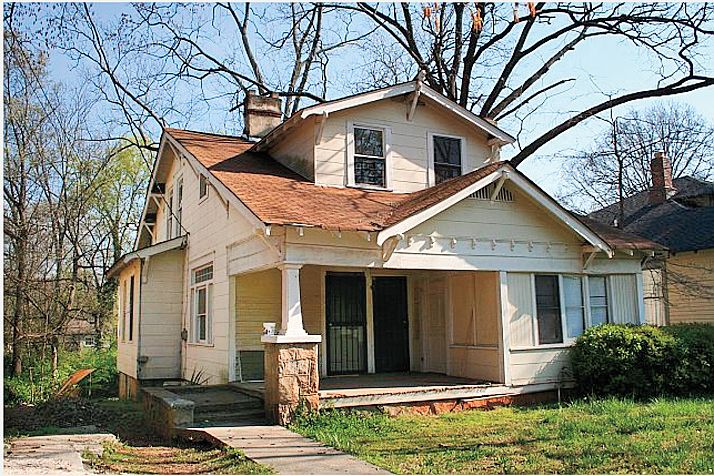 My partner, Paula Rose, and I settled for the house next door, where we had our daughter, Walker. For five years, we'd sit on our back deck and see squirrels, opossums, and raccoons run in and out of holes in the chopped up house with boarded-up windows and bland beige siding. The backyard was a 12-foot-high patch of kudzu.
Then the owner changed his mind, and we leapt at our chance. We bought the house in 2005 and immediately began gutting the space—but saved everything of value. We thought the house would be a challenge but nothing extraordinary. Well, we were in for a surprise. A few weeks into the project, while on vacation in Puerto Rico, we got word that the third vintage house on our block had been set on fire, and the blaze threatened both the house we were working on and the one we were living in. Both homes survived with no structural damage, but it was a close call.
Sadly, the fire did kill a 200-year-old oak next door, but I talked the tree surgeon into leaving the two truckloads of wood chips it had become. I spent weeks carting a bit every day until I had shoveled a one-foot-deep layer of mulch onto the front yard. Previously, the dirt was red clay and incredibly acidic, but everything I plant just goes nuts now.
Sunroom: After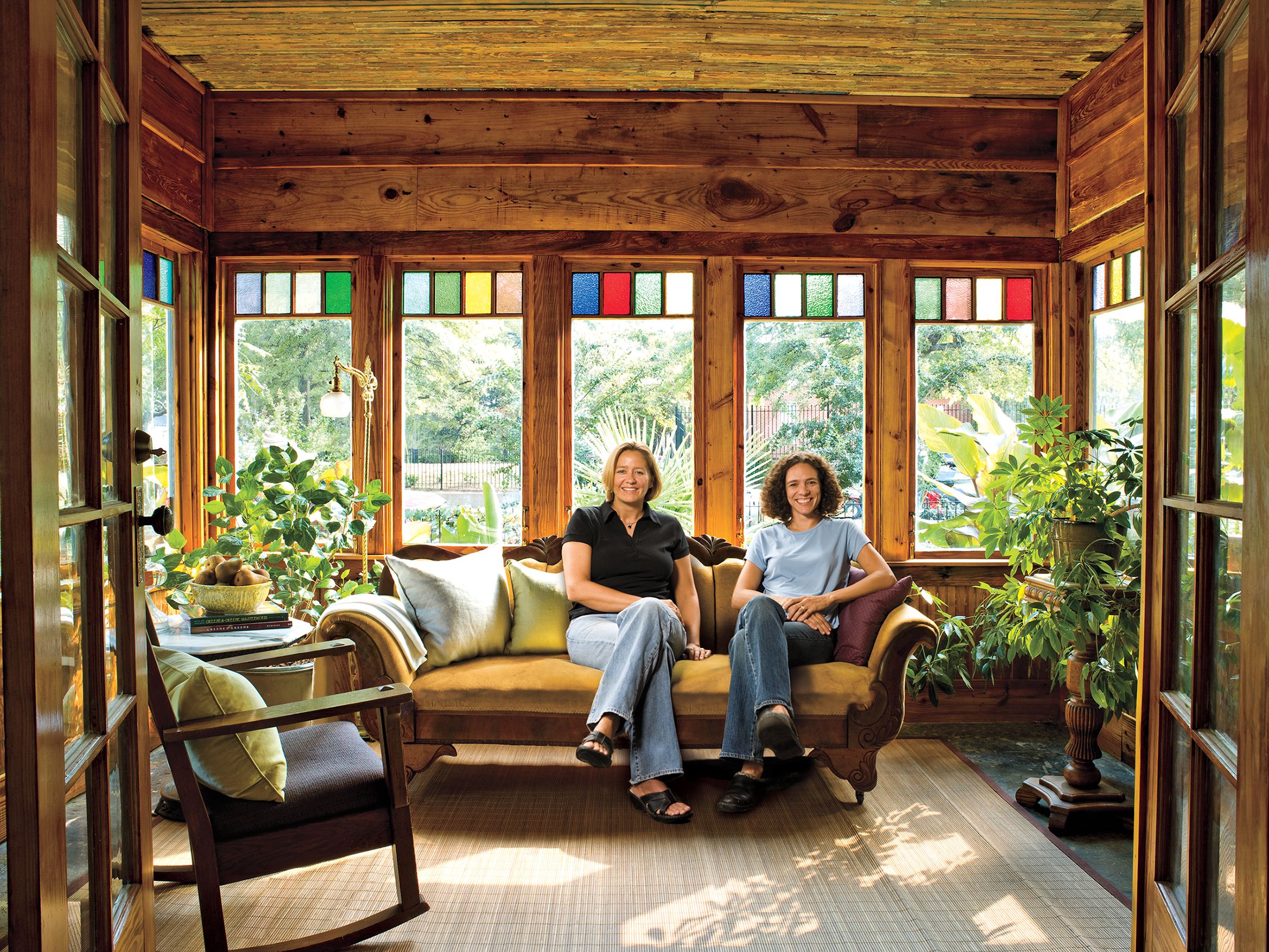 Originally, we meant to just remodel and sell the house because we loved living next door. Having turned a restoration hobby into a business years ago, Paula and I simply wanted to restore the place with integrity before someone tore it down. We did some detective work to figure out the original layout of the house, which had been converted to a triplex in the early 1970s, and began tearing down the rotted back-porch-turned-kitchen to make room for an addition to expand the interior's 1,500 square feet.
We wanted to restore and rebuild the house in a way that created the smallest carbon footprint possible, so we reclaimed and reused as much material as possible. We also chose eco-friendly systems when we could, including a tankless water heater.
Shown: Homeowners Kara O'Brien and Paula Rose in the restored sunroom. Original beadboard ceilings and walls frame new casement windows milled from antique heart pine and accented with stained glass. Salvaged French doors channel light into the adjoining living room.
Custom stained glass and antique leaded glass repair: Tom Marr, Atlanta, GA
Sunroom: Before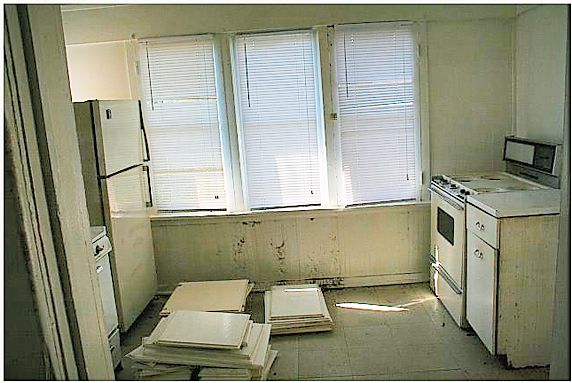 The original sunroom had been turned into one of the triplex's kitchens.
Bathroom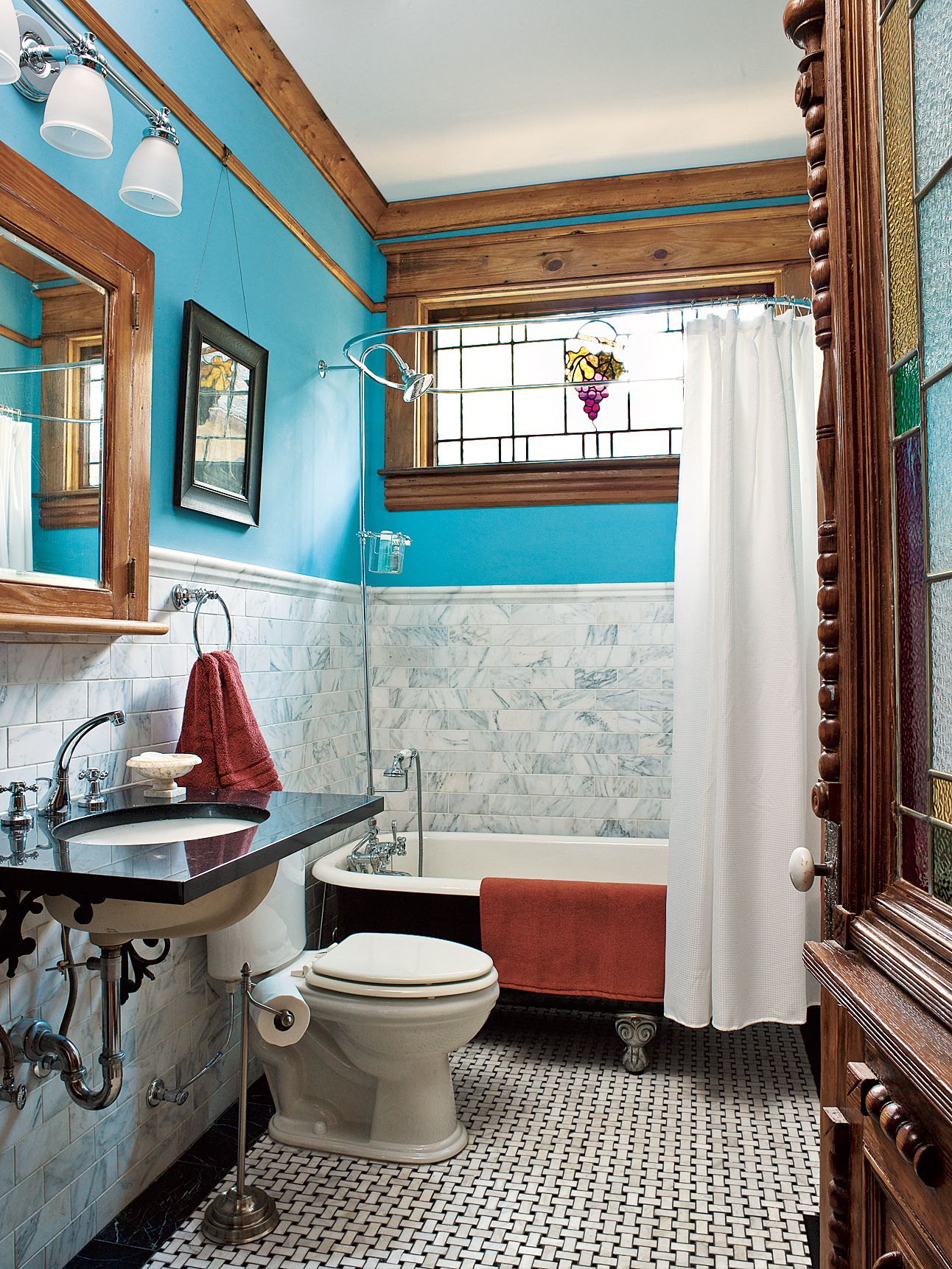 Inside, Paula worked with an architect to design the new back end, which would hold a whole new kitchen downstairs and new bedrooms and master suite upstairs. What we wanted to do was keep the public parts of the house original and upgrade the spaces that people didn't really care about in 1911—like the kitchen, bathrooms, and bedrooms.
Shown: The claw-foot tub in the downstairs bath was original to the house. Relocated from the second floor and refinished, it rests on new marble basket-weave tile surrounded by honed marble wainscot. A salvaged stained-glass window lets in light without compromising privacy.
Claw-foot-tub refinishing: Mike Hildebrand, Surfaces Like New, Atlanta, GA
Stripping Doors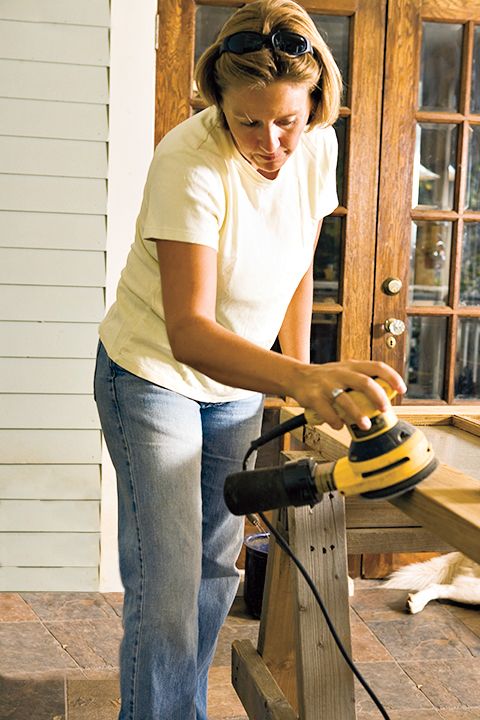 Meanwhile, I set up shop in the backyard to sand and shellac all the interior doors. It was labor-intensive. We had a pro strip the doors, which I sanded by hand before finishing off with amber shellac. I finished about three doors a day.
We also had a crew dig out the basement so that we could pour a concrete floor and store the salvaged ­architectural materials that we accumulate for work there. After a week of having two guys cart out wheelbarrows of dirt for 8 hours a day, we had a mountain in our backyard. We used some to flatten out the yard's slope, and the rest we offered free on Craigslist to anyone willing to pick it up. Surprisingly, we got enough takers that there wasn't any left over to haul away.
Mantel: After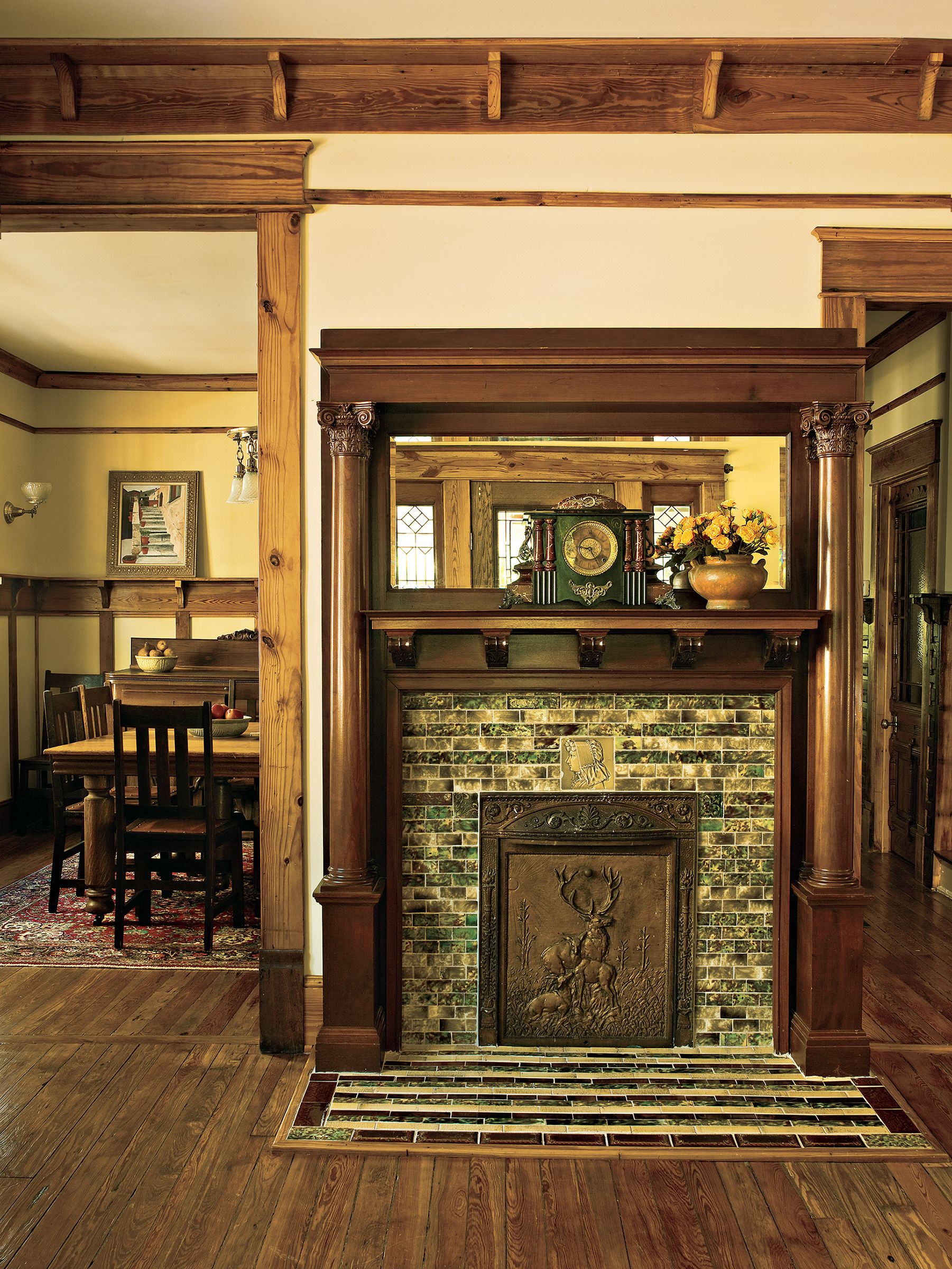 When we bought the grand, salvaged mahogany mantel for the living room fireplace that we uncovered under drywall, I knew I had to move in. Somehow, I persuaded Paula. I mean, how difficult could it be to move next door?
Shown: The homeowners restored the fireplace using vintage tile and a solid mahogany mantel salvaged from a Pennsylvania mansion.
Mantel: Before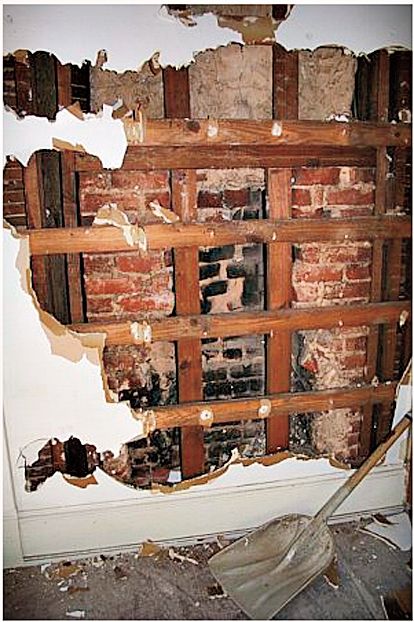 Well, it was horrible. We immediately got a great offer on our house that we couldn't turn down. Then I realized, Uh-oh! The new house isn't ready. For a few weeks, we packed our two Siberian huskies, three cats, and 4-year-old daughter into one of our rental properties. But tenants got their timelines confused and moved in a few weeks early.
We had no choice but to move into a still-unfinished house that had power to only two outlets but lots of soy insulation. With one of Atlanta's worst heat waves coming through that summer, the house was an inferno.
Shown: Demolition revealed a boarded-up firebox in the living room.
Living Through Construction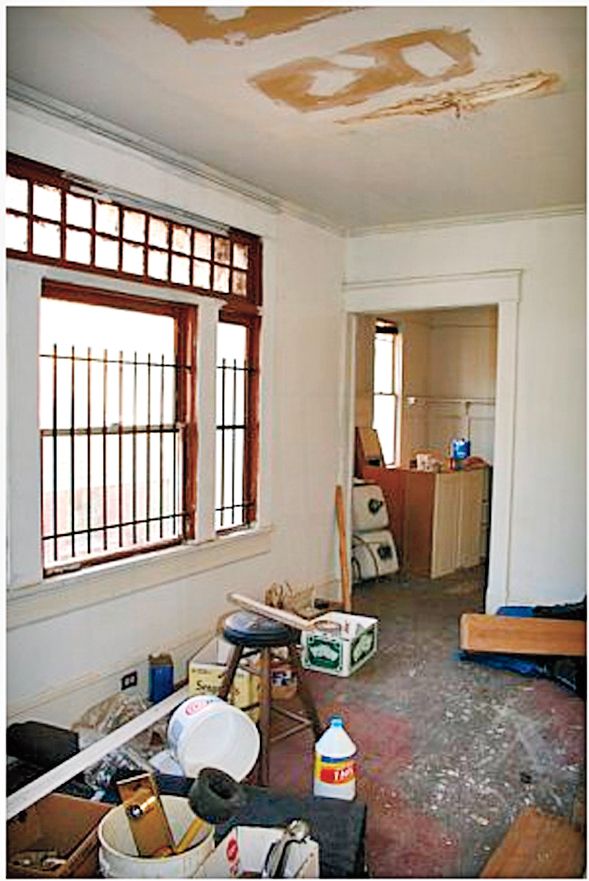 Even with all the windows thrown open and battery-powered fans going, the outside air was cooler than the inside—and it was 111 degrees outside. This went on for four weeks, until we passed our wiring inspection and could run the central air-conditioning. We didn't have the kitchen done for nine more months, but we didn't care. Washing dishes in the tub was no big deal after that misery.
That's not to say life was suddenly comfortable. It had been a while since I'd lived through a remodel. But after spending a few months in our own dusty, noisy, chaotic construction site, with all our belongings boxed up, I have a lot more empathy for our clients.
Salvage Finds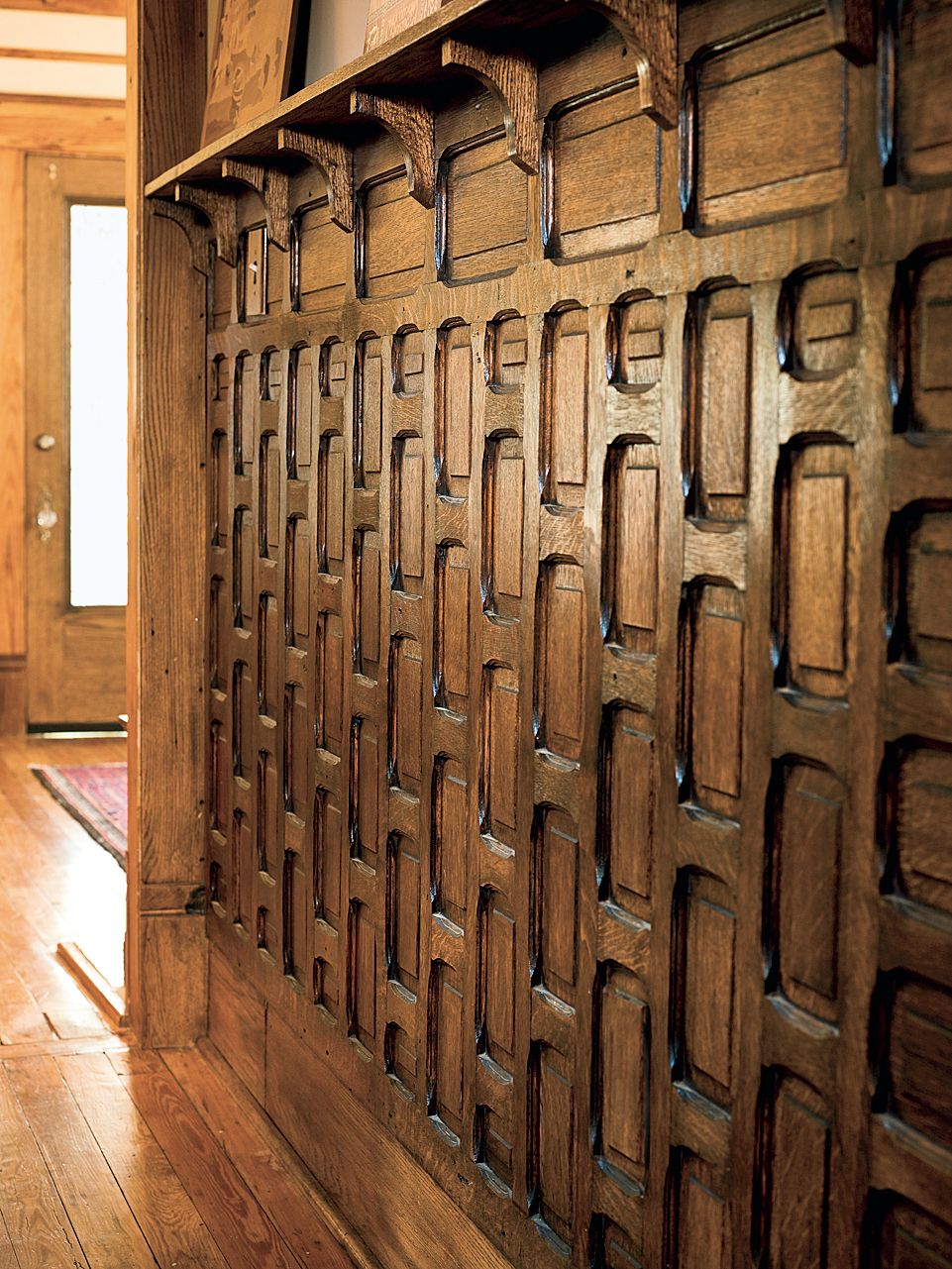 We scoured salvage yards and found amazing pieces: antique stained glass from Ohio, a 19th-century filigree light from Virginia, and an 1890s pink granite sink. Quartersawn oak wainscot with a unique "tiger' grain and chamfered detailing lines the center hall on the first floor. It was salvaged from a late 1800s Tennessee mansion.
Kitchen: Before
The kitchen turned out to be a painful but ultimately rewarding process. It was seriously ambitious, since it involved milling 100-year-old oak floor joists with walnut accents into new, handcrafted cabinets. Several contractors said they just couldn't do them; others quoted us prices that would have bought us a luxury car. We finally hired someone who was inexperienced at custom cabinets but seemed eager to learn. Halfway through, none of us were happy, so we found a cabinetmaker who said he lived for a challenge. He turned out great, and now we work with him often.
Kitchen: After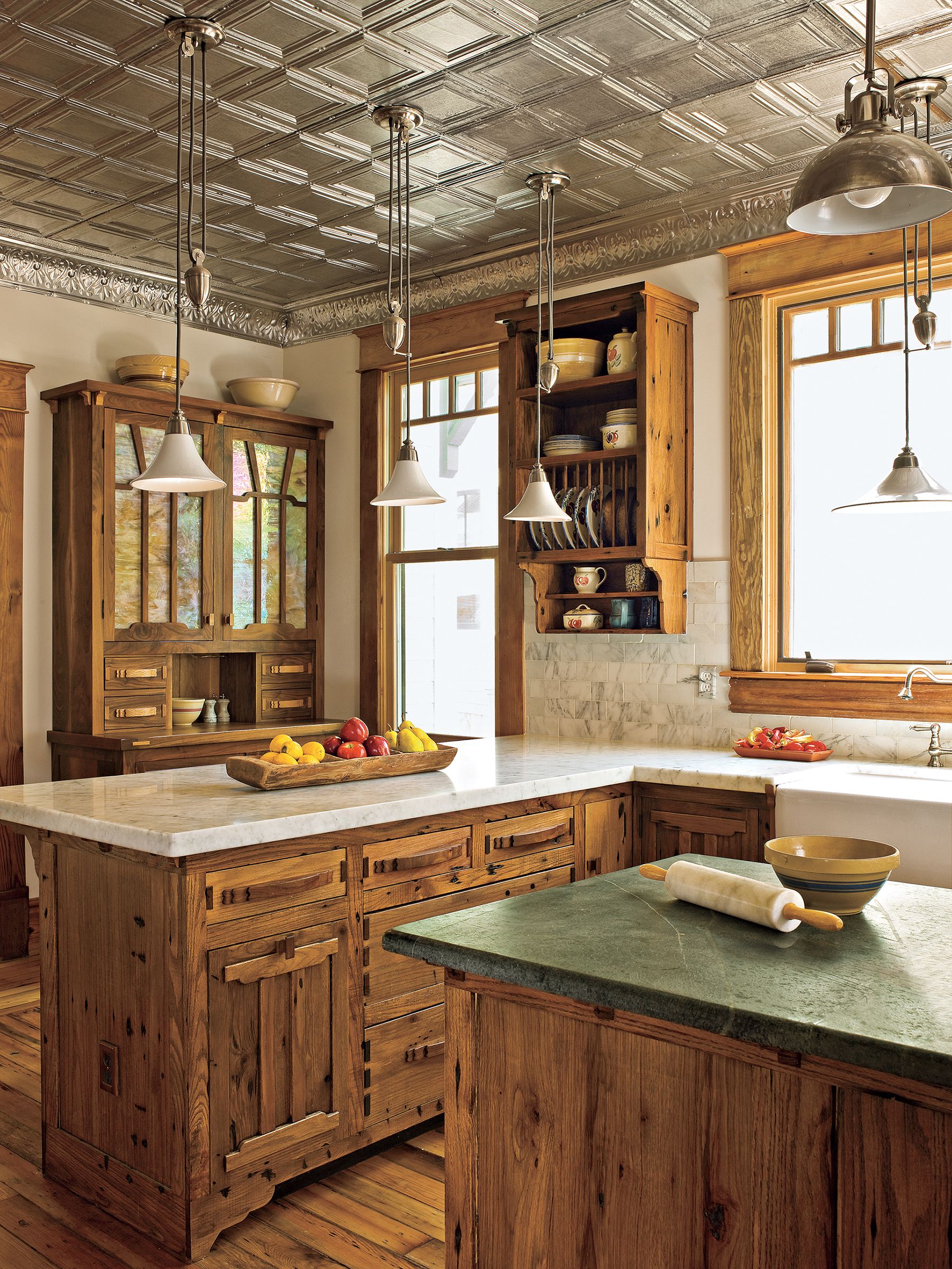 We try to outdo ourselves with each project, but now, two years later, we still think it would be very hard to top this kitchen. That's how much we love and appreciate it. We can't really imagine living anywhere else. Despite all the obstacles thrown our way during the remodel, we would do it all over again—if we had to.
Architect: Brent Drone, Antiquity Architectural
Contractor: Laughing Sun Renovations, Atlanta, GA
Kitchen cabinetry: Greg Michael & Sons, Atlanta, GA
What We Did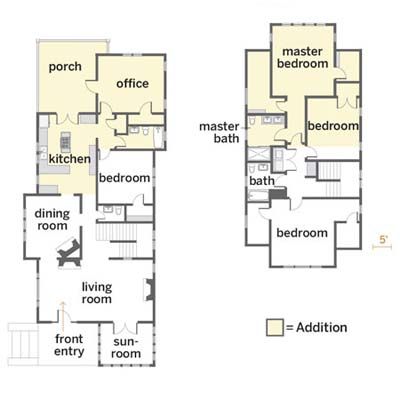 Restored and expanded a chopped-up, unloved 1911 Craftsman bungalow into a polished beauty.
Remodeling cost: $330,000
Time frame: 2 years 2 months
Where we saved: Finishing all the woodwork and doing all the landscaping ourselves.
Where we splurged: The kitchen, first and foremost.
What we would do differently: Install radiant heating in our daughter Walker's bath. The marble gets very cold.
Our biggest challenge: Living through a killer heat wave in an unfinished but insulated house with no air-conditioning.
How we solved it: Going to the movie theater to cool off whenever we thought we had reached the end of our rope.