Making the most of your bathroom doesn't require a complete overhaul—just some creativity and budget-friendly knowhow.
Make Fresh Bathroom Updates Without a Renovation
Learn how to add style and character at an affordable price.
1. Revitalize Your Claw-Foot Tub
Sometimes an old tub simply needs a boost. Rather than replacing an old timeless cast-iron claw-foot tub, save a bundle by reglazing it instead. You can make it a graphic focal point by coloring the outside a deep or vibrant hue, or give it a soft contrast between a white interior and muted exterior, whichever treatment suits your space.
2. Have Fun With Wallpaper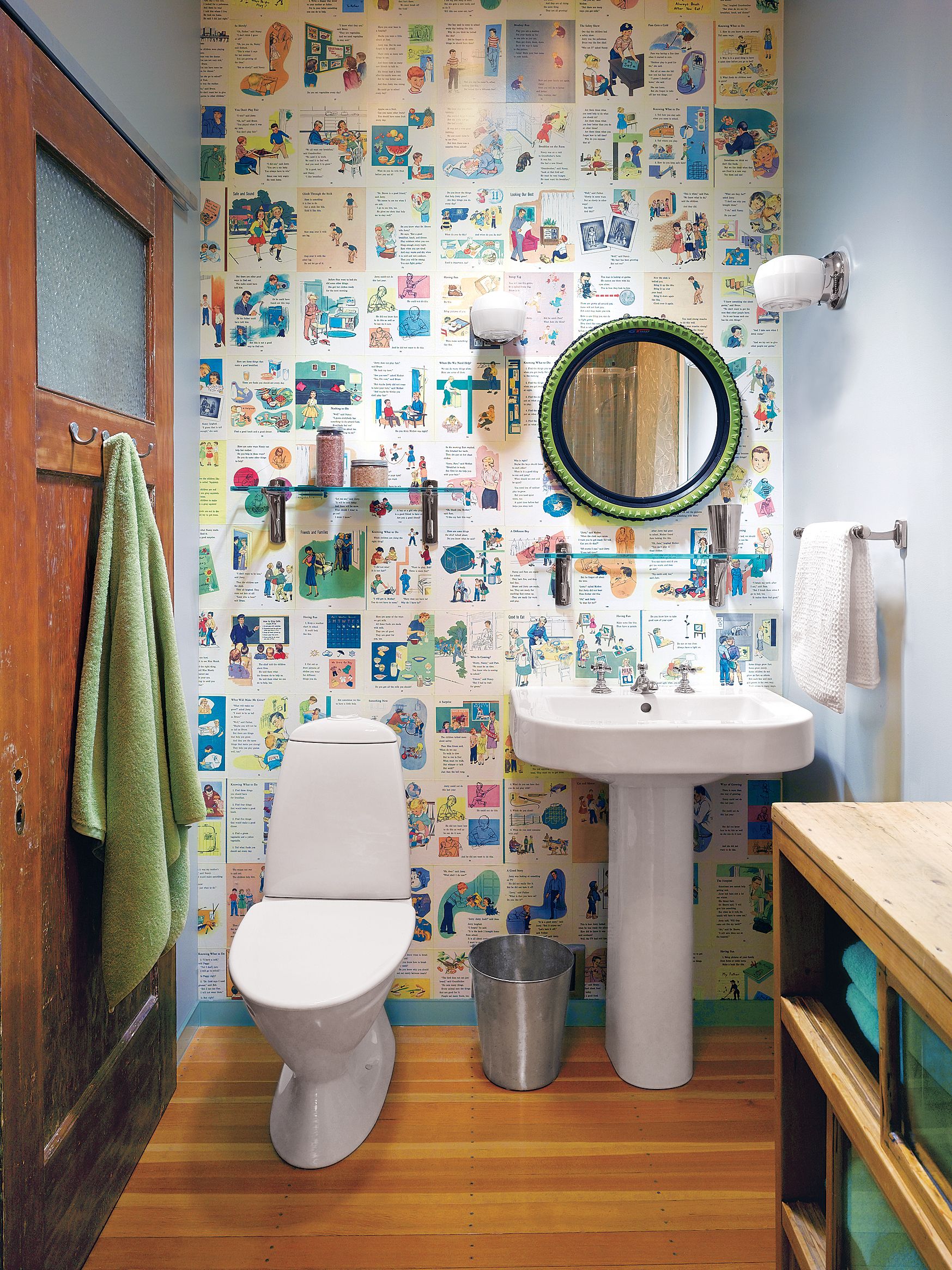 Add color and pattern with coated wallpaper that's easy to clean and can stand up to high humidity, or make your own graphic wall covering, available inexpensive peel-and-stick designs.
3. Use Faux Candles
Use battery-powered LED wax pillars to create a candlelight effect without the fire hazard. Install salvaged wall candle sconces to hold them and give your bathroom instant ambiance.
4. Try a New Towel Rack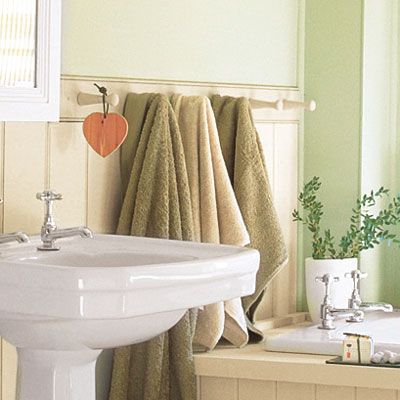 Hang towels within reach on a flea-market coat rack. Just be sure to seal its aged finish under clear polyurethane. Or for a more classic look, turn towels into decorative accents with a row of Shaker-style pegs.
5. Add a Tub Surround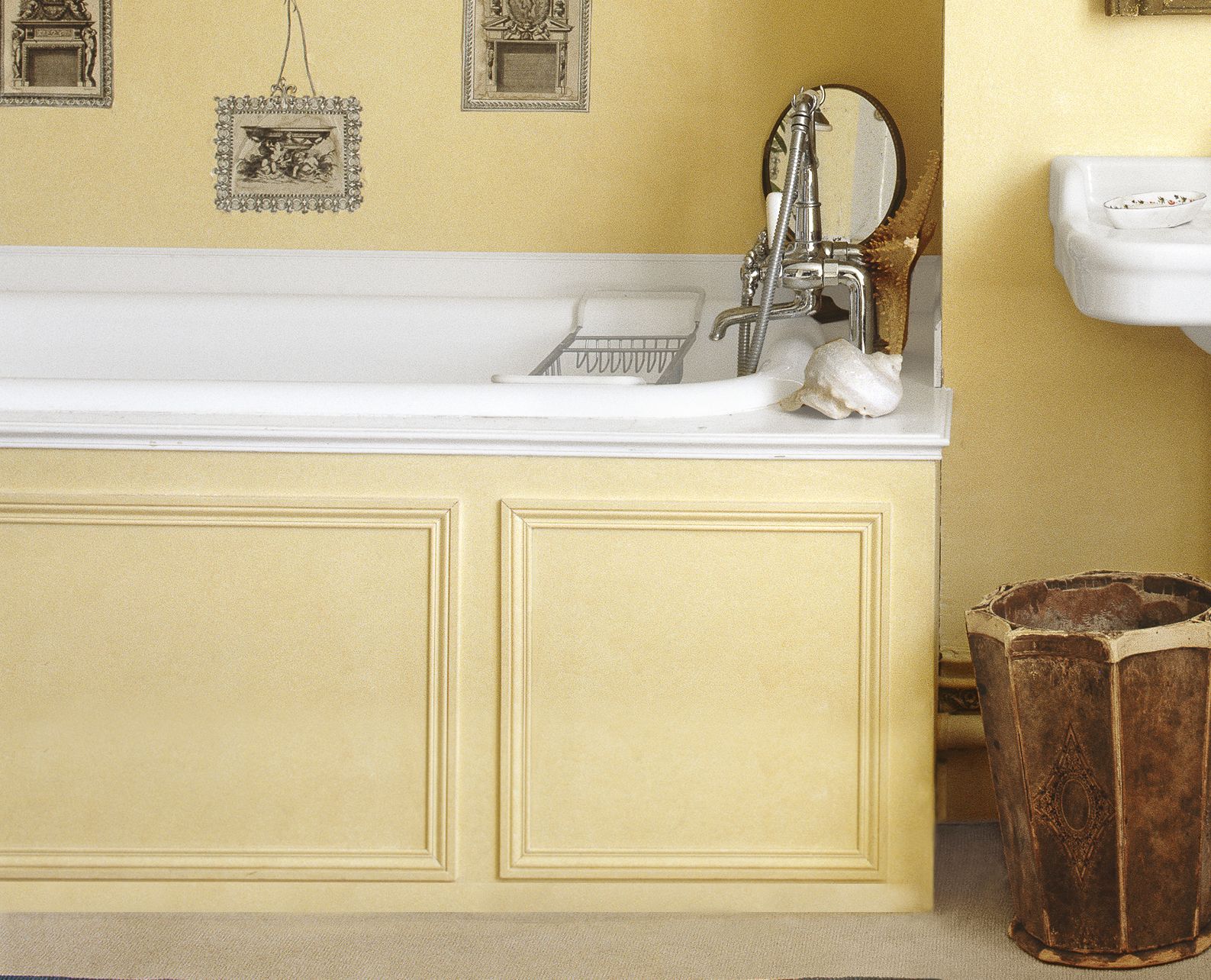 Give a drop-in tub vintage appeal by paneling its exterior. To guard against rot on wood surrounds, make the deck out of plywood topped by a sheet of waterproof laminate, and cap just the edges with solid stock. Use exterior grade beadboard plywood for the sides, and skirt the bottom with baseboard.
Or, craft a rustic and rustproof surround for your drop-in bathtub out of corrugated, galvanized-steel roof paneling. Find all of these materials for less than $100 at home centers.
6. Create a Place for Two
Set between matching pedestal sinks, a tiled-back vintage washstand creates a his-and-hers vanity for a lot less coin than a new dresser-style model.
7. Save By Not Building In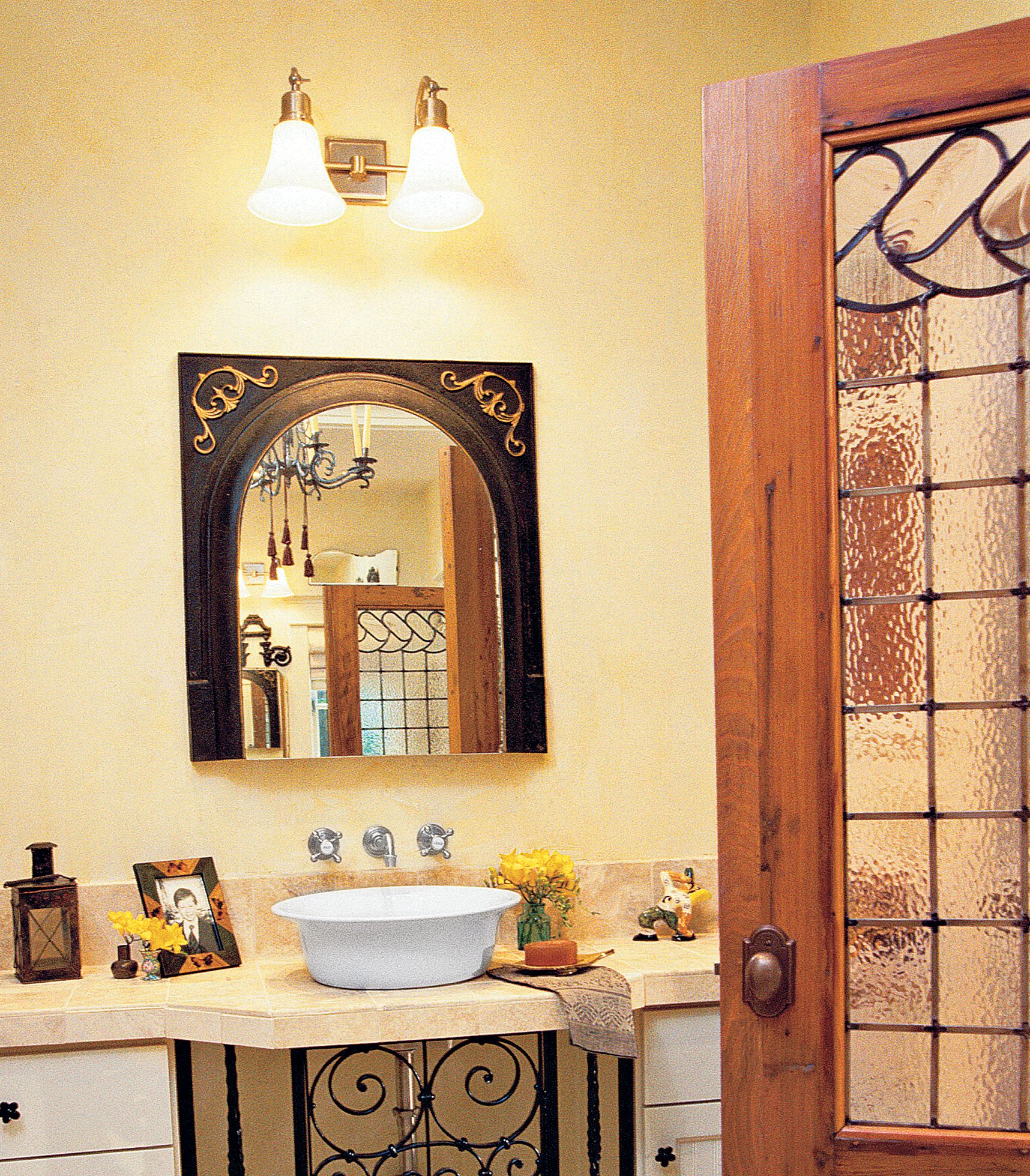 Easy-to-hang flush-mount mirrors don't require wall-busting construction like recessed medicine cabinets do. Because they're easy to swap out, you can change up your bathroom's style on a dime with mirrors from resale shops.
8. Add a Subway Wall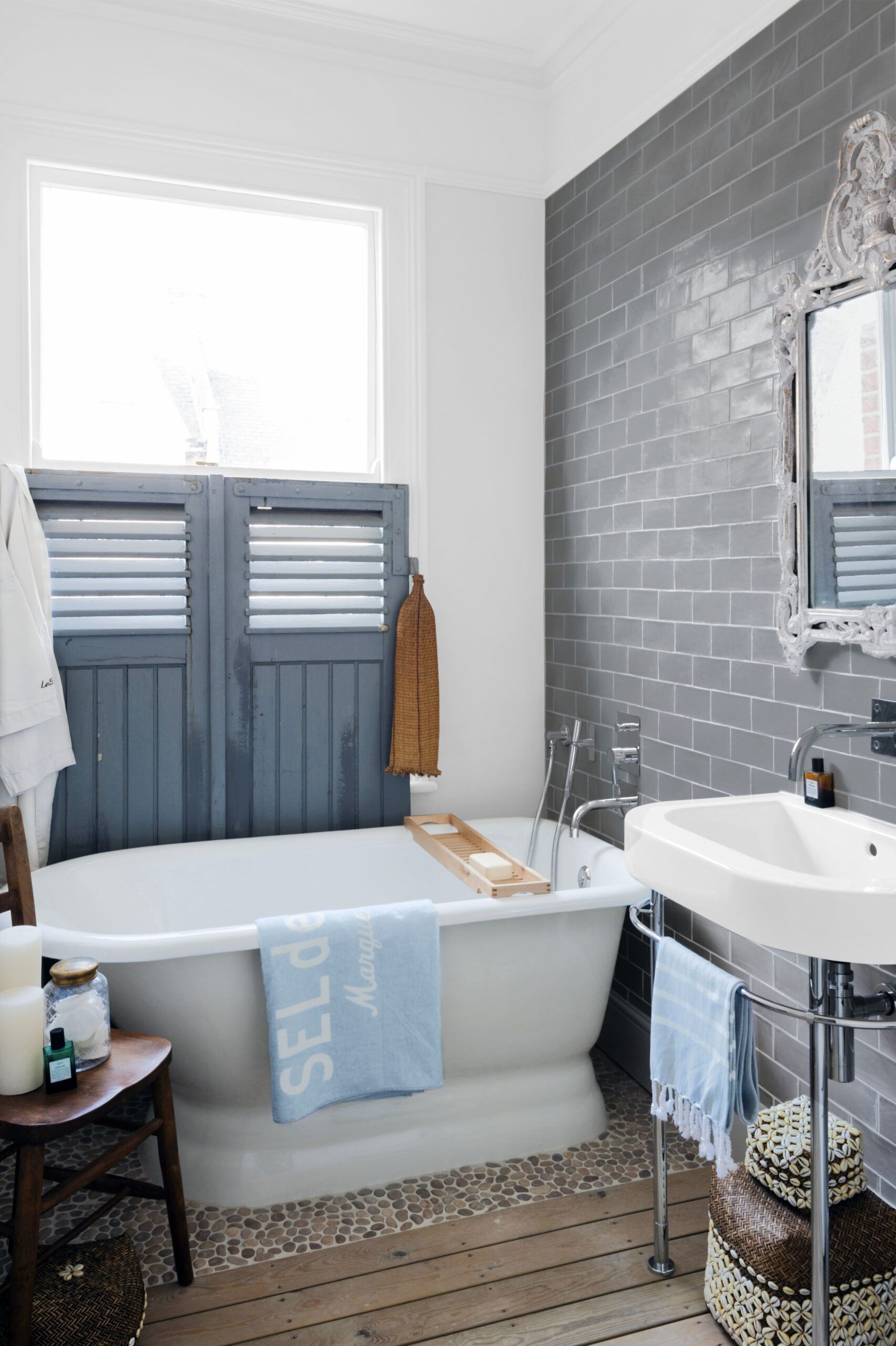 In the confines of a bathroom, a small investment can make a big splash with an accent wall made from subway tile. Taking the tile all the way up to the ceiling will make the room appear taller. There are plenty of color options to choose from, and tiles start as low as 99 cents per square foot at The Home Depot.
9. Seek Out Salvaged Shutters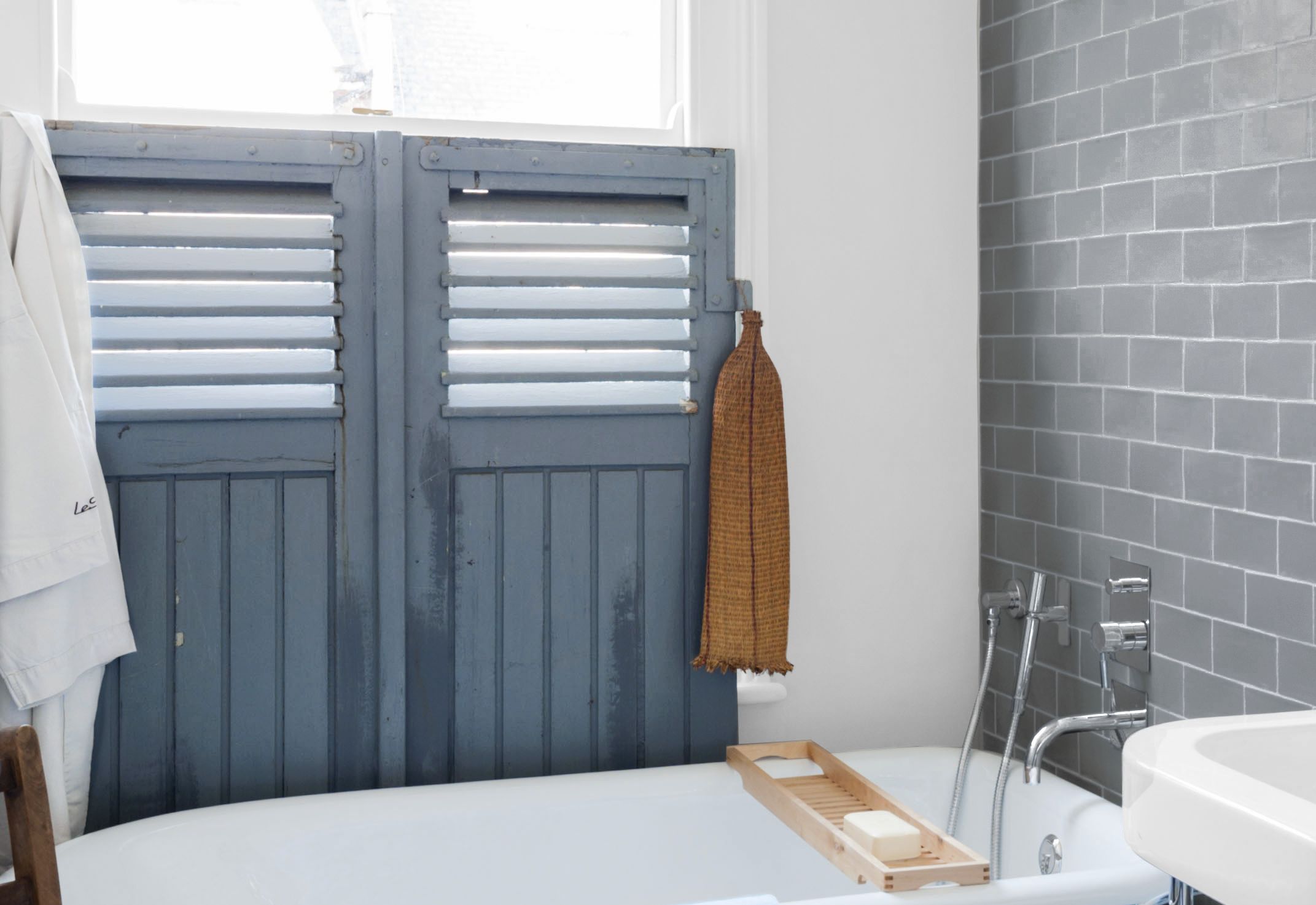 Forgo pricey shades and dress up a window with painted shutters instead. Louvered-on-top designs offer privacy without blocking light, and the adjustable slats let you direct the sun's rays.
10. Try a Mixed-Material Floor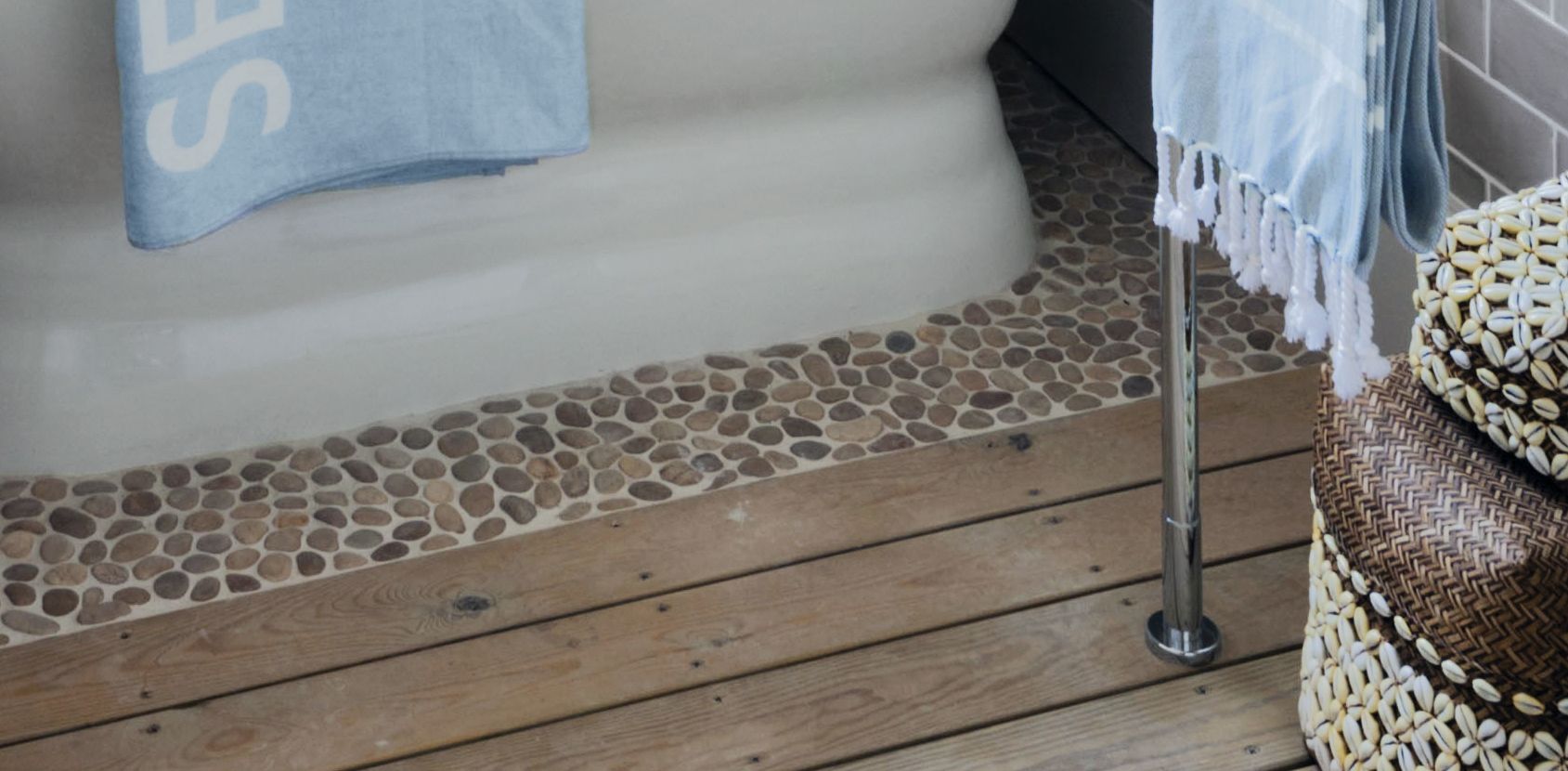 Add some variety underfoot by combining textures—such as wood planks and pebble tile surrounding the bath—for an unexpected twist that brings the great outdoors inside.
11. Create a Beadboard Canopy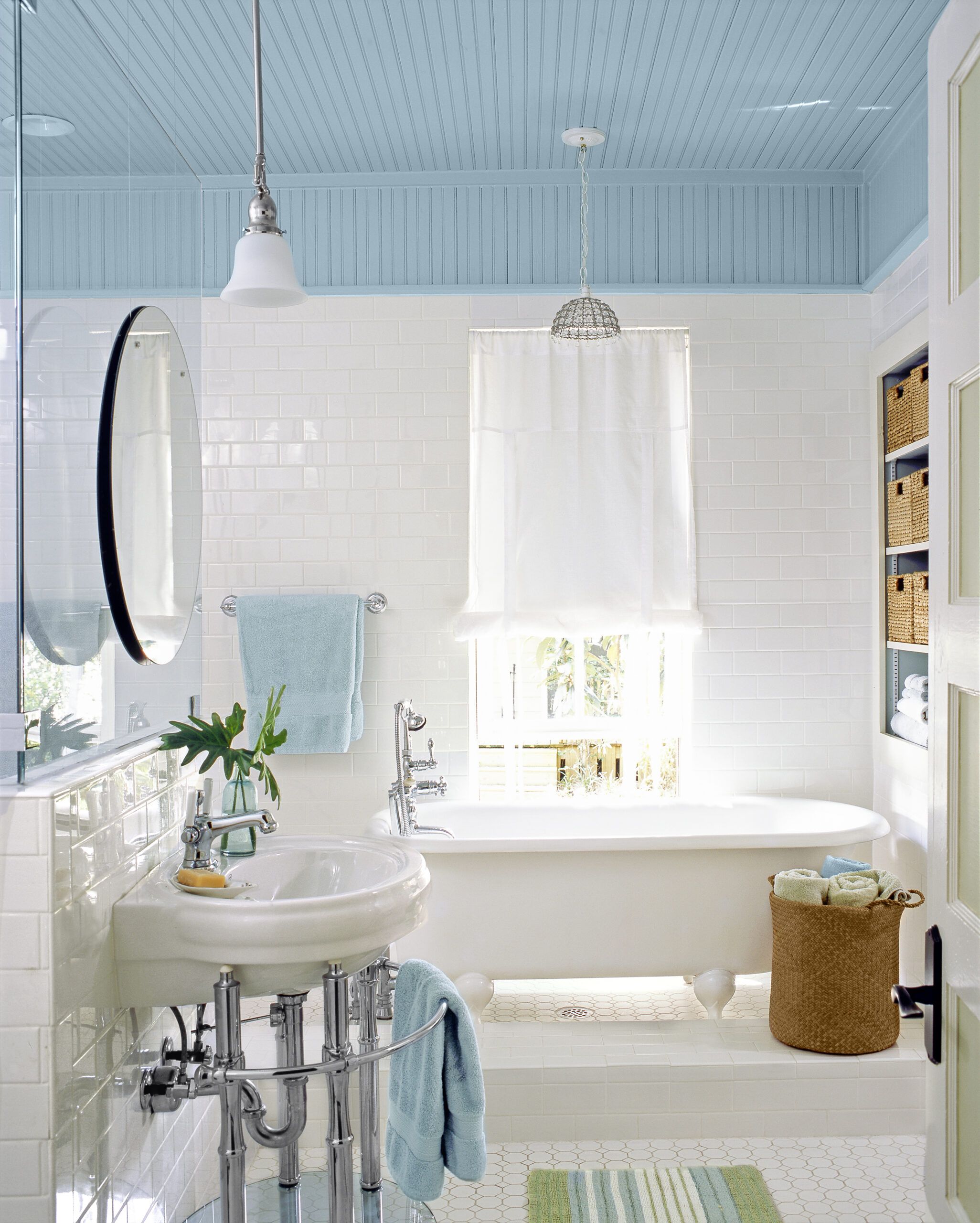 Give the ceiling a lift with this budget bathroom idea by covering it in beadboard and extending it down the walls several inches for a canopy effect. Paint it a tranquil shade of sky blue to evoke old timey porch ceilings.
12. Choose a Checkerboard Floor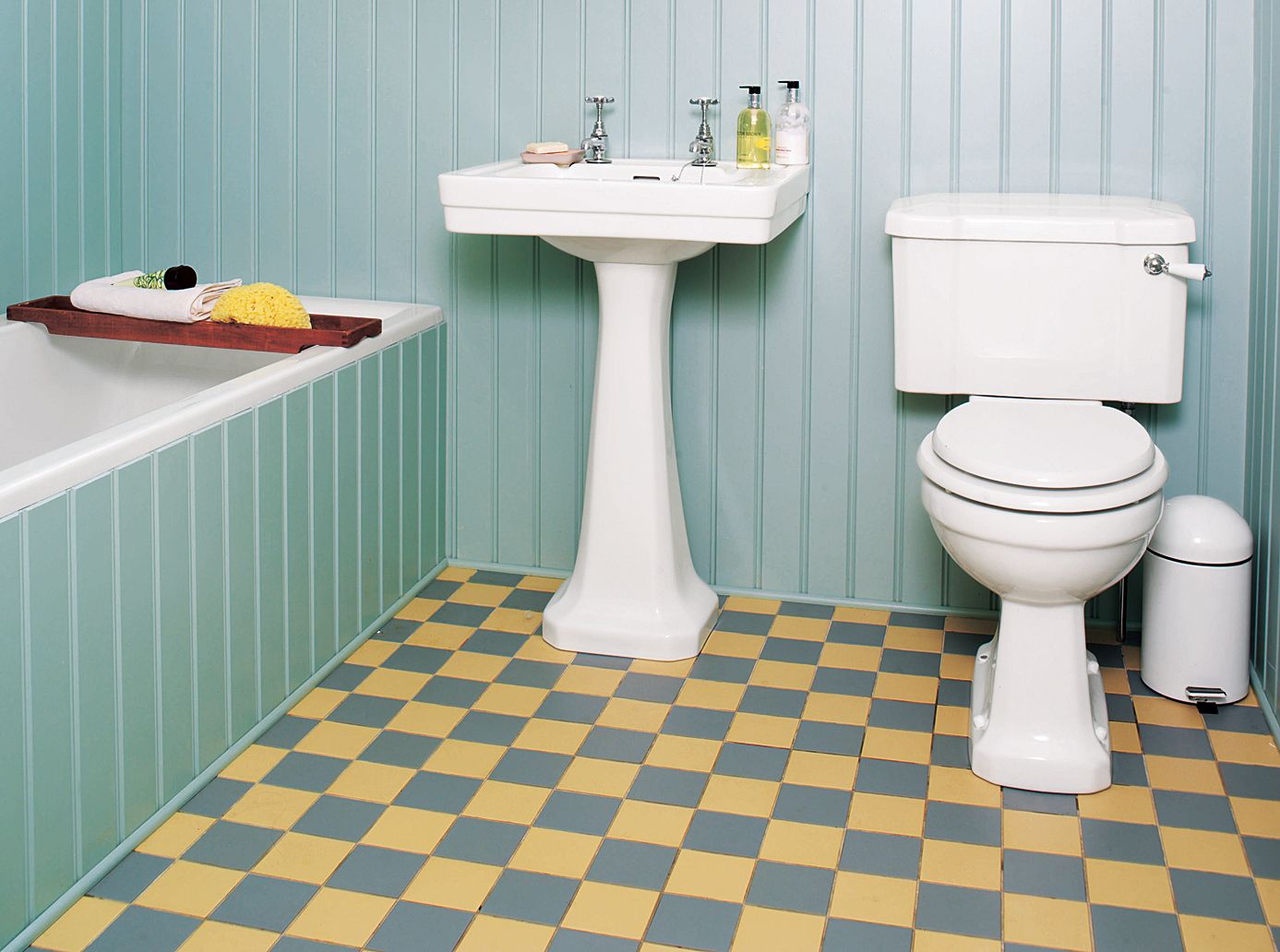 Vinyl composition tile offers a durable and inexpensive alternative to a two-toned ceramic-tile floor. To get the look of small squares, use a vinyl tile cutter to slice 12-inch tiles into 4-inch ones.
13. Repurpose a Vintage Vanity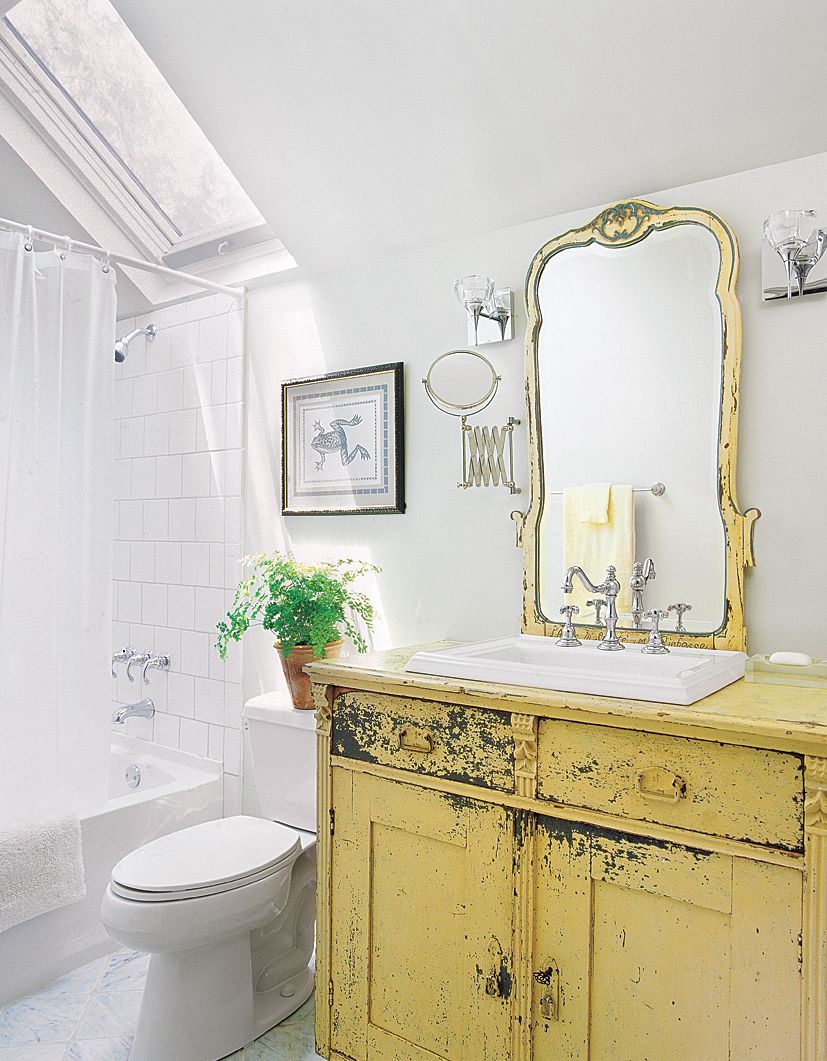 Retrofit a mirrored dresser as a sink cabinet by making a cutout in the top for a drop-in lav. Find inexpensive but characterful dressers at garage sales and flea markets. You can choose to keep the unique appearance of the original surface, or refinish the piece for a clean, vintage look.
14. Carve a Curved backsplash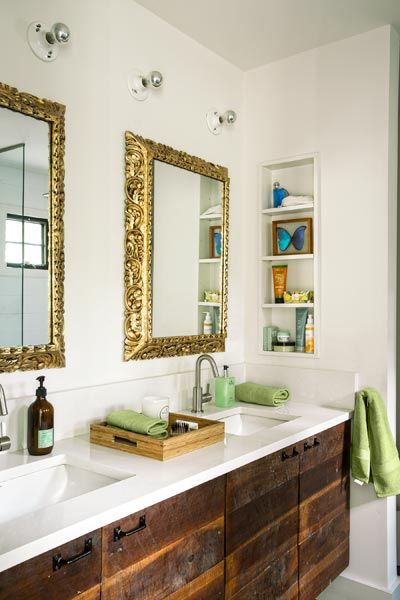 A custom demilune backsplash gives a wood vanity the look of a vintage washstand. Instead of warp-prone wood, use a sheet of marine-grade polymer that's easy to cut with a jigsaw and never needs paint.
15. Brighten the Existing Tile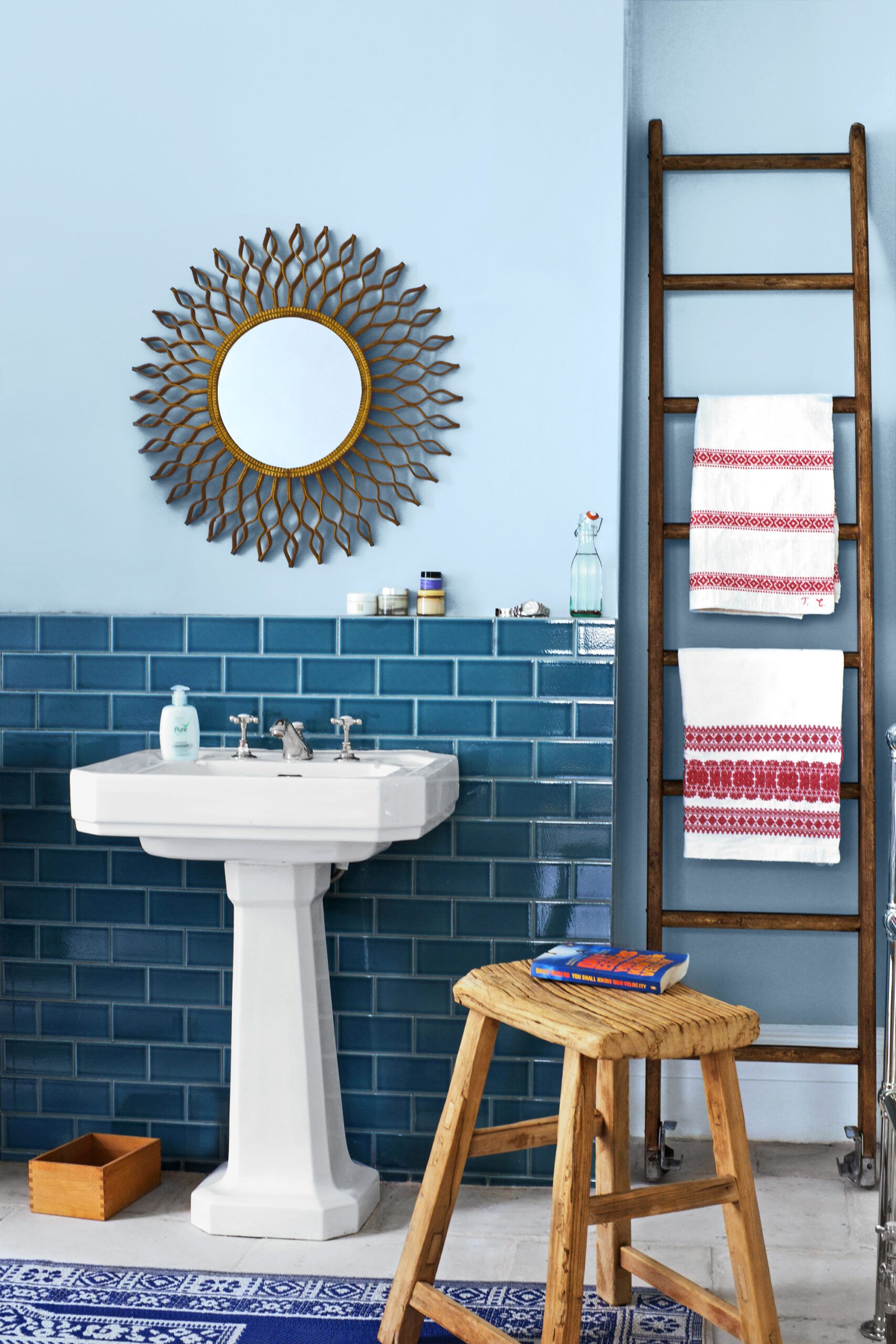 Refresh a vintage tiled floor, with an eco- and homeowner-friendly acid etcher that removes ground-in dirt from the surface and grout lines. This is an especially budget-friendly way to enhance and celebrate original design features in an older home.
16. Hang a Vintage Pendant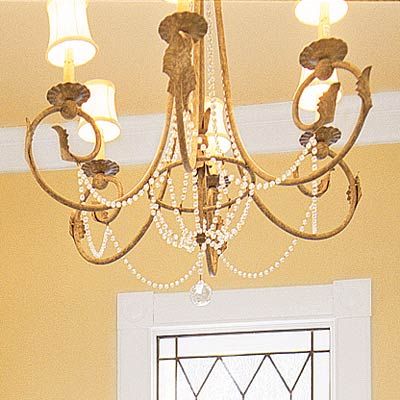 Hang a chandelier for a bit of sophistication in an unexpected spot—like over the tub. A unique fixture draws attention to a bathroom's high ceilings to make the space feel bigger. Look for rewired and ready-to-install chandeliers salvaged from old homes.
17. Create a Harmonious Color Palette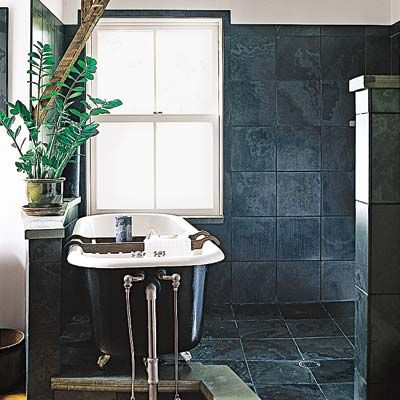 A coat of paint makes all the difference. Create a striking monochromatic effect by painting walls to match your floors, or try out two-tone walls separated by a chair rail. Both of these eye-catching options will create visual harmony.
18. Install Whitewashed Barn Wood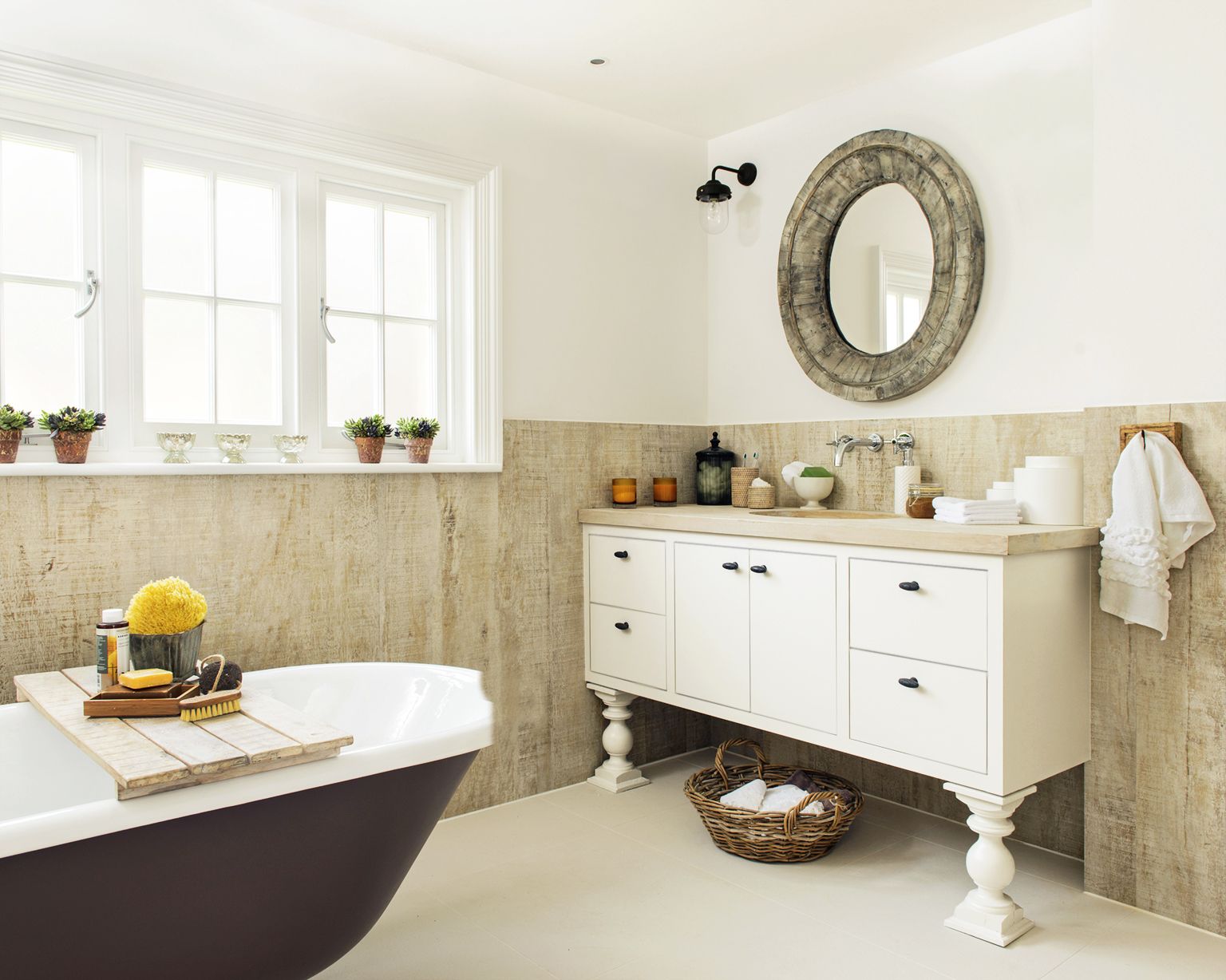 Refine the rustic look by whitewashing salvaged planks; it's an easy and affordable way to add character to walls.
19. Make a Multihued Mosaic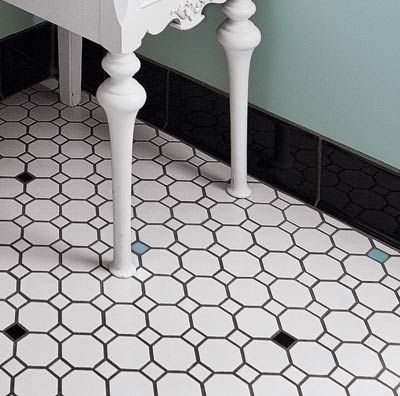 Customize plain sheets of white mesh-backed floor tile with colorful accents. Design a pattern, pop out white tiles, and replace with colored ones of the same size and shape. For the accents, search overstock bins at tile showrooms; as little as $10 can buy enough for an entire floor.
20. Wall-Mount a Cabinet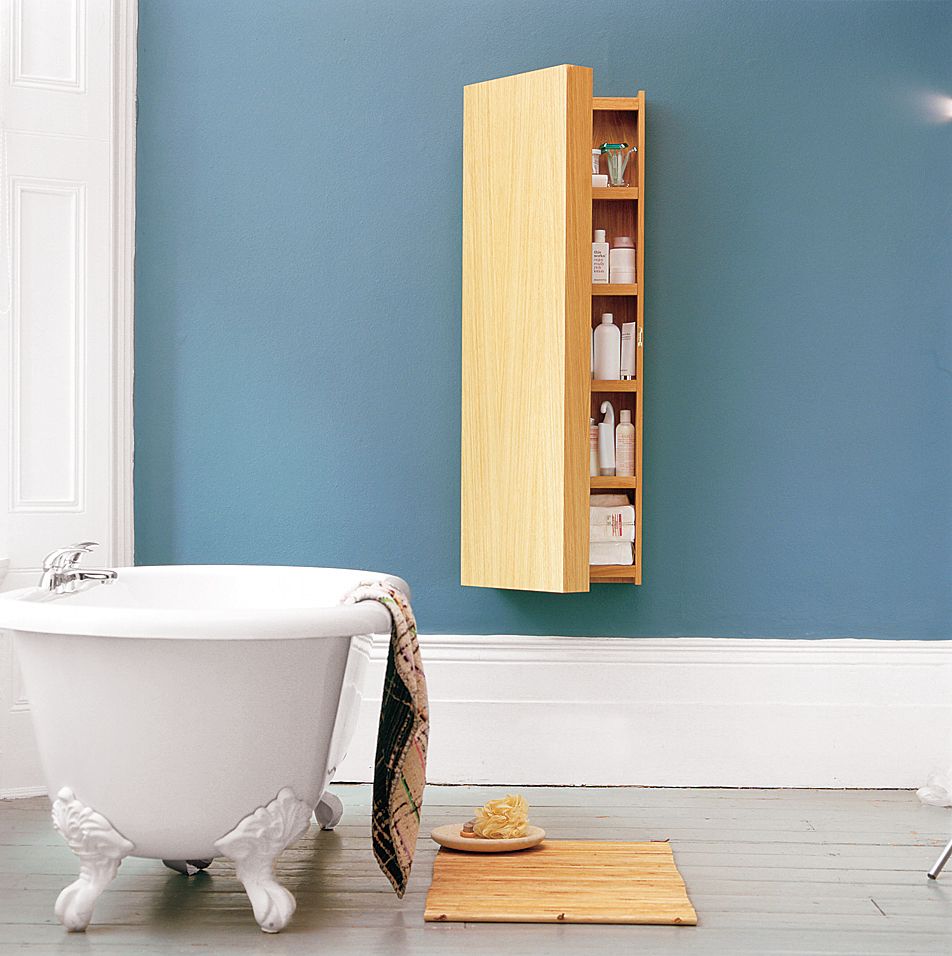 Conceal toiletries in a sleek hanging cabinet that doesn't eat up any floor space. You can also install shelving to get the most out of storage in a small room.
21. Conceal the Curtain Rod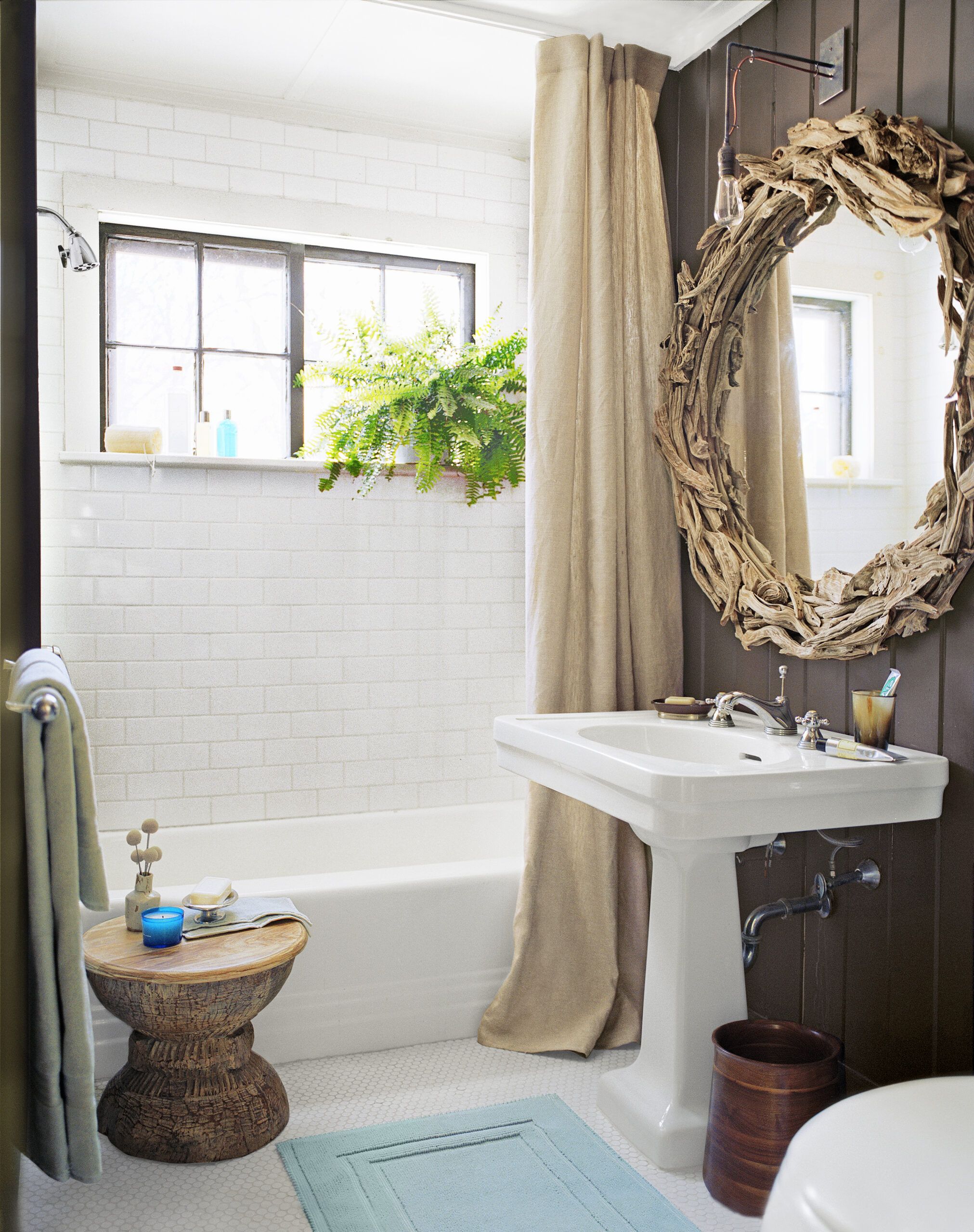 Install a track on the ceiling to keep shower-curtain hardware out of sight. As an added bonus, hanging the curtain from the ceiling makes the room look and feel loftier. To save on the cost of a custom curtain, fashion one from burlap or a canvas drop cloth. Many ceiling-mount tracks start at, about $30 on curtain-tracks.com.
22. Try Red-Hot Linoleum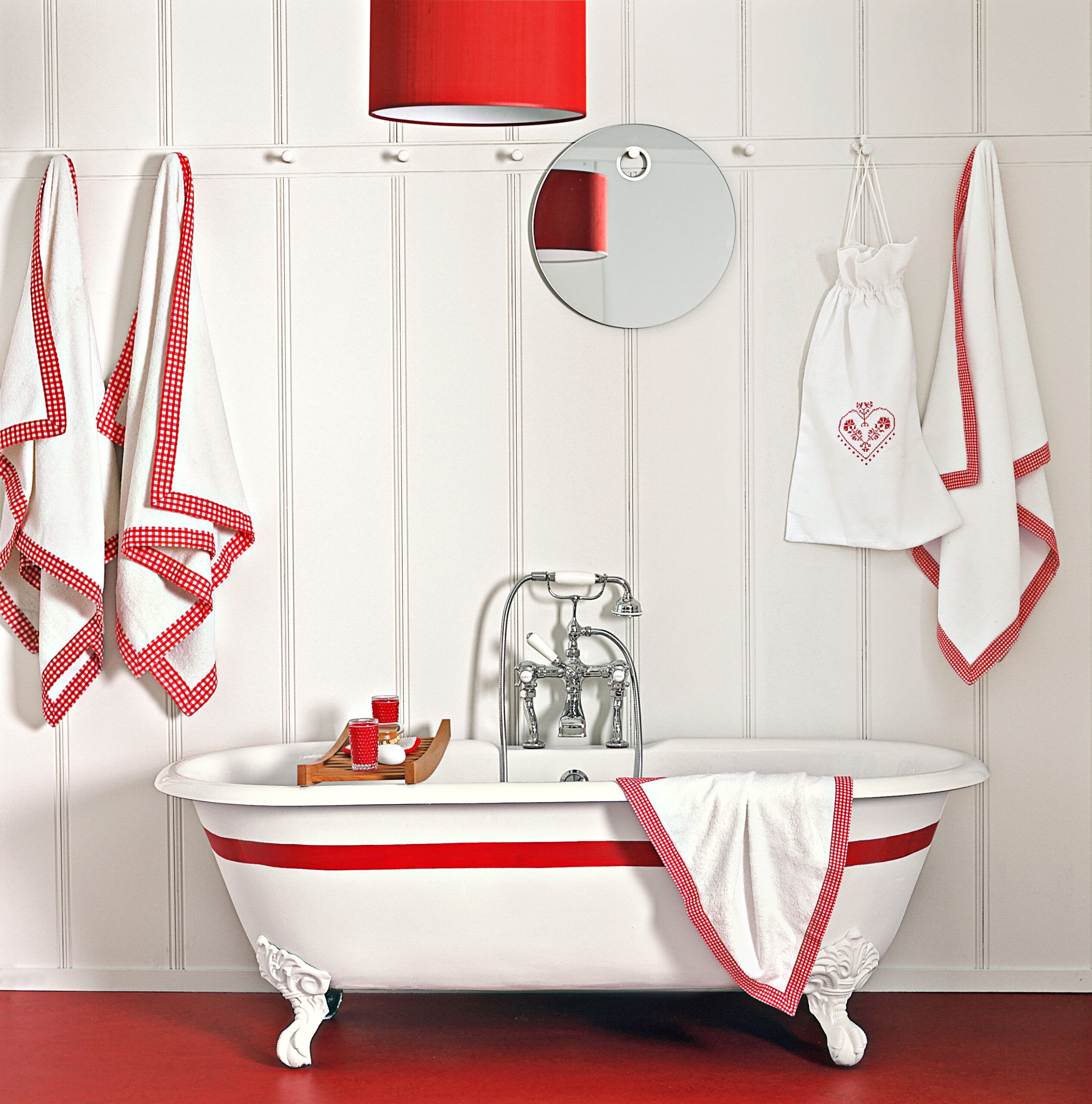 Take a walk on the wild side with a vibrant floor. Sheet linoleum is a great choice for high-traffic areas, and can stand up to spills and splashes.
23. Evoke Period Elegance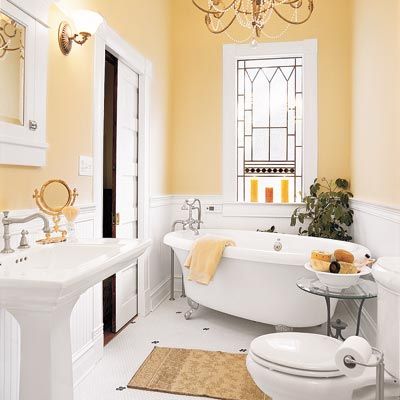 Gain square footage for a freestanding tub without the mess and expense of building a bump out by placing it on the diagonal. Be sure to leave a few inches between the tub's rim and the walls. The extra breathing room makes a small space feel larger. If you're on the hunt for a new to you tub, shop salvage yards to save on a soaker.
24. Use Water-Resistant Wainscot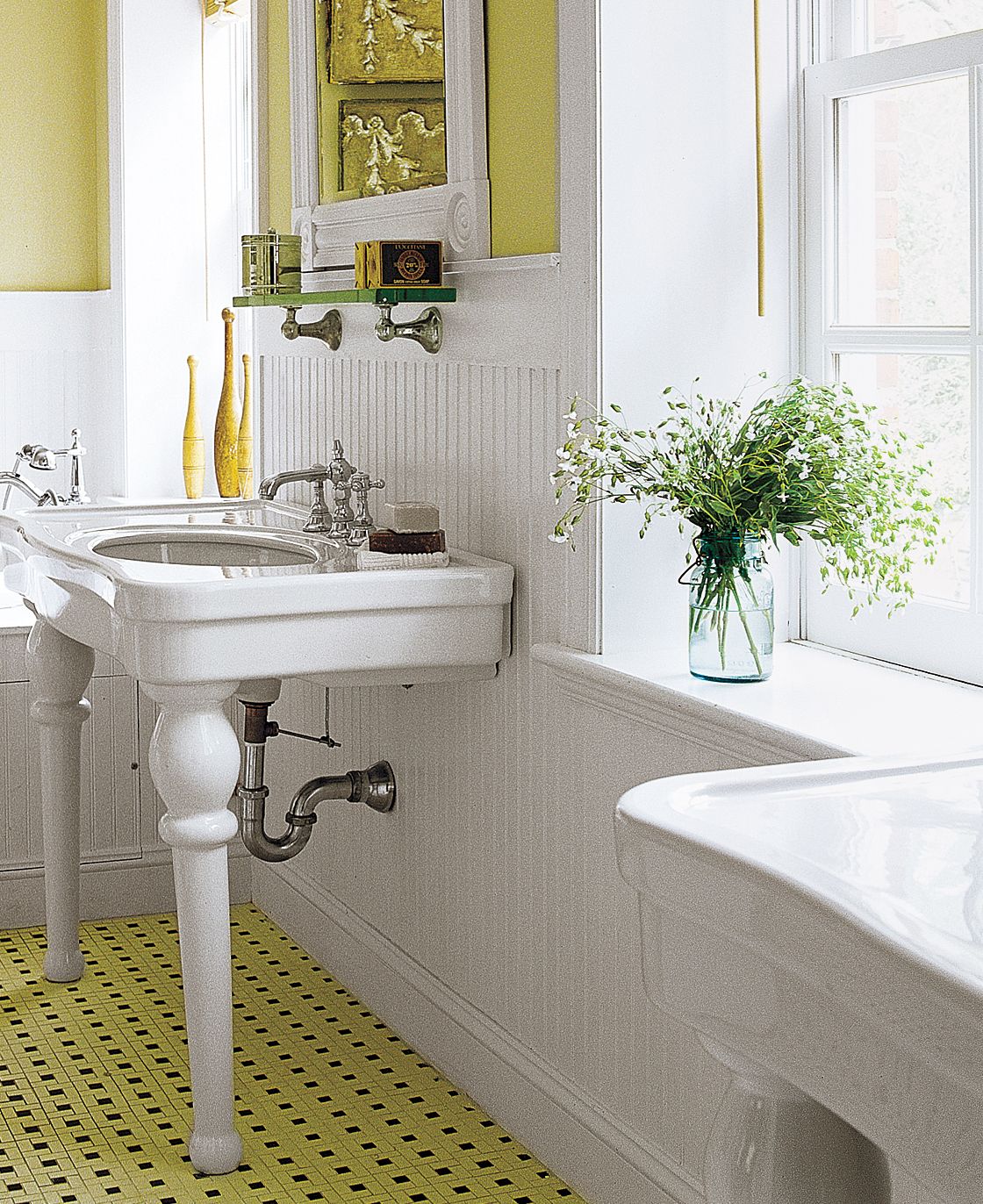 Thriftier than most wall tile and less maintenance than wood, beadboard paneling made from cellular PVC stands up to moisture and never needs to be painted.
25. Add a Decorative Window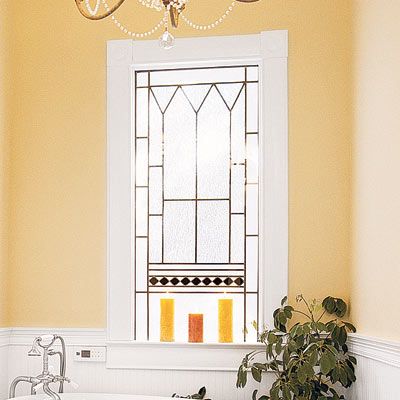 Replace a plate-glass window with a stained- or leaded-glass panel to obscure the view without blocking light. If you can't find an exact fit for your opening, hang one from chains in front of the existing window.