Adding a half bath to a home is one of the most common requests I get. People want to increase the value of their houses, of course, but what most of my clients really want is a bathroom that's convenient for their guests to use but doesn't compromise anyone's privacy. (Who wants their friends to see dirty laundry and prescription bottles, anyway?)
Here are some guidelines on how to size your half bath and the best location to place it in your home.
How to Add a Half Bath to Your Home
Depending on your house's layout, there are several ways to add a half bath by carving out space from your existing floor plan. What I've presented here are three options that have worked for my clients: a bathroom tucked underneath a stairway, one carved from a garage, and another nestled inside a gabled attic dormer.
Other solutions I've used include fitting a half bath into an oversize storage closet and splitting a large full bathroom into a half bath and smaller full bath.
No matter where you decide to put it, there are a few key factors you should keep in mind as you're planning this common renovation project.
What Is a Half Bath?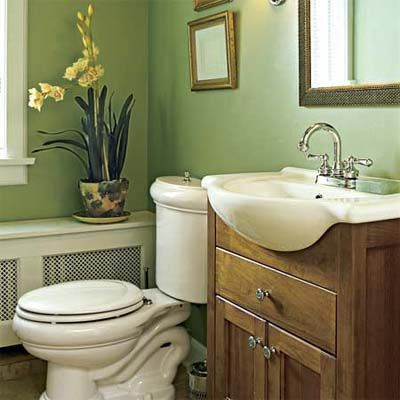 A half bath needs to contain, at a minimum, a toilet, a sink, and a mirror. Having an under-sink cabinet or another storage area for extra tissue paper, hand towels, and soap is nice, but if space is tight, these items can be stashed elsewhere.
Shown: This traditional-styled bath features a dresser-like vanity for extra storage.
Half Bath Dimensions
A half bath needn't be large. You will have enough space if you can find a spot in your house that's about 3 to 4 feet wide and 6 to 8 feet long. If it's any smaller, it will be uncomfortable for people to access. A larger half bath is unnecessary, and it's not likely that you'd find that much "extra" unused space in your house.
Shown: This parlor bath in New Jersey is able to capture a hotel spa look in a limited space of 40 square feet.
Plumbing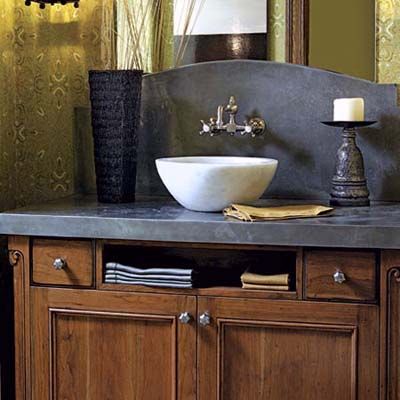 Obviously, a half bath needs running water as well as drainage and ventilation. For budget reasons, try to locate your new half bath as close to existing water and sewer connections as possible. One of the cheapest options is to place it where it can share a wall with an existing bathroom.
For older houses built on piers or over basements, new plumbing lines can be placed below the main floor fairly easily. Houses built on slab foundations, though, will require some jackhammering and patching of the slab to connect existing plumbing lines to the new space, which adds to the project's cost.
Where possible, fixtures, including sinks, should be hooked to existing plumbing lines. The good news is because powder rooms are used less frequently, you can choose more delicate (and often more visually appealing) fixtures.
Shown: Here a Waterworks vessel sink is filled by a wall-mounted brushed nickel faucet.
Ventilation and Electrical Requirements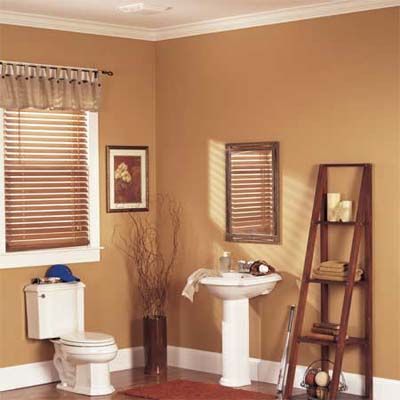 Current codes require either an operable window or an exhaust vent in every bathroom to properly ventilate the space. Also, electrical outlets will need to be installed on a GFI circuit, which provides extra protection against shock in wet areas of the home. These requirements are a consideration for older homes that may not have up-to-code electrical or ventilation systems.
Shown: A ceiling ventilation fan ensures this bath is comfortable and up to code. Several companies, including Broan-NuTone, offer combination light/fans that can come in handy in a small bath.
Sound Insulation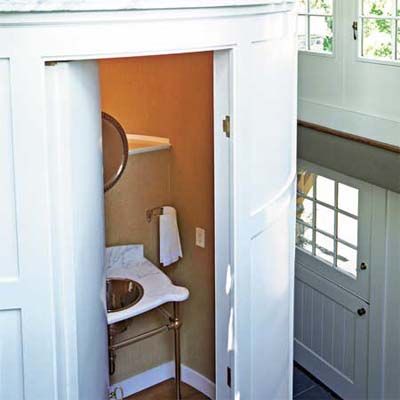 Adequate sound insulation is a key concern for any bathroom, but it's especially important for half baths near living or dining areas where you may be entertaining guests. This can be accomplished inexpensively by adding sound insulation in a shared wall or by wrapping water pipes, vents, and drains with a sound-absorptive material before closing up the walls.
Shown: Located on a staircase landing between two floors, this bath is an architectural centerpiece but also demonstrates why sound protection is important when living areas are nearby.
Visual Privacy
Many people prefer to enter and exit the bathroom with some degree of privacy. If possible, locate the half bath's entry so it's not directly in sight of adjacent living spaces, or shield it from view so that guests can come and go discreetly. You may be able to solve this problem simply with a strategically placed screen or room divider or by rearranging furniture in the nearby room so that seating faces away from the door.
Shown: A hallway is an ideal place for a half bath because guests can enter and leave discreetly.
Use Corners to Gain Space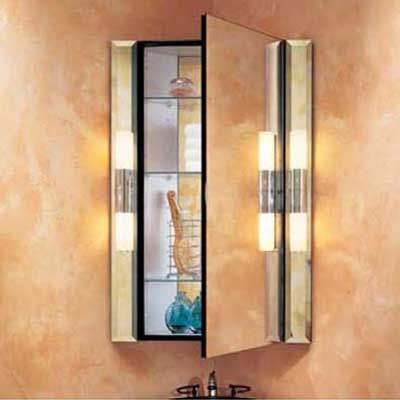 Outfitting a small or narrow bathroom with storage and lighting and giving it a little style can be a real challenge. Robern's M Series Corner Cabinet (shown) helps you meet the challenge. This sleek version of the traditional medicine cabinet fits snugly in any 90-degree corner to save space; a pair can be used on both ends of a vanity wall.
The unit comes with a full mirror, adjustable glass shelves and incandescent or halogen lighting. With sizes up to 40 in. tall and 20 in. wide, the all-aluminum cabinet works as well in a master bathroom as it does in a powder room.
3 Half Bathroom Layout Ideas
1. Tucked Under Stairs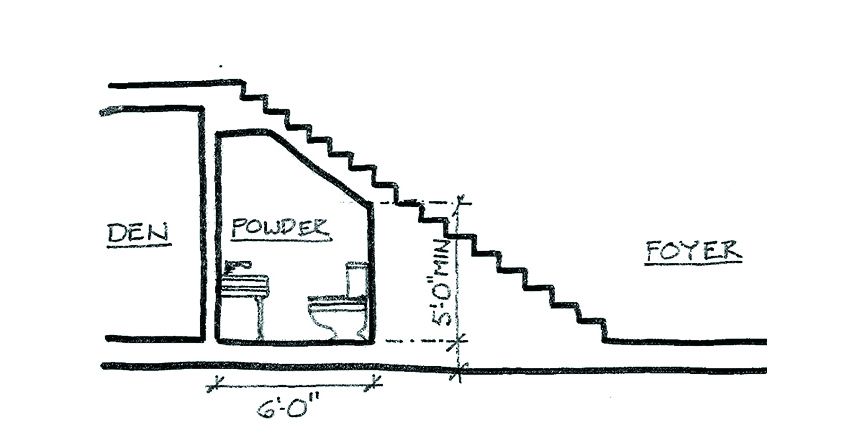 This option makes use of an area that's frequently underutilized. For privacy's sake, it works best in homes with an enclosed foyer that opens into adjacent entertaining spaces. The two biggest obstacles are providing ample headroom and ventilation.
I recommend a minimum height of 5 feet above the toilet; check your local codes for height requirements and an exhaust vent will need to be run to the exterior. Place the sink or vanity on the tallest wall so hand washers won't bump their heads.
2. Carved Out of a Garage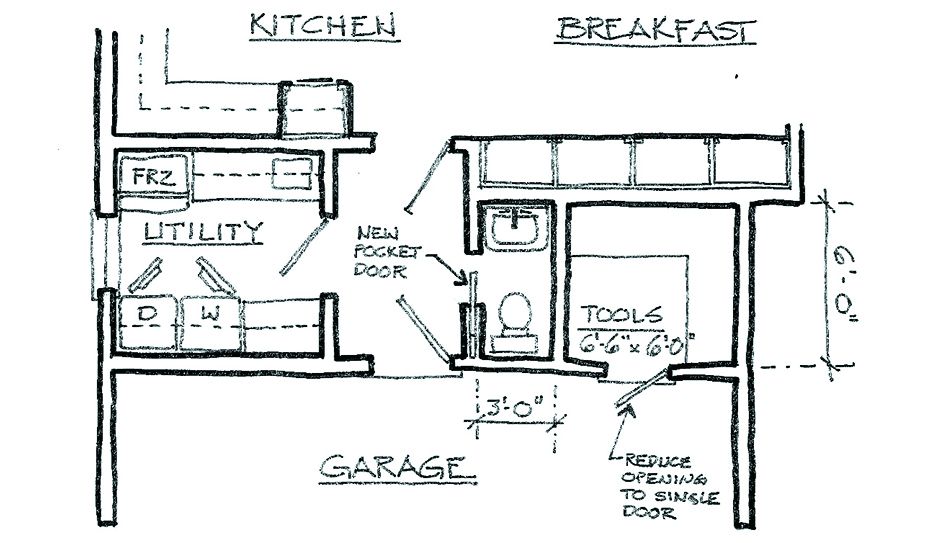 In this example, we were able to slice out a portion of the tool room in a client's garage to create a half bath that serves the adjacent kitchen as well as the garage and outdoor areas of the home.
Because of the number of doors in the home's rear entry, access to the half bath is via a sliding pocket door, which solves the problem of doors banging into one another or unintended "door traps" that result when doors are left open.
3. Fitted Within a Dormer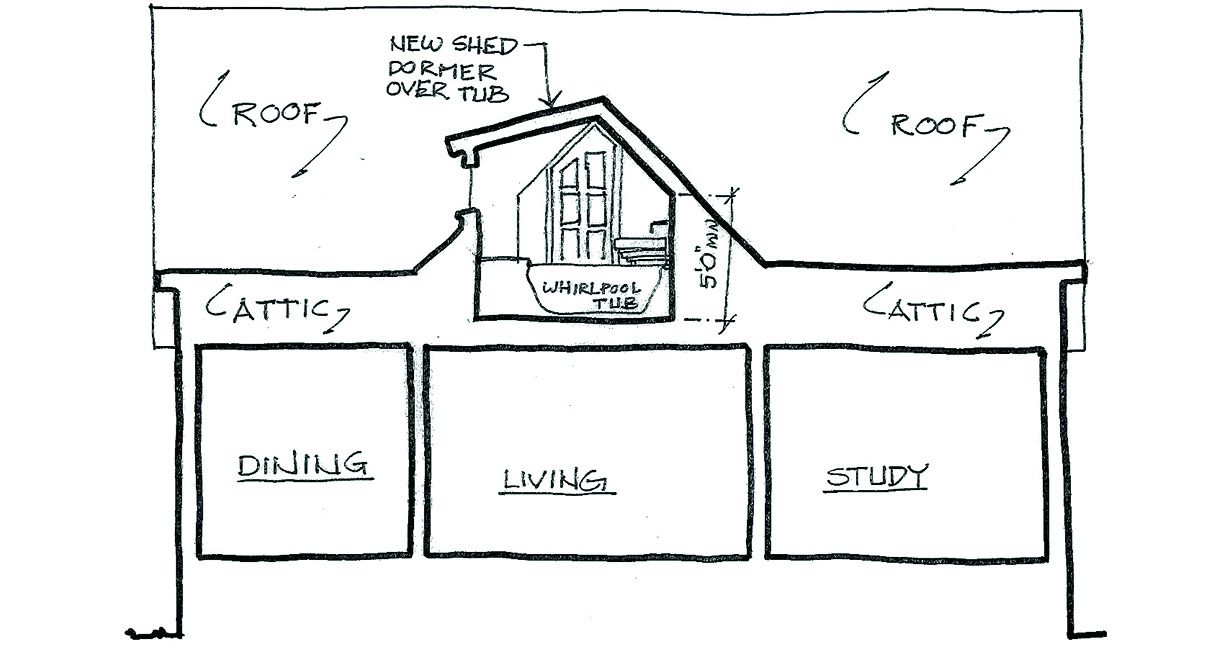 This is a good option for houses that have a decorative gabled dormer on the attic level. If the ceiling heights within the dormer are at least 7 feet at the interior ridge, and if there's at least 5 or 6 feet of width between walls at least 5 feet tall, you'll have room for a half bath.
If the dormer is at least 5 feet long you can even add a bathtub; in this example I put in a tub and added a shed dormer above to bring in natural light.