A Gentleman's Bath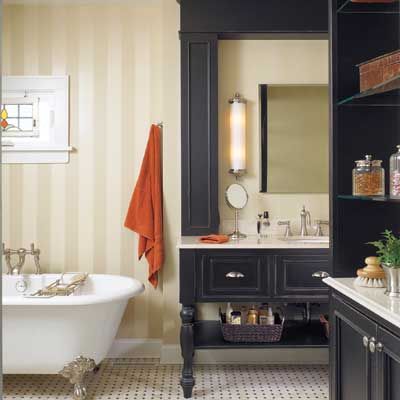 Nothing speeds up the timeline for a bath redo like a shower leaking into the room below it. At least, that was the impetus for Martin Stock to finally tackle the master bath in his 1910 home in Wilmette, Illinois. Remodeled in the 1980s, the charmless space was lined with bulky beige built-ins. "I just wanted to throw three grenades in there and blow it up," he says.
In its place he wanted a masculine bath that was more traditional gentlemen's club than locker room. Turning to designer Karen Walker to come up with a plan, Stock presented her with magazine pages and offered up a piece of antique stained glass he bought in London. That window found a home above a new claw-foot tub (Victoria & Albert) that sits alongside a ceiling-height built-in vanity and across from a now larger shower. Walker fit the new amenities within the original footprint, using the existing plumbing lines—smart moves that allowed for high-end luxuries, such as custom cabinetry, an alabaster pendant (Urban Archaeology), and marble floor tile. The result is a vintage-style space that's stately but simple—and, of course, watertight.
Shown: Furniturelike pieces create a well-appointed bath. Glossy and flat painted stripes (Putnam Ivory HC-39, Benjamin Moore) create a humidity-proof wallpaper look in a one-window bath.
Before: Bland Beige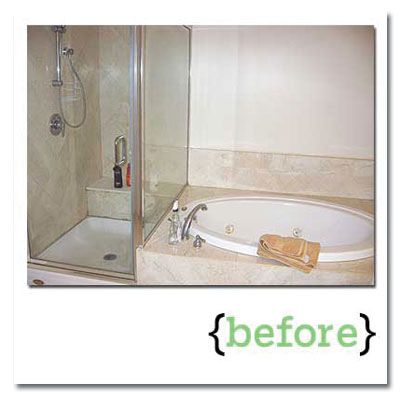 A previous redo updated the space with boring beige built-ins.
Practical Partition
A hutchlike partition (Plain & Fancy) adds storage and hides the toilet; glass shelves keep the space open and airy. A gently distressed finish keeps dark-stained maple from looking stark.
Easy-Clean Bathroom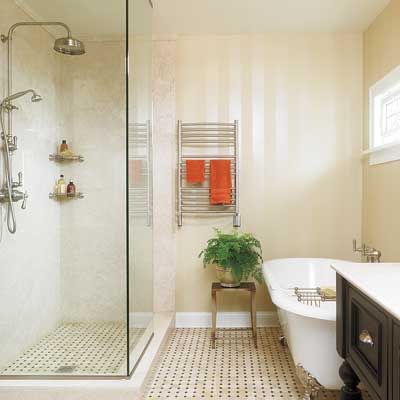 Marble slab shower walls are easy to clean (no grout lines) and easy on the eyes. A floor-to-ceiling glass enclosure with a doorless design enhances the room's spacious feeling.
Shower Sanctuary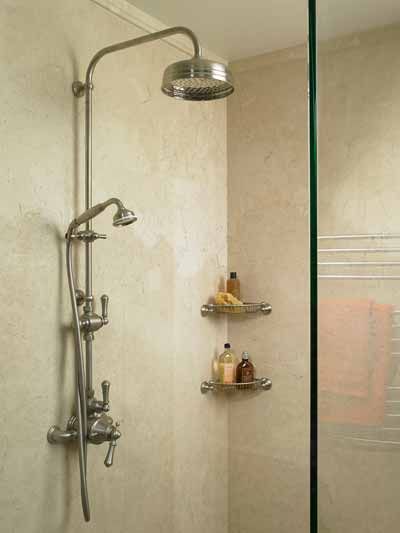 Chrome shower fixtures (Perrin & Rowe) add to the masculine and sophisticated feel of the space.
Warming Up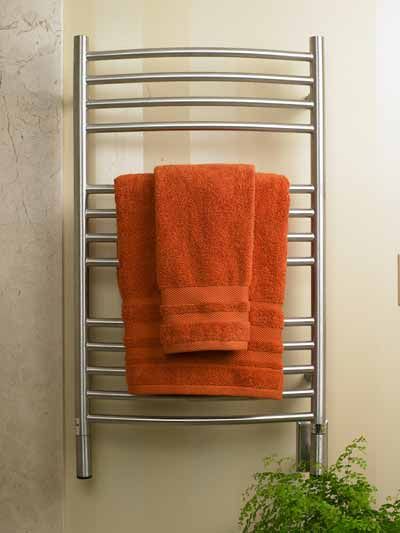 A well-placed towel warming rack (Amba Jeeves) brings a touch of luxury to the room.
Shaving Sconces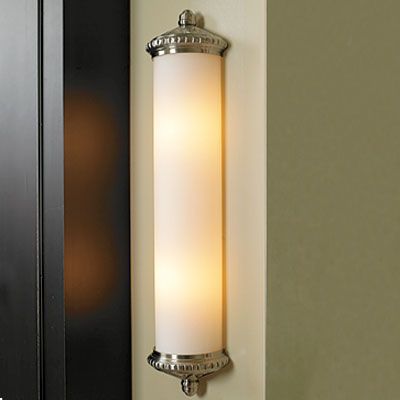 Sconces with opaque diffusers (Wilmette Lighting) can dim for a soft glow or brighten for shaving.
Faux Window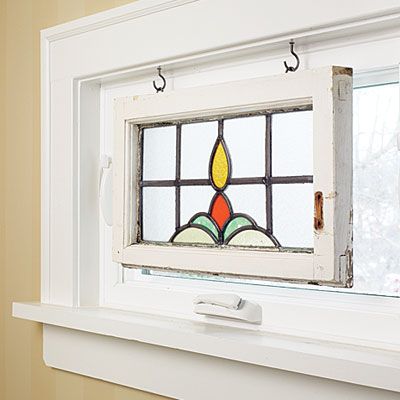 "Pick a small, meaningful item as the jumping-off point for your design," Stock suggests. "You already know you love it, and it'll give the room an emotional focal point."
A stained-glass window that Stock picked up in London, hangs as a decorative accent in front of a new hopper-style unit, and inspired the bath's old-world feel.
Satin-Nickel Pulls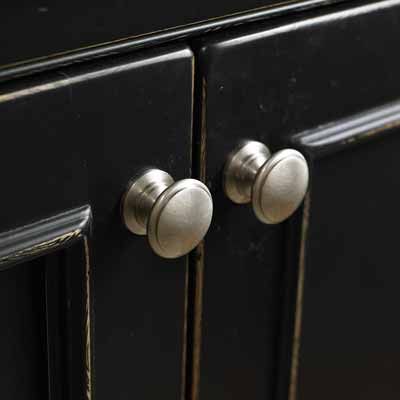 The gray leading in Stock's stained-glass window is mimicked throughout his new bath on muted satin-nickel pull and knob finishes (Perrin & Rowe).
Opening Up a Small Bath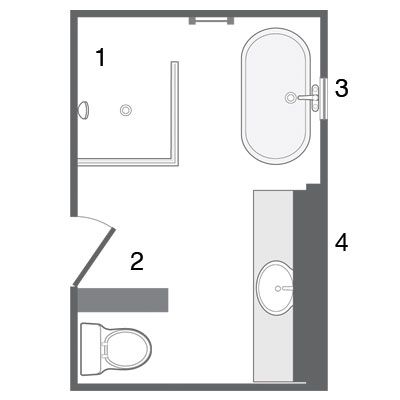 An inefficient layout crowded the 8-by-12-foot bath. Arraying generous-size fixtures around the room actually makes the same space feel bigger.
1_Expanded the shower to 5 feet 5 inches by 3 feet 4 inches. No longer butted up against the built-in tub, it got an all-glass, doorless design that lightens up its look.
2_Replaced a half-wall with a to-the-ceiling hutchlike unit with glass shelves that adds storage and screens the toilet.
3_Turned the tub 45 degrees to sit under a new, smaller window across from the shower. With a new glass-paneled door, too, the room gets plenty of light and more privacy.
4_Went with one sink where there were two. The built-in vanity has a leggy, open design that keeps it from looking heavy.