Handsome Spa for Him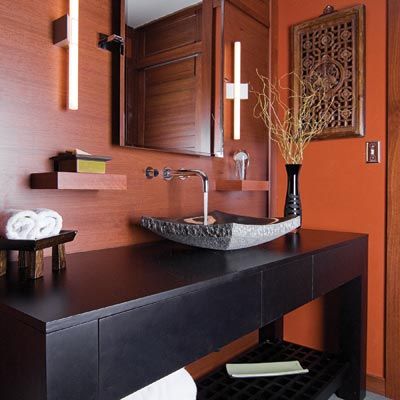 The key to the feng shui of this clutter-free space? Smart storage. Clever places to stow towels and toiletries—including the two large hidden drawers on either side of the sink—means the sleek vanity can remain free and clear. This masculine design, complete with bold walls and angular details, shows that relaxing spa baths aren't just for the ladies.
Designer: Cheryl Kees Clendenon, In Detail Kitchen and Bath, Pensacola, FL
Mom's Getaway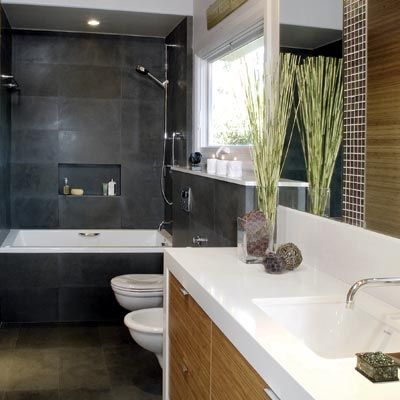 A second bath—complete with bidet and soaking tub—was designed for an empty nest couple, and became a customized space for her. A large window lets in energizing natural light, while dark grey basalt creates a comforting cocoon around the white tub.
Designer: Cheryl Hamilton-Gray, Hamilton-Gray Design Inc., Carlsbad, CA
Heavy Traffic to Tranquil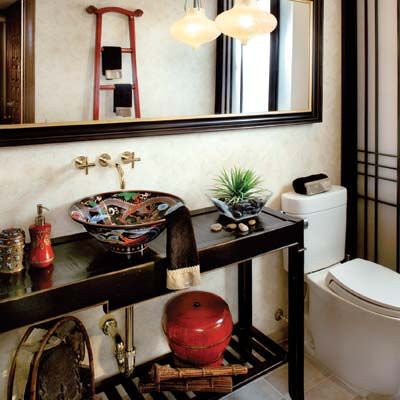 This bold powder room is located off of a heavily-trafficked hallway. Upon entry, guests are welcomed by a bright cloisonne vessel sink and a floor-to-ceiling shoji screen that lets in rejuvenating natural light. A textured, neutral wall finish makes the perfect backdrop for bright details in this Zen, Asian-inspired bath.
Designer: Holly Rickert, Ulrich Inc., Ridgewood, NJ
Clever Kaidantansu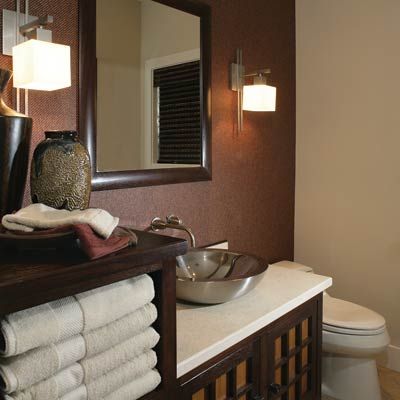 This vanity was inspired by a Japanese kaidantansu, or stepped chest, and features beautiful shoji doors. A stainless steel vessel sink, soft lights, and ample storage for fluffy white towels gives the small, hardworking room sophisticated spa feel.
Designer: Debbie R. Gualco, Co-designers: Denae C. Baggs, AKBD & Leah C. Pugh, CKD, Reynolds Gualco Architecture & Interior Design, Sacramento, CA
Beachy Bath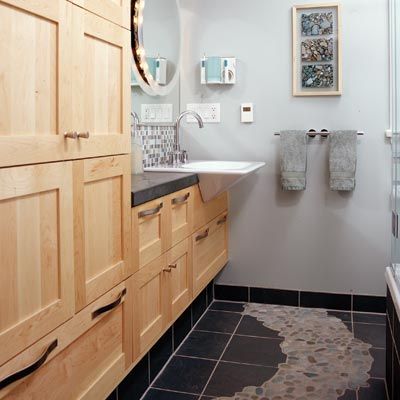 Ambient lighting makes this windowless bath bright, airy, and refreshing. The dry riverbed of stones worked into the flooring makes for a beautiful spa accent—and a bit of a foot massage when stepping out of the shower.
Designer: Erica S. Westeroth, CKD XTC Design Incorporated, Toronto, ON
Eastern Oasis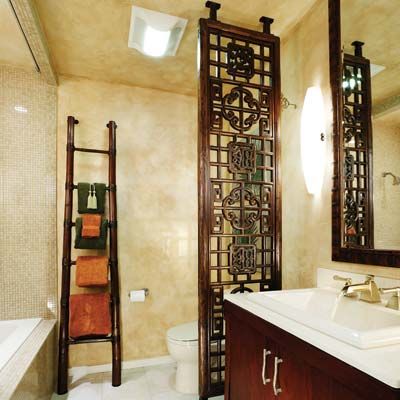 A custom bamboo mirror, artistic relief panels that don't wall off light, and a handy ladder towel rack create the illusion of vertical space. The soft color palette with dark wood accents adds balance to the relaxing room, which features a luxurious soaking tub.
Designer: Tiffany De Tomasi, CKD, Fisher Design/Build, Fairfield, CA
Ski Retreat Spa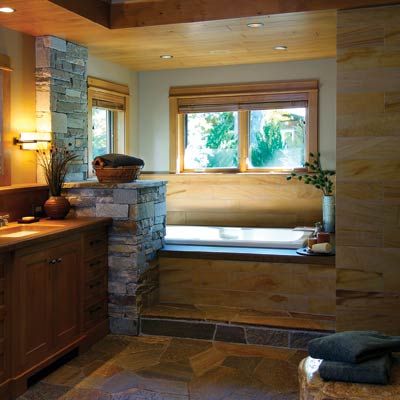 This bath is full of organic elements, giving it an earthy, relaxed vibe. Windows surrounding the soaking tub let in refreshing natural light, while gorgeous ledgestone divides task areas without closing the space. A wooden soffit was added to lower the vaulted ceiling for a more cozy feel.
Designer: Siri Evju, CKD, CBD, Siri Designs, Portland, OR
Underwater Retreat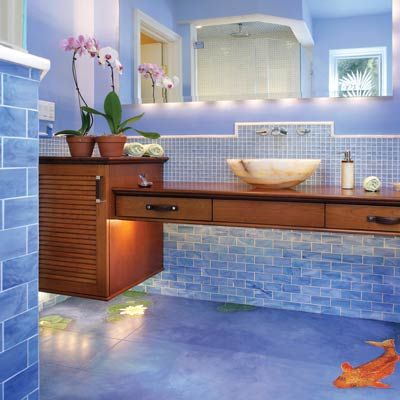 When creating her own bath, this designer combined her passion for Asian decor and a preference for blue to create this serene, organic space. Floating cherry cabinets and graduated hues give a light, cool feel to the room. An onyx, spa-quality vessel sink and handpainted koi on sealed limestone flooring complete the design.
Designer: Tess Giuliani, CKD, Tess Giuliani Designs Inc., Ridgewood, NJ
Five-Star Spa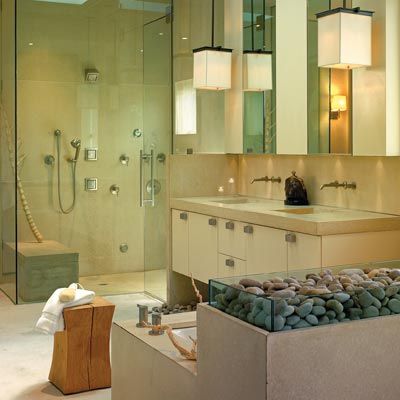 This master bath features a glowing monochromatic tone, making for a seamless transition from one task area to the next. A soaking tub, just beyond a display of smooth river stones, features plenty of decking for candles, a glass of wine, and light reading. Glass shower doors ensure there's no visual obstruction in the room.
Designer: Ada Pagano, A. Pagano Design Inc., St. Petersburg, FL
Reflective Retreat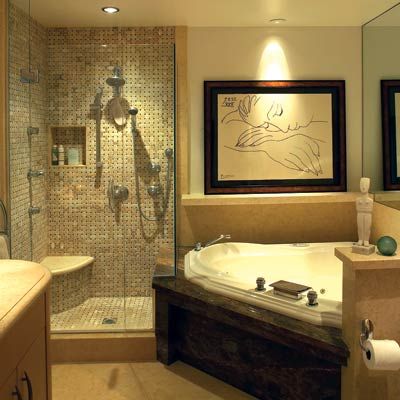 It seems every spa amenity was included in this bath's design. A corner tub separates from the shower with a tall glass panel, and rests on a dramatic green marble deck. Limestone covers the walls for a warm, neutral backsplash, while matching tiles are used underfoot.
Designer: Elina Katsiola-Beall, CKD, DeWitt Designer Kitchens, Studio City, CA
Space-Smart Shoji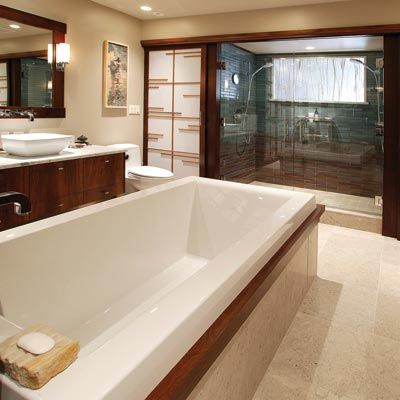 The design of this master suite packs a lot into a 12-by-17 space. The spa bath features shower-flanking shoji doors that conceal a stacking washer and dryer on one side, and an on-demand water heater on the other. A decked soaking tub comes complete with cantilevered bench for drying off.
Designer: Scott & Sandra Gjdesdahl, Bristol Design and Construction, Kirkland, WA
Warm and Cozy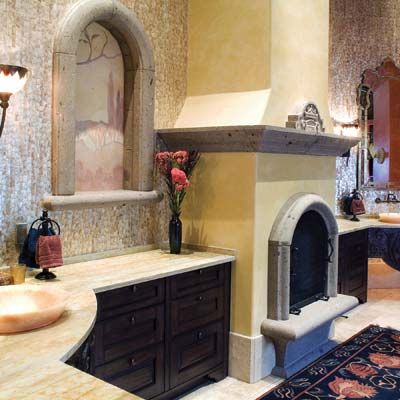 You could spend hours lounging in this luxurious master suite. The homeowners had plenty of space, so they worked a cozy fireplace into the design. A neutral color palette, including light marble counters and vessel sink, gives the space an opulent, but relaxing and airy, feel.
Designer: Cheryl Hamilton-Gray, CKD, Hamilton-Gray Design Inc., Carlsbad, CA
Santa Fe-Style Retreat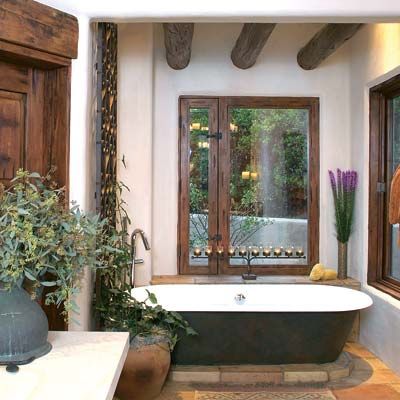 Nothing says relaxation like a freestanding soaking tub and lots of natural light. The tub sits atop a terracotta-tiled platform. Dark, rich mahogany with neutral walls and flooring tile gives the space a comforting and balanced ambiance.
Cheryl Hamilton-Gray, CKD, Hamilton-Gray Design Inc., Encinitas, CA