19A small bathroom must contain all the elements of a large bath in less space. That's why planning a new one or remodeling the existing room is so challenging. When every inch count, here's what to consider for your remodel and our favorite small bathroom ideas to draw inspiration from.
How Do You Remodel a Small Bathroom?
You have to think about the function, appearance, fixtures and storage—along with how much room you have.
Structural Considerations and Requirements
A full bath requires a minimum of 36 to 40 sq. ft. The finished room must measure at least 5 ft. in one direction to accommodate a tub. Building codes typically require 32×32 in. (finished dimensions) for a shower; if you have the space, larger is better. Just make sure the shower is large enough so you can comfortably raise your arms and bend over in the space.
No matter how small a bathroom will be, it must include certain items. Ground-fault circuit interrupters (GFCIs) are required by code to protect receptacles in wet areas, such as bathrooms and kitchens. GFCIs quickly break the circuit, which can prevent a potentially fatal shock from a blow-dryer or electric shaver.
Install Low-Flow Toilets
Low-flow toilets, which use 1.6 gallons of water per flush, are required by law in all new and remodeled baths. Pressure-assisted toilets effectively clear the bowl with one flush, but make considerable noise in the process. Gravity models sometimes require two flushes to clean the bowl properly.
For maximum efficiency, choose a bowl with a large water surface. Make sure there's sufficient space around the toilet for comfortable access—ideally, at least 16 inches from the centerline of the toilet and walls or fixtures on either side. Also allow at least 30 inches from the front of the toilet to the nearest object.
Ensure Proper Ventilation
Proper ventilation will prevent moisture from getting trapped in the bathroom, which can lead to mold and mildew growth. Extract moisture by installing a ducted exhaust fan on a timer. Most timers allow you to set the fan for 15 to 60 minutes to remove heat, steam and condensation. Choose a fan according to the cubic feet per minute of air it moves.
Use Task-Specific and Ambient Lighting
Adequate lighting is needed for all forms of grooming. Include task-specific and ambient, or general, light. Multiple recessed ceiling fixtures are all but invisible and eliminate the locker-room look of a single ceiling-mounted fixture. Include a light fixture above the tub and/or in the shower. Avoid fluorescent lights, which alter the color of your complexion.
15 Small Bathroom Ideas
Check out these 15 easy ways to make your small bathroom feel more spacious and inviting.
1. Install a Pocket Door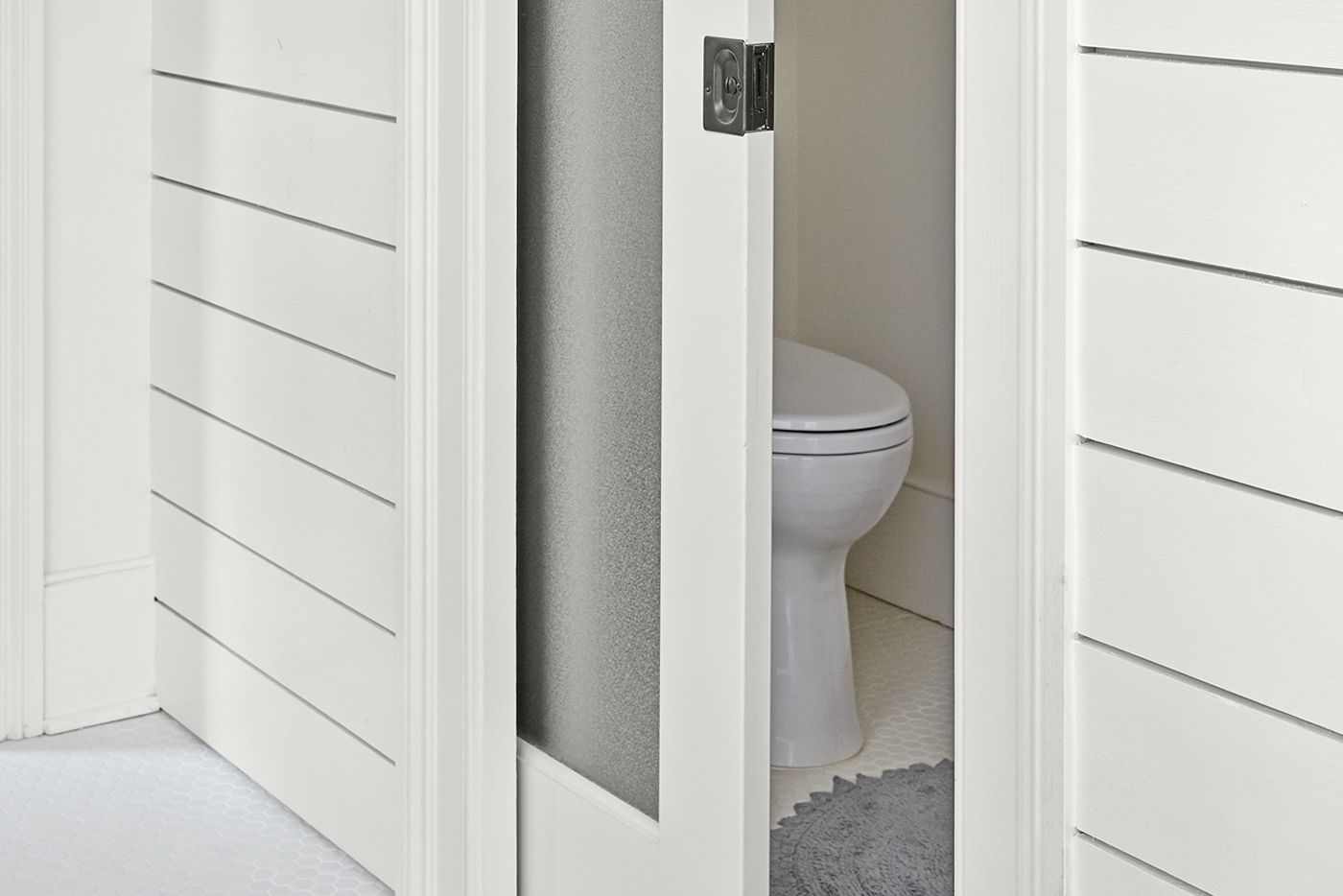 Rather than opening inward, pocket doors slide inside the wall on a track. This creates more usable space in the bathroom by eliminating the need to accommodate a door swinging inward.
2. Try a Glass Shower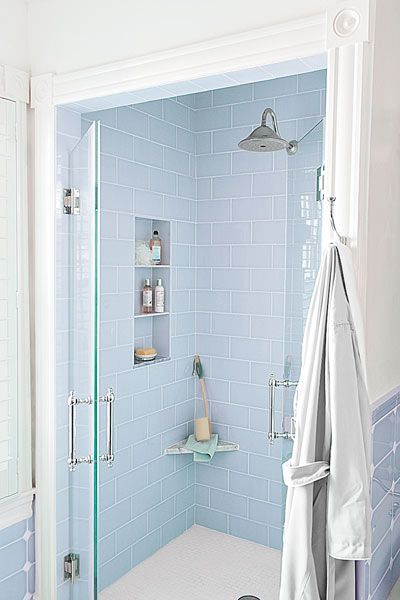 Clear glass shower doors create the illusion of more space by eliminating visual barriers.
3. Save Space with the Toilet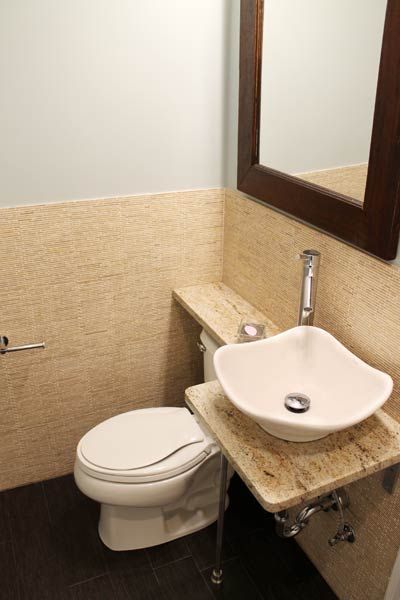 There are several ways to save room through your choice of toilet. The first is to opt for a wall-hung unit, where the tank is hidden inside the 2×6 stud wall, allowing for 9 inches of extra space in the center of the room. Another option is to create a wall niche for your toilet, which will reduce its footprint
4. Add Bigger Windows for More Light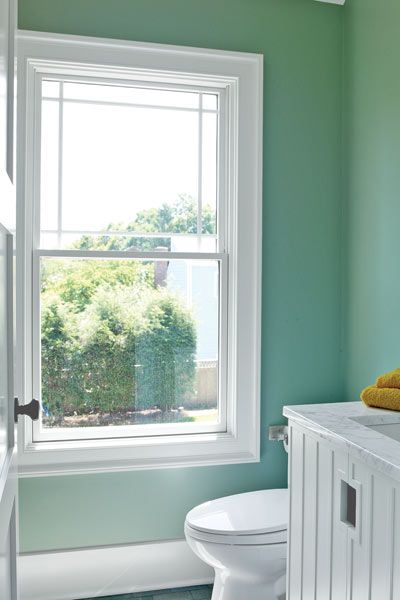 Give a dark bath the look of a spa-like solarium by enlarging an existing window. It can only help highlight all the hard work you put into the bath's other details. Or, where feasible, consider installing a skylight to visually expand the space and bring a little luxury in at the same time.
5. Opt-In or Out on Pedestal Sinks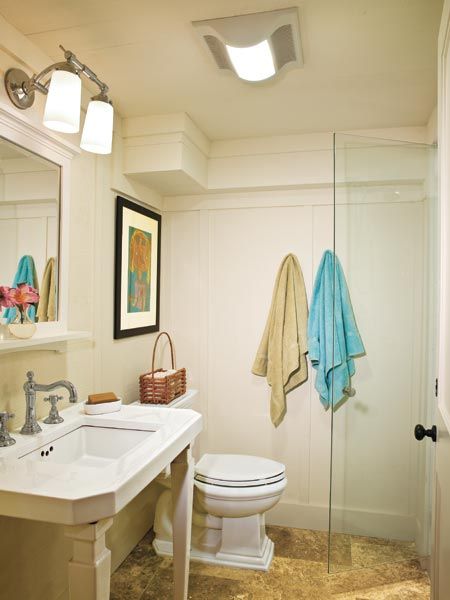 Pedestal sinks can saver or waste space depending on the arrangement and storage options of your bathroom. If you want to open up floor space, they're an excellent choice. However, they don't offer the storage that vanity cabinets provide. If your bathroom lacks storage but you have your heart set on a pedestal sink, include open shelves or a tile-lined niche behind or adjacent to it. Alternatively, consider using cabinetry 16 or 18 inches deep, instead of the usual 21 inches, to maximize your floor plan.
6. Work with Large Mirrors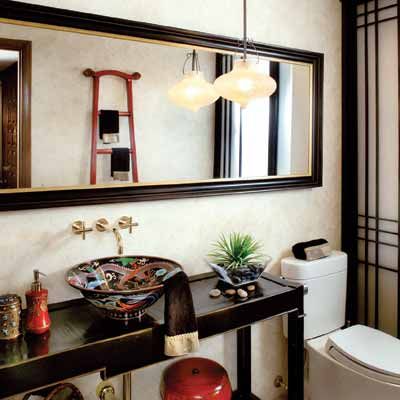 In small spaces, the lighter, the better. For a clean look with minimal visual clutter, opt for a single large mirror.
7. Employ Optical Illusions to Enhance Space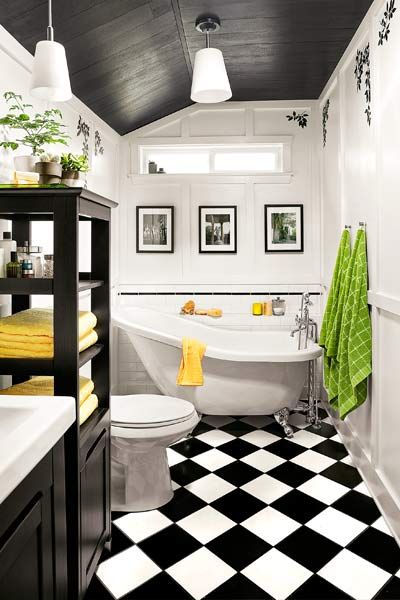 Large-scale graphic prints can make a space feel more substantial and simultaneously add visual impact. Black and white checkerboard tile stretches out the narrow design of a small bath. Give your bath graphic appeal by laying geometric-patterned tiling the floor, or painting a checkerboard pattern on a wood floor.
8. Install a Space-Saving Small Sink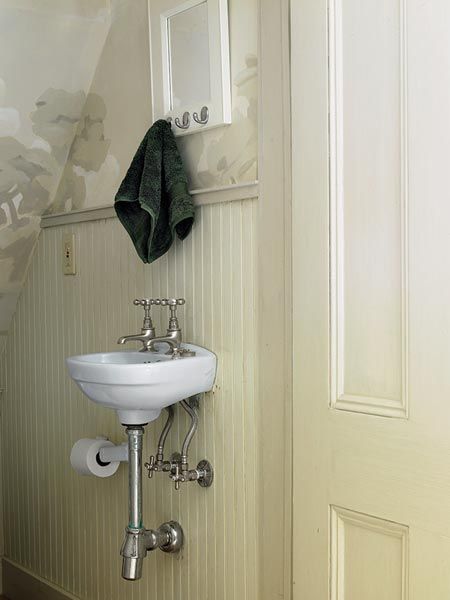 A sink is one of the areas where you can sacrifice some space, especially in a powder room. A wall-mounted miniature version may even become your favorite fixture.
9. Bump Up the Size With Sophisticated Paneling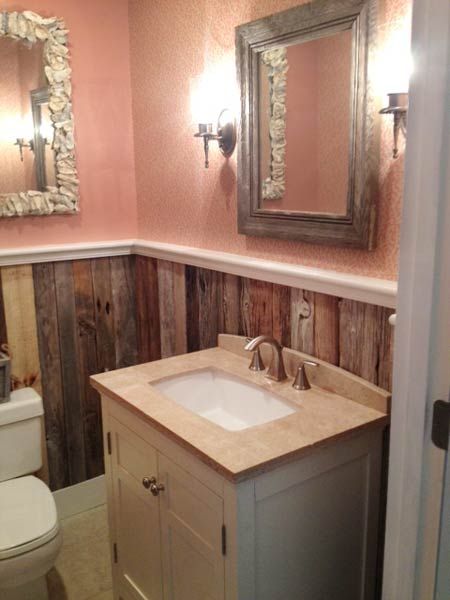 Draw the eye upward when all else fails in visually enlarging a small bath. Installed vertically or horizontally, shiplap style paneling can distract from a bath's tiny footprint and amplify the room's design cred. Reclaimed boards—or newly claimed ones—can make for handsome wainscoting or paneling in a postage stamp-size bath.
10. Create Clever Built-in Bath Storage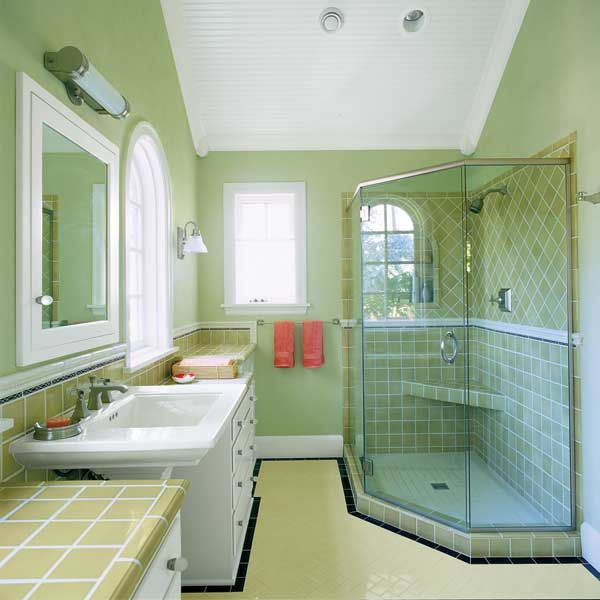 Eradicate the need for cumbersome storage furniture by building in bureaus that blend in beautifully with the vanity. Or, look behind the mirror for extra storage with medicine cabinets built with hideaway storage space.
11. Rely on Horizontal Lines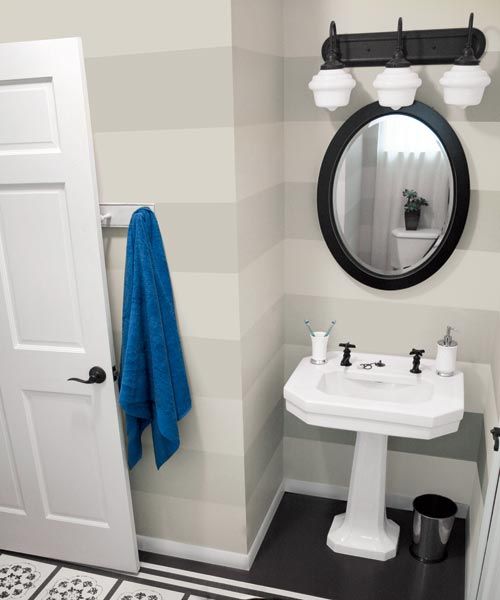 Horizontal stripes are a no-brainer for visually widening a room. This classic paint job can transform a small bath with a few gallons in an afternoon. If you don't want to make the entire room striped, opt for an attractive accent wall instead.
12. Make a Romantic All-Black Bath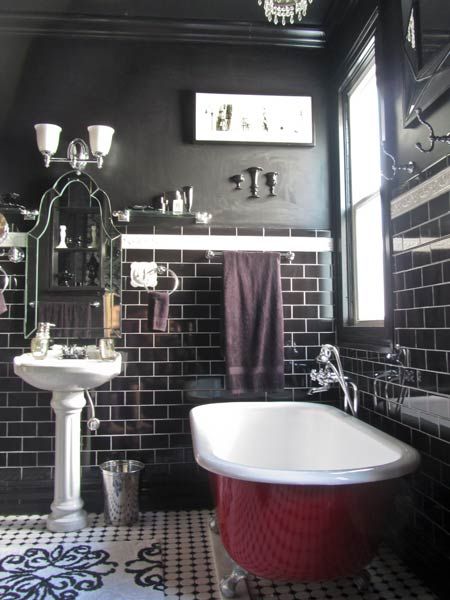 Squeeze a lot of (the good kind of) drama into your tiny bath by going for an all-black decorating scheme. Just give your eye the chance to rest with other colors like a white pedestal sink and deep red claw-foot tub.
13. Try a Tiled Vanity Top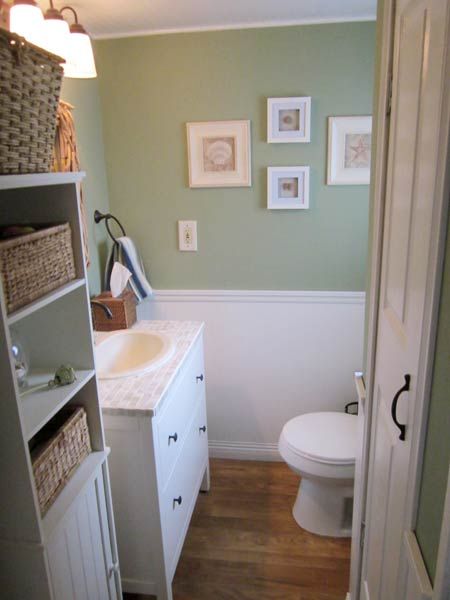 Ditch the usual bath countertop suspects and go for a tiled vanity top. It's budget-friendly and adds an extra touch of interest in a tight space.
14. Have a Chair Rail Double as Shelving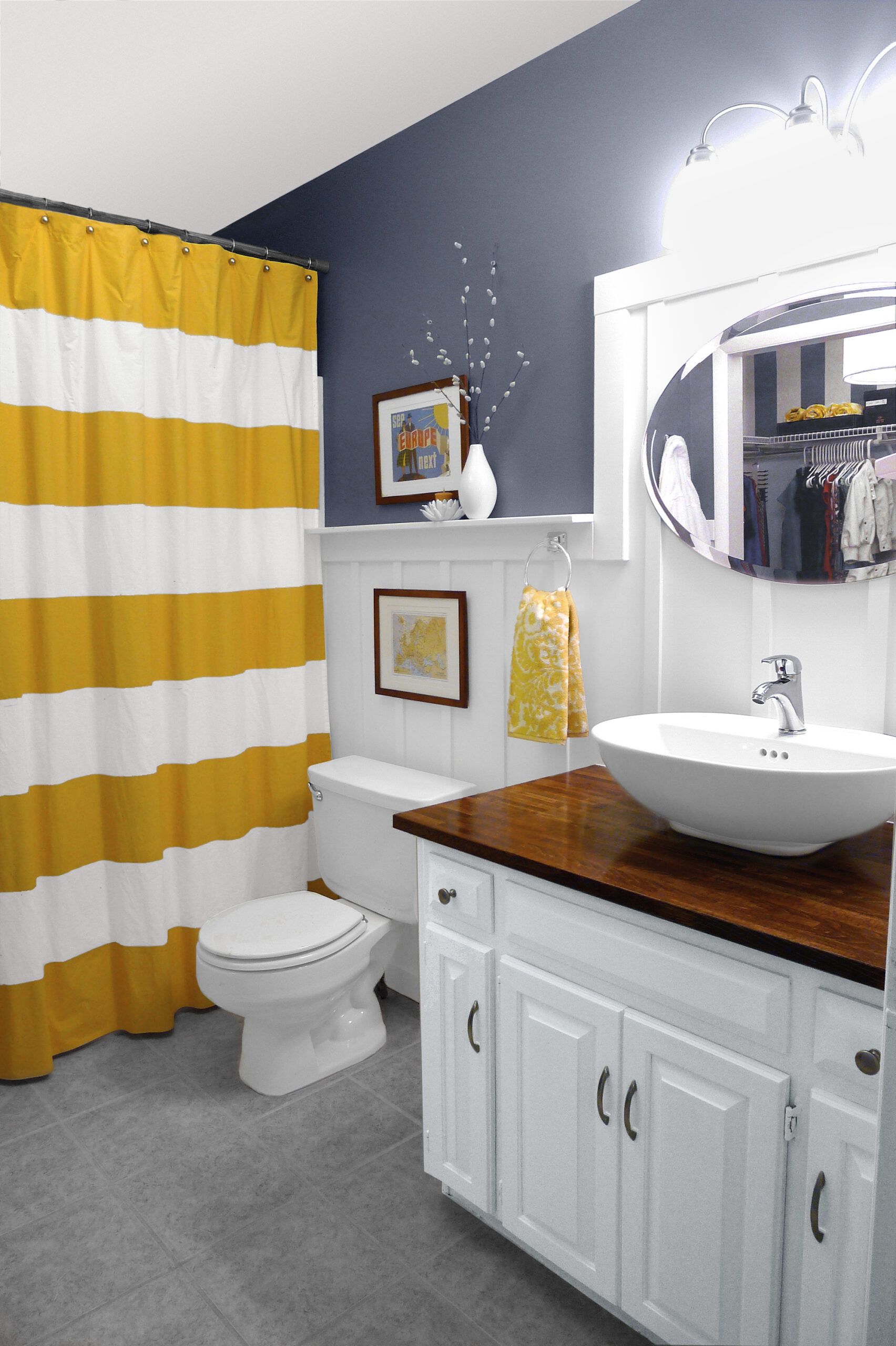 Make room for attractive, frequently used items—and a display object or two—by installing a generous chair rail atop wainscoting in the room.
15. Embrace Shaped Tiles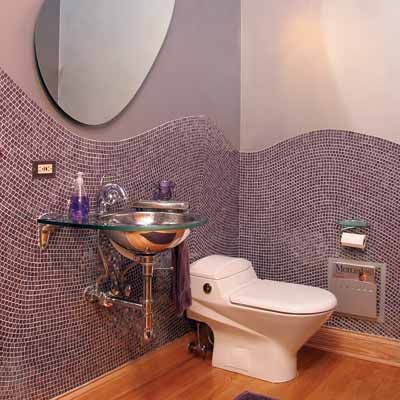 Guarantee that every visitor will forget your home's small bath by cladding your bathroom's walls in beautiful shaped tiles that depart from the expected total wall coverage is too extreme, go for a tile wainscot or accent wall to add some drama.