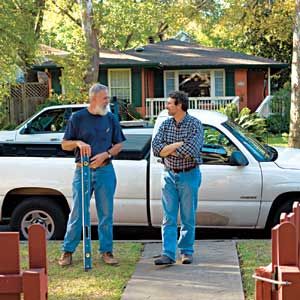 Newlyweds Michele Grieshaber and Michael Klug's first priority in planning the renovation of Michele's two-bedroom, one-bath house was to create enough room for themselves and Michael's two sons to live together comfortably. But running a close second was their desire to make it a green project, taking into account healthy living, sustainable architecture, and responsible use of materials.
Lucky for them, there are few better places to go green than Austin, Texas, the location of their 1920s Craftsman bungalow, which is also This Old House TV's current project house. The city has the oldest green-building program in the country, so green architects and contractors are plentiful. Plus, there are lots of incentives from the local utility company, an abundance of green building supplies, and a five-star green rating system to help home improvers set goals.
Of course, not every homeowner wanting to get a green renovation off the ground will have such a rich support system. Still, Michele and Michael's experience raises issues every remodeler needs to deal with. Here are five things to keep in mind when planning yours.
1. Think realistically about square footage.
Consider how much space you really need, not just how much you want. After all, truly eco-friendly means using as few new materials, and creating as little waste, as possible. "A lot of people think their house has to be big enough for a Super Bowl party, even if they'll never use the space except for that one event," says Michele. To add just two small bedrooms, a second bathroom, and a modest study/library, she and Michael chose to bump up the attic, raising the roof by a mere 6 feet and leaving the house's footprint intact.
Adding unnecessary square footage doesn't just result in the excessive use and disposal of building materials—you also have to factor in the extra heating, air-conditioning, electricity, and furniture you'll need to service the living space. If you can't give up certain amenities, let rooms do double duty—a laundry room that's also a pantry, say, or a home office that converts to a guest room.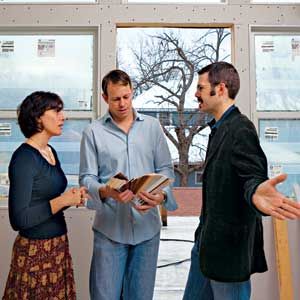 2. Search out like-minded pros.
Since residential green architecture and building is a fairly new concept, finding pros who walk the walk can be a challenge. Even green-savvy Michele and Michael followed an indirect route while assembling their team. The couple had already met with several architects when Michael called David Webber, who had designed Michael's office building, to ask for referrals. Turned out Webber himself had loads of residential experience and was a member of the local green building program. He met with the couple and won them over by sketching exactly what they wanted in 20 seconds. "Every other architect just pointed to the green jobs they'd done," says Michele, "but this showed us he had a vision in line with our thinking."
If you don't live in a place brimming with green pros, you can find architects and builders accredited in Leadership in Energy and Environmental Design (LEED) by the U.S. Green Building Council, a Washington, D.C.?based nonprofit that certifies green buildings, at usgbc.org. Also, websites such as thebeam.com and moderngreenliving.com provide nationwide directories of green builders, designers, and contractors, including their credentials and affiliations.
Michael had the right instinct—referrals are always a good way to find building pros. But you can also try contacting the closest green building organization, even if it's far away, to see if they know of someone in your area. Or find a green home tour in your region, where the pros are often on hand. It was during one such tour that Michele met Bill Moore, a general contractor who is a veritable rock star in the Austin green community. "Getting Bill was the defining moment, since he has a reputation for high-quality work and design sensitivity," says Michele. While Moore has decades of green building experience, you might end up with someone who's eager to learn and get a green project under his belt—or who's at least open to new ideas.
3. Do your research.
It's important to approach green projects armed with as much knowledge about systems and materials as possible. If your pros are seasoned green builders, you'll be able to articulate your goals and stay engaged in discussions with them. And if they're neophytes, you'll be in a better position to educate them.
Michael and Michele attended green house tours whenever possible; visited building supply stores to research things like Energy Star appliances, recycled materials, and efficient lighting; and read anything about green they could get their hands on.
A good place for any green renovator to start is the local utility company, which may offer information along with incentives and rebates (dsireusa.org, a Department of Energy?sponsored website, provides state-by-state breakdowns of these). State and local government websites may also contain advice and links to resources. You might also want to attend a green building show, such as the U.S. Green Building Council's annual conference. And there are more and more books and articles (including TOH's own Green House column) that introduce readers to green philosophy and developments.
4. Stay open about your choices.
How green do you want to be? If your goal is simply an energy-efficient house, you can focus on Energy Star appliances, on-demand water heaters, high-efficiency insulation and windows, and solar technology. If you want to take it a step further, you might consider sustainably harvested woods, reclaimed lumber, salvaged fixtures, and rainwater collection.
Even as you keep up with the latest materials, your selections may be influenced by what's available nearby. While materials can be ordered over the Internet, you'll have to factor in shipping costs and the environmental cost of the fuel used to transport them.
Aesthetics, too, come into play. "We were originally opposed to Hardiplank fiber cement siding, even though it's a green material, for the addition because we thought it wouldn't blend in with the house's original 80-year-old long-leaf pine," says Michael. "But today's stock lumber is so soft it would probably rot in about five years. Bill showed us that fiber cement could be a good match."
5. Think big, but start small.
Sometimes—no matter how good your intentions—your sense of responsibility to the environment has to play second fiddle to your budget. In other words, expect to make some concessions. Michael and Michele's $250,000 budget meant they had to make some tough choices. For example, solar panels that heat water—often considered the best use of solar power—came off the table due to the cost. Instead, the couple is going with an on-demand water heater, which is more efficient with their gas heating.
Remember, going green doesn't require you to incorporate costly extras if you can't afford them. "A lot of my clients think that green building means installing solar panels and rainwater collection systems," says David Webber. "But it can have just as much to do with the insulation you use and the efficiency of your AC unit."
In other words, start with the small stuff, choosing the greenest versions of the things you absolutely must have in the house, while staying on budget. Then—and only then—reconsider your budget if there's something more you feel adamant about having. Let's face it, being green often means using materials that are initially more expensive. But, as Webber says, "If we can do things today that are better for all of us tomorrow, it's worth the extra expense."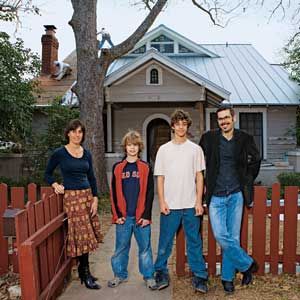 Where To Find It
Architect:
David Webber
Webber/Hanzlik Architects
Austin, TX
512-236-1032
Builder:
Bill Moore
Wm. T. Moore Construction Inc.
Austin, TX
512-445-2772
For More Reading:
Cradle to Cradle
by William McDonough and Michael Braungart
Eco-Renovations
by Edward Harland
Good Green Homes
by Jennifer Roberts