Un-Boring Baths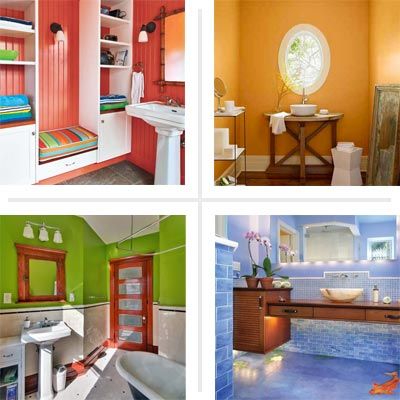 Does the color beige enrage you? Are you bored by the soft, muted hues so often used to decorate bathrooms? Well here's the antidote: a collection of our favorite bold and bright bathrooms—pulled together just for you. So, if you feel that powder blue has no place in a powder room, read on, and get ideas for your own cheery washrooms.
Candy Stripes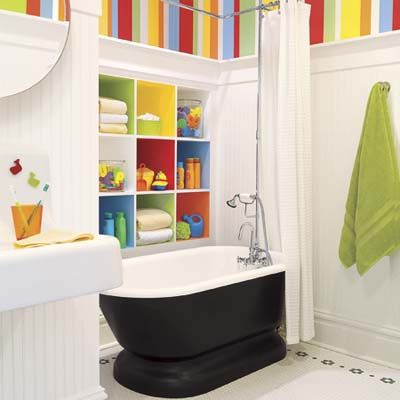 Cubbies painted in cheerful hues and tutti-frutti wallpaper take this bath from neutral to nirvana.
Check out other bright elements in this kids' bath makeover.
Balancing Act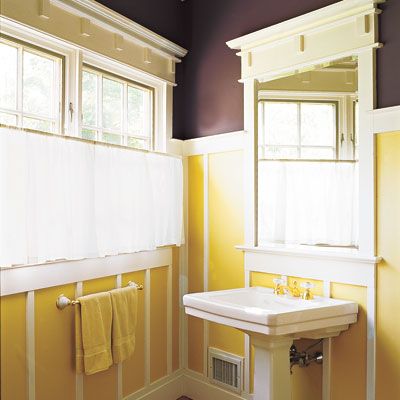 Sunny wainscoting topped with bold eggplant give the space a dynamic feel.
Learn how to incorporate more color into your powder room with these 21 thrifty bath upgrades.
Spring Fever
Walls the color of the first shoot of grass spreads joy, while also emphasizing the red-hued woodwork.
Draw some colorful inspiration with more best bath before and afters.
Lavender and Honey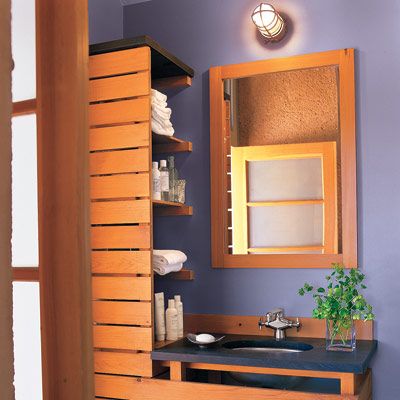 Purple and gold might sound like an outlandish combination that only Prince would dare, but pick the right hues and your space will be bright but not overbearing.
These budget bath ideas will help you transform your bath into a luxury hotel-worthy sanctuary.
A Heady Elixir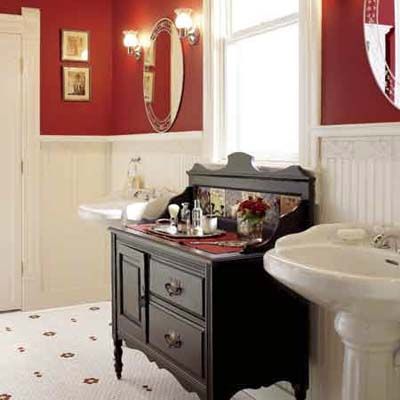 Punch up a classic bath with a slug of red paint, also used as an accent in the floor tiles. The color casts a subtle but uplifting hue on the complexion.
Golden!
Walls and a window blind in chartreuse—yellow mixed with enough black to make it edgy, sets off the neoclassical Greek-key motif.
Browse through other hand-picked reader bath remodels.
Brighten Up and Bring it Back with Tiles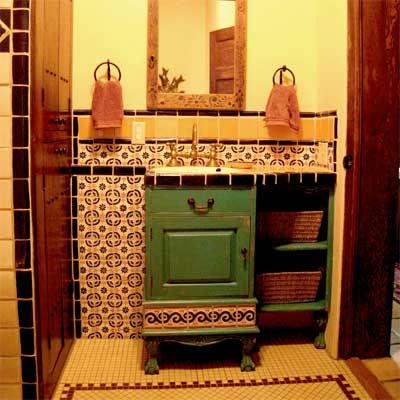 Hand-painted gold-and-blue tile work pay homage to this 111-year-old Southwestern adobe's rustic heritage.
A Space That's Chill, But Not Too Cool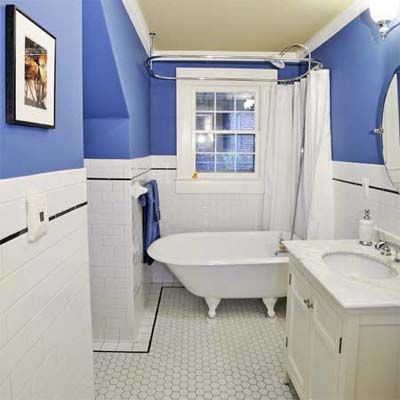 This isn't your basic blue. Periwinkle, which contains some red, adds verve and warmth to this bathroom—but not so much that it loses its cool.
These remodels are the cream of the crop from our reader bath projects.
A Gutsy Duo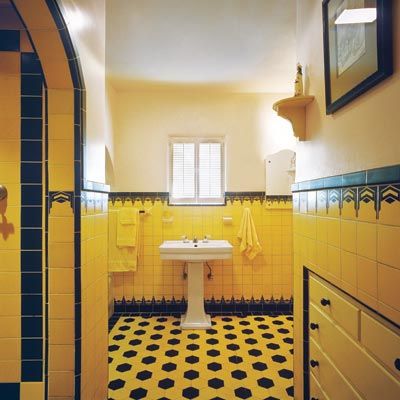 Art Deco tilework in corn-on-the-cob yellow and deepest sea blue make this bathroom a standout.
Easily add some vintage style to your bath with this TOH editor-created primer on three timeless styles.
Looking Sharp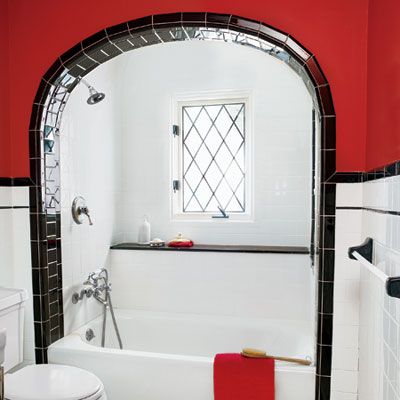 Crimson reinforces the crispness of the faceted black-and-white tilework and the windowpane.
See more of this gorgeous 1930s art deco revamp.
Lively Stripes
Enliven a tiny bath with a colorful pattern of glass tiles pre-mounted on mesh screens. The horizontal positioning of the tiles and the silvery strips in the tub surround make the space feel bigger.
Check out all the details in this vibrant shoebox bath.
Warm and Rosy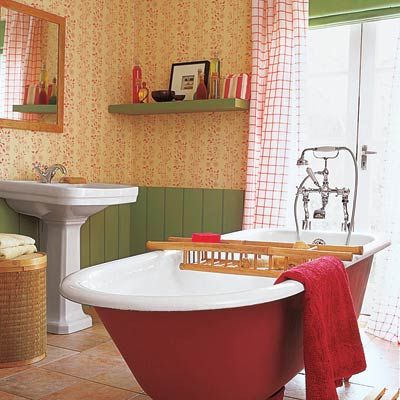 Paint the exterior of a cast-iron bath in a cheery hue of your choosing. Here, the red on the tub picks up where it left off in the curtains and wallpaper. Green complements the whole affair.
Outside In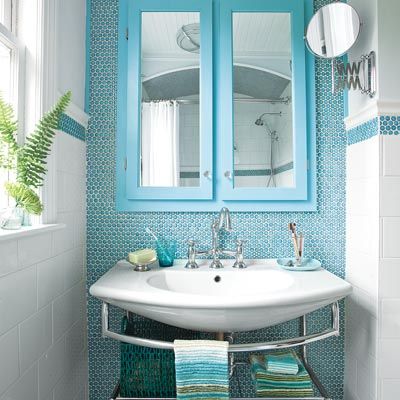 Azure penny tiles and a pale-blue cabinetry pull the sky right into this space.
Read more on this bright bungalow bath redo.
Make it Juicy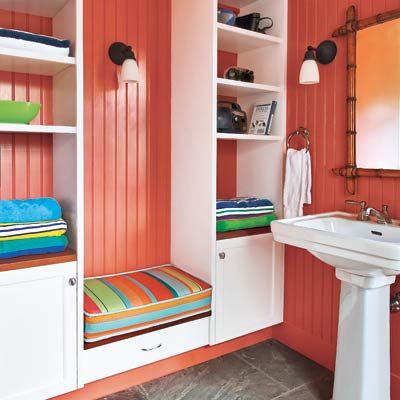 This zingy red-grapefruit hue will put such a spring in your step each morning, you may find yourself skipping the double mochaccino latte.
Find your best power paint colors for each room.
A Field of Flowers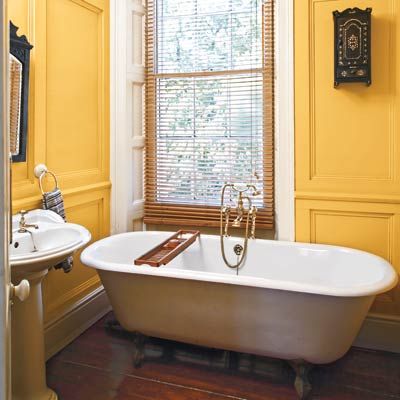 Make beautiful paneling pop with a coat of daffodil-colored paint.
Universally Flattering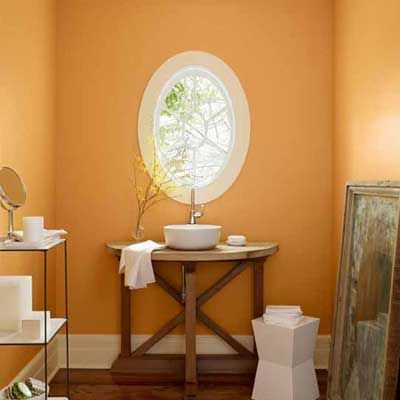 Many a makeup artist will tell you that a touch of apricot flatters any complexion, so why not apply that idea to your powder room? Every time you look in the mirror, you'll see a lit-from-within glow.
Take our cues about these hues that lift your mood.
Exuma In a Room (Ah!)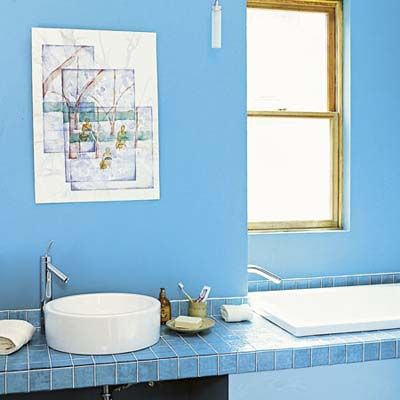 This bath takes its cue from tropical, turquoise waters. Like a splash in the Caribbean Sea, it soothes and invigorates.
Blue isn't the only color in this home. The cottage is green too.
Look to Nature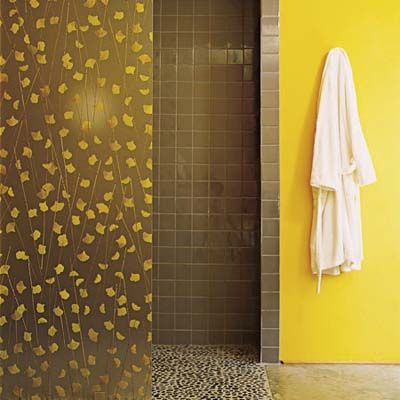 Nature isn't bashful with color: Here, bright gingko leaves decorate one wall, and inform the paint hue for another.
Nothing But Blue Skies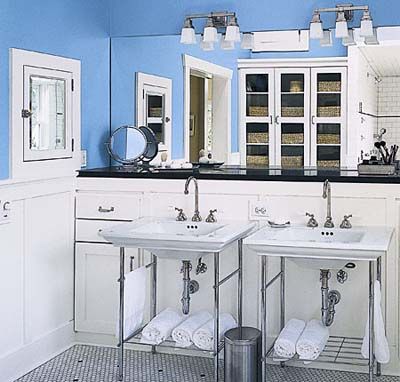 Try painting your bath cerulean and cloud white, then expand your horizons further by covering an entire wall with a mirror.
Get ideas for creating your own familial peace with these decked-out shared baths.
The Bath Aquatic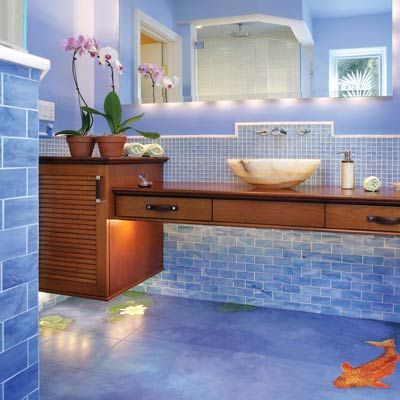 Fancy yourself a mermaid (or merman)? Submerge yourself in waves of blue tile.
Relax like you're in a spa with these zen bath decor elements.
Go Deep
Terra-cotta walls and clove-colored wood paneling add richness and depth.
Warmth and Light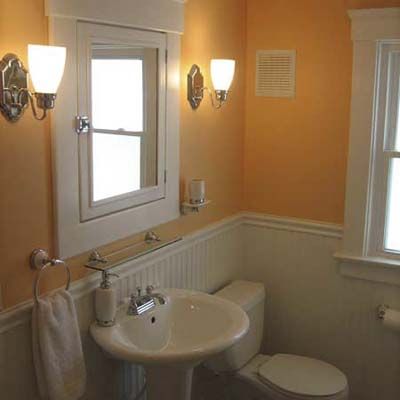 Make a bath cozy with a warm color, but keep it light so the space still feels airy.
TOH readers did it themselves when it came to these impressive bath remodels.
Color Within Reach
Fallen in love with a colorful tile that's beyond your budget? Consider using a smattering of it against a field of standard neutral tiles.
Add a Twist of Lime
A tangy spritz of color enlivens a grand classic bath, steering it clear of cookie-cutter mode.
Check out these 28 budget ways to refresh your bath if a whole room redo isn't in your budget.
Quick Fix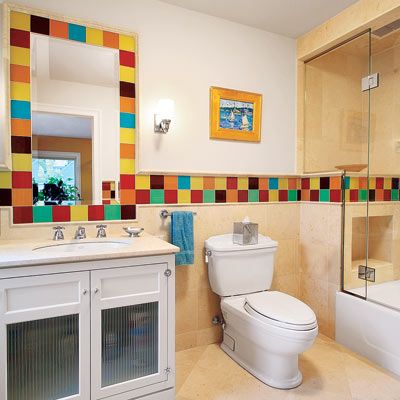 Punch up a tame interior with a ring of standard tiles in a medley of cheery hues.